Thanksgiving is the best holiday because we gather everyone round the table and share a delicious meal, we celebrate love, gratitude and FAMILY! I love to set a table using unique things from around the house and sometimes even making a few things! .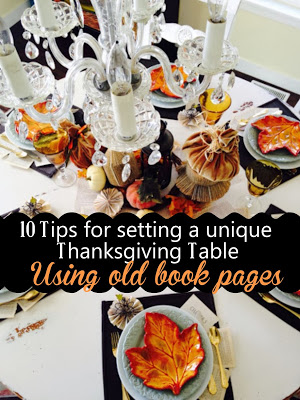 10 Tips For creating a unique Thanksgiving Tablescape
I am excited to share my 10 tips on creating a unique Fall Thanksgiving tablescape! This particular Thanksgiving tablescape is one that I created using an uncommon color palette of blue and orange. Normally blue is not a traditional Thanksgiving color but I liked how it made the orange Leaf plate pop. The addition of old book pages used as a charger underneath the plates and old books folded in unique ways bring in a unique look and feel 
1. Use Pretty Plates and Layer Them
I adore these leaf plates purchased from Walmart years ago and I have used them in multiple Tablescapes. You may remember my leafy Fall tablescape or How to create a fall tablescape that is orange and purple. I also created a fun Outdoor fall tablescape in the backyard too. All these tablescapes have used these leaf plates. Using things multiple times but changing the look is the best! 
2. Mix and Match
You don't need to match everything. If you don't have enough matching plates, mix them up. I didn't have enough of the same napkin rings so I used a mix. These pale yellow ones I bought from pier 1 as well as the orange and gold bauble napkin rings.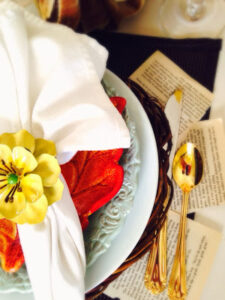 3. Make Your Own Chargers 
 If you don't own any charger plates make some of your own. Place some old book pages underneath your dinner plates in a fan shape to add texture and create a paper charger. To add more texture use some small grapevine wreaths underneath your plates.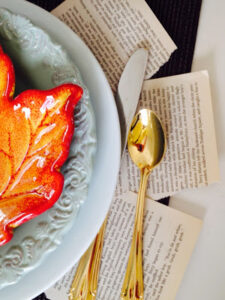 4. Add a little Sparkle to your Thanksgiving tablescape
 For a little sparkle use gold or amber colored goblets and gold flatware. They bring a warmth and shine to any table. 
5. Use Old Books
Use old books and fold the pages to create unique shapes and place throughout your tablescape.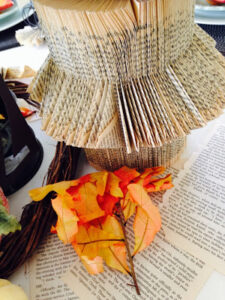 6. Use Mini Chalkboards 
 Write menu items or guests names on them. You can make these by cutting shapes from cardboard and painting them with chalk paint. Attach them to painted silver clothes pins. Write sweet messages to your family on them and place around the table.
7. Unique Details
Use unique details like a rusty metal letter cut out for place card setting. I found these a few years ago at Michaels. I used a little ribbon and tied them around the napkins.
8. Add Soft Layers to create a unique Thanksgiving Tablescape
Add soft layers. I used some of these DIY little velvet Punkins tutorial HERE
9. Make a runner out of book pages
Use more old book pages scattered throughout the center of the table used as a table runner..no worries about spills!
10. Create Pinwheel Place cards
Happy Thanksgiving everyone I hope this inspires you to use unique items for your table this year 🙂
Pin For Later