I adore outdoor wedding receptions especially in the fall when the colors are so spectacular! The bright orange pumpkins, cornstalks, colorful fall leaves, twinkling lights…ahhh it just speaks to my soul. Our cute niece Kaite wanted an easy rustic outdoor fall wedding reception in my mom's backyard and it turned out magical!!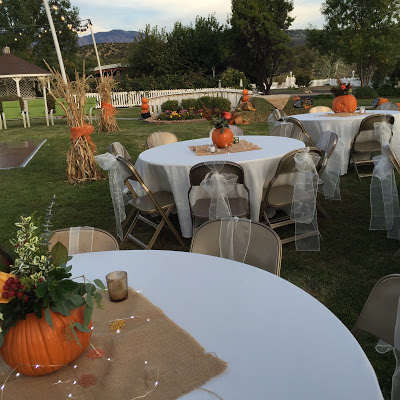 My mom used to live on beautiful acre of land in a teeny tiny town called Veyo in Southern Utah. The views of the mountains in her backyard are stunning and her yard was gorgeous and the perfect spot to hold an easy outdoor rustic wedding!
Setting Up The Rustic Outdoor Wedding Reception
Renting round tables and chairs and outdoor heaters and a wooden dance floor was the only way to go. We used white tablecloths and white sashes tied to the back of each chair.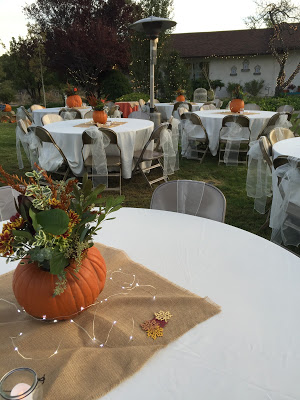 A little square of burlap placed in the center of each table brought in some rustic color and texture.
Rustic Outdoor Pumpkin Centerpieces
To keep with the theme of the rustic outdoor fall wedding reception we used real pumpkins hallowed out and filled with flowers. Coscto to the rescue! Katie's mom bought bunches of fall themed bouquet's from Costco. Then we took apart the bouquets and created new pretty floral arrangements in each pumpkin. The great thing about this was that it was so inexpensive!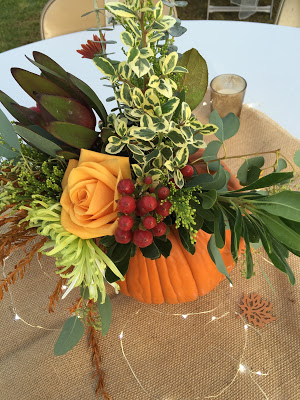 Everyone in the family helped out. My son in-law hallowed out the pumpkins and even helped arrange some of the flowers!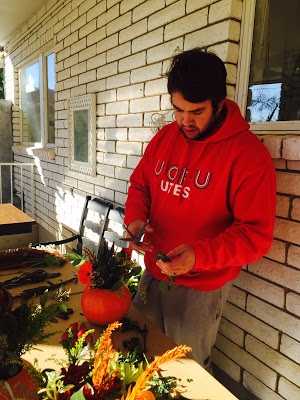 The Costco flowers had lots greenery in the bouquets so that helped a lot in creating fall centerpieces.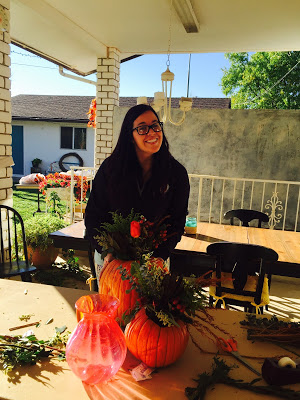 Rustic Fall Outdoor Decoration
To decorate the areas surrounding the tables we used hay bales, baskets, apples from my mom's apple tree and little baby pumpkins to create little vignette's.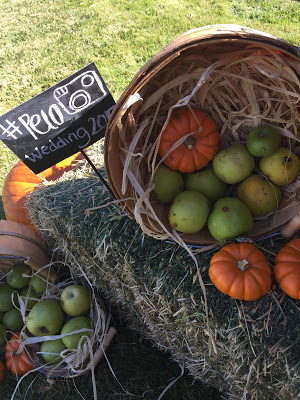 Mini chalk boards with little love messages were also added to the vignette's.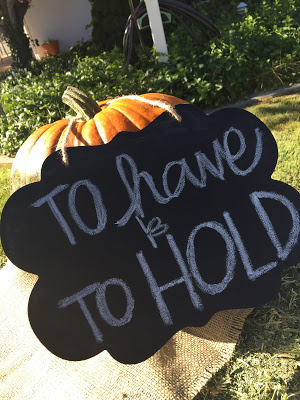 Mom had a darling little bridge that we covered with white lights so it would glow as the night went on. It was the perfect place to have a pumpkin topiary draped in lights. I have a simple pumpkin topiary tutorial here.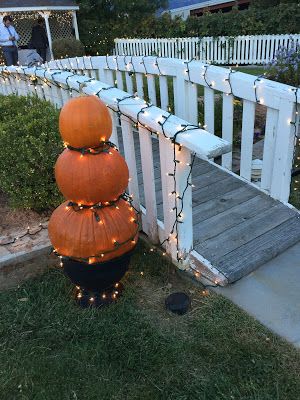 The Dance Floor With Lighting
The rental company delivered the wooden dance floor and we got to work creating a fun space. We used rebar and PVC pipes over the rebar to create poles around the dance floor. Corn husks tied with orange burlap help to camouflage the PVC pipes.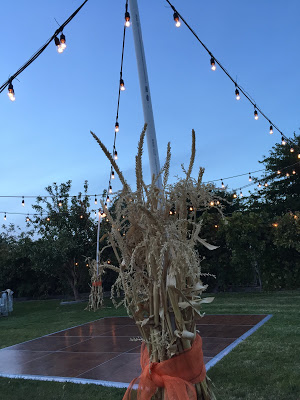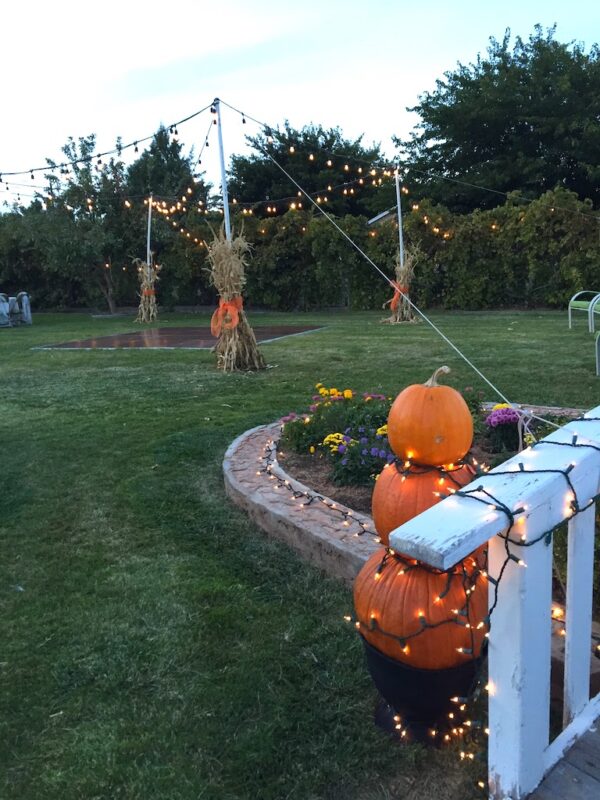 To attach the lights to the tops of the PVC Pipes, we wrapped the lights around the tops of each post a few times and used tape to hold it on. String lights back and forth to create a little "umbrella".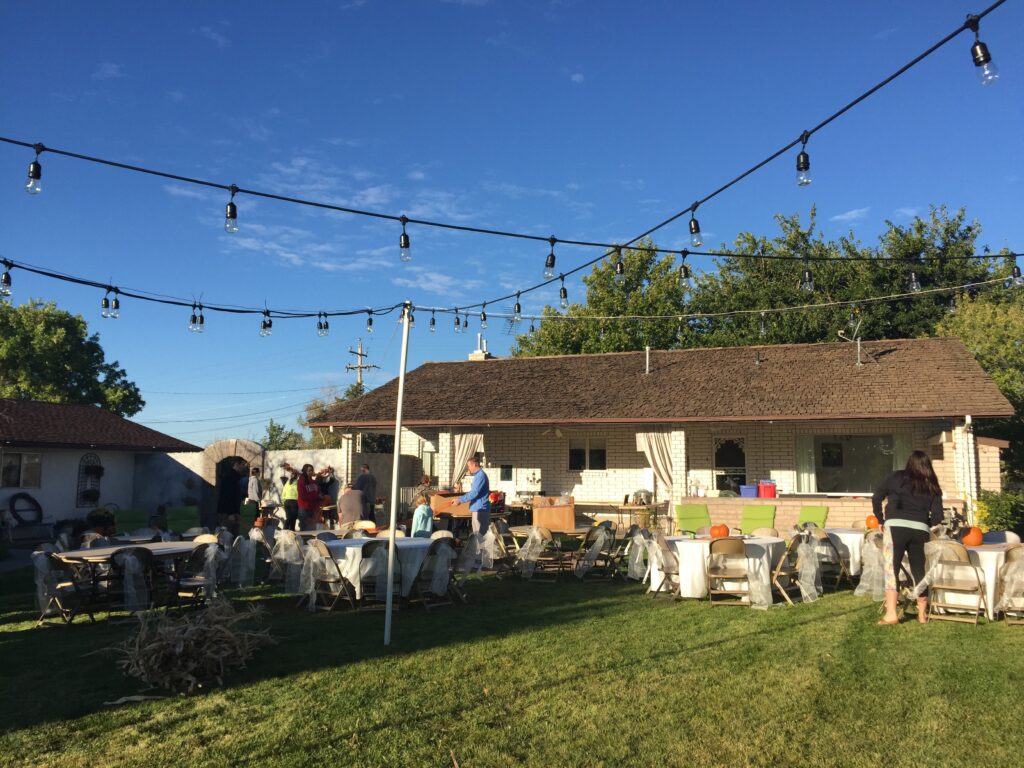 It looked magical as the sun went down.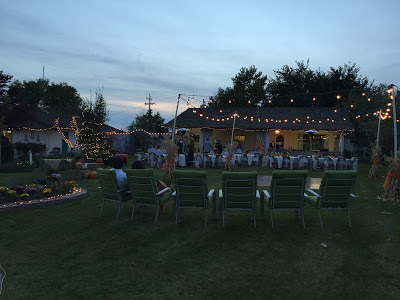 The bride and groom dancing with lots of the children at the rustic outdoor fall wedding reception. They were having the time of their life! We held our daughters wedding reception in a barn and it turned out so cute! You can see the blue and peach wedding reception here.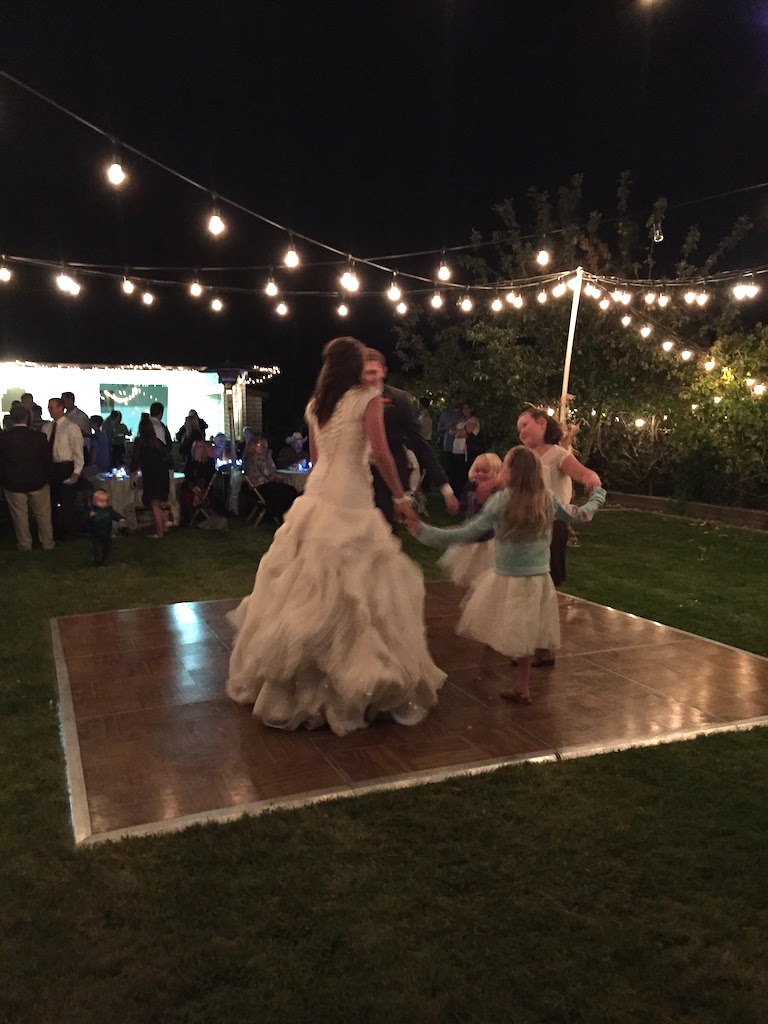 We all had a blast dancing at the reception.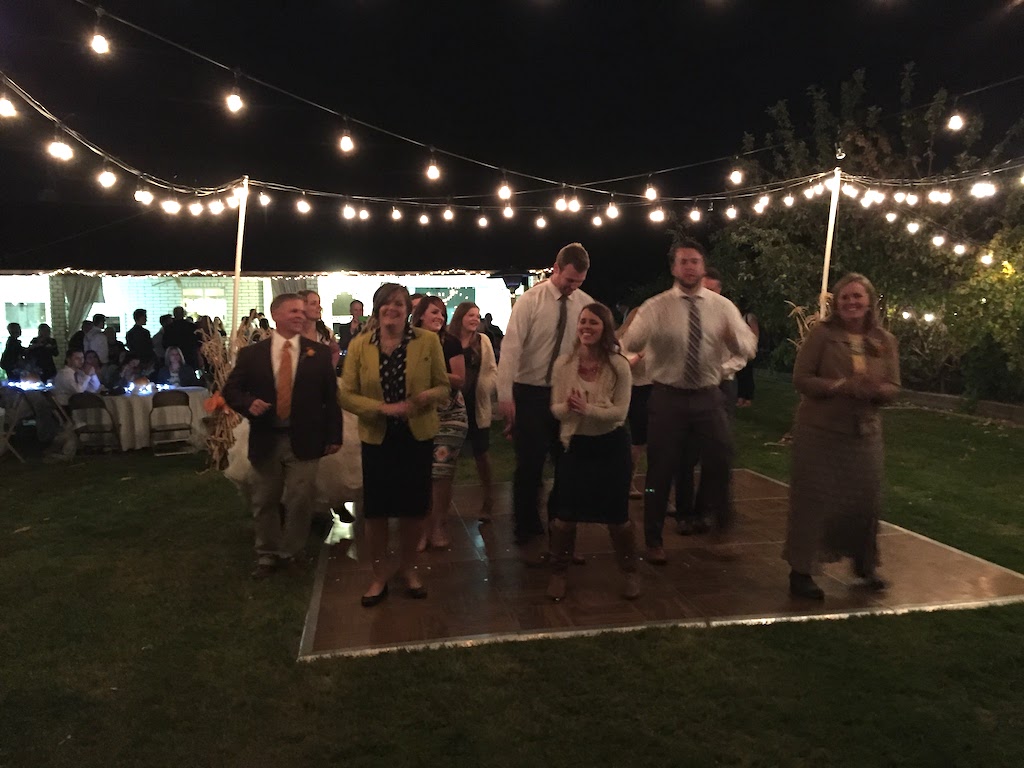 Photo Table And Guest Book
Katie's mom set up these adorable areas to show off bridal pictures.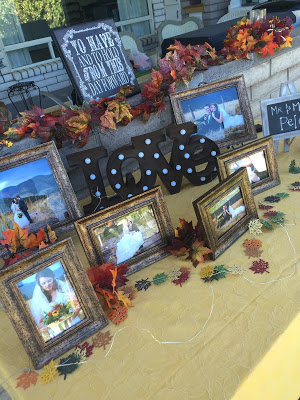 Look at all the details for this cute guest book signing area! A cute bunting that says falling in love is perfect for fall!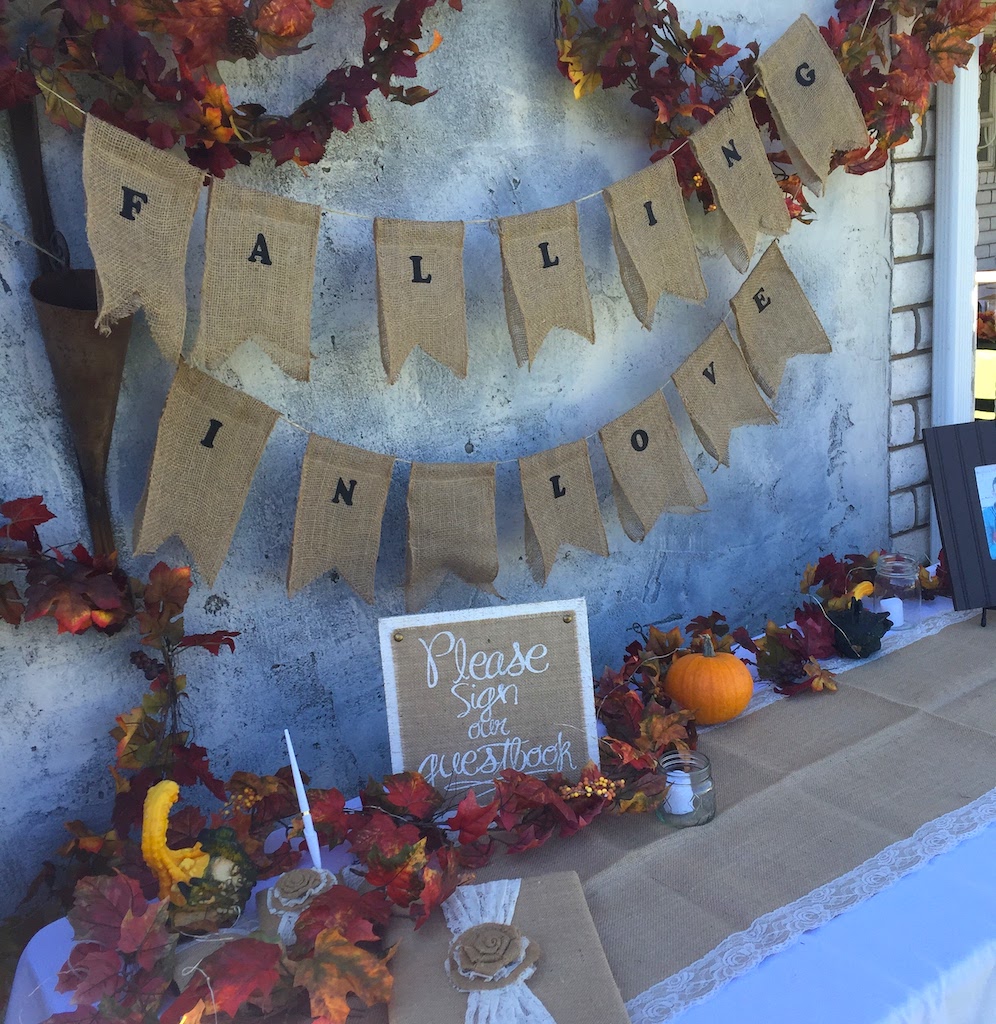 Serving Soup And Pie
My cute mom and twin of the bride were busy making soup for the reception.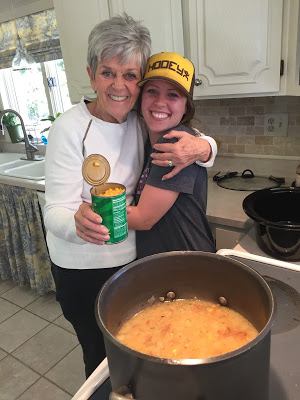 It doesn't get any easier than this! Serving different soups in crockpots also goes along with the theme of easy rustic outdoor fall wedding reception.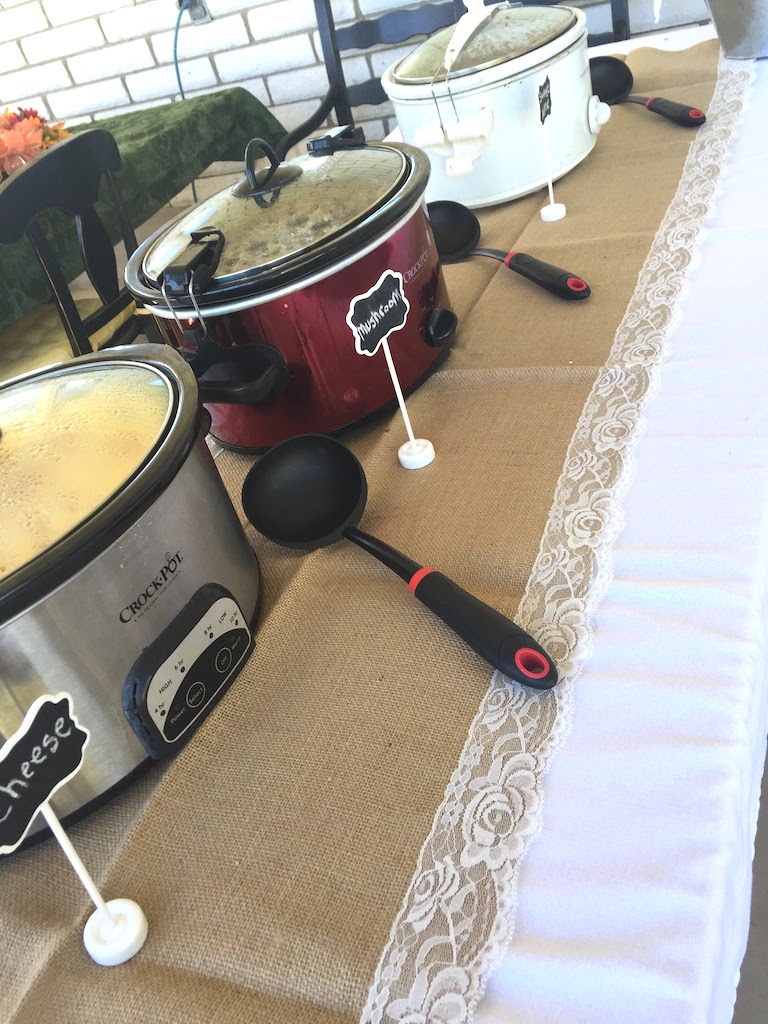 Since Katie doesn't like cake she opted for yummy pies from Costco. Another easy and simple idea for this outdoor rustic wedding reception. Here is another darling country wedding reception we attended that you might like to see.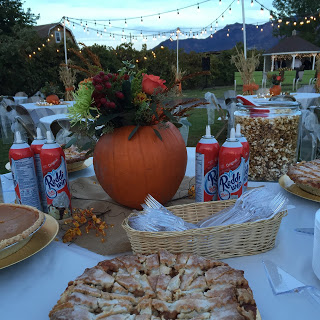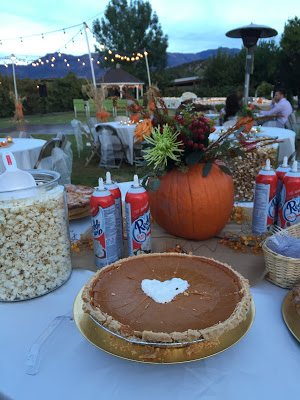 Hopefully this gives you some fun ideas of how to create an easy rustic outdoor fall wedding reception.
Pin For Later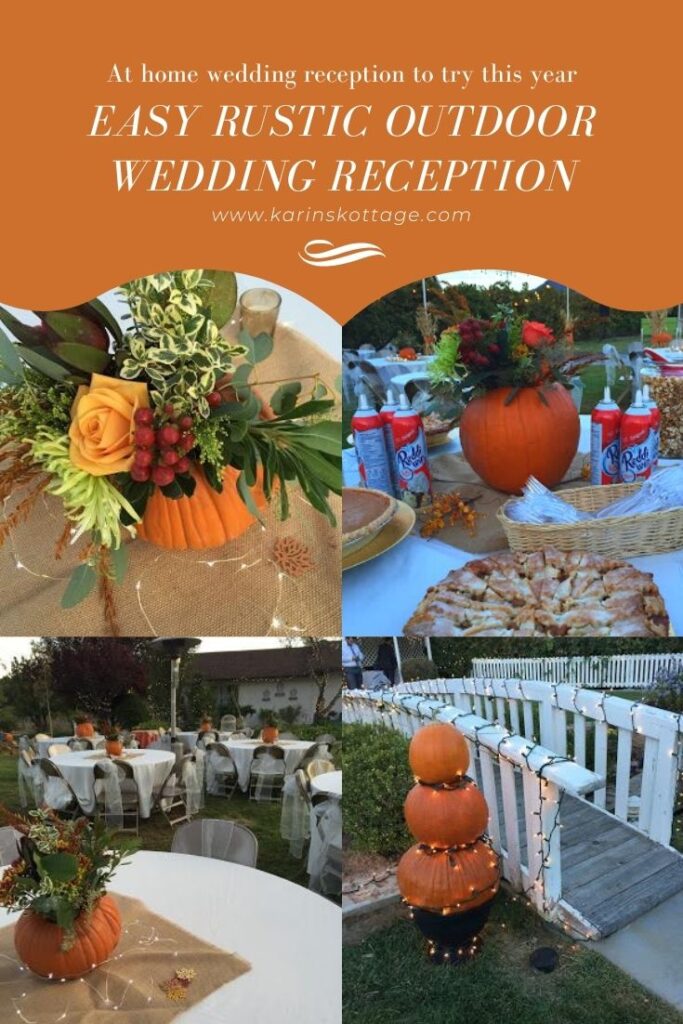 Shop This Post