"French Style" Tablescape dedicated to my mom she loves all things French!
Napkin Ring Giveaway information is at the bottom of this post.
Here we are looking through one of my black chairs at the the tablescape 🙂
ooooh lets get in closer shall we?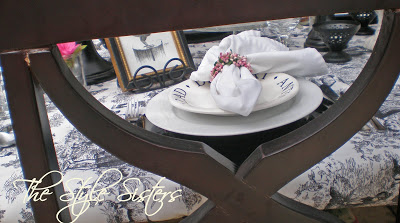 Black and White with a little punch of hot pink!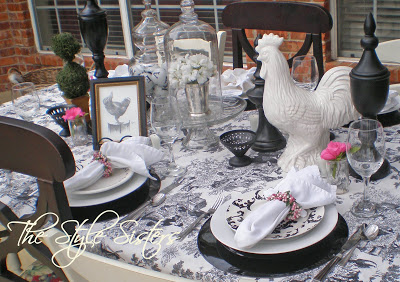 The tablecloth is fabric from Walmart!
I like using unusual things like frames on the table.
Le Poulet (
The Chicken
)
.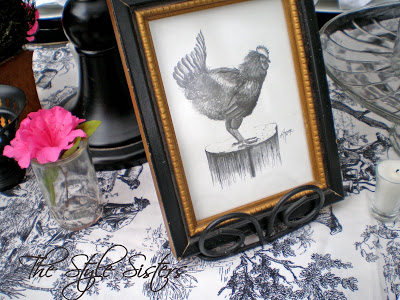 I used my white dinner plates from Ikea once again and my black and white "
Toile
" plates on top. (
Toile
means cloth)
Notice my white napkins spruced with my pink napkin rings!
Do you love or what!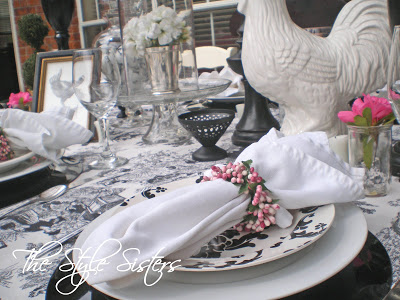 Again I am using my dollar store finds! These little black tea-light holders are fabulous on any table..remember I also used them in Beachy tablescape
HERE

I snatched a couple of buds off my beautiful flowering bush (I can't remember the name of it) and placed one in each of these darling juice glasses that I picked up at the thrift store!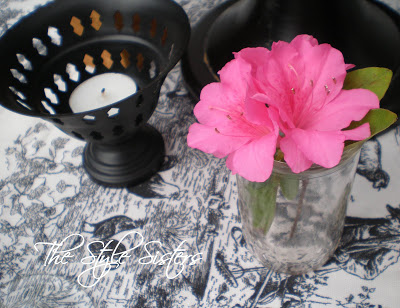 I love how my plain glassware just sparkles on the table and how everything looks so European up against the brick walls.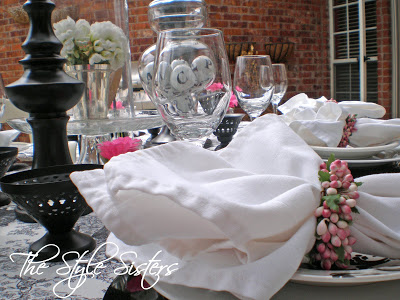 I stole this glass jar from the living room that is filled with white balls that have cute black letters on them. How perfect is that!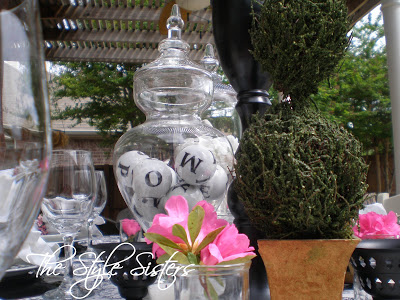 Isn't it interesting how when you use a glass dome and place something very simple underneath it…that simple little item becomes something magnificent. I used a clear glass cake plate to elevate it and give it even more prominence on the table.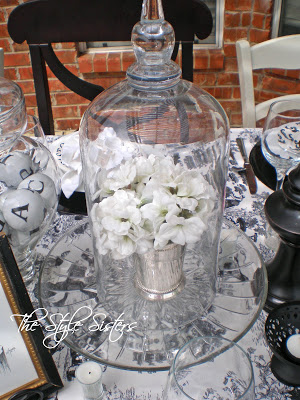 I don't have enough of the black and white Toile salad plates so I used these white salad plates that have words on them. The whites don't even match but I think it all came together.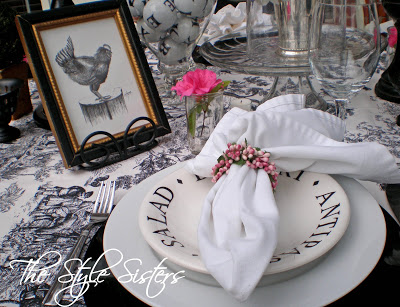 Ahhhh…it just says spring doesn't it. Look at the blue sky with white puffy clouds in the back! I think these colors and ideas would work perfectly for a Mother's Day Lunch or even a wedding reception..don't you think?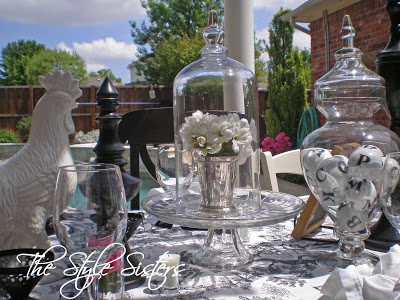 Okay…a little secret…see those black charger plates sitting underneath the white dinner plate? They are actually gold and red chargers…I just flipped them upside down!! How cool is that! No money spent here!
Here is another fun fall tablescape that I put together using yellows and oranges and natural elements.