Looking for a new fun way to set the table but not spend any money? Make charger plates from old book pages.
I have used old book pages to create a few crafts. A music paper Christmas tree and a wreath.
My daughter likes to use old books and fold them into unique shapes for decoration.
They are really cool looking.
You can see how we used the folded books in the centerpiece for my Thanksgiving tablescape post as well as the paper chargers.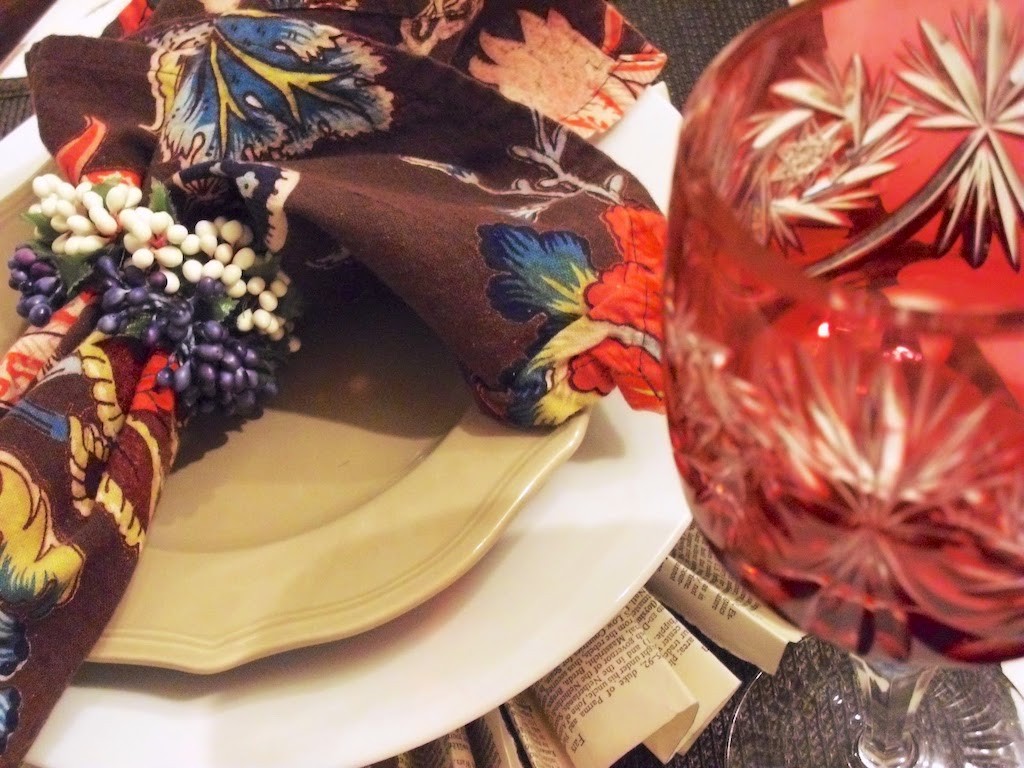 How to make chargers from book pages
What is a charger you maybe asking? It is a decorative plate that goes under a dinner plate.
We tore pages from an old book and folded them accordion style and stapled two or three of them together to make a fan.
Then we placed the fans on top of some brown woven place mats to create a charger.
The weight of the plate keeps the fans from moving around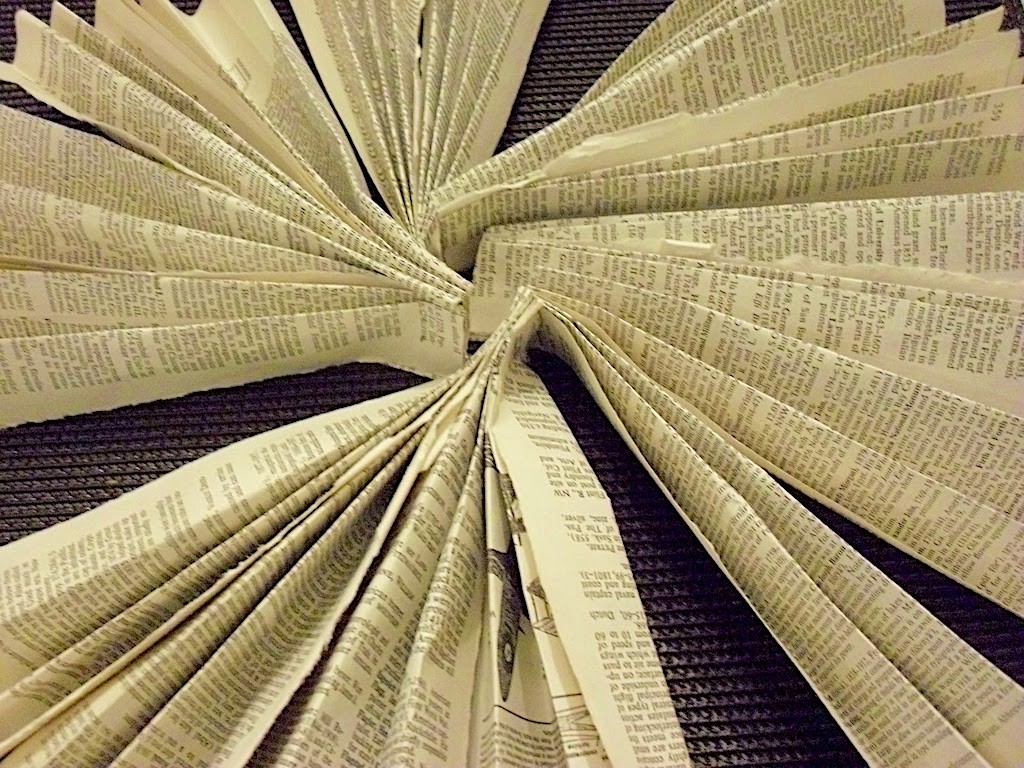 Here you can see the dinner plate and salad plates sitting atop of the book page fans.
Tip- If you make your accordion pleats too big the plates will rock and roll a bit.
Play around with your pleats to make sure your plates will sit down nicely on them.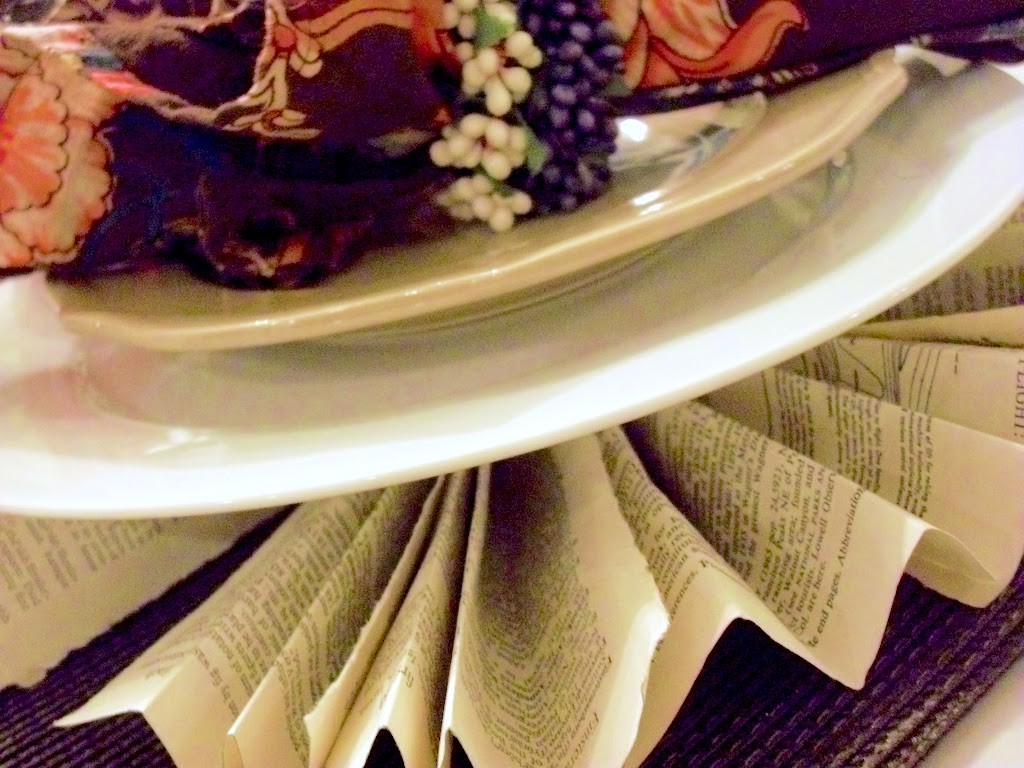 Adding color and texture to place settings
I love mixing textures like old book page paper folded, brown woven place mats, white dinner plates with a tan salad plate and a cut crystal rose colored wine goblet.
Adding a really beautiful napkin that have lots of colors in the pattern really makes this fall place setting top notch.
Don't you agree?
Browns, pinks, blues and yellow look so pretty sitting against the tan salad plate.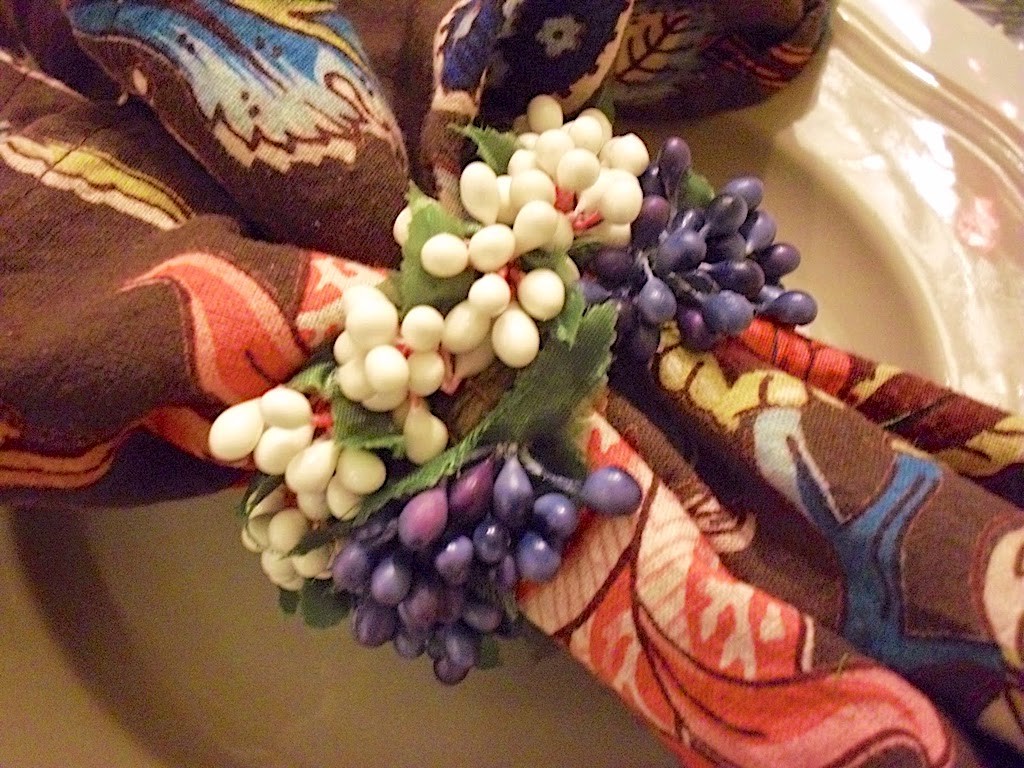 Other ideas for paper charger plates
You could use scrapbook paper in all the myriads of colors and patterns to change your look!
What about mod podge paper onto old chargers for a completely different look?
The Graphics Fairy has a great tutorial on creating some mod podge chargers.
More fall tablescapes
Outdoor tablescape using black eyed susans
Purple and orange pumpkin and fall leaves tablescape
Romantic outdoor dinner under a tree
Golden yellow, orange and green outdoor tablescape
Shop Fall Things