Today I am sharing how to set an early orange and red fall tablescape.
I'm having some friends over for Sunday dinner and wanted to set a pretty fallish table.
Is it too early to set the table for fall?
Nah…
I'm not using pumpkins in my centerpiece because it's a bit too early for that but I came up with a fun way to create my centerpiece and I'll show you how.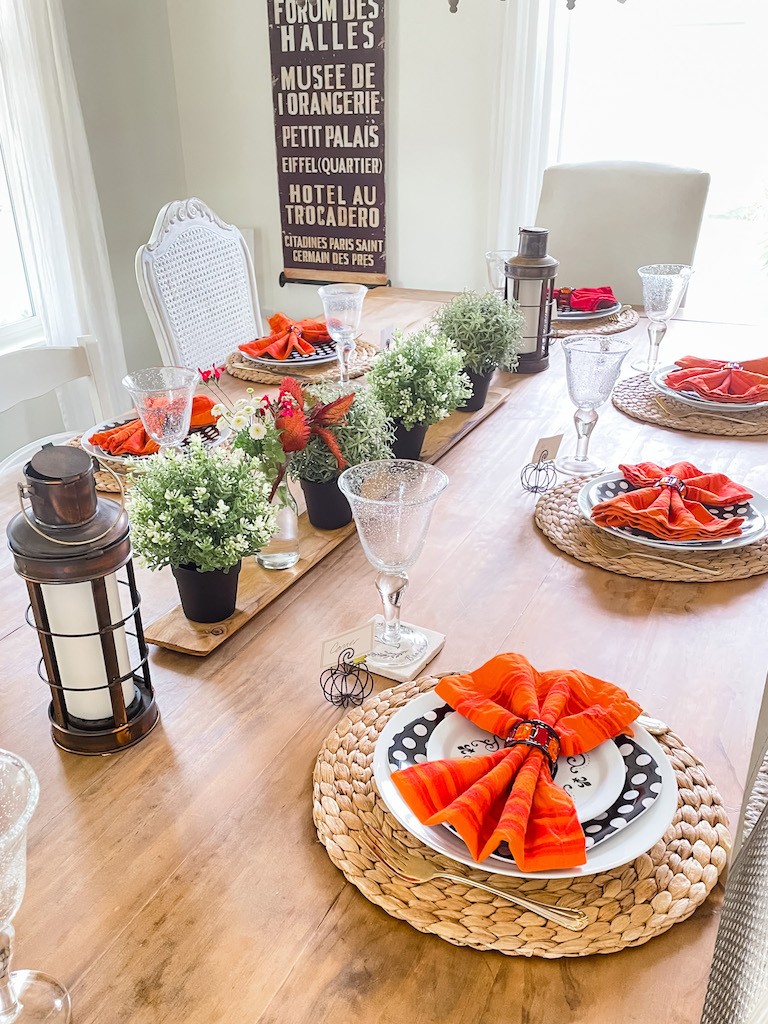 Starting with colorful napkins
I found these orange napkins at the thrift store. They are from Crate and Barrel and I don't think they had ever been used!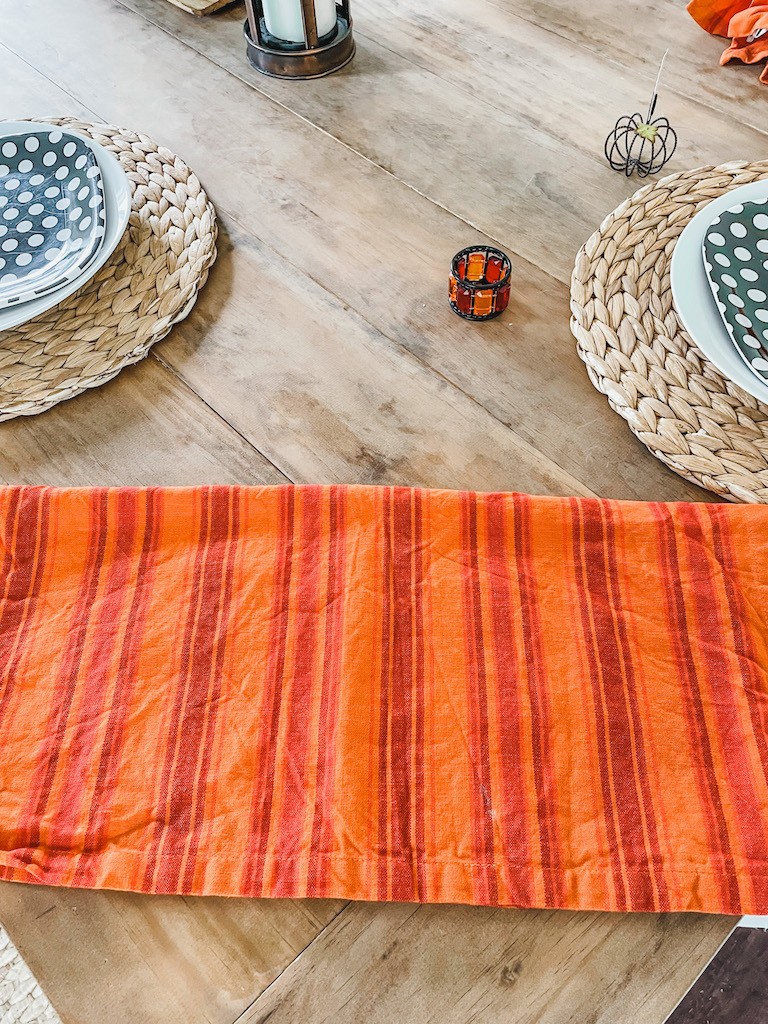 The orange red color is just perfect for a fall tablescape.
Don't you agree?
I decided to fold them in an accordion pleat.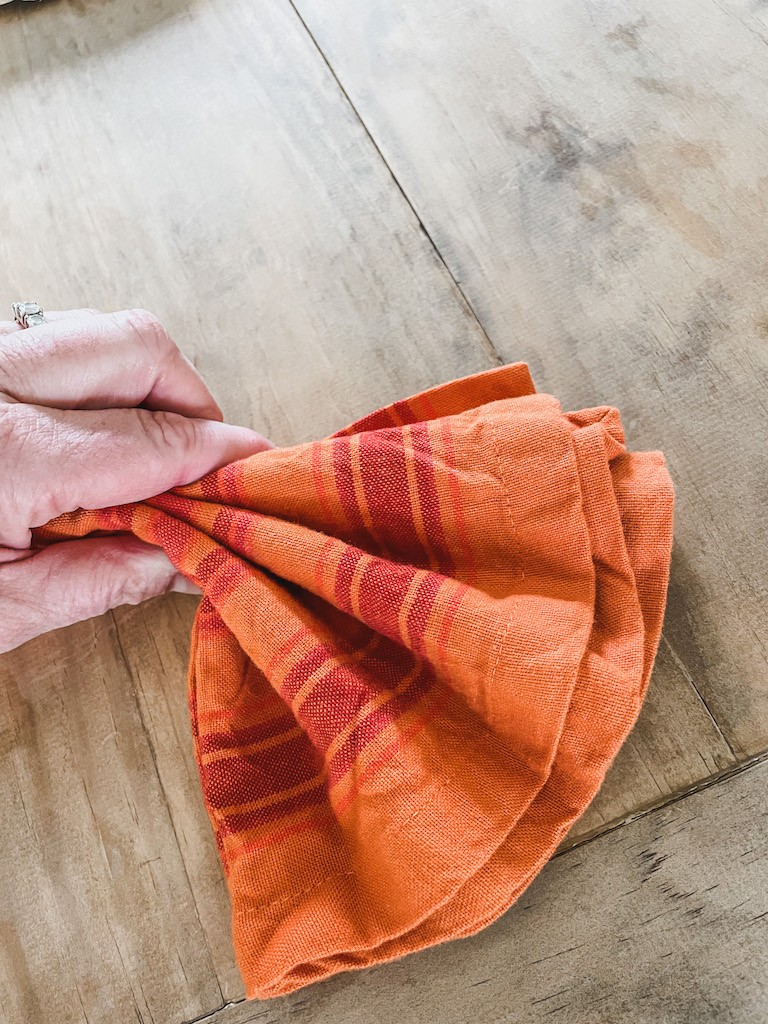 Then to make them look like a bow, I used one of my red and orange bauble napkin rings that I bought years ago from Pier 1 and squeezed them through the napkin ring.

Please ignore the wrinkles in my napkins, I washed them and did not take them out the dryer fast enough so they have some wrinkles.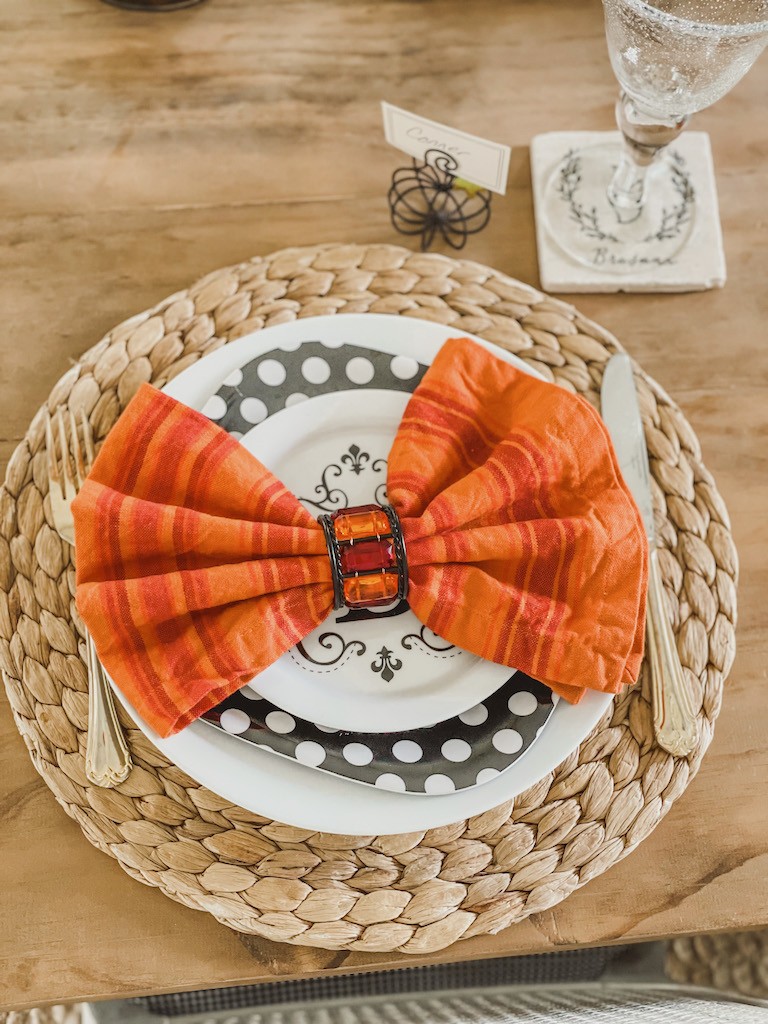 I love how they look on the plates.
Black and white salad plates
Playing around with salad plates I decided to use my black and white polka dot melamine plates.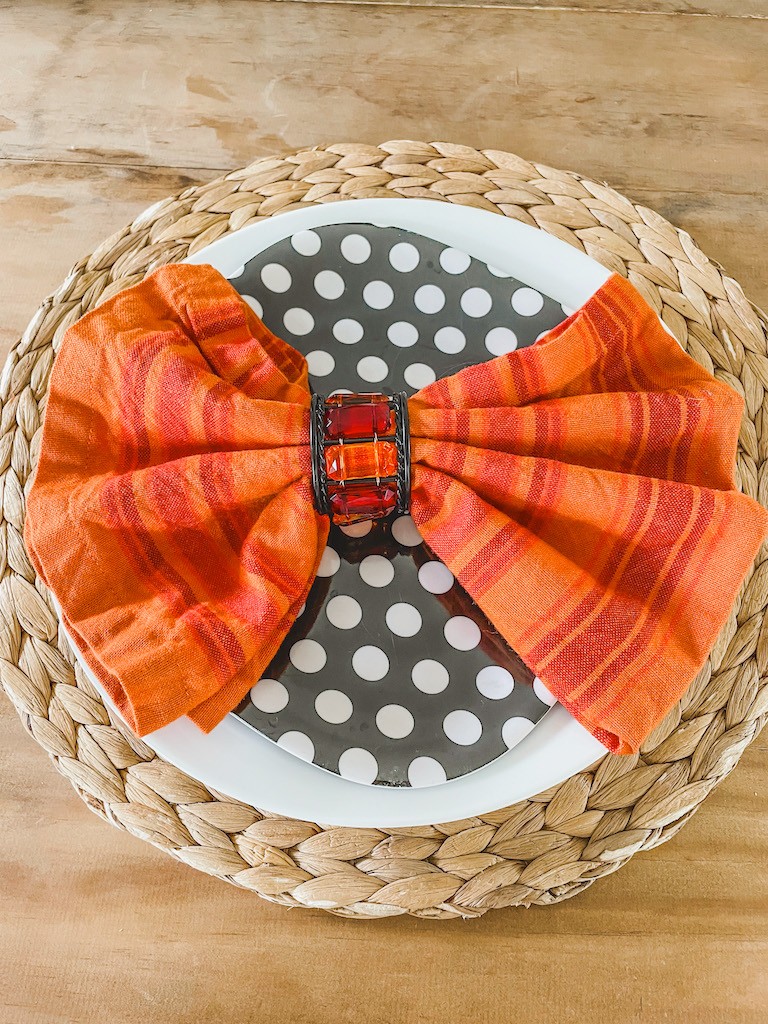 I stacked these cute white and black monogrammed melamine plates on top of the black and white polka dot plates for a fun look.
I will use one for the salad and the smaller one for dessert.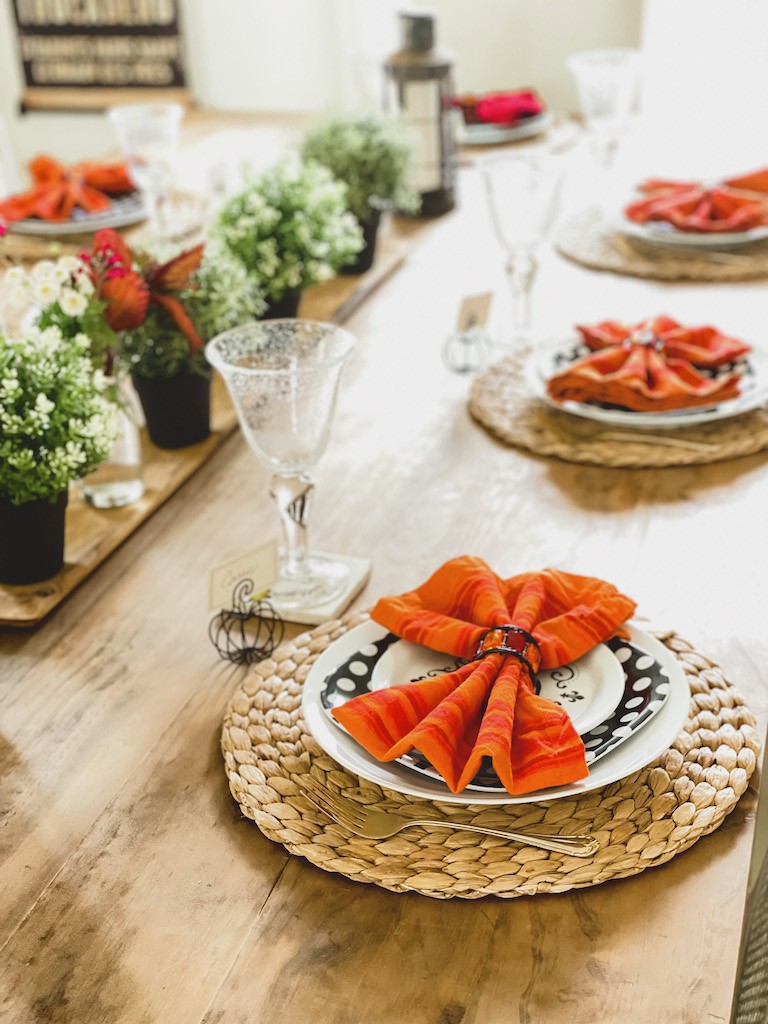 For the dinner plate I always use my basic white ones.
Food always looks better against a white plate.

Early fall placesetting
To bring in texture I used my favorite round woven placemats.
I've used them often.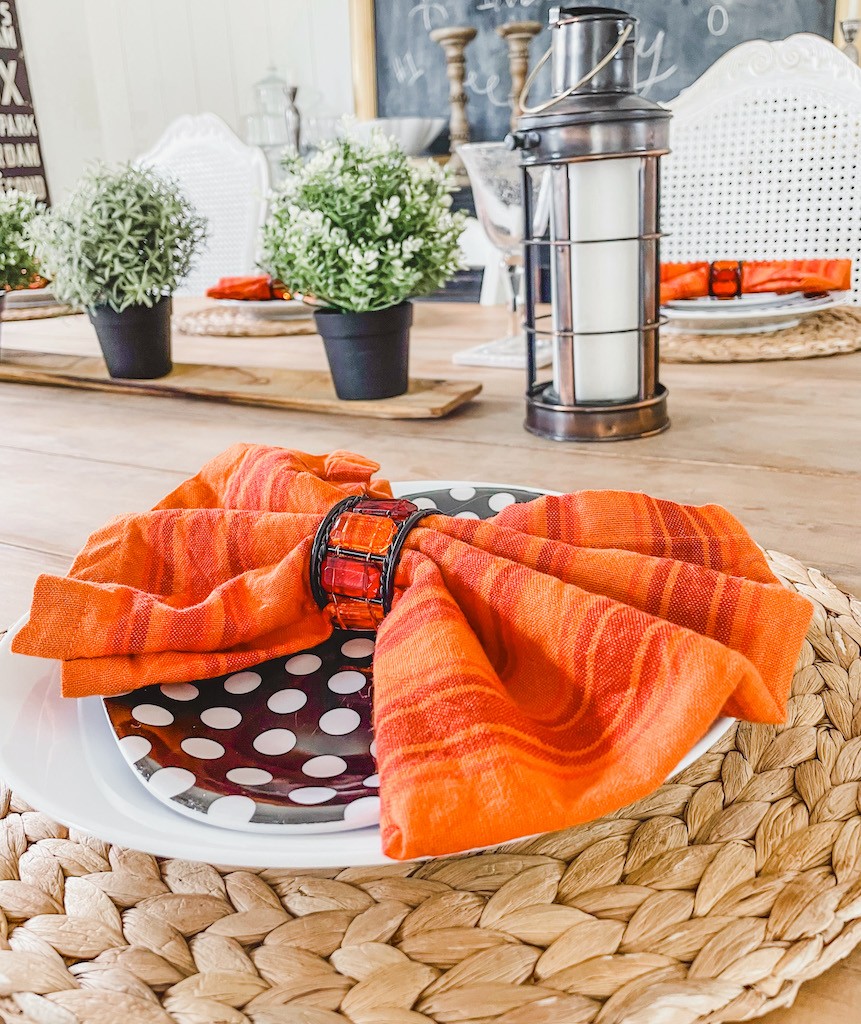 You can see how I used them in this pink outdoor tablescape and in this navy and gold tablescape.
Early orange and red fall centerpiece
I know it is a little to early to use pumpkins on my table like I did here.
But I really wanted something fallish and earthy with color to go with the orange napkins.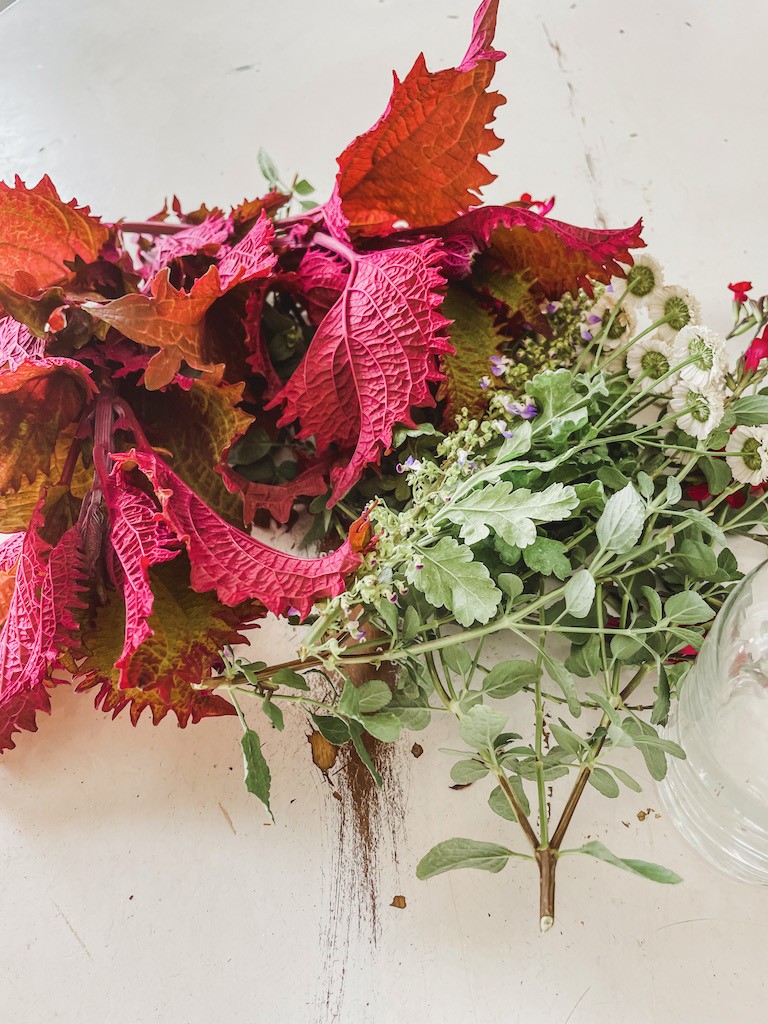 In the backyard I have this beautiful reddish orange plant growing.
I simply snipped a few stems along with some little white button flowers, some tall skinny red flowers and placed them in these small vases.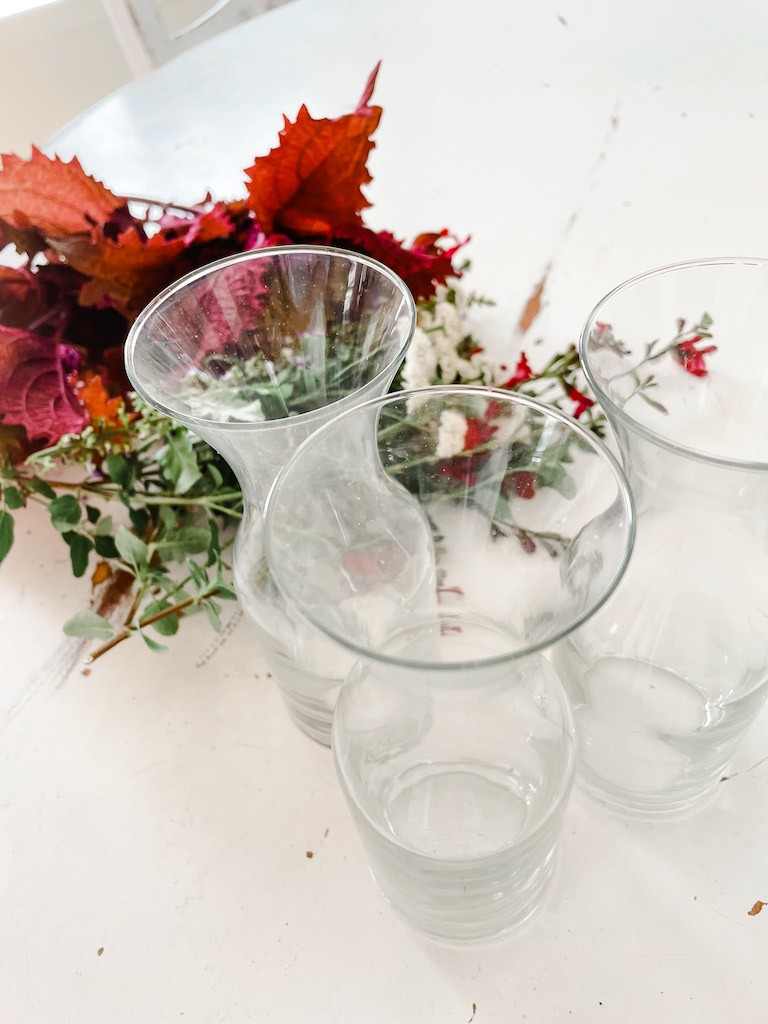 It looked a little naked.
To bring in a little more oomph I brought in my long skinny wooden serving tray and placed it in the middle of the table and added some faux potted greenery.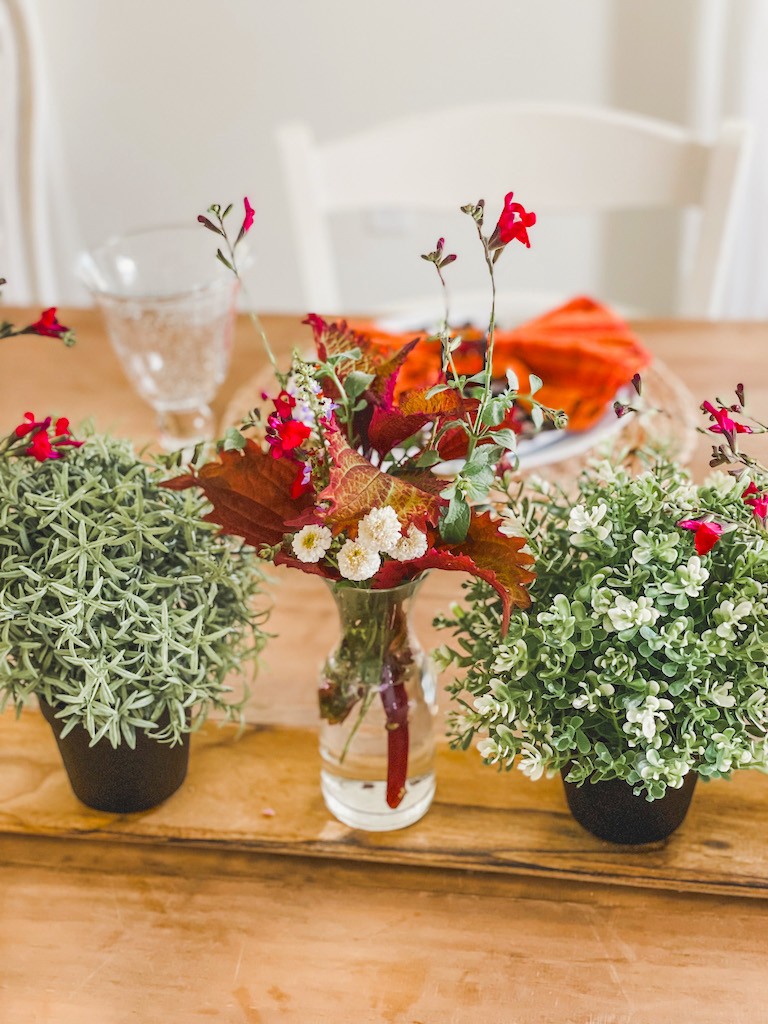 Placing the small vases in between the faux greenery I thought I was done!
Well almost! 😉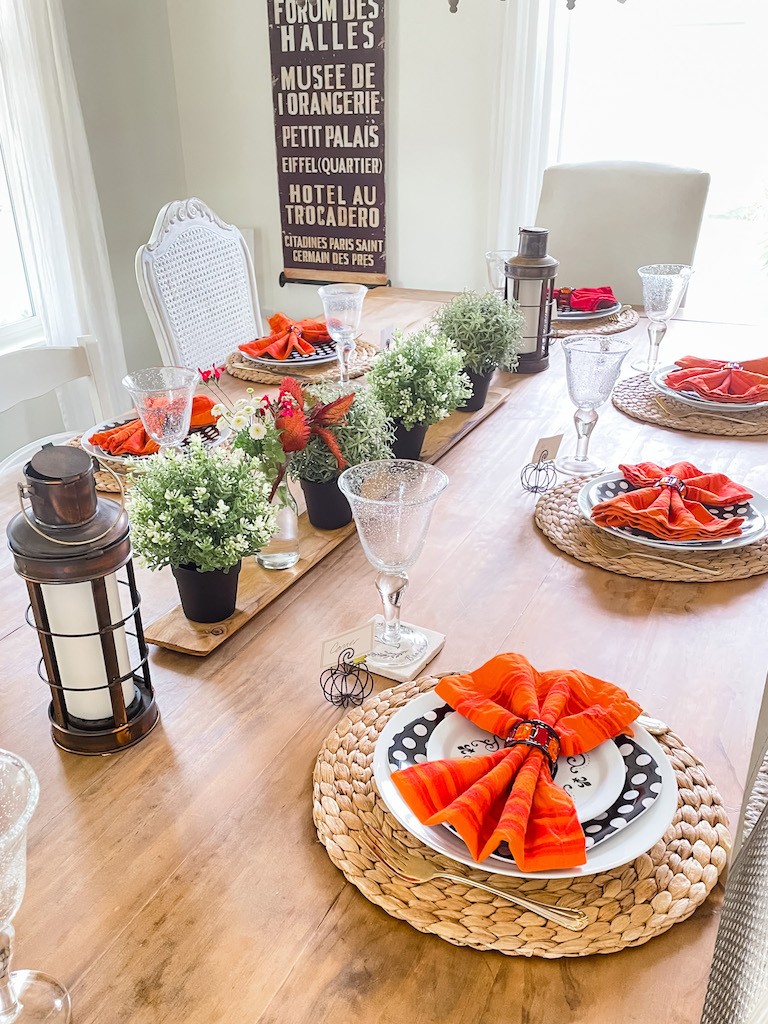 These cool old metal lanterns I had in my closet just look like fall to me for some reason.
I added those to each end of the centerpiece and now it looked complete.
Bubble glassware
I love bubble glass goblets! Even for serving water!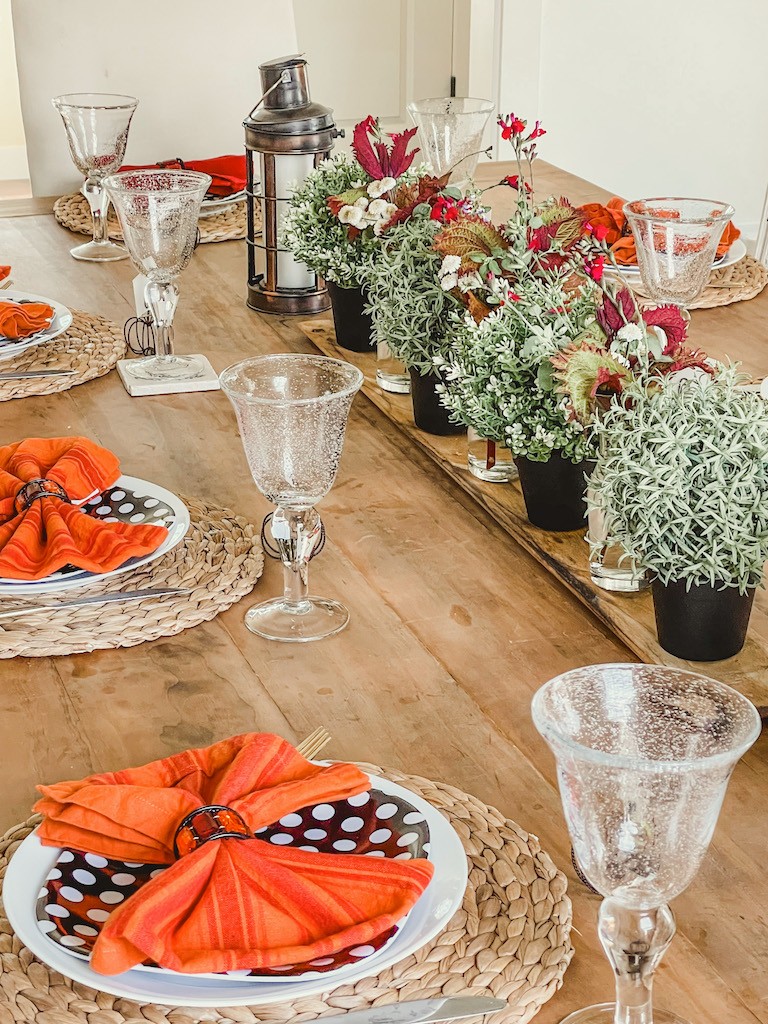 It just makes the table sparkle!
I have gold and clear bubble glass goblets. I used the gold ones here in this elegant rustic and denim tablescape.
Tablescapes are just so fun to do! I love seeing other bloggers tablescapes too!
You really need to check out this gorgeous tablescape on the Stone Gable blog, it is divine!
Gold flatware
Truth be told I've had this gold flatware for years! I think I bought them 30 something years ago!
You will never guess where I bought them from!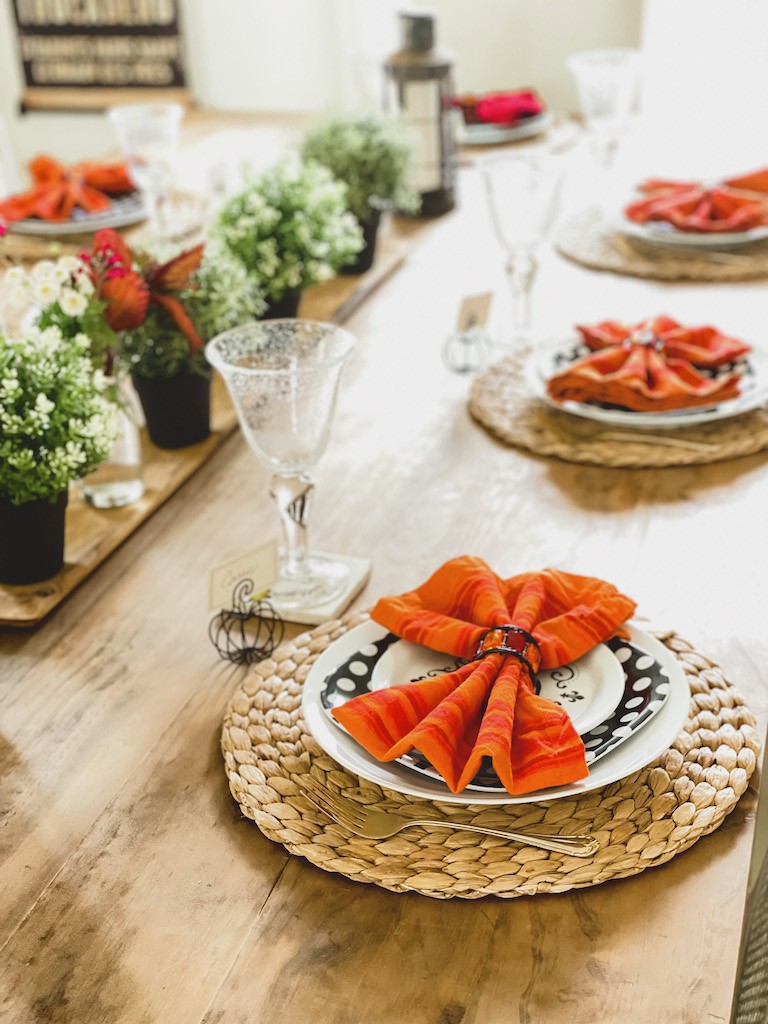 Big lots! I know! Crazy huh!
They are starting to discolor now so I need to replace them. But wow what a find and to have them last so many years!
Re-setting this early fall tablescape outdoors
Sunday happened to be such a nice day that I re-set the tablescape outdoors! The table outside is not quite as large as the one in the dining room so the centerpiece didn't quite fit but it still looked amazing!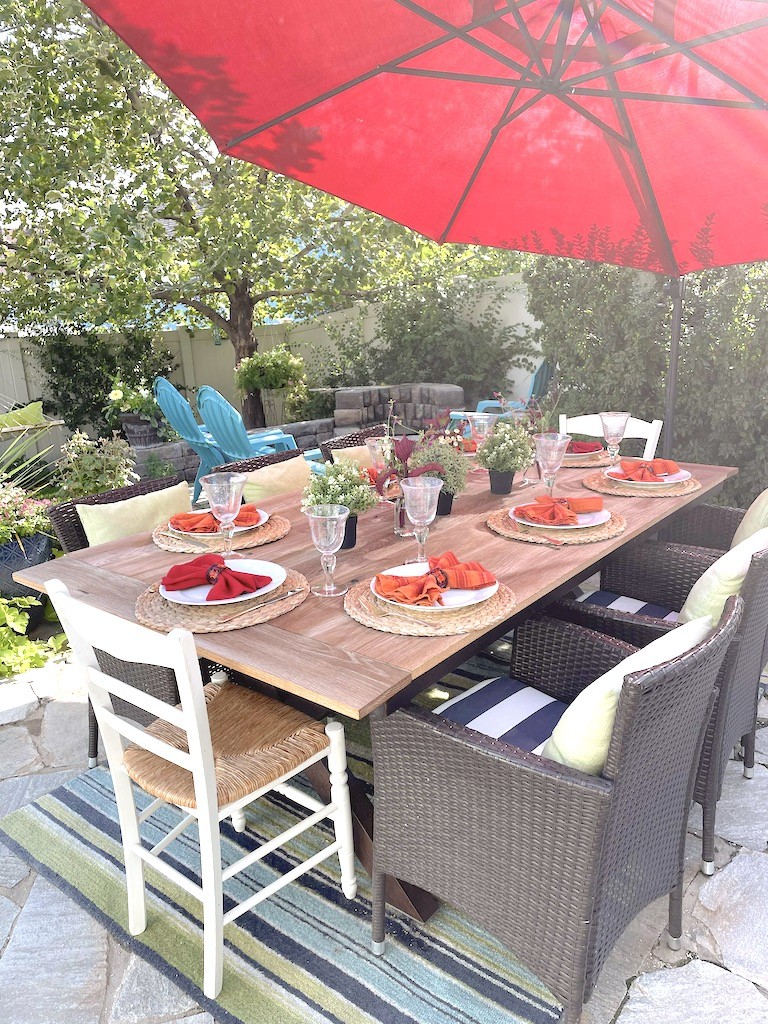 We had so much fun being together!
I made my ricotta tomato tart, grilled chicken, roasted vegetables, spinach salad and watermelon.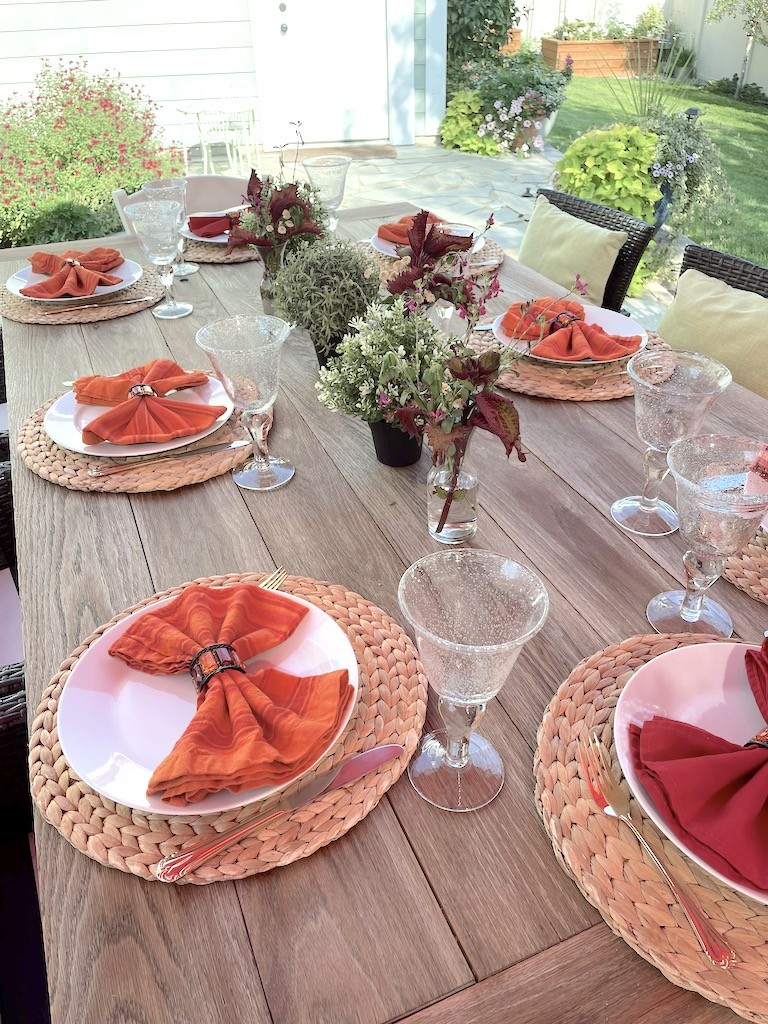 Shop Similar items

Pin to your fall tablescape board