I absolutely love entertaining and when I can do it outdoors it is even better! Today I am showing you Do it yourself garden party tips and tricks.
Here are a few of my favorite outdoor parties I put together. A rustic outdoor fall wedding reception with pumpkins and cornstalks. This small easy backyard wedding reception that I put together quickly and easily. Plus a pretty romantic outdoor dinner and a picnic under a tree I love it all!
They all have super inexpensive ways to get a lot of bang out of your decorations.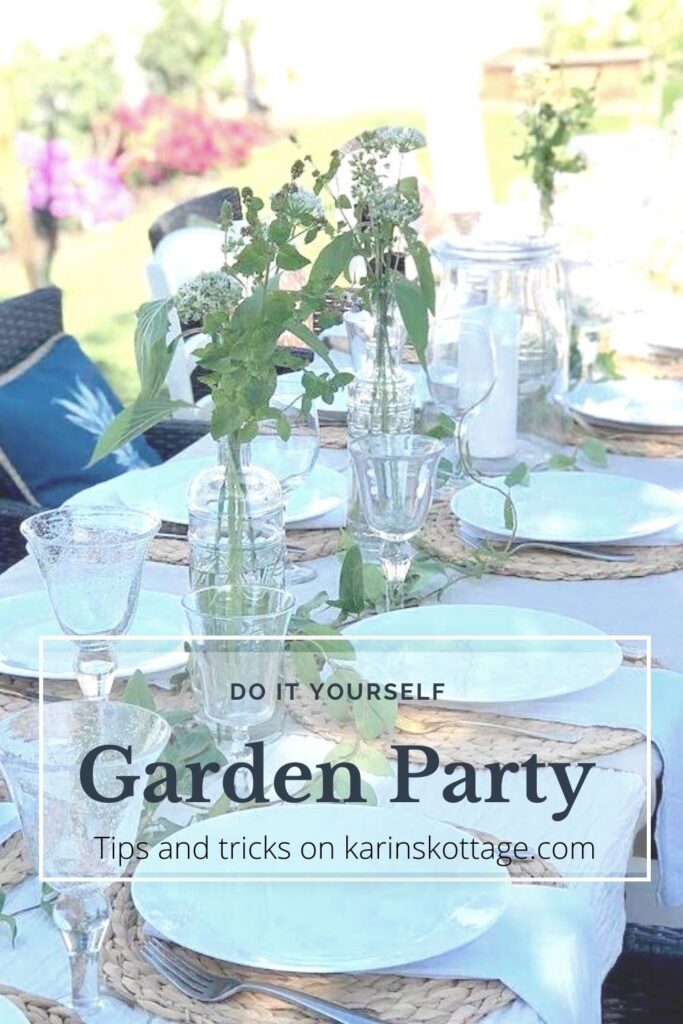 Begin garden party with tables and linens
With 20 or so family members coming we needed a fairly large space. The very first thing to do was to figure out where to put three long tables.
Out in the garden was perfect!
We did another garden party for 20 of our friends! You can read about it here.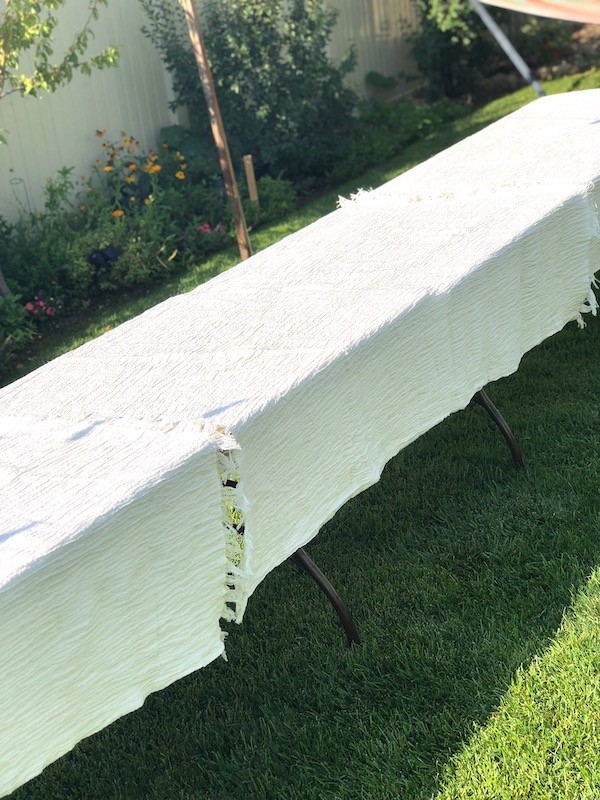 I used 3 creamy textured tablecloths on the tables. Then layered them with another oatmeal colored tablecloth that has a black stripe at the bottom. I bought these from Ikea but they don't carry them anymore 🙁
Texture and neutral colors just lends itself to a Garden party theme.
Our yard slopes a bit so here is a tip-
Put little pieces of wood under the legs of the table on the slope side to bring your tables level.
Mixing up your chairs for the Garden Party
I don't know about you, but I don't happen to have 20 matching chairs.
Grabbing chairs from all over the house and from the patio created a fun casual look.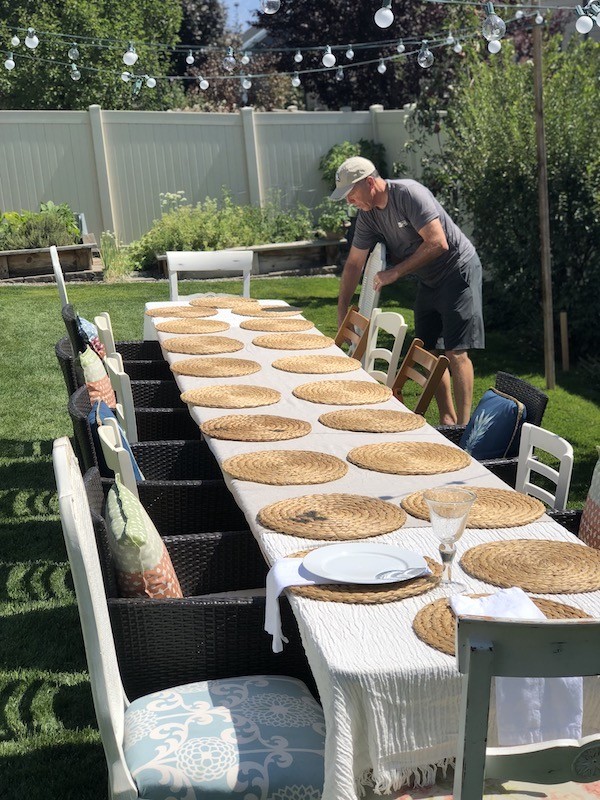 Placing the chairs in a pattern just says garden party to me. No matchy matchy.
If you want a matched set here is a set of 4 white chairs from Amazon
It really does not need to be perfect!
Garden Party Centerpiece
For the centerpiece I gathered some cut glass wine bottles and hurricane glass candle holders from my closet. I used clear glass because I didn't want a super fussy centerpiece because I wanted the garden to be the star.
Less is more. Don't you agree?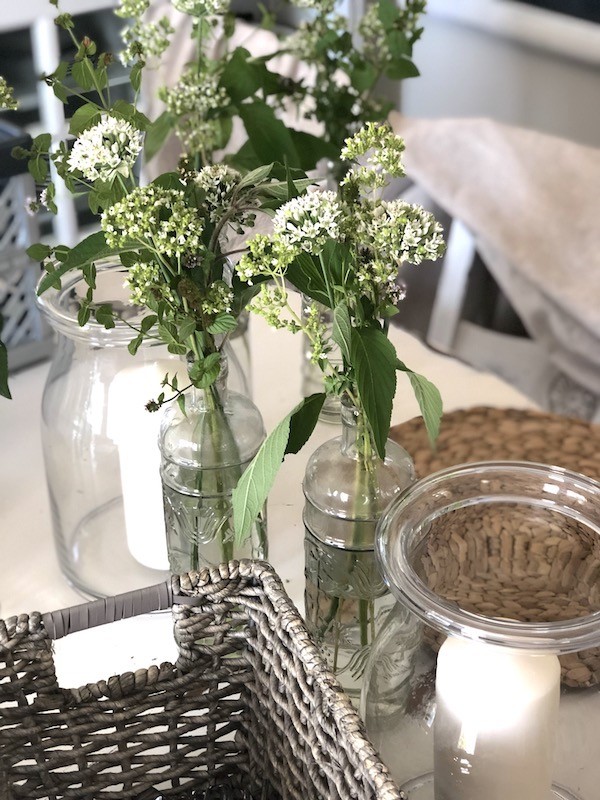 These glass hurricane candle holders are so awesome I used them in this outdoor dinner for two tablescape too.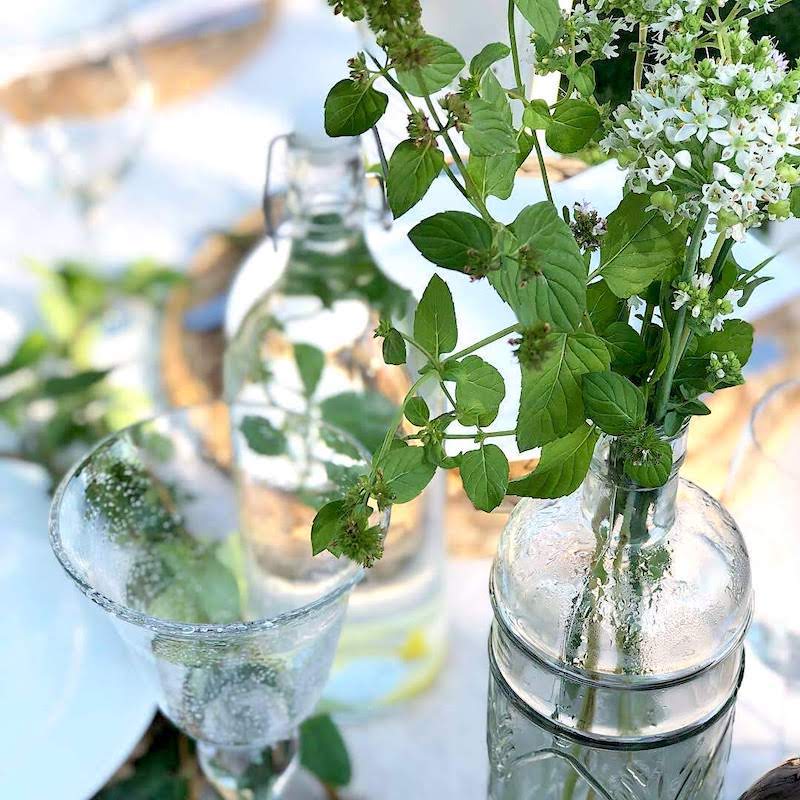 What do you put in a skinny bottle opening? This is such a grea tip! I used cut herbs from my garden!
Fresh mint …which grows like wildfire and believe it or not onion blossoms!
The little white flowers are blossoms are from my onions!
All these cuttings were from my yard and FREE!
Look around your yard for bushes, vines and herbs to use!
Natural Garden Theme Place Settings
In keeping with the garden theme I wanted texture, white and simplicity.
My woven placemats and plain white dinner plates fit that look perfectly! I use both of them everyday!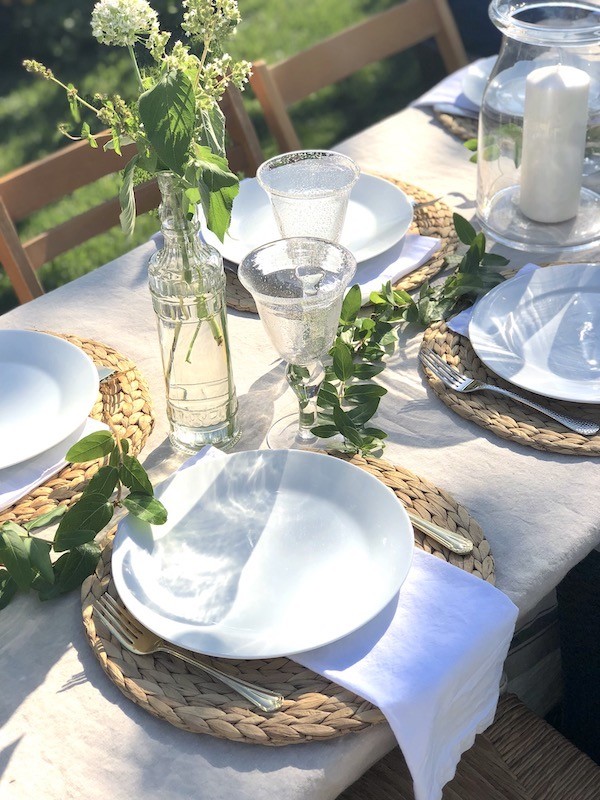 Placing a white napkin in between the plate and and placemat is such a pretty look! Bubble glass goblets reminds me of dew in the garden.
Of course I don't own 20 bubble glass goblets so I mixed them with plain glass goblets that I picked up at the thrift store!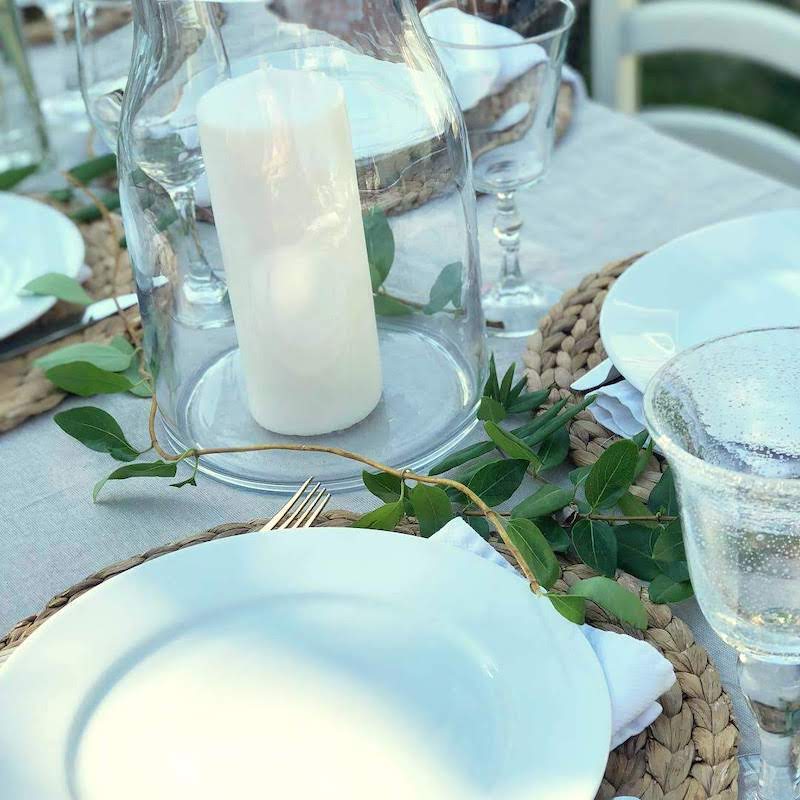 Tip- Lay some honeysuckle vines down the middle of the table. Place them in between the hurricane glass candle holders and glass bottles to bring in more of the garden theme.
Again these clippings are FREE if they are growing in your yard or your neighbors 😉
Add lighting to your DIY Garden party
Lighting whether it's candles or twinkling lights makes a huge difference. This pic was taken after everyone had left so you can't see how it looked all set up but trust me when everyone was there it was magical!
My hubby had to figure out how to create this lighting magic for me. He used wood 1 x 2 boards and pounded them into the ground, then he zigzagged the string of lights over the table.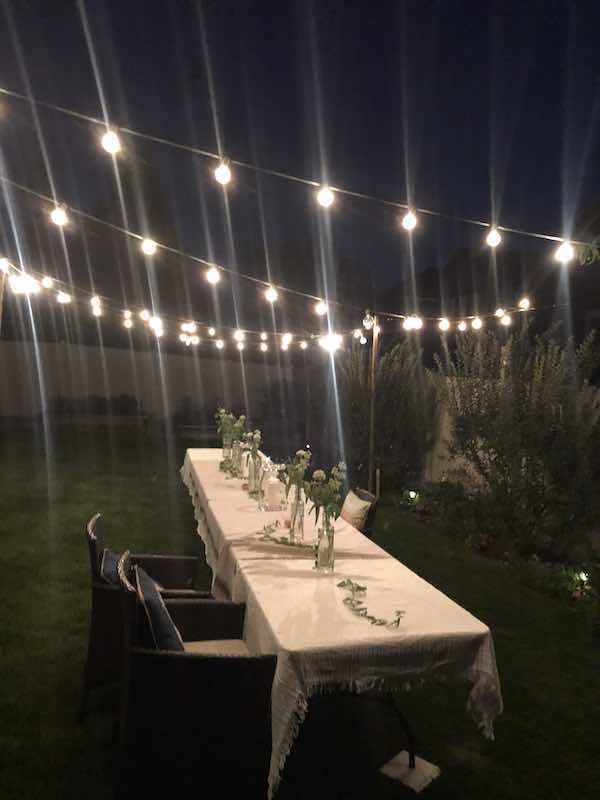 The lights were a little too heavy for the wooden boards. He figured out a way to attach string to the tops of the boards and secured them to the ground or trees. Kind of like you would do to secure a tent if that makes sense.
P.S. I the picture below if you look closely you can see the piece of wood underneath the leg of the table that I talked about earlier to keep the tables level.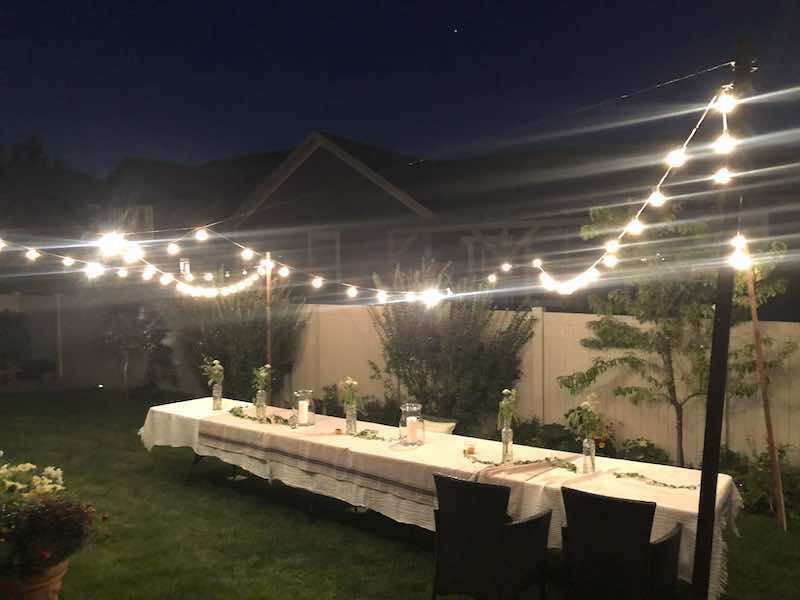 It totally worked and everyone loved it!
Making Memories With the Family
Fun was had by everyone at my do it yourself garden party.
There is just something special about being out in the garden eating dinner with lots of family.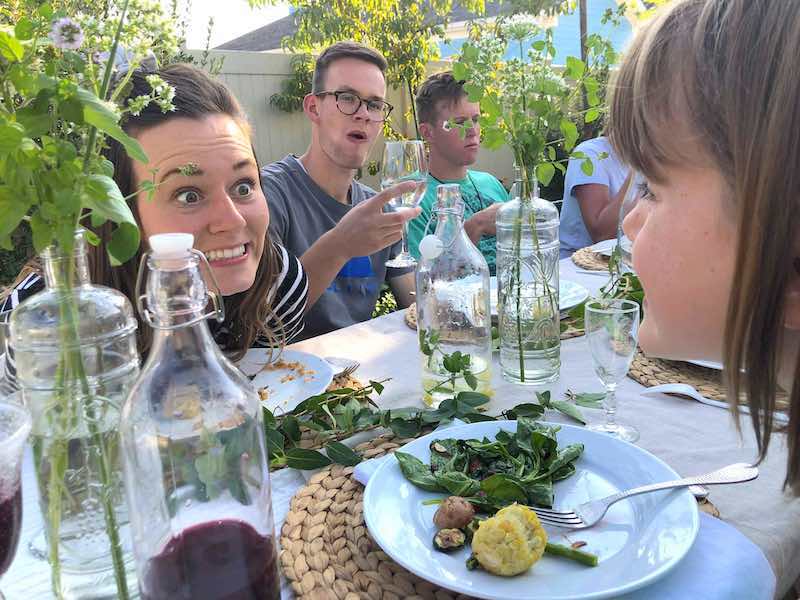 I loved putting this outdoor garden party together for my family but this would also be such a great idea for a small wedding reception too!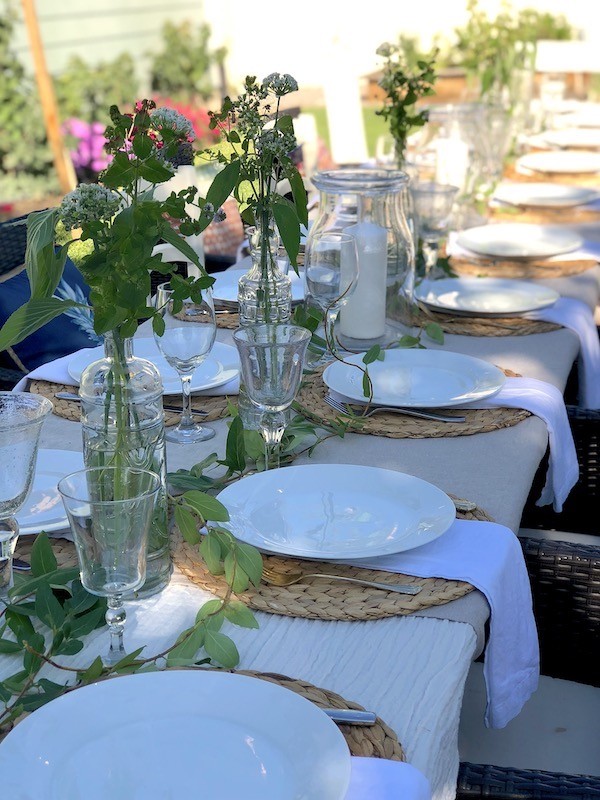 Cousins enjoying a yummy grilled chicken dinner.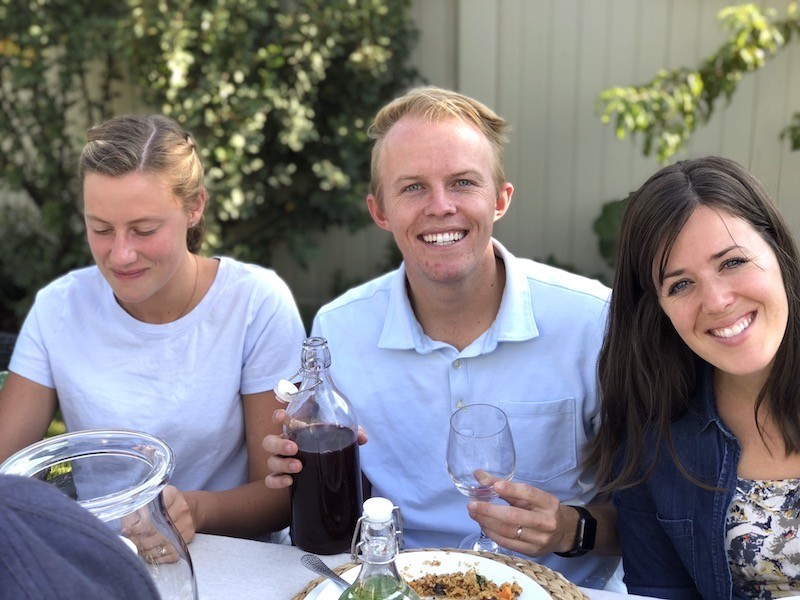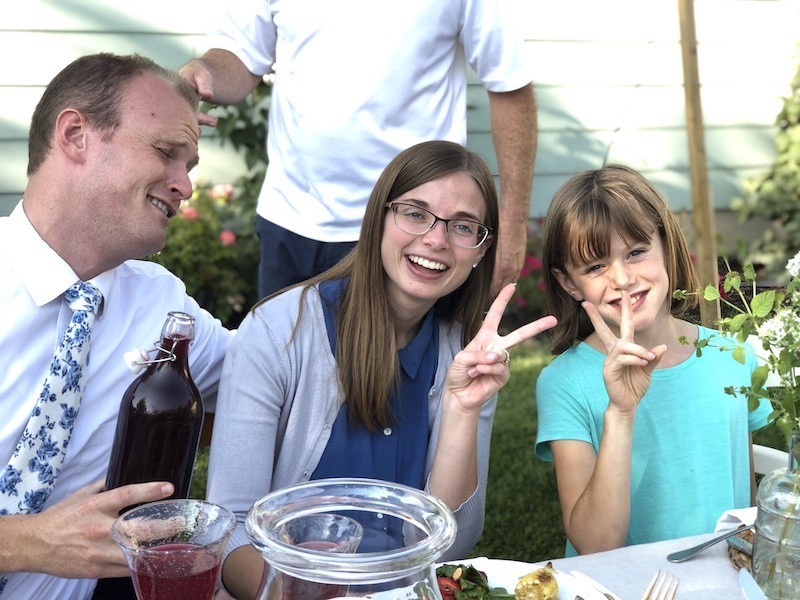 You can find the recipes by clicking on the menu item- Grilled chicken, Grilled Vegetables, Spinach Salad and Couscous with yams! SO GOOD!!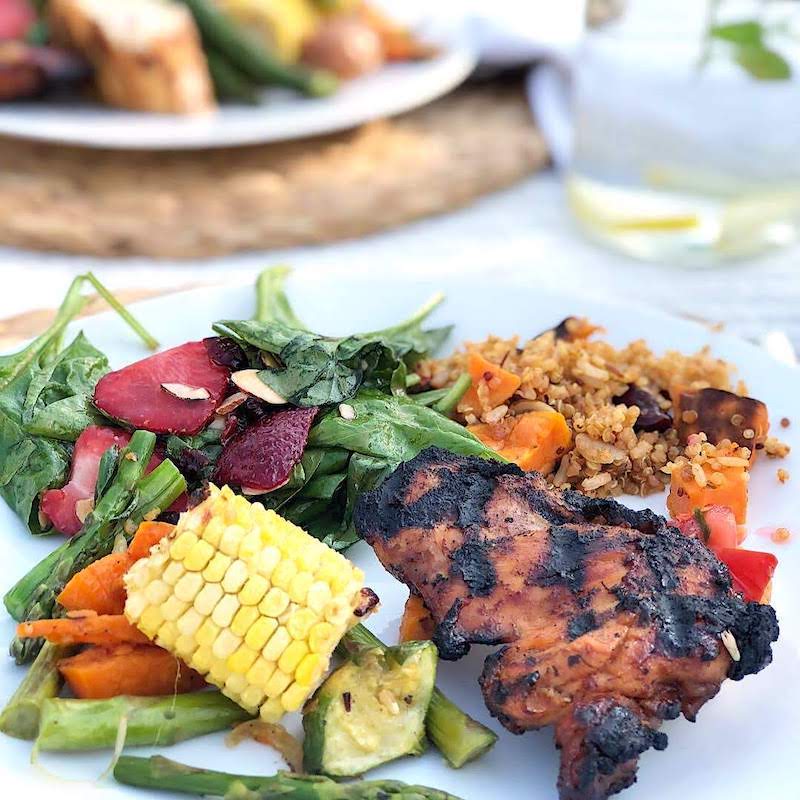 Our silly little grandsons 🙂
Recently we celebrated the grandson on the right with a Pirate themed birthday party that was so fun to do.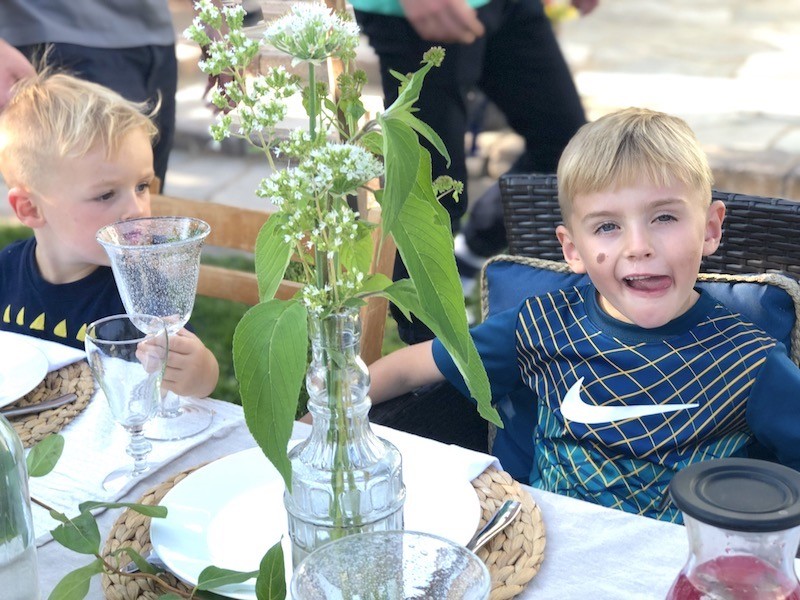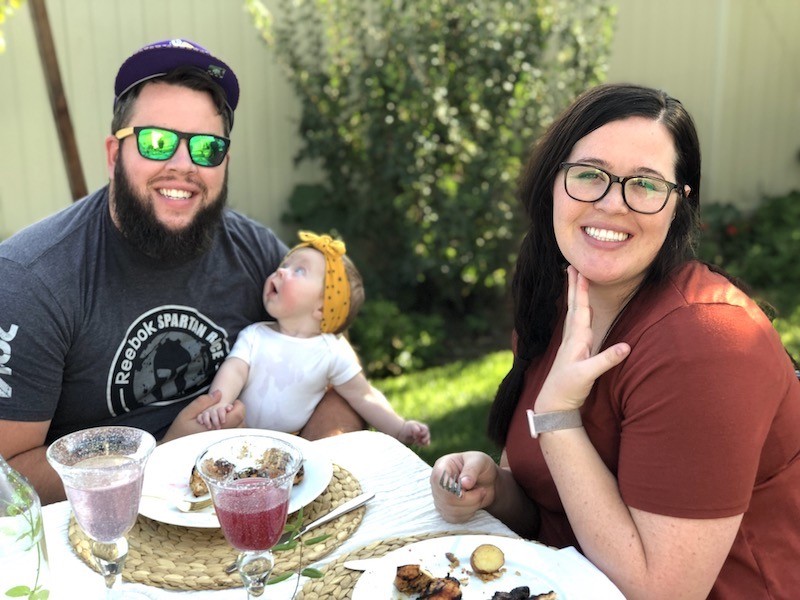 Here are some of my favorite herb infused lemonade recipes.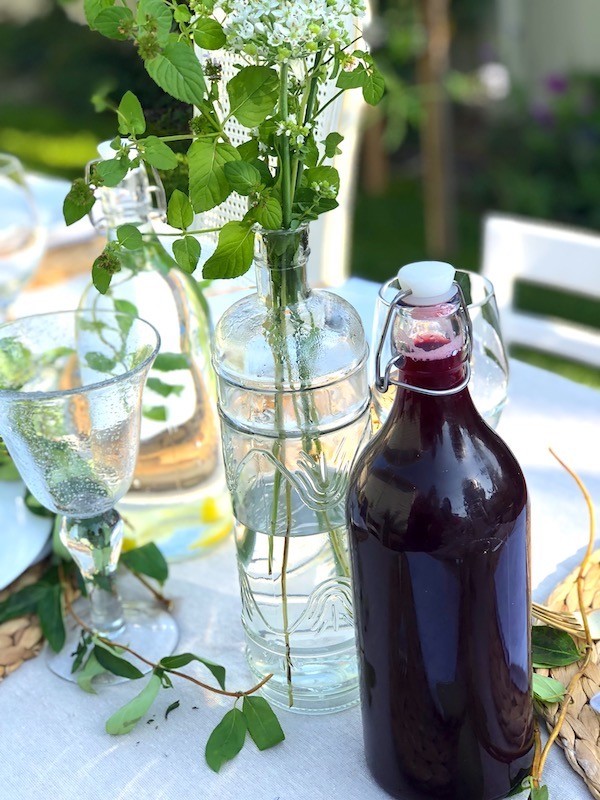 The whole gang! Sisters, Brothers, Cousins and Aunts and Uncles.
We love them all!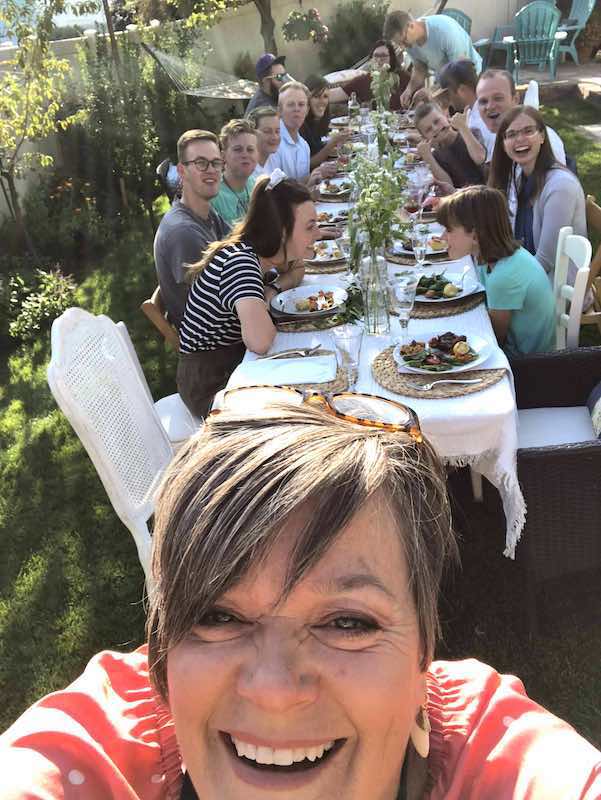 Shop Similar Garden Party Items

Pin this idea for later