Summer time is the perfect time to make peach pie! Today I am sharing my mini peach raspberry pie recipe!
I don't know if this happens to you when you buy peaches but some start to wither before we know it and others are hard as rocks!
As a result I decided to hurry up and use the withered peaches and make some pie!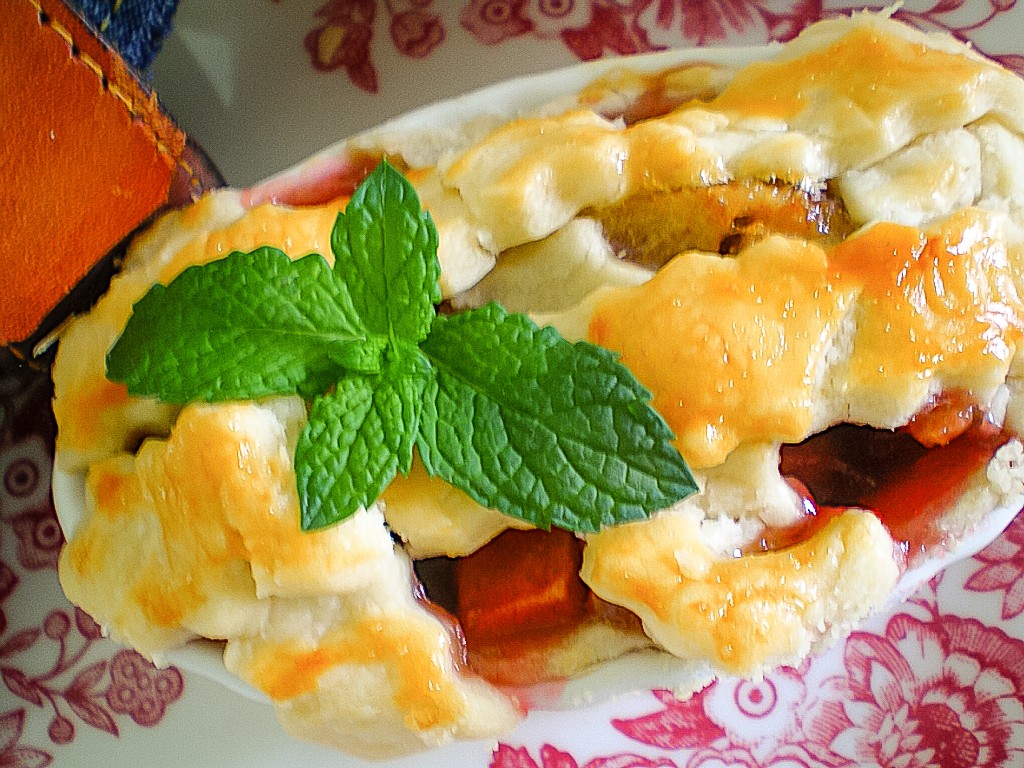 OOOH all that goodness is oozing out of the crust and dripping over the sides.
I served these Mini peach raspberry pies when I created this Ralph Lauren meets Audrey Hepburn elegant country Tablescape.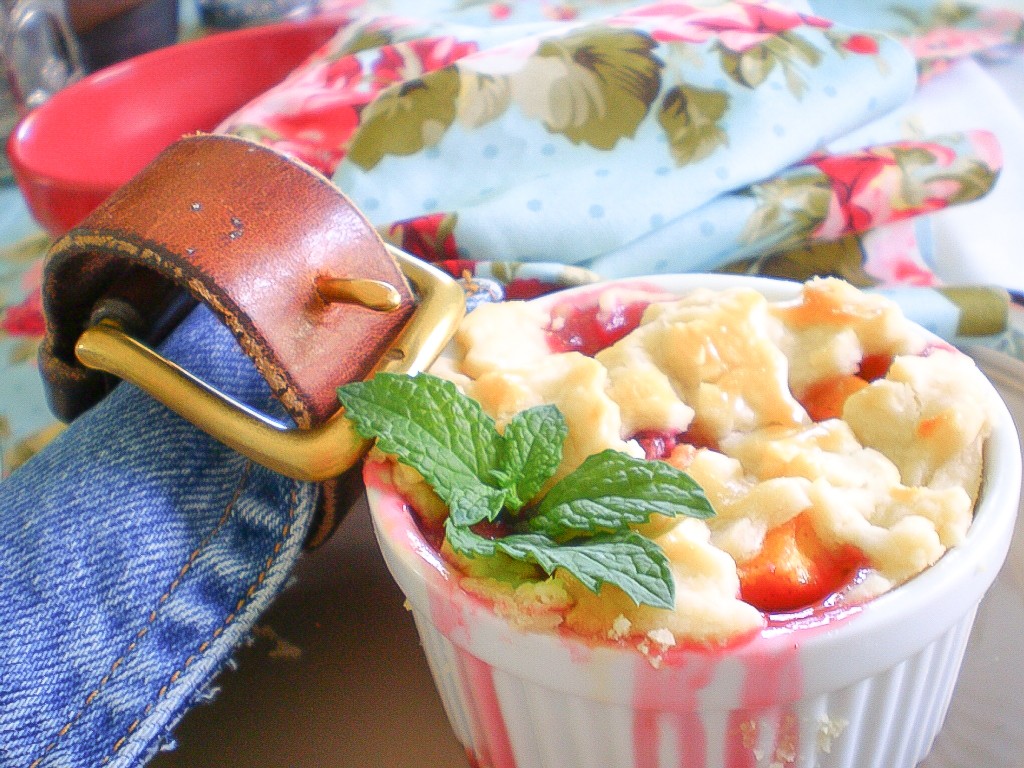 Ingredients for mini peach raspberry pie
For the recipe I used about 4 or 5 peaches in varying size and ripeness.
You can see the different colors of the peaches below. Some were white peaches and some were yellow peaches.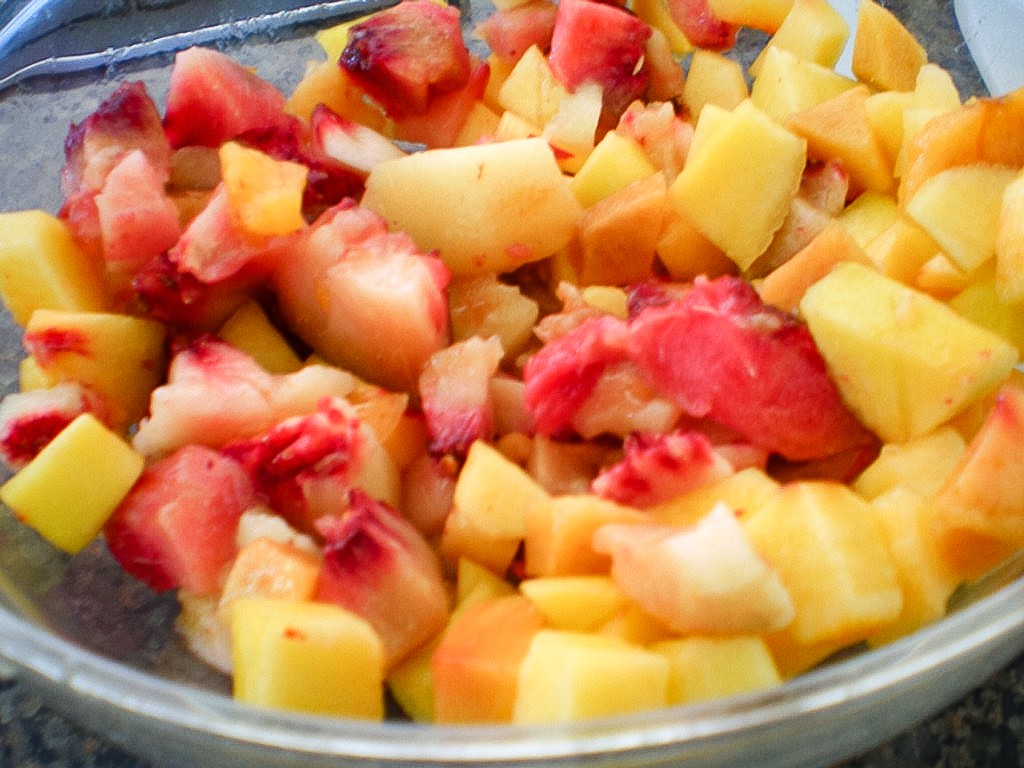 The dark golden yellow ones were hard and the deep red color were mushy. I peeled them and chopped them up into small pieces.
Then I add 3 Tablespoons of brown sugar and 1/4 cup of white sugar, 2 Tablespoons of corn starch, 1 tsp vanilla, 1 tsp cinnamon, 1/4 tsp allspice and 1/4 cup frozen raspberries.
Mix it up gently and let it sit.
Mini Peach Pie Crust Recipe
This is my grandmothers pie crust recipe!
Grandma Billie was known for her pie crusts!
Here is the recipe for the pie crust (I made 2 of these recipes)
1 1/4 cup flour
1/4 cup shortening
1/4 cup butter
pinch of salt
2 to 3 Tblsp of ice cold water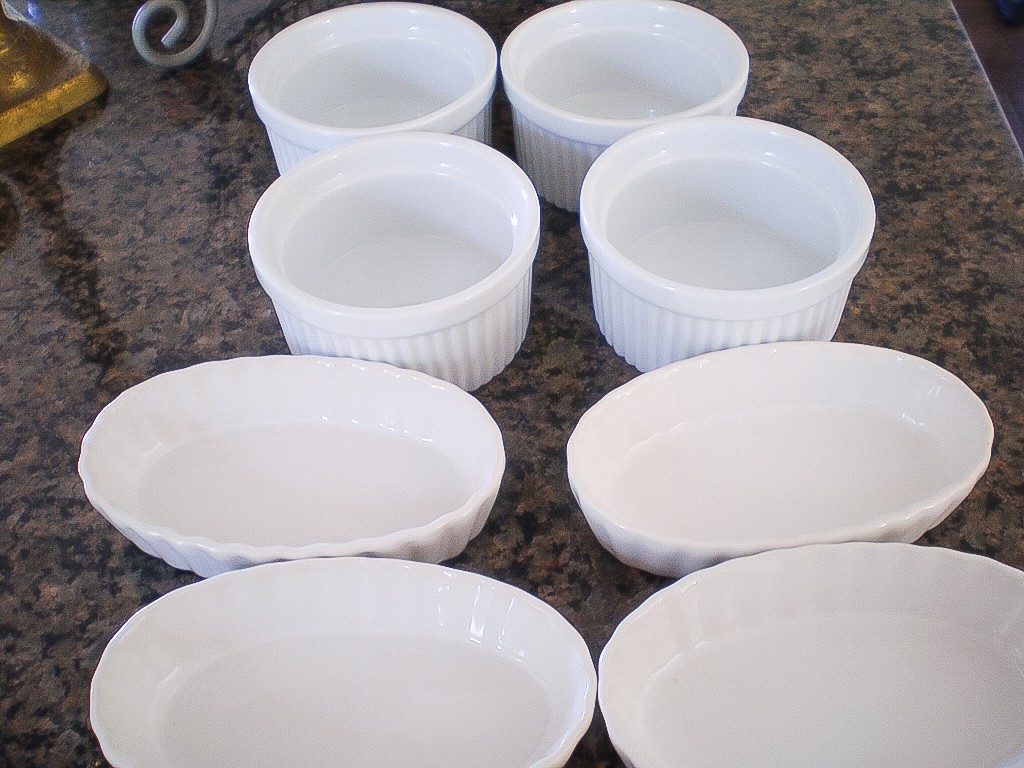 Whipping it up in my Cuisinart food processor is super easy but you could use two forks if needed.
Just mix until it starts to come together. Form each batch of dough into a flat pancake disk and wrap it with saran. Put the wrapped disks into the freezer for about 10 min.
Once dough is nice and cold roll it out and cut out circles that are a little bigger than a ramekin.
Fit cut circles of dough into the ramekins.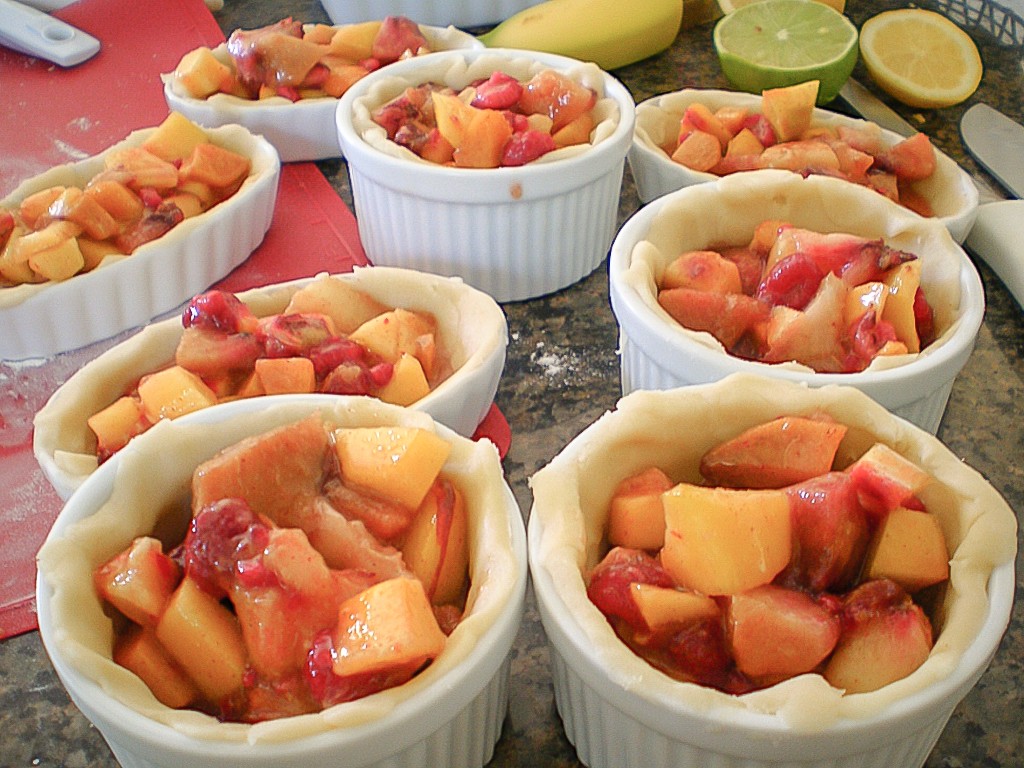 After ramekins are filled with the chopped peach mixture, roll out the second disk of dough.
I used my pampered chef serrated edge cuter thingy to cut skinny strips to make the criss crosses for the top crust.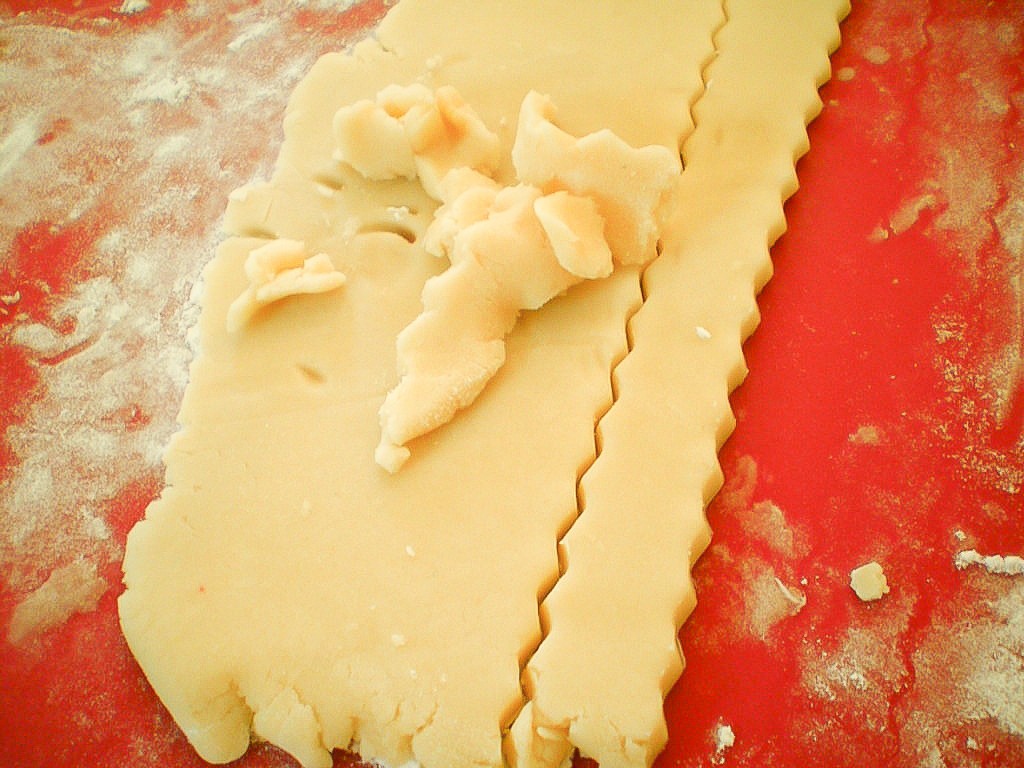 Baking the mini peach raspberry pies
Bake them in the oven for about 30 minutes…until the crust is golden and the filling starts to ooze over the edges…yummm can you smell it yet?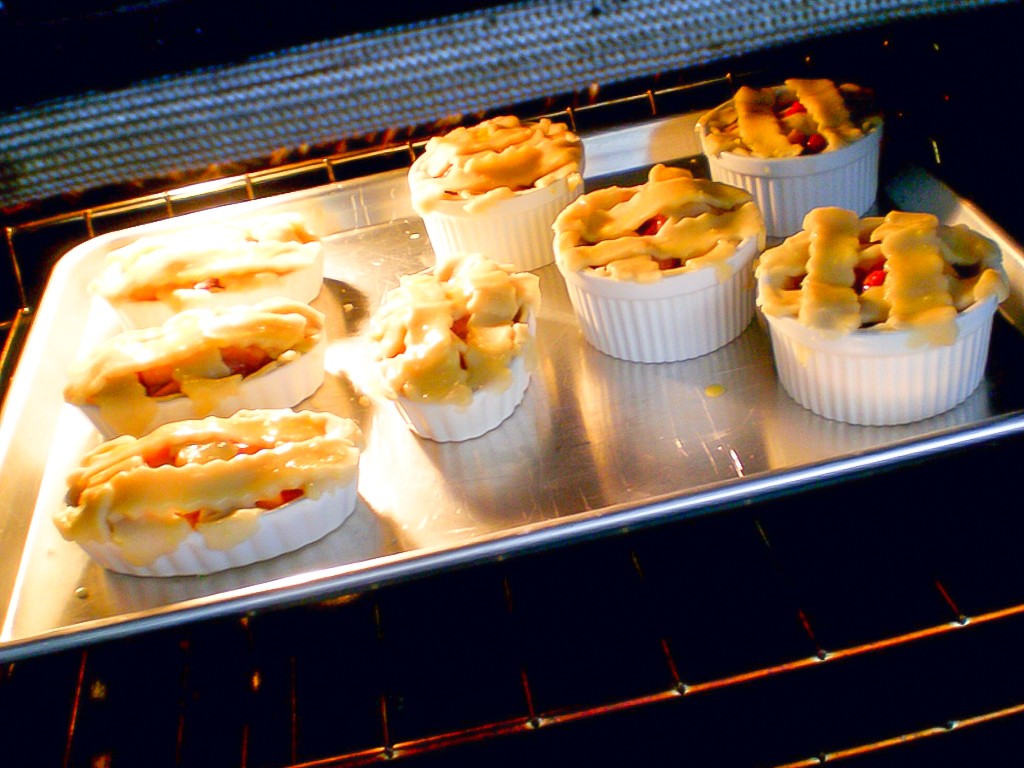 Here they are all in their cuteness.
This made 8 mini peach raspberry pies!
I have made some mini peach blueberry crisps that you might like too!
Can you ever have enough peach pie recipes? I think not 🙂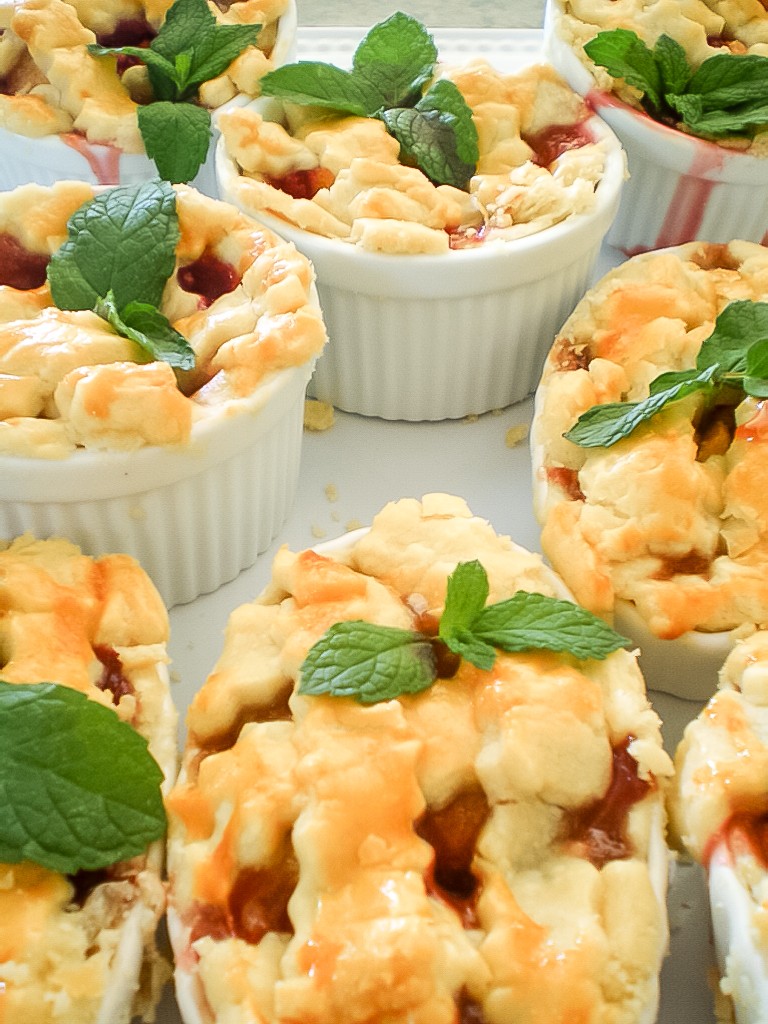 More Recipes from Karins Kottage
!. Chocolate Brownie Oreo Trifle This is the most delicious trifle that everyone loves!
2. Early Fall delight Peach cherry tomato salad wins hearts!
3. Quick 1-hour mini cinnamon rolls that the kids will love to make!
4. Homemade Crackers with a hint of cheese that are super easy to make!
Shop this post

The Recipe
Mini peach and raspberry pies in ramekins
These mini peach raspberry pies are so delicious and easy to make. Perfect flaky crust and juicy peaches make this the perfect summer dessert.
Equipment
oven

Ramekins

Rolling Pin

Rolling mat
Ingredients
Pie Crust
1 1/4

cup

flour

1/4

cup

shortening

1/4

cup

butter

pinch

of salt

2 to 3

Tblsp of ice cold water
Peach raspberry filling
4-5

peaches

peeled and chopped in to bite sized pieces

3

Tbsp

brown sugar

1/4

c

sugar

2

Tbsp

corn starch

1

tsp

cinnamon

1

tsp

vanilla

1/4

tsp

allspice

1/4

C

frozen raspberries
Instructions
I used my cuisinart to make the crust but you could use two forks to mix up the dough.

Put flour, and salt into the bowl of a food processor and pulse a couple times to mix.

Add butter and shortening to the food processor and pulse several times until the largest pieces of butter are about the size of large peas.

Add 2 tablespoons of ice water (make sure there are no ice cubes in the water!) and pulse again.

Then add more ice water, a tablespoon at a time, pulsing once or twice after each addition until the dough just barely begins to hold together.

*You may not need all the water.

The mixture is ready when a small handful of the dough holds together when you pinch it with your fingers.

Divide the pie dough into two even-sized flat disks. Do not over-knead! Wrap in cellophane and place in fridge to keep cold.
Peach Filling
For the recipe I used about 4 or 5 peaches in varying size and ripeness.

Peel and chop them up into small pieces. Place into a bowl.

Add brown sugar, white sugar, cornstarch, vanilla, cinnamon, and allspice. Gently mix up ingredients.

Add in frozen raspberries and lightly fold them in.

Let mixture sit until you roll out the dough and fill the ramekins.
Fill Ramekins
Once dough is nice and cold, roll out one disk to approx 1/4" thick and cut out circles using a glass that is slightly larger than ramekins.

Fit the circles into the ramekins 

Fill each ramekin with the peach mixture.

Roll out the second disk of dough and use serrated edge cuter to cut skinny strips to make the criss crosses for the top crust.

Place ramekins on cookie sheet and bake in oven at 350 degrees for approx 30 min.