Traveling in Italy recently we ate at one of our favorite restaurants in Casoli called Fiori's. The chef, Carmine, made this amazing chilled cantaloupe soup with cucumber and prosciutto. The sweet refreshing flavor of the cantaloupe mixed with the cucumber is truly divine. The addition of the smokey salty prosciutto is AHHHMAZING!
I decided to try and recreate it and I think I did a pretty great job and it is so simple you won't even believe it! It is the perfect thing for summer! We had it tonight as a first course and all the guys when bananas over it!
Ingredients for chilled cantaloupe soup
There is only 5 ingredients to make this!
1 Tuscan cantaloupe or regular cantaloupe
1/2 Cucumber chopped into very small chunks
4-6 thinly sliced prosciutto ham
1/2 Fresh lime
Olive oil (Optional)
How to make the chilled soup base
Using a sharp knife, cut off the outside of the cantaloupe. Try to keep as much flesh as possible but cut off any green areas.
Chop the cantaloupe into cubes and place in food processor or heavy duty blender. Aren't these roses spectacular? My sweet friend brought me these for my birthday!
Blend the cantaloupe until smooth. It will be kind of runny but thick at the same time if that makes sense. Pour into a bowl that can be placed in the freezer.
Keep in freezer for a couple of hours. It does not need to be frozen solid. It just kind of thickens up the soup a bit.
While the cantaloupe is in freezer, chop up the cucumbers into small little chunks. I was going to use some mint to flavor it or at least use as a garnish but I forgot!
Fry the prosciutto in a frying pan with a little bit of olive oil. (it tends to smoke so keep the heat at medium high). Oh I wish you could smell this goodness going on!
It is going to be nice and crunchy!
How to serve the cantaloupe cucumber soup
Twenty minutes before serving take the cantaloupe, take out of the freezer to thaw a little bit.
Ladle the soup into small bowls.
I love these little bowls! There is a link to some similar looking bowls at the end of this post under shop.
Top with chopped cucumbers.
Squeeze just a little bit of lime over each bowl of soup.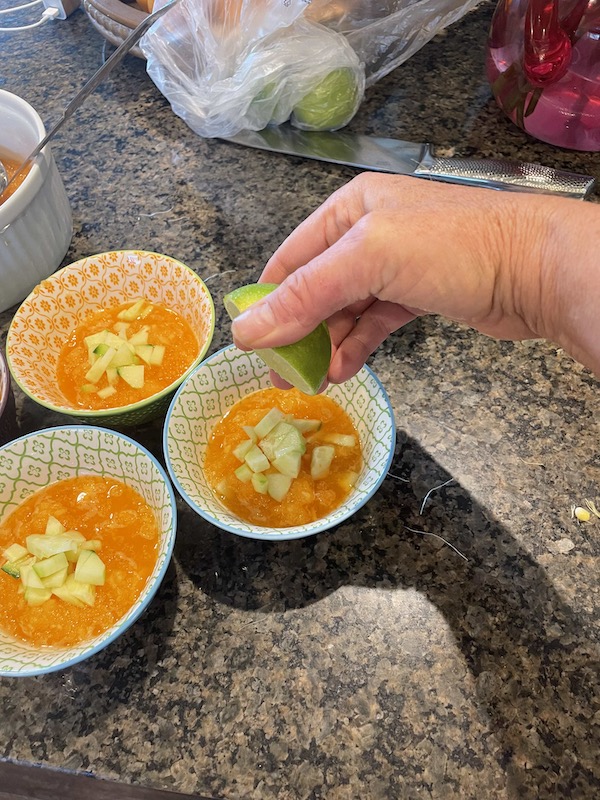 Sprinkle the fried crispy prosciutto over each bowl of soup.
When we were in Italy the chef drizzled a little olive oil over each bowl of soup.
I did not do that on ours..I forgot haha. That is what happens when I am in a hurry to get the food on the table.
This is so refreshing and filling. You really must try it and let me know what you think!
More Karins Kottage Recipes
Cute "crabby" cupcakes for kids
Bears on the beach pudding cups
Layered lemon cake with strawberries
No bake mini pound cake fruit tarts
Karins Kottage Summer Parties
Shop
These are affiliate links and if you buy any items I make a small commission at no extra cost to you. This helps me continue to keep this blog going and I really appreciate it! 🙂