If you want to make a gorgeous Anthropologie knock off wreath for yourself or as a gift here is the tutorial!
It takes a couple hours and is easy peasy to do and looks gorgeous when it's done.
The real Anthropologie wreath costs a fortune and this one cost me around $20.00 The yarn I used to make this wreath is fluffy and soft.
Supplies Needed to make Anthropologie Knock off wreath
Fleece Lite yarn by Yarn Bee is fluffy and a creamy white color.
This yarn is really nice to work with and really fluffs out so nicely. "It's so fluffy I could die" hehe Anyone know what movie that is from?
I have used this same yarn when I made my Fall yarn pumpkins here
You will also need a straw wreath form.
I found mine at the dollar store but I will put a link at the bottom of post where you can purchase them online.
I love making all types of different wreaths for the all holidays.
Have you checked out my Coastal Christmas wreath made with fat Cotton Piping and sea shells? It turned out so cute and is super easy to make!
My favorite fall wreath is my hydrangea faux pumpkin wreath.
I love it when wreaths are quick and fast projects but look like they took a lot of effort.
3 skeins of Yarn Bee fleece Lite color: Quartz
1 straw wreath (keep wrapped in plastic so it won't fall apart)
Floral pins
Anthropologie knock off wreath directions
Be prepared to make a lot of bundles! The great thing is you can do this while watching your favorite show.
Wrap the yarn around four fingers about 40 times but it does not need to be exact…36 to 40 times.
Then slip the yarn off your fingers
Carefully place the bundle on top of a piece of yarn.
Make sure to leave enough yarn out on each side so that you will have enough to tie around and knot it.
Tie the string tightly around the center and knot it.
You will have lots of loops on either side of the tied piece of yarn.
Now cut all the loops.
To make it easier- Slip a finger through one side of the loops and glide the scissors through and cut.
Fluff it out and feel around for any loops you may have missed and cut those.
It takes around 40 bundles to really make this wreath look full and fluffy.
Each skein of yarn gave me around 15 bundles..but I could be wrong… I'm writing this as we drive to Moab, Utah from my memory of making this last week.
haha Have you ever been to Moab, Utah? The beautiful red rocks and the hike to the delicate arch is a must see! We recently visited with some of our family and it was such a nice little mini vacay!
Attaching the bundles
Then start attaching them to the wreath with the floral pins.
I started on one area of the wreath and then filled the inside and then the outside edges until you could not see the straw.
Hold your wreath up and look for any holes and fill them in with more of the bundles.
Hanging the Pom Pom Wreath
I have used this Anthropologie knock off wreath for many years and in different places in my home during the holidays!
Here I hung it in my dining room and added a turquoise ribbon. The glittered Merry Christmas sign in the middle brings a little glamour to the room.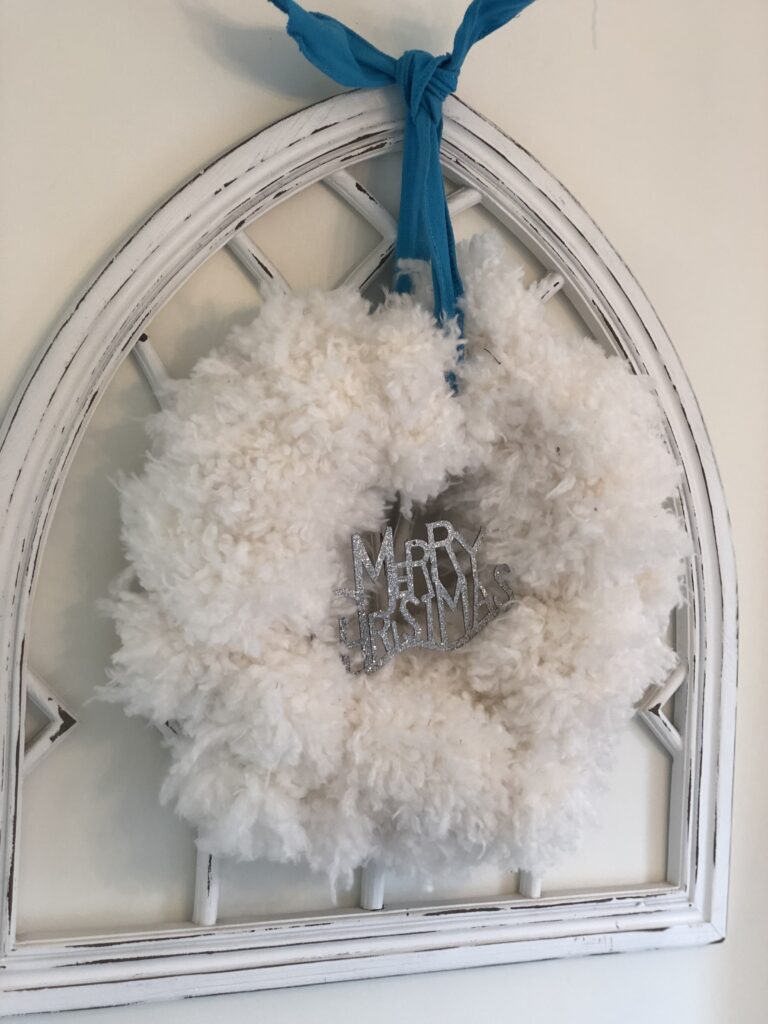 This time I added a red and white striped ribbon and some little silver clamp on love birds and a glittered Noel sign to the wreath in my dining room.
Red and white striped ribbon allows this wreath to be the center of attention!
You can see the rest of my Christmas Home tour from a few years ago here.
Our traditional Christmas family room decked out in red and green. The fluffy white Anthropologie wreath is the star of the room. It looks so good hung with a solid red ribbon against the black chalkboard!
To see more of this Christmas family room and more of my ideas go here.

If you liked this craft you will love these too!
Shop This Post