This pink arctic cranberry ice salad is an absolute must for Thanksgiving and Christmas EVERY YEAR!
I tried not making it one year and my hubby and family members almost had a heart attack haha.
It is pink, creamy, fluffy, sweet and tangy all at the same time!
I love it on my turkey as well as spread on my leftover turkey sandwich too!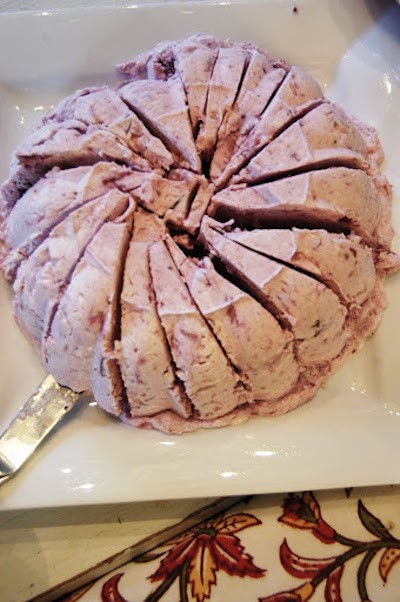 Whip the cream
The first thing I do when making the pink arctic ice salad is whip the cream.
Nothing compares to fresh whipped cream I use it here on my decadent Chocolate torte that is perfect as a Christmas dessert.
My daughter made this amazing brownie fruit tart also using whipped cream but mixed with a little cream cheese. It is amazing!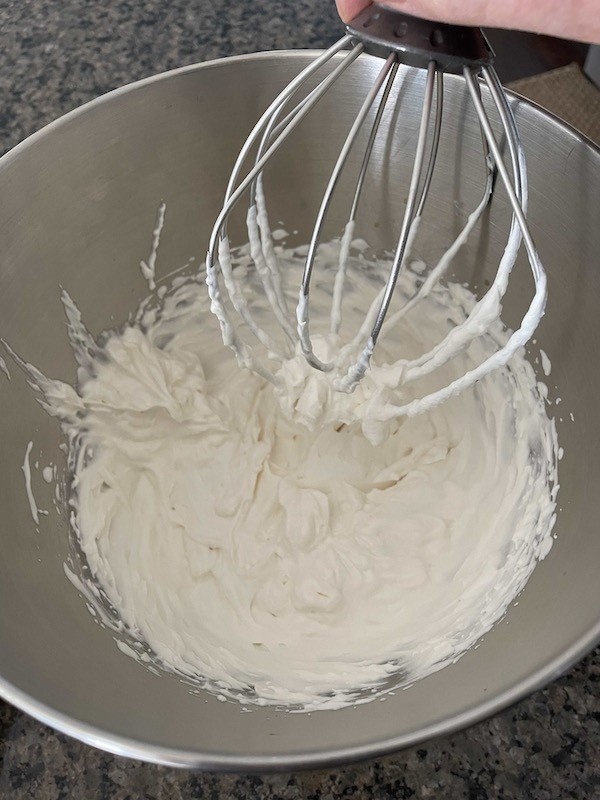 8 ounces of whipping cream with 1/4 c of sugar and 1 teaspoon of vanilla.
Beat until light and fluffy. Set it aside.
Don't beat too long or the whipping cream will turn into butter.
Cranberry pineapple base
I used my Cuisinart food processor to make the base part of the salad nice and smooth.
You could probably use a blender to make the base too.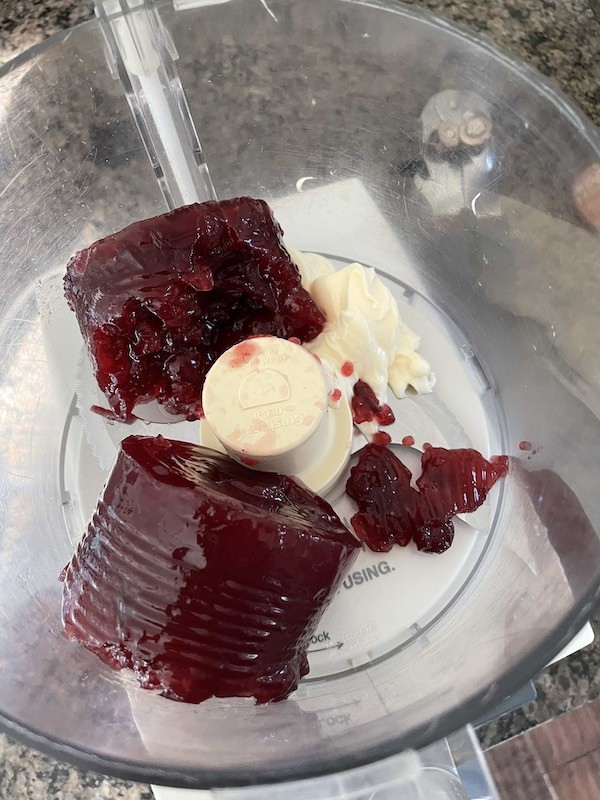 Into the Cuisinart bowl add 1 can WHOLE cranberry sauce and drained 9 ounces of pineapple tid bits or crushed pineapple.
Either one works great.
If you love cranberries you need to try my orange cranberry butter. I make it for neighbor gifts. I even have a link for an adorable free downloadable tag to go on the butters!
Next add the mayonnaise and sugar.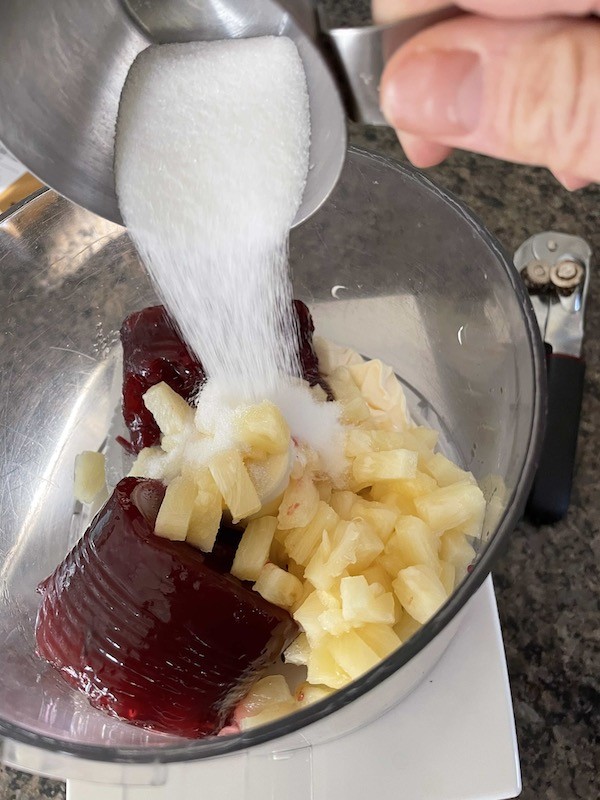 I normally add the pecans at this point but this time I omitted the pecans because one of my son in laws is allergic to them.
Pecans are one of my favorite nuts and I use them in my all time favorite cookies. I have had this recipe for over 30 years! They have many names but I call them my Best snowball cookie recipe.
ok back to the recipe- Now add the cream cheese into the bowl.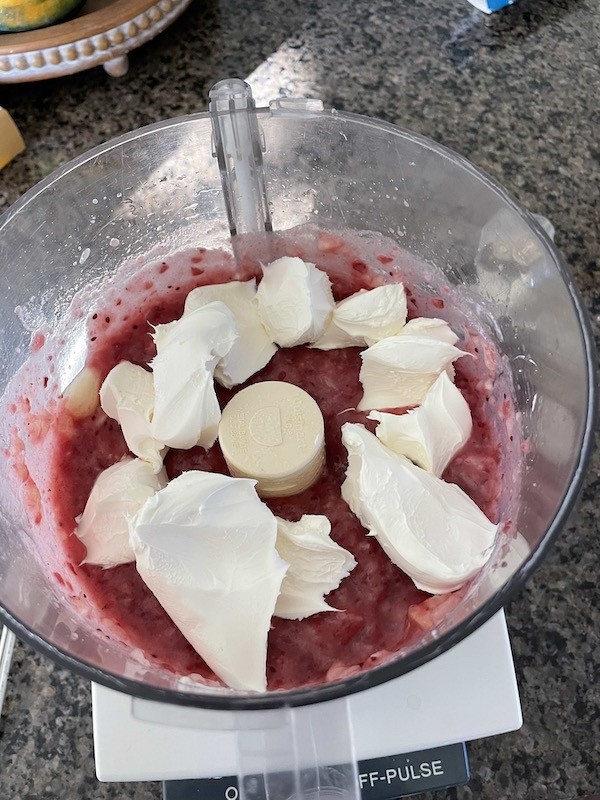 Pulse until it all combined and a pretty pink color.
It will be kind of thick and soupy.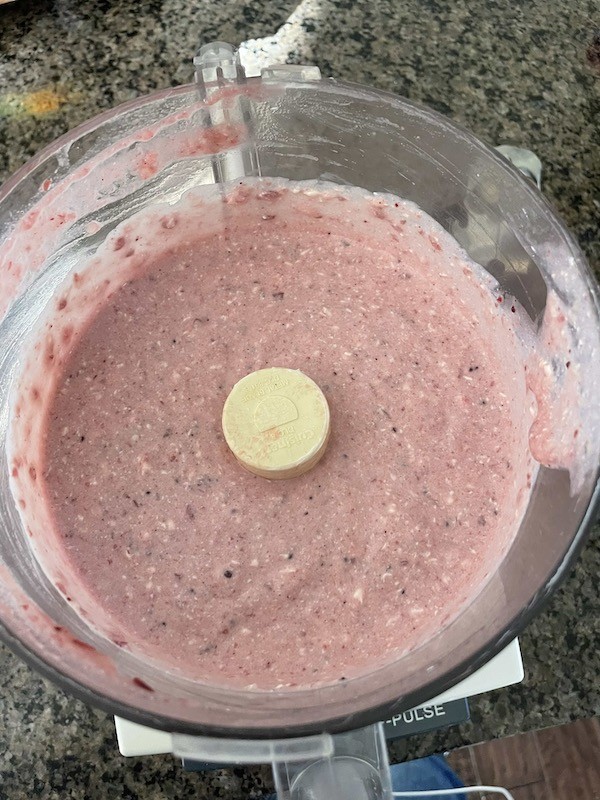 Folding whip cream into pink arctic cranberry mixture
Fold the whip cream into the cranberry sauce pineapple mixture using a spatula.
This allows it to lighten the thickness.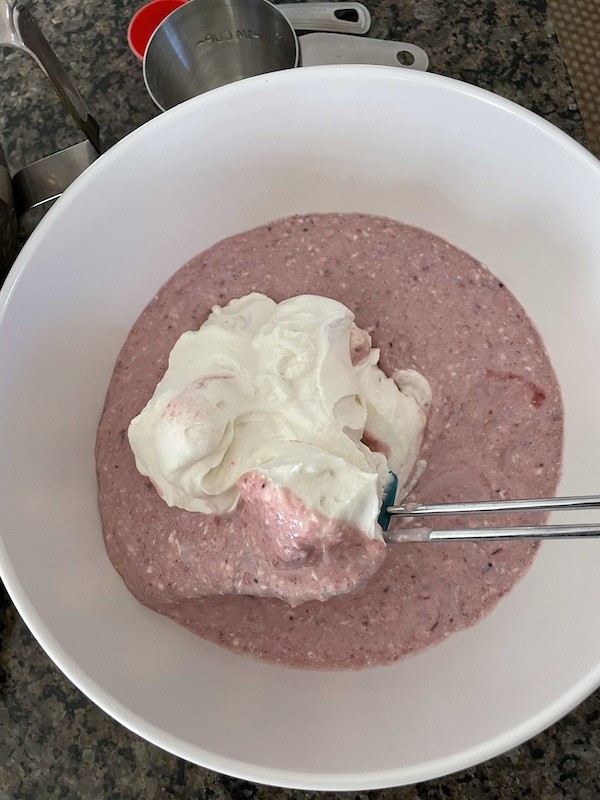 Make sure you don't stir..you really want to fold the whipped cream into the cranberry mixture to add air and make it light and fluffy.
Speaking of fluffy have you seen my "It's so fluffy I could die" Anthropologie knock off wreath? It is super easy to make and looks amazing!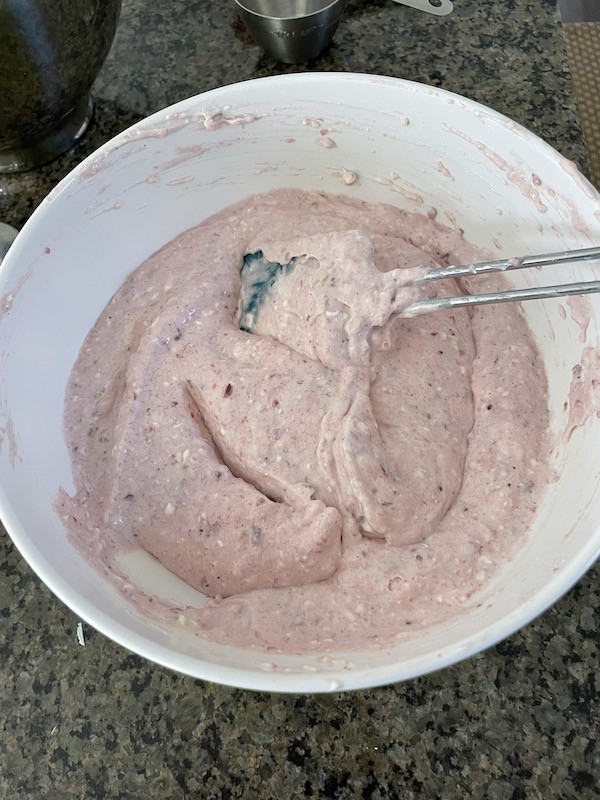 Adding to the jello mold
I have had this jello mold for years. I found a similar one here for you.
Lightly spray the mold with cooking spray.
Pour the pink arctic frozen cranberry salad mixture into the mold and freeze overnight or 6-8 hours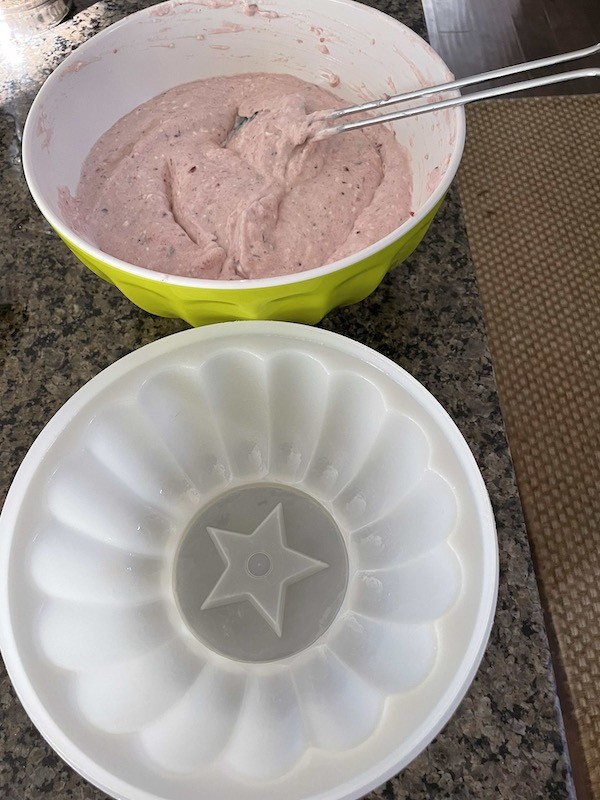 To serve- Let thaw a little bit to release from the mold.
Place a plate over the top of the salad and invert it so the it slides out of the mold.
Slice your Pink Arctic Cranberry Ice Salad into serving pieces.
It will still be a bit frozen but it thaws as it sits on your plate.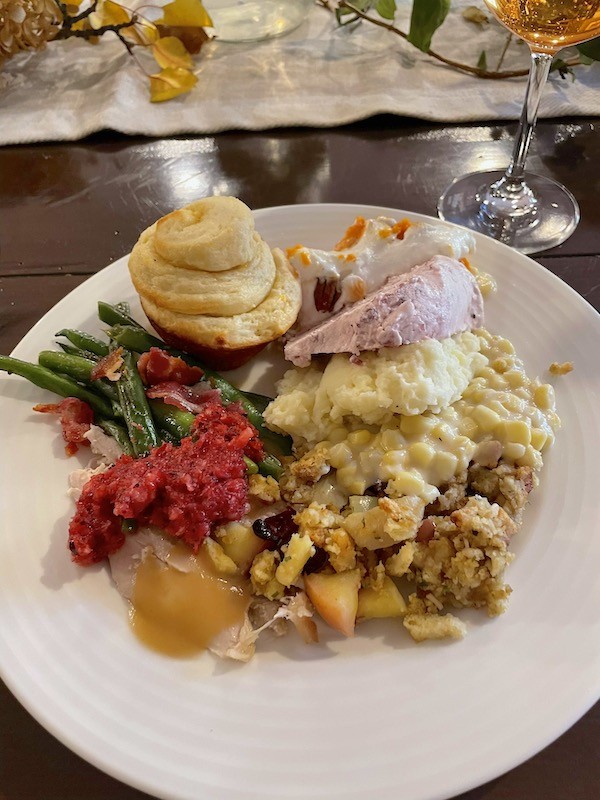 This was my plate of Thanksgiving goodness! Turkey, Creamed corn, stuffing, fresh cranberry sauce that you make in a blender!, fresh green beans with bacon, Orange rolls (recipe below), Yams with marshmallows, mashed potatoes and of course the pink arctic cranberry salad!
I guess I really need to post all these recipes but I forgot to take photos. If anyone wants the green beans, yams with marshmallows, creamed corn and stuffing recipes just email me at karinbob@gmail.com and I'll give it to you 🙂
More Holiday Posts
Karins Kottage Christmas Home tour
Shop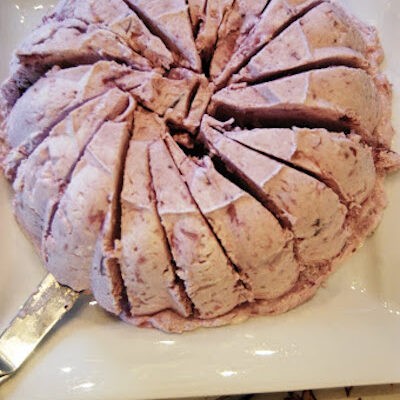 Pink Arctic Ice Salad
A yummy frozen cranberry cream cheese salad that is creamy, smooth, sweet and tangy!
Ingredients
8

oz

Cream Cheese

softened

2

tbsp

Mayonaise

2

tbsp

Sugar

1

Lb

Whole Cranberry Sauce

1

9 oz

Can Crushed pineapple

1/2

cup

chopped pecans

8

oz

Whipped Cream

Whip cream with 1 tsp vanilla and 1/4 C sugar until light and fluffy
Instructions
Soften cream cheese, blend in mayo and sugar and mix well.

Add cranberries, pineapple and nuts.

Fold in whipped cream.

Pour into oiled jello mold or 9×13 pan, cover and freeze overnight.

To serve- Let thaw a little bit and either cut into squares or if you used the jello mold flip upside down until it releases from Jello mold.