Don't you love an easy fall craft? This corn husk fall wreath quick tutorial is really simple to make. Not only is it simple but super cheap to make!
Score on both things!
You can find the corn husks at your local grocery store and the foam wreath at the dollar store! It doesn't get any cheaper than that!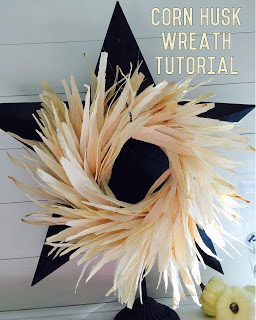 Originally I saw this idea on HowDoesShe and decided to whip one up.
My daughter helped me decorate my mantle and hung it up for me while filming a periscope video.
You can watch the periscope video below of my mantle and see the wreath in LIVE action 🙂
Check out more of my videos on my Youtube channel here and now I also have a TikTok channel here.
Who thought a grandma like me could have a tiktok channel! 🙂
Supplies for the corn husk fall wreath
To make the wreath
Supplies needed-
Foam wreath (dollar store)
1 package Dried corn husks (grocery store)
1 bag floral pins
Optional supplies- Glue gun and glue sticks
Preparing the Corn husks for the Fall Wreath
I opened the package of corn husks and separated the corn husks.
On the How Does She blog she suggests soaking the corn husks but I used them right out of the package and did not soak them and they worked out great.
Rip each corn stalk into 3 or so pieces until you have a stack of strips..they naturally have a wide end and a skinny pointed end.
There is something about using corn husks and corn stalks to decorate for fall don't you agree?
I always put up corn stalks on my front porch for fall. It looks soo cute!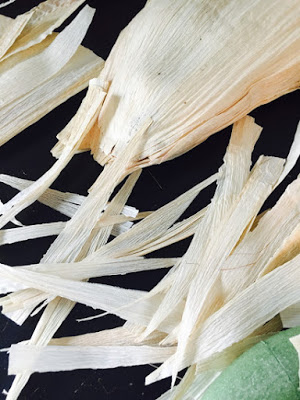 Attaching the corn husks
I used large floral pins because that was what I had on hand but apparently there are short floral pins and I think those would work better…less to push into the foam wreath.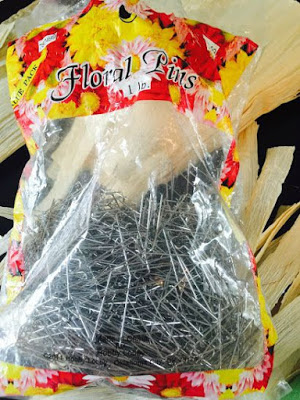 Starting in the center front area, using 3-4 strips at a time with the wide ends of the corn stalks attaching to the foam wreath. Fan out the corn stalks as you push the floral pin in making sure to catch all the strips.
I put the next set of 3-4 strips on the inside of the wreath and pinned them in fanning them out again.
Repeating this inside and outside pinning with 3-4 corn stalks each time.
Strive to overlap and cover the floral pins to create some fullness.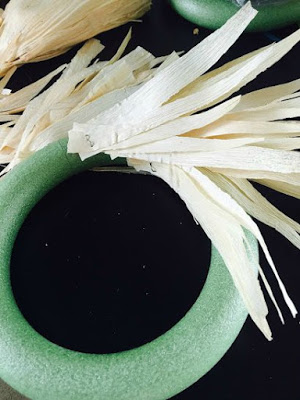 Displaying the Corn husk wreath
It was so fun to make this easy corn husk wreath tutorial using such in expensive items like grocery store corn husks, dollar store foam wreath and floral pins!
I would love to know if any of you end of making one for your home so leave me a comment.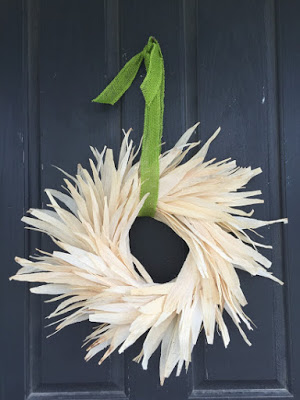 Which do you like better?
Hanging my corn stalk wreath on the front door or on my fireplace mantle?
Remember when I added the shiplap above my fireplace here?
I am still loving how it looks!
Now I really want to add more shiplap to the entire family room now!
Here is my fall mantle decked out with silver pumpkins and dried hydrangeas!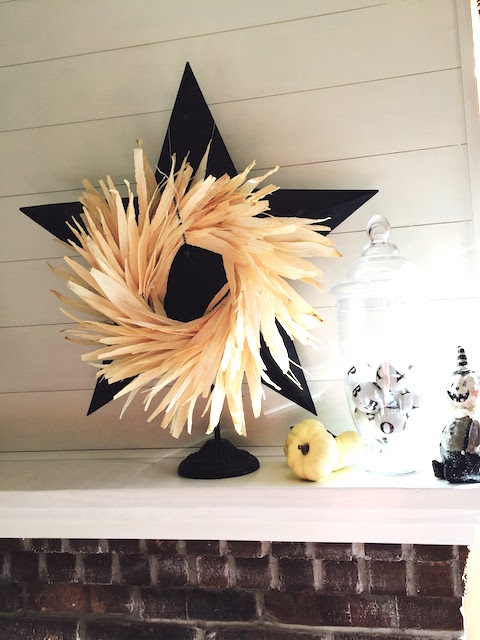 Other Wreath Posts
Here are few other great fall and Christmas wreaths I have made that you might like to check out.
Anthropology Knock off Pom Pom wreath
Pin for Later

Shop For Fall