Here is a simple easy Halloween Paper wreath that you can make in less than 20 minutes!
Don't you love simple fall paper crafts?
I do too!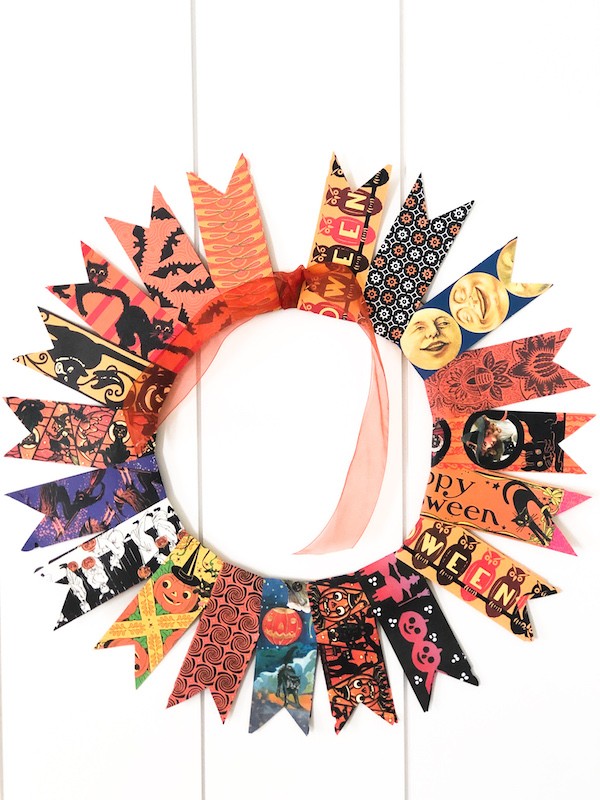 I saw this cute Halloween paper wreath idea over at My Minds Eye. It is an awesome paper and party decor company. If you have never heard of them you really should pop over and look at all their party goods. I am not being compensated in any way. This is just a really cool company that I have purchased things from for a few years now and wanted to share.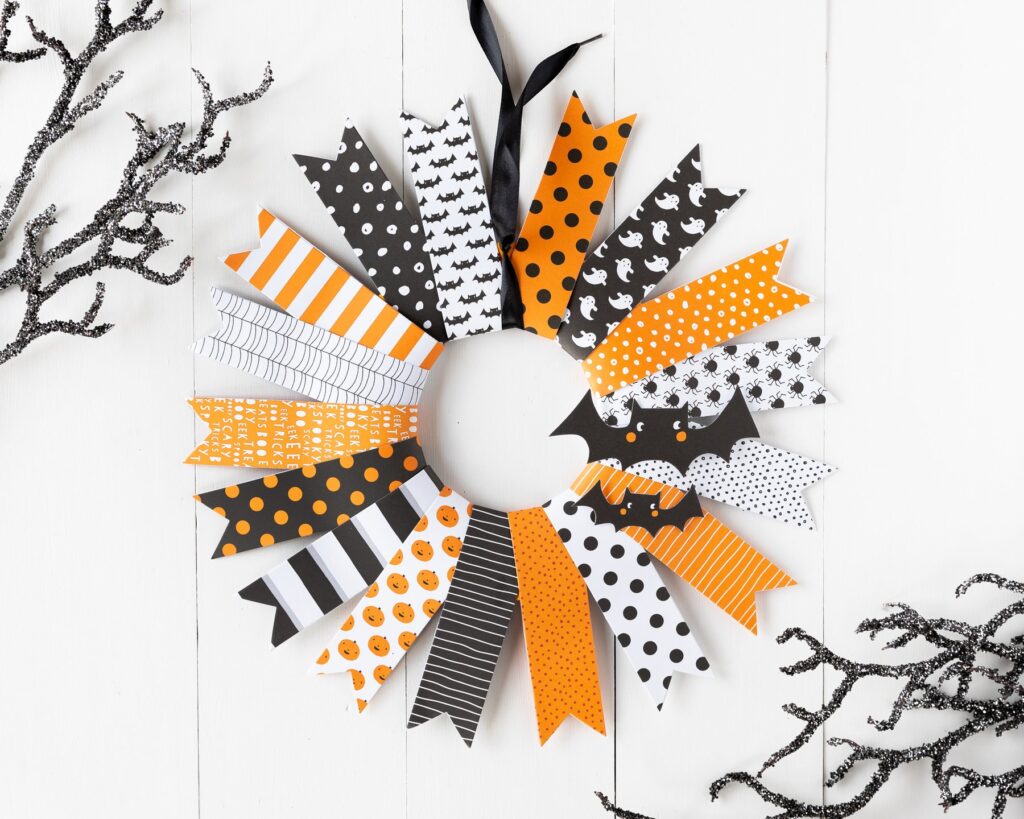 Supplies For Simple Easy Halloween Paper Wreath
I found these cute Halloween paper chain strips at a boutique a year or so ago. They are so fun and have a really cute vintage look to them. Last year my grandkids created a paper chain with some of the strips and I hung it from a chandelier in my kitchen nook. I had a lot of the strips left over so I when I saw this idea I knew I could make a darling wreath.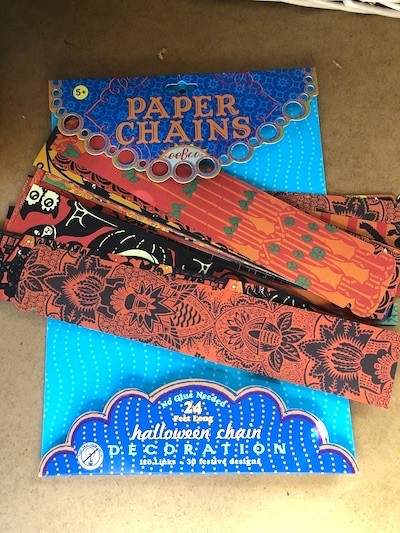 You will need some cardboard for the circular wreath base. I just cut up a shipping box. You will also need a little bit of ribbon to hang your wreath and a hot glue gun.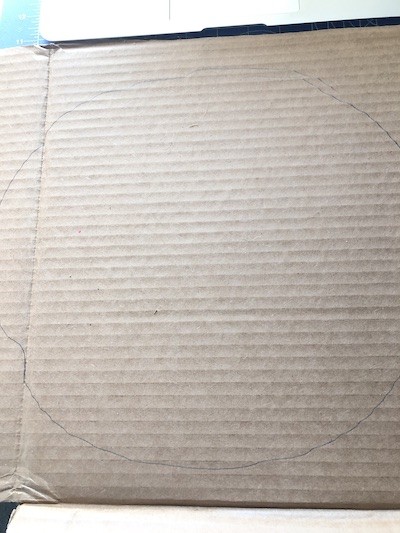 How to begin making this paper wreath
To begin I knew I needed a a flat circle that would be sturdy enough to hold all the paper as well as not flimsy. I grabbed a cardboard box I had laying in my craft room and cut out a 12″ circle. You do not need to be perfect at all because the stripes cover up any imperfections.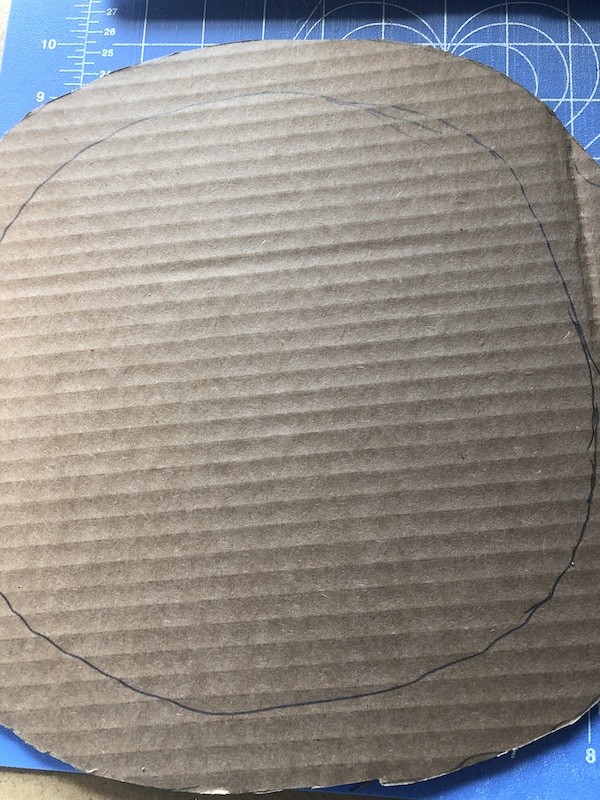 Once the 12″ cardboard circle was cut I cut out the inside leaving about a 2″- 3″ edge. I wanted the base of the cardboard "wreath" to be wide enough so that when I attached the paper strips, you would be able to see the design of each strip. Depending on the length and width of your strips cut your cardboard base accordingly.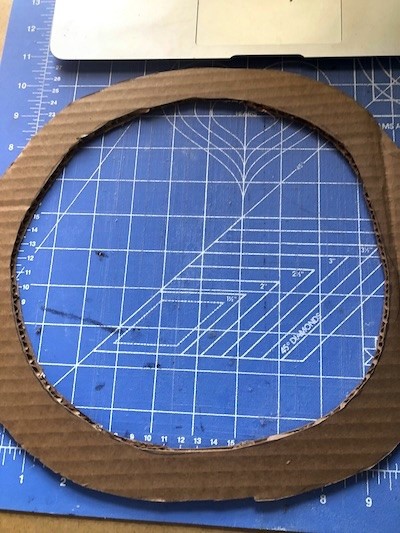 Add Ribbon
Decide where you want to attach the ribbon to hang your wreath from. Tie the ribbon on and add a dab of hot glue if desired.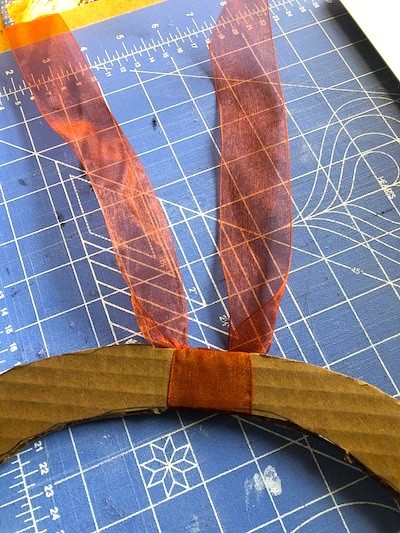 Adding Halloween Paper strips
These Halloween paper strips are just so adorable! I can't find a link to these exact ones but My Minds Eye has a kit that you can purchase with everything you need to create one for yourself and it is only $2.99! They used an orange paper plate for the base of their wreath. They actually have a few super cute Halloween make it yourself kits.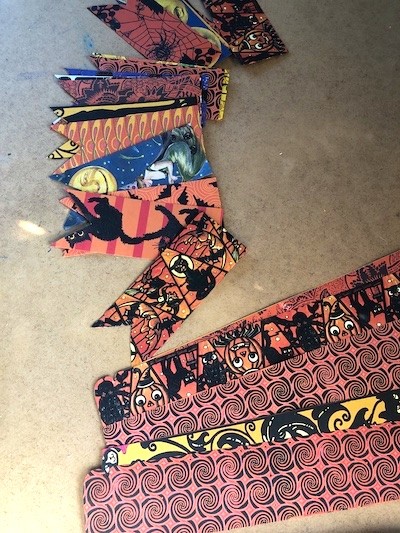 The size of the strips that I used for my wreath are 10″ long and 2″ wide. For the edge of each strip I cut a "V" shape to give it a little pizazz. I love making easy wreaths you might remember this corn husk wreath that is also really easy to make as well as my hydrangea pumpkin wreath.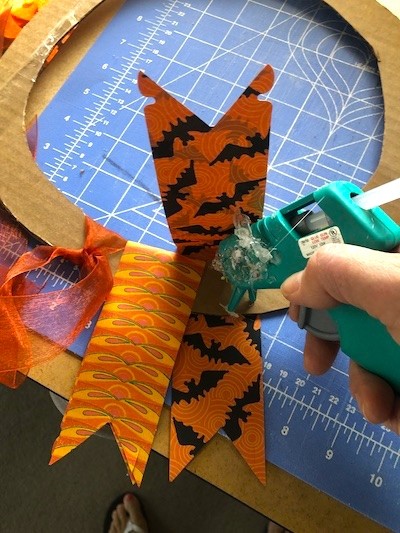 Simply Fold each piece in half and Hot glue it onto your cardboard base. Put a dab of glue at the end of each piece to hold it in place. Add the next strip by slightly overlapping onto the next one. Continue this process of overlapping and hot glutting in place until the wreath is completely covered.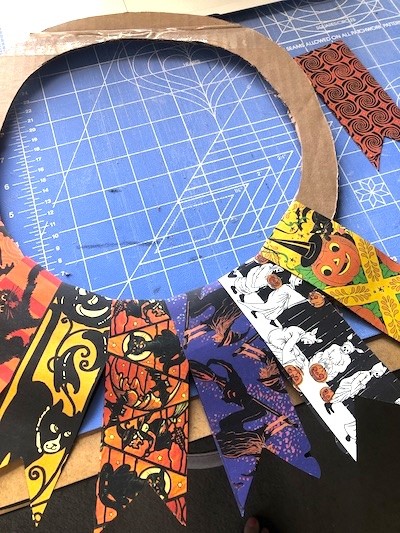 Finished Wreath
I love how simple and easy this Halloween paper wreath was to make! Much easier than my Anthropologie knock off wreath that I made. I love that wreath but it took a little bit of time to make.
Pretty cute don't you think?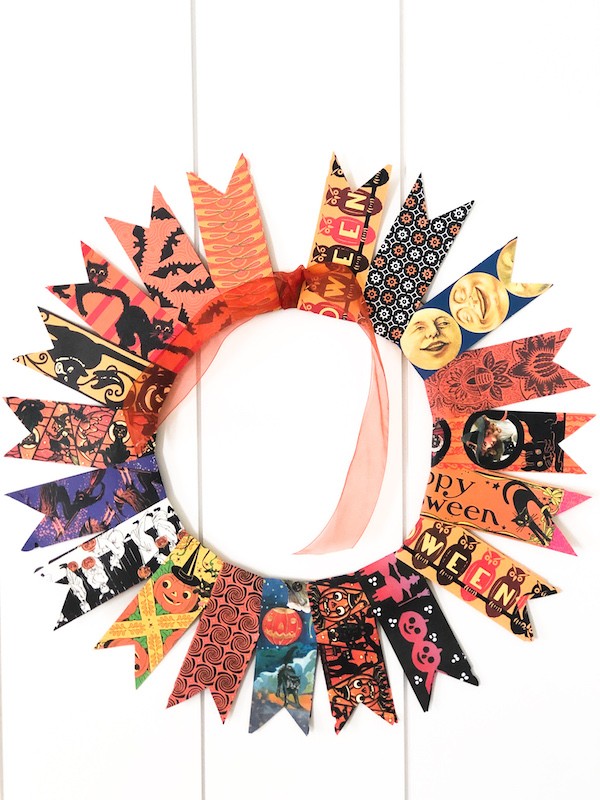 Shop This Post
Pin For Later