We had a fabulous Thanksgiving up at my moms house…the food, the fun and a little crafting with my sister! We were Inspired by
Forever Decorating's
sheet music Christmas tree. My sister and I decided to try make some of our own. Ours didn't turn out quite like Forever Decorating's..but we still love them. I have always loved working with
old book pages here is a Tablescapes
I did using some.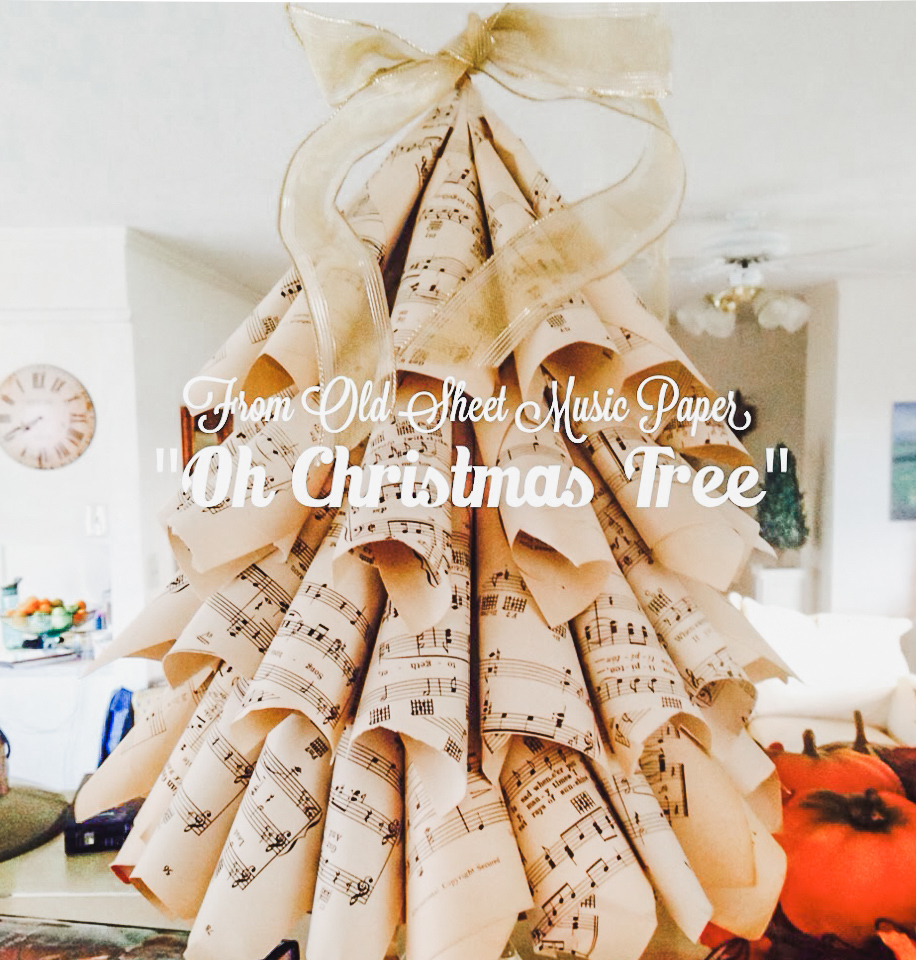 How to make Music Paper Christmas Tree
To begin you need a cone shape base. We made our cones out of old Christmas cardboard gift boxes. That type of card board is stiff but also flexible. No need to go buy a piece of poster board, we are being "green" aren't we? Cut off the the folded up edges of the cardboard box so you have one large flat piece. Then simply roll it into a cone shape and tape or staple it together.
How to make the Music Sheet Christmas Tree Branches
We were so lucky that mom found some old sheet music out in her garage… SCORE! But you can find old sheet music in thrift stores too.  
To make the Music Christmas tree branches we cut each music sheet in half. Fold each half sheet into cone shapes and tape them closed. No perfection required.
How to attach them to the cone base- Starting at the bottom, hot glue each rolled up music sheet onto the cone. fiddling with some as we went along to make them lay correctly. Adding rows upon rows until it covered the cone.
How to make the Paper Rejoice Garland 
To make the little "Rejoice banner" to go around the music paper Christmas tree, we started with beige colored card stock and found a polka dot background to add to the paper.
Found a font we liked and spelled out the word Rejoice.
We printed the polka dot paper with letters spaced apart from each other so we could cut them out.. Once we cut them out we glued them onto white card stock. We cut each letter at the bottom to look like a banner.
Using our hot glue gun we attached each letter onto a piece of twine.
For added decorations print out some some snowflakes and cut them out and glue onto the tree.
For a simple look you could just add gold ribbon tied in a bow for the top and leave off the paper banner and other decorations. I like how it turned out either way! 
So cute and fluffy.
Shop This Post
Pin this Christmas Craft for later