Sea Shell Mirror Tutorial is so easy and looks amazing! Who knew it would be so easy to put together. Gathering shells while on vacation or buying a bunch sea shells in different colors and sizes gives you the best look!
Have you ever checked out the prices of a sea shell mirror or sea shell lamp? They are really beautiful but pretty pricey. Today I am sharing how you can make a sea shell mirror for a lot less expensive and it is super easy too!
How to begin to make the sea shell mirror
My mom was here a few weeks ago and brought with her an old mirror in a gold frame. We decided that would be the perfect base for our sea shells. Mom also brought with her lots and lots of sea shells!
Have I ever told you that my mom owns a chocolate business? In the past she would put chocolates in the sea shells and sold them to hotels as turn down pillow gifts. It was a very successful business.
Placing the sea shells on the mirror
We played around laying out the sea shells in different ways.
First we tried just using one type of shell but it was too plain. So then we added smaller shells and pointy shells all mixed them all together.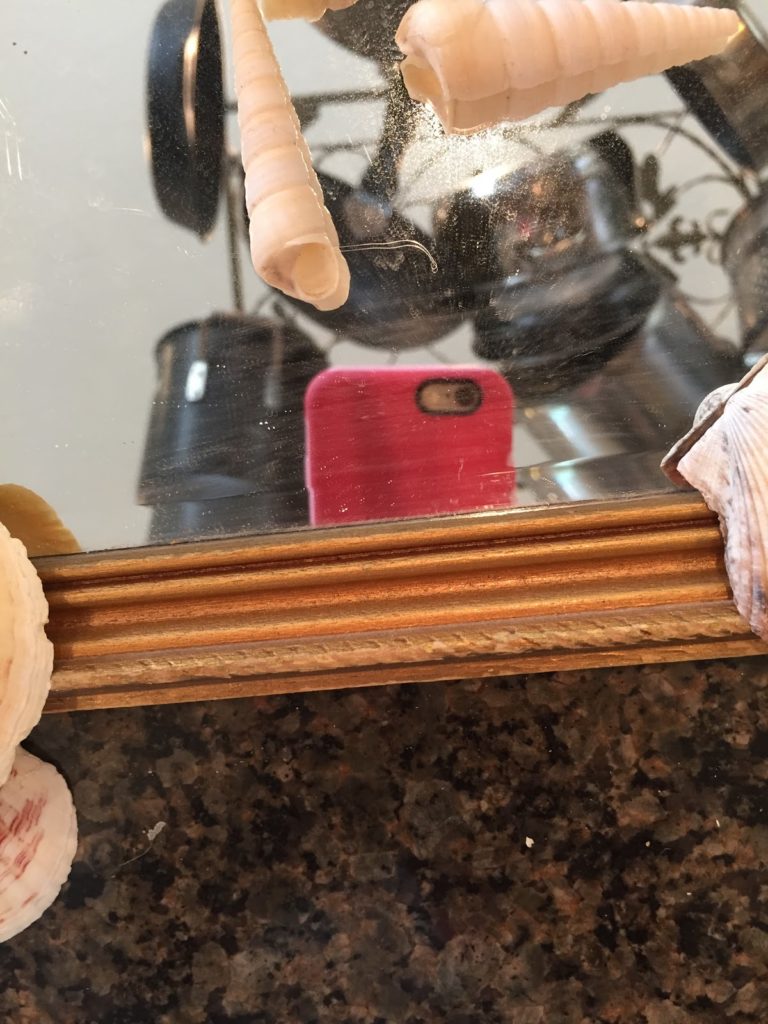 We ended up layering them on top of each other. Using larger shells mixed with small shells and tucking in the pointy shaped shells.
If you look at other sea shell mirrors that you can buy they kind of do the same thing. Rather than using just one type of shell they use lots of different shaped sea shells. 
Attaching the sea shells with hot glue
We just used a hot glue gun to attach them onto the old frame layering as we went along. You don't have to have a perfect layout, just start playing with them to see what works best.
Once we hung up the mirror we noticed a few areas where we needed to add in a few more shells to make it look more full.
Mom and I had a great time working on this project.
We just chatted and glued and chatted and glued.
Such an easy and fun project that really makes a statement in my bathroom now. 
I love instant gratification projects! Don't you?
If you liked this easy project you will love these too
How to make a coastal Christmas sea shell wreath
Sea Shell Christmas Napkin Rings
Beachy summer Sea Shell Tablescape
Coastal grandmother sea shell tablescape
How to create lake cottage coastal family room
Shop Coastal Looks