I am so excited to show you how to make wooden bead garland with tassels. My daughter made this and it turned out amazing! This tutorial is super easy and inexpensive to make!
You know how much I love to do easy crafts and this one fits the bill. Plus this craft can be used as Valentine decor as well as decor you can use all year long.
My daughter made this to match her beautiful glass vases that she painted to look like pastel ceramic vases.
Supplies needed to make wooden bead tassel garland
Sugar and Cream Yarn (link below in Shop)- color – Chamomile, Tea Rose, Soft Ecru, White
Wooden Beads- small and medium sizes or whatever size you would like your bead garland to be. Just make sure to use two different sized beads.
How to make the tassels
Begin making the tassels by using a 4″ square piece of cardboard. Emily just used a random piece of cardboard she had laying around.
Wrap the yarn around the cardboard 40 times for each tassel.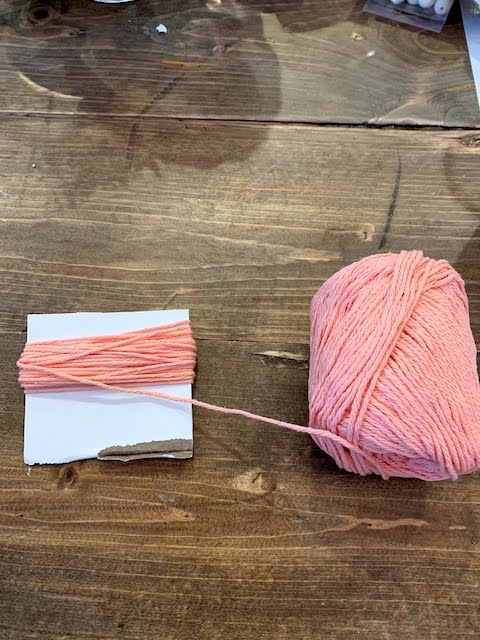 The yarn should look like this once the strings of yarn are wrapped around 40 times.
This craft reminds me of my fluffy white anthropologie knock off wreath that I made where I made lots of fluffy puffs.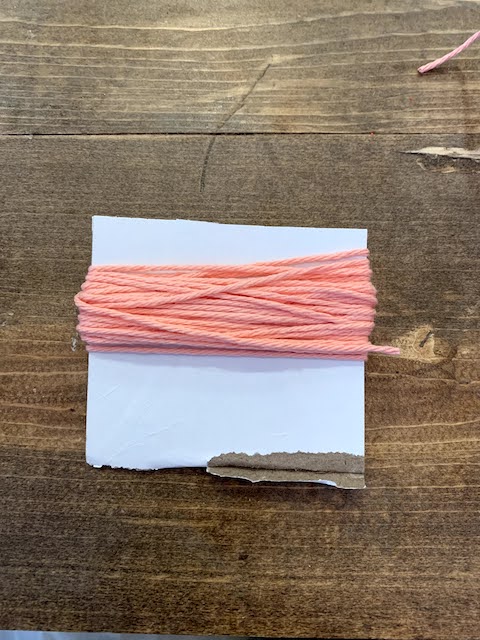 Carefully slide the entire wrapped yarn bundle off of the cardboard.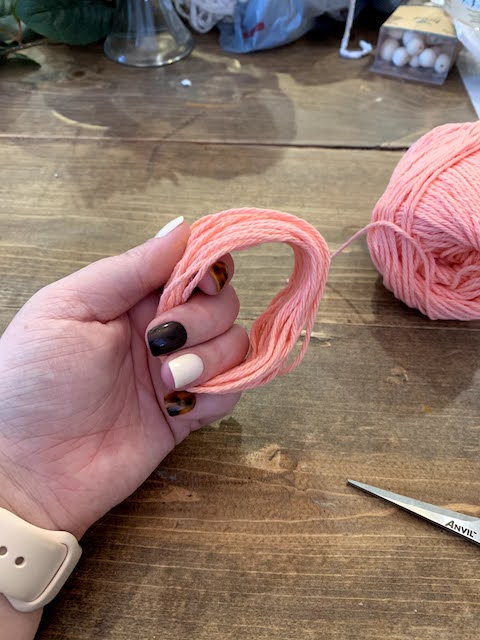 Take a piece of yarn from off the skien of yarn and feed through the middle of the bundle.
Tie the yarn into a tight knot. Leave plenty of length so you can tie it onto the wooden bead garland.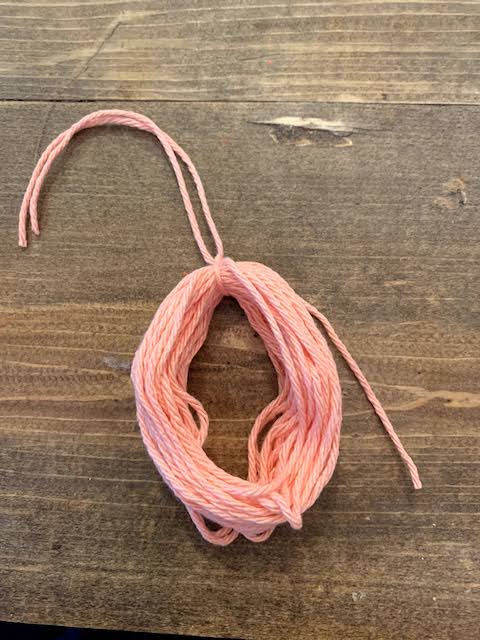 Cut another small piece of yarn and wrap it around the bundle about 1 inch down from first knot.
Secure with a tight knot.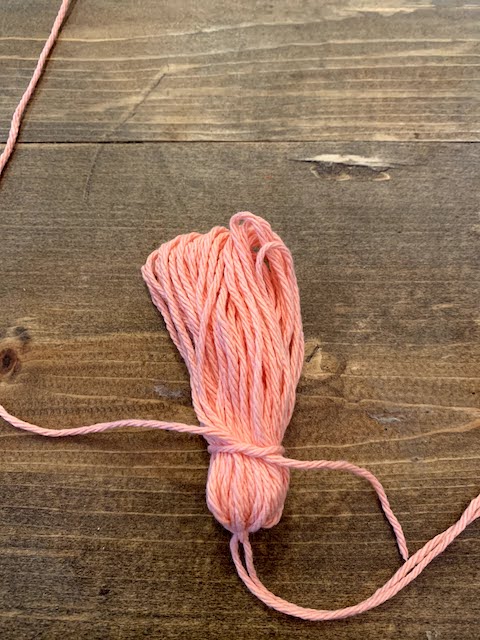 Slip scissors through all the loops and cut each loop to finish the tassel.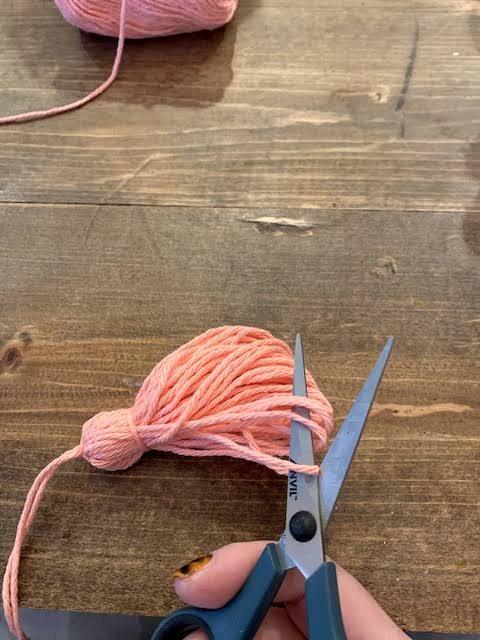 Fluff out the yarn strings. Your tassel is complete!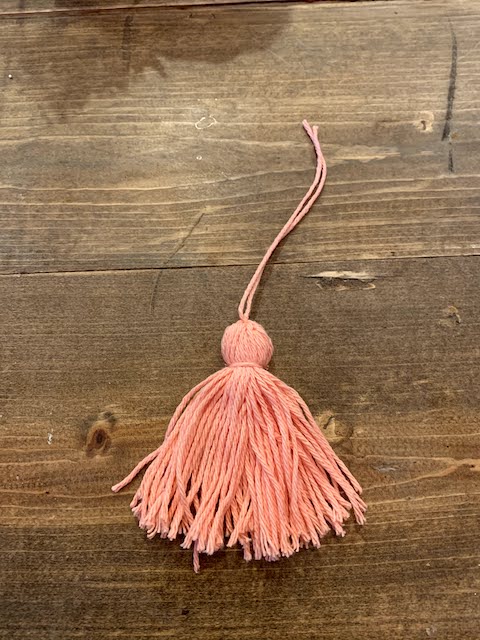 For this garland Emily made 25 tassels in colors that created an ombre look going from light to dark.
I love the colors she chose. These colors remind me of my heart shaped patchwork Valentine sugar cookies I made.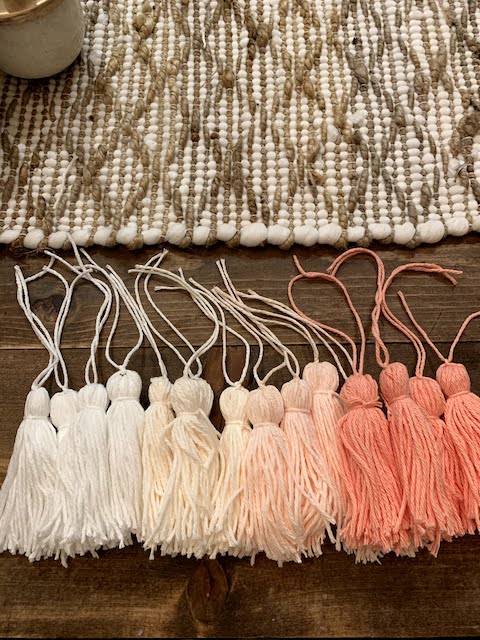 Wooden Bead garland tutorial
To start decide how long you want your garland to be.
Cut some yarn and make a slip knot, thread through the bead once and then one more time so that the long piece of string is available to string on more beads.
Then add two small beads and then another large bead, continue this pattern for the length of the yarn.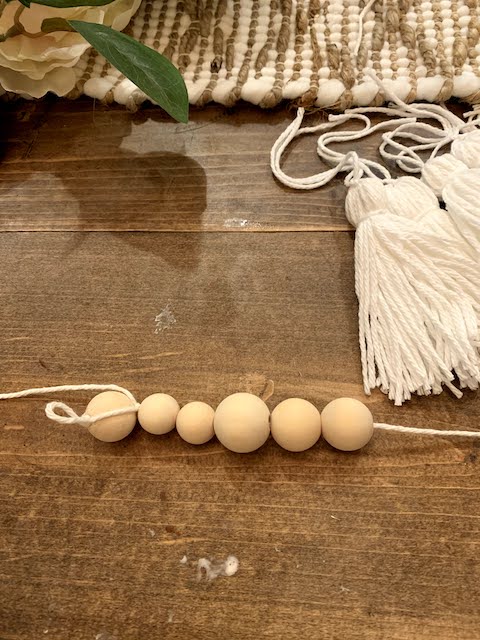 Once you get to the end, feed the yarn through the bead once and then again.
Make another slip knot to hold it all together. The little slip knots allow you to hang the garland.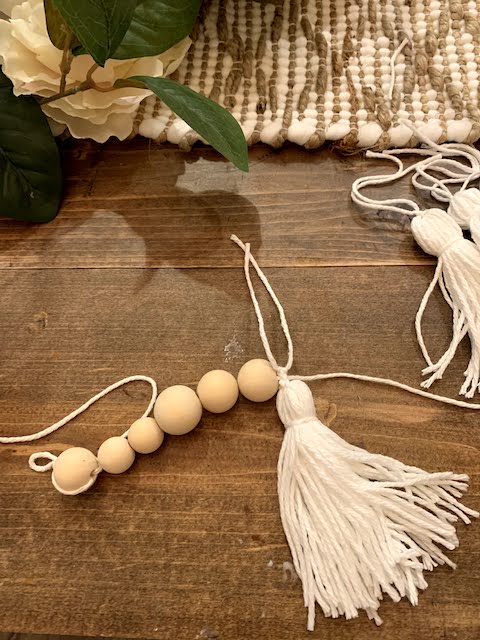 Once you have all the beads threaded on, it is time to add the tassels.
Tie tassels on between every 5 beads.
Display your wooden bead tassel garland in a fun area of your home. Emily hung hers off her wooden shelf. It looks so cute!
You could make these in any color to match your home decor or create one for a special holiday.
Here are few other crafts you might like
These paper masks are great for birthday parties and are easy to make
Make these hot air balloons for your next boy or girl baby shower
DIY Flower Letter Tutorial in pink white and peach
Valentine french white chocolate dipped pretzel rods
Heart shaped cake with chocolate lid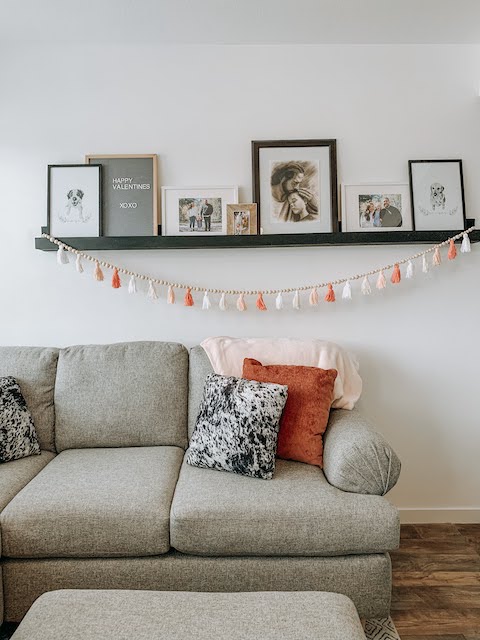 Click to Shop this Post

Pin This For Later