Wahoo! Summer is here and so is the heat! We all need an easy summer outfit don't we? One you can put on where you don't have to think too much about it. An outfit that makes you feel put together but casual and cute. Today I am sharing my styling an easy summer outfit for you. Hopefully some of my tips will help you beat the summer heat.
For me shorty shorts and tank tops are not my go to look. When I was a young teen living in Newport Beach California I would wear that all time. I think I was in the pool or at the beach almost everyday of my life in the summer. So shorts and tank tops were always a part of my wardrobe. Now that I am …ahem.. "a little older" haha I like to be covered up a bit more.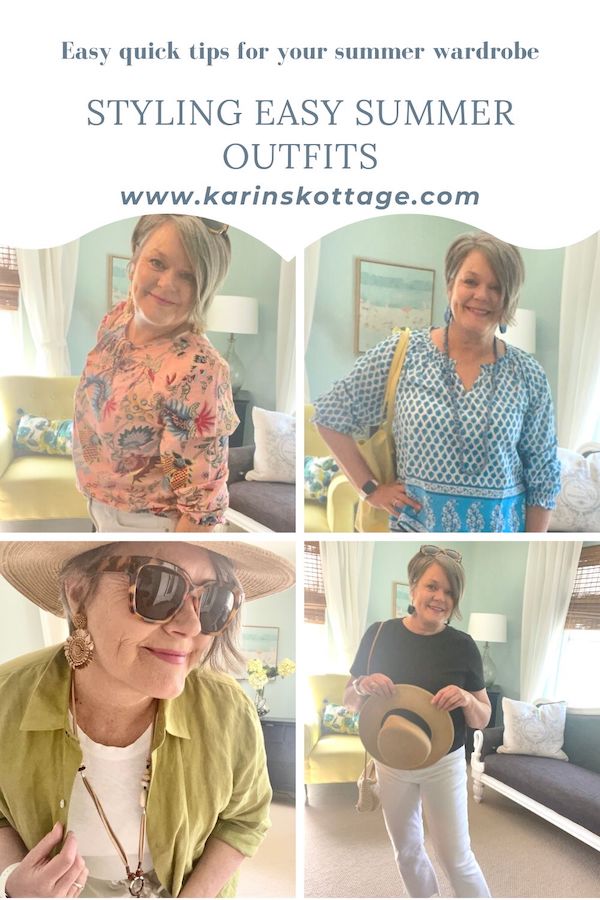 White pants
I have had a love affair with white pants for as long as I can remember! Whether they were bell bottom ditto pants in the 70's, Flared, gauchos, cropped, wide leg, or skinnies I loved them all.
Who remembers ditto jeans and gaucho's? haha ahhh the 70's…we thought we were so stylish.
I have a couple of white pants that I LOVE LOVE LOVE right now. Both are from Jcrew factory. One pair is cropped with a raw hem.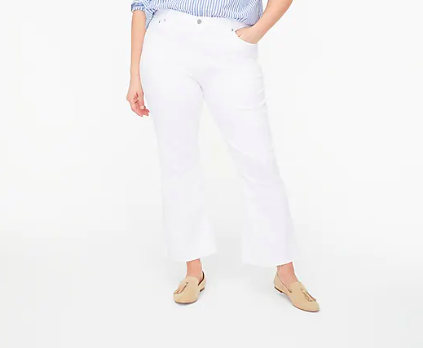 The other is slim boyfriend cut with rips across the knees. The fit on cropped raw hem jeans is relaxed through the hips and waist and flare out right above the ankle. The boyfriend cut jeans are very relaxed with all day stretch.
I wear these rolled up a bit to hit above the ankle. Both are super comfy, cool and really cute!
Here is another way I worn these white jeans. White on white with a white linen jacket.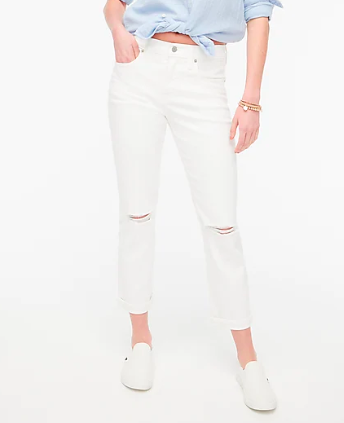 Of course we know that white goes with EVERYTHING! They not only look cool but are cool in temperature. Nothing else says summer or spring like white pants.
Although I have seen some cute outfit ideas using white pants in winter with a big sweater and boots.
Styling an easy summer outfit
Ok so now you have your white pants. What to wear with white pants? I am really enjoying flowy tops and kimonos! I paired white jeans with this red floral kimono here.
As you can see below, this particular peach colored top is from Old Navy. My favorite is this Old Navy blouse where the neckline is a split with ties.
The split neckline with the ties draw the eye downward helping to create a longer torso. I love the elastic sleeves that I can push up to 3/4 sleeve length.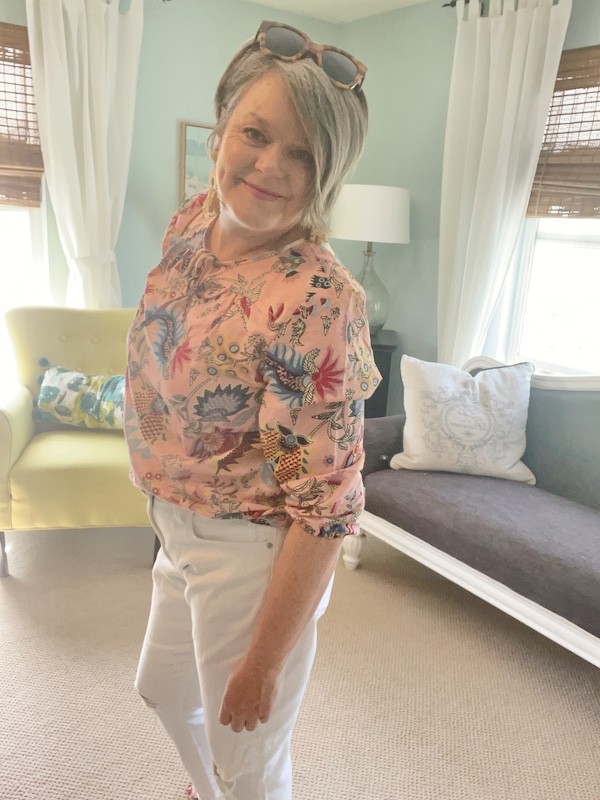 Unfortunately this peach colored top from Old Navy is not available but here is another one that is similar in style.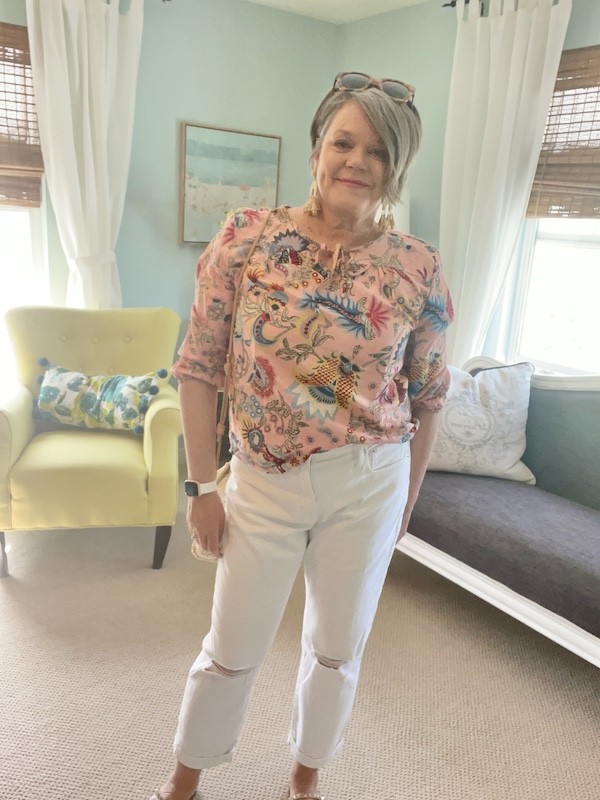 It is loose fitting which is great to camouflage the tummy.
I have what you call an apple shaped body. I carry my weight through my upper body. Broad shoulders with a thick waist. Wearing a flowy top with skinnier pants that sometimes have a flare give the illusion I have some curves.
Another cute top styled for summer
This blue and white top is also from Jcrew factory now it is EXTRA 50% OFF WITH CODE BESTEVER. I have gotten to many compliments on it! The pattern is so flattering too. Because the way the pattern is on the top if also gives an illusion of a waist.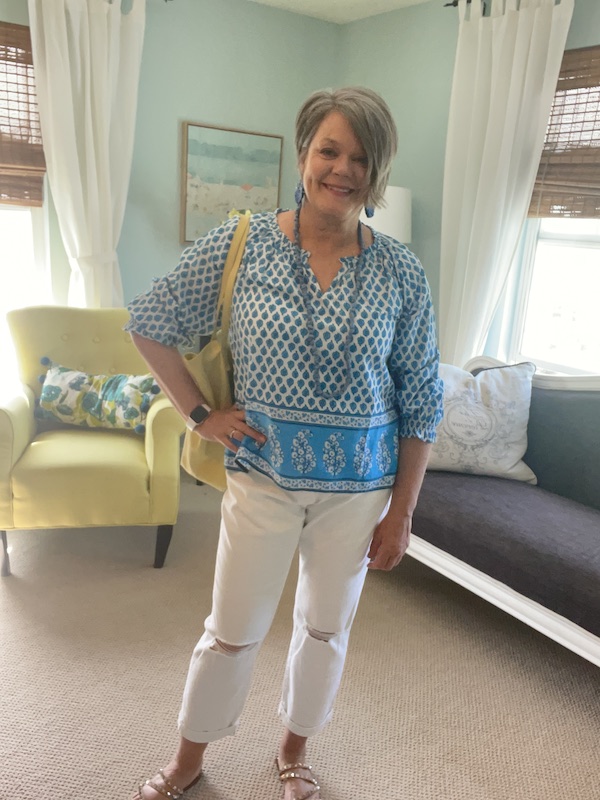 A little bit larger yellow bag is a fun way to add even more color to the outfit.
This was from Walmart a few years ago. Here is one also from Walmart that looks almost the same and it is only $6.73! Or here is a soft faux leather bag from Amazon for $30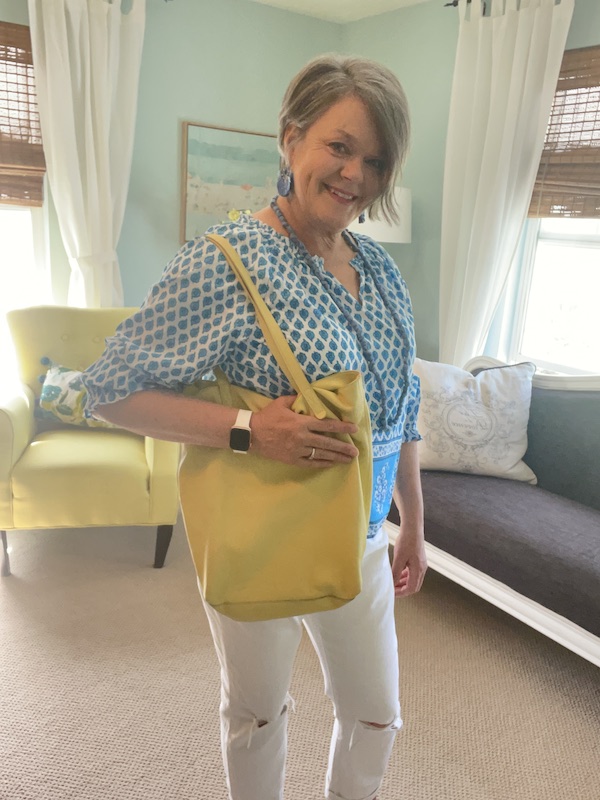 Here is the same blouse with the cropped raw hem jeans. Adding in a jean jacket and blue sandals changes up the look.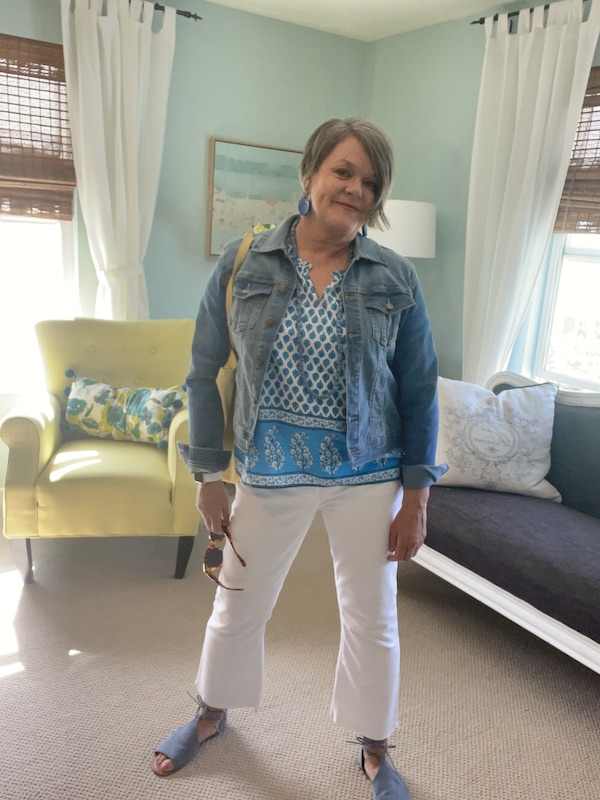 A linen blouse styled for summer
Styling a summer outfit cannot be complete without a linen blouse. This blouse from JJill has a lightweight feel you love with a feminine A-line shape and a lot of versatility.
I am wearing unbuttoned here kind of like a jacket over a white tank top with a fun wooden necklace. Keeping the blouse open and wearing a longer necklace also creates a long line for my torso.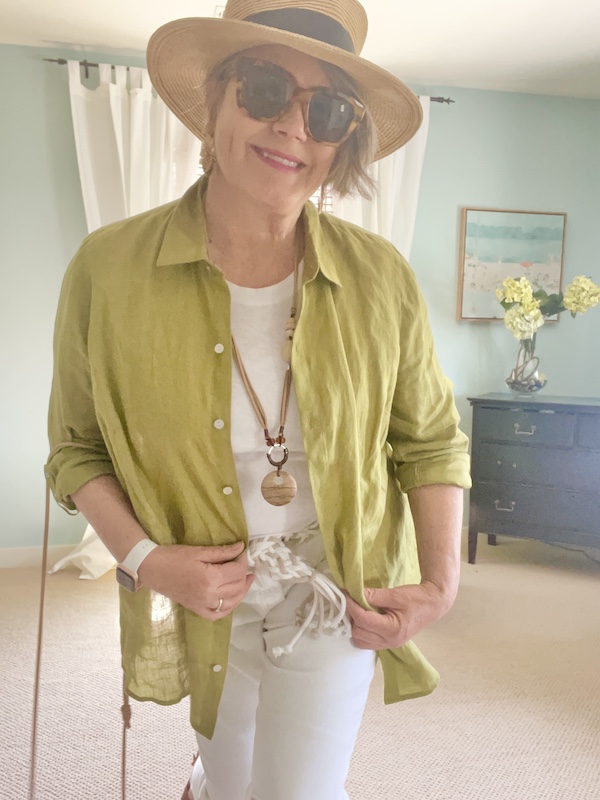 For another fun summer look I tied the blouse around my waist. I know you might be thinking that would emphasize my thicker waist but I think it creates curves.
In this photo I have a belt on but I would normally not wear a belt when I tie a blouse. That brings too much emphasis to the waist. I am just showing you an option here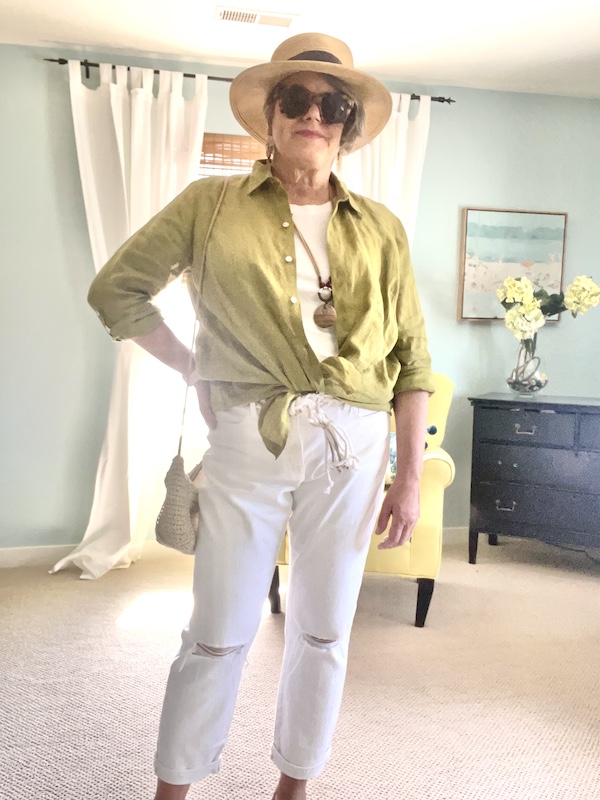 Black and white styling for summer
Wearing my cropped flared raw hem jeans I paired it with a black t-shirt. I bought this t-shirt awhile ago from Jcrew factory. It is actually a more structured t-shirt.
It has a button in the back and the fabric is a little bit stiffer than a regular t-shirt. I don't think they carry it anymore 🙁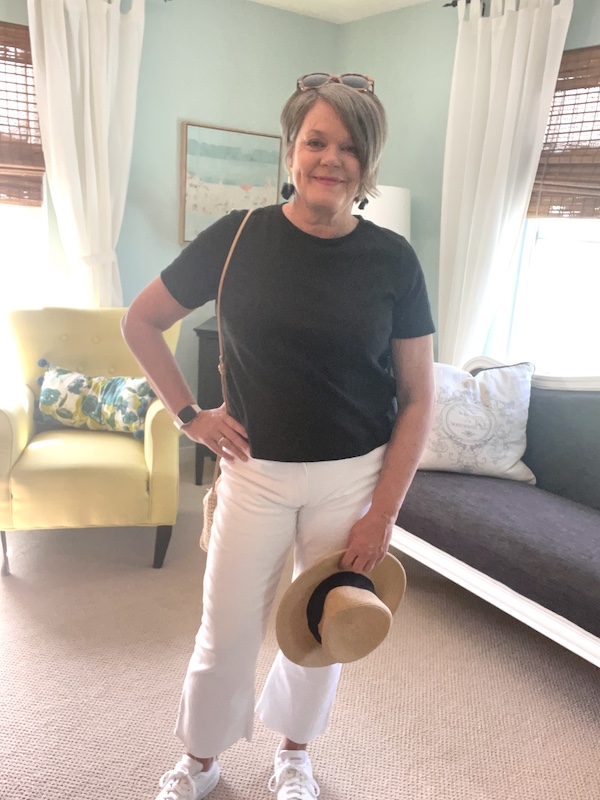 A cute straw hat and a straw bag with some sunglasses and I am ready for whatever the day brings.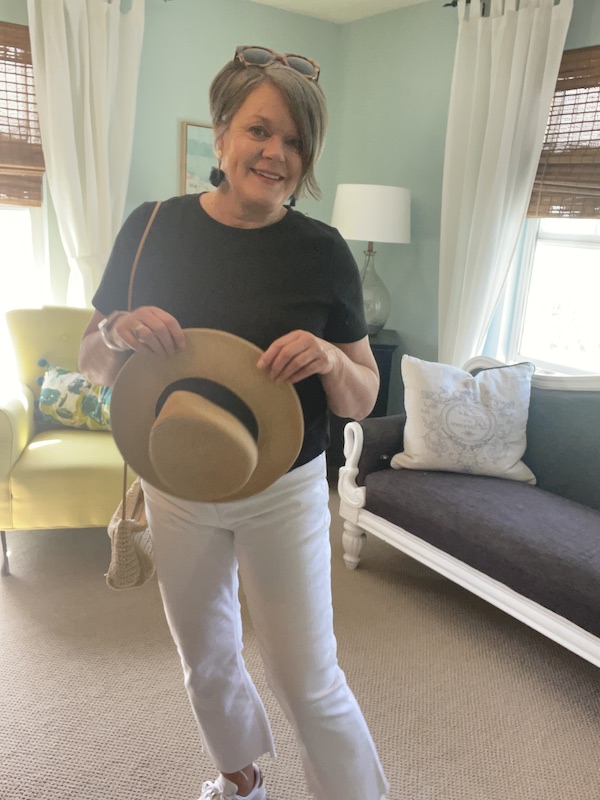 Styling a summer outfit does not need to be expensive or hard to put together. Stick with some basics like white jeans in different styles, a flowy split neck top or maybe a structured T-shirt.
Add in some fun accessories like a long necklace, cute fan earrings, a straw hat and sandals and you have yourself some fabulous summer outfits!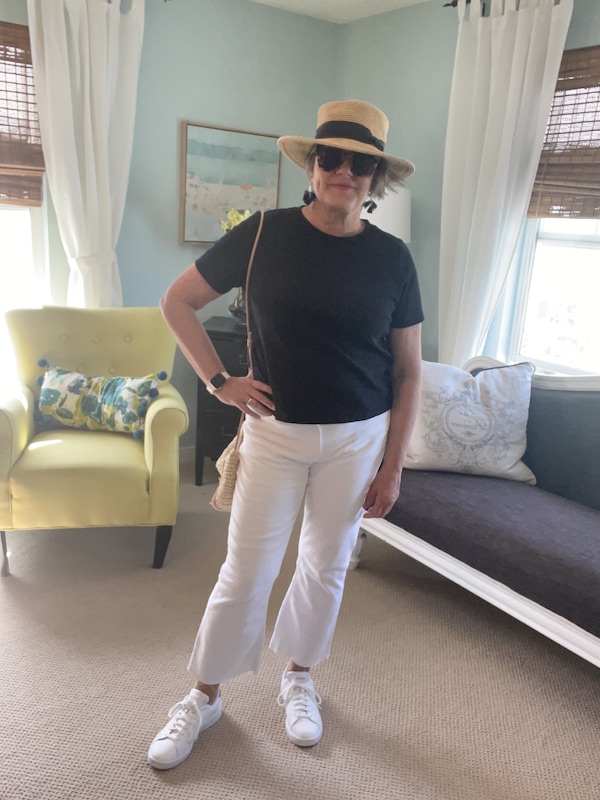 More Karins Kottage Outfits
My flowy yellow dress in Italy
Style wide leg polka dot Palazzo pants 5 ways
Flattering swim suits for women over 50
Nail the effortlessly straw hat
White jeans with red floral kimono
Shop Similar Clothes

Other Karins Kottage Posts You might have missed
Click on photo to take you to the post