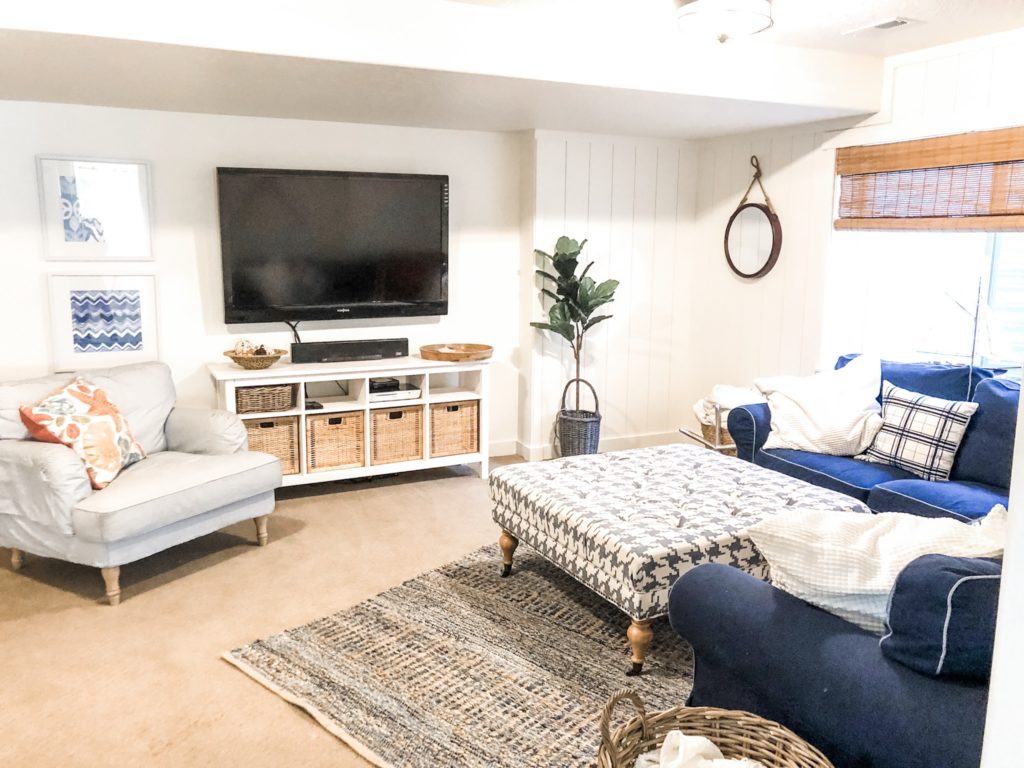 We recently re-decorated our basement in Navy and White with a nautical feel. I am so happy with how it turned out. You can see from the before we had yellow walls which I do like but for some reason it felt dark and dingy in the basement. So we lightened up the walls by painting it white and adding some shiplap.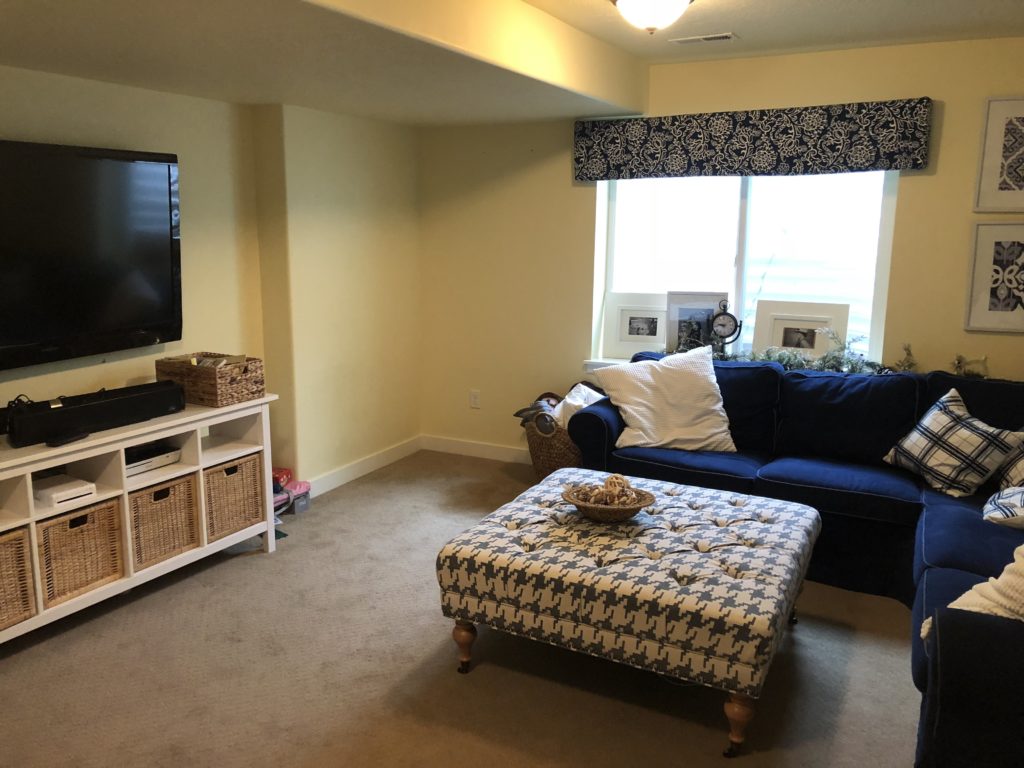 Adding Vertical Shiplap
My cute hubby did all the work! He used these 5.37″ X 8-ft pints shiplap wall planks that were already primed from Lowes. We decided to hang them vertically to make the ceiling feel taller. I think we will eventually shiplap the entire room but for now I am happy with this section. We love anything that allows us to get the work done faster, and these pre primed shiplap panels were worth the extra money. They are super easy to install with an electric staple gun. All I had to do was putty the small holes and trim and they were ready to be painted.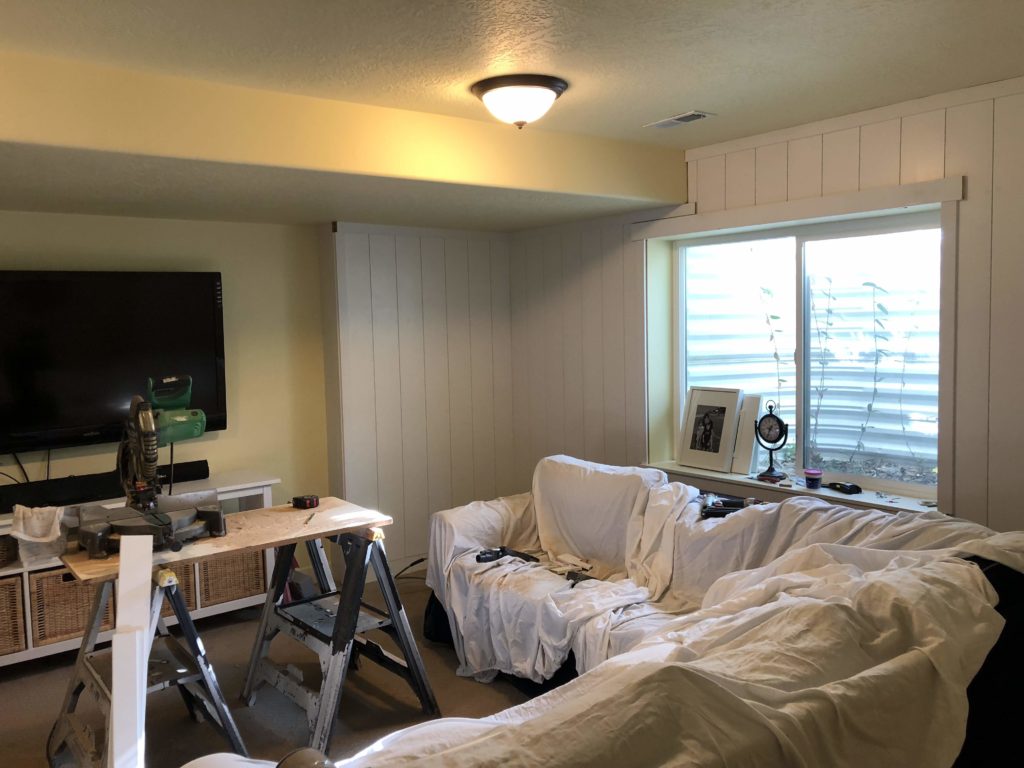 Nautical Decoration
Creating this Blue and white basement has become one of my favorite looks. Using blue and white in an entire room or just in a fun tablescape seems to bring a crispness and. fun nautical look into our home. I found these old wooden paddles and we hung them on the wall above the sofa using a long screw where they cross in the middle and on each handle so they wouldn't move around.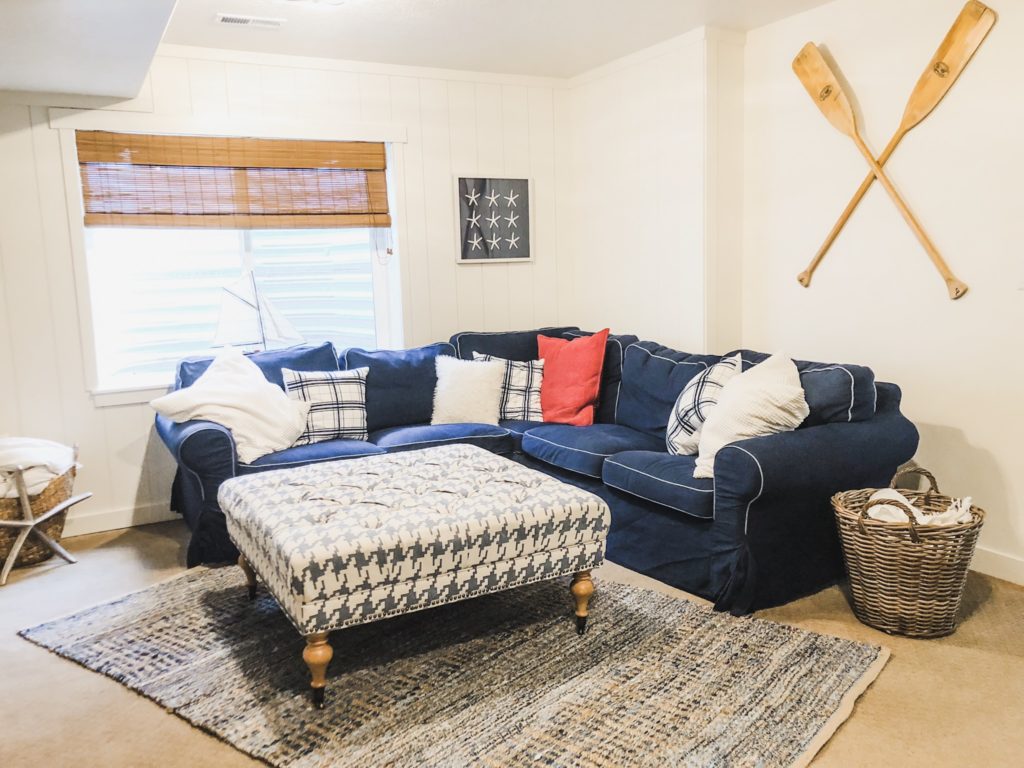 Denim Sofa
The sofa is from Ikea and we have had it for years and it has held up perfectly! I really love this denim slipcover because it washes up so nicely. Unfortunately I don't think they make this denim slipcover any more 🙁 The TV unit is also from Ikea and looks nice and clean. The blue and white tufted fabric coffee table was found on clearance at Downeast Outfitters.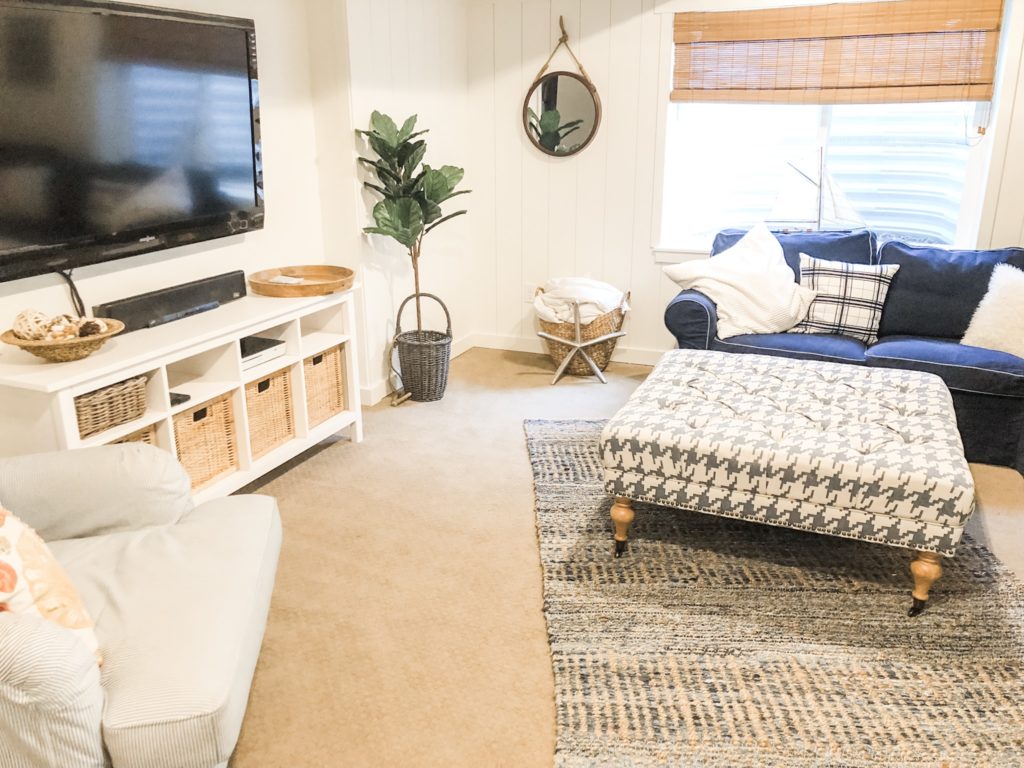 Reading Nook
On the other side of this family room there is a corner area that I had originally put some open shelving and a large chair. At the advice of my friend Maria, she suggested I turn this area into a little reading nook for my grandkids.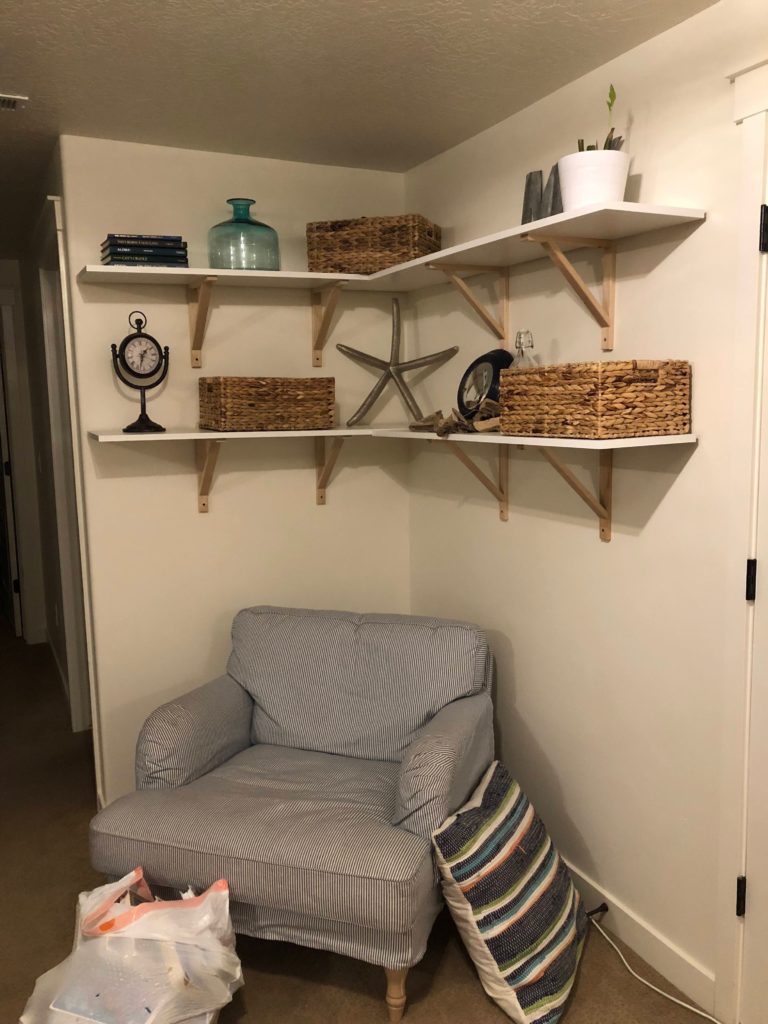 We removed the lower shelving and kept the the top shelf. I found the book case type bases at Ikea and placed them on an angle. Next I added the navy and white striped cushions from Pottery barn to make it feel more cozy. The bookcases are perfect to hold games and books in baskets. I found the cute galvanized organizers hanging on the wall from Gordman's.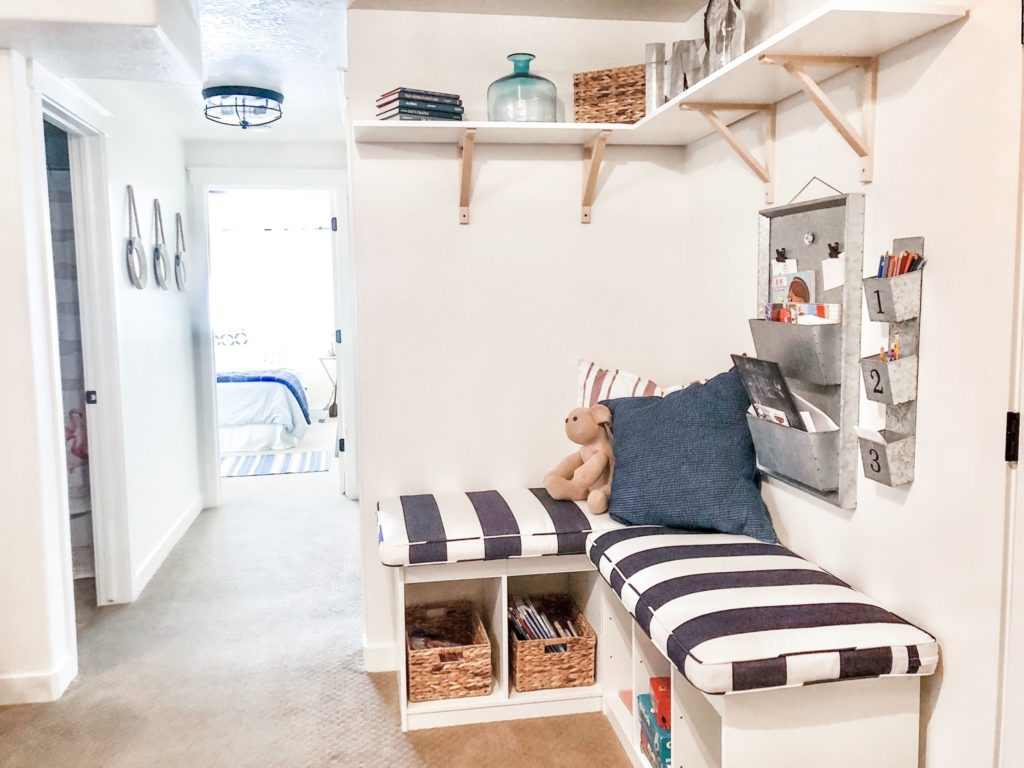 Port Hole Mirrors
Another fun treatment that I used going down the hall to one of the bedrooms is "port hole" mirrors from Hobby Lobby. I just love how they continue the nautical look.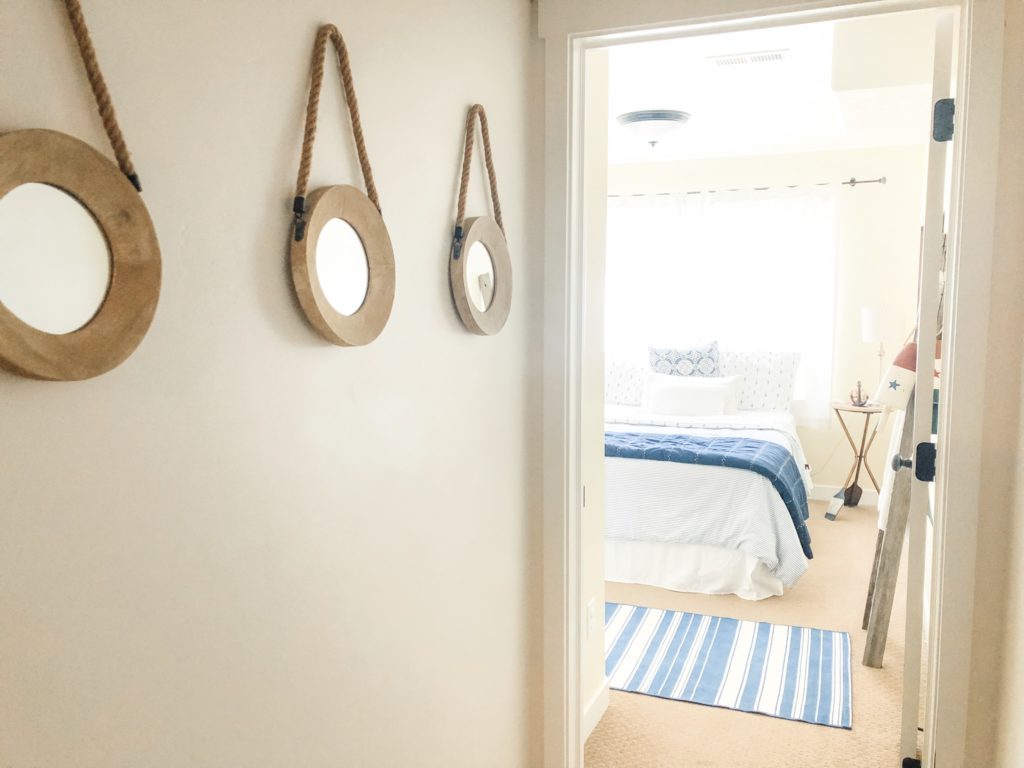 Shop Similar Items