Trying to find a cute animal spring dress that travels well is hard to do.
Normally I would not think of shopping at H&M to find a Cheetah spring dress for myself. I always think of them as fashion for teens.
To my surprise I found the perfect dress!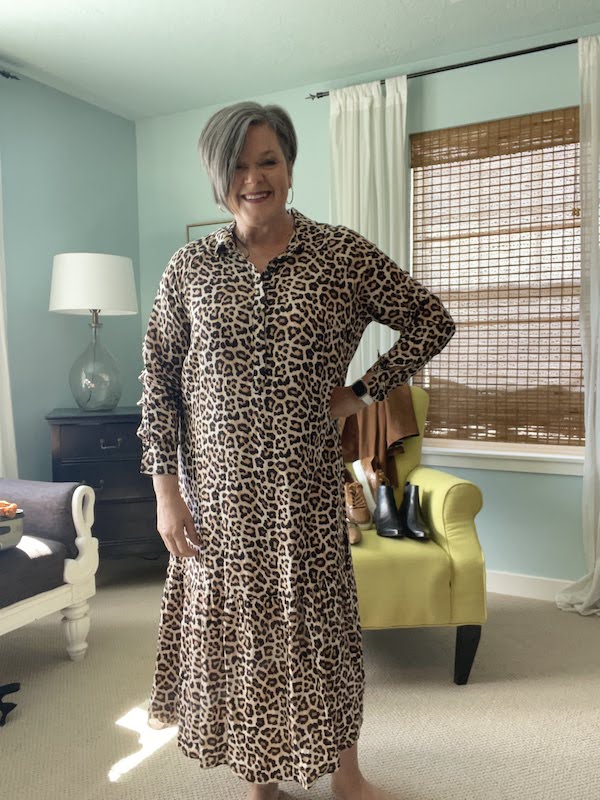 It is made of polyester and doesn't wrinkle too badly rolled up in my suitcase.
Actually I brought it on my latest trip to Italy but it was a bit chilly so I didn't even get a chance to wear it 🙁
I head back to Italy in June so I know it will be perfect to wear then!
Let me share the 3 ways to style it.
Finding the right style for my body type
To be able to find a lightweight dress springy dress that does not have any kind of waist in it but that still looks cute was nearly impossible.
Although this dress from Target below is cute and comes in many colors, the place where it hits under the bust line only accentuates the widest party of my body.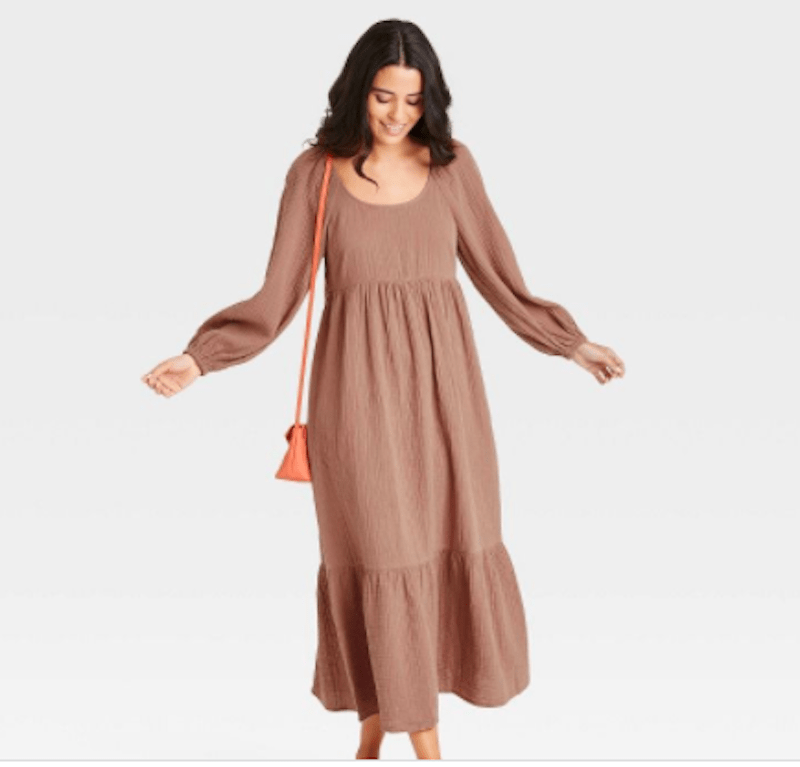 This dress is very similar in style but hugs my body in the wrong area.
As I have mentioned before I have a thick short waist and broad shoulders. Many of the dresses available in stores today have detail in them that is not flattering to my body shape.
I prefer straight dresses that flow away from the body like this one.
Check out my video showing all three outfits
Adding a double breasted jacket to the cheetah spring dress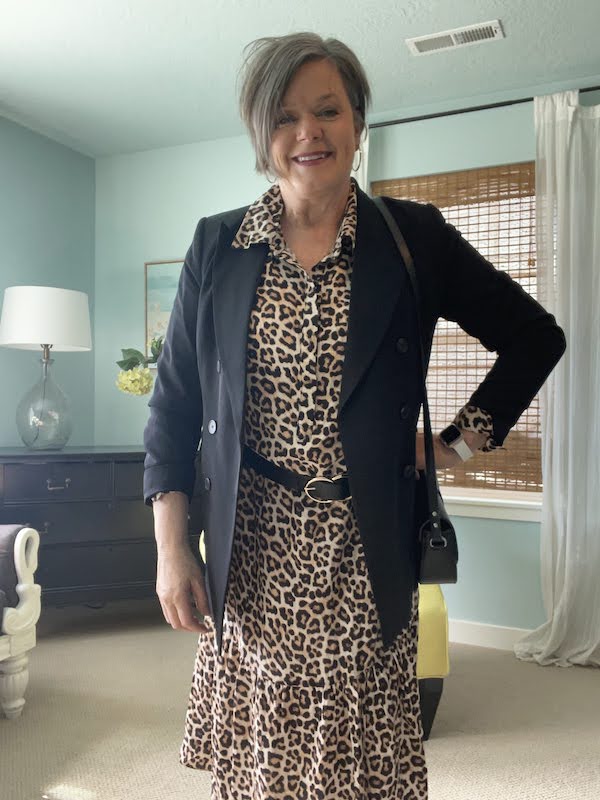 To give the illusion of a waist hiding within the dress I added my double breasted jacket also from H&M.
This makes the outfit feel more sophisticated. I styled it 3 other ways here.
Tip: I never button the jacket leaving it open gives the illusion that perhaps there "might " be a waist hiding in there haha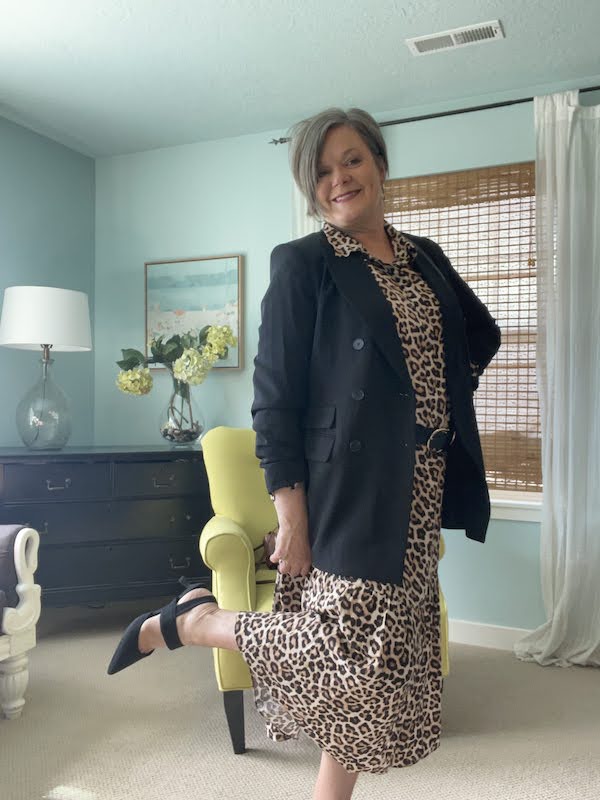 My black double breasted jacket creates a longer leaner look. Especially when I pair it with a C shaped gold belt.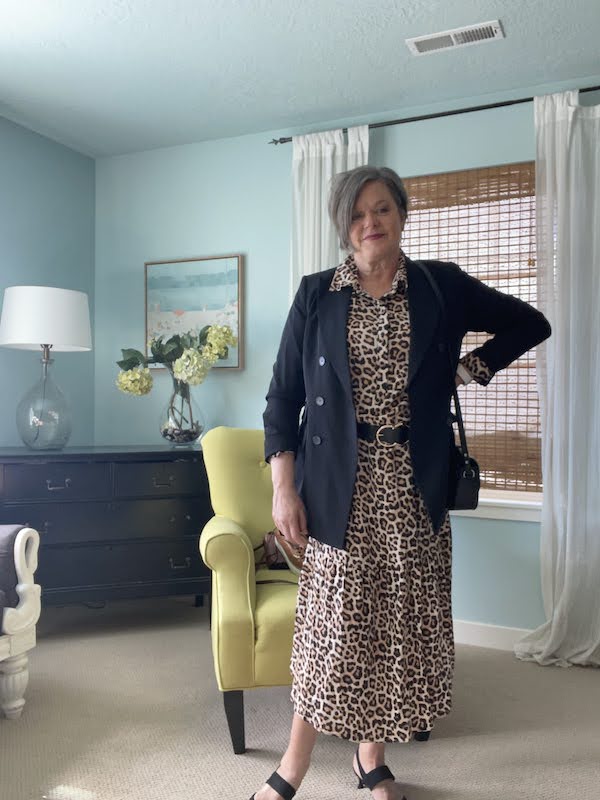 To bring in femininity I am wearing my favorite pointy toe kitten heel shoes.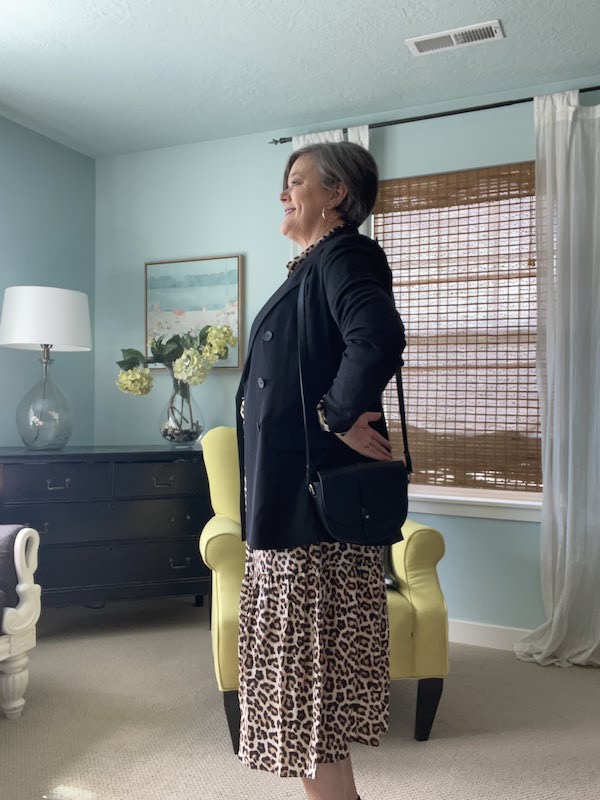 Faux suede jacket and Cheetah spring dress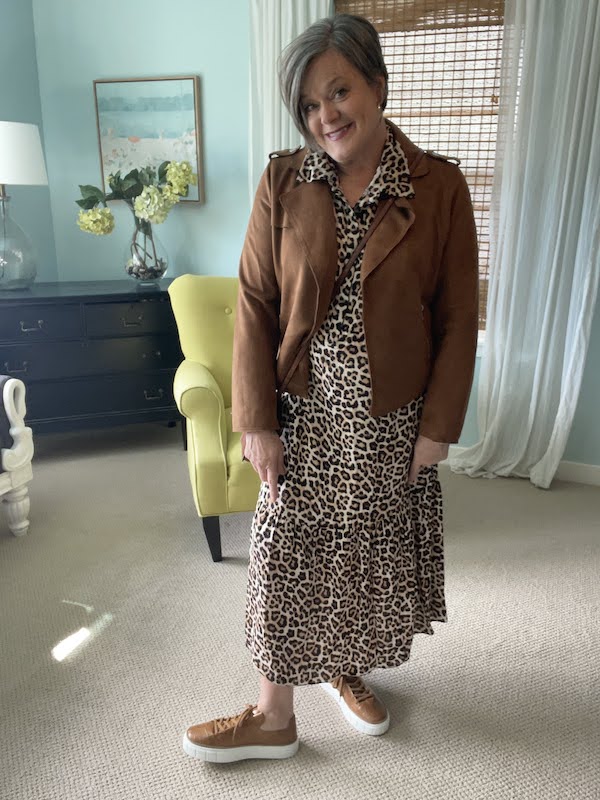 The warm colors of the cheetah dress lends itself quite nicely to my faux suede jacket.
Another way to style the suede jacket is with a white blouse and jeans here
I didn't wear my belt this time because the jacket has a softness as well as detailing that curves a little at the waist.
This helps to define my no waist situation.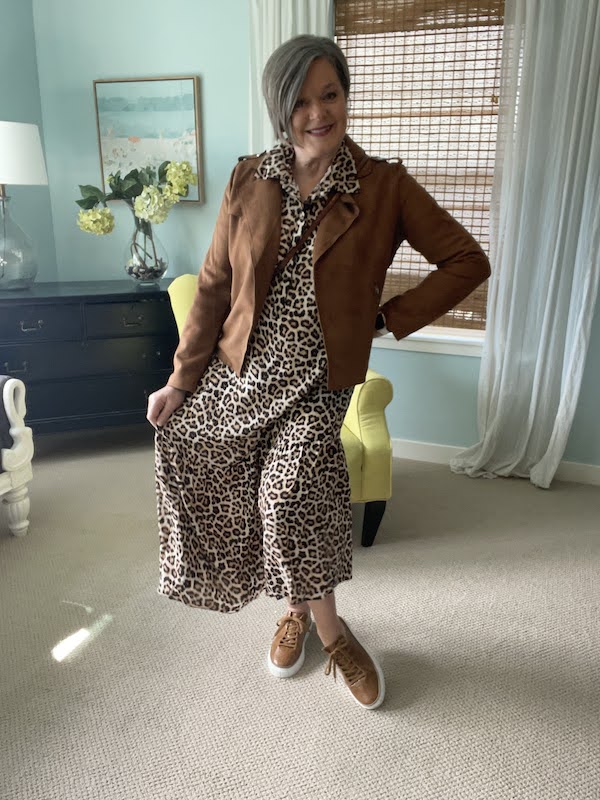 Crossbody mini leather purse and my new leather sneakers make this a great choice for shopping and walking miles.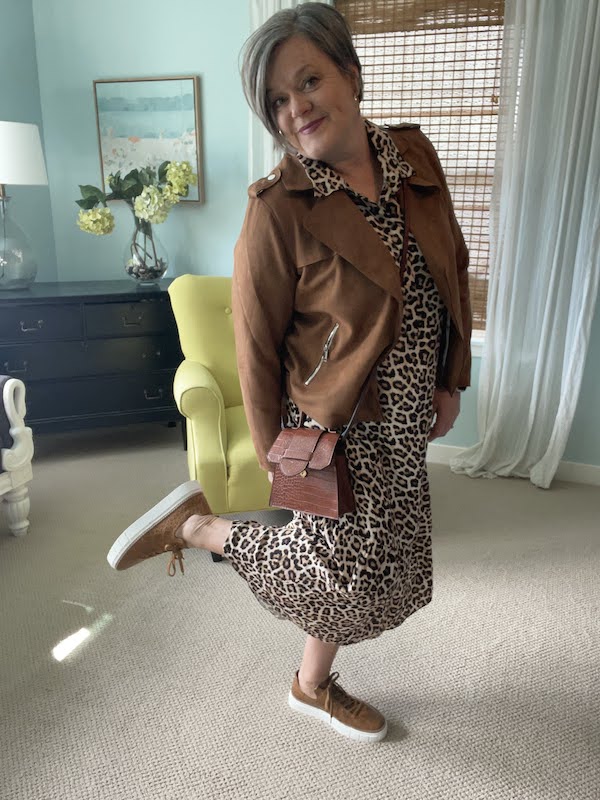 Casual denim jacket look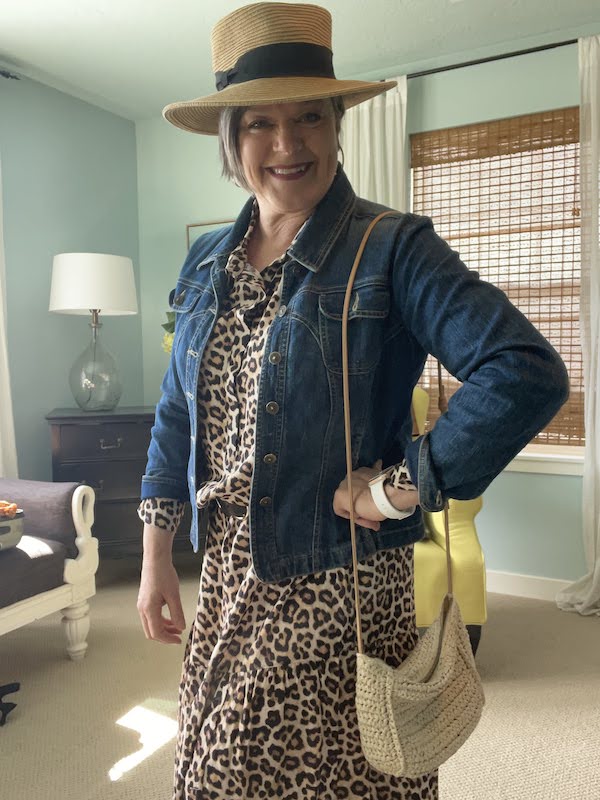 Denim mixed with an animal print is just the thing to bring a cute casual look to the dress.
I kept the belt, added a straw hat and wedge sandals.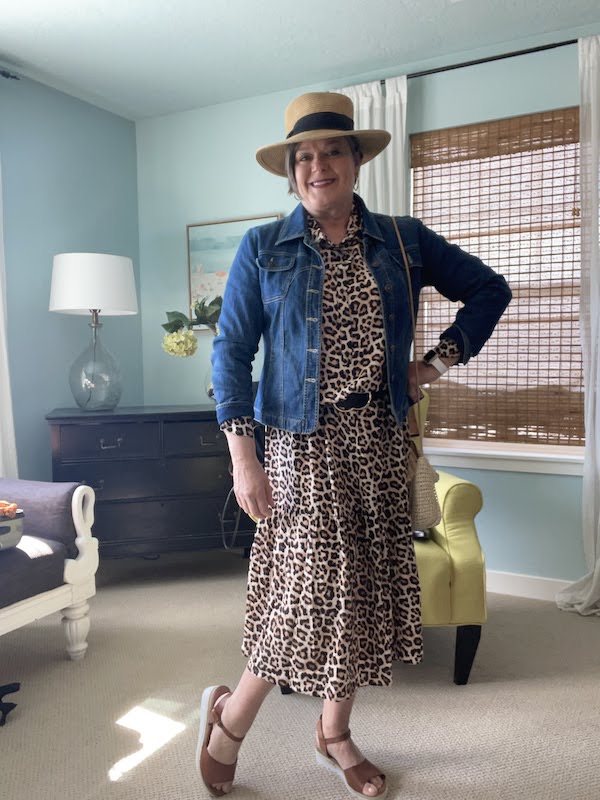 Perfect for sightseeing Italy in the spring or early summer.
Don't you agree?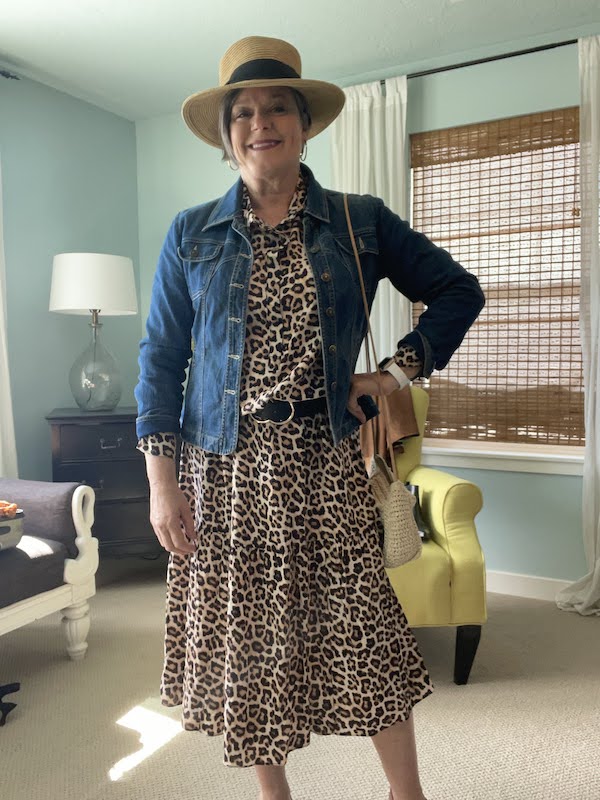 A tailored denim jacket is an absolute must for me because they finish an outfit without looking too stuffy. Add warmth but are not too hot. Casual cuteness is what I call it.
You can see where I wore it here and here.
Throwing a small straw purse over my shoulder just says casual fun day to me.
Shop similar fashion