This post has affiliate links that if you purchase any item I will receive a small commission at not extra cost to you. This helps me keep my blog running.
How many of you have ever worn white on white linen jacket outfit before? I actually had never worn white on top and on bottom except on my wedding day of course.
I have always loved the look of white on white but had never done it. When I found this adorable white linen jacket I decided to go for it!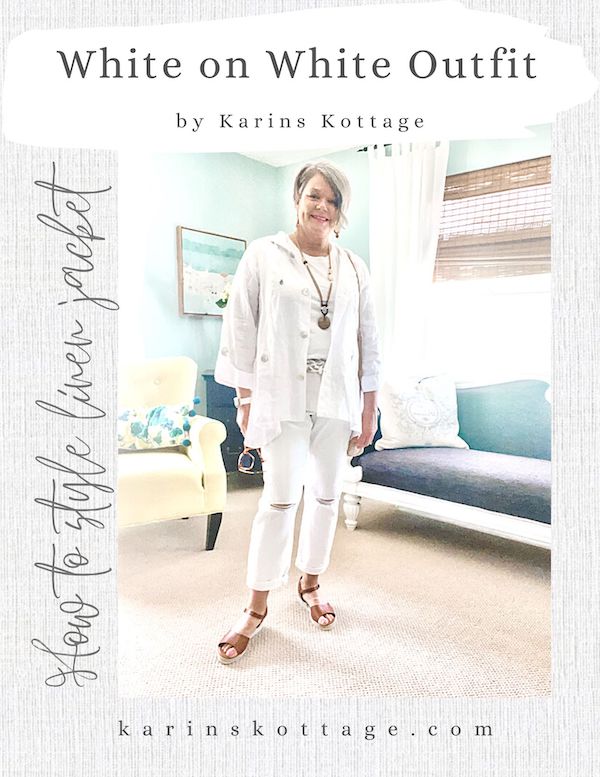 The White T-Shirt
Beginning with a simple white -T-shirt from….. is light and casual. I chose this so as not to fight with the details of the linen jacket. I wanted clean lines for my top half.
Plus it allows for my jewelry to show up better. I will talk more about that in a minute.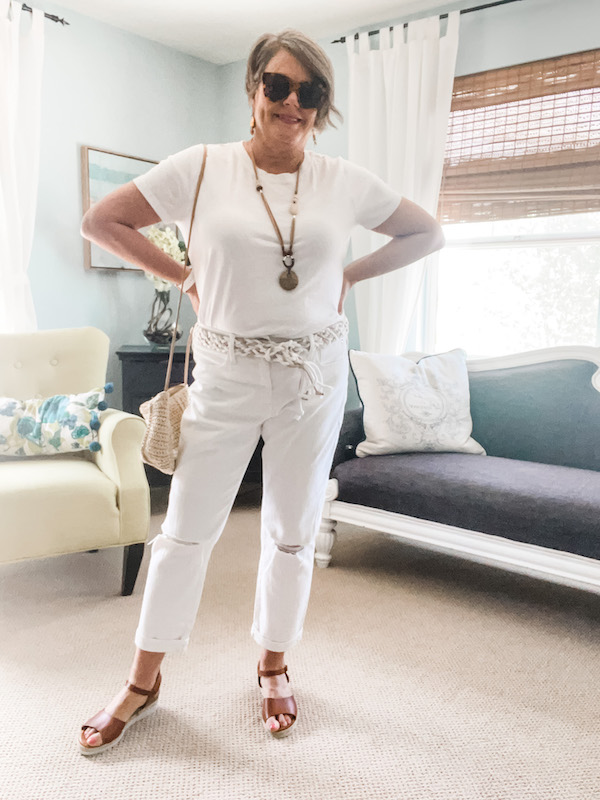 I really like the fit of the Jcrew T-shirt. Crew neck, fitted not baggy. This particular T-shirt is a little short through the midriff even for me a short waisted lady.
The cotton fabric is nice and not see through which I prefer.
White boyfriend jeans
These Jcrew boyfriend with all day stretch are fabulous! They are sold out! I have worn them so many times this past summer. Here is a similar pair without rips.
These distressed ripped jeans at the knee are not only comfortable to move around in but are also cool in temperature when wearing.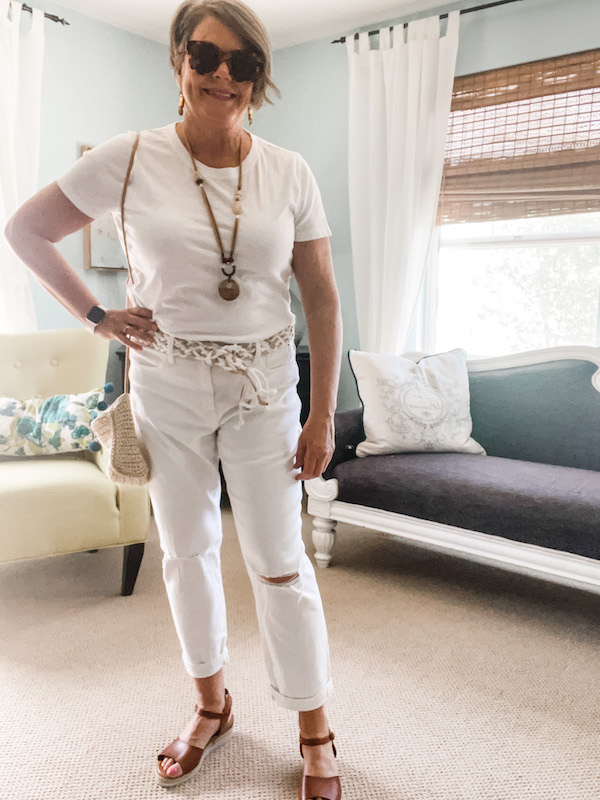 I have worn them in this outfit and this outfit with a pretty red duster.
These jeans look great with sneakers, flats and sandals. The all day stretch is heavenly and not tight around my waist.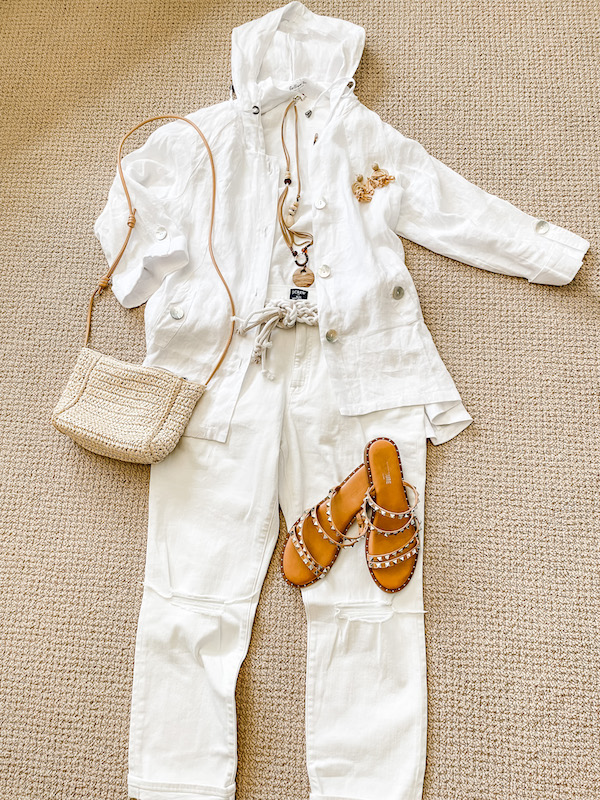 White on white linen jacket
My favorite thing about my white on white linen outfit is this linen jacket! I found it at TJmaxx but I haven't seen any more like it online or in the store.
Here is a similar looking one. Or this one is also similar.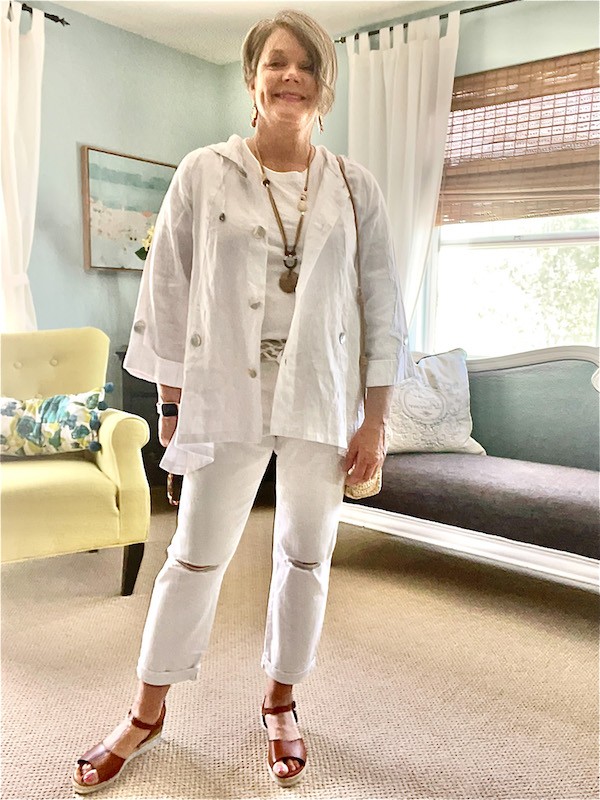 The length of the back of jacket is so flattering! Shorter in front and long in the back. Lots of fun details like the buttons down the front.
The large cuffed 3/4 sleeves with buttons.
Buttons on the sides of the pockets just add that extra detailing that I love.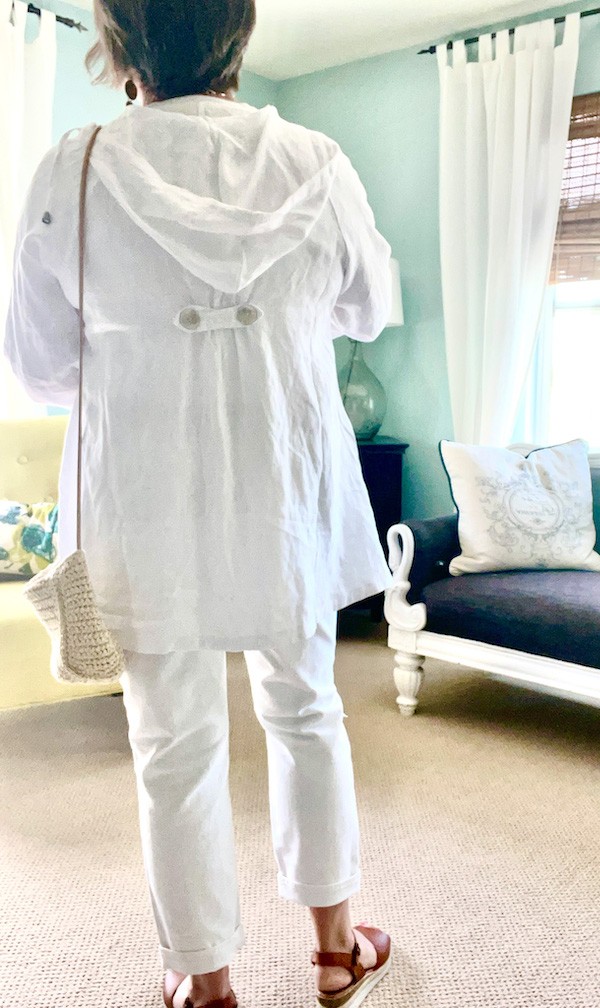 My favorite part of this linen jacket is the back!
The pleats with the buttons give such beautiful detailed tailoring structure to the jacket.
Jewelry and sandals
To give this white on white linen outfit even more punch I added a fun long necklace. It is a natural stone type look.
The brown color draws your eye down which is perfect to create a longer leaner look.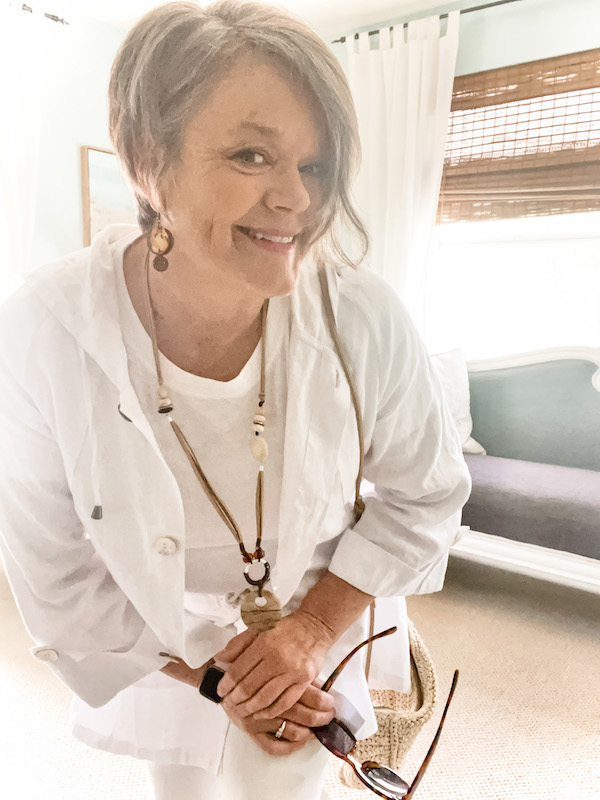 The earrings I am wearing I have had the for years and don't remember where I bought them.
Here are some fun natural looking earrings that would also be super cute with the outfit.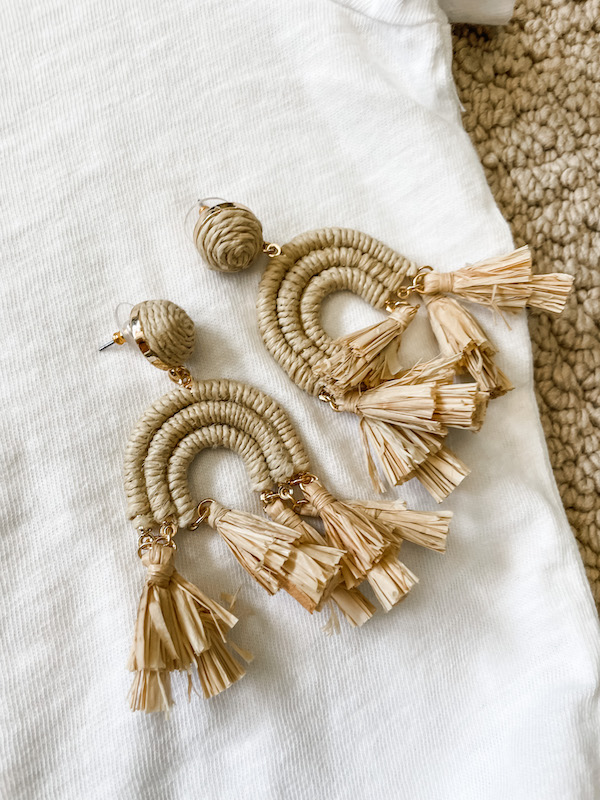 These platform sandals are so comfortable to wear! I really like the white soles mixed with the natural detailing.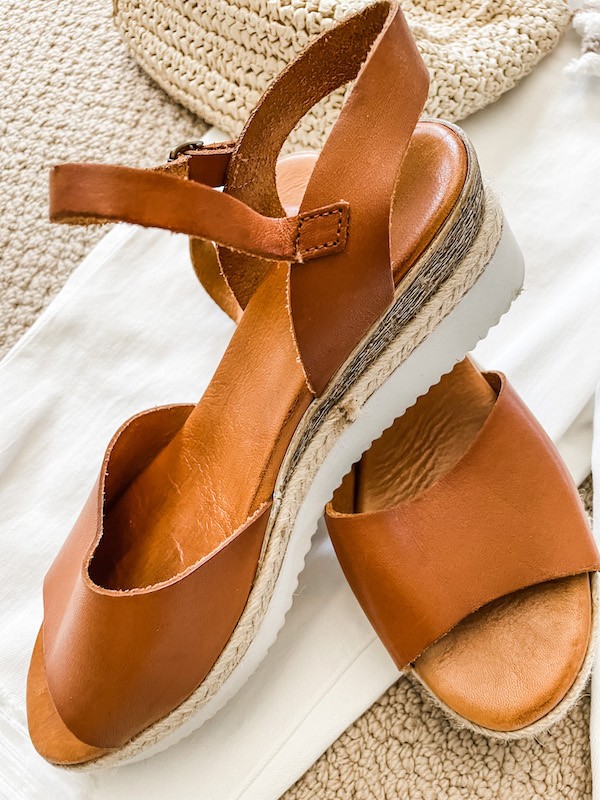 Shop Similar Items
These are affiliate links and I make a small commission from sales at no extra cost to you. This really helps me keep my blog going. I really appreciate it 🙂