I have been obsessed with finding a flowy maxi dress. I found one while traveling in Sicily Italy! Today I am sharing how I styled my yellow flowy maxi dress while in Casoli, Italy. Really there is not much on how to style this dress. It just fits nicely and I was so happy to finally find a dress I like and feel pretty in.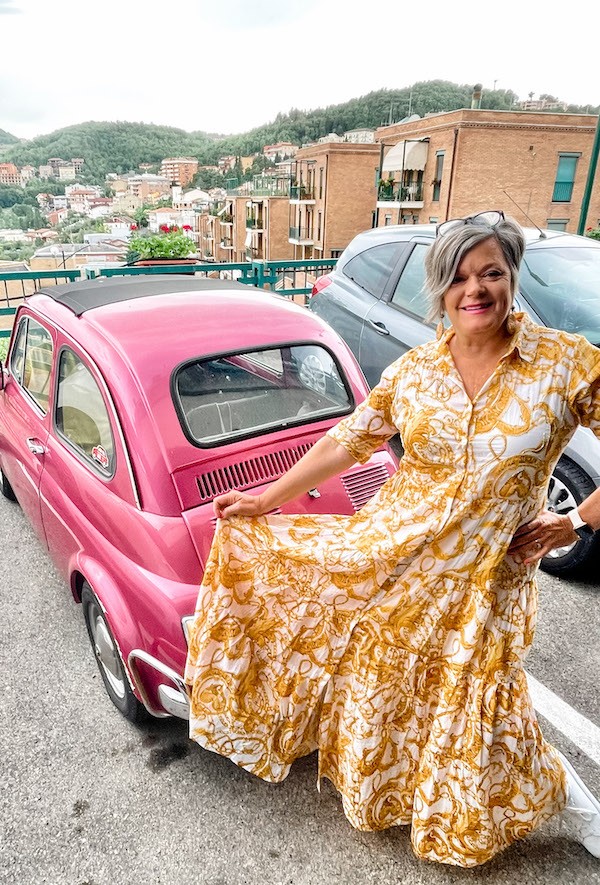 Finding the right flowy maxi dress for my body type
To find a dress for my body type is not easy. Broad shoulders, short waist, no waist line, maxi length, light and airy with sleeves and that buttons down the front is really hard to find. This dress has it all. We were walking around the town called Trapani which is on the west coast of Sicily and saw some dresses in a shop. I decided to take a chance to see if I could find a flowy dress.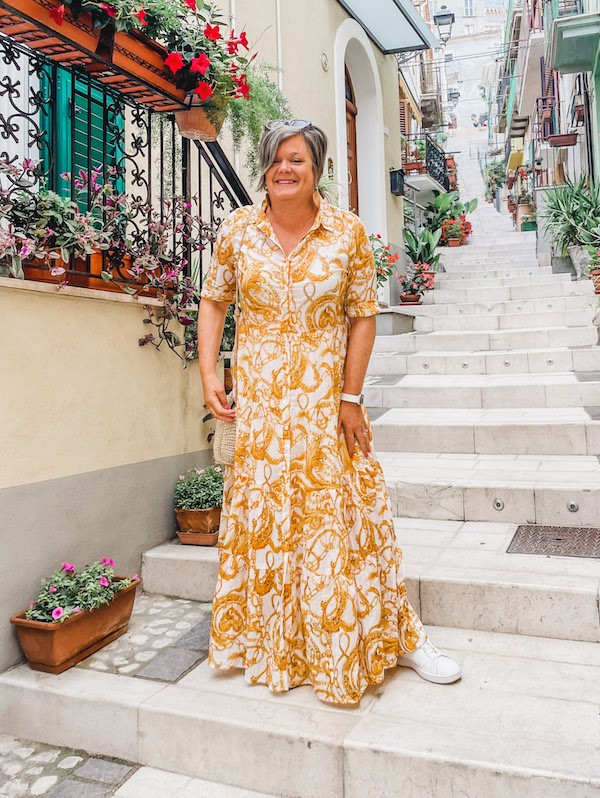 There were lots of pretty dresses to choose from. Most of the dresses were styled the way I wanted which was a miracle! A fitted bodice with a collar, sleeves, maxi length, beautiful colors and detailing. Then I wondered if it would fit. Because I am short waisted and broad through my upper body, blouses and or dresses with buttons tend to gap. This one does gap a little bit right through the middle of my bust line. I just used a small safety pin to keep it closed.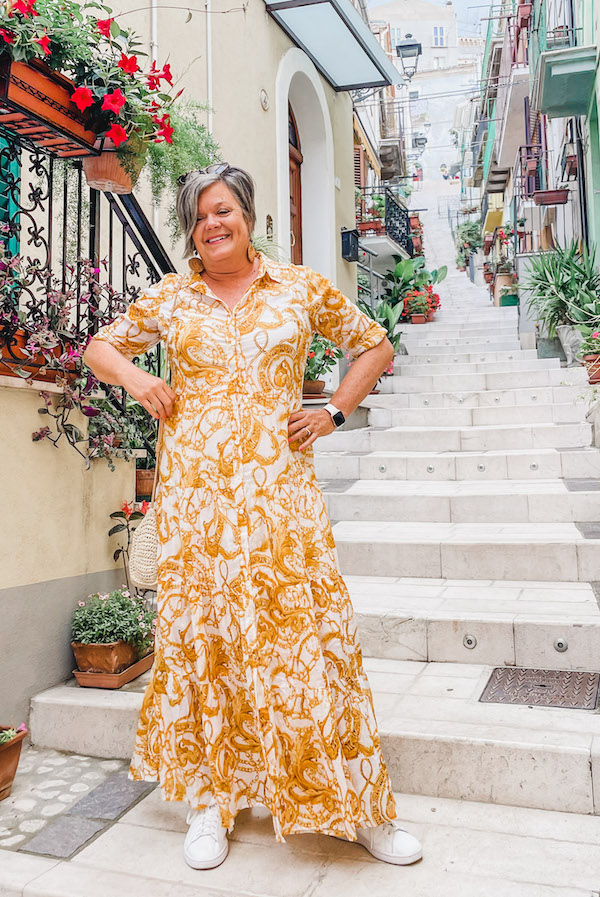 Seriously I cannot be "fashion lady" in the photos. I start laughing every time Mike tries to take a picture.
If only the bodice of the dress fit my short waist better the buttons would not cause the gap. It's almost like I need someone to either stretch my upper body out to make longer or pull the dress or blouse up by the shoulders to make the button hit in the correct place. Does that make sense to anyone but me?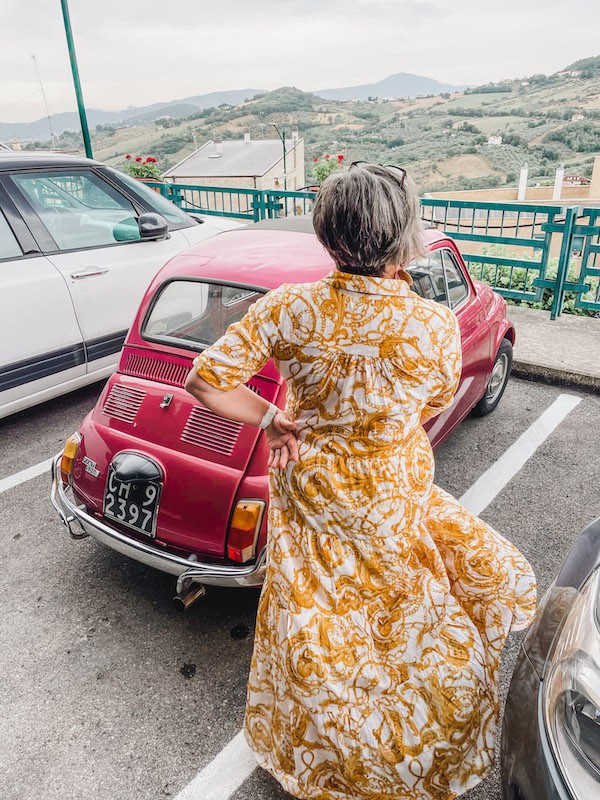 There is also a slight gap at my waistline. I am hoping to drop a few pounds soon 😉 I continually tell myself ok…this is it! You are going to loose 5-10 pounds but I never seem to make it happen. Too much delicious pasta in Italy! But…..one day! One day it will happen. I would just like my clothes to fit a little looser with no gaps or pulling…. that's all.
How to style the flowy maxi dress in Italy
This yellow flowy dress is so perfect because it is very lightweight and has such a fantastic yellow gold pattern on it. I could dress it up with heels, sparkly sandals or dress it down with casual sneakers. Which the latter is what I did. I knew we were going to be walking around a lot in Casoli, Italy because we were a part of the international festival of the most beautiful villages in Italy celebration. We were so excited to be a part of the celebration because of our renovation project going on right now.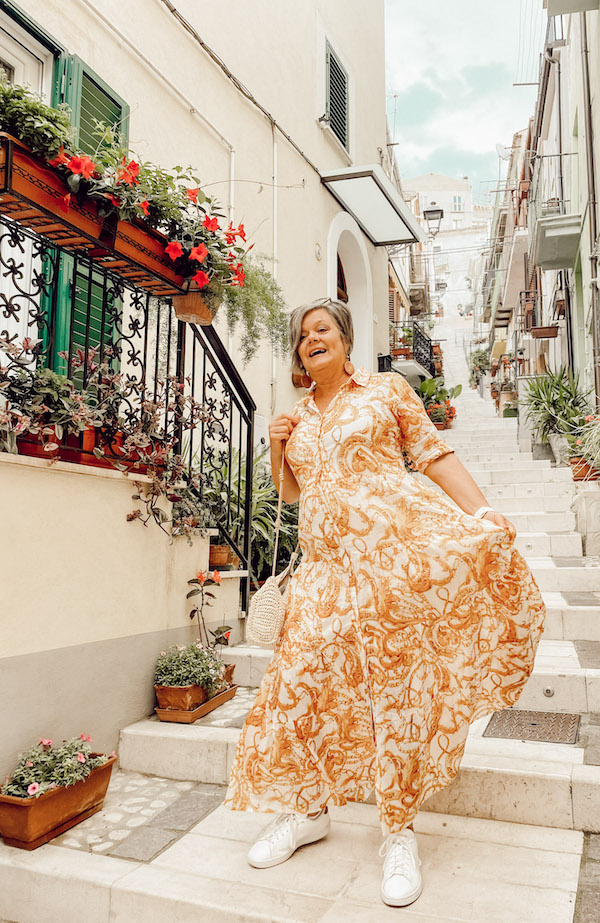 Everyone was so complimentary of this dress! I felt like a princess in it even though I was sweating to death because it was so hot and humid.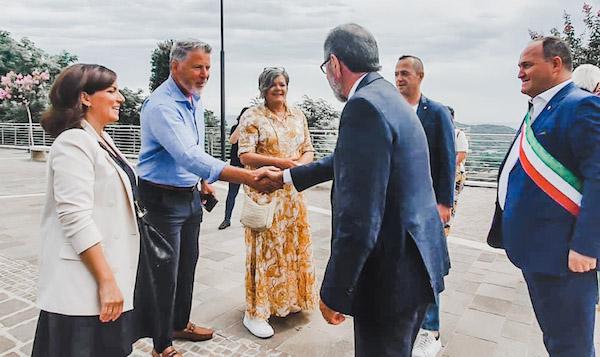 Apparently Italians don't seem to like air conditioning in their buildings or they only turn it on a little bit. Wearing a maxi dress and walking around on the hot pavement is not such a great idea when it is so dang hot. It was great in the morning and in the evening but during the middle of the day it was really hot.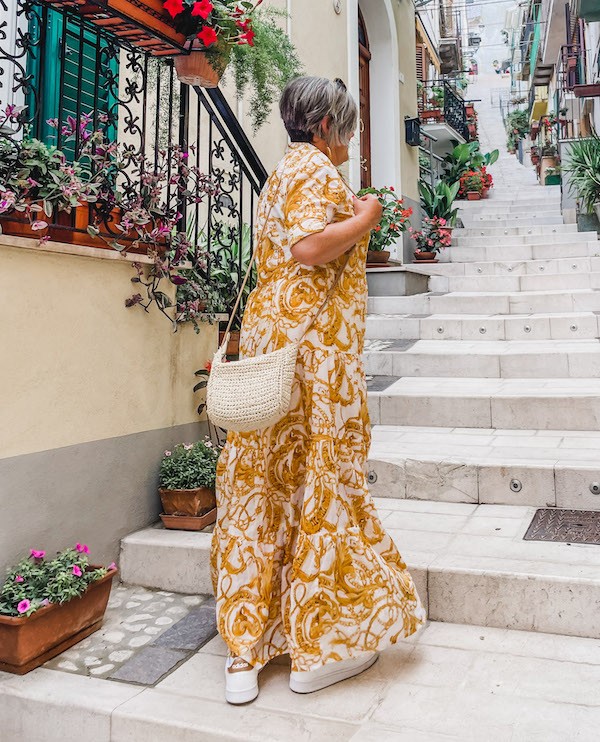 My little straw crossbody bag was perfect to wear with this dress. Lightweight, stylish and allowed me to be hands free during our walk around Casoli. My jewelry was simple…my favorite bamboo style earrings and sunglasses.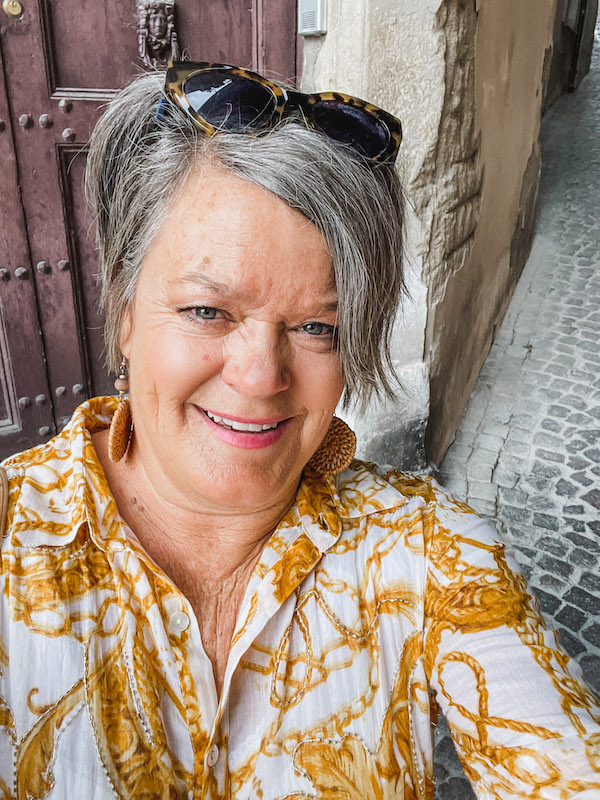 Wearing flowy maxi dress during festival
The color of the dress is just so perfect for summer. There is even some gold beading detailing on the dress that really makes it feel so elegant. The tiers of the dress just flow away from the body. This dress is very see-through. I had to buy a slip at the open air market. It was kind of funny because they didn't know what I was asking for. They thought I was asking for pull on slip shorts. No I just wanted a regular ole slip that would be airy. Luckily they had one. I can't even imagine wearing a pair of slip shorts in that heat.
No no I needed circulation haha.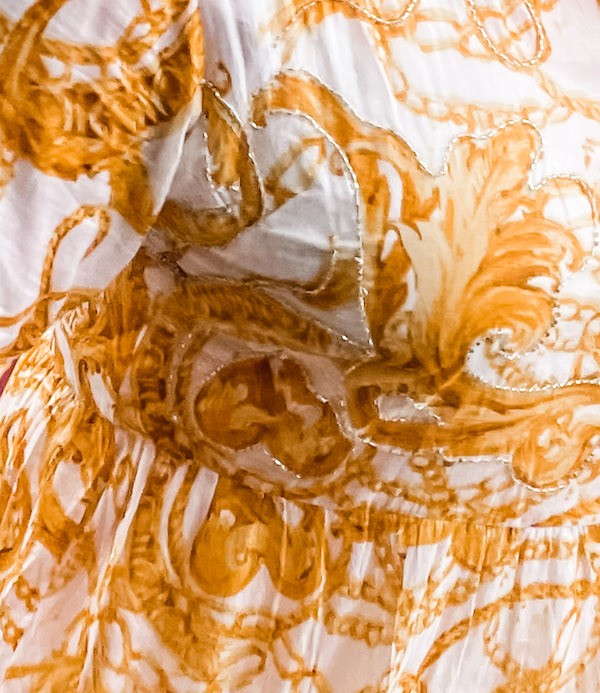 The festival in Casoli, Italy
During the festival lots of mayors from all over Abruzzo came to tour the beautiful town of Casoli and to see our Palazzo Ricci! We took everyone on a tour in the palazzo to show them what we are doing with it.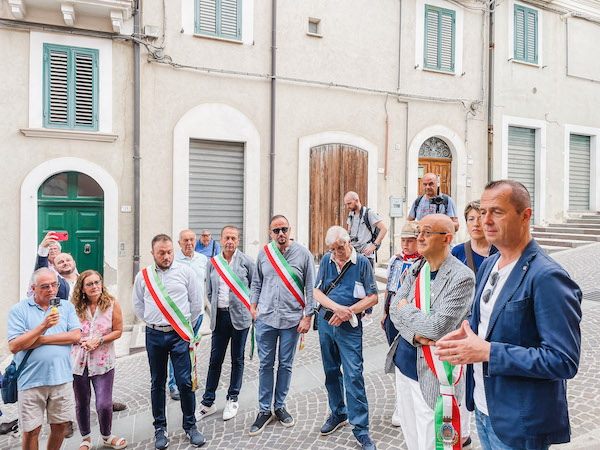 It is such a thrill to be a part of a renovation project that not only restores an old building but also excites the town members. We have noticed that since our renovation project started lots of other renovation projects have begun. People are excited to see new life come to their village.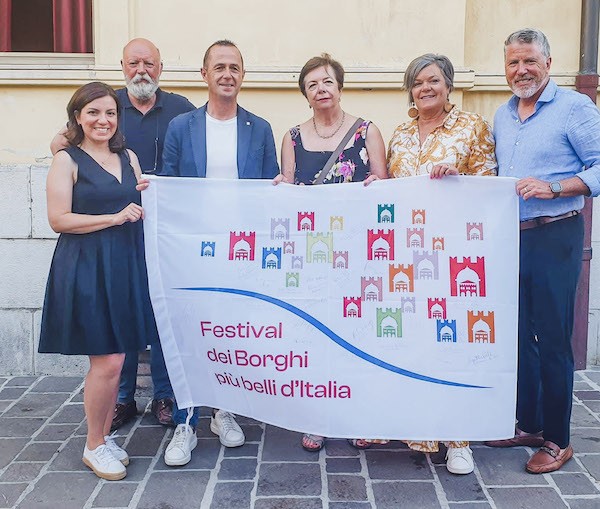 We walked all around Casoli to show the mayors the unique areas of Casoli. It was so fun to see the sites in Casoli. At one point we had this adorable 12 yr old boy joining us playing his accordion. He was amazing! Followed by a lovely lunch and some men from Casoli including the mayor singing at the end of the lunch. They have great voices! You can watch the video I made of our day here and here the men singing.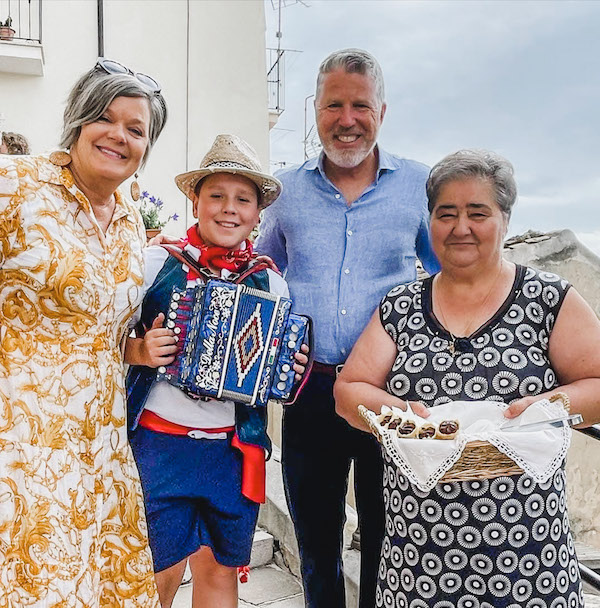 My hubby had the opportunity to speak at one of the festival meetings. He was able to share how we came to fall in love with Casoli. He shared our plans for Palazzo Ricci. It was exciting to see the mayors understand our desire to make a difference in this community.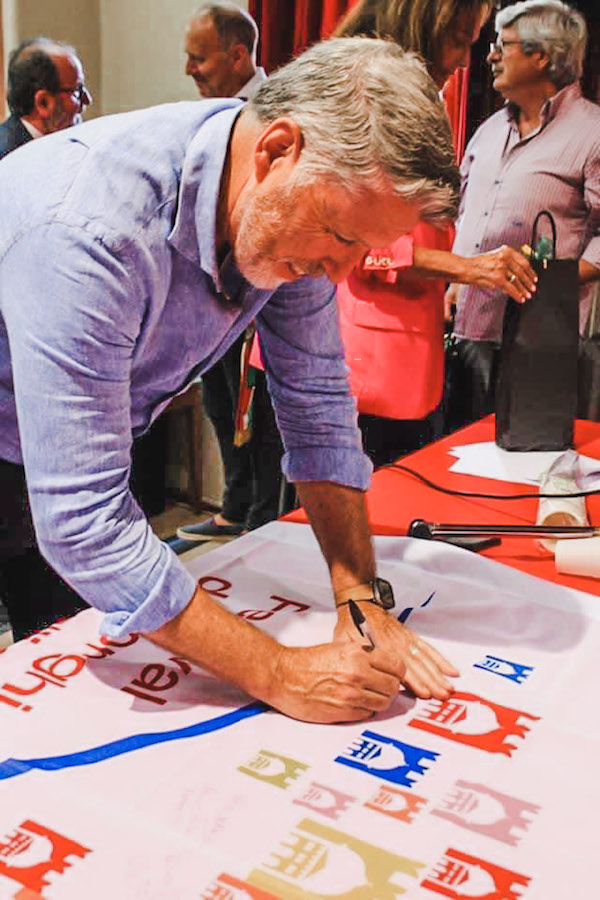 After the 2 or maybe it was a 3 hour lunch, we walked around and visited the local booths. Local vendors showing their olive oil, baked goods, cheese and locally made flour. Later that night they had multiple bands set up all over the town. If we didn't have to leave so early the next day we would have stayed for all the fun.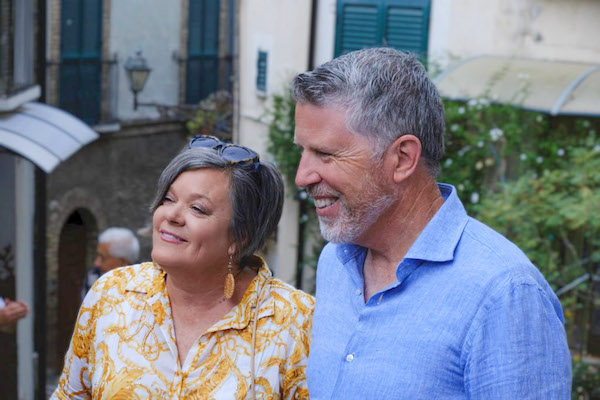 More about our Italy trips
You can read more about our Italy trips by clicking here
Shop Similar Dresses
I could not find the dress online. I found some other dresses that are similar. These are affiliate links and if you buy something I make a small commission with no extra cost to you. These small commissions help to keep this blog running. I appreciate it soooo much! 🙂