I bought this long flowy duster cardigan wrap a couple of years ago and I am not sure if it is a hit or a miss? How many of you wear the long cardigan duster style? Let me know in the comments below.
It is a super cute look but is it for me?
I kind of feel like Joseph's coat of many colors when I have it on haha. Does it come across as that to you? I want this outfit to come across as more of an elegant casual look for a gal over 50….ok a gal over 60 😉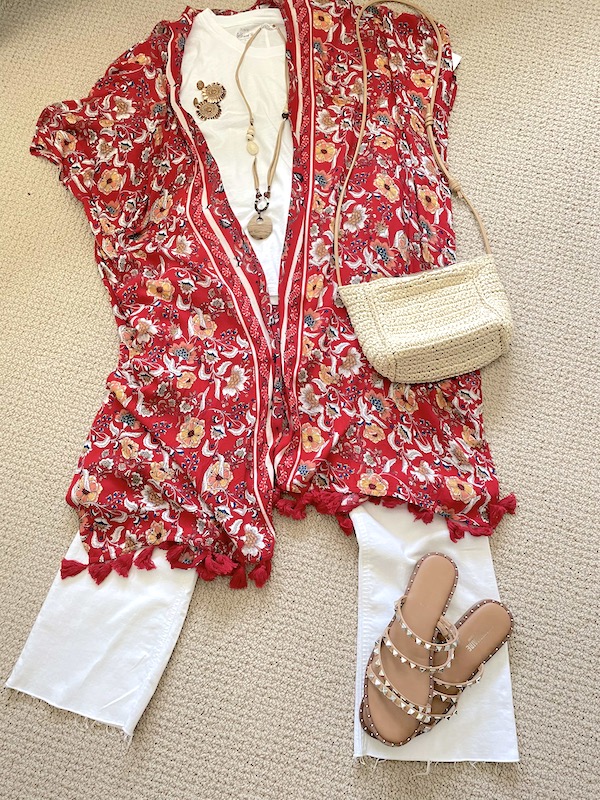 What I like about the duster cardigan wrap
Duster cardigans are perfect for summer because they are lightweight and allow you to layer without getting hot. They cover your arms and shoulders and yet make you feel elegant almost like you are wearing a fancy dress. You can wear them over dresses, jeans and even shorts.
I do have a long cardigan sweater that I love to wear in the fall and the winter.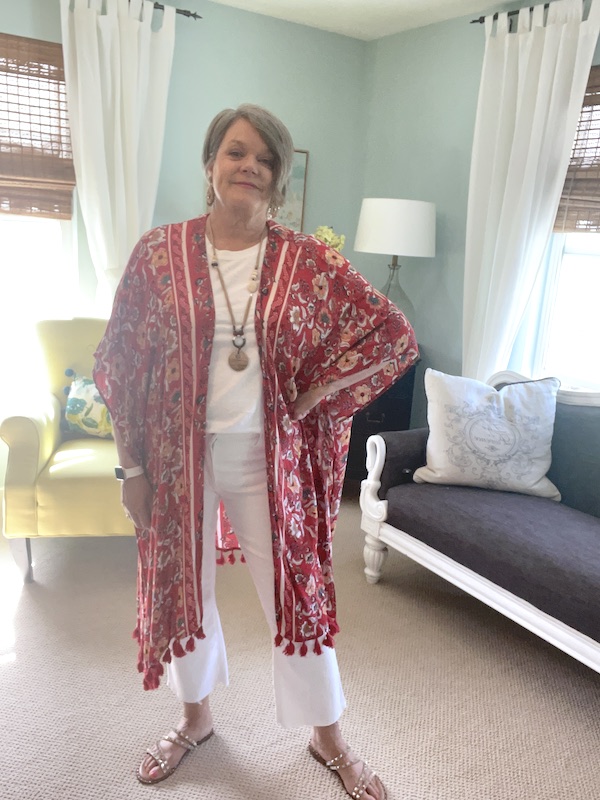 I really like the red tassel trim on this particular duster cardigan wrap. These long cardigans are also known as a kimono.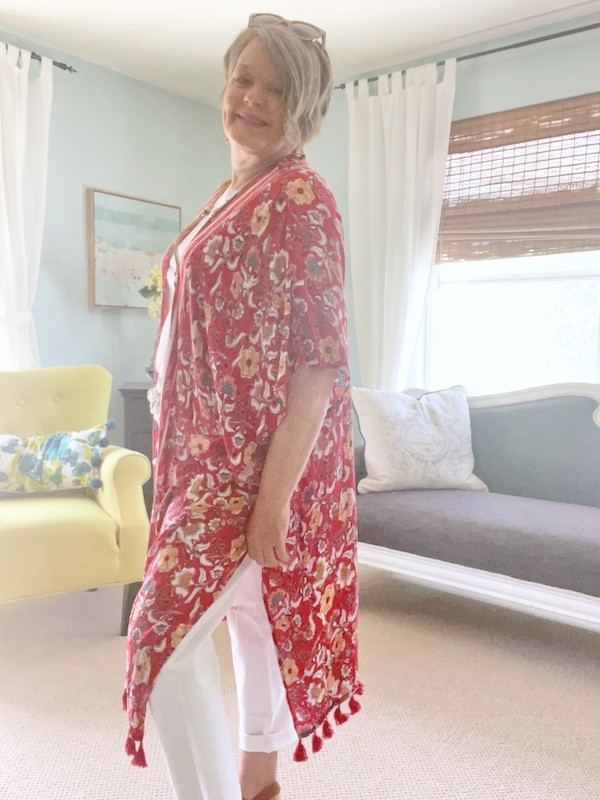 How to style duster cardigan wrap
For my outfit I started with a white t-shirt and white jeans. I actually styled the cardigan two different types of white jeans.These are my favorites! Jcrew boyfriend all day stretch with rips over the knees and Jcrew cropped raw hem jeans.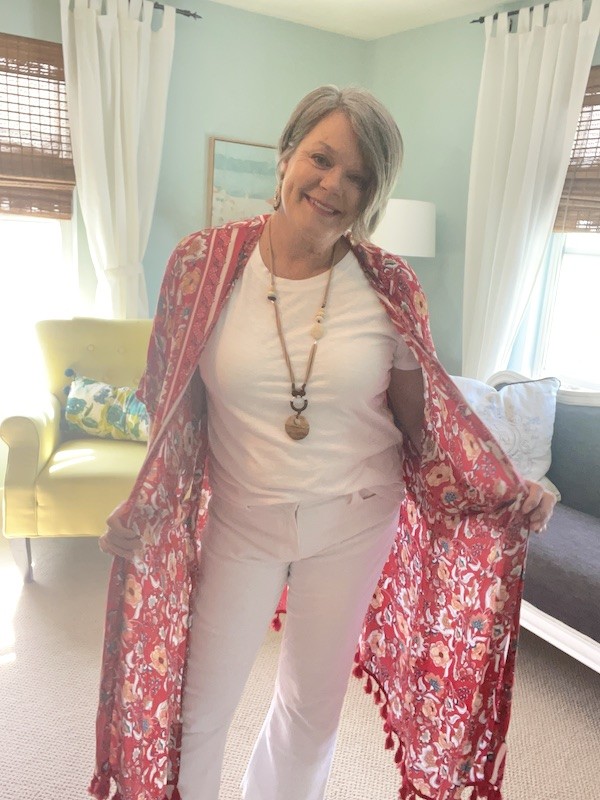 Keeping the all white look underneath creates a longer leaner look. Topping off the all white look with the bright red patterned cardigan duster brings a feminine Bohemian look.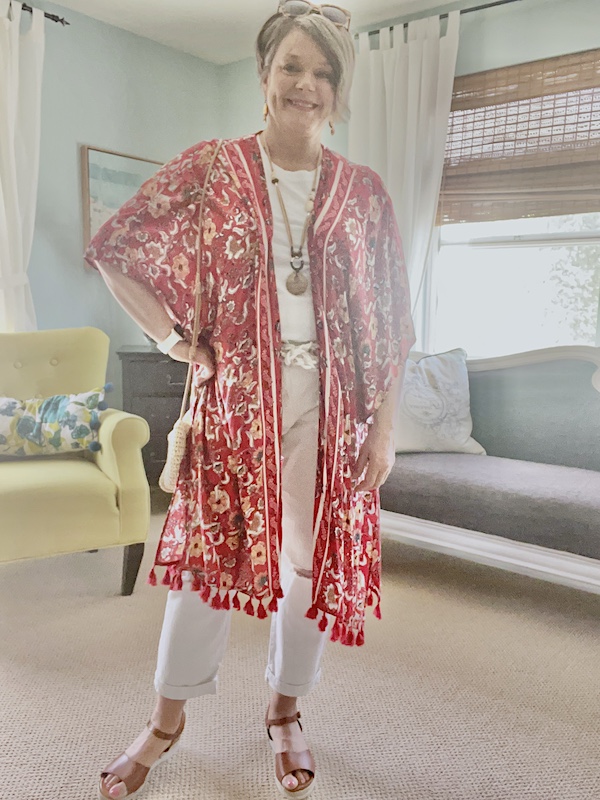 Which pair of jeans do you like best with the duster? I am thinking I like the cropped raw hemmed jeans the best.
Shoes and Accessories
Wearing some fun studded flat sandal brings in a little bling. I think a little bit of bling for this outfit is appropriate and not over done.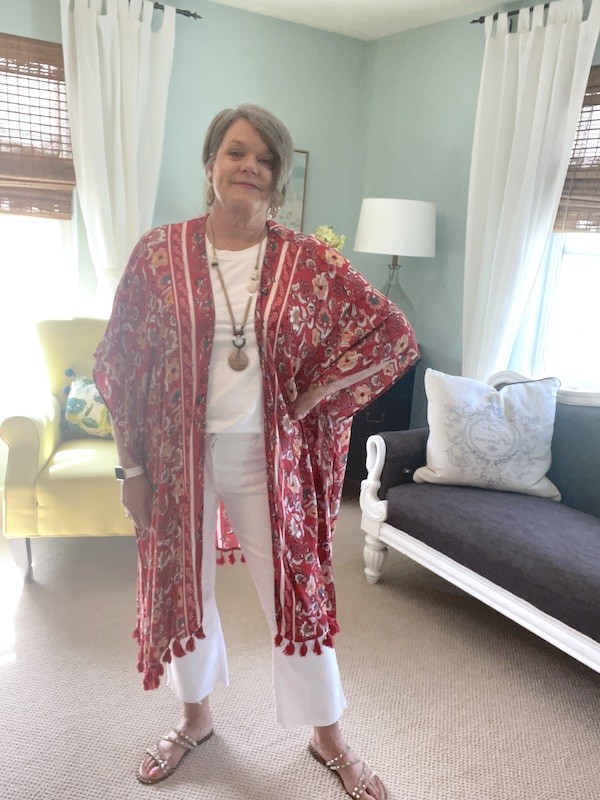 Don't you agree?
For the jewelry I am wearing a long necklace with a little wooden circle and a stone. Natural looking jewelry works great for this bohemian style.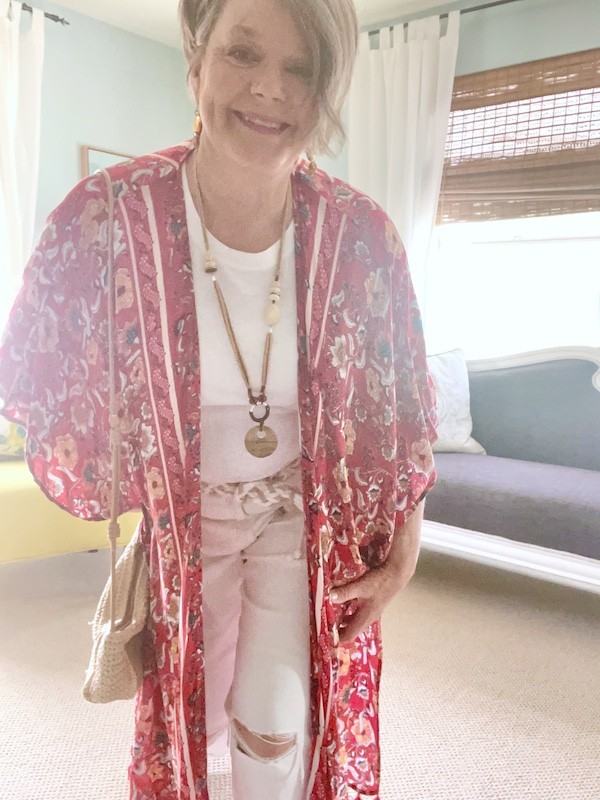 My earrings are fun natural earrings. These would be called statement earrings because they are a bit bigger than normal. I really love this type of earring.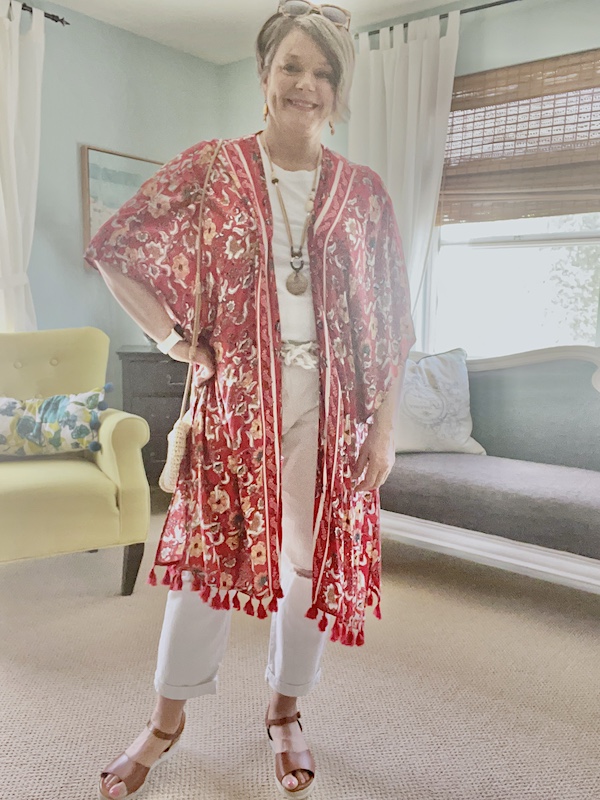 A small straw shoulder bag is the finishing touch. Not too big or bulky just a little texture for the outfit.
Shop similar items
Below are affiliate links and I make a commission when you purchase any items and I make a small commission at no extra cost to you. It really helps me to be able to keep this blog going.

More fashion posts
Long cardigan sweater for fall
Styling a denim jacket with scarf and leggings