I am loving this time of year! Getting my fall/Halloween decorations in my kitchen nook is so fun to do!
Mostly I decorate for my grandkids but really let's be honest, I do a lot of it for myself 🙂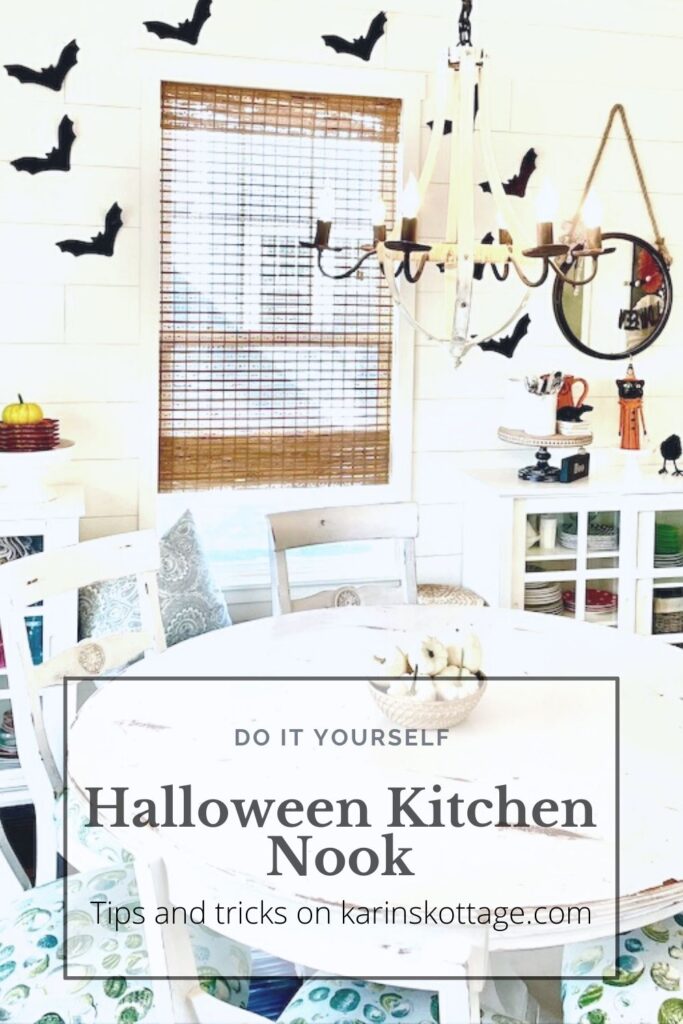 It just brings back memories of being a kid and getting so excited for Halloween and going trick or treating.
Halloween decorative fans
This year I got out my Halloween fans from My Minds Eye Inc. that I have had for about 4 years now.
These paper patterns have a vintage look and feel to them.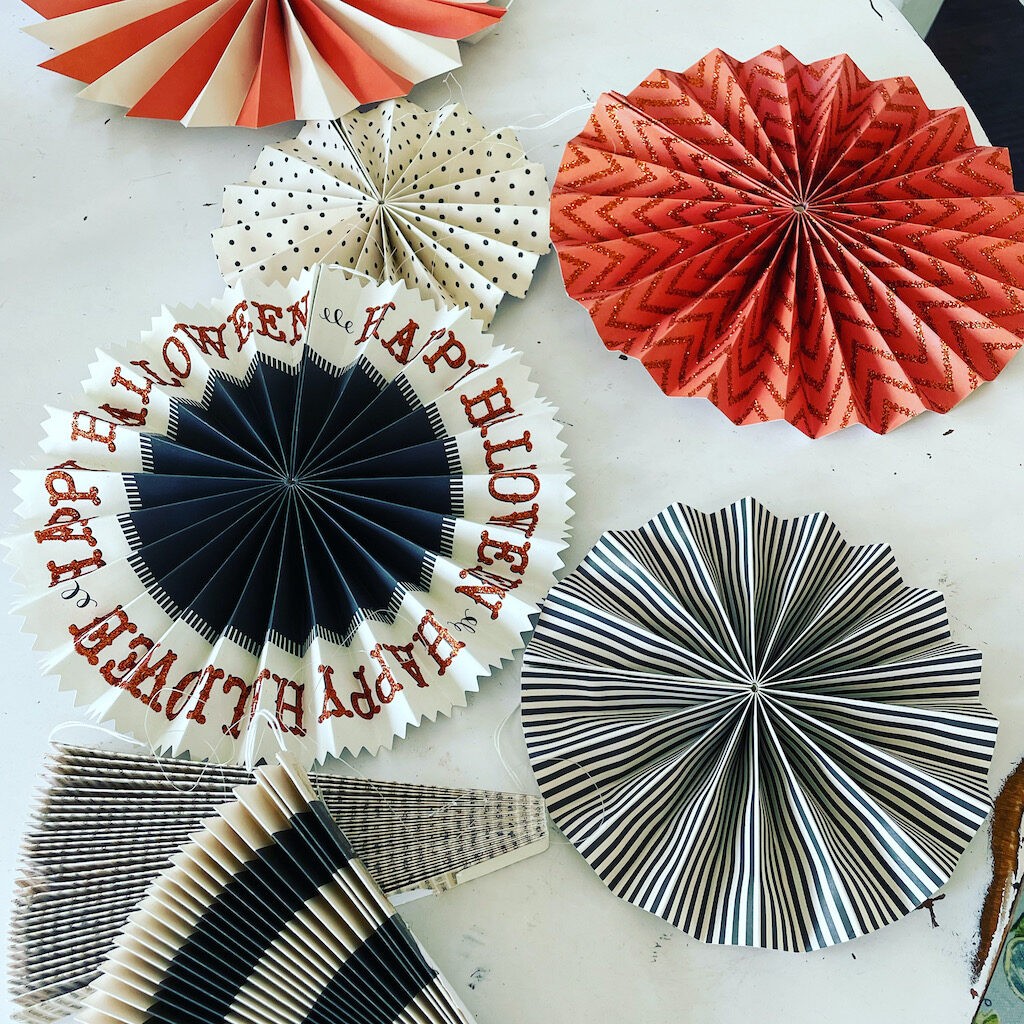 Black and white white stripes mixed with the orange is just perfect for Fall or Halloween.
The cute pumpkin and black cat that you can attach to the front of the fans remind me of days gone by.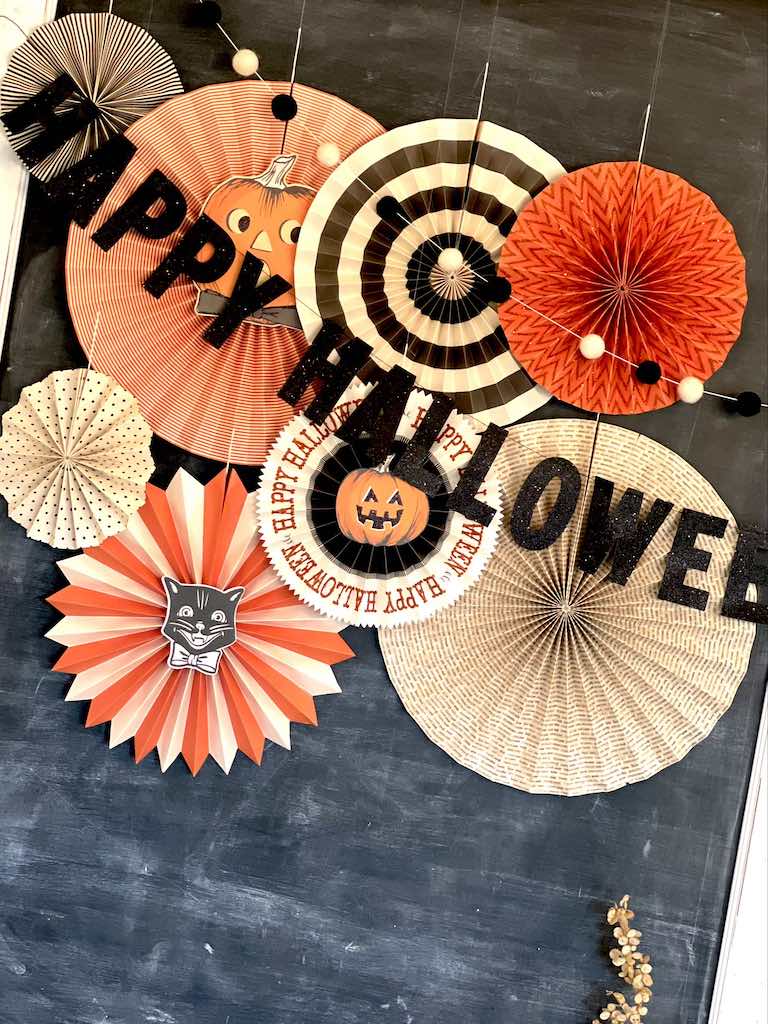 This year I added a black Halloween banner going across the all the fans along with black and white felt ball garland also from My Minds Eye Inc.
(FYI I am not doing a collaboration with My Minds Eye Inc. I am just sharing how I decorate with all their cute things)
Although I would be very happy to work with them hint hint heheh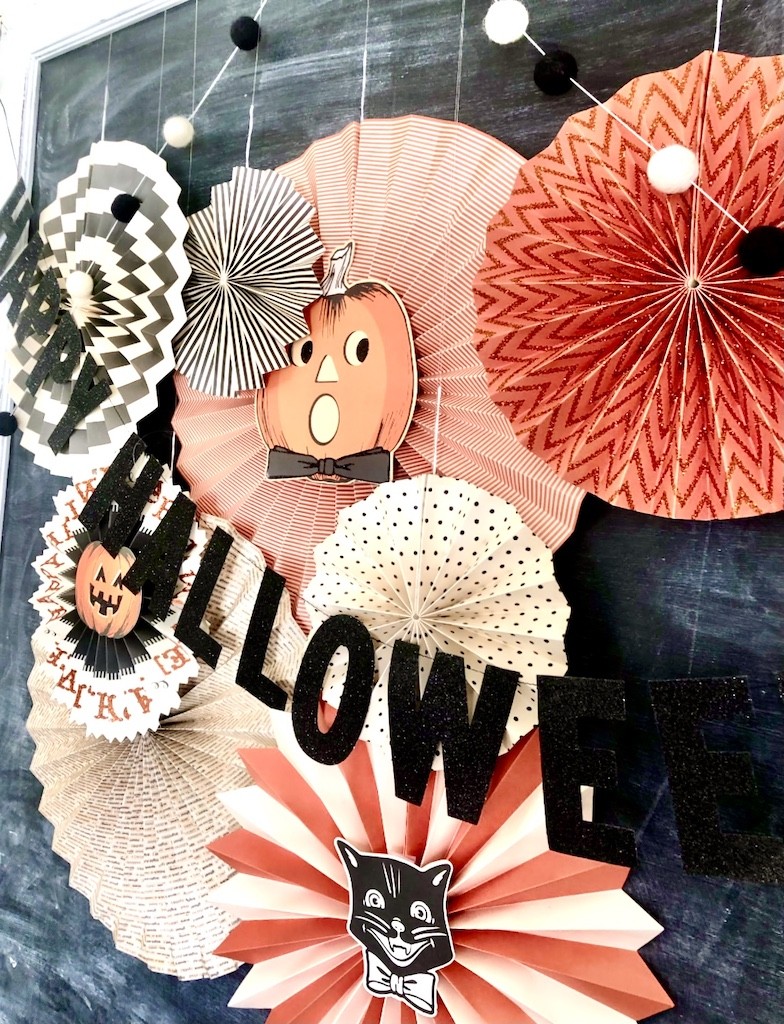 Hanging these Halloween fans against my black chalkboard just makes them pop. I used fishing line and some thumb tacks to hang them.
Halloween rats, black birds and skeletons
To create a few spooky areas in my kitchen nook, I placed a couple of black rats in a few areas as well as a couple black birds perched here and there.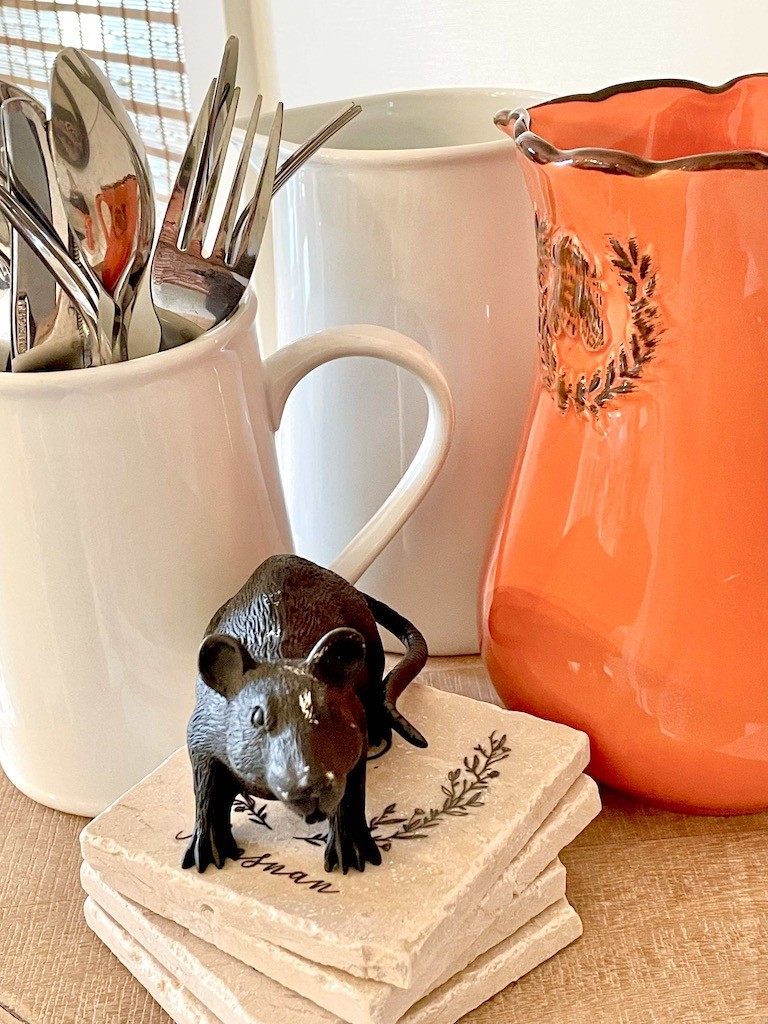 It is kind of weird to think about placing these types of creepy creatures in an area where I serve food but hey, it's Halloween and creepy spooky things just go together.
Plus the grandkids think it is cool!
This wooden bucket is one of my favorite things that my mom bought for me years ago!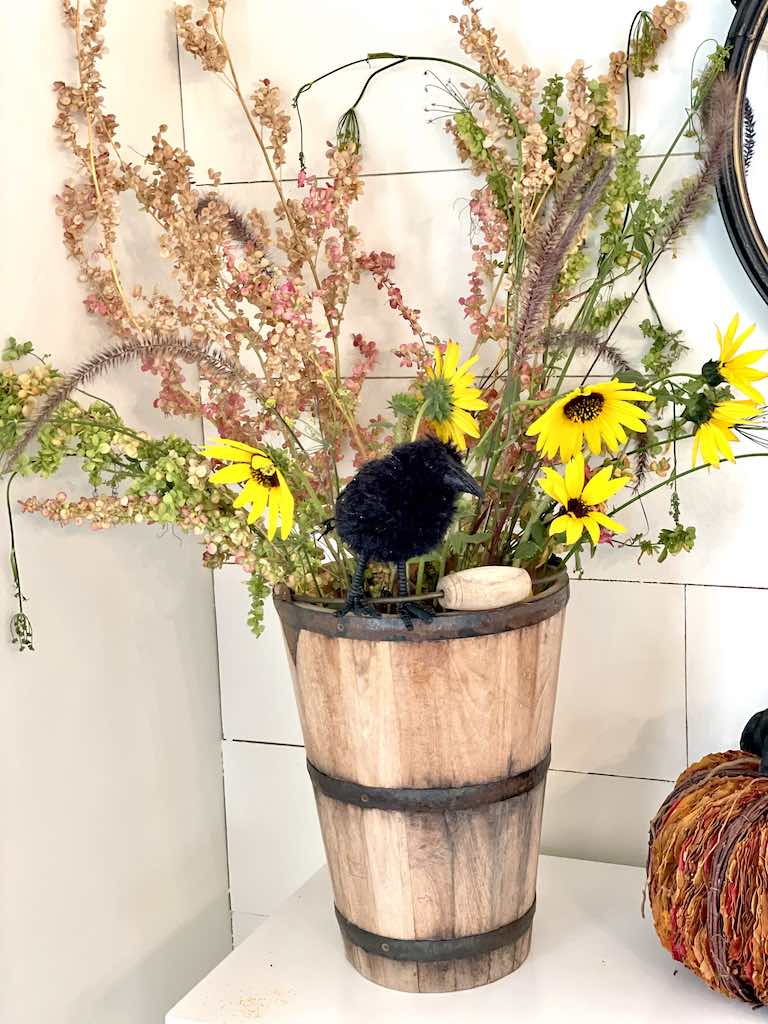 It is perfect to hold all kinds of flowers. My daughter created this gorgeous display of wild flowers.
I used the wooden bucket here for my Outdoor Lake party with tons of sunflowers in it.
My skeleton guy is hanging on to the rope attached to one of my port hole mirrors above my white cabinet.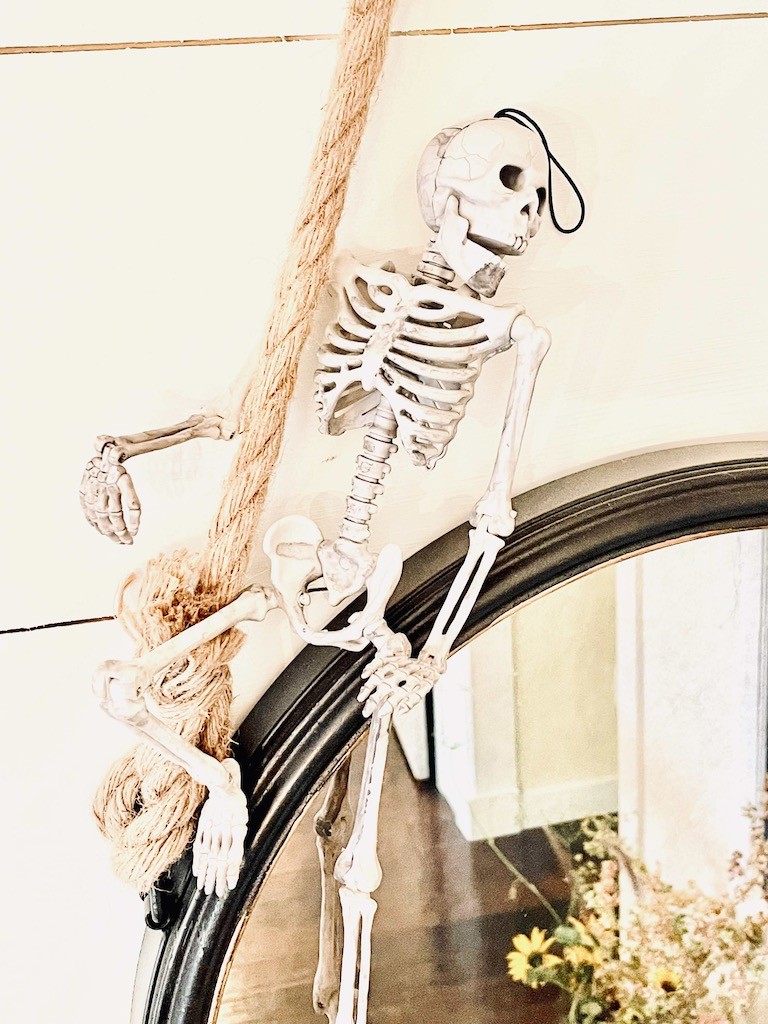 Just adding a few Halloween decor items makes the kitchen nook look festive in a creepy sort of way.
Flying bats and a cool cat
The other cool thing that I put up every year is these black paper bats. I bought these a few years ago from Michael's I think.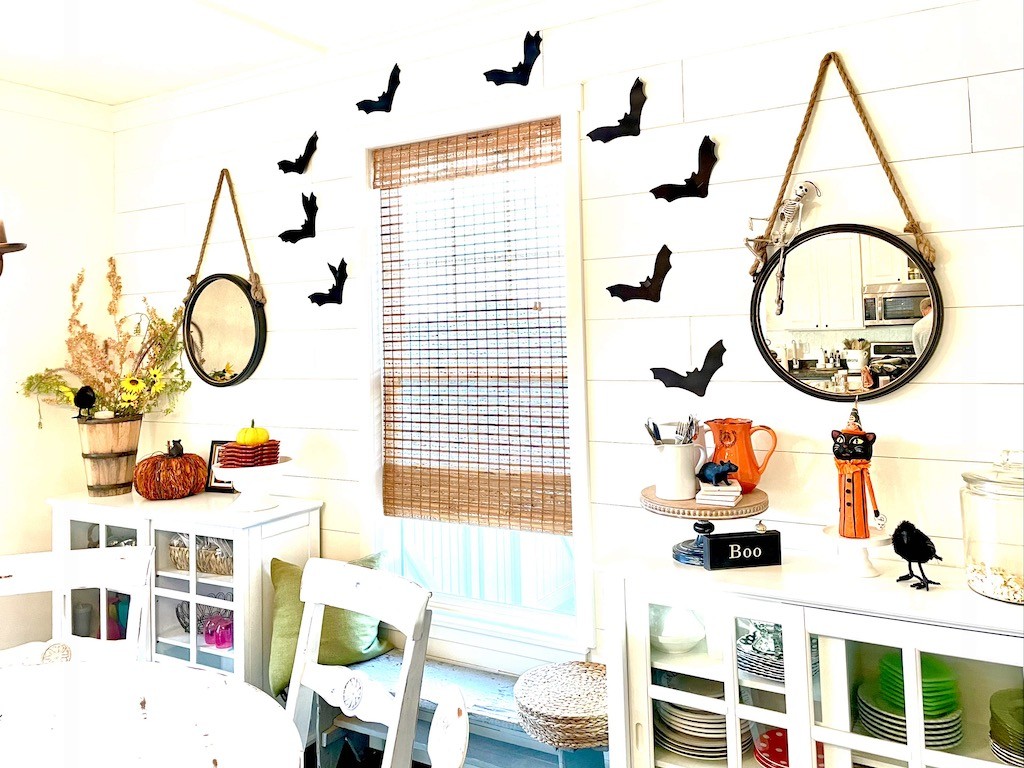 They were a Martha Stewart product and these bats are actually 3 dimensional. They look like they are really flying 😉
My favorite Halloween decor item is this black cat in an orange clown type of costume. It is made of paper mache.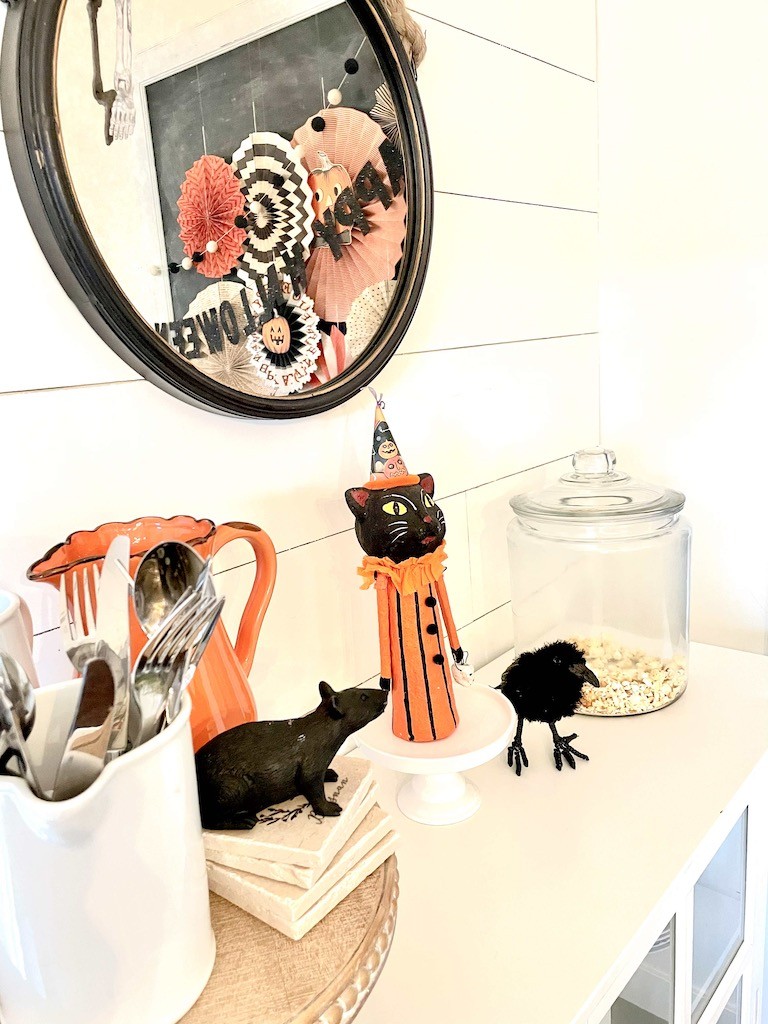 I have had it for years! One of the arms fell off but I was able to hot glue it back on.
Such a cute Halloween cat! He is even holding a tiny trick or treat bucket.
Check out my Halloween kitchen nook the way it looked when the walls were yellow here.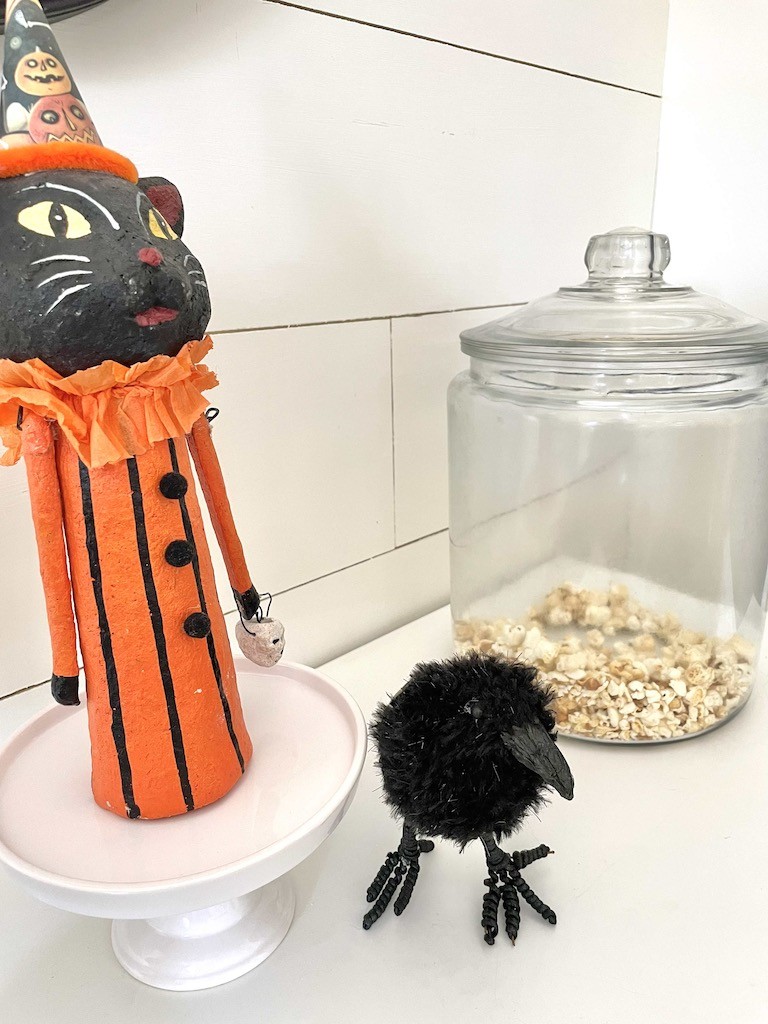 Halloween kitchen nook
This is my kitchen nook in full view with all the Halloween decor up.
I am thinking it would be fun to make dining chair seat covers in a black and white stripe or a fun orange print to bring in even more of the Halloween festive feel.
Remember when I shared my no sew dining room chair cover?
They looked so cute but covers for these chairs would need to be for the seats not the backs.
Will I make some before Halloween?
I don't know if I will but they would look so cute!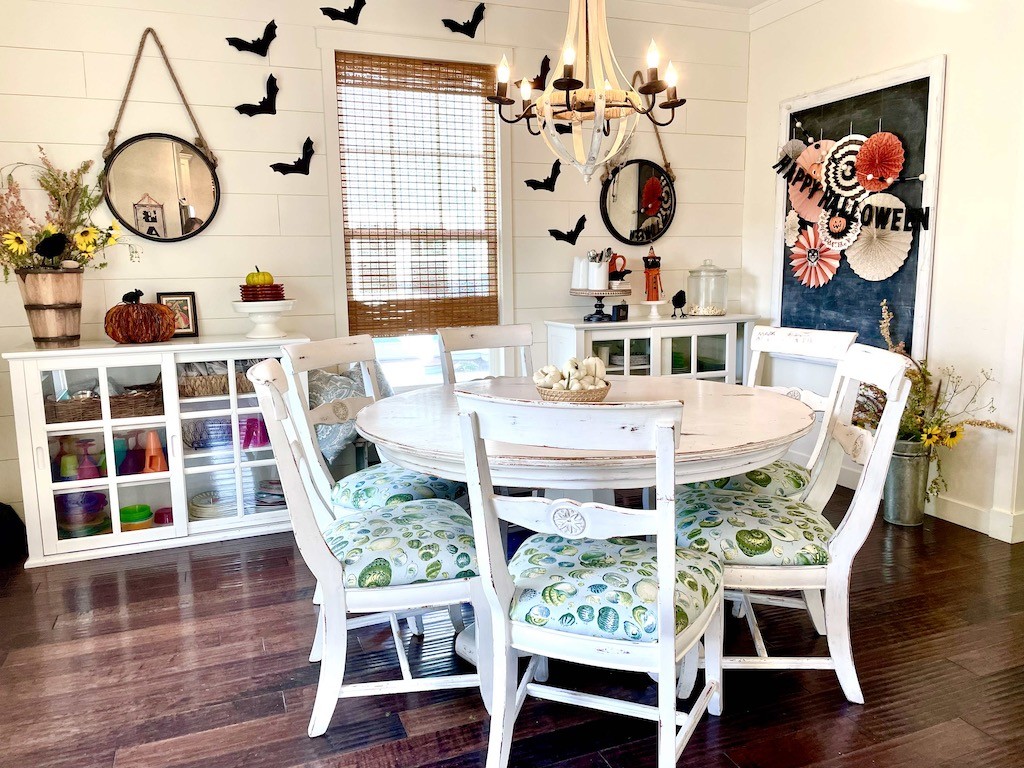 My white cabinets on either side of the window are filled with dishes.
Plastic dishes on the left for the grandkids and some nicer pretty dishes on the right.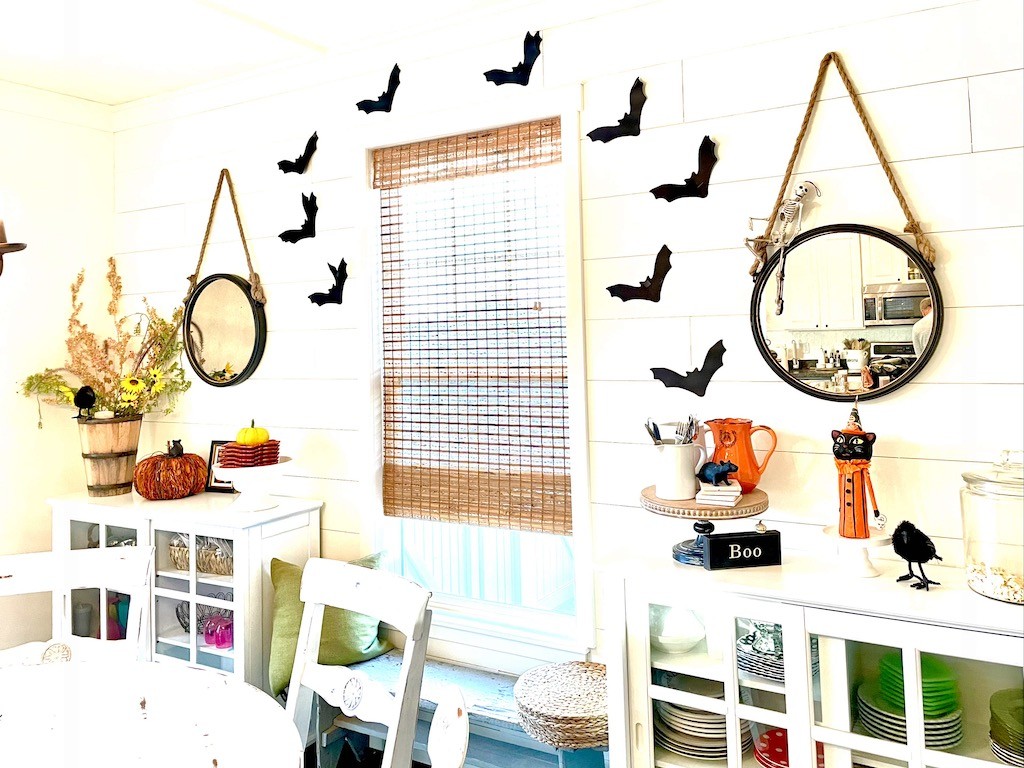 Make sure you check out my Witchy Halloween Dining room too!
Here are more of my Halloween posts you won't want to miss.
Shop Similar Items

Pin for later