Shiver me timbers it's talk like a pirate day coming up on Wednesday September 19th! You don't want to be caught looking like a scallywag do you? I have put together some fun pirate party food ideas that any Lass or Lady would love!
All of my pirate party ideas are really easy to pull off. Fun pirate food ideas like a pirate ship cake, a fruit tray shaped like a parrot, and other simple no bake ideas.
Make sure to check out my other post about how to make pirate photo booth backdrop made with sheets and fabric scrap leftovers.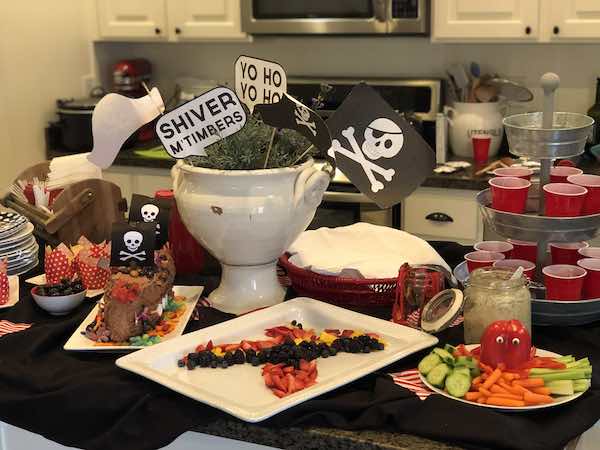 Pirate ship cake
I looked on Pinterest to get ideas on how to make pirate ship cake. Combining two different ideas I came up with this cake.
After I baked the cake in a 13 x 9 pan. I cut the rectangle in half lengthwise. Then cut 3 inches off each piece to create the front and back of the boat. Then shape one to have kind of a pointed end for the front of the boat. To create the back end of the ship use a small rectangle. Stacking all the pieces with frosting in between.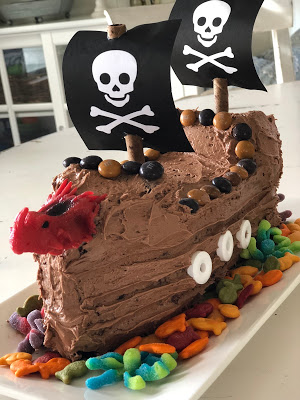 I created this one complete with a scary looking dinosaur head on the front of the ship hahah (I used what I had) he only turned 6 so he did not know dinosaurs and pirates are eons apart from one another.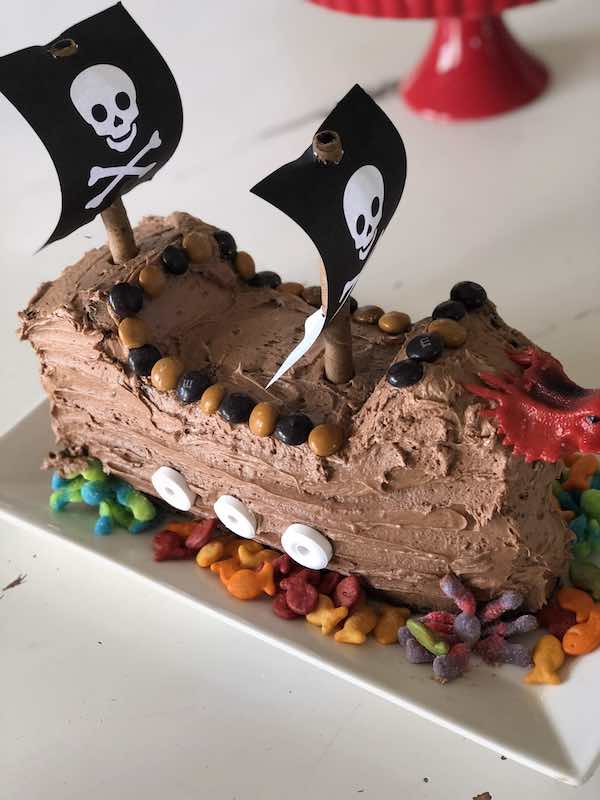 I used lifesaver candies for the side port holes, brown and black M & M's for the top of the ship area, octopus candies and fishy crackers at the base of the ship. You can the actual way to cut the pieces here on this blog.
Parrot Fruit Tray
My grandkids LOVE LOVE LOVE fruit! I looked around for a fun Pirate fruit idea and found the a parrot created out of fruit! It was really easy to make by just layering fruit in in the shape of wings, head and tail.
I created the beak using pieces of banana.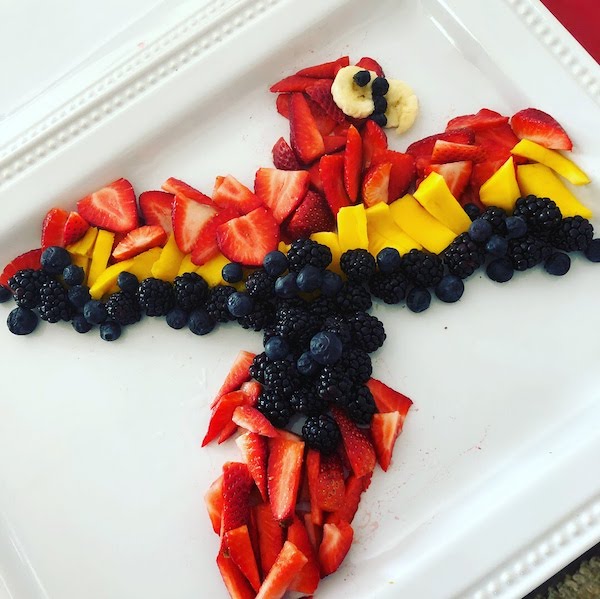 More pirate party food Ideas
Fish and Chips anyone? The kids loved these! Cupcake holders in red and white polka dots held the catch of the day.
Lays ruffled potato chips and little fishy crackers.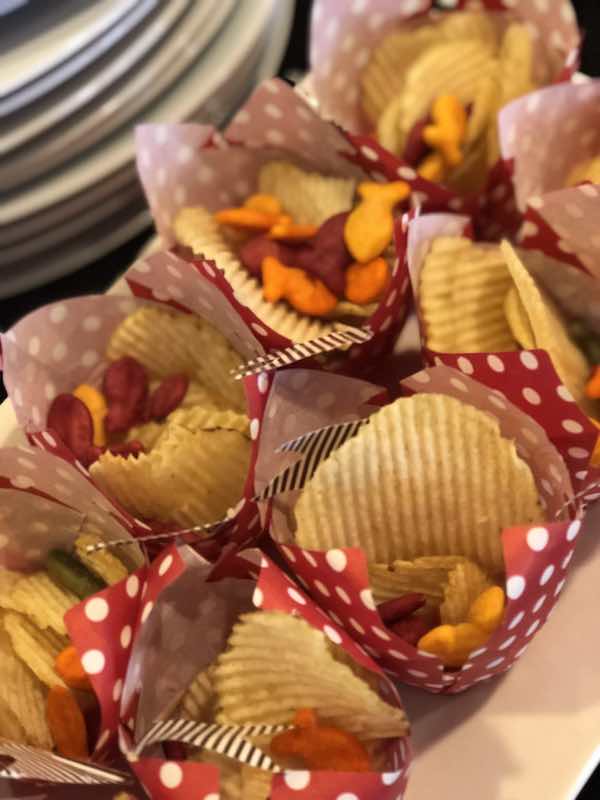 Octopus vegetable tray was made using a red pepper and googly eyes. By simply cutting off the top of red pepper and turning it upside down, adding googly eye candies and using some cut slices of peppers underneath for legs… we have an octopus veggie tray!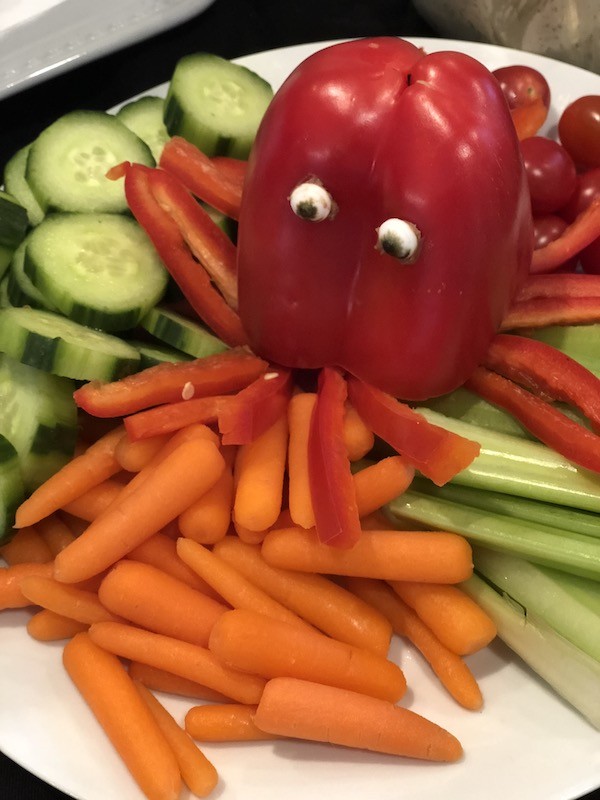 A small bowl of black olives represents cannon balls! So simple and yet so cute!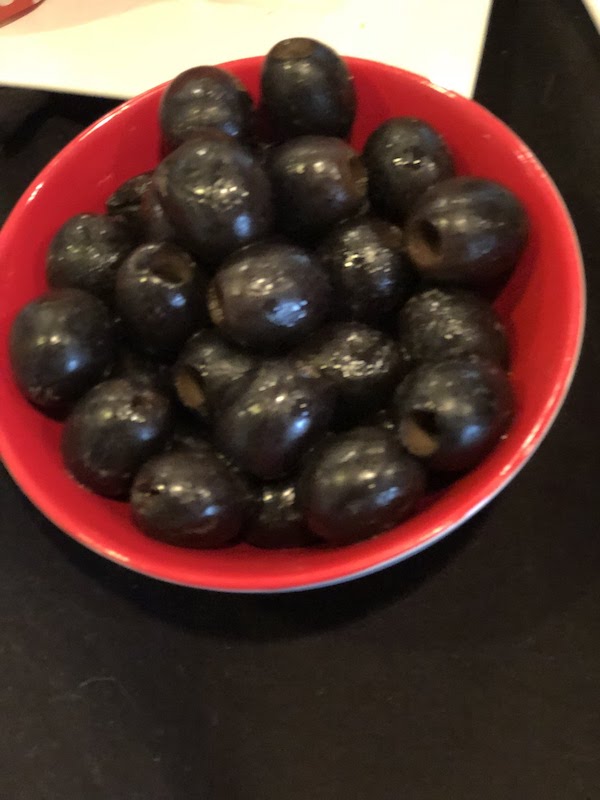 The little pirate Birthday Boy
Our little pirate birthday boy was in heaven with his cake and all the pirate things he got. It was such a fun birthday party!
Even Smee came to wish the birthday boy a happy birthday!
More Halloween Pirate party ideas are here.
Hope you enjoy Talk Like A Pirate Day!
Shop Pirate Party Goods