Hello, my fabulous readers of Karinskottage.com! Today, I'm thrilled to introduce you to Old Navy's high waisted wide leg pixie pants fashion ensemble that seamlessly blends style and comfort. We're diving into the world of fashion with Old Navy's high waisted pull on wide leg pants, paired with a trendy graphic t-shirt, a classic denim jacket, comfy white sneakers, and a practical crossbody bag. And the best part? This outfit is not just for me; Emily my daughter, is in her 30s, adores this look too!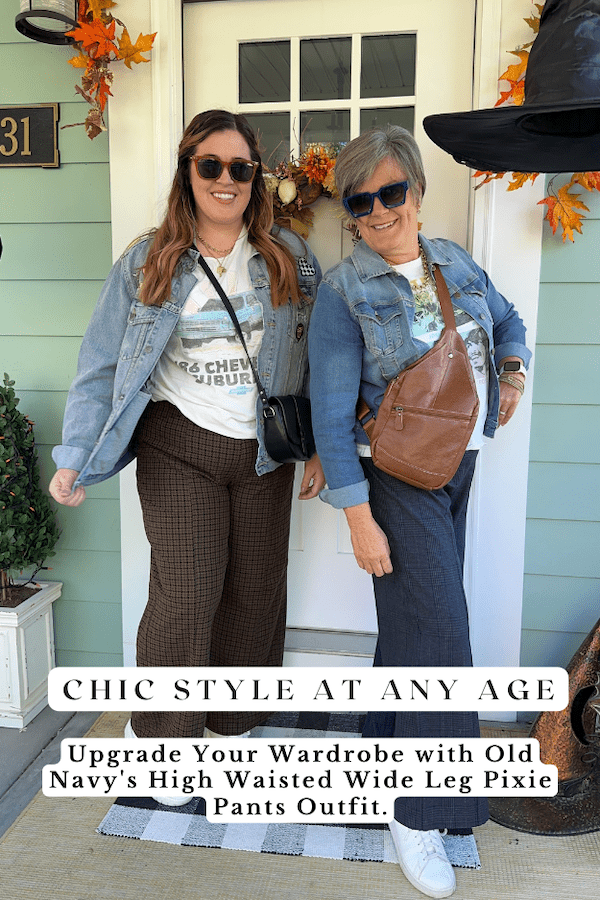 Comfortable Chic: Old Navy's high waisted pixie pants
Picture slipping into Old Navy's high waisted wide leg pants, embracing instant comfort and style. These pants offer such a flattering fit, making you look and feel fabulous.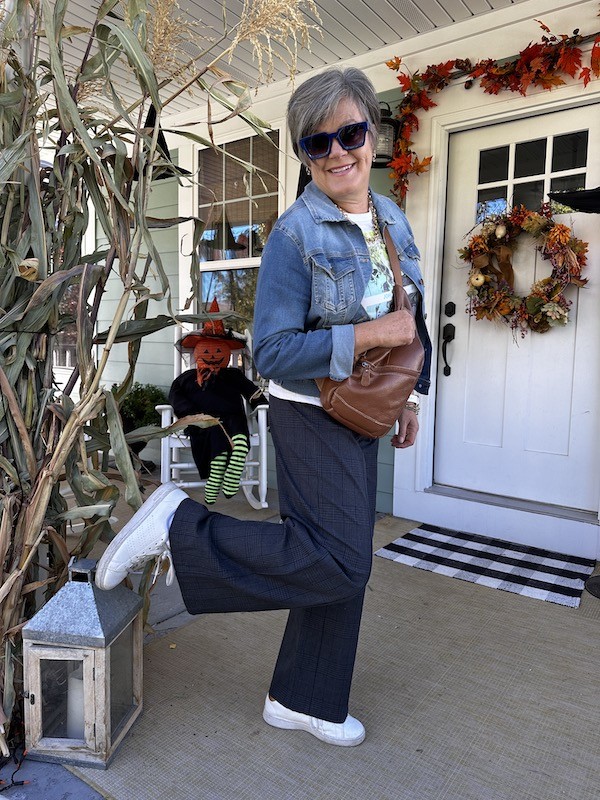 Paired with a stylish graphic t-shirt, you add a touch of your unique personality, making a statement effortlessly.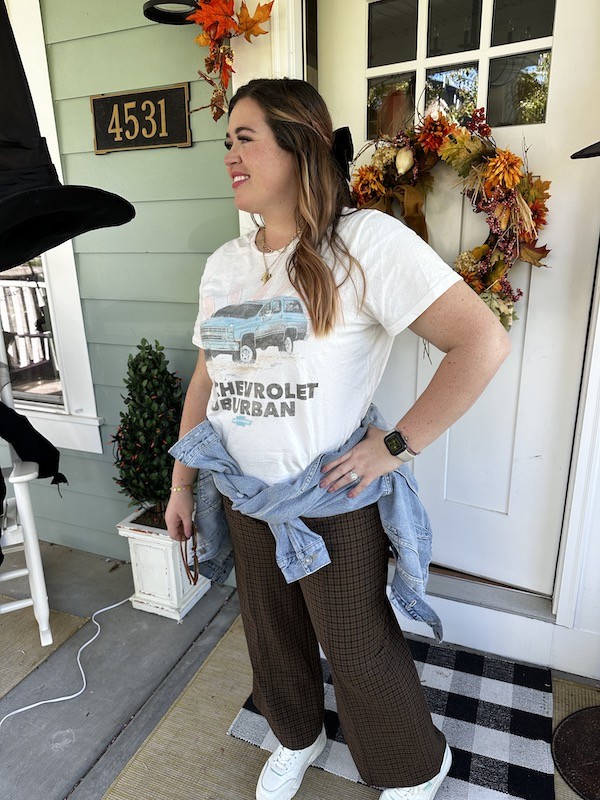 I didn't think I could pull off a graphic t-shirt but my daughter insisted and guess what? I love it! It just brings a fun trendy look to my outfit and makes me feel young!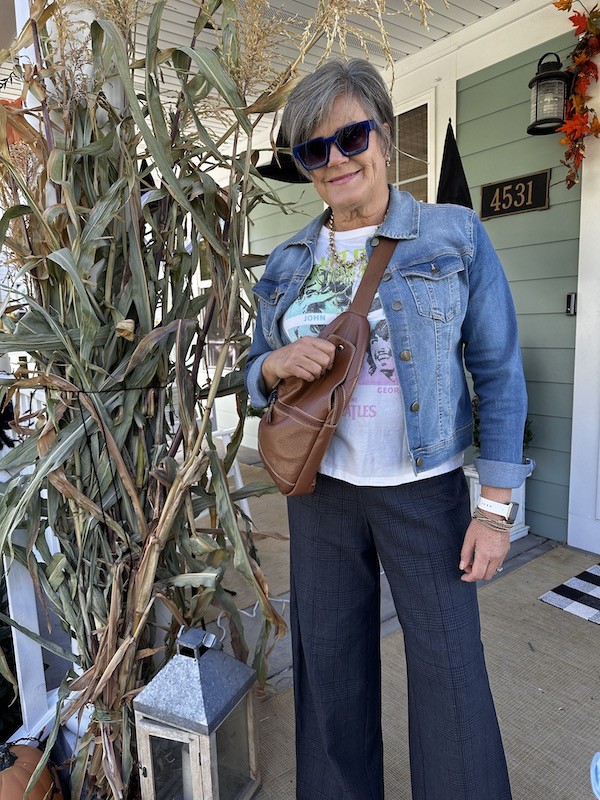 My daughter is wearing a different patterned Old Navy high waisted wide leg pixie pants. They look so cute on any figure.

Denim Delight: The Ultimate Wardrobe Staple
Add a classic denim jacket, and you've elevated your style game. Denim jackets are versatile, adding a casual yet chic vibe to any outfit. Whether you're going for a casual brunch or a night out, this jacket is your trusty companion, enhancing your look effortlessly.
Check out my post about my denim journey here.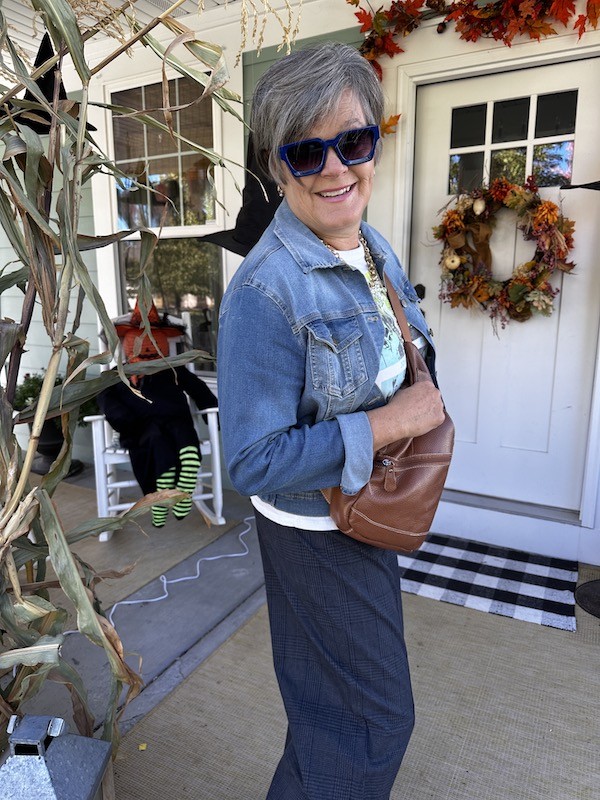 My daughter added some fun Iron on patches to her denim jacket that give it a really fun vibe. The Old Navy wide leg pixie pants look so great with a denim jacket. Don't you think?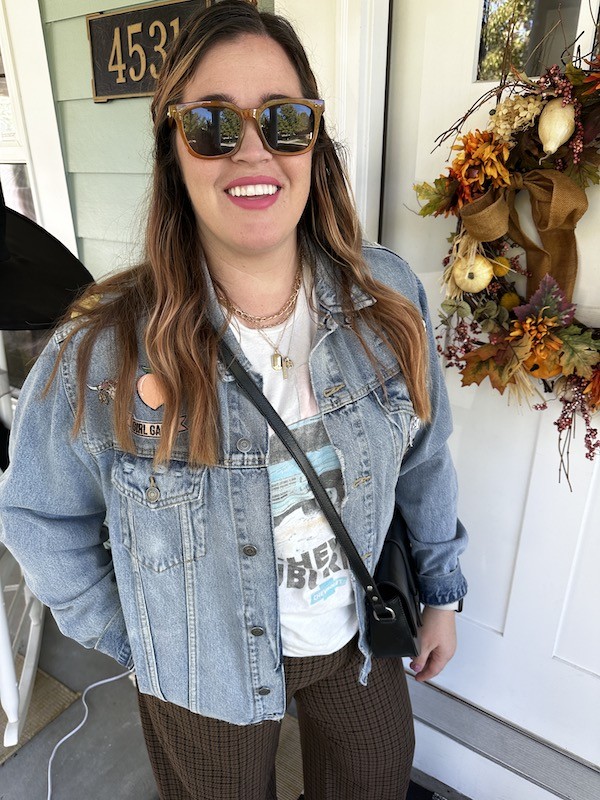 I own 4 different denim jackets. A rose pink colored one, a white one and two blue denim jackets. One is dark and the other is a litle lighter in color. I think a red one would also come in handy. Obsessed with denim jackets? Maybe I am haha.

Walk with Confidence: White Sneakers
Slip into a pair of comfortable white sneakers – a fashion choice that's both trendy and practical. These sneakers not only keep your feet happy but also add a modern edge to your ensemble. With them, you can conquer the day with confidence and style.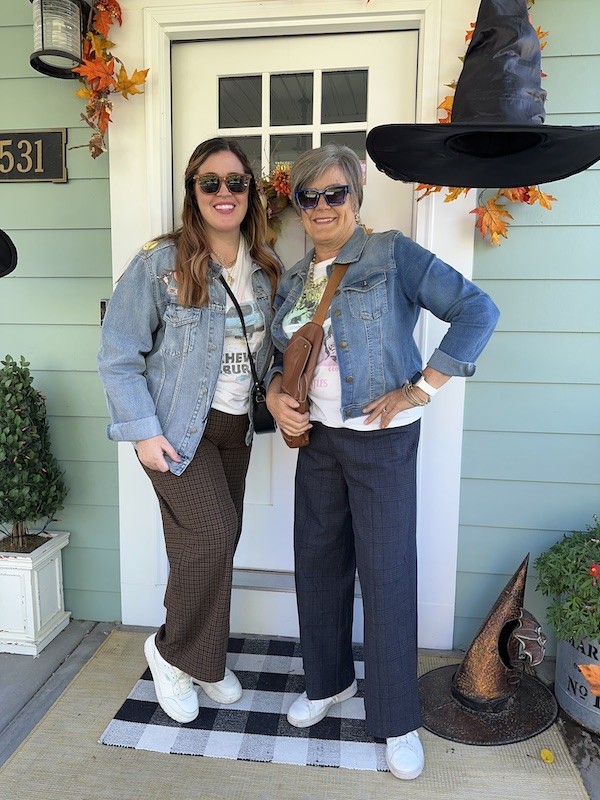 My favorite are Addias sneakers because they have great arch support which is important for me especially when I travel to Italy. Emily found her cute white sneakers at Walmart.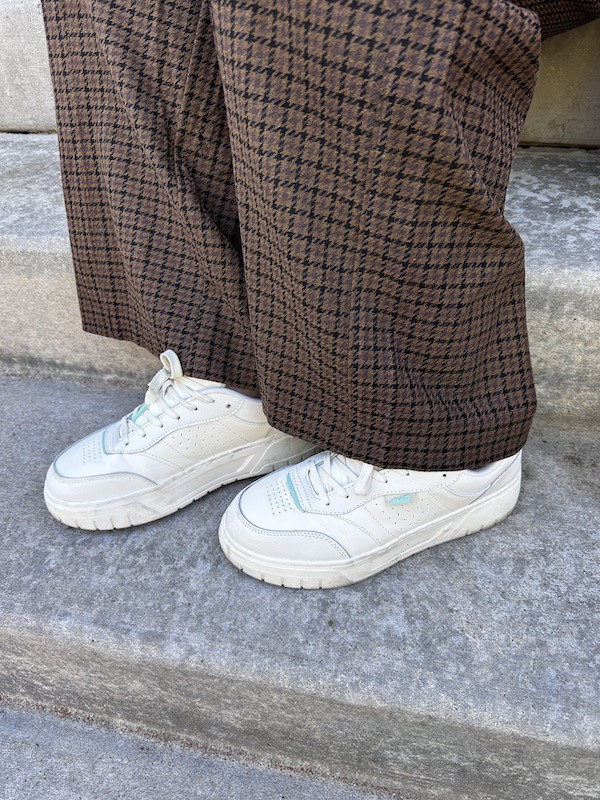 Functional Fashion: The Crossbody Bag
Complete your look with a crossbody bag, the epitome of functional fashion. It allows you to carry your essentials while keeping your hands free. Plus, it adds a touch of elegance to your outfit, making it perfect for any occasion.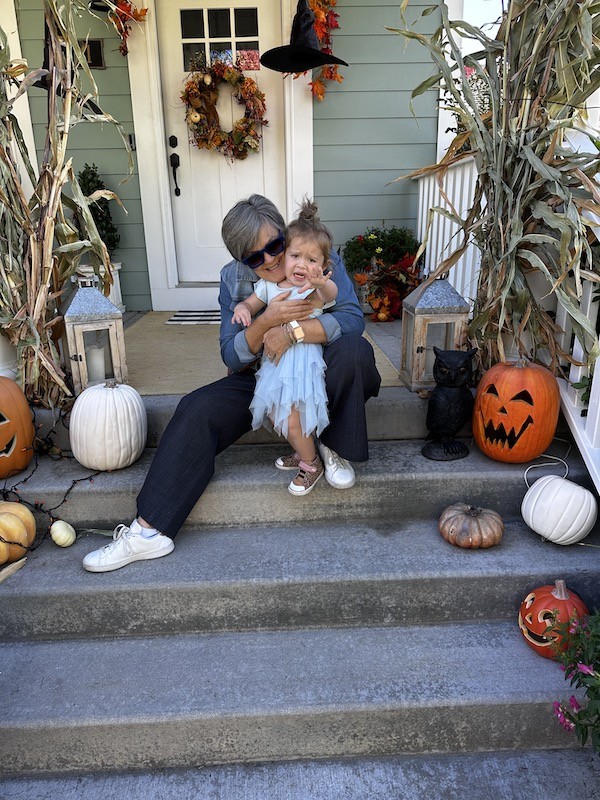 I think I say this every time about crossbody bags but it is so true, they allow you to keep your hands free. That is so helpful when you are shopping or wrangling grandkids haha.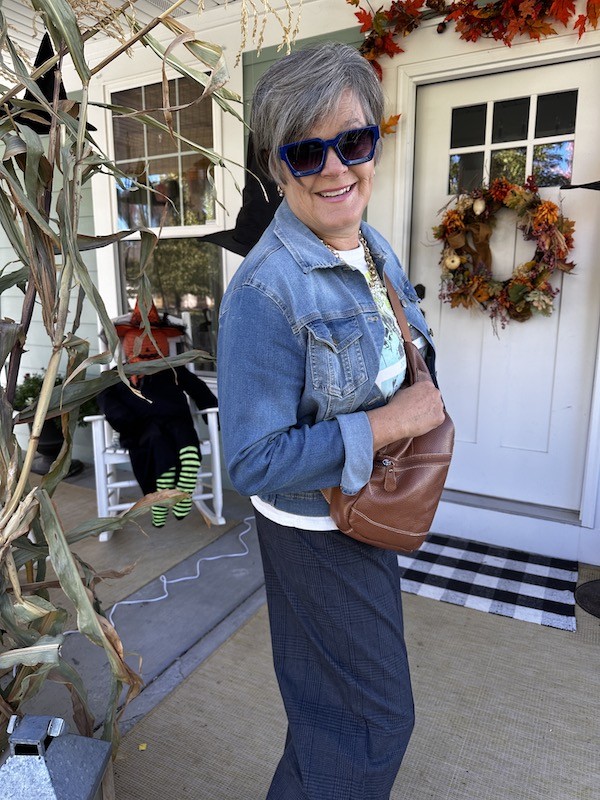 Fun fashion with my daughter
What a thrill to do a fashion post with my daughter. There are so many types of outfits that work for the younger gals as well as a more mature gal like myself.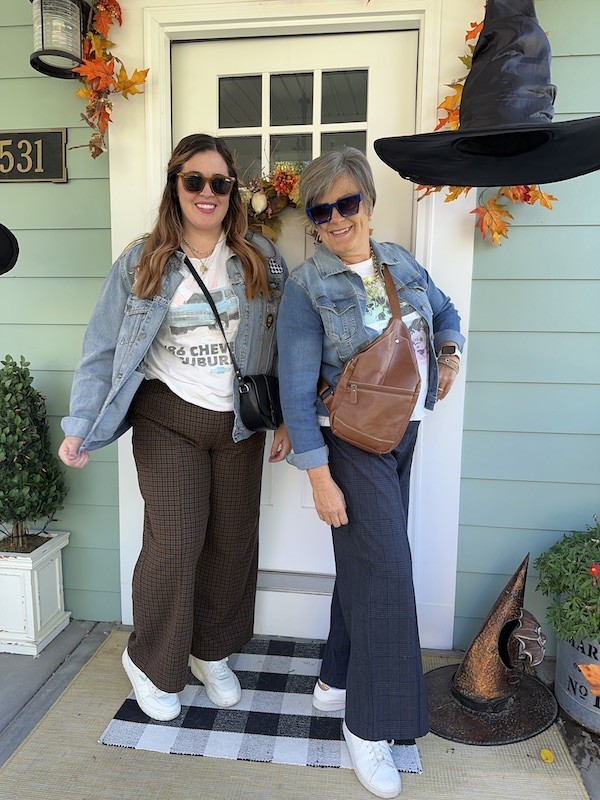 Don't forget to pin any of the pictures to keep for later. Enjoy what you wear and have a fabulous day!
Make sure to check out more of my fashion posts below.
Hugs, Karin
Shop this post
These are affiliate links and I make a small commission any time you purchase an item. There is no extra cost to you. This allows me to keep my blog running and I really appreciate it.

A few more fashion Posts
Just a few more fashion posts you may have missed.
Nailing the green utility jacket look for women over 50
Ways to style girlfriend jeans
Chic Jeans and red utility jacket