Hello Lovely friends here is my second installment about chic jeans and jackets. This time I am sharing my chic denim jeans with my red utility jacket with you. I have loved the color red ever since I was two! My sweet mom would tell this story- Mom came home from shopping and bought me a pair of shiny red patent leather shoes. She took them out of the box to show me them and I put my hands on my cheeks and exclaimed "Oh mommy look at my pitty red shoes" I couldn't pronounce my "R"s yet. I was in love with my shiny new red shoes.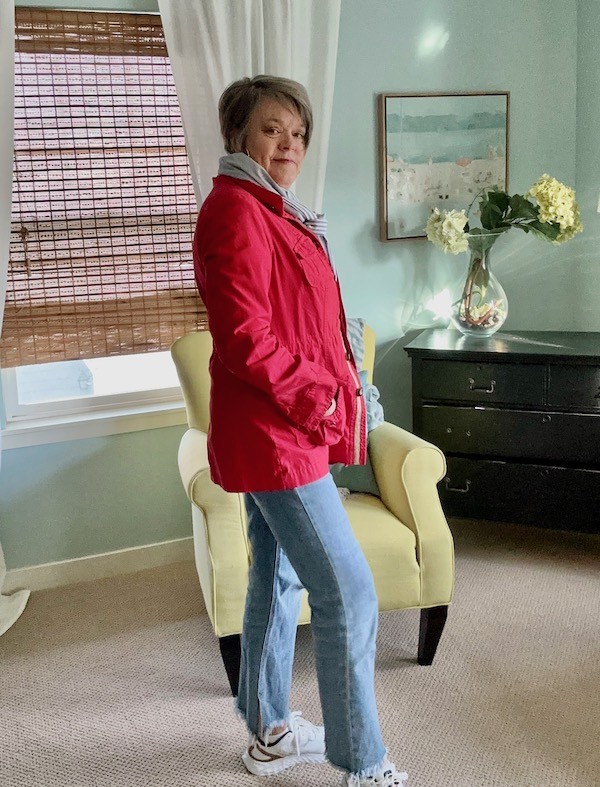 That began a love affair with red. You might remember my red corduroy sofa in my Texas house? Or maybe the red wallpaper in the dining nook? I did not wallpaper it the owner before did and I loved it! Currently I have no red in my house but maybe I bring it in for Christmas 🙂 OK on to my red jacket and jeans
Red utility jacket with draw string waist
I bought this Red cotton utility jacket with waist tie from Old Navy years ago! It continues to be a great look with my chic denim jeans! This type of jacket is a must to keep in your closet. The tied waist feature is so flattering especially if you don't have a waist like me because It creates the illusion you have waist.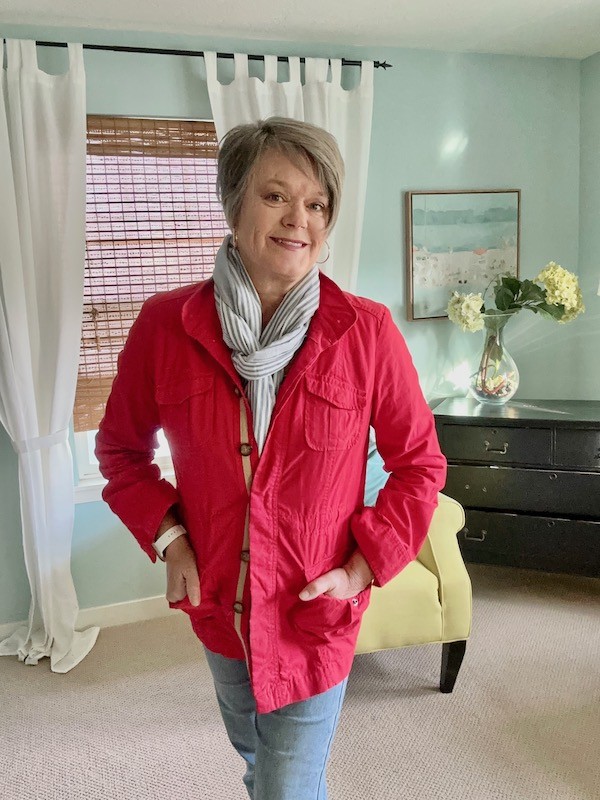 It has ties inside the jacket that allow you cinch it in as much or as little as desired. The length of the jacket covers your hips and hits right about mid-thigh.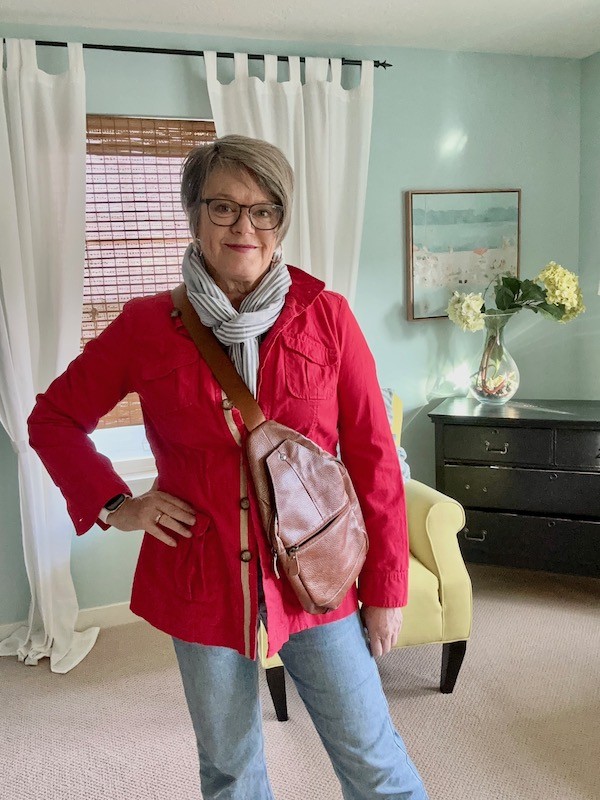 The bright red color is so uplifting not only to my eyes but to my mood. It just makes me happy.
Raw hem chic denim blue jeans
I talked about these raw hem cropped wide leg jeans and how they are my favorite right now. They have stretch to them which in my book is a huge win!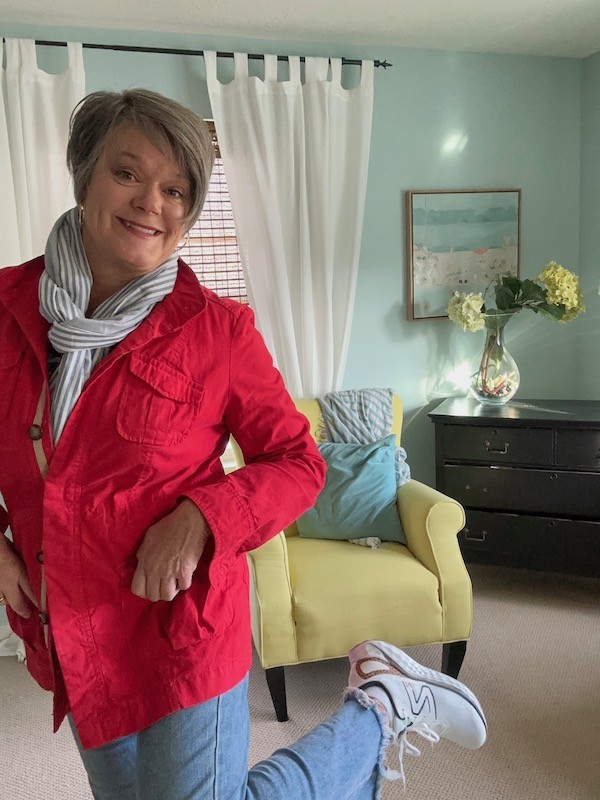 Just look at how cute they look with this red jacket. It totally change the look from my denim on denim look I shared last week. They are so versatile and look good with practically anything!
Blue and white striped scarf
To add little pizazz to my chic denim jeans with red utility jacket, I added this fun striped scarf of my moms. It makes me think of her every time I wear it. I really miss her these days. Mom passed away in June from ALS Lou Gehrigs disease and it has left a hole in all our hearts to say the least 🙁 but I am so grateful I can wear a few of her things to make me feel close to her 🙂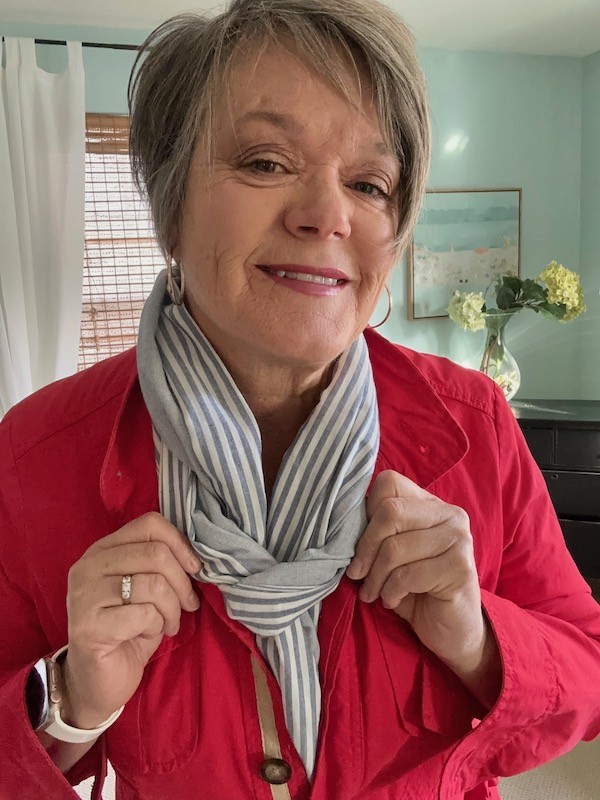 White sneakers
These white New Balance sneakers are life changing! Well, maybe not life changing but seriously they are so comfortable. They really look cute with my jeans and red jacket don't you think?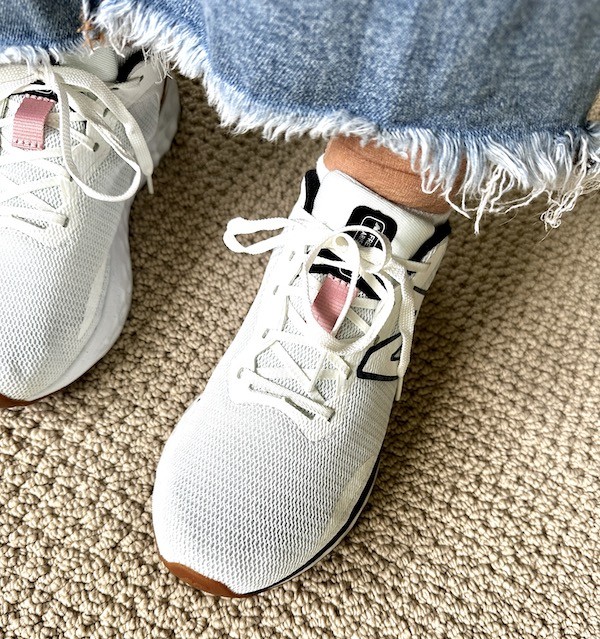 Well my fashionista pals ta ta until next time when I share the 3rd installment about jeans jackets next week.
Here are a few other fashion posts you will love
Shop Similar Fashion