As many of you know that have been following me for awhile now, traveling to Casoli Italy in March for me is quite often. Today I am going to share my tips for traveling to Casoli Italy in March. Really these travel tips are good for traveling to anywhere in Italy in March or the springtime.
The weather is a little unpredictable so figuring out what to pack is always tricky. I will share my 2 1/2 week carry-on packing tips and tricks. I will also be sharing some sight seeing places in Casoli and surrounding areas that I think you will love. As well as some of our favorite restaurants and cute shops here in Casoli.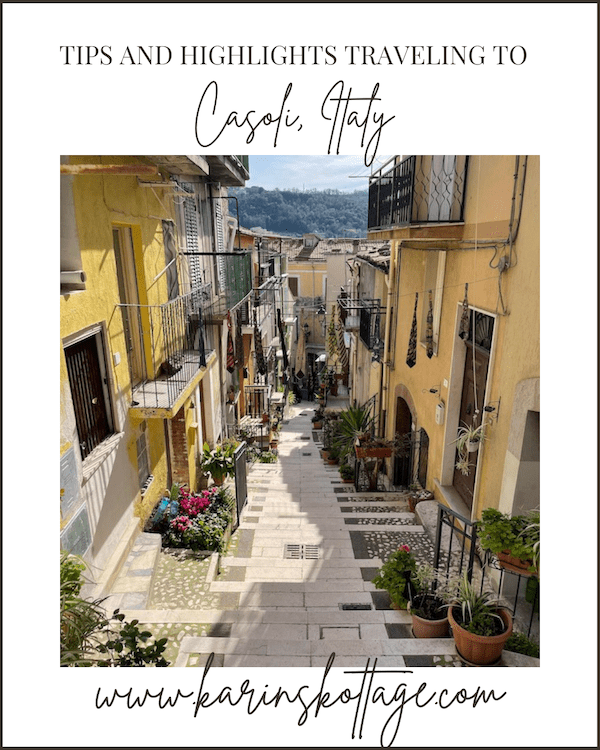 Planning our Casoli Italy trip in March
We ALWAYS do carry-ons when traveling. My hubby has been a world wide traveler for years and has learned to only do carry-ons when traveling. This has been a huge learning curve for me. How to pack light and have enough clothes, shoes, jackets, accessories to get me through 2 1/2 weeks to 3 weeks of traveling!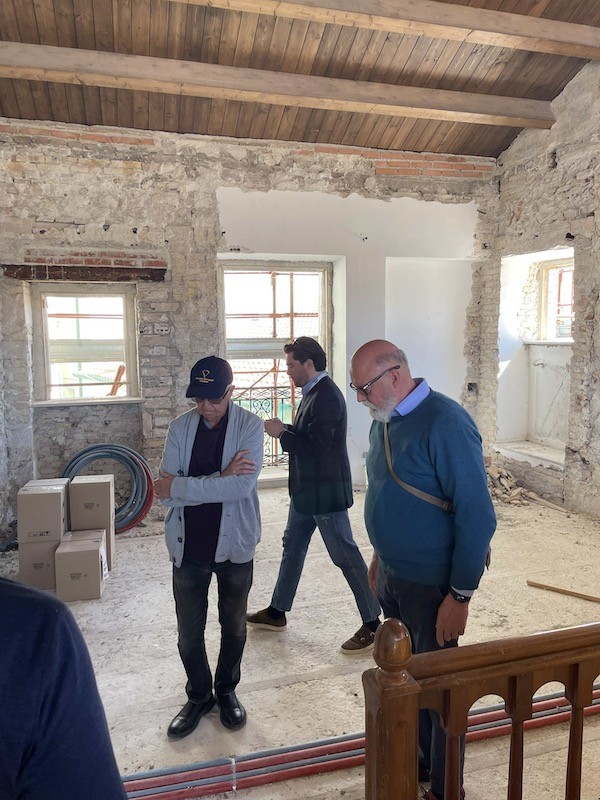 When we come to Casoli, Italy we usually do a variety of activities. Tours of our Palazzo that is under heavy construction so I need good close toed shoes and casual clothes. Lots of walking through the streets of Casoli. Bike riding by the Adriatic sea,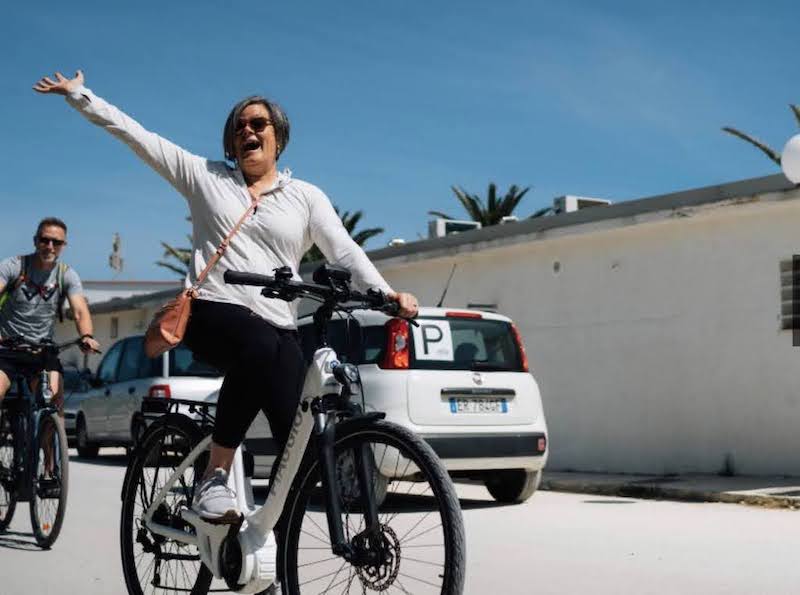 We usually take people on a short but rocky hike to see a very ancient monastery. Multiple dinners and lunches in nice restaurants, Pasta making class with a dinner that follows in a very nice restaurant. Two of the nights we take groups to the town of Lanciano for a casual dinner and a little stroll through the middle of town.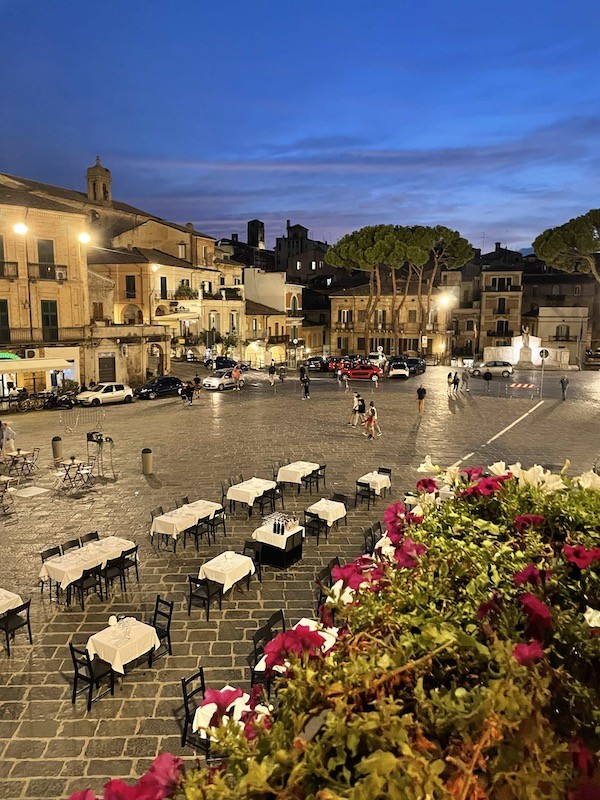 Plus there might be a few business meetings to attend, Mini trips either before or in between groups that we bring to Casoli! As you can see the activities are really varied and I need to pack all kinds of different types of clothes.
Carry-on Packing for 2 1/2 to 3 weeks in March
I like to have a variety of outfits when I travel. When traveling to Casoli, Italy in March the weather is always unpredictable. It can be raining and windy, sunny and warm or just plain cold. The air is more moist in Italy and coming from dry Utah even temps in the 40's and 50's seem colder than the temps in the 30's at home.
My best tip is roll your clothes so they fit better in your suitcase.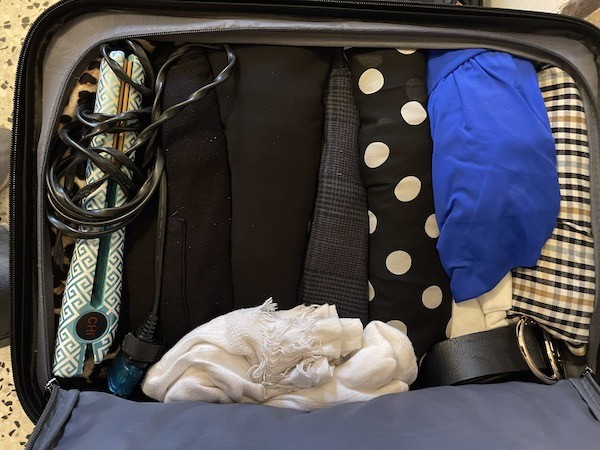 Here is the packing list I brought for this trip to Casoli, Italy in March. I will have links to these items or similar items at the end of the post.
2 pairs of leggings
2 pairs of lightweight nylon pants
Plaid cropped ankle pants
Wide legged navy pants
Polka dot palazzo pants
Raw hem cropped white leg jeans
White button down blouse oversized
6 t-shirts (Athletic, white, striped, one long sleeved)
Black structured t shirt
White zip althletic sweatshirt
Tan and white striped sweatshirt
Raspberry sweatshirt
Cheetah print dress
Denim jacket
Black double breasted jacket
Pink rain jacket
Black puffer coat
Bathing suit and cover up
Underwear
Belt
4 pairs of shoes (black flats, white adidas, blue New balance sneakers and water shoes)
Large backpack
Makeup and toiletries
Laptop, cell phone, earphones, 2 International plug adapters for EU
I did end up buying one sweater when we went to Florence because I just could not get warm walking around San Gimignano.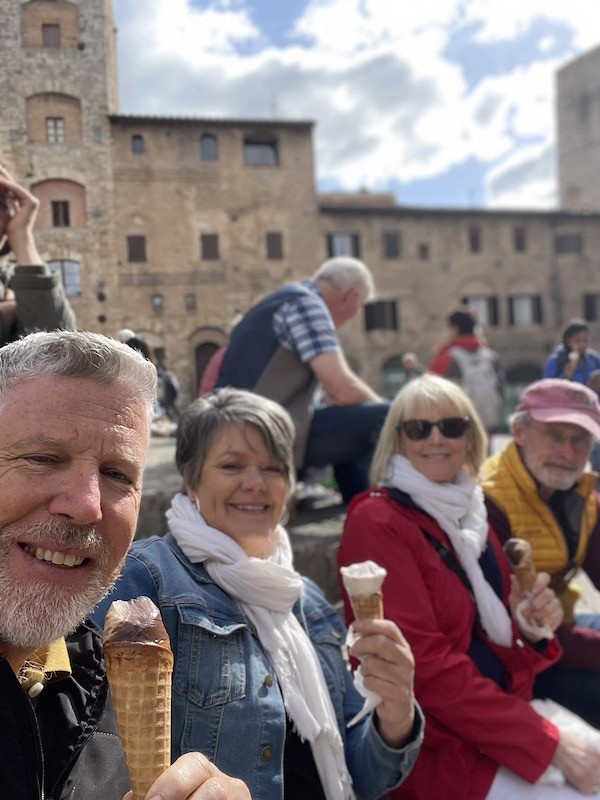 Traveling Outfit planning Ideas for Casoli Italy in March
I packed the leggings for hiking and bike riding. They are comfortable and sporty and I usually wear an athletic shirt with my white zip up sweatshirt or any of the other sweatshirts I brought. My new balance sneakers are perfect for walking around and all outdoor activities. I am in love with my new mini backpack crossbody bag in bright yellow!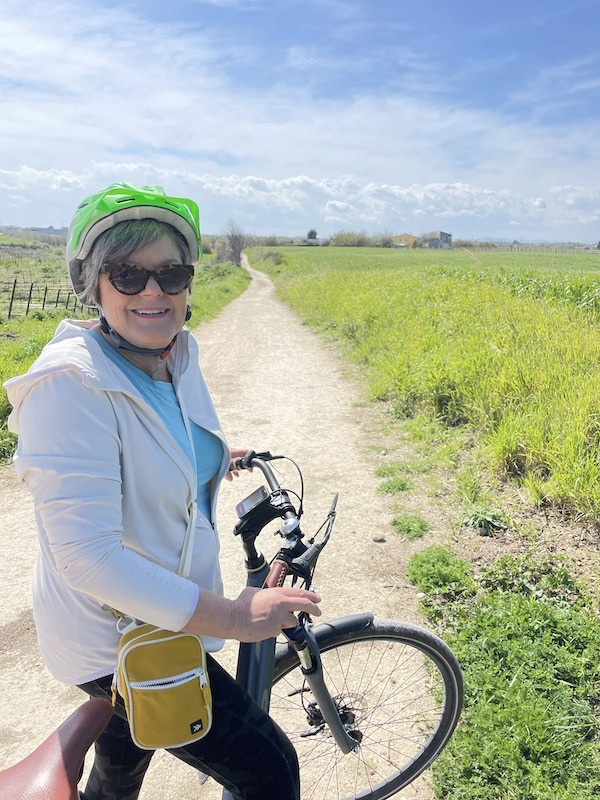 The nylon elastic waist pants are great for traveling in planes and trains. They don't wrinkle and are super lightweight and are perfect for packing. I can also wear these for hiking or bike riding and look cute with a jean jacket if going to lunch.
Raw hem wide leg cropped jeans are perfect for touring around and can be dressed up with my black double breasted jacket and black flats for dinners or meetings.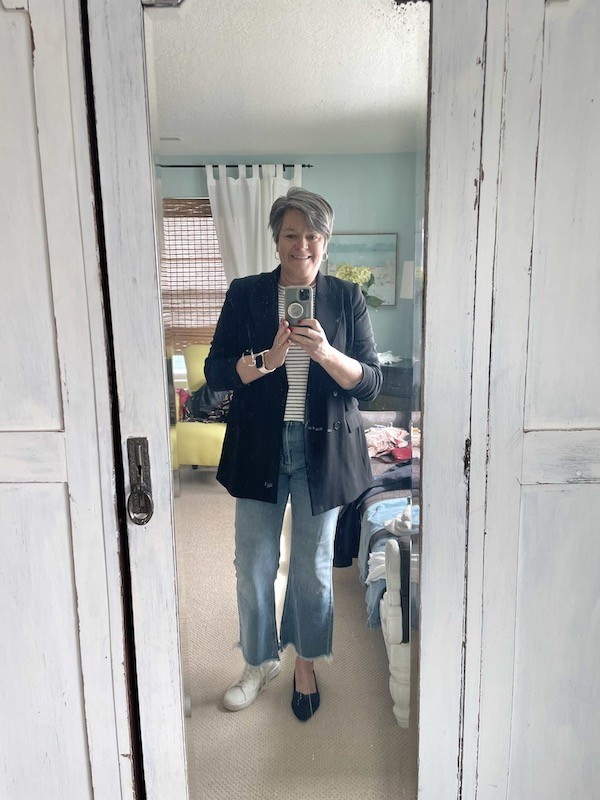 Plaid ankle pants are super versatile as well. I can wear a white t-shirt with white zipped up sweatshirt and layer it with a denim jacket for a casual look. To dress these pants up for dinner I wear them with a white t-shirt, black double breasted jacket and black flats.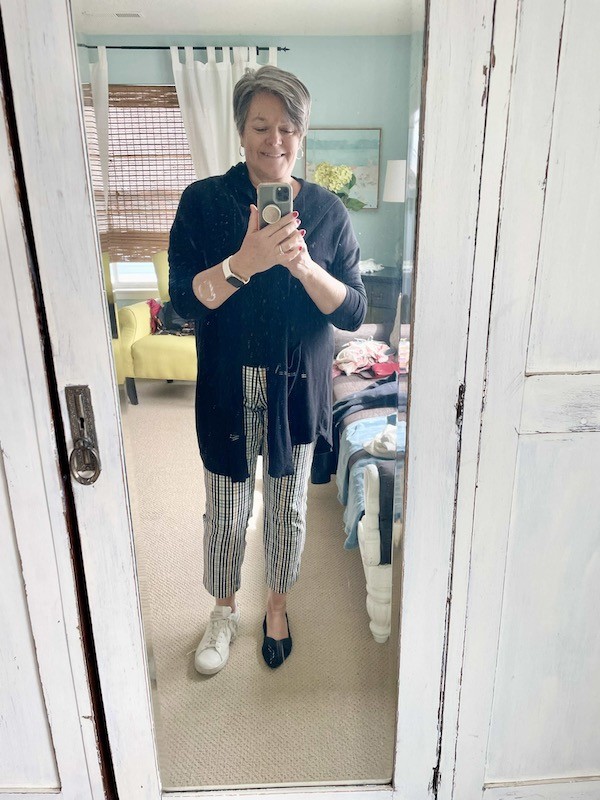 I ended up wearing my wide leg navy pants a lot at night to keep warm. I dressed them up with a white blouse, my new sweater, denim jacket and black flats. If we were going to be walking around a lot I wore my white sneakers. One night it was really cold so I topped the entire outfit off with my black puffer coat.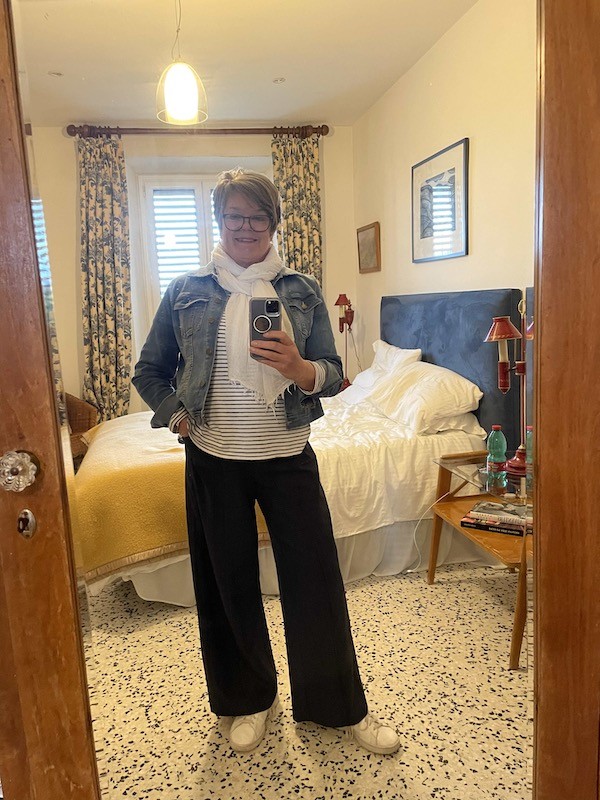 Scarf Raincoat and Swim Suit
Interchanging my tops with my nylon pants, jeans, navy wide leg pants and leggings gave me lots of great outfit options. Having a white scarf was my most worn accessory! i think I wore it everyday! My cute pink raincoat came in very handy on the day we hiked up to the medieval castle and it started to rain. Grateful it has a hood and that i can smash it into my backpack and it still looks great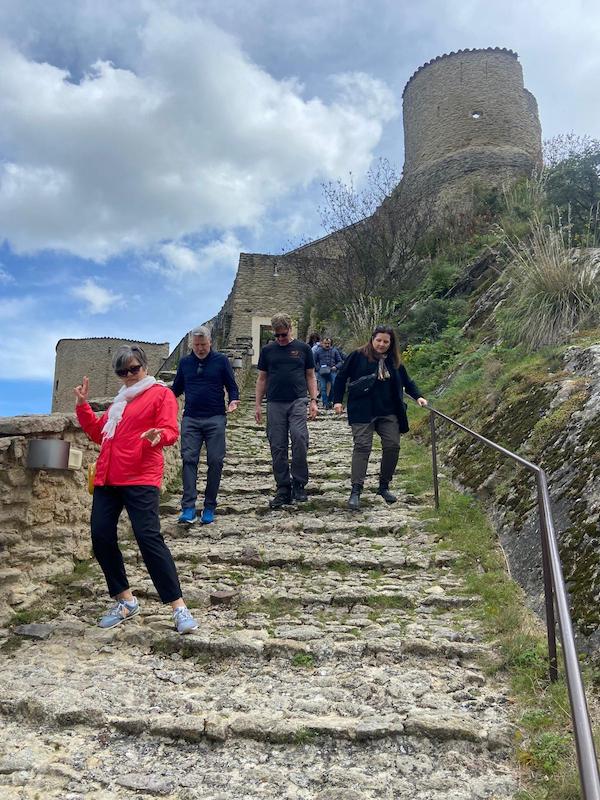 I ended up not wearing the dress at all. My bright blue swim suit and orange cover up came in handy at the beginning of our trip when we went to some hot springs in a town called Saturnia Italy.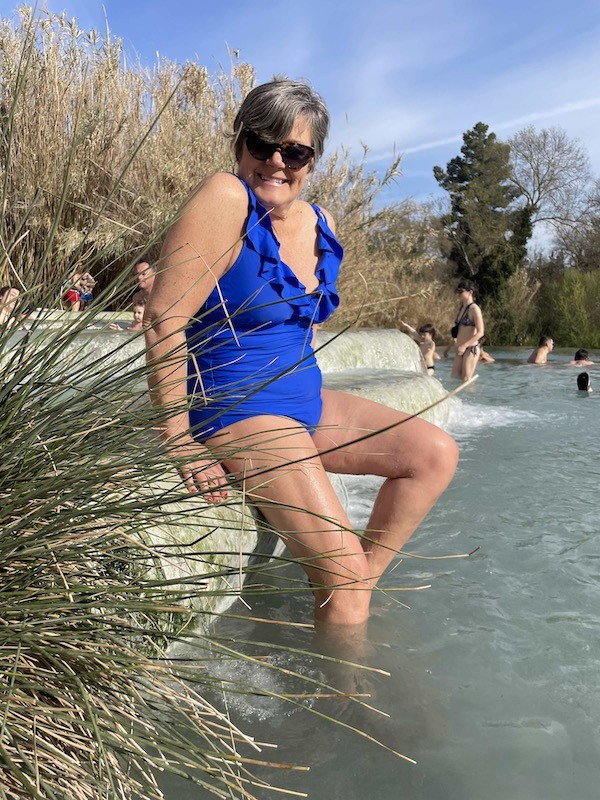 Backpack and accessories when traveling to Casoli Italy
I cannot stress this enough you need a great backpack! For years I used a black leather backpack and it did the job pretty good. My new Momo design backpack is the best thing ever! it is lightweight extremely sturdy and well made. With loads and loads of room! It holds my laptop in a cushioned area, has pockets inside and out.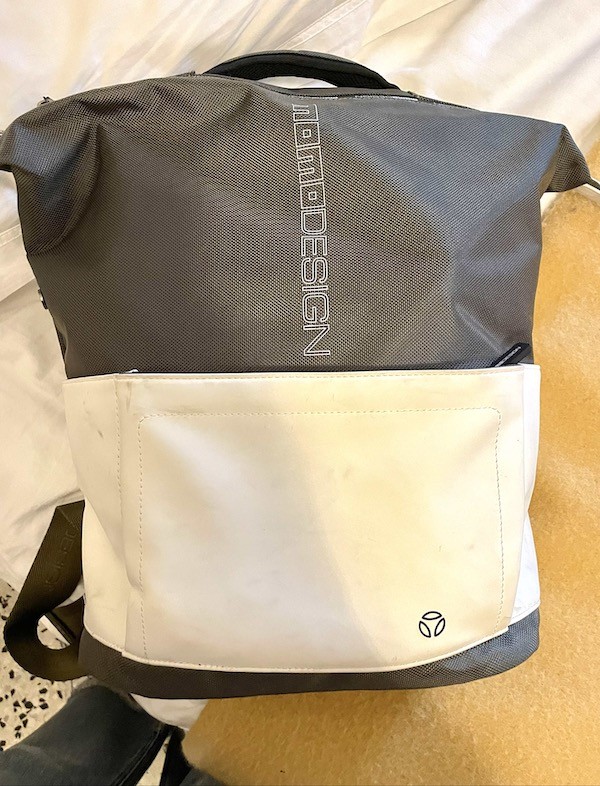 My black leather backpack ripped while we were traveling last time in Capri, Italy. A great little shop there carried this brand of backpacks and it has been the best purchase ever!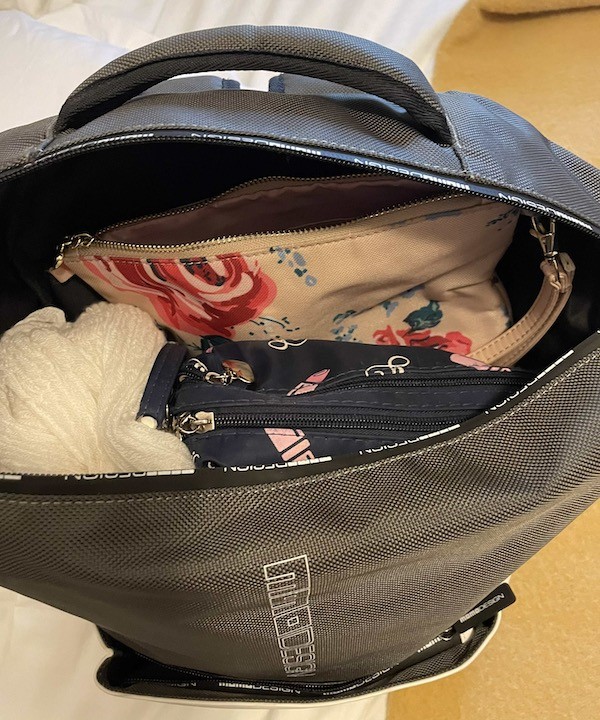 Antique shop in Casoli, Italy
Casoli, Italy reminds me of Disney movies that portray old European towns where everyone knows everyone. We have gotten to know some of the sweetest people. Angela and her husband own an antique shop that also restores old pieces. They will be restoring some of our old antiques that we found in our Palazzo and sourcing other pieces from all over Italy.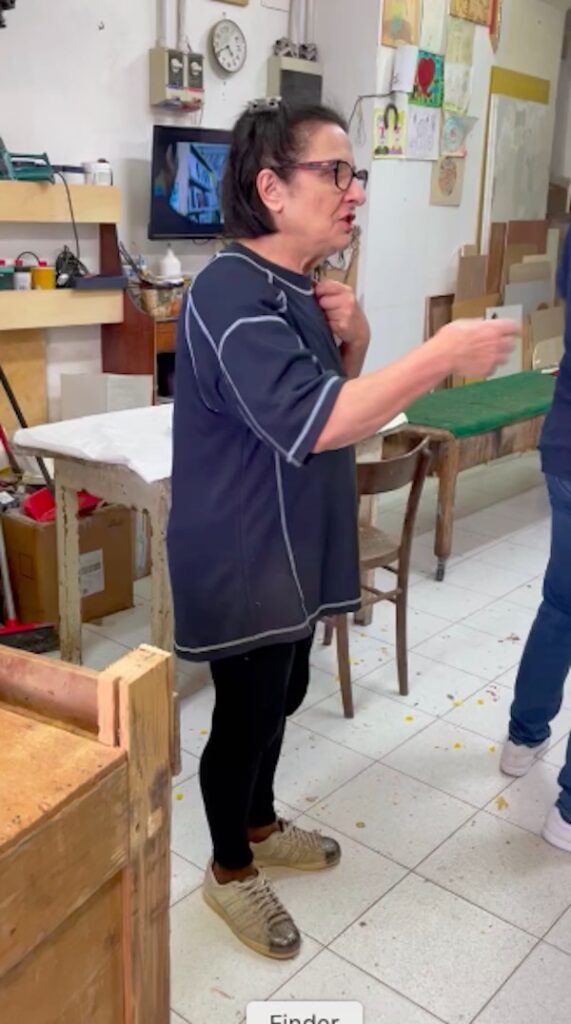 Angela is learning English and does quite well. Much better than Mike or I trying to speak Italian. Her shop is filled with beautiful old Italian pieces of furniture, crystal chandeliers and gorgeous gold mirrors.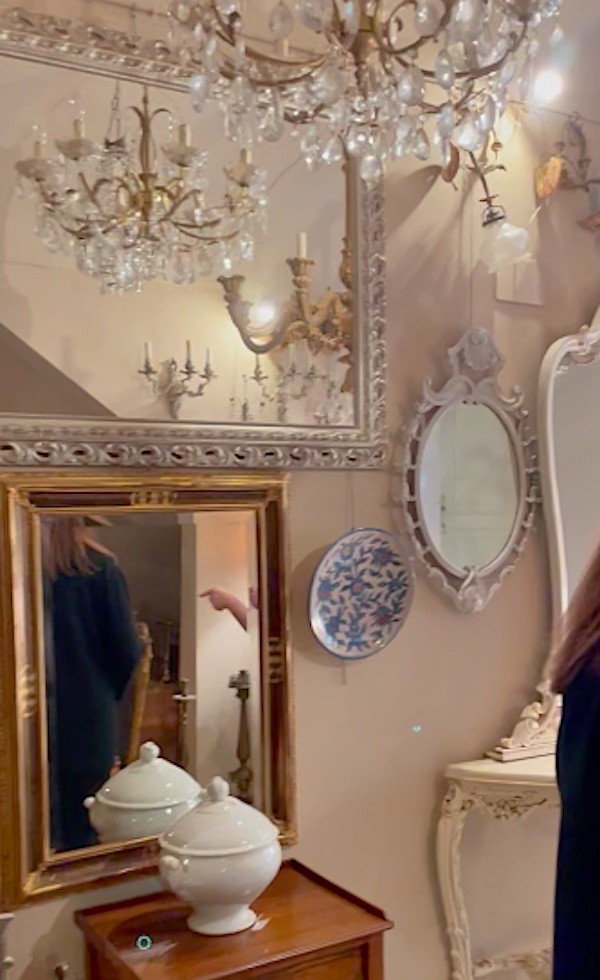 Angela is the sweetest lady and we love interacting with her and her sweet husband. They work very hard and do amazing things. They have an older gigantic doberman pincher dog that hangs around the shop. He is such a sweet dog and loves any attention.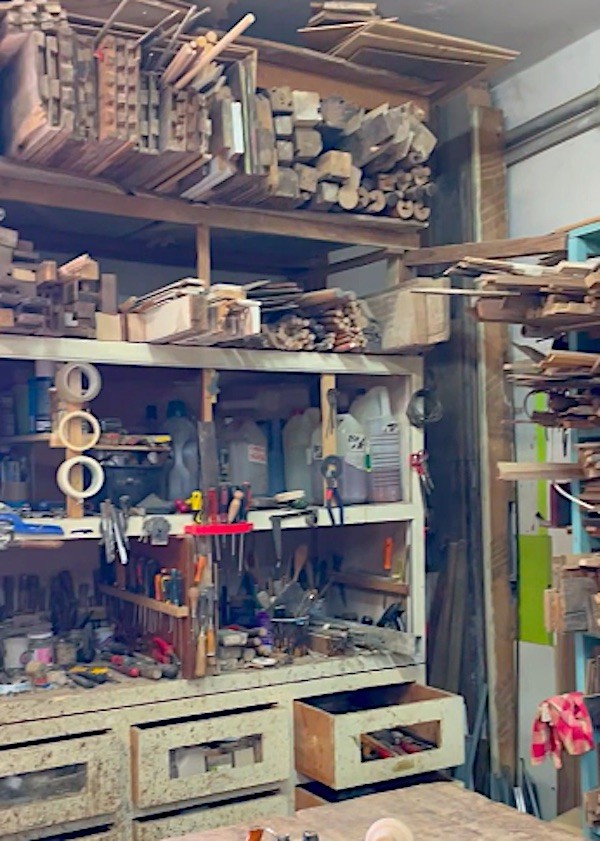 In the past I have purchased some of Angela's antique silverware. In fact I used some of it in Pirate themed birthday dinner party. I am going to start collecting more pieces of it so I can set a beautiful table for 8.
Palazzo Ricci Noble Palace Reborn
When in Casoli we usually head to the open air market every Friday. Walking down the main street and seeing all the vendors selling their fruits, vegetables, meats, cheeses and fruits is something I never tire of.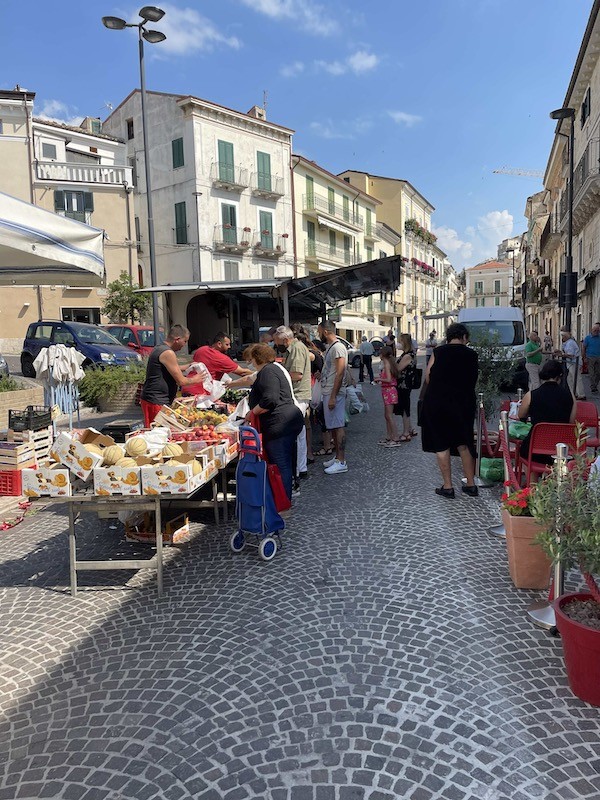 Clothes, shoes and housewares and unique pasta making devices are also sold there.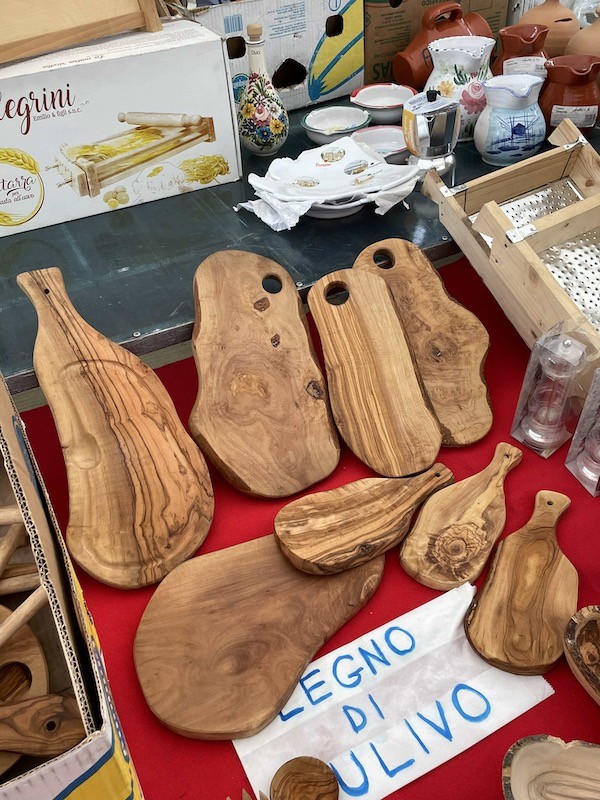 After a quick stroll through the market we head to the Palazzo Ricci showroom. This is where we are able to show renderings of what the Palazzo will look like. We also have our Italian staff members share some of the history of Casoli. They also take time to explain what fractional ownership is all about and how anyone can own a piece of Italian history.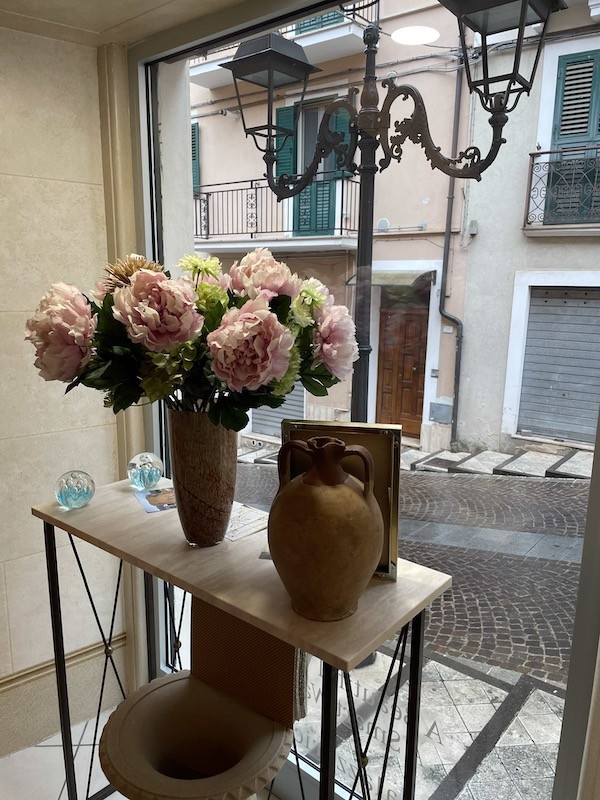 Then we take our guests on a tour of the Palazzo! There is a lot of construction going on with an enormous crane right in the middle of the town. It is fascinating to see the progress of our Italian noble palace. So many things have had to take place to make this palace structurally strong and earthquake safe. Not only that but they have had to rearrange rooms, added new walls, new plumbing, electrical etc.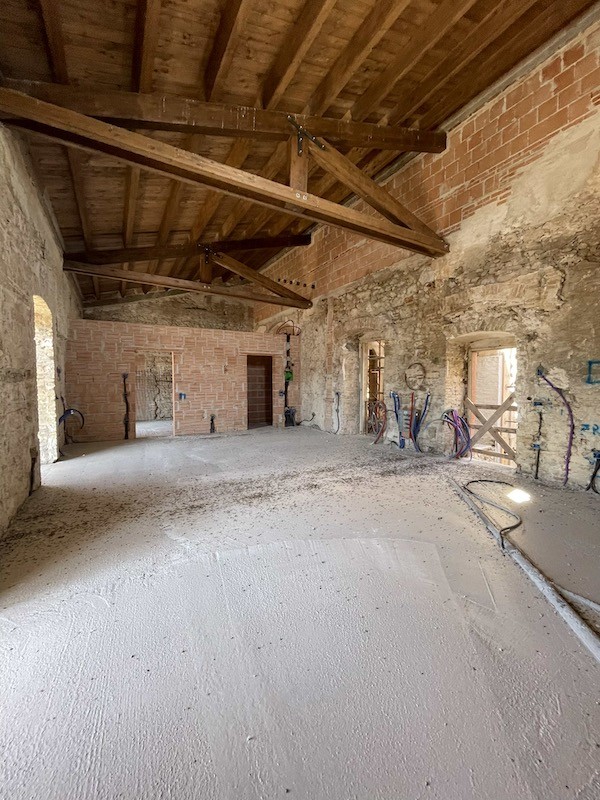 Our construction crew is doing the best at trying to preserve as much of the original building as they can. I just love these huge beams that are in the cottage above the windows. If you want to learn more about our renovation and how you can own a piece of Italian history go to our website www.palazzoricci.club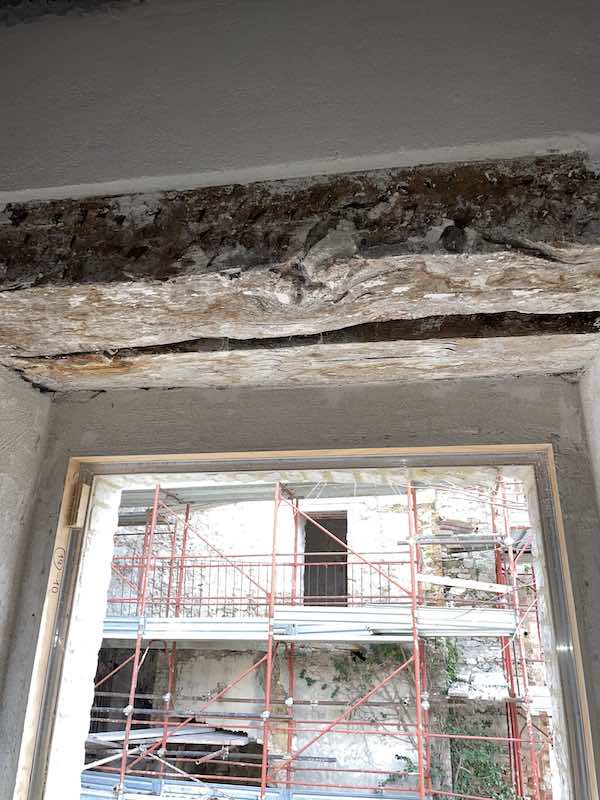 Each residence will be complete with gourmet kitchens, elegant appointed bedrooms living rooms and multiple high end bathrooms. Some residences will have private gardens and or terraces. Most have beautiful views of the gorgeous Majella mountains and surrounding areas.
We have been able to save lots of the tiles and they have been hand cleaned and returned to the ceiling.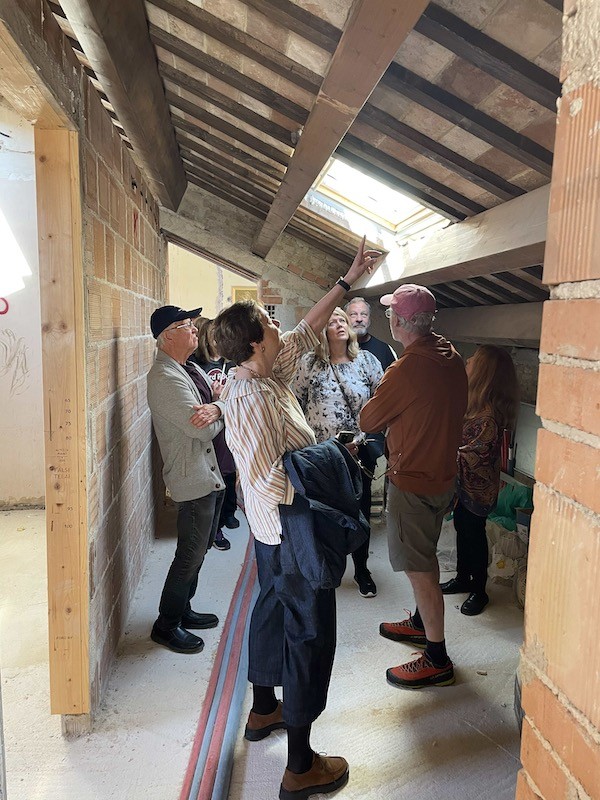 After we have the tour of the palace we then head off to a gourmet lunch at a local restaurant just down from the Palazzo.
Favorite Casoli Italy restaurant
One of our favorite restaurants in Casoli is called Fiori's. Carmine is the chef and he has become a good friend. He grew up in Casoli but left to become a chef in other places. Recently came back to his hometown to start a restaurant of his own and it is amazing!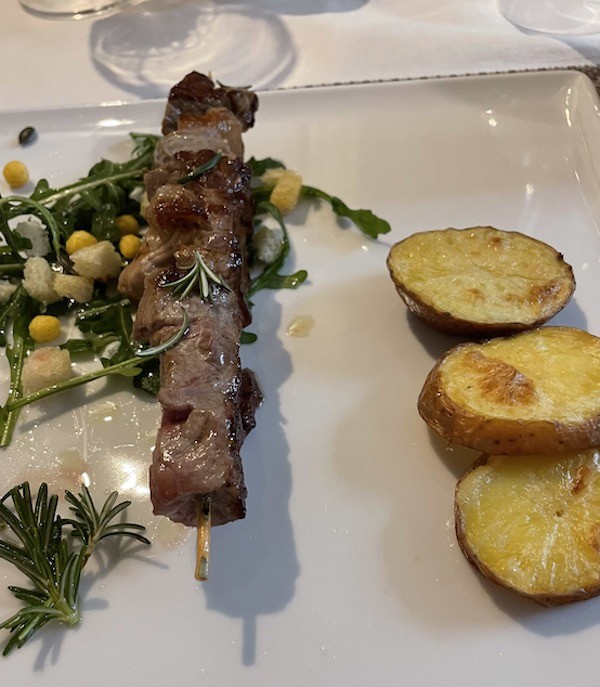 He is very creative with his menu and serves everything so beautifully. Truly like a 5 star restaurant in the states. His appetizers always have a unique twist using either vegetables or fruit. Sometimes creamy or sometimes a soup. One of my favorites was a cantaloupe soup with cucumber and crisp prosciutto on the top.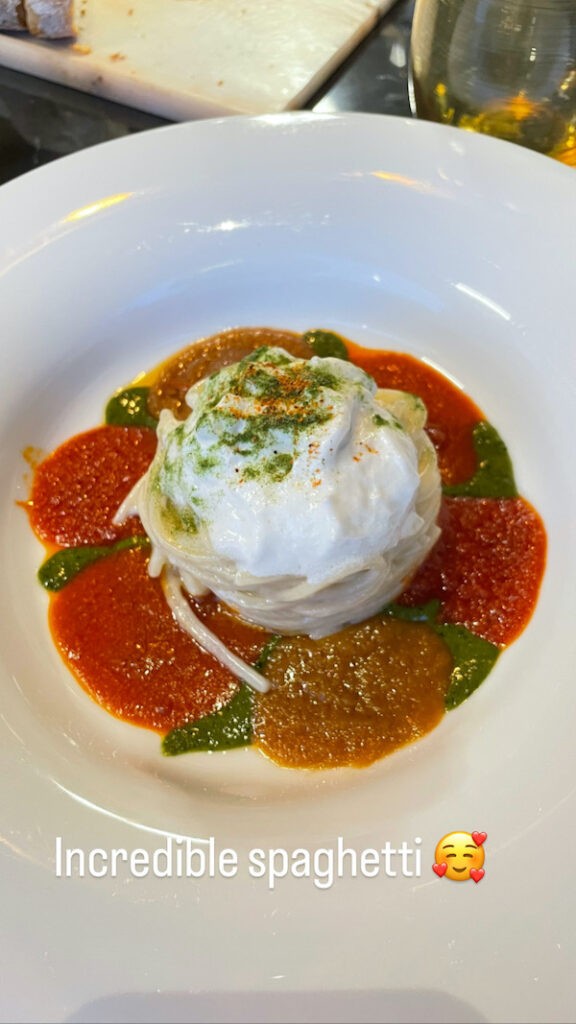 Then he serves up a delicious pasta dish. Another one of my favorites is Chitarra pasta with a red sauce, pesto and ricotta cheese on top. Sometimes he serves lamb or beef with an incredible sauce over the top. Carmine rarely serves the same thing twice. Always delicious and beautifully presented.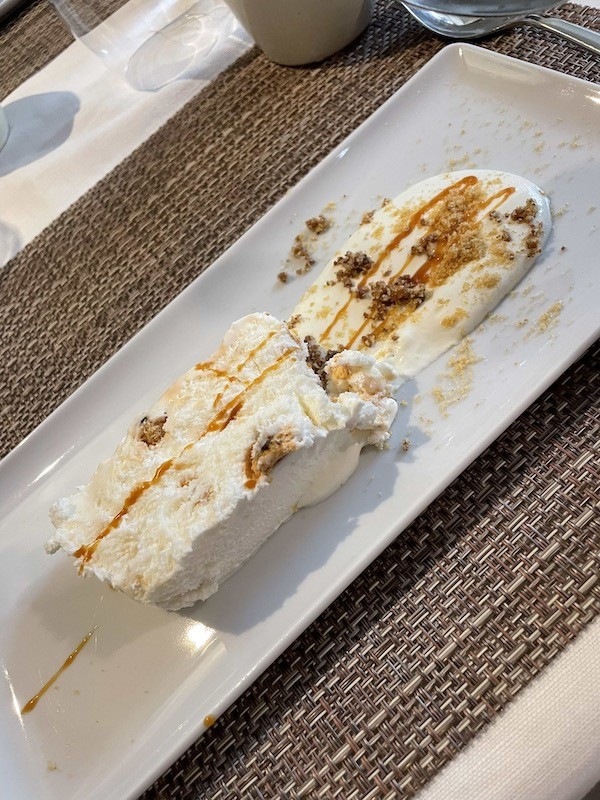 Then of course dessert is always a masterpiece. A frozen creamy goodness with nuts and caramel or it could be a crisp type dessert with cream on top. A favorite is a creamy dessert with a crisp cookie bottom and raspberry sauce drizzled over the top.
Shop Similar Items
These are affiliate links and I receive a small commission at no extra cost to you if you purchase any of these items. This helps me keep my blog going and I really appreciate your support