Hello my friends! I am so happy to be sharing my take on stylish jeans and denim jacket post with you today. When did jeans become the all important article of clothing for you? I think it was Brooke Shields that really brought the denim jeans into play for all of us. Designer jeans were the thing to have! 
I remember being in high school and going shopping with my girlfriend to buy a pair of jeans from a place called At-Ease and we would try on all kinds. Finally we would settle on a pair after squeezing our then skinny selves into into them because we convinced ourselves that surely they would "give" after wearing them a time or two. Ahh the early 80's That is probably when my love of jeans began.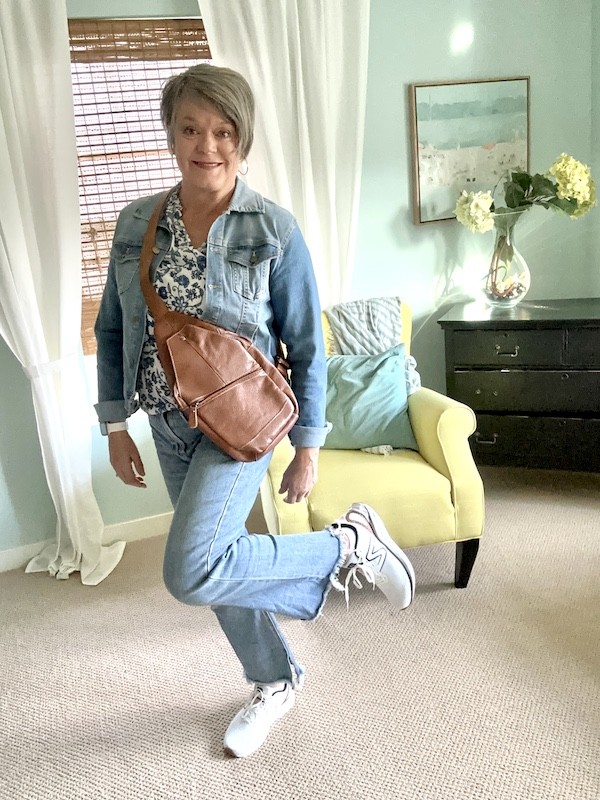 Raw hem cropped flared stylish jeans  
My favorite thing to wear in my closet is a pair of jeans! Only I do not squeeze myself into them any more…I go for comfort now! I do love them in lots of different styles, wide leg, cropped, straight leg, skinny, girlfriend jeans and even looser boyfriend styles. Right now my top favorite is frayed hem cropped flared. Wearing this style is perfect for fall because you can wear the with all kinds of different shoes and boots and it changes the look.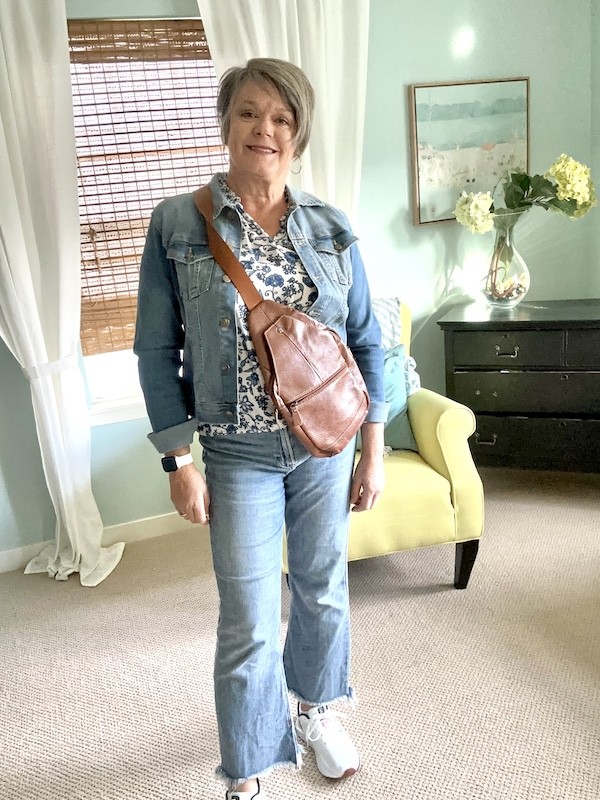 I bought these Happi jeans from a darling little boutique in my neighborhood called The nest. They are very flattering on and comfy with stretch to the fabric.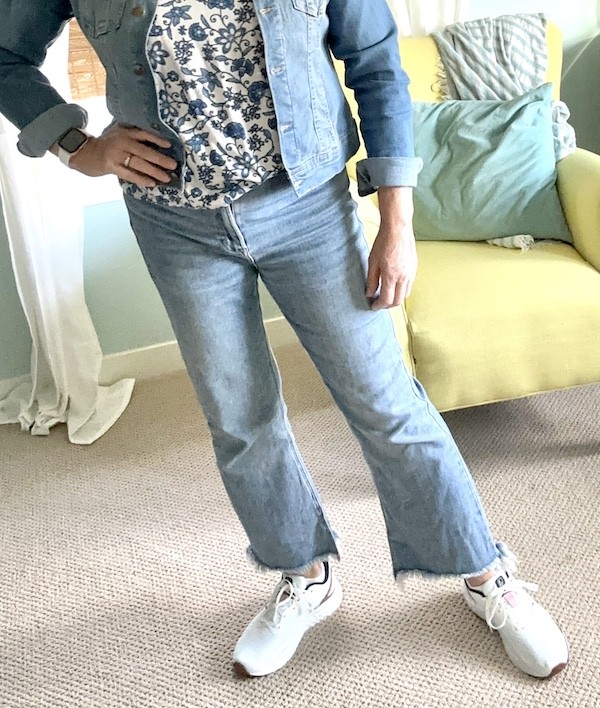 The fun detailing of the raw hem and cropped length has become a staple in my closet now. Along with the raw hem is a slit on the inside of the jeans. I found similar jeans here and here.  
Blue and white floral top-
I have had this top for a few years now and it is very lightweight but not see through which I appreciate.
A cotton lightweight top is perfect to wear under jackets. I have broad shoulders and sometimes it is difficult to wear a thicker top underneath a denim jacket because I feel constricted. With this type of top I feel free and comfortable.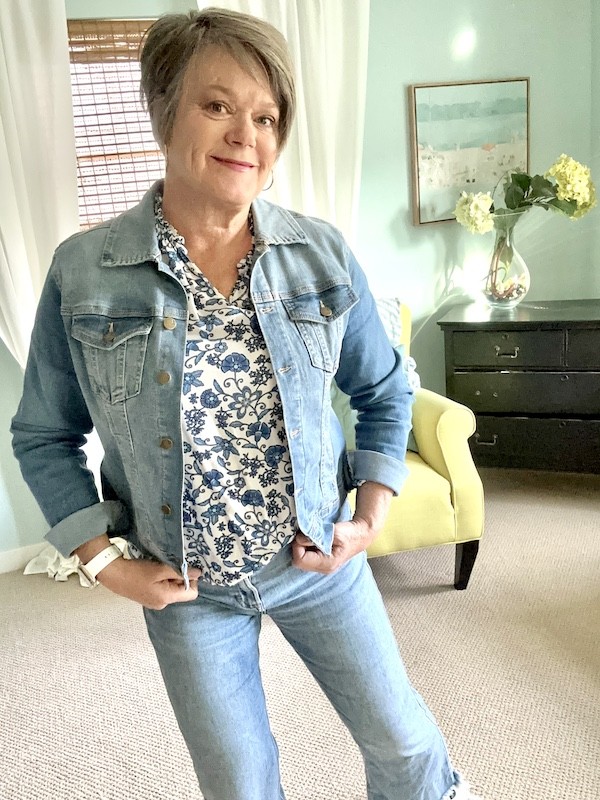 Denim Duos: The Magic of Jackets and Jeans
Is there any outfit a jean jacket doesn't work with? I say no! A jean or denim jacket goes with everything from a sequined skirt to a floral dress, every color of the rainbow pair of pants in every kind of style! And of course the denim on denim look which is so popular now.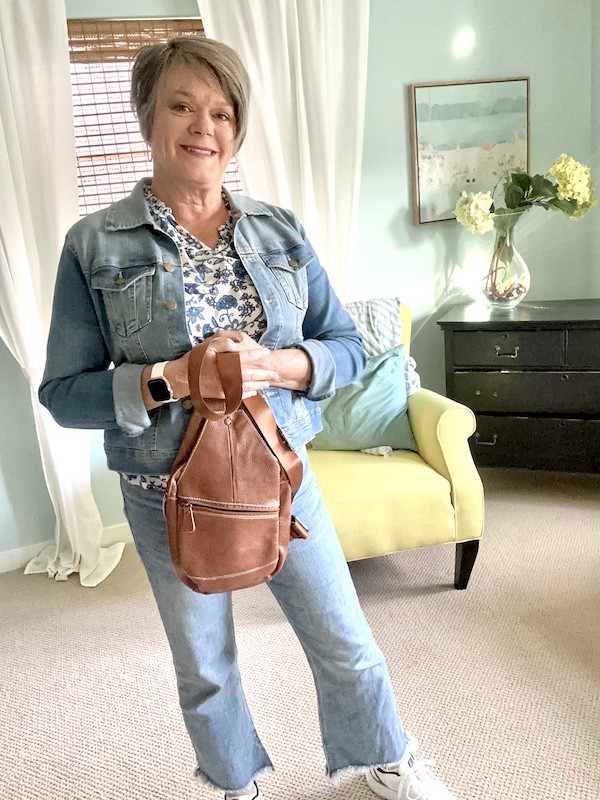 My denim jacket works perfectly with these raw hem cropped flared jeans. The colors are very close. I am not a fan of light denim mixed with dark denim, I try to match them pretty closely. 
Sneaker Fever: Stepping into Style with Denim and Kicks!
These new balance white sneakers are a new purchase for my trip to Italy. I love love the cheetah detailing on the back and the little snip of pink over the shoelaces. The comfort of these particular sneaks are amazing. Like I am walking on fluffy clouds. Almost like I have slippers on.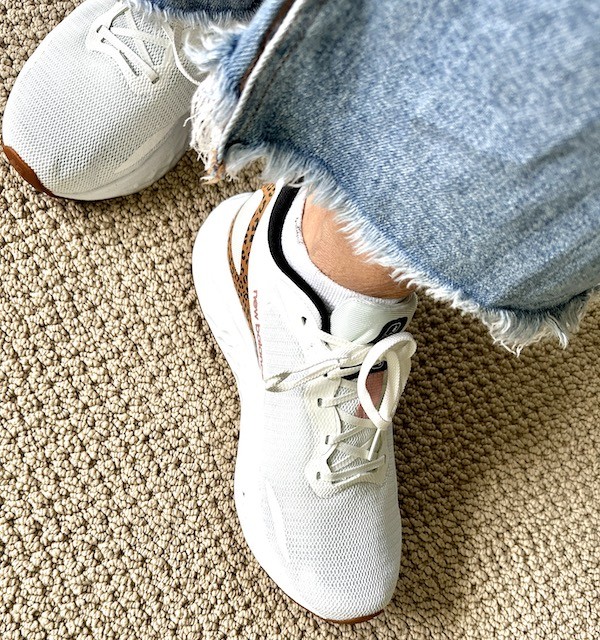 I am a big fan of New Balance sneakers or maybe I should call them walking shoes, running shoes or tennis shoes? As a kid I just always called them sneakers but now there are so many different names for them. Whatever you want to call them go get yourself a pair of new kicks you will be so happy with them! I have linked to them in my Shop this post below.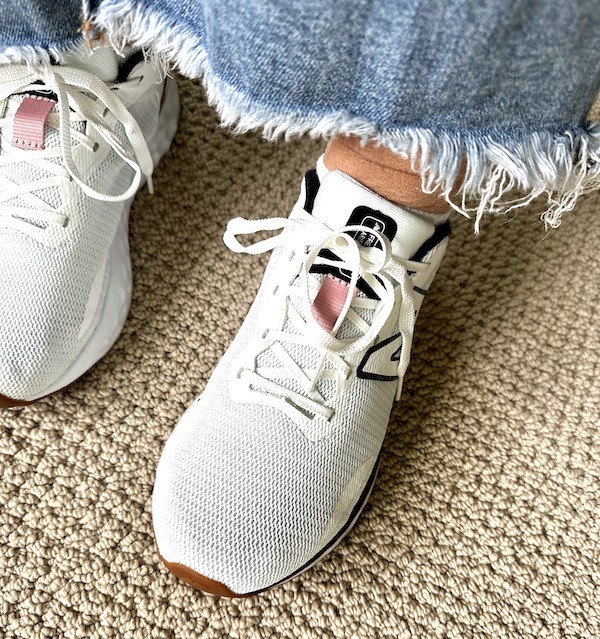 https://rstyle.me/+SWeZJgPJu4JBaxpFRCwgPw
Accessorize with Ease: Keeping it Casual and Chic
Simple gold hoop earrings and a leather crossbody bag are my go to accessories for my denim on denim style. Nothing to fancy just casual comfort.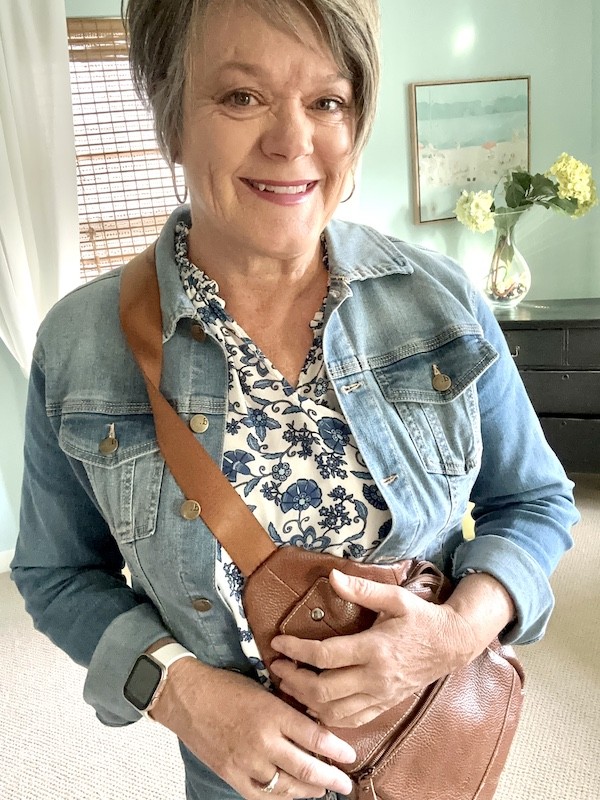 Share Your Denim Journey: Let's Swap Stories
I would love to know when jeans became a staple in your closet so leave me a comment and tell me your denim story.
Stay tuned for more of my stylish jeans and jackets and what shoes to wear with them in posts coming next week 🙂 
More Karins Kottage Fashion Posts you may have missed
5 Ways to style girlfriend jeans
Pink Velvet pants with denim jacket
Shop This post
These are affiliate links and I make a small commission on any purchase you make at no extra cost to you! This allows me to keep this blog up and running and I appreciate it so much!