Welcome back to Karin's Kottage, your go-to destination for all things fashion and fun for us 50 and older gals! Today, we're taking our denim delight on the road. Exploring how you can rock a white jean jacket and peach wide leg cropped linen pants.
It seems like we are always on the go these days! Having some cute fashion outfits ready is key
So, grab your suitcase and let's embark on a stylish adventure!
Jetsetter Style white jean jacket and peach wide leg pants
Jetsetter Style: When it comes to traveling, comfort is key for me but that doesn't mean I have to sacrifice style. A white jean jacket paired with wide leg linen pants is the perfect combination for jetsetter style.
Opt for a lightweight, stretchy denim jacket that allows for easy movement and layer it over most tops, sweatshirts or a favorite lightweight sweater.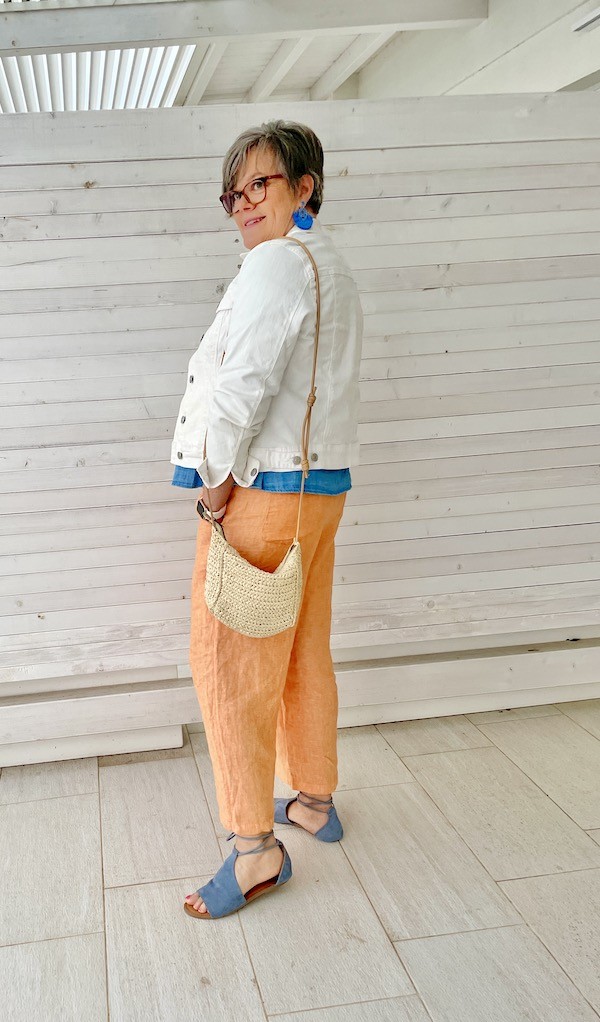 Pair it with your favorite flowy linen pants for a relaxed, yet chic look. Complete the ensemble with sandals, slip-on sneakers or ankle boots for a touch of practicality and style.
This post contains affiliate links and I make a small commission at no extra cost to you. This helps me keep my blog going and I really appreciate it!

Versatile Layers
Versatile Layers: Traveling often means dealing with unpredictable weather. Currently I am traveling in Italy. The weather has been unseasonably cool and rainy and that's where the versatility of a white jean jacket truly shines.
Layering is your best friend!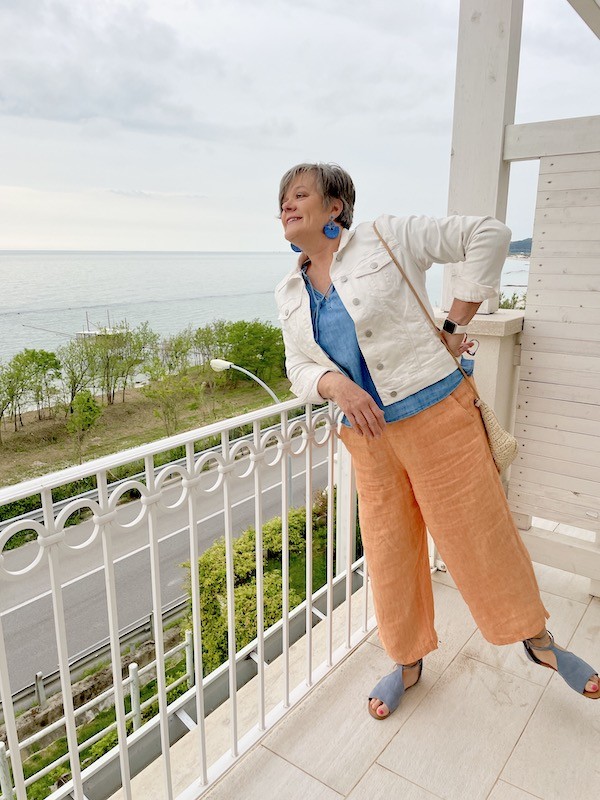 I start with a basic t-shirt or in this case a blue lightweight denim peasant blouse as my base layer. Then I add my cropped wide leg linen peach pants and topped it off with my white jean jacket.
This ensemble allows you to easily adjust your outfit according to the temperature. You can roll up the sleeves or remove the jacket altogether if it gets warmer, and vice versa. It's all about adaptability without compromising style!
Mix and Match
Mix and Match: One of the joys of traveling is exploring new destinations and experiencing different cultures. Let your outfit reflect the vibrant energy of your surroundings by incorporating a mix of patterns and colors.
Speaking of colors check out my vibrant summer outfit here!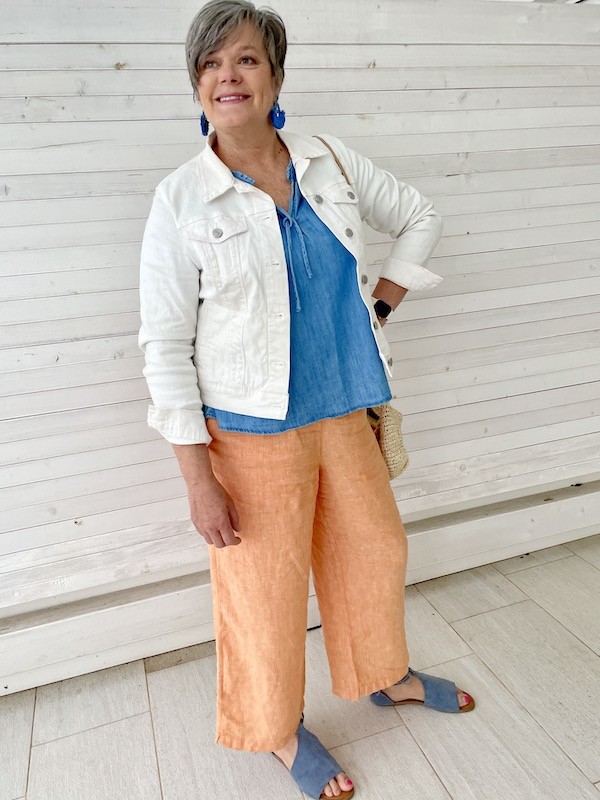 Pair your white jean jacket and flowy wide leg cropped pants with one of my favorite combinations- a colorful floral top or a striped blouse. Don't be afraid to experiment and have fun with your travel wardrobe.

Add accessories
Add accessories like some fun blue fan earrings, a wide-brimmed straw hat, statement sunglasses, or a patterned scarf to elevate your look and embrace the spirit of adventure.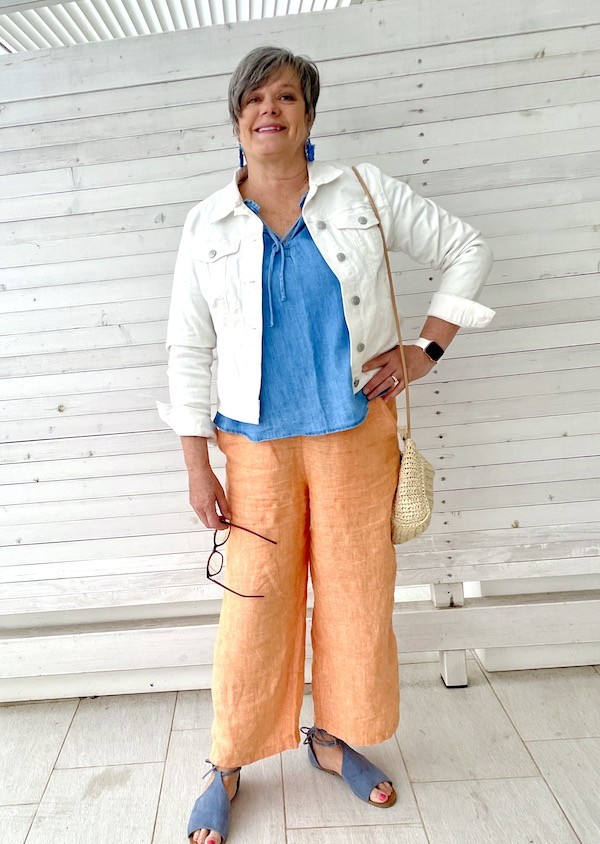 On-the-Go Comfort
On-the-Go Comfort: Traveling almost always involves long hours of sitting or standing. Whether it's on a plane, train, or exploring new sights. Choose wide leg cropped linen pants with a relaxed fit and a comfortable waistband that won't dig in during long journeys.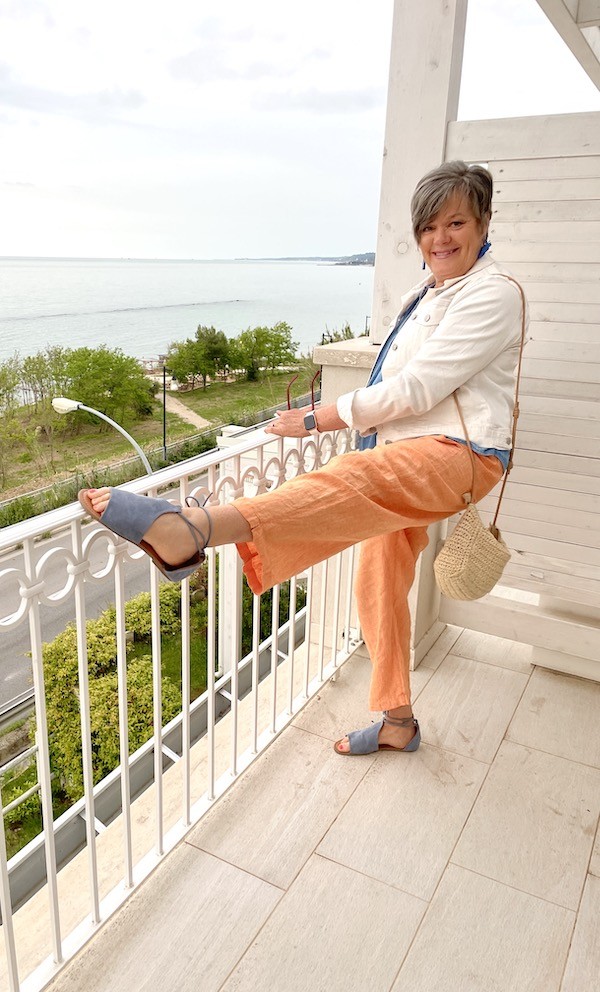 Layer your jacket over a soft, lightweight sweater or a cozy hoodie for added warmth and coziness. It's all about feeling comfortable and stylish as you make your way through your travel itinerary.
Bon Voyage
There you have it, fellow travelers! With a white jean jacket and wide leg linen patns in your suitcase, you'll be ready to explore the world in style. Whether you're jetting off to a new destination or hitting the road for an adventure, remember to prioritize comfort, versatility, and a touch of fun in your travel wardrobe.
Stay tuned for more fashion inspiration and travel tips here at Karin's Kottage.
Bon voyage and happy styling!
More Karins Kottage fashion
Style denim jacket and v-neck blouse
Fashion Friday denim jacket and scarf
Shop my Fashion