Hey, fabulous ladies over 50! It's Karin here, and I'm thrilled to guide you through another style adventure on Karin's Kottage. Today, let's talk about the world of fashion with a focus on a personal favorite – the green utility jacket look. Whether it's brunch, a casual date night, or just a day out, let's master this look together!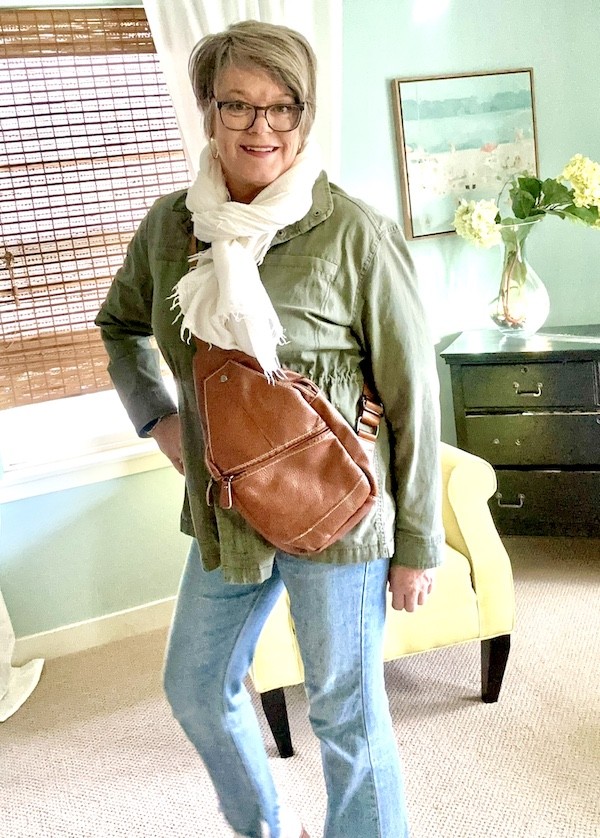 Step 1: Embracing My Green Utility Jacket
My journey to a chic look always starts with the star of the show – my green utility jacket look. Versatile, elegant, and perfect for tapping into my adventurous side.
I love the gathered area around the waist. It helps define my thick waist.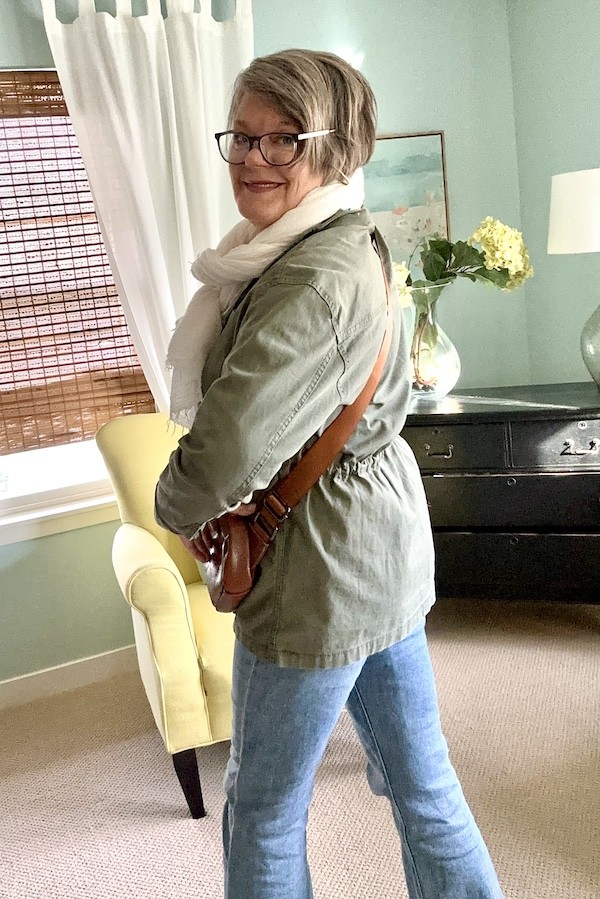 Step 2: Bottoms That Wow – Raw Hem Cropped Jeans
Pairing my utility jacket with timeless raw hem cropped jeans adds that extra flair I love. It's the perfect blend of comfort and modern style.
The raw hem on these jeans is just a fun detail that makes me feel funky and cool. Here are a few other outfits with my raw hem jeans.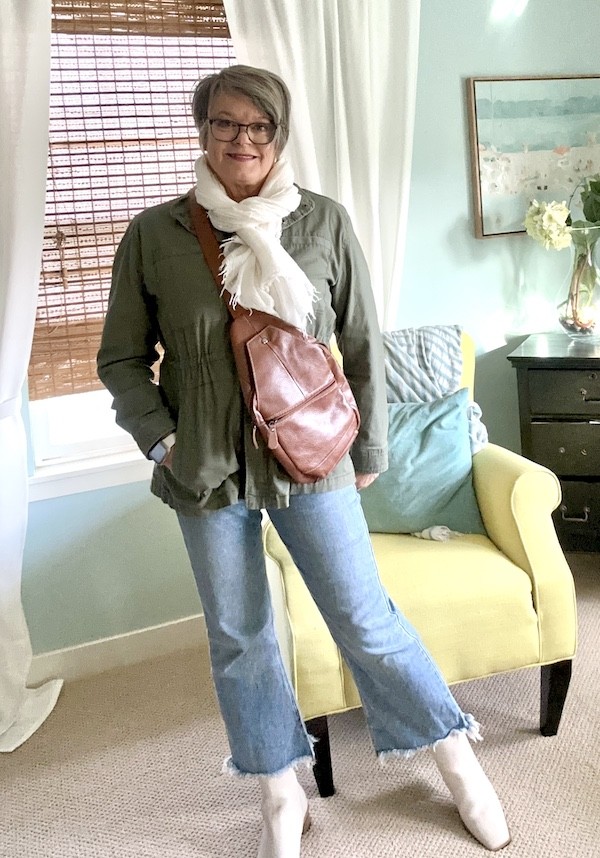 Step 3: Keeping It Classic – My Favorite Basic T-shirt
Underneath the utility jacket, I opt for a simple basic tee in a neutral shade. It's all about keeping things easy while letting my personality shine through.
Step 4: Strutting in Style – My Cream Colored Boots with Square Heels
Elevating my ensemble with cream-colored boots featuring square heels not only keeps me on-trend but ensures I'm comfortable for the day ahead.
I found these boots on a closeout and only paid $5.00 for them! I figured why not give this style a whirl.
What you do gals think of these?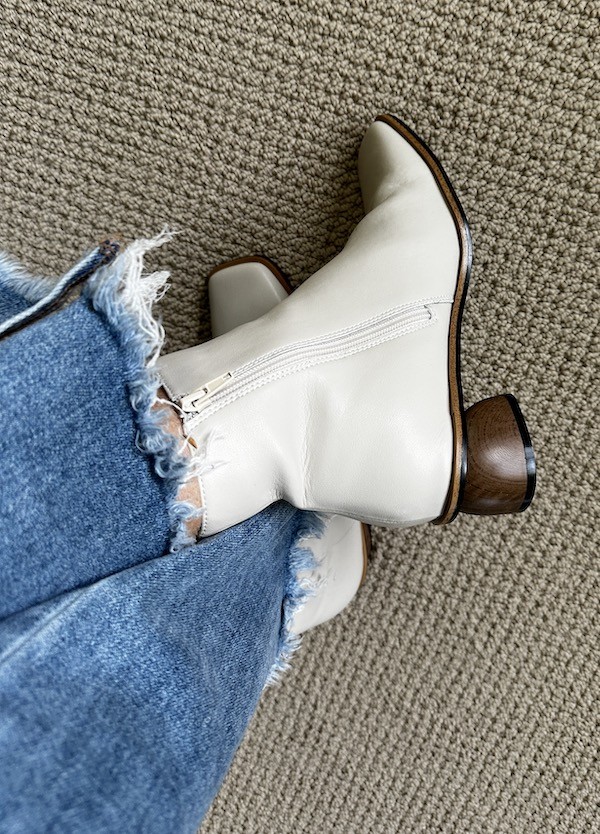 Step 5: Accessorizing with Flair – My Cream Colored Scarf and Brown Leather Crossbody Bag
Adding a touch of sophistication with my cream-colored scarf not only elevates my style but keeps me warm too. Completing the look with my brown leather crossbody bag adds that perfect mix of practicality and chic.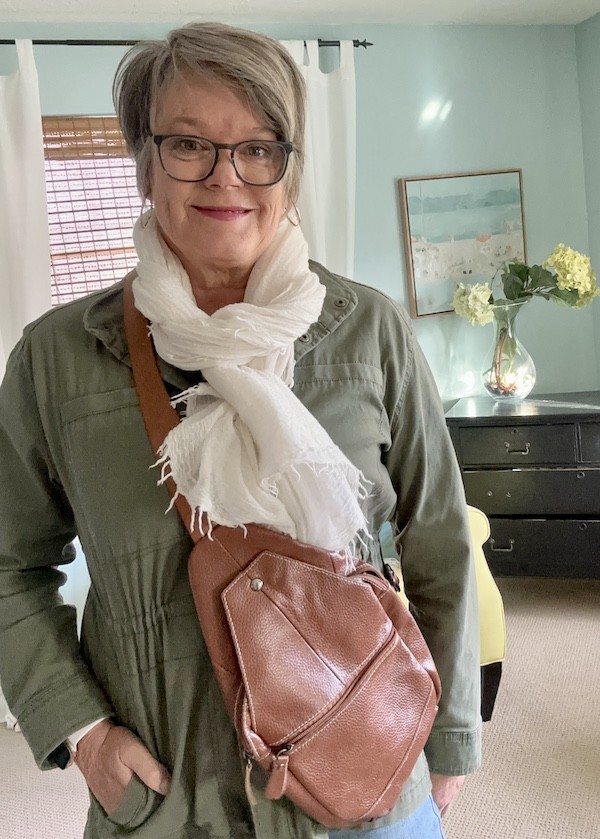 Step 6: Versatility Unleashed – From Brunch to Date Night and Beyond!
Now that I've mastered styling my utility jacket, it's time to unleash its versatility. Wear it to brunch with friends, effortlessly standing out. Transition seamlessly into a casual date night, radiating confidence and fabulousness.
Here is another way to wear the green utility jacket with a feminine floral top, a leather belt and sneakers.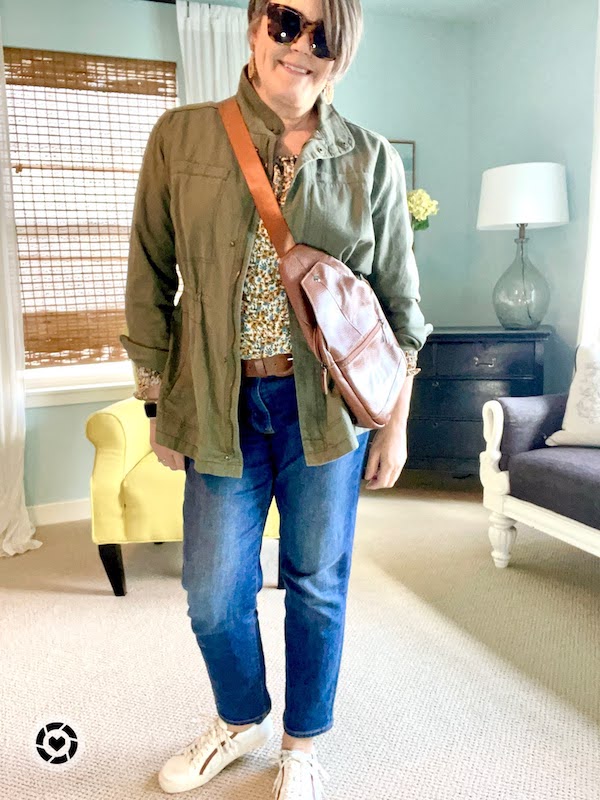 Cheers to creating a look that's as chic as it is comfortable! Let your style be a celebration of your confidence, reminding everyone that age is just a number.
Until our next style adventure, stay fabulous!
Shop This Similar Look
These are affiliate links and I make a small commission at no extra cost to you. This allows me to keep this blog up and running and I really really appreciate any support you can give to me this way.