We celebrated my hubby's 60th birthday with a music themed birthday party and had fun with the decorations!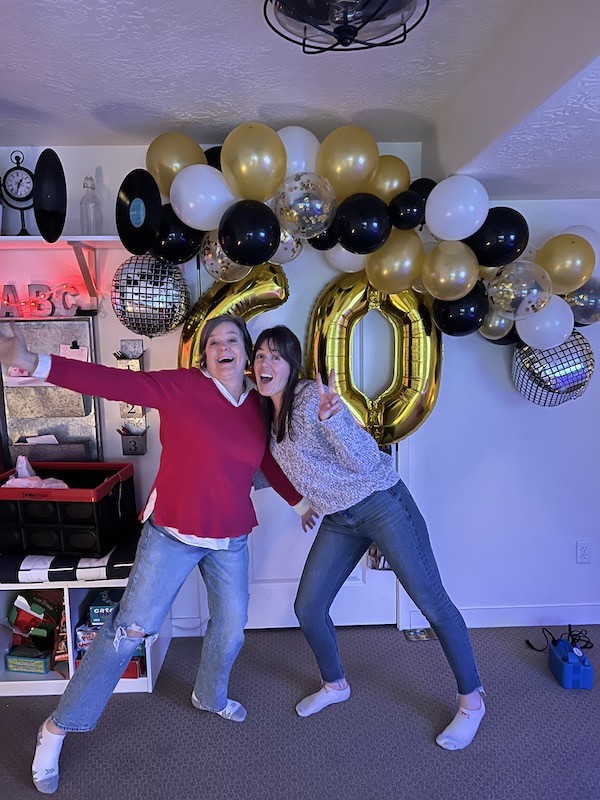 My two daughters and I decided to do music throughout the ages because he loves all different eras of music.
We asked everyone to dress up in their favorite era, it was hysterical to see how everyone dressed up!
One of the best parts of this birthday party was to create a night club in the basement.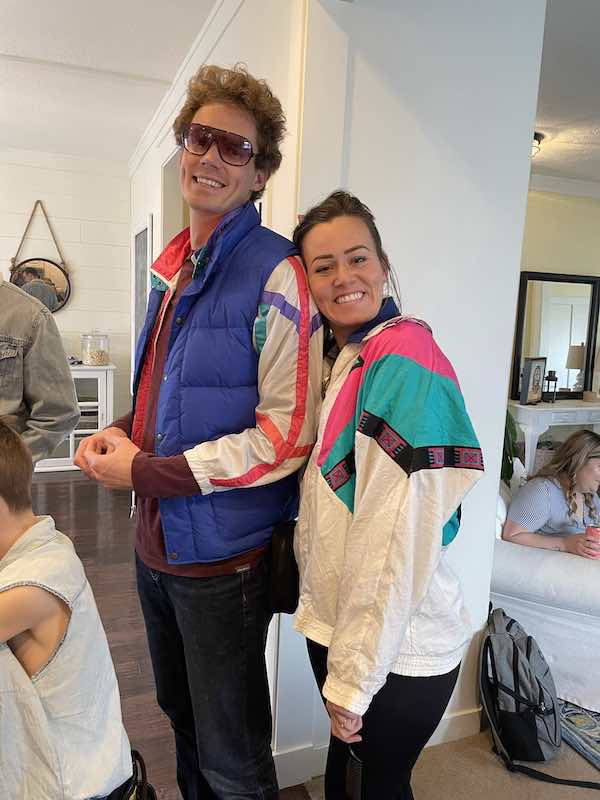 Family music themed Birthday dinner table
To set the table I used black paper for the runner, gold cut outs of stars and moons and real records as placemats.
To be able to see the records, I used clear square plastic plates and these amazing back stage access passes that my daughter Madeline designed. (See below how she made them)
Above my black sideboard and on the chalkboard my other daughter, Emily, created a large black and gold album with 60 in the middle.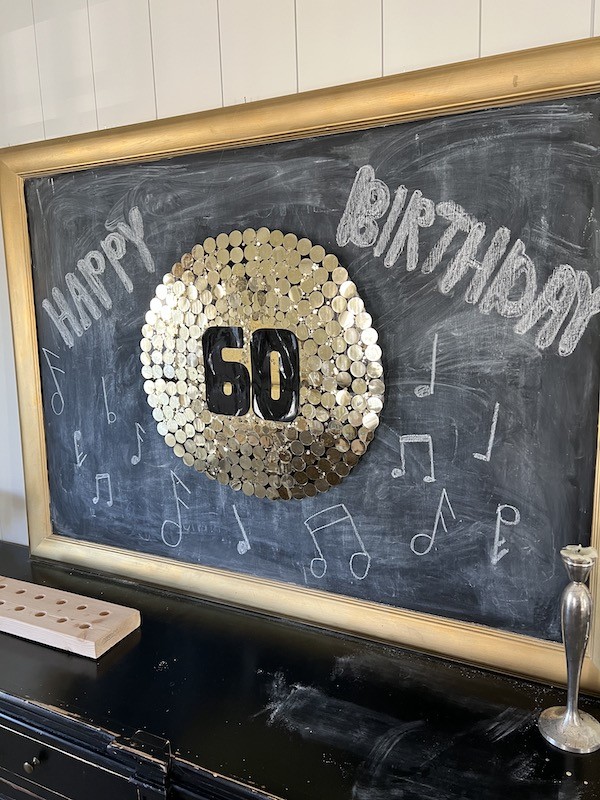 Using a piece of cardboard we cut out a large circle and spray painted it black with gold spray paint in the center. Then we glued lots of gold confetti pieces all around to make it sparkle.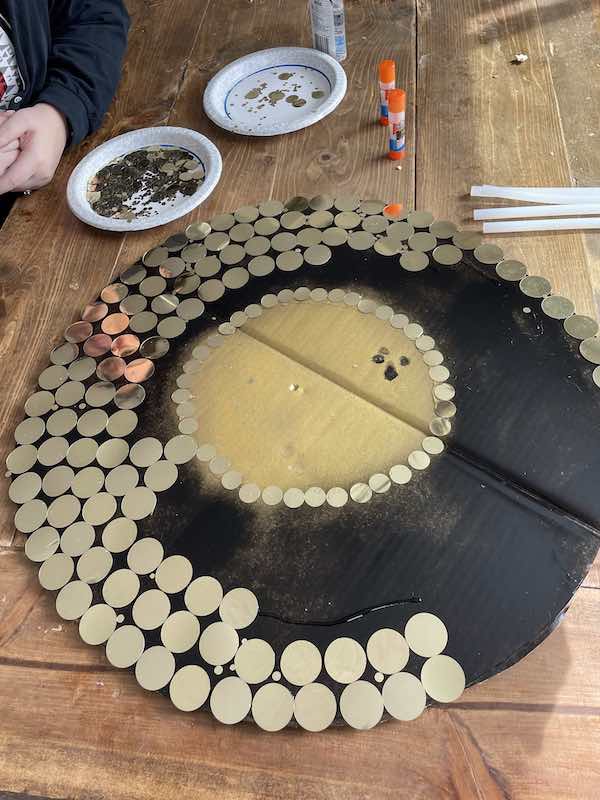 The 60 was cut out on her Cricut machine and glued it to the center.
It was perfect!
Back stage access passes
My daughters came up with such a cool idea!
We bought lanyards with clear plastic holders to use as VIP access passes.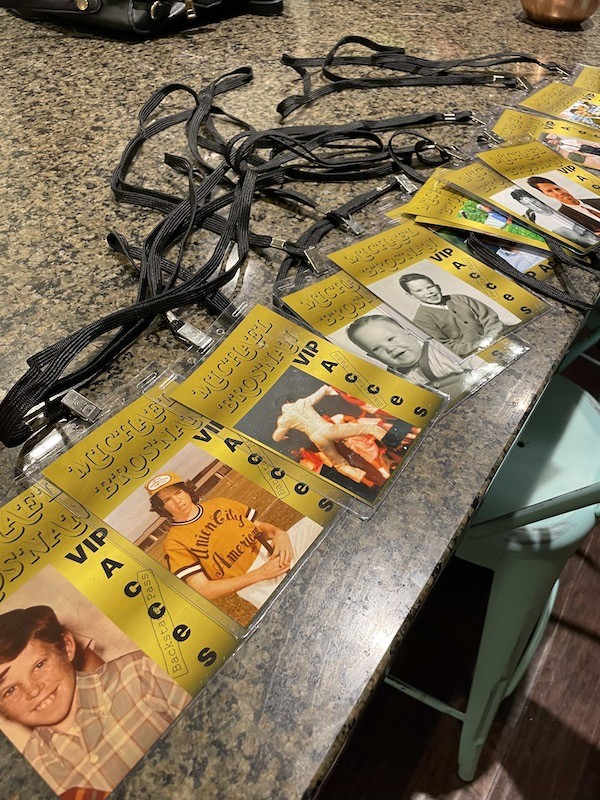 I found lots of photos of Mike all through the years and my daughter, Madeline designed these super cool black and gold passes.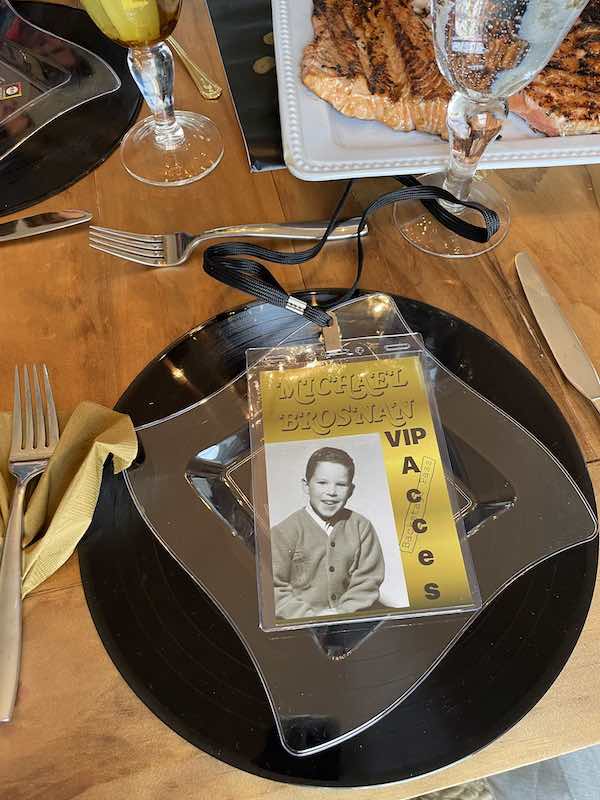 Before dinner we placed one at each place setting unbeknownst to my hubby.
Then when we all came in for dinner he saw all of the passes with photos of himself.
He was blown away!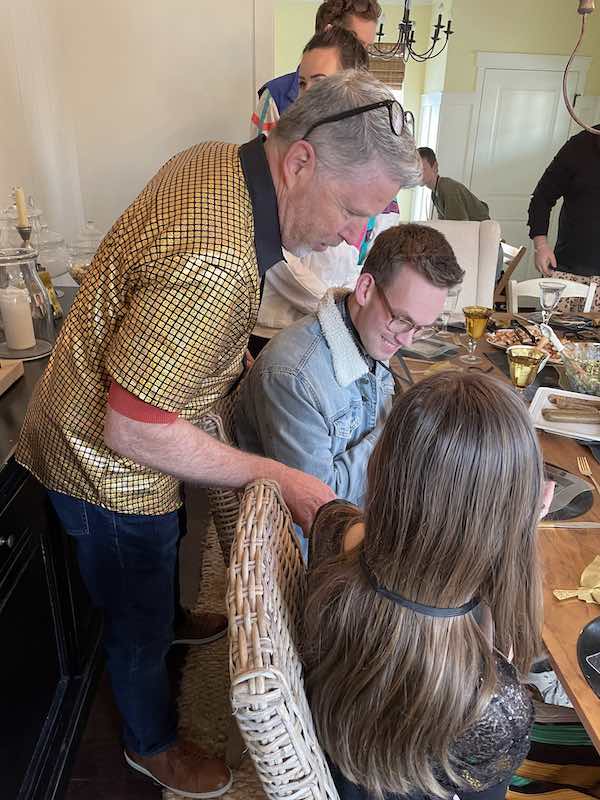 We announced that everyone was to put one on for the "after party" 🙂 It was such a fun surprise for him.
Music themed decorations
We asked ourselves how can we decorate the basement with a music theme?
We decided to use lots vinyl records from thrift stores.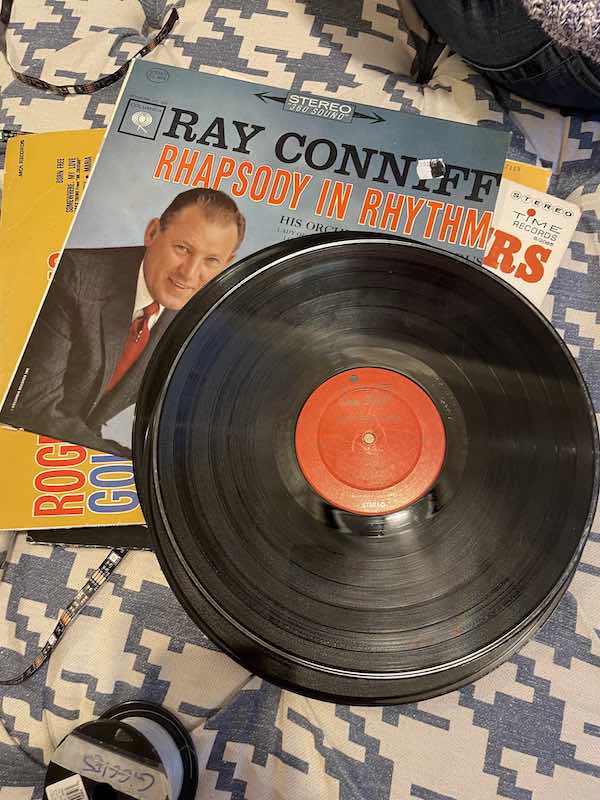 Super cheap and you can find loads of them. We hung them from the ceiling using fishing line and push pins.
We even hung some over the artwork hanging on my basement walls just buy taping the records to the glass in the picture frame.
Plus we scattered some of the album covers all around the room.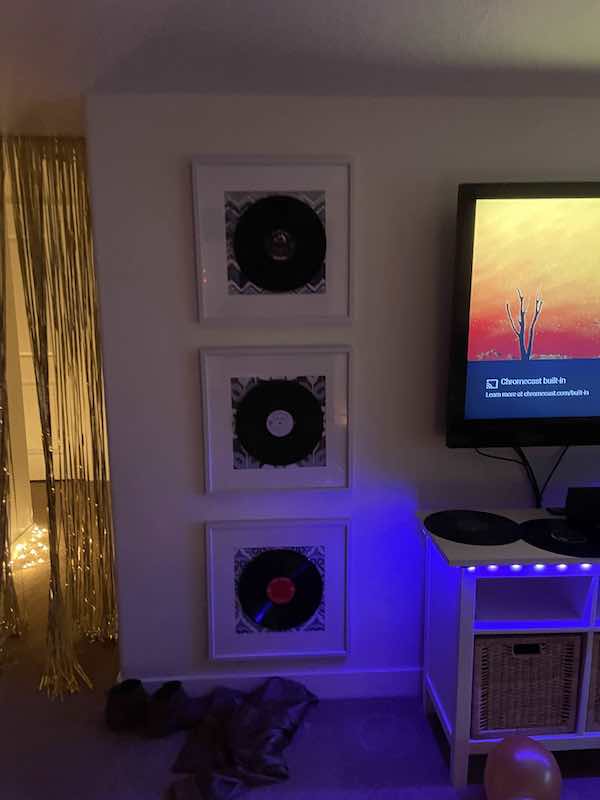 Gold and black balloons
To bring in colors of gold and black into the basement, we bought black, gold and confetti filled clear balloons and made an arch.
Underneath the arch we also bought gigantic 60 number balloons to hang on the closet door.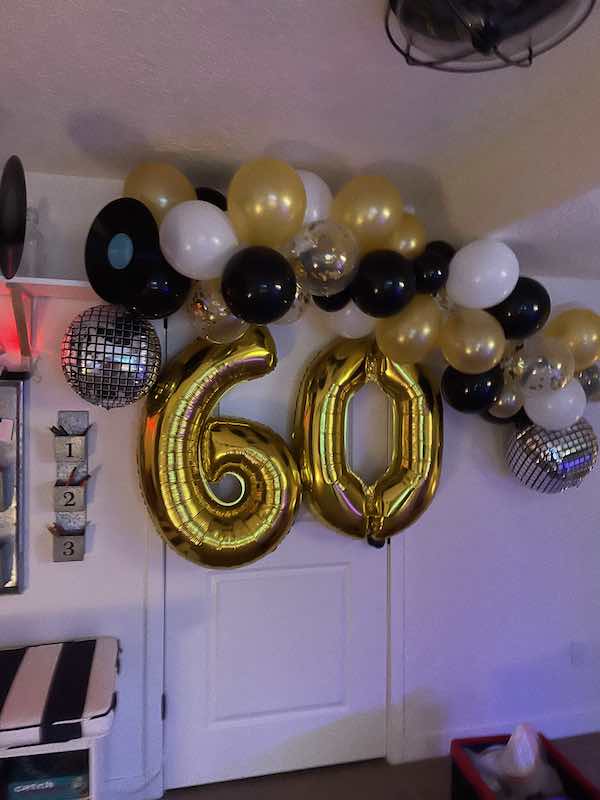 Using my cool electric air machine we blew up even more balloons and spread them out over the floor. It just made the room look festive.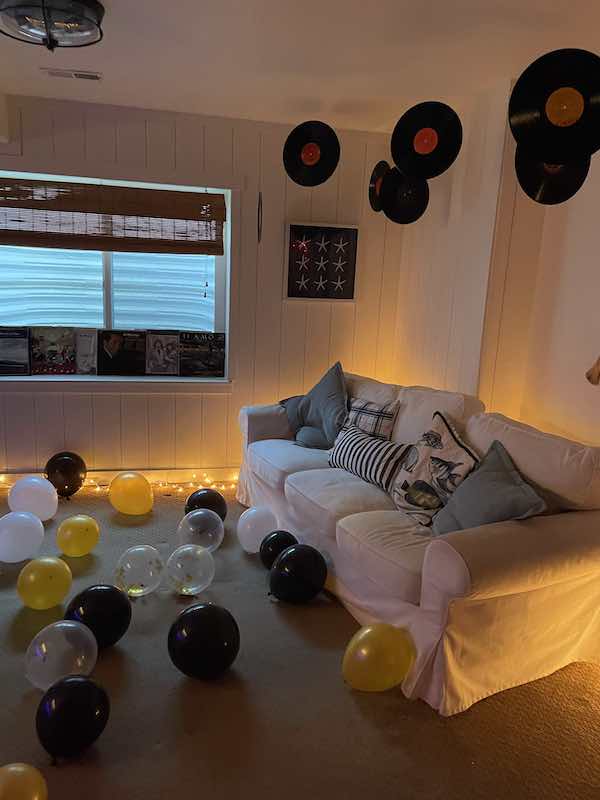 Music themed bar area and lighting
To bring that cool club theme we strung white Christmas lights all along the edge of the floors. Underneath the white TV stand my daughter had these cool mood lights that she taped to the edge.
The colors changed from pink, purple, red and white. It really brought in the club vibe!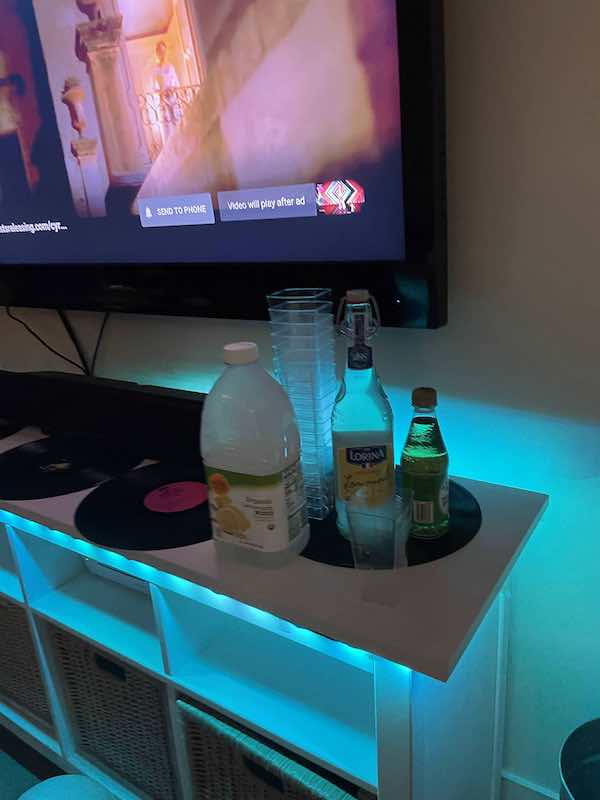 On the TV stand we placed more vinyl records on top to create a fun bar look. We served some fun non alcoholic drinks from there.
It just added even more of a night club look.
Madeline was the bartender and mixed up lemonade, tonic water and bitter flavoring. It is a drink that my hubby first tried when traveling in Australia.
Creating the club entrance
Emily cut out the letters that said backstage access and glued them onto a piece of cardboard.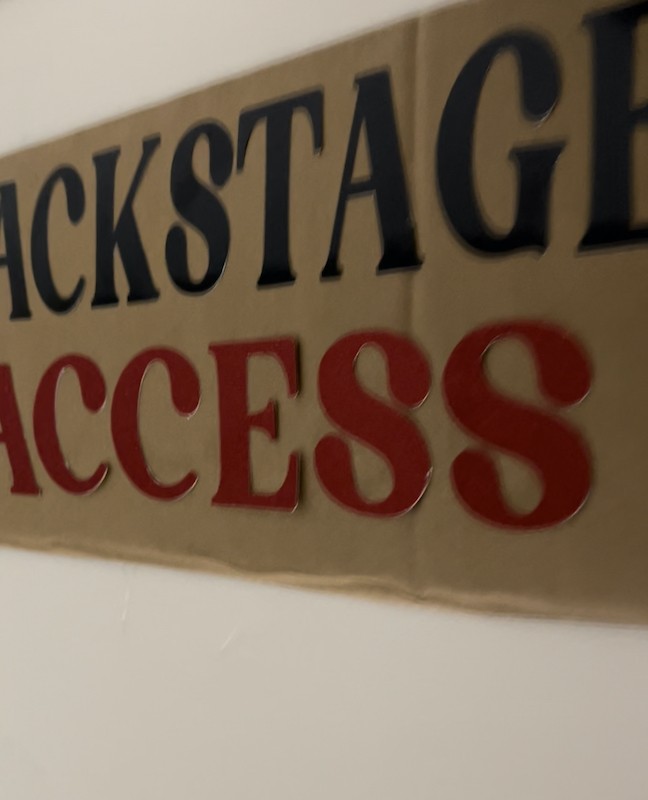 We hung curtains from a shower spring rod at the bottom of the basement stairs with a sign that my daughter made using her Cricut machine.
To actually enter the "night club" we hung gold streamers that made entering the party even more intriguing.
Dancing
Since our Wii machine broke a few years back we just went to Youtube and watched some of the just dance videos and followed along. I was so impressed at how well the guys followed!
They were seriously so good! Even the youngest 3 year olds got into the action 🙂
It was such a fun music themed birthday party with unique decorations.
Costume ideas
Here are a few of the costume ideas everyone wore.
Madeline with her kids. The boys were dressed as the Village people.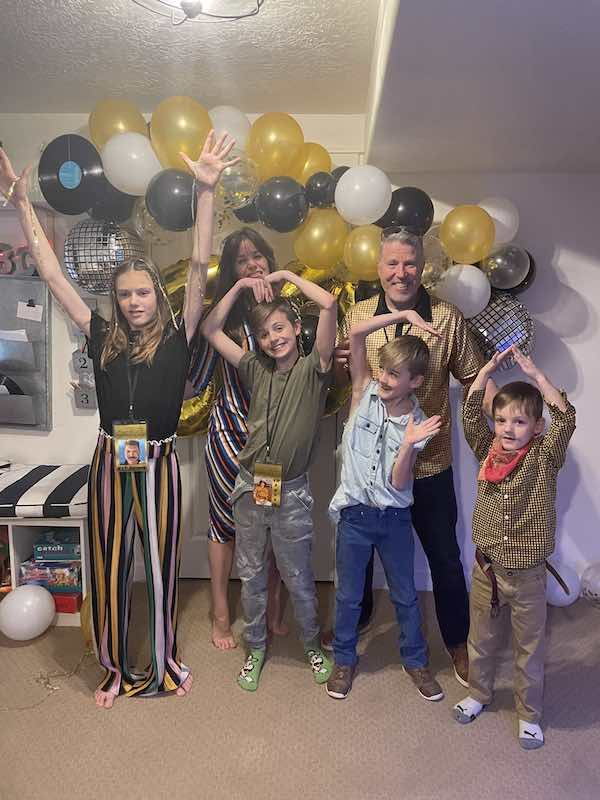 My daughter Emily and her family.
Even the two littlest got to wear 1960's bell bottoms!
Here is a link for the toddler sized outfit and the infant sized outfit is here.
For the hippie headband, glasses and jewelry here is the link.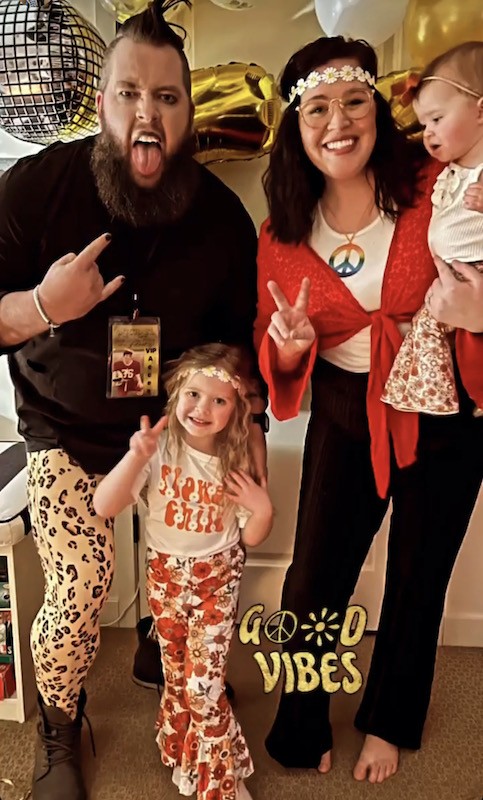 Our two son in laws went all out! hahaha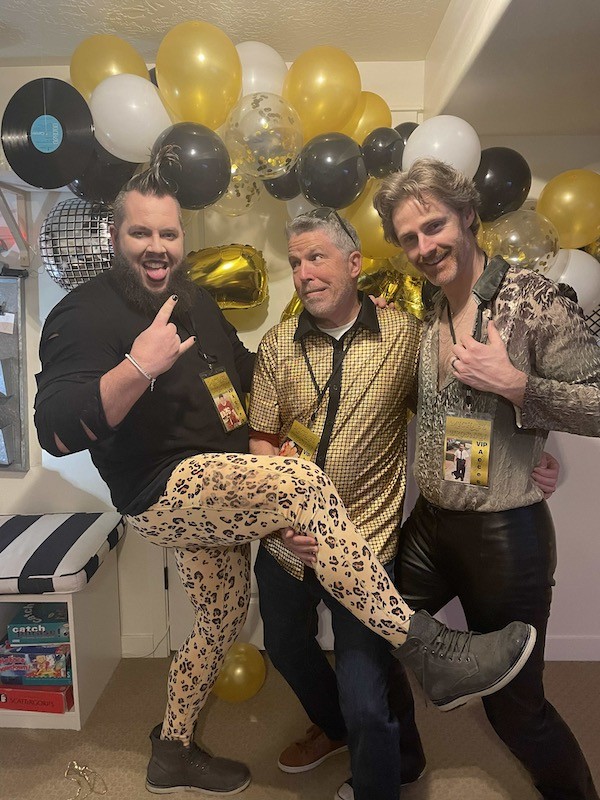 The cousins went for the 70's and 80's look.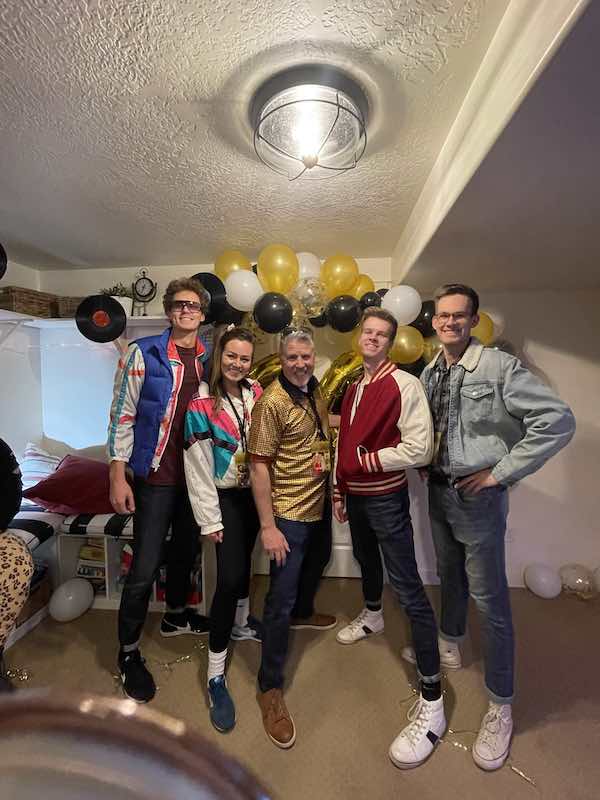 I bought Mike this gold and black disco looking shirt and I wore some pleather bell bottom pants and a gold top.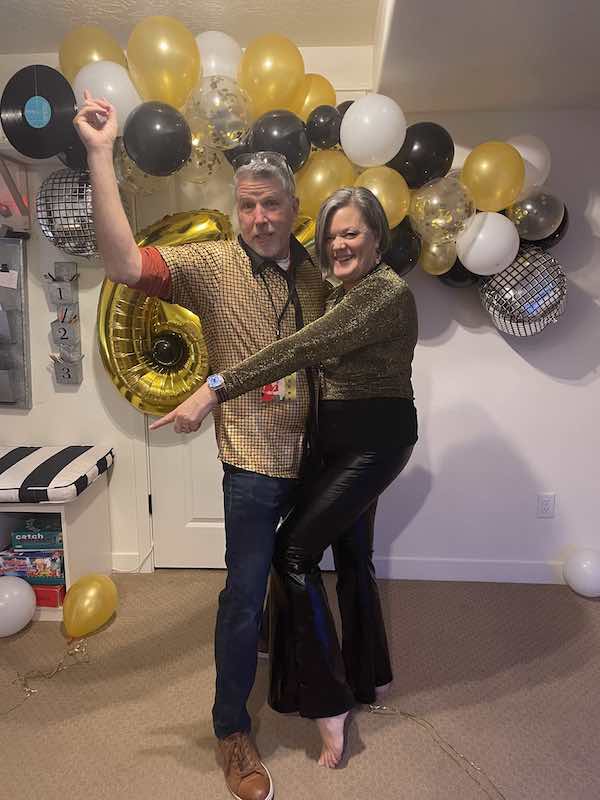 Shop party items