Hi friends! I am home from Italy and making some fun Halloween decor. Today I am showing you how to make the cutest witch hat out of a brown paper bag for Halloween! Say what? You may be asking yourself, how do you make a simple witch hat out of a paper bag? I know it sounds kind of funky but I know you are going to love this tutorial.
The best part is that it is basically free to make except for some Mod Podge and hot glue. Remember back in the day when we were little kids and we learned how to do paper Mache? It is kind of like that but even easier. You really can't make a mistake either. A witch hat is not supposed to be wrinkle free or without dents or spots. So enjoy my tutorial on how to make a witch hat out of a paper bag.
PS Make sure to check out more of my "witch" ideas at the bottom of this post. Oh and wait until you see my black and white hanging witch hat tablescape here It has been super popular on Pinterest!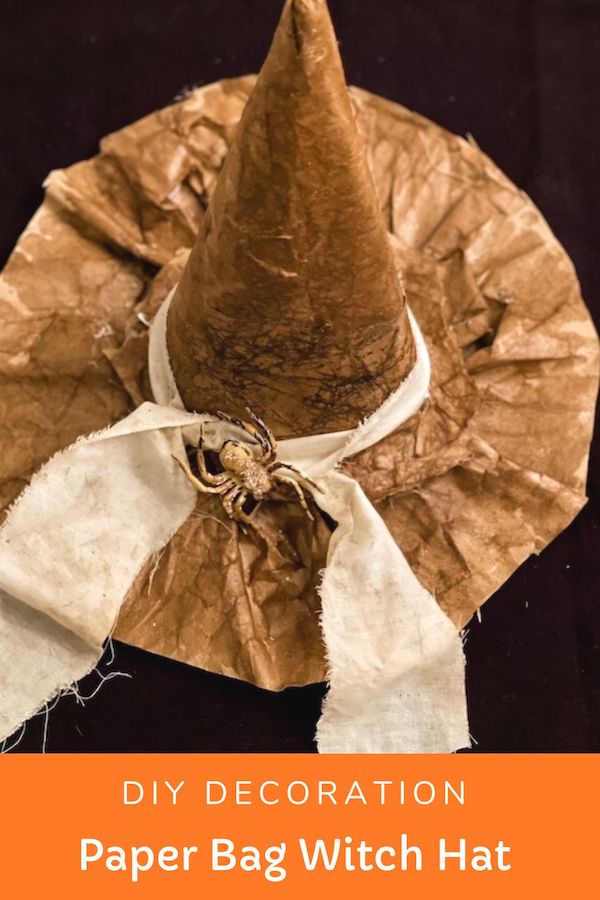 What Supplies are needed for easy paper bag witch hat?
Basic supplies will allow you to make this adorable witch hat that can be displayed anywhere in your home.
One large brown paper sack (free from grocery store)
Thicker scrapbook paper 12″
Mod Podge (you could probably even use Elmers glue)
Paint brush
Scrap piece of creamy fabric
Plastic spider (glitter if desired)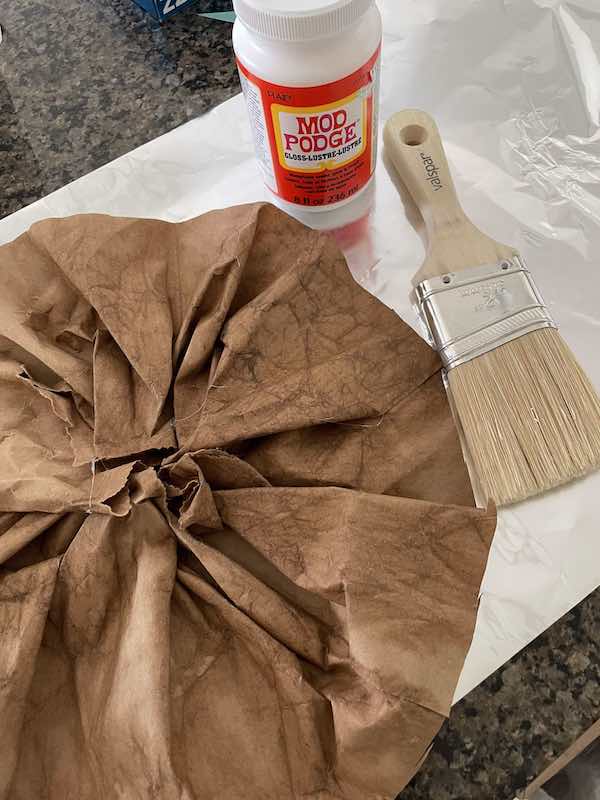 Step-by-Step paper witch hat making
The first thing I did to make the outer area of the witch hat was to cut up the brown paper bag. Cut open the bag so it lays flat then cut two long strips about 4 1/2″ to 5″ wide. One piece is for the base of the witch hat and the other is for the cone shaped top part.
Here is the fun part- wad it up and wrinkle it! Then place the pieces under running water Squeeze the paper pieces so that it is not dripping all over the place.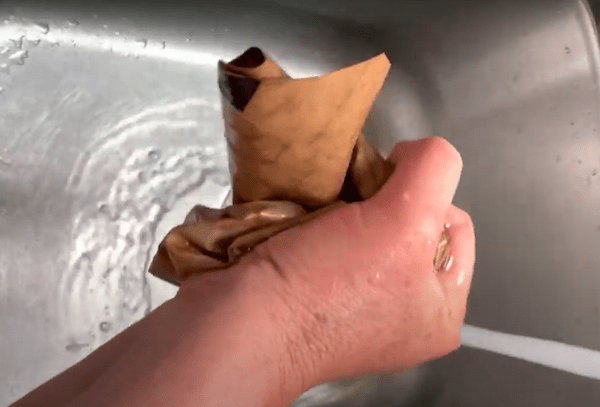 Form the base for paper bag witch hat
To form the base of the witch hat is really easy. I just gathered it up in my hand to create a circle. When you make the ends come together it creates a circle or fan of pleats. The paper bag is very pliable right now because it is we so it should shape nicely for you.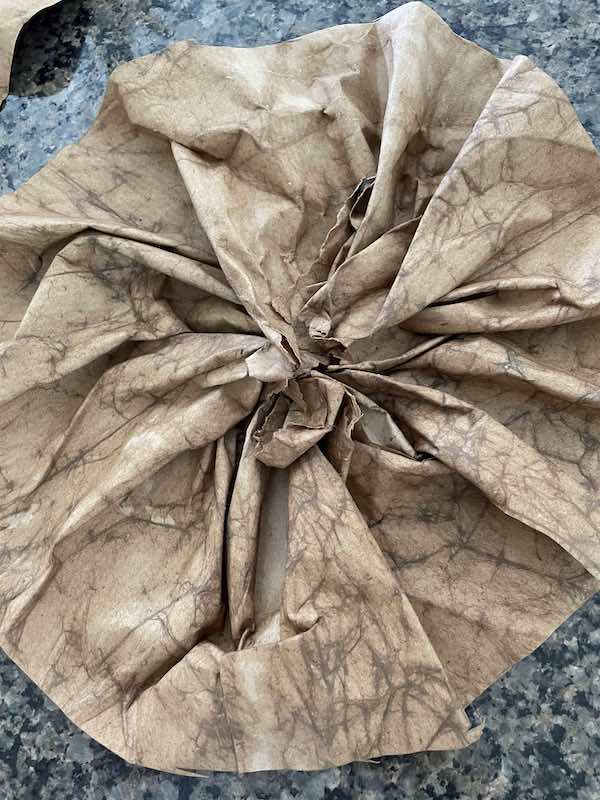 2. To keep the circle closed I used some hot glue. Flip over the pleated circle and hot glue it together along with some of the pleats so that they will stay in their positions.
3. I even added some hot glue right in the middle of the circle to keep the edges of the pleats together. No one will see any of the glue because this the bottom of the hat. Any glue that pops out of the center to the other side will be covered with the cone shaped top part.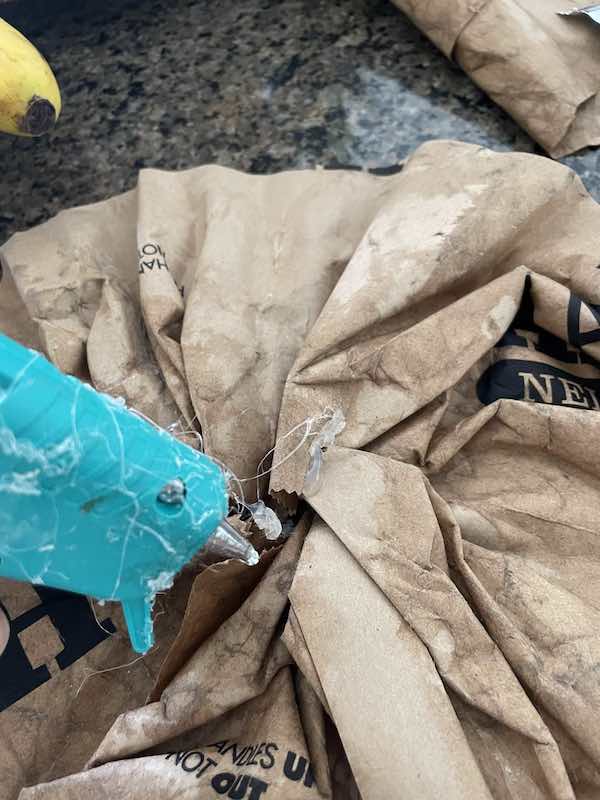 Mod Podge Time
Pour some Mod Podge into a dish and dilute it a little bit with some water so it is not so thick.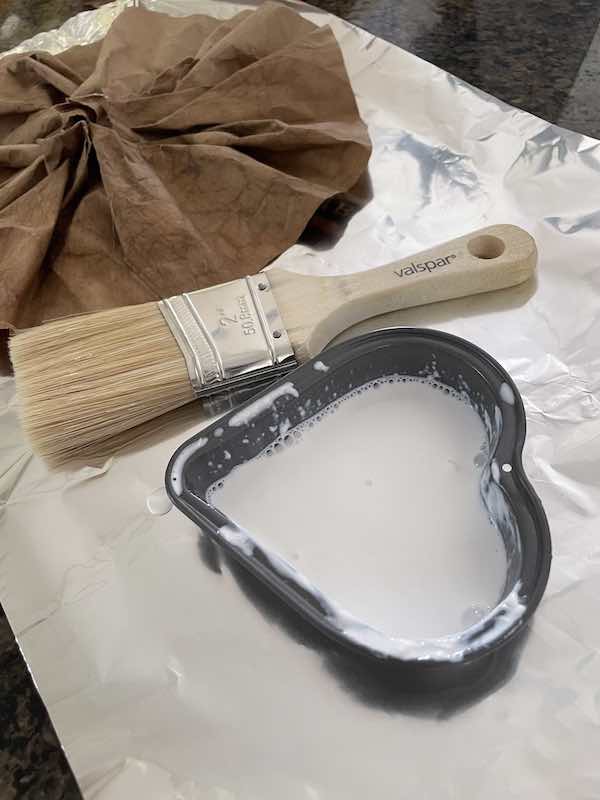 2. Brush the entire base with Mod Podge and place on some aluminum foil and leave outside to dry. The Mod Podge will harden the paper sack and make it stiff.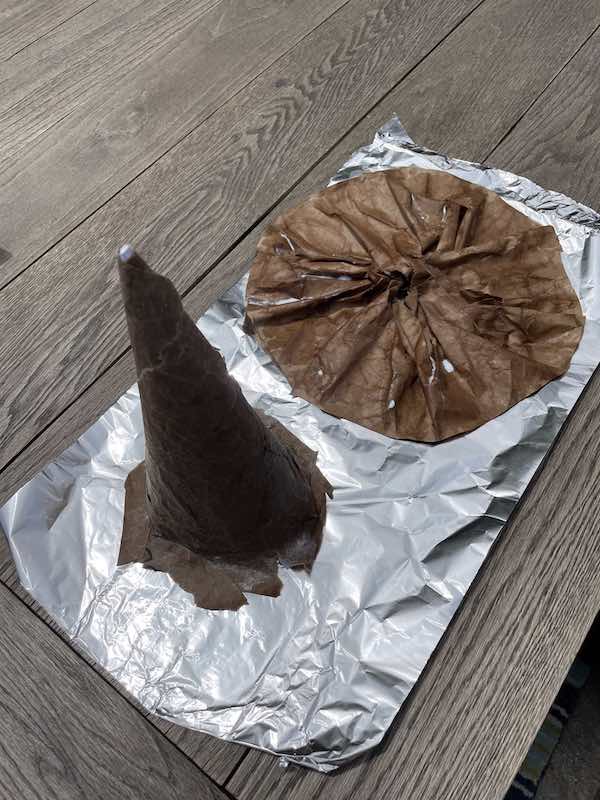 Create the cone top
Using some old thicker scrapbook paper, roll the paper into cone shape and close with hot glue or tape.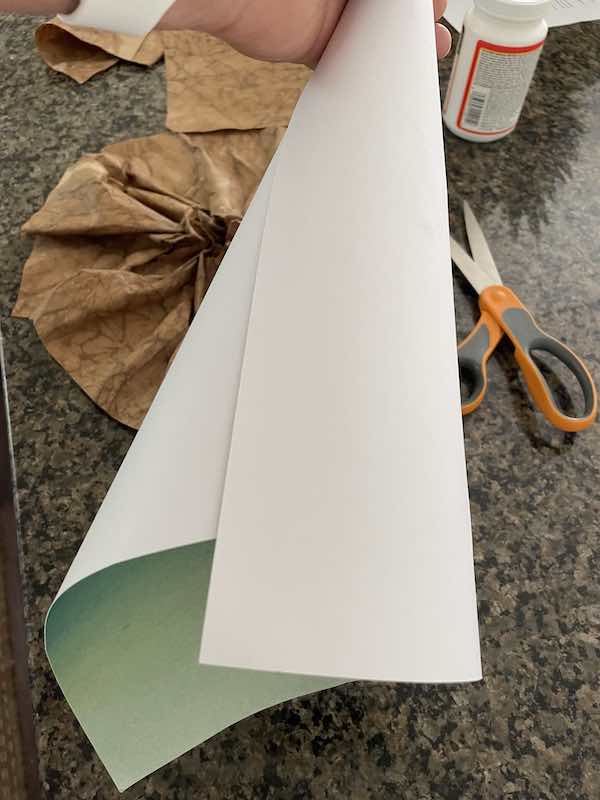 2. Cut off any excess edges to create a somewhat even base. To allow the cone to have something to hold the base and cone together, I cut up into the hat every inch or so. It created a fan and an edge to add glue to.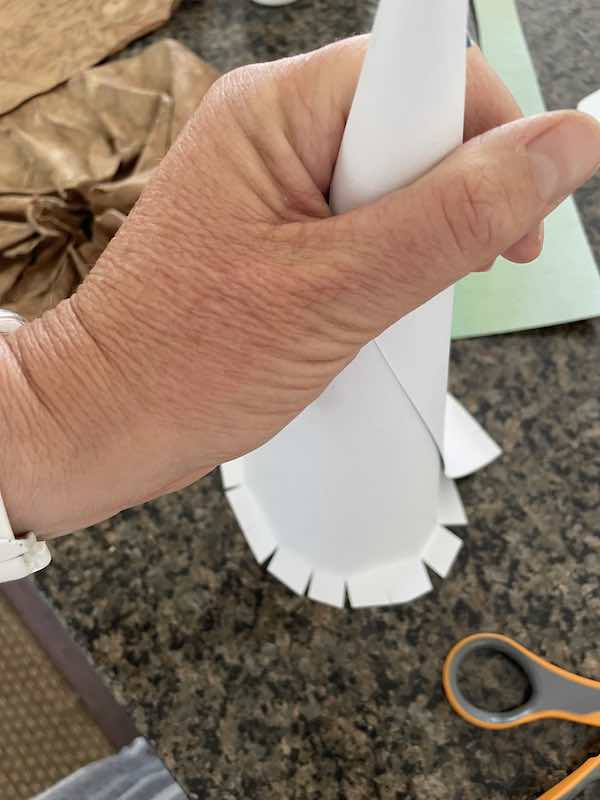 3. Now here is where the paper mache memories come into play. With the second piece of wet paper bag, rip a piece and lay it on the cone shape. Brush with Mod Podge to attach it. Add more pieces until it is covered.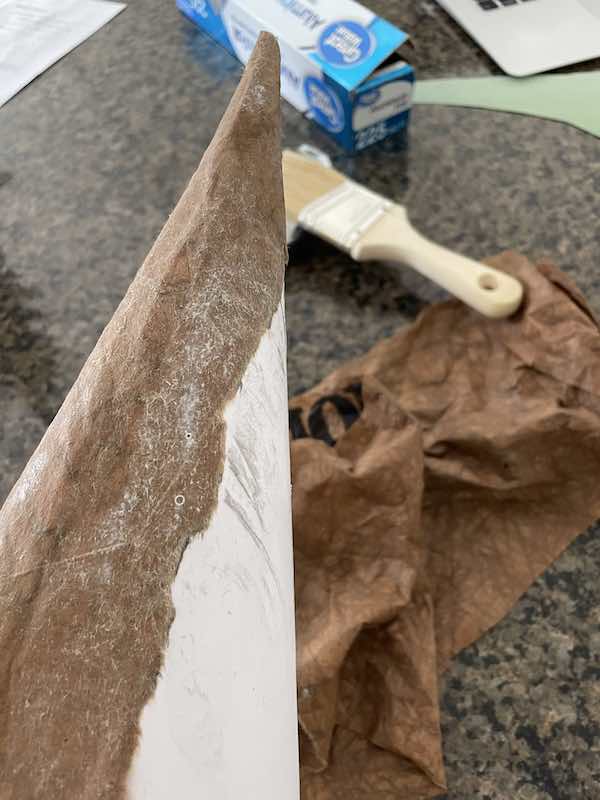 For the bottom edge I cut small pieces and attached with Mod Podge.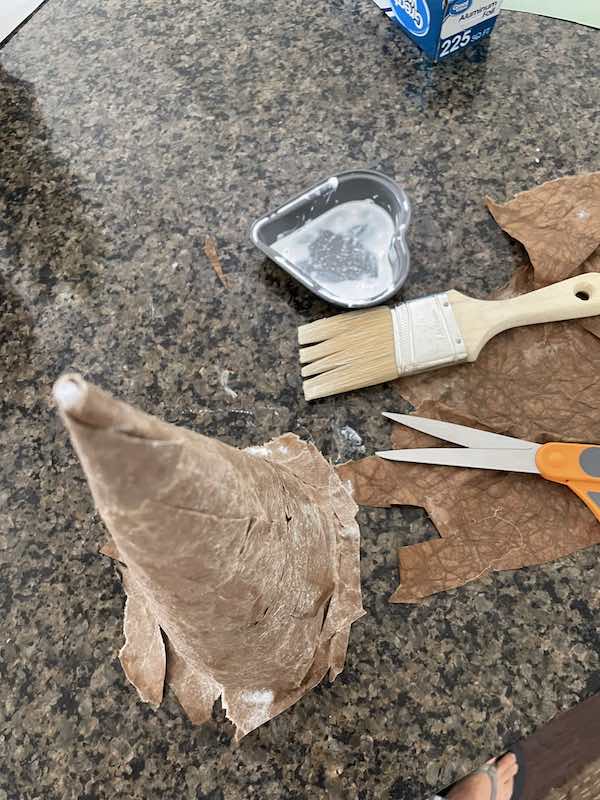 Wrinkles and unevenness just add to the look of the old witch hat. No perfection needed!
4. Place on some aluminum foil and leave outside to dry.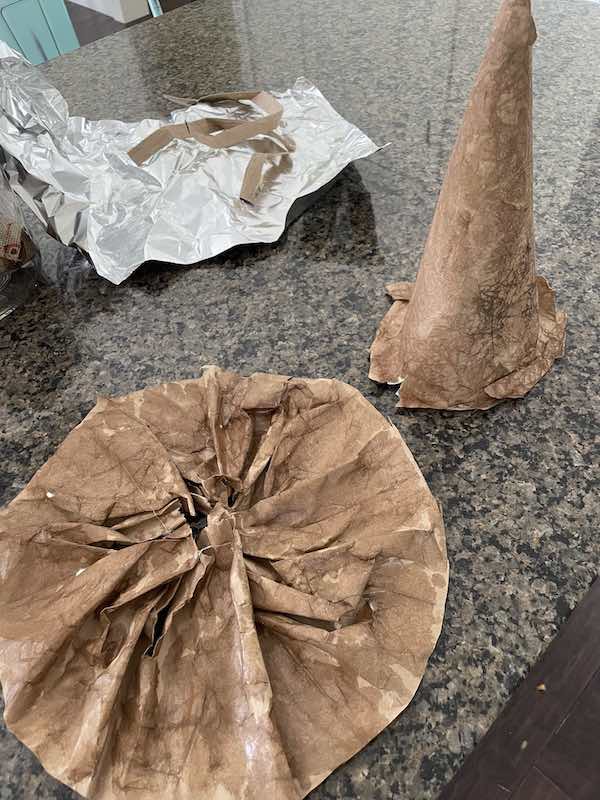 Attaching base and cone
Now that your pieces are dry it is time to attach the pieces together. Place the cone top on the base and play with it a bit to see what area you would like for the front of the witch hat.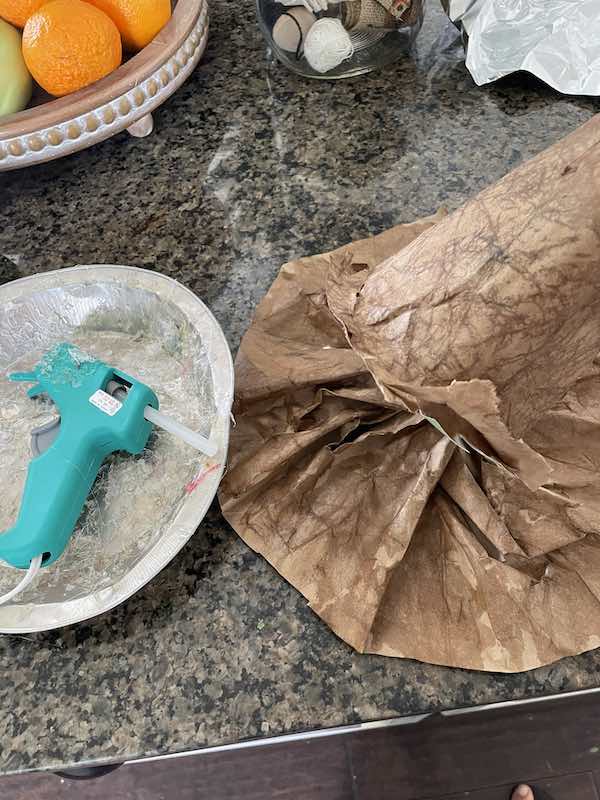 2. Hot glue it all around so that it becomes very sturdy.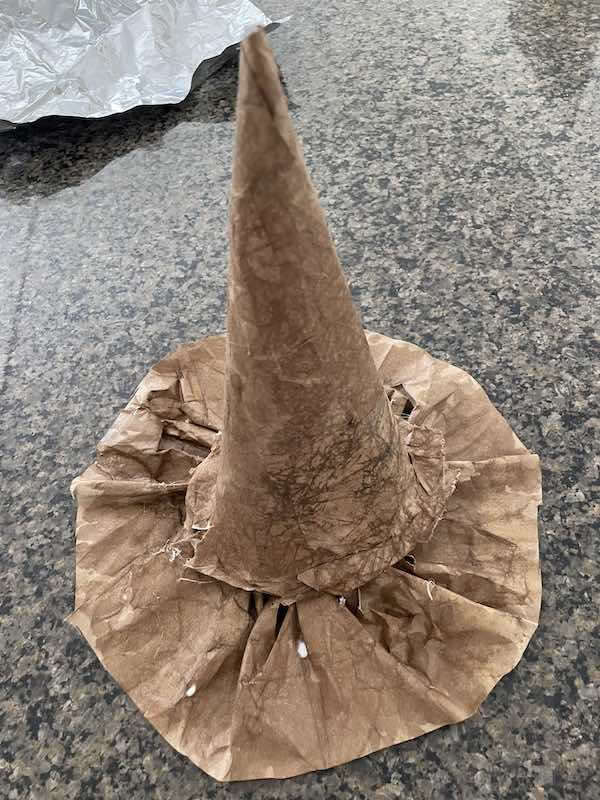 You now have yourself a super cute witch hat made from a paper sack! You could paint it black or whatever color you want but I liked the natural brown color.
Accessories for the paper bag witch hat
I added a creamy ripped piece of fabric to the base and to cover up where it is glued together.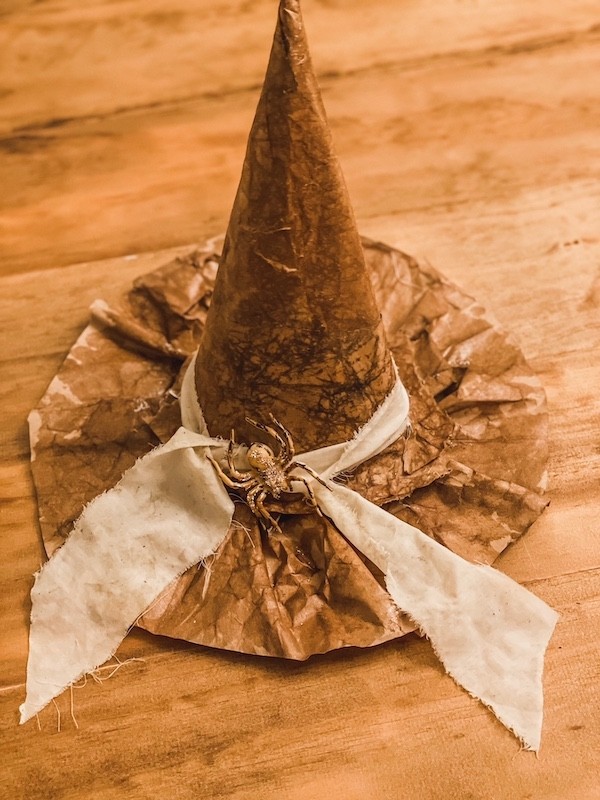 For a fun creepy look I took a plastic spider, added some black details with a permanent marker. Then to make the spider sparkle I used Mod Podge to add glitter all over the spider.
I would love to know what you think about this Easy Witch hat decoration. Leave me a comment below.
Wouldn't this paper maché witch hat look amazing on a Halloween tablescape using browns and creams?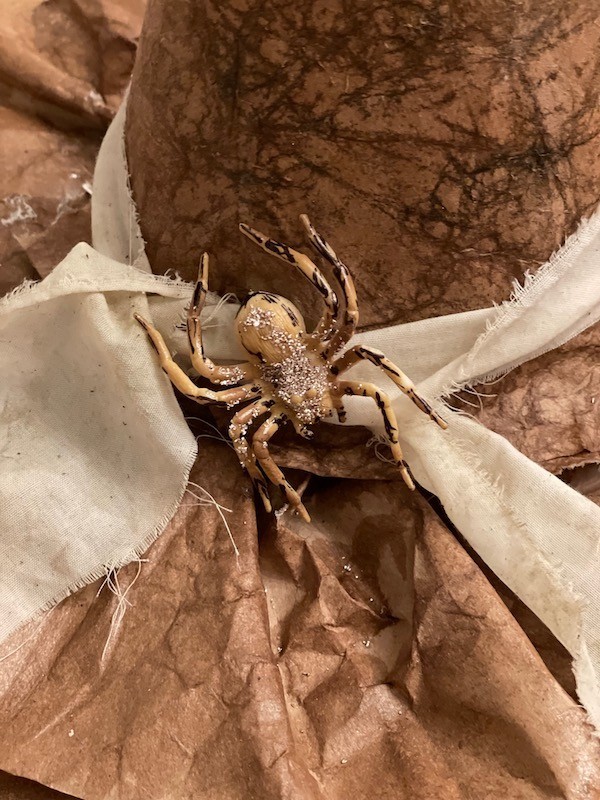 Pin to your Halloween Pinterest Board
A witch hat makeover
A few years ago my daughter and I did a makeover on an ugly black witch hat with green hair. It was matted and just a mess from sitting in my dress up box for awhile.
So we simple did a fun makeover and this is what it looks like now. Click here to see the tutorial.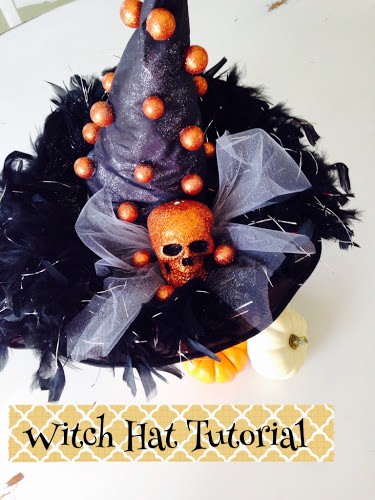 More witchy ideas
Apparently I have a thing for witch hats…(hehehehe witch cackle)
Witch hats hanging on the porch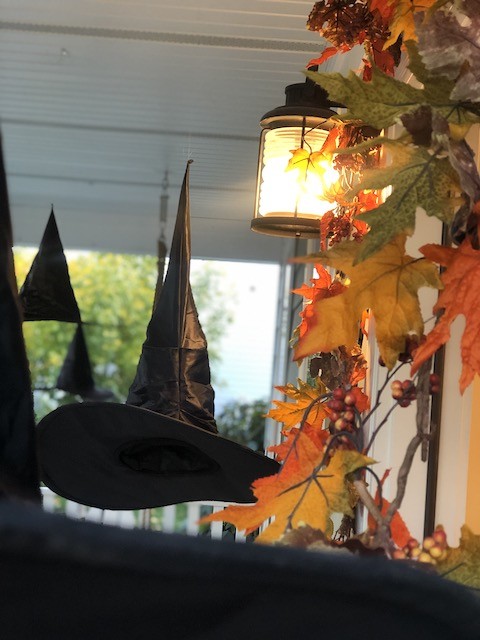 Family fun Witchy tablescape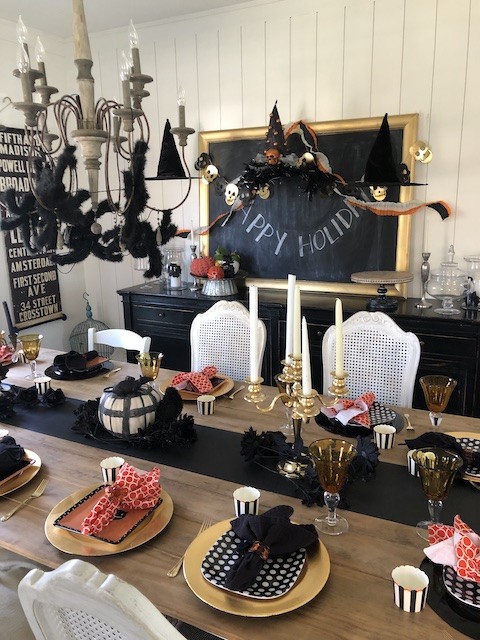 Witchy tablescape fun in black, lime green and purple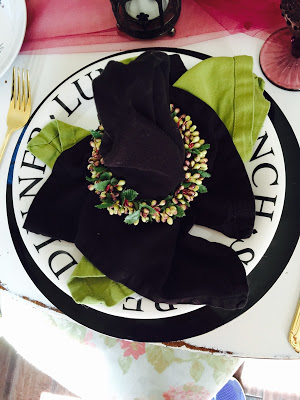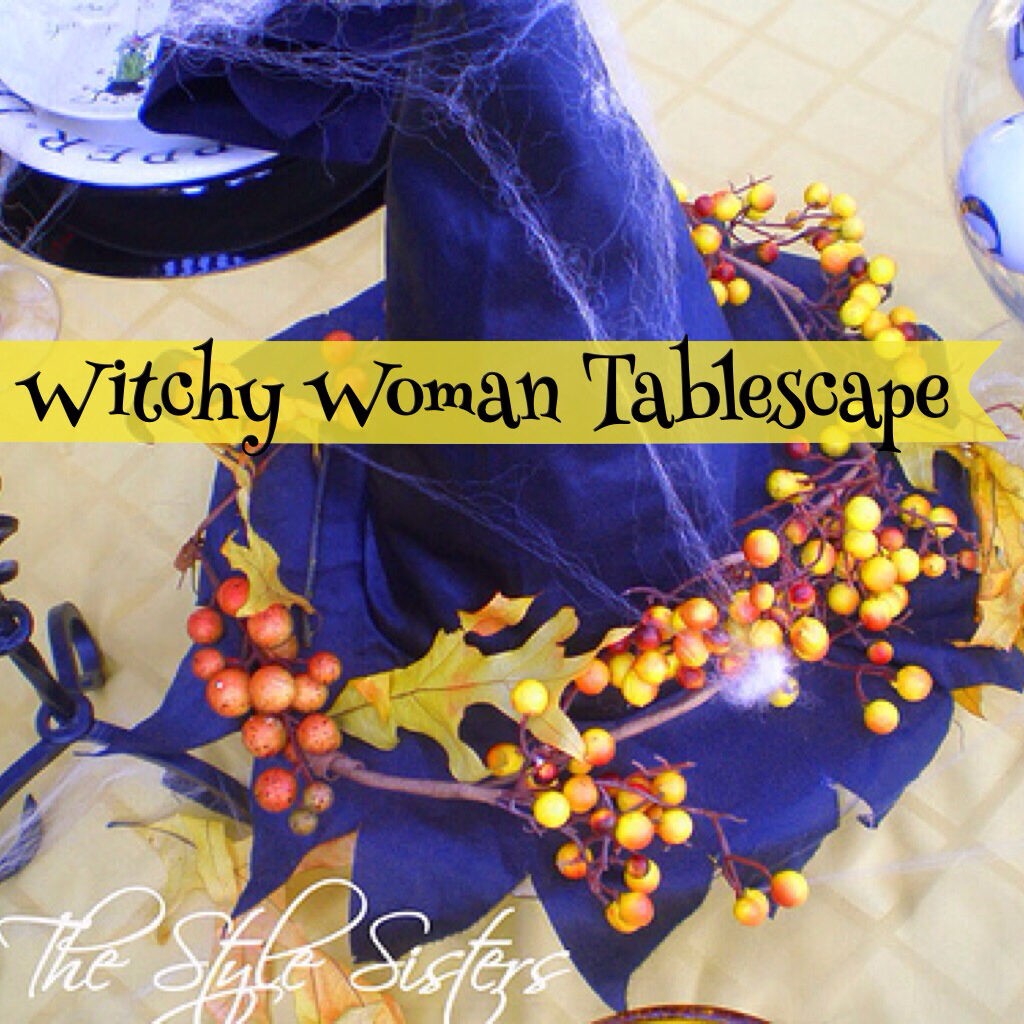 Shop Halloween