Last year our peach tree produced hundreds of peaches and we froze most of them. Yesterday I made the best easy peach crisp with frozen peaches and pecans that you will love! Actually, I did put the frozen peaches in the fridge to defrost for a few hours until I was ready to use them. This peach crisp is so easy because there are only 9 simple ingredients it comes together so fast!
Peaches are some of my absolute favorite fruits! When I was a young girl I was allergic to most fruit.
I know!
It was horrible. I would break out in hives on my lips and and chin. After I had my first baby my allergies went away. So now I am making up for lost time haha!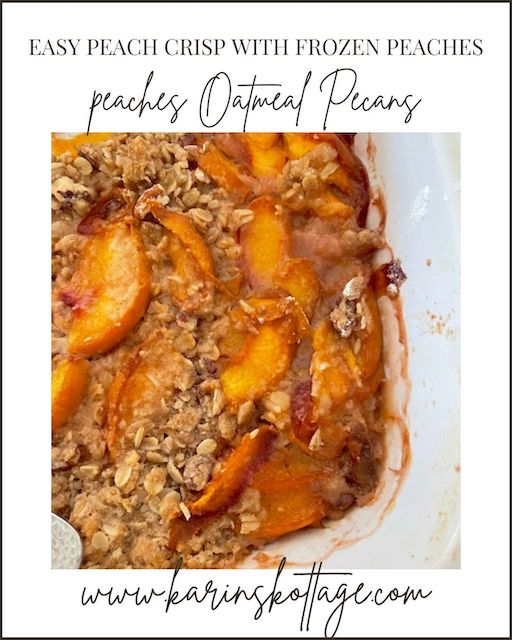 Ingredients for easy peach crisp with frozen peaches
Don't you love recipes that have simple ingredients? Good so do I! I don't want to have to run to the grocery store to find some obscure ingredient. I want to make recipes with things I already have in my pantry, fridge or freezer.
Here is another one of my favorite easy peach recipes!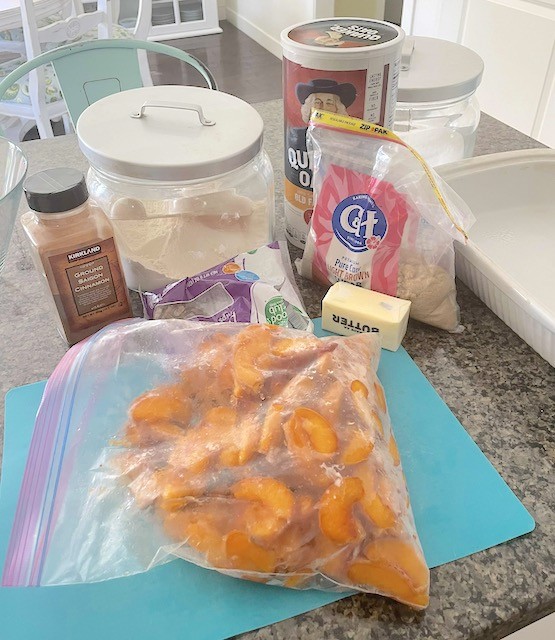 Here are the simple ingredients for the easy peach crisp with frozen peaches and pecans
3 1/4 to 4 cups of fresh or frozen peaches
3/4 cup of flour
1 tsp corn starch (helps with thickening the juices from the frozen peaches)
1/2 cup packed brown sugar
1 cube of cold butter
1/4 tsp salt
1 tsp cinnamon
1 Cup old fashion oatmeal
1/4 to 1/2 cup chopped pecans (optional)
Other items needed-
9×13 pan sprayed with Pam
Mixing bowl
Directions to make the easy Peach crisp with frozen peaches
To make cooking easier, it is always best to gather all your ingredients so that they are at your fingertips.
Place your frozen peaches In your 9×13 pan that is sprayed with a non stick spray,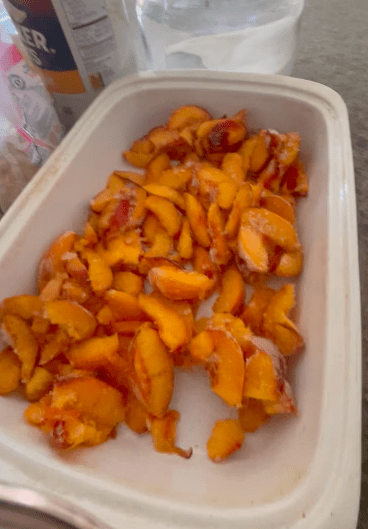 In a mixing bowl add your flour, brown sugar, cinnamon, corn starch, chopped pecans, salt and oats. Mix well.
Next add your cold butter.
Tip- To make mixing in the butter easier cut it into small pieces.
Using your fingers mix the butter into the dry ingredients until it is well combined and kind of lumpy.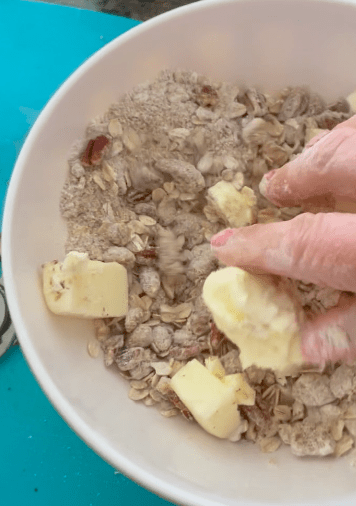 Pour the mixture over all the peaches.
Bake in 350 degree oven for 30 – 45 minutes or until golden
The frozen peaches will turn a dark color but it does not affect the flavor at all. I think you could probably add a squeeze of lemon to the peaches before freezing them to avoid the browning or simply add it to the frozen peaches when they are placed in the 9 x 13 pan.
If you like more flavor in your peach crisp you could add a little ginger and grated nutmeg.
Serving the easy peach crisp
There a few ways you can serve up the peach crisp but our family favorite is with vanilla ice cream. Tillamook old fashioned is a must for my hubby!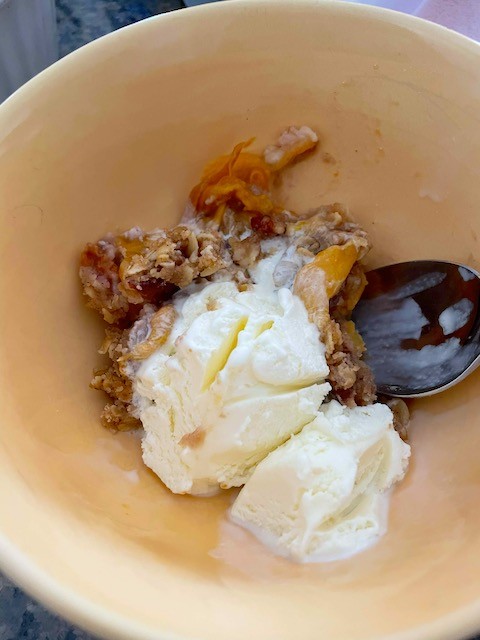 Fresh whipped cream is another way to serve the crisp.
A few swirls of caramel sauce over the top is another delicious addition.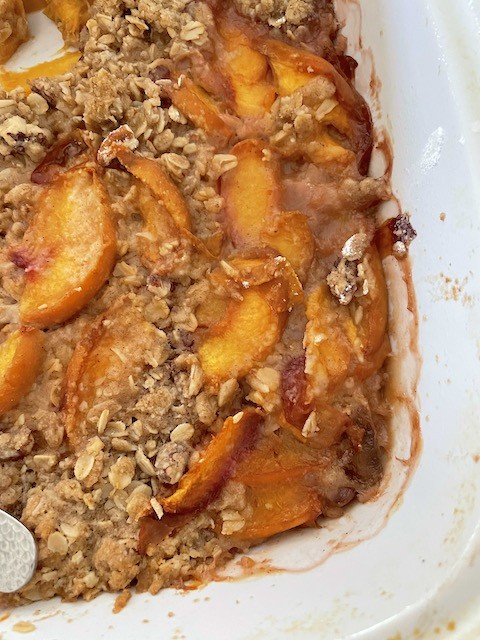 Toasted coconut and or almonds are another option.
Speaking of peaches have you seen my granddaughters darling One Sweet peach birthday party that we put together?
Can you use canned peaches?
Yes you can from what I have researched but I have never tried it. You need to drain the peaches and decrease the time to bake by about 10 minutes. Canned peaches cook faster.
Can you make this peach crisp vegan?
You can easily make this vegan by removing the butter and using ½ cup refined coconut oil or vegan butter, melted and cooled slightly.
More Karins Kottage Peach Recipes
Yummy No bake Cheese cake bites
Shop For Baking Supplies

Pin to your dessert Pinterest board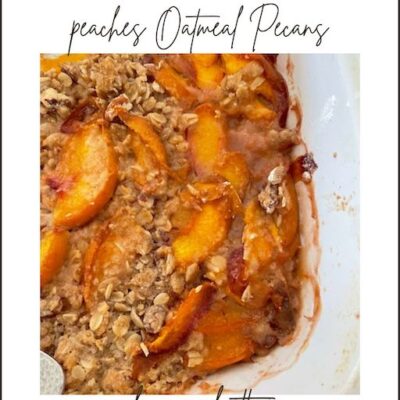 Easy Peach Crisp with frozen peaches and pecans
Crispy buttery toping over frozen peaches with flavorful toasted pecans. Easy recipe to make with things you already have in your fridge, freezer and pantry
Equipment
1 9X13 pan

sprayed with non stick spray

1 Mixing Bowl

teaspoons

measuring cups
Ingredients
3 1/2 – 4

cups

frozen peaches

3/4

cup

flour

1/2

cup

brown sugar

1/4-1/2

cup

chopped pecans

optional

1

tsp

Cornstarch

1/4

tsp

salt

1

tsp

cinnamon

1

cup

rolled oats

1

cube

cold butter
Instructions
Place your frozen peaches In your 9×13 pan that is sprayed with a non stick spray,

In a mixing bowl add your flour, brown sugar, cinnamon, corn starch, salt and oats. Mix well.

Next add your cold butter.

Tip- To make mixing in the butter easier cut it into small pieces.

Using your fingers mix the butter into the dry ingredients until it is well combined and kind of lumpy.

Pour the mixture over all the peaches.

Sprinkle the pan of peach crisp with chopped pecans.

Bake in 350 degree oven for 30 – 45 minutes or until golden

Serve with Vanilla Ice cream