Our youngest granddaughter, Georgia Mae Peach (Peach is her part of her nickname) celebrated her first birthday! The theme was one sweet peach birthday party.
My very talented daughter Emily put together a beautiful peach themed birthday for one sweet peach of a little girl!
You may remember the Honey bee sweet as honey 1st birthday she put together for Harper her oldest daughter. It was just as amazing as this peachy party.
Peach Party Decorations
To decorate three areas for the party Emily got creative.
Over the high chair where Georgia is sitting, Emily was able to re-use some of my pink and peach colored paper flowers.
Plus she was also able to use this amazing fluffy coffee filter garland my friend made for Emily's bridal shower a few years ago!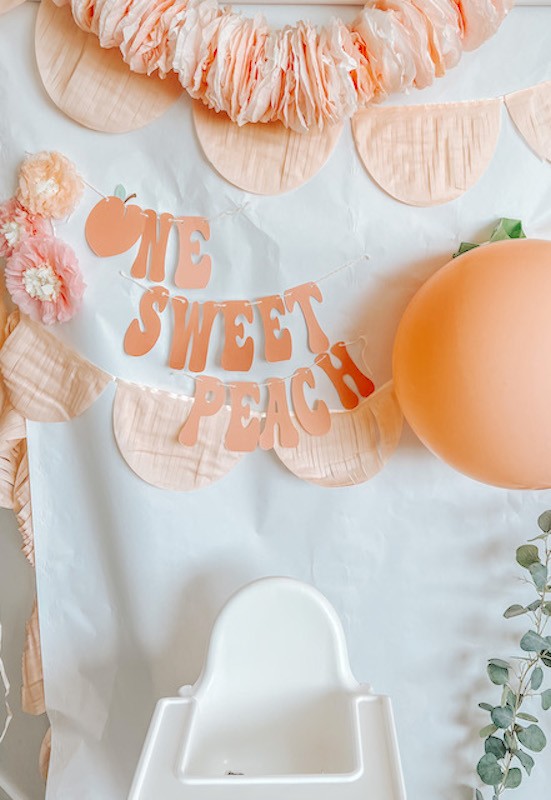 Don't you love it when you can re-use party decorations?
Another garland that she used were this peach tissue paper garland with scalloped edges.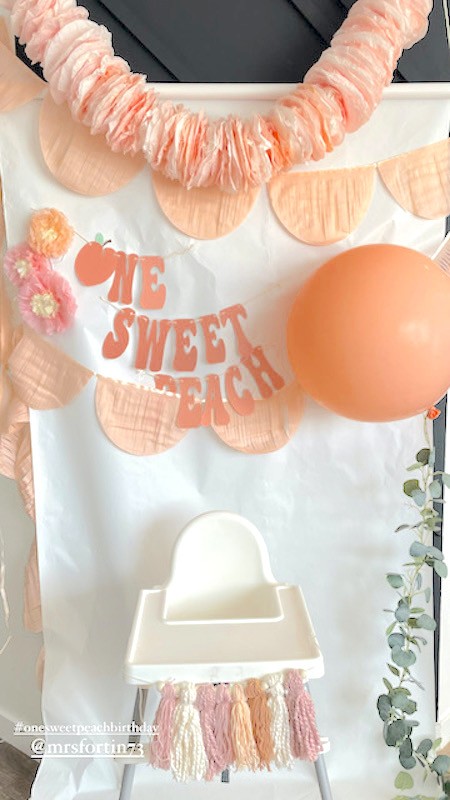 Emily found the big peach balloon on Amazon and attached a green garland to bring in some green color. The white background is a large roll of white paper that she rolled out and onto the floor.
It was perfect for taking birthday photos of Georgia smashing her cake! haha
Above the waffle dessert bar is where she hung the pink fringed Happy Birthday garland.
You might notice on the table that Emily's used her peach and pink vases that she upcycled to hold flowers. The directions on how to make them are here.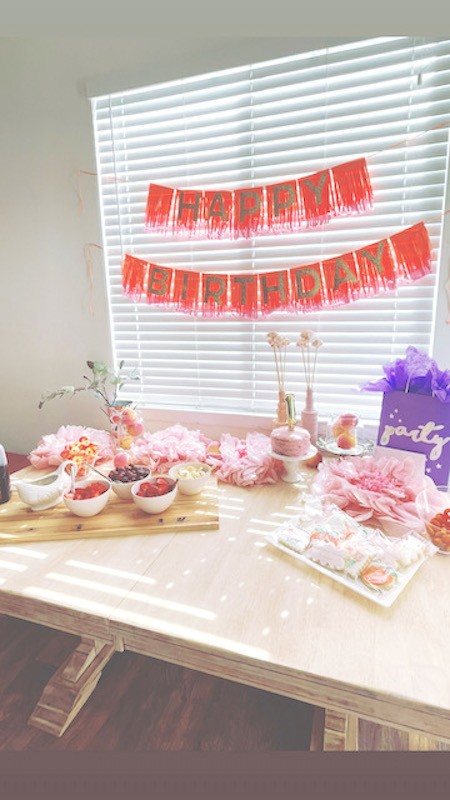 One Sweet Peach Cricut cut outs
For the One Sweet Peach cut out garland, Emily found the SVG files on Etsy and used her Cricut machine. Once they were cut she strung them on string.
Two holes per letter make it easy to thread and then hang.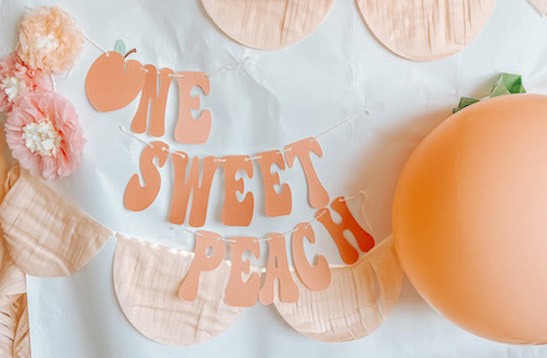 These darling Just peachy cupcake toppers also found were found on Etsy.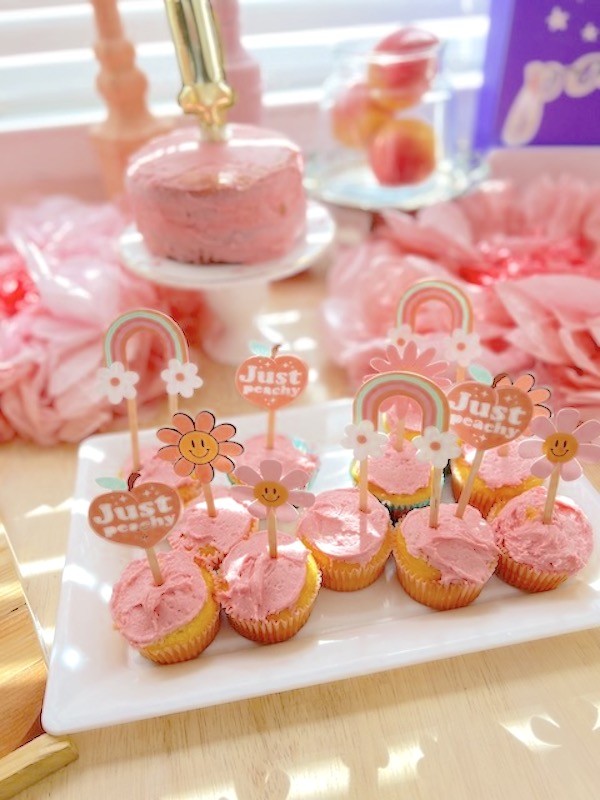 Emily printed them and then again used her Cricut machine to cut them out and glued them onto toothpicks.
I need to find out where she found the other little daisies and rainbow cupcake toppers.
High Chair Tassels
Are you dying over these yarn tassels hanging from the front of the high chair? They are so squishy and fluffy!
Emily made them the same way she made this wooden bead and tassel garland.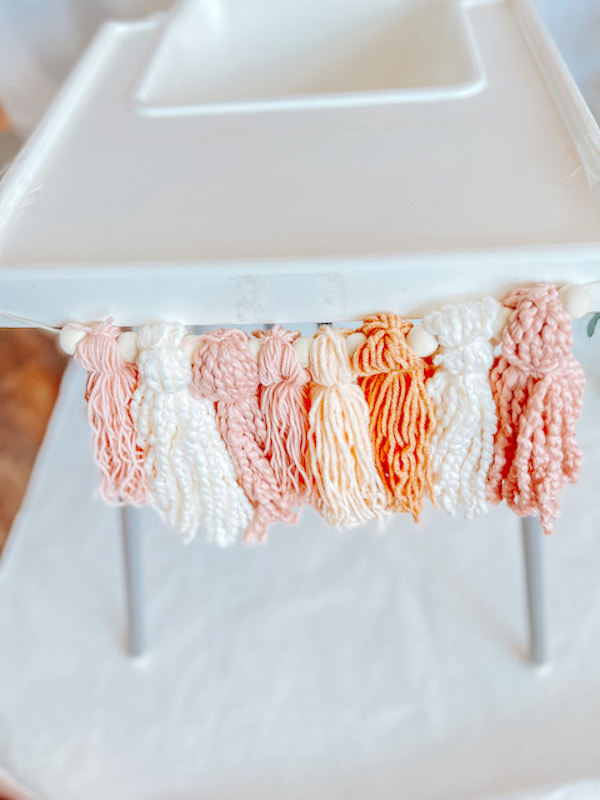 So much attention to details made for such a pretty as a peach party!
Peach Birthday Party Food
Delicious homemade waffles were made by Emily's father in law. They were the best I have ever had! Fruit, homemade syrup and whipped cream were the toppings.
Recipe will be coming!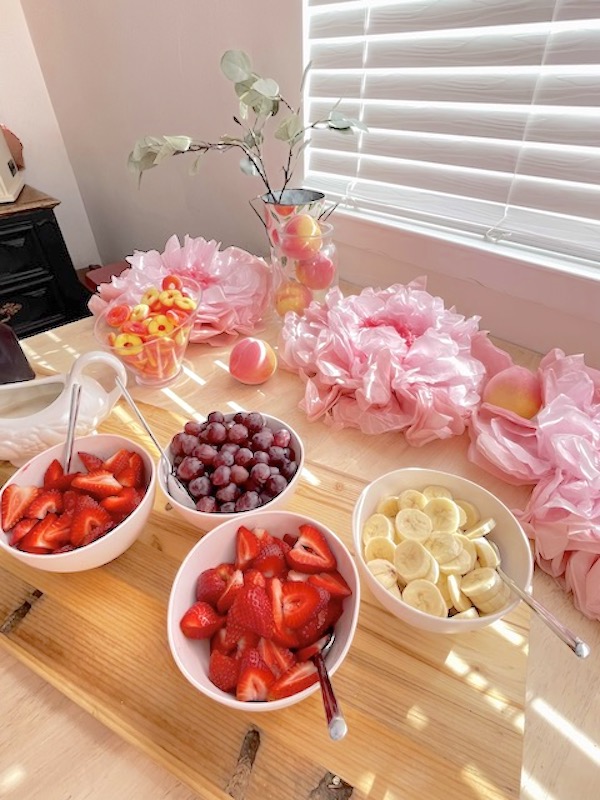 Emily ordered the cutest Georgia Mae Peach cookies from a local gal.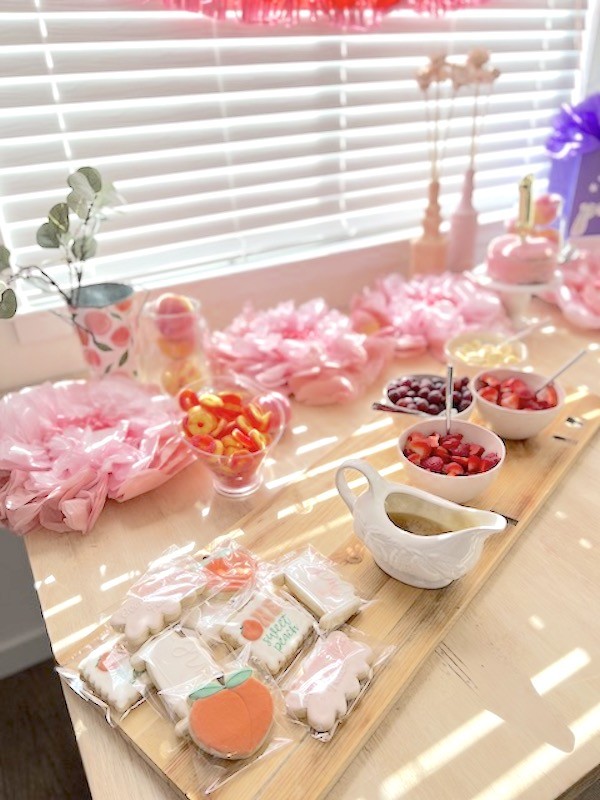 Just look at the details on these cookies!
Perfection!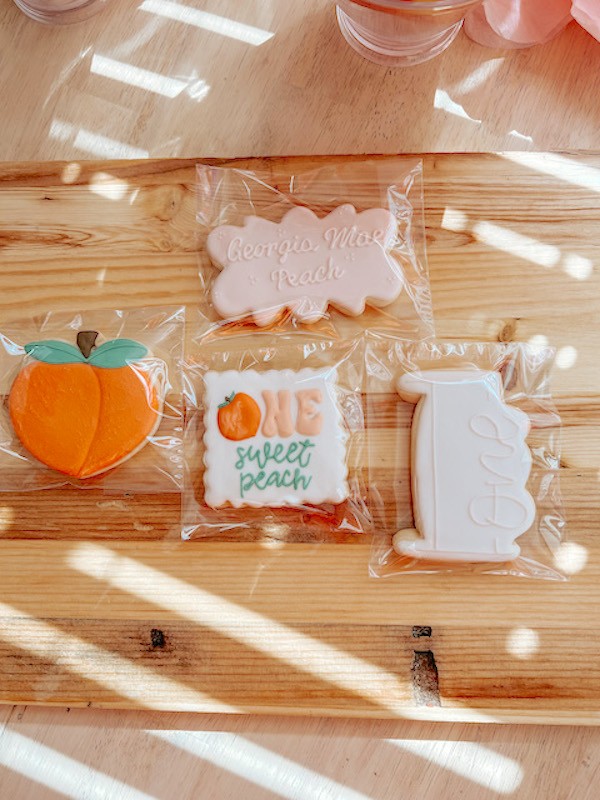 Highlighting the Birthday girl
Photos of Georgia are highlighted on this wall.
Most of the paper flowers were attached to the chalkboard. Along with a large inflated number #1.
Emily had made sure to take a photo of her each month.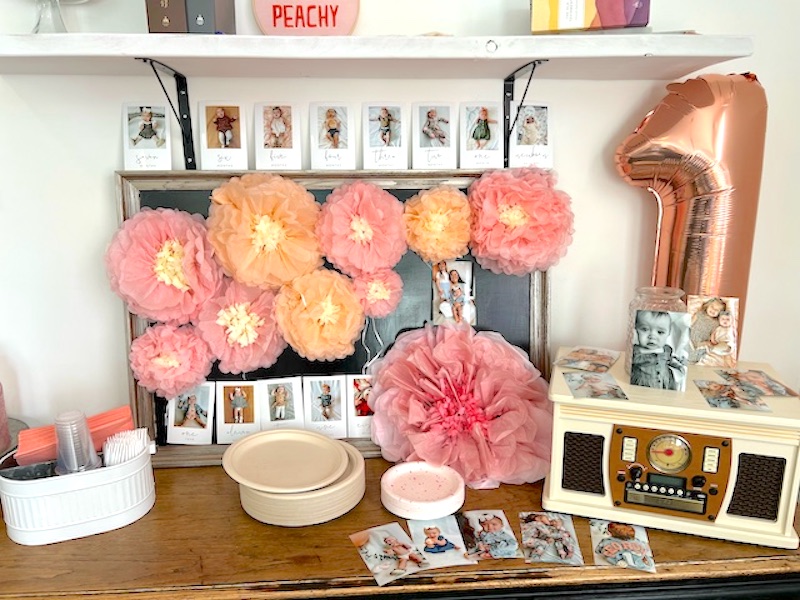 On Etsy she found this adorable way of printing the photos with each month printed on them.
You could use them to make a banner but she ran out of time. We just lined up all the photos around the chalkboard.
It really looked peachy keen 😉
More paper flowers, a few cake stands with faux peaches for decoration.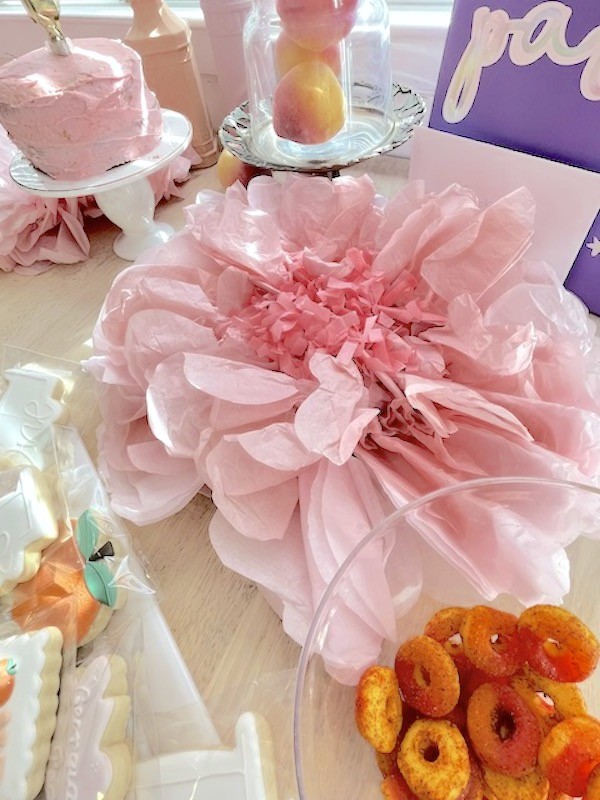 A simple little round cake for Georgia Mae Peach to smash. Although she didn't really smash it, she just nibbled on it.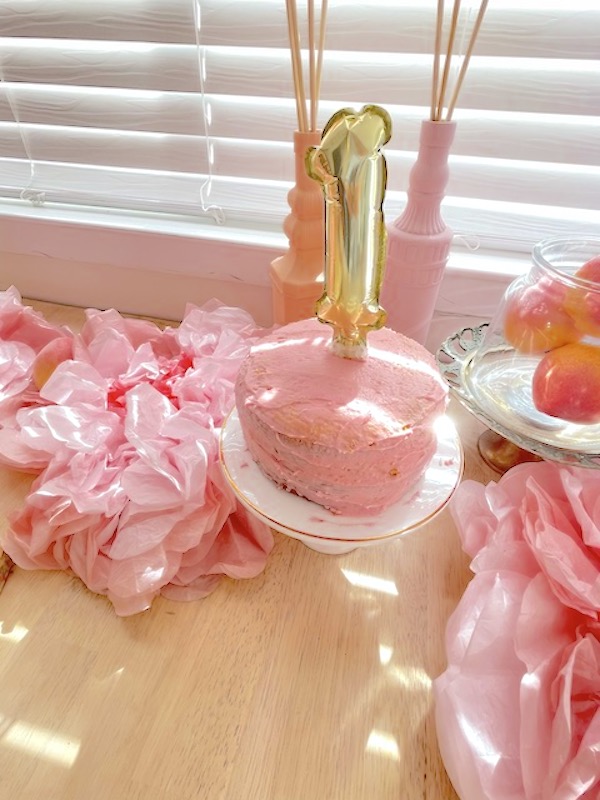 Ohhh this little sweet little peach enjoyed her One Sweet Peach birthday party as much as we all did!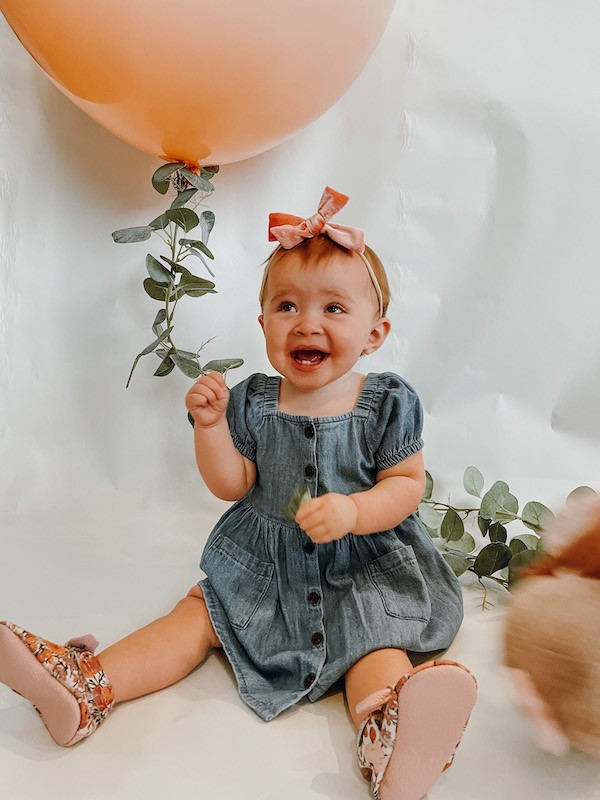 Shop for Party Items
Here is a link to some adorable peach birthday party invitations.
These are affiliated links I make a small commission if you purchase something at no extra cost to you. Here are some fun Sweet as a peach items you can purchase.
This really helps me to be able to continue to keep this blog going 🙂

More Parties
I am organizing all my party posts! Everything from birthday parties, to baby showers and everything in between. Take a look at my party ideas.