What started as an idea for a tea party with my grandkids turned into a kind of Moana Surf party in the backyard with a DIY Tiki Bar! I had more fun than they did 🙂 My sweet hubby and I created the DIY Tiki Bar using PVC Pipes. I have done a few "Disney themed parties in the past you might like to check out. My daughter actually put this Frozen Birthday Party together and it was awesome! Or how about a Beauty and the Beast Girls Camp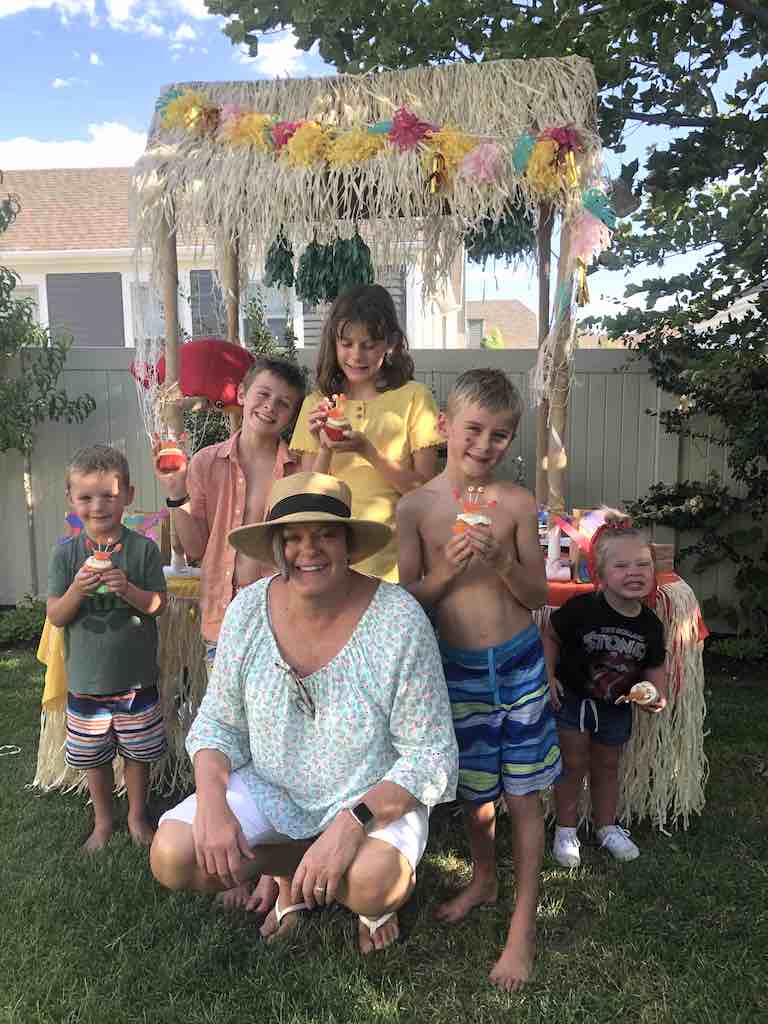 DIY Tiki Bar Items Needed
I found the directions of how to make this PVC Tiki bar from TIP Junkie. We bought all our items at Lowe's. We could've had them cut the pieces for us but we had a pipe cutter and that made the job so easy! If you don't have a pipe cutter you could use a small hack saw too.
4- 10 foot 1″ thick PVC pipes cut into the following sizes
3 @ 41″ long
2 @ 24″ long
4 @ 22″ long
8 @ 18″ long
8 T shaped connectors
4 slip elbow connectors
2 side outlet elbow connectors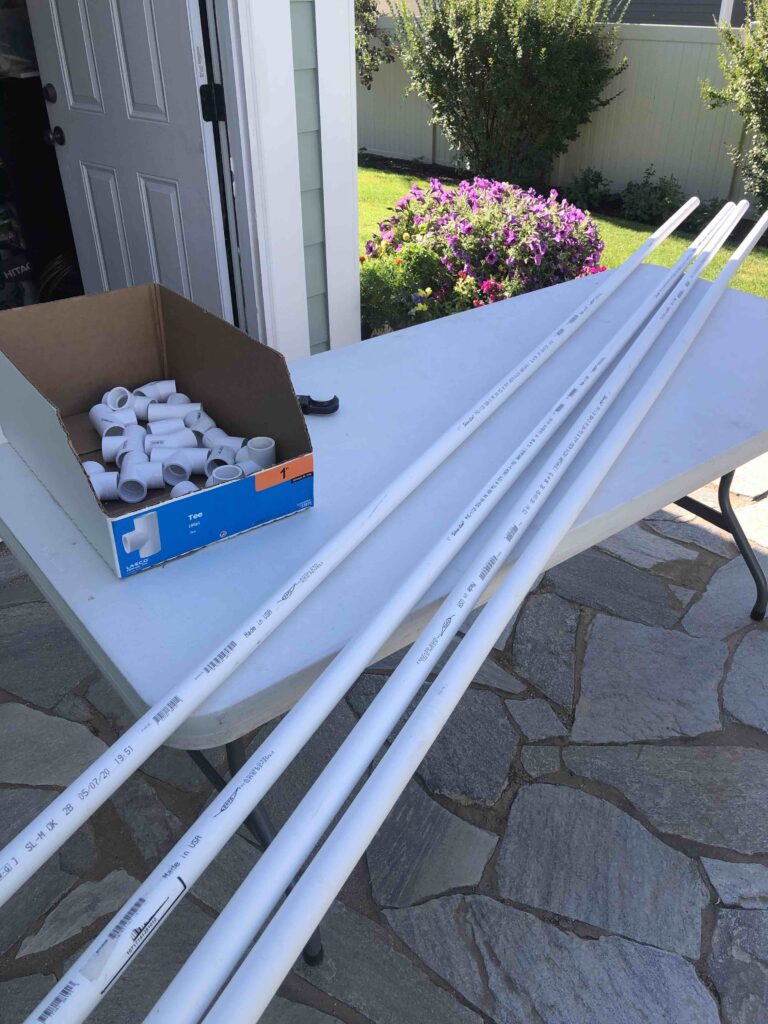 PVC Pipe Cutter
Pretty easy to cut the pipes with the pipe cutter. You squeeze and turn the blade and it slices it right in half. We did notice that a few of the pipes were a little thicker and took a little bit more effort to cut through
Building the DIY Tiki Bar
Start by building one side first. This diagram from Tip Junkie was perfect in helping us put ours together.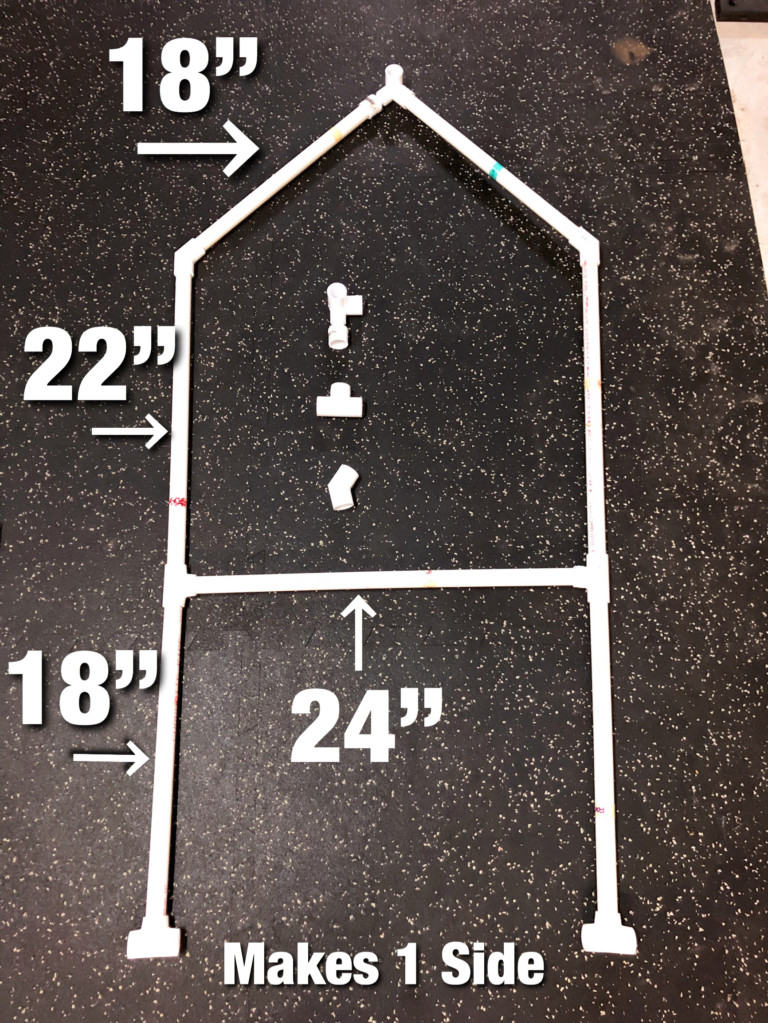 When you have both sides completed, connect them with one 41″ long piece. Add the other two 41″ long pieces at the bottom and it is complete.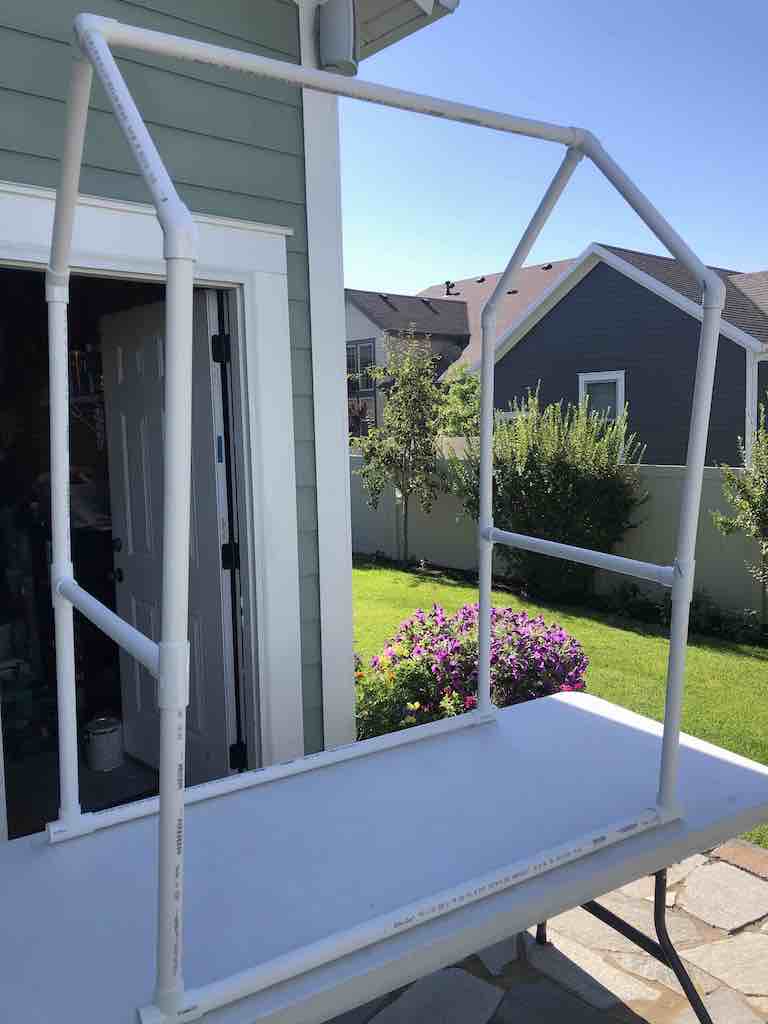 Tiki Bar Roof
To create the roof line you will need to add some support. As per Tip Junkie's tutorial, we attached left over cardboard box pieces to the top of PVC. We taped them to the top bar using packing tape. I liked how the bottom of the cardboard box pieces were bent up a little bit. This helped give the grass skirts more of a lift on the front of the Tiki Bar.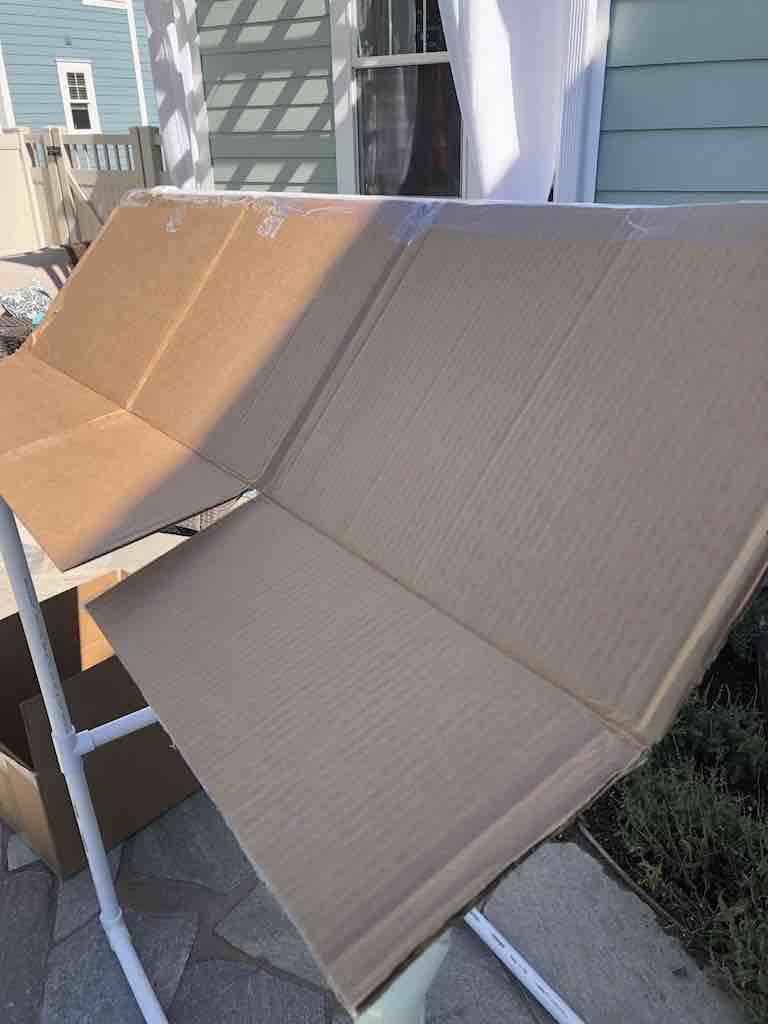 This is how it looks underneath all taped up. Tape across the entire top and up and over the top of the Tiki bar every 8-12 inches. For the back side of the roof I added another strip of cardboard. I overlapped it on the top of the other one and taped it down.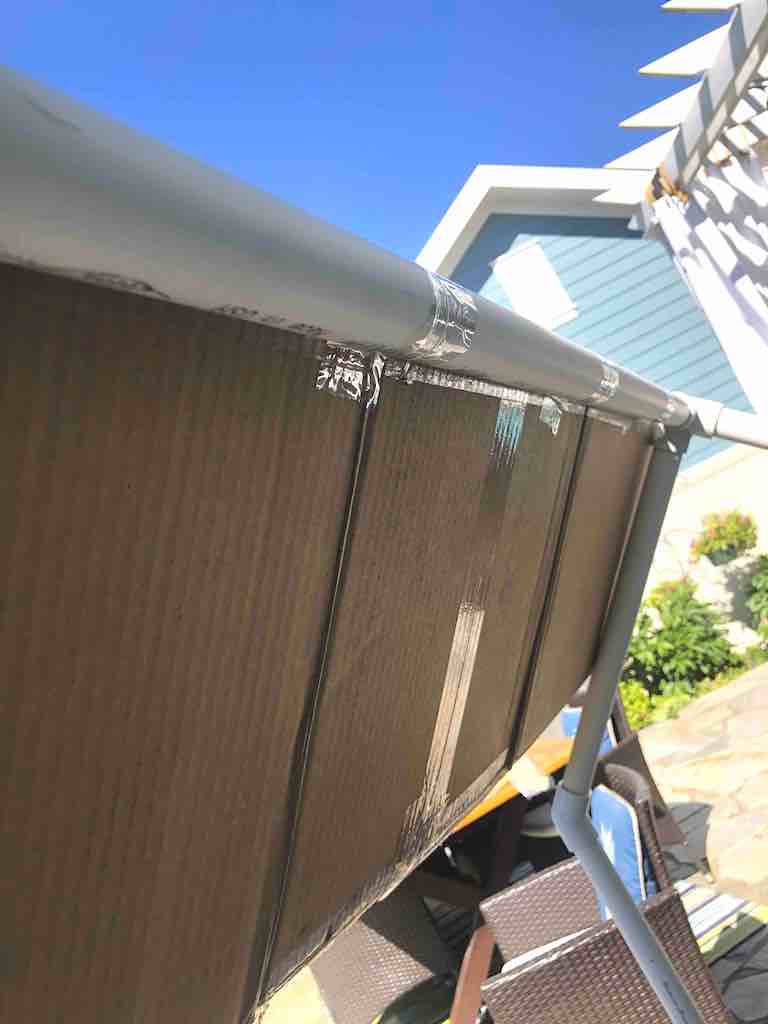 Attaching Grass skirts to Tiki Bar
I used 5 adult sized Dollar store grass skirts and taped them to the top of the roof. For the front I used 2 grass skirts going across to cover the cardboard. Using one more grass skirt I placed it over the center of the two to give it more fullness. For the back I used two and called it good. No one saw how see through it was back there. Tip Junkie used child sized skirts and layered them one over the other. Either way works and looks great.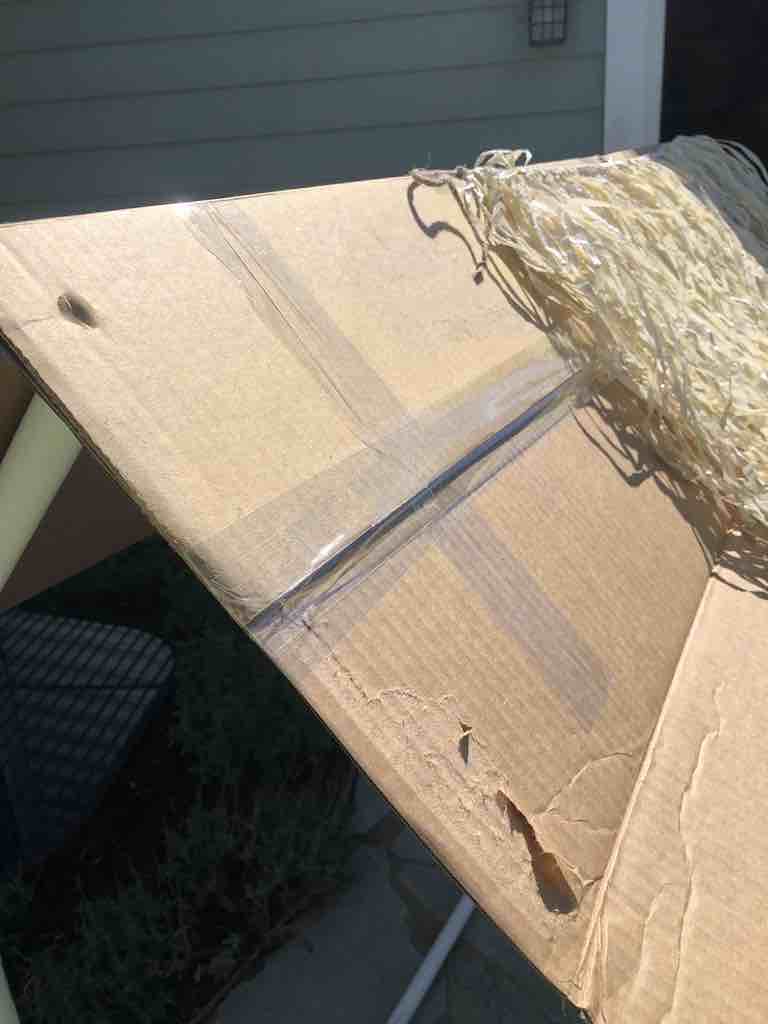 The grass skirts looked full and they were secure using clear packing tape all across the top. I did add a little bit of hot glue to a few of the areas where the tape wasn't sticking perfectly.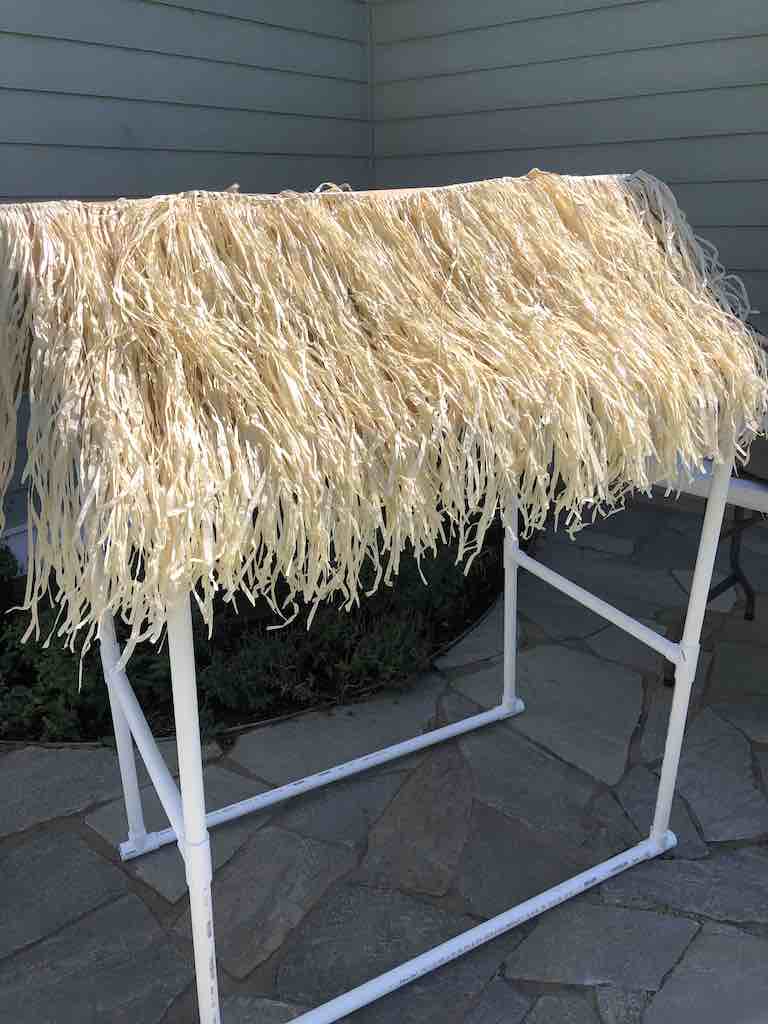 Covering up PVC Pipes
Tip Junkie suggested using foam pool noodles to cover up the PVC pipes. I had a few pool noodles and tried it. I didn't have enough to cover everything. They were super easy to slice open and pop them on over the pipes.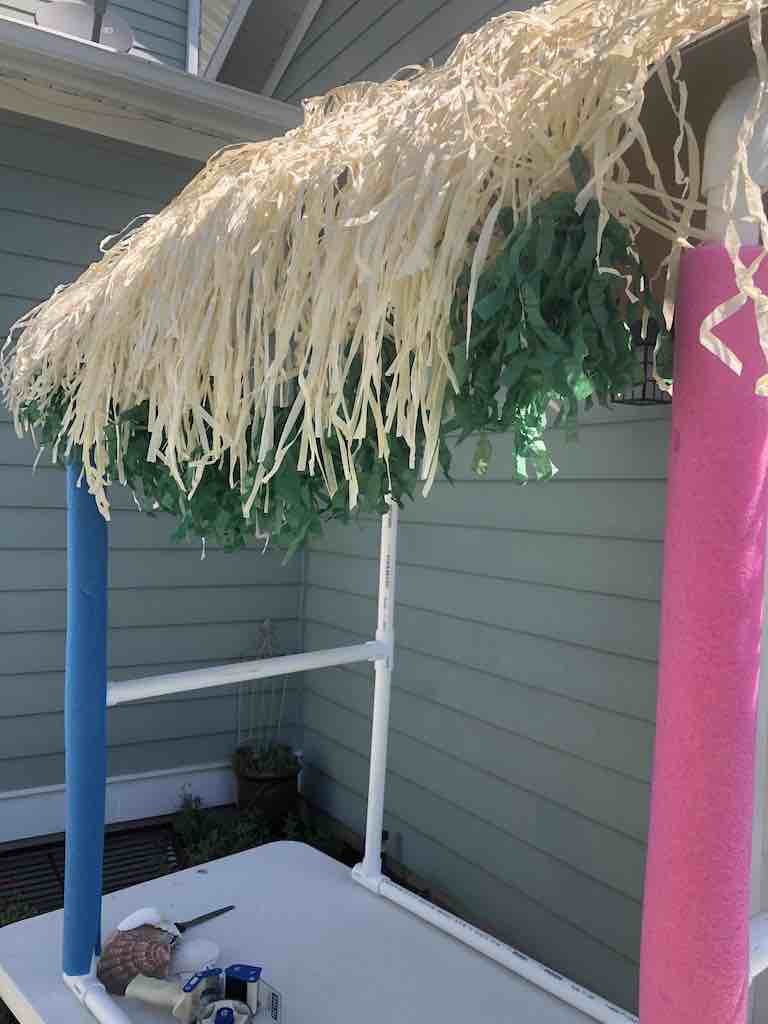 I wanted a warm textured look so I grabbed some pieces of burlap and cut 4″ long strips. I wrapped all the legs of the Tiki bar and tied them on with rope!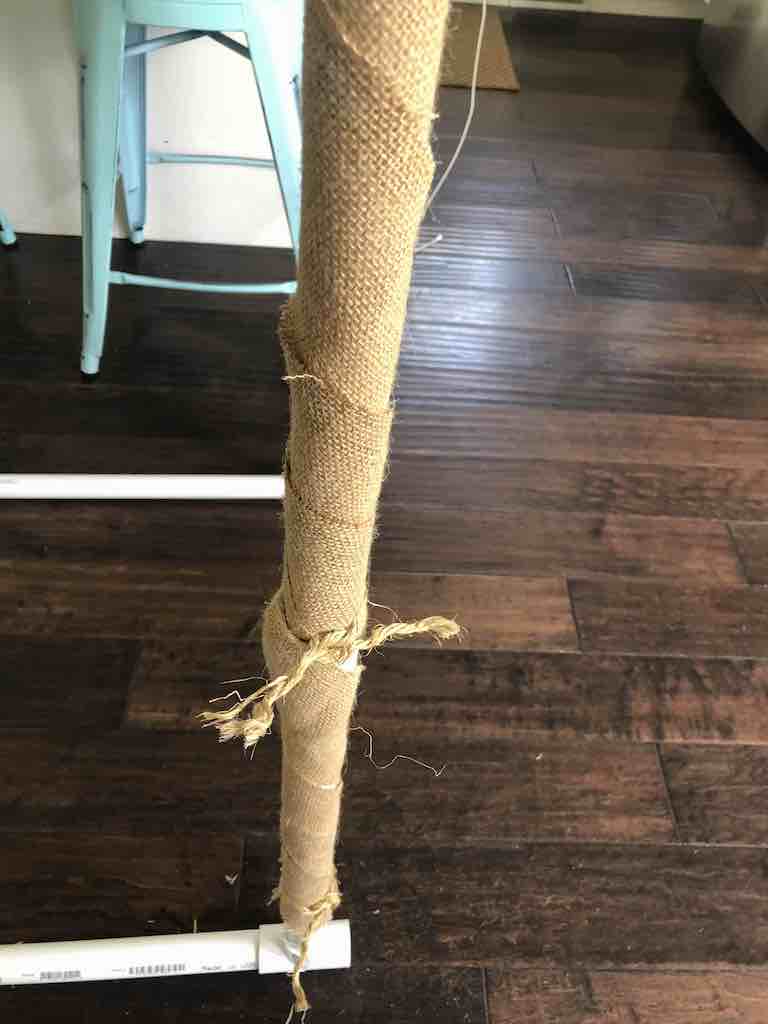 Tip on using rope- The rope was too thick to tie into a small knot. By unwinding it and got 4 separate pieces that worked perfectly!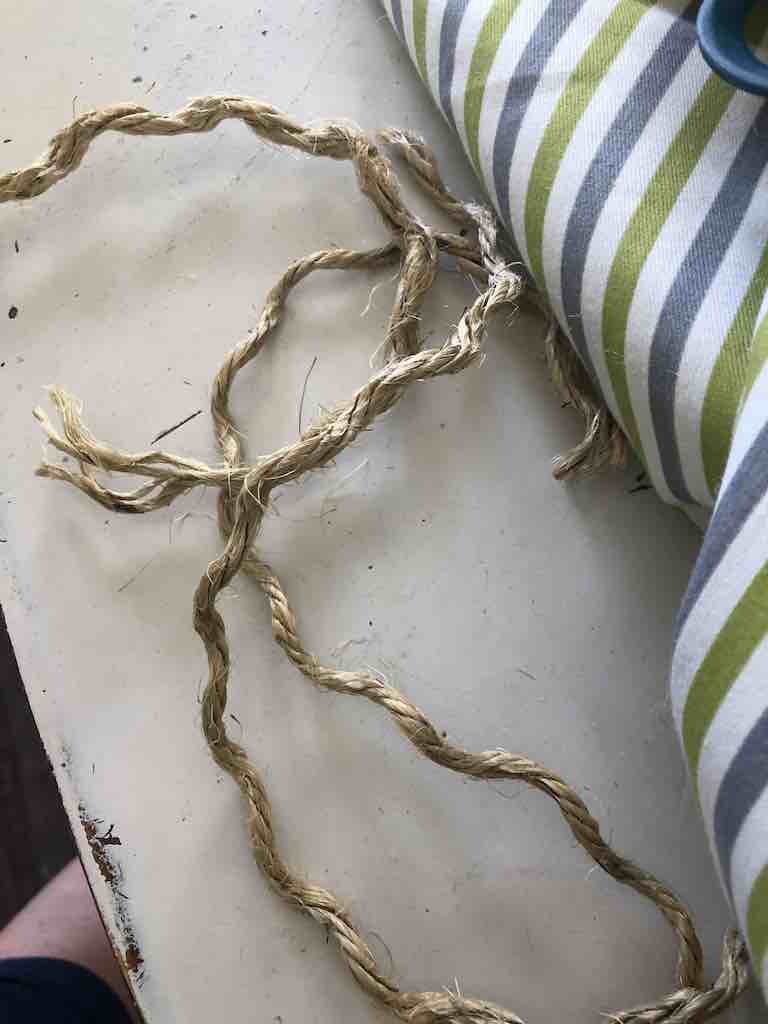 Adding paper garlands
To bring in some color I added some fun paper tissue garlands. I attached a green garland underneath with packing tape. The two other colorful paper garlands I strewn across at an angle on the roof, it looks so cute. No need to wrap the two bottom legs because I knew I would cover them up with fabric.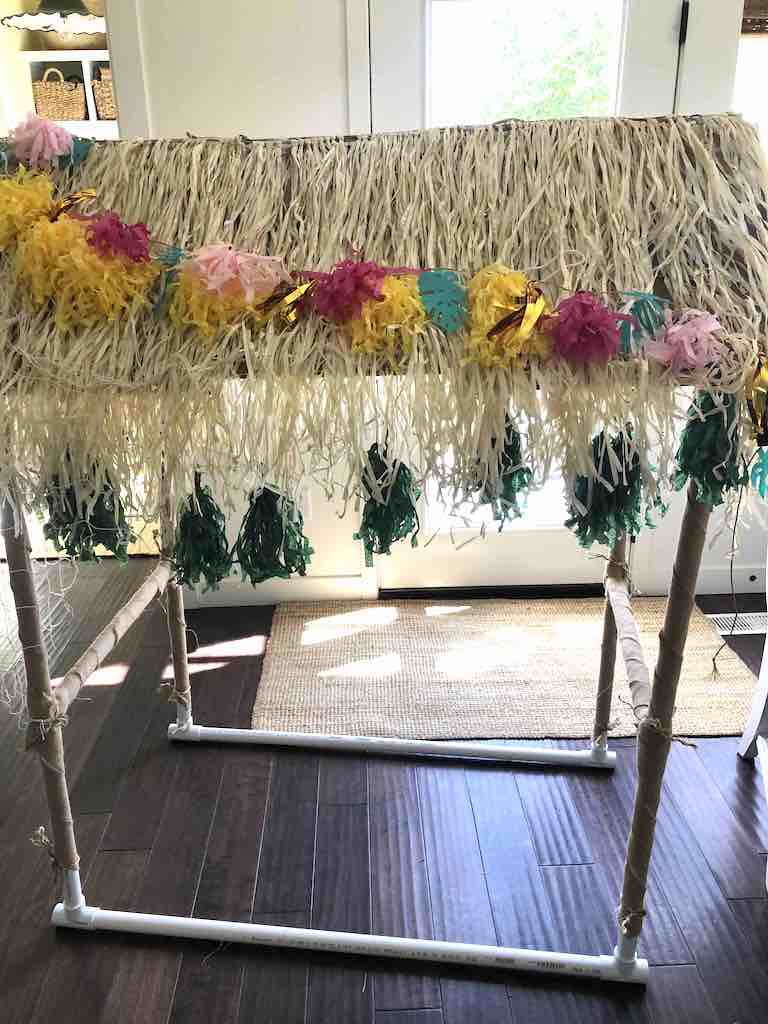 Bought 2, dollar store "fishing" nets and hung them on either side of the Tiki Bar, added a cute red crab floaty, a real pineapple, 2 real coconuts, seashells and other fun Beachy surf type decor. To cover the folding table I just used orange and yellow fabric scraps underneath the Tiki bar. A bright floral piece of fabric draped over the top of the Tiki Bar to cover the two large Tiki Bar PVC pipes. For the table skirt I used 3 more adult sized dollar store grass skirts and safety pinned them to the fabric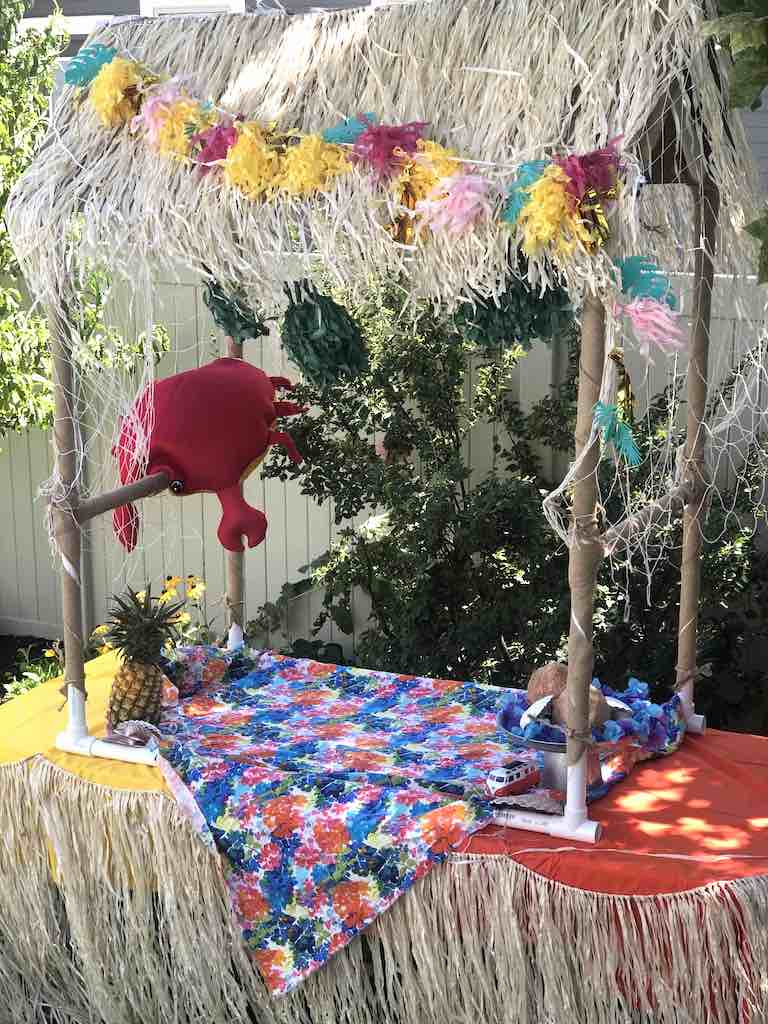 To complete the Surf party theme, I cut out two surfboard shapes from the leftover cardboard pieces and spray painted them white and turquoise and added stripes with permanent markers.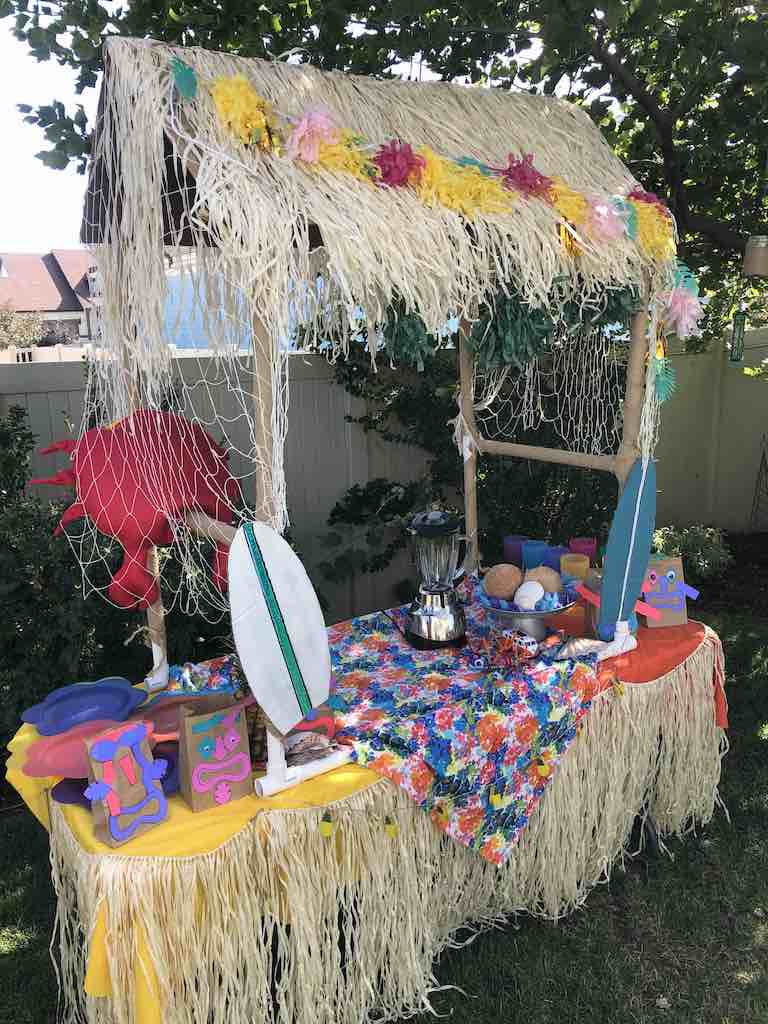 More Details to come
I will be posting more details about the paper bag Tiki guys (printable coming) and glitter shell crab guys the kids made (Like the guy from Moana…"Shiny"). We played some really fun water games including a frozen Ice picking game that I will be sharing and I made some adorable Crabby cupcakes. I will share all these details later this week.
Pin For Later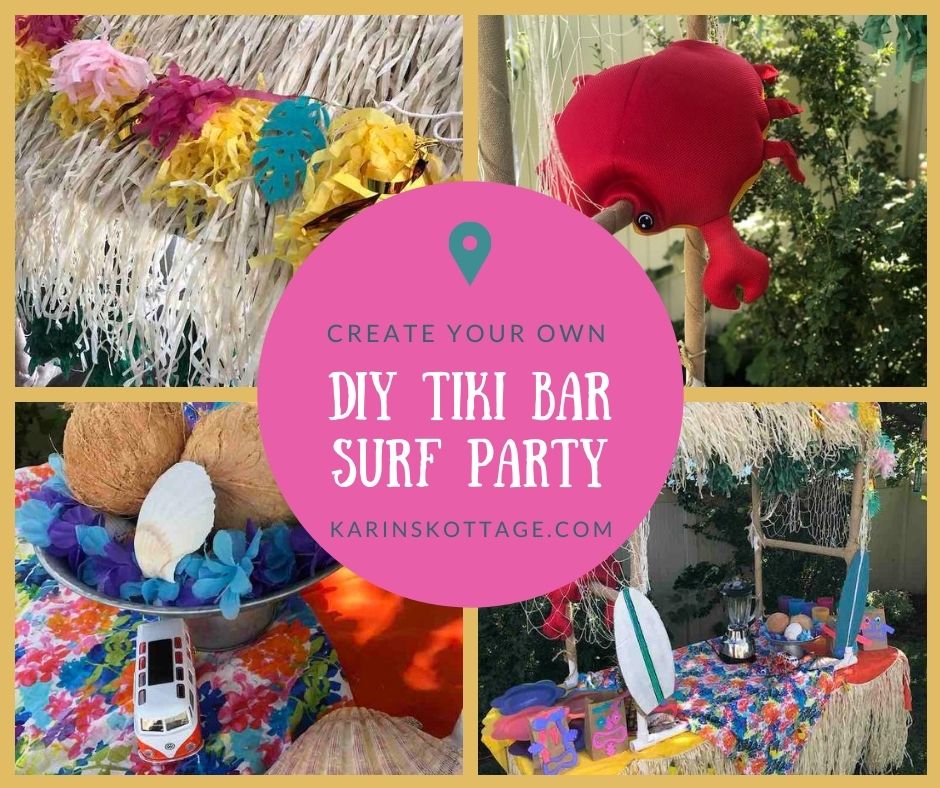 Shop This Post