This is such a perfect dessert for any spring or summer holiday but really great for a patriotic holiday. I love a layered lemon cake with whipped cream and fruit for dessert that looks like you spend a lot of time on it but in reality it doesn't take much time at all to make. The whipped cream and fruit do all the work for your presentation.
Recipe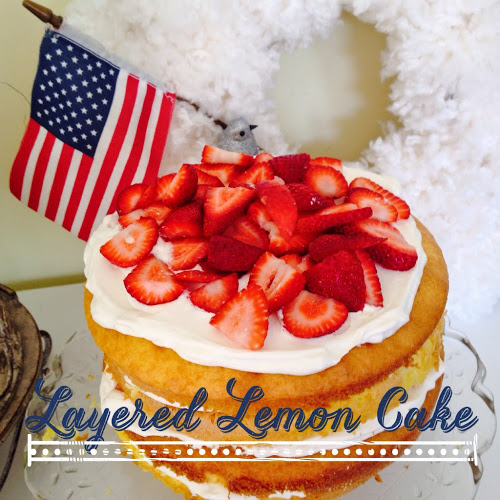 Layered Lemon cake with Whipped cream and fruit
Yummy moist and delicious layered cake made with a box mix but boosting it up a bit
Ingredients
1

box

Lemon Cake Mix

4

Eggs

1

Box

Lemon Pudding

1/2

C

oil

1/2

C

Water

3/4

C

Sour Cream

1

carton

Whipping Cream

1/4

C

Sugar

1

tsp

Vanilla

1

basket

strawberries or other fruit of your liking
Instructions
Into mixing bowl add Lemon cake mix, lemon pudding, Eggs, Sour Cream, Oil, Water. Mix on medium speed for about 2 minutes until everything is combined.

Prepare two 8" round baking pans by spraying with baking Pam spray.

Pour half of batter into a prepared 8' round baking pan and the other half into another 8" round baking pan.

Bake in preheated 350 degree oven for 30 minutes or until toothpick inserted comes out clean.

Let cool about 10 minutes, Flip cakes onto a cooling rack, finish cooling for another 20 min.

Whip the cream by adding cream to mixing bowl. Add in sugar and vanilla. Beat until light and fluffy.

Cut each layer in half so that you have four layers. Place one layer on plate, frost with whipped cream. Sprinkle with some fruit and repeat until last layer. Frost the top of the cake with more whipped cream and place strawberries or other fruit on top.
Just look at all that yummy goodness! Fluffy whipped cream, juicy red strawberries and moist lemon cake. Does it get any better than that?
Patriotic Decoration
I love to serve this cake with a few American flags stuck into it or around it. It just says America to me because of the red white and blue. You could even use blueberries sprinkled on top and you wouldn't even need to add any flags.
Really anytime of year you can make this lemon layered cake with whipped cream and fruit and no one would complain haha.
I served this to our family and there was not one piece left! If you are looking for a few other patriotic desserts try my Pound cake trifle or my mini no bake pound cake fruit tarts
Pin For Later