Ok here is my secret on how to make easy sweet mesquite salmon recipe that everyone seems to love. It is so funny because growing up in Newport Beach, Calif. you would think I have always loved fish. Not so at all! It has really only been in the last 10 years that I have come to love fish and especially salmon. In the past it has always tasted very fishy…yuck but this recipe is amazing!
One of the keys to making this amazing salmon dinner is a simple little seasoning packet mixed with brown sugar and grilled. Not only grilled but also seared to give it a little bit of a crust..which I love! Alright let's get to the nitty gritty!
Pin this picture to your fish recipes board on Pinterest!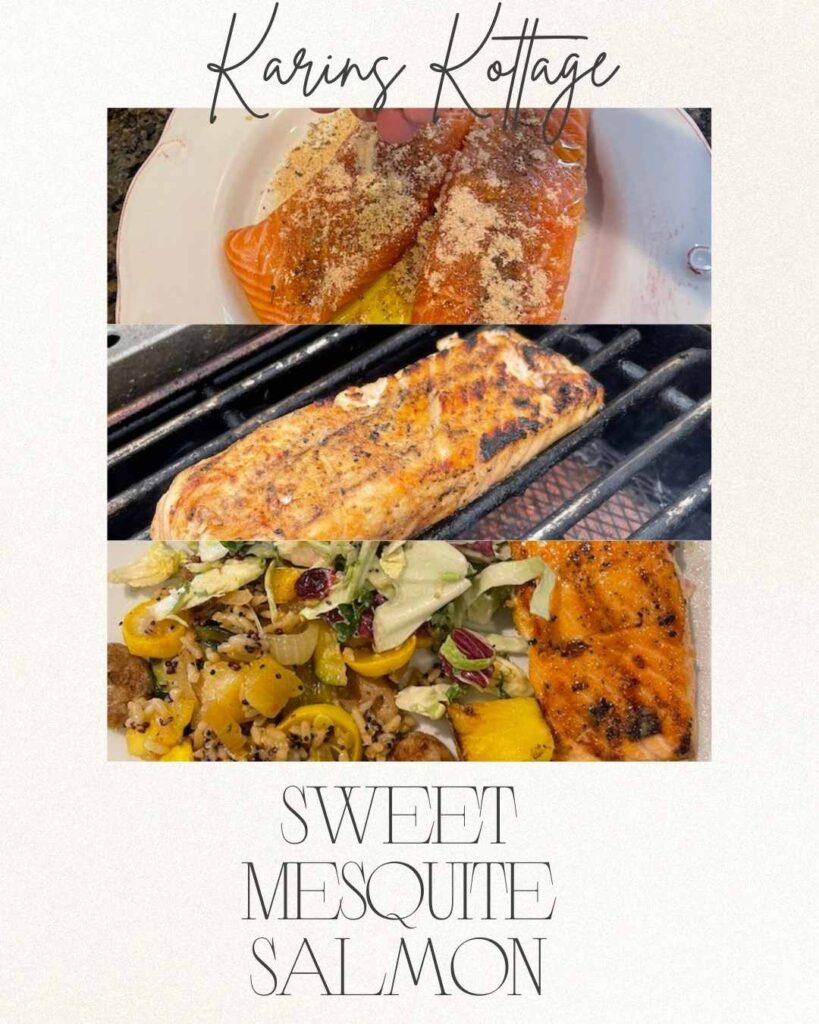 Ingredients to make sweet mesquite salmon
Seriously this is just going to make you laugh to see how easy it is to make this delicious salmon dinner!
In fact it is going to take way more time to write up this recipe, get the photos off my phone, edit them and finish the post than it would be to make this salmon.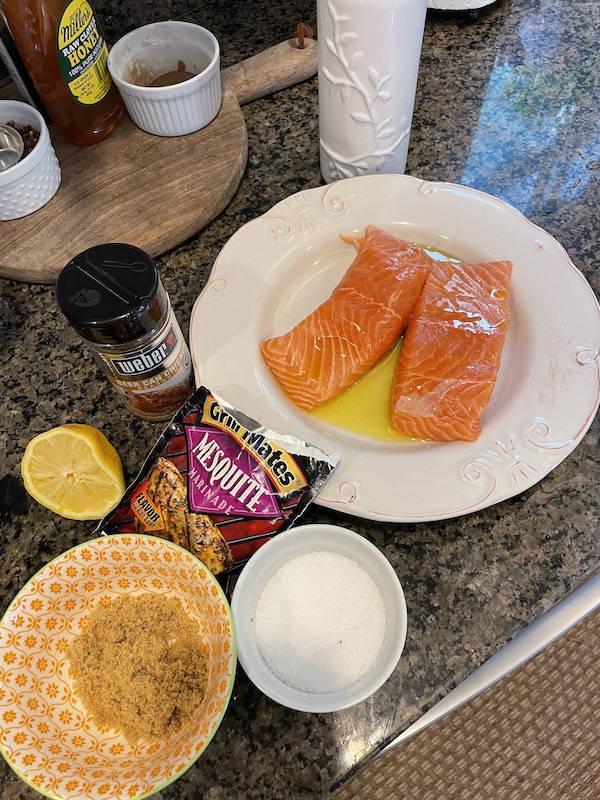 Ingredients
Two pieces of fresh Atlantic salmon
One packet of Grill Mates Mesquite marinade (This goes a long way as you only need a little bit of it)
Olive oil
1/2 lemon
1 Tbsp brown sugar
Kosher salt
Weber Beer can chicken seasoning
There are all types of salmon recipes like honey glazed salmon, mesquite smoked, glazed salmon but this one is a total crowd pleaser and people can't get enough! It is so moist with a little crust and the flavors of mesquite and sweet brown sugar is just the best!
I could eat this everyday!
Another one of my favorite things to make is my cheesy penne eggplant pasta dish.
Seasoning the sweet mesquite salmon
After you remove the salmon from the packaging, place it on a plate. Drizzle some olive oil over the two pieces of fish. Rub it on both sides of each piece.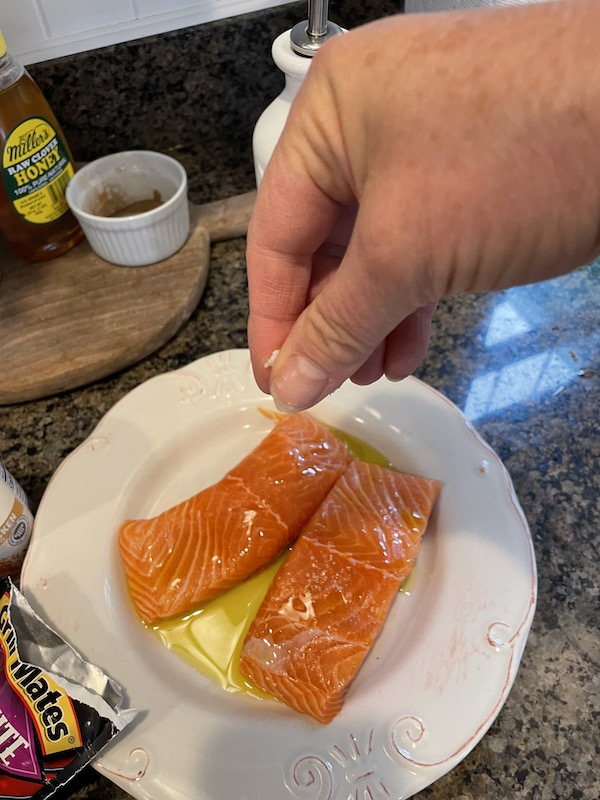 A few pinches of kosher salt (it doesn't need a lot because of the mesquite marinade)
Sprinkle some beer can chicken seasoning over each piece and the 1 Tbsp brown sugar.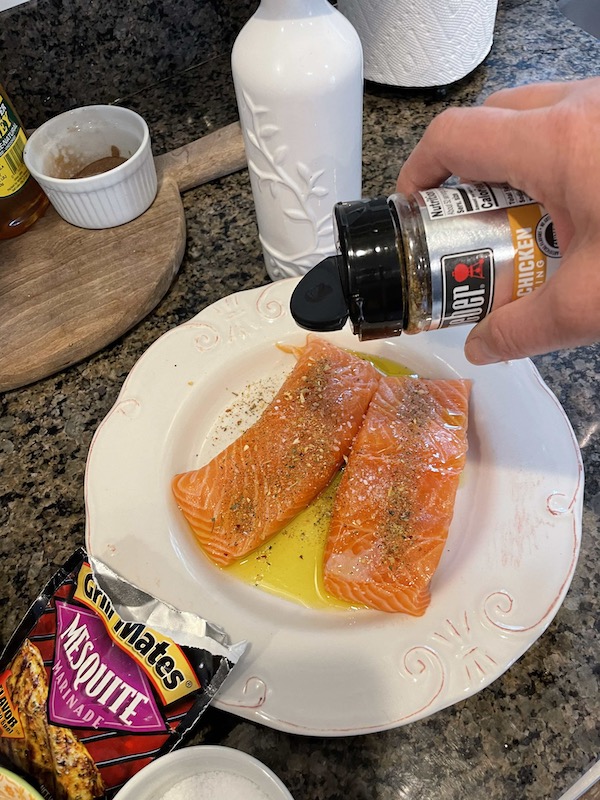 Sprinkle about 1/4 of mesquite marinade over each piece.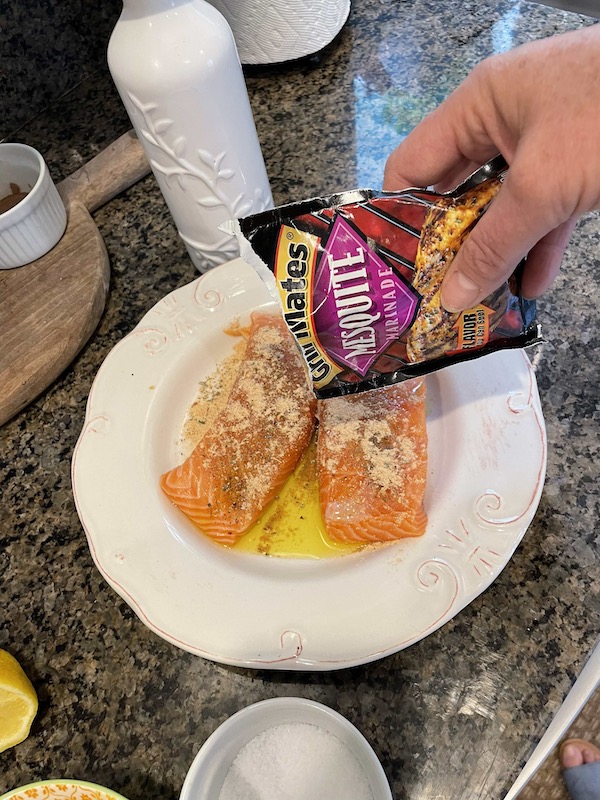 Rub all of the seasonings all over the fish and then squeeze some lemon juice over all.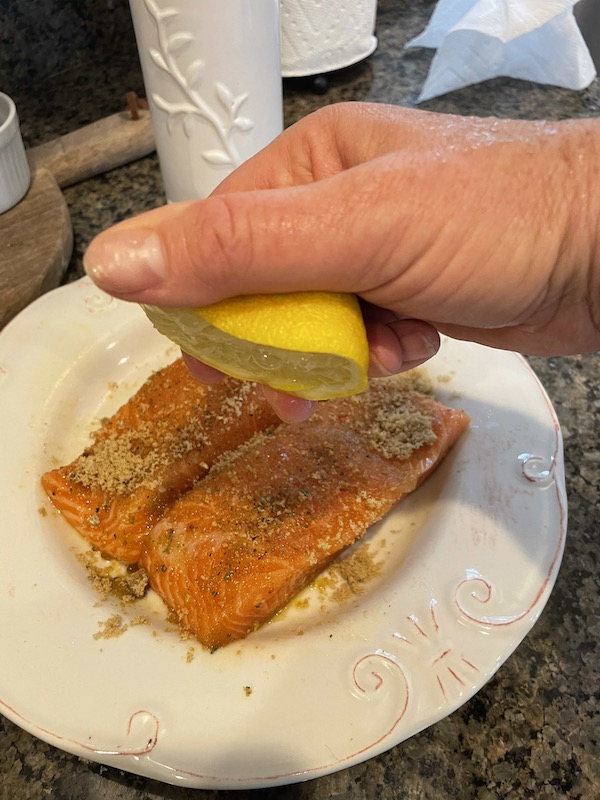 Let it marinade for 15 min.

How to grill the salmon
We absolutely love to grill! Here are a few of my favorite grilled recipes Glazed grilled carrots, Lemon thyme grilled chicken, Grilled chicken with homemade peach bbq sauce, Grilled tuna on greens.
For grilling instructions, I asked my hubby to share his technique. Heat your grill so it is nice and hot. Around 350-400 degrees.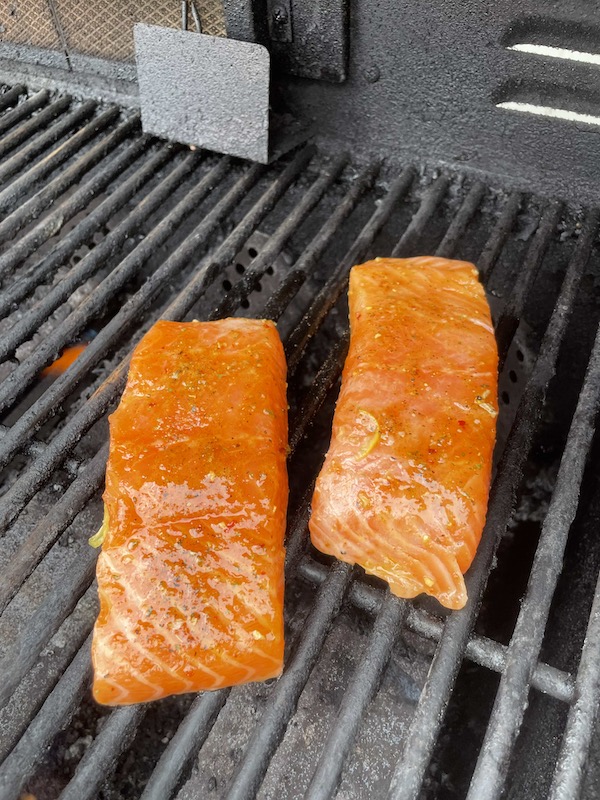 Place fish on the grill skin side down. Grill for approximately 3 minutes (or maybe a little more depending on how thick the piece of fish is)
Flip the fish over and grill another 2-3 minutes. You don't want to overcook it and have it be dry. You can tell if the salmon is done by pressing your finger into it and if it starts to flake it is done.
Remember it continues to cook even after you take it off the grill. I believe you need to cook fish to 145 degrees.
We tend to undercook our fish just a little bit because we do not like it dry.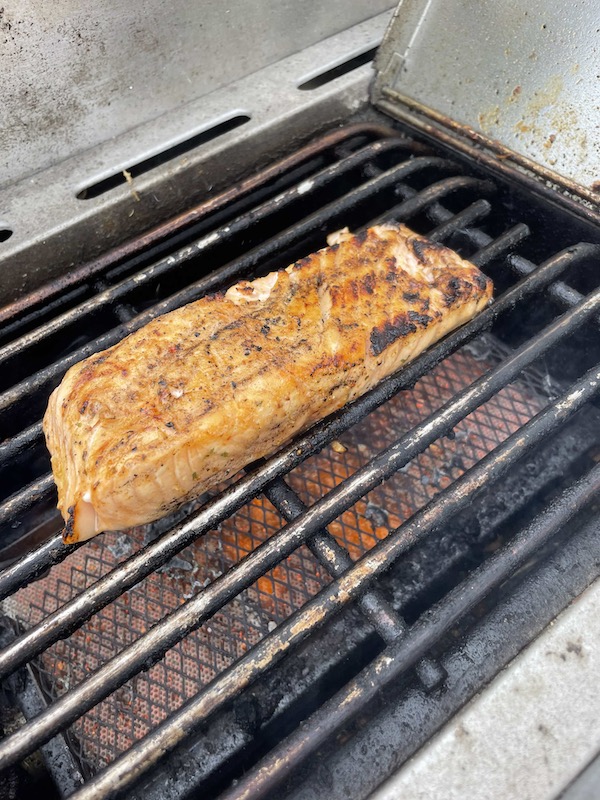 Then for the final part of the grilling you sear it! We have a little Searer thing on the side of the grill and it is awesome! He only sears it for 30 seconds on each side. It is magical because it creates a little crust but the fish stays very moist and delicious!
To complete the meal
Here is my other two secrets to making this meal so fast and easy.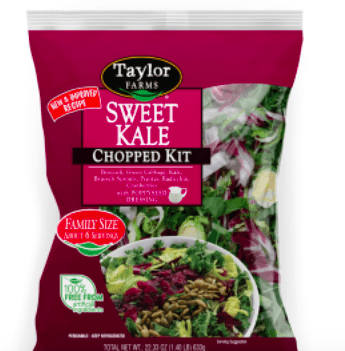 I use a premade bagged salad from the grocery store. The one we like is called sweet kale salad that comes with poppyseed dressing.
The other super quick side dish that you nuke in the microwave for 90 seconds is seeds of change quinoa and brown rice. Super yummy and quick. I even added in some left over yellow squash to this and it was sooo yummy!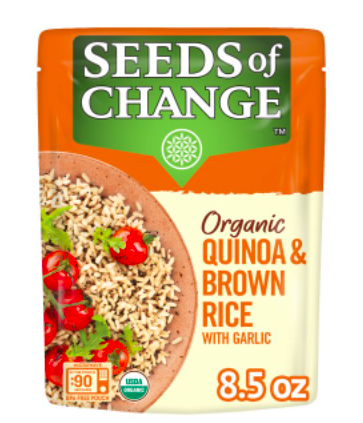 I am telling you this easy sweet mesquite salmon recipe dinner is better than what you can get in most restaurants and it is ready in literally 20 minutes from start to finish!
You can watch my hubby grill it here
Let me know if you try it! Leave me a comment and make sure to pin it for later 🙂
Pin for later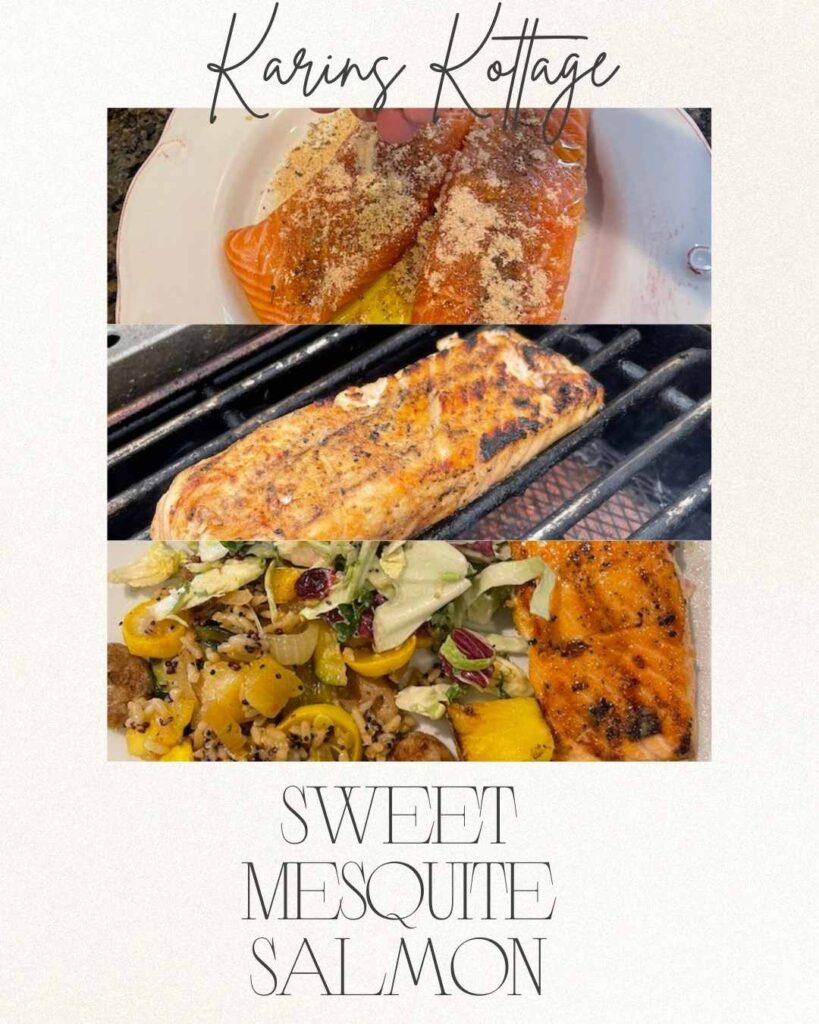 Shop

Recipe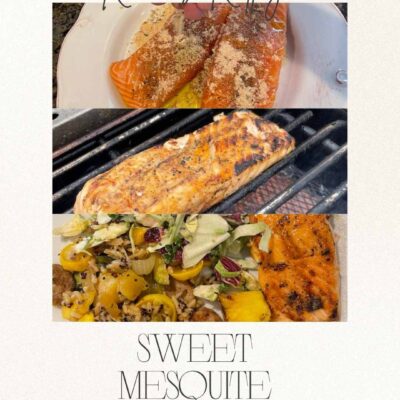 Easy Sweet Grilled Mesquite Salmon
Delicious moist salmon with a sweet mesquite flavor. Easy to make in minutes!
Ingredients
2

pieces

Atlantic Salmon

1/2

package

Grill Mates Mesquite marinade

1/2

tsp

kosher salt

1

Tbsp

Olive oil

1

Tbsp

Brown sugar

Sprinkle

Beer Can chicken seasoning
Instructions
After you remove the salmon from the packaging, place it on a plate.

Drizzle some olive oil over the two pieces of fish.

Rub it on both sides of each piece.

Sprinkle on salt, beer can chicken seasoning, brown sugar and Mesquite marinade. Rub all over fish.

Squeeze lemon over the two pieces of fish.

Let marinate for 15 min.
Heat grill to 400
Place fish on grill and cook for 3 minutes and flip over and grill for another 3 minutes or until fish starts to flake but do not over cook.

Sear the fish on the searer for 30 seconds each side.
More Karins Kottage Recipes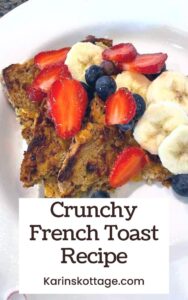 You will absolutely love this Crunchy French toast recipe. Made by coating bread with egg and cereal. This is sure to please your family and guests.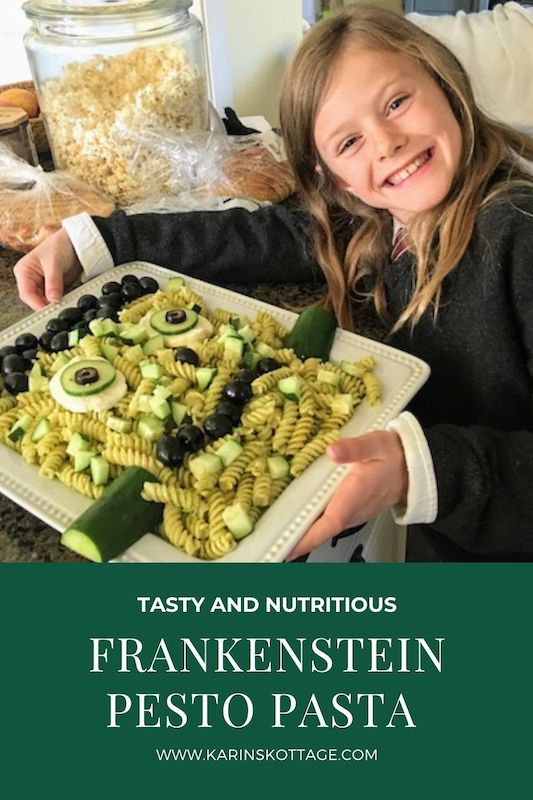 Frankenstein pasta is such a fun dish to make for Halloween. The kids love getting involved and creating their own Frankenstein faces.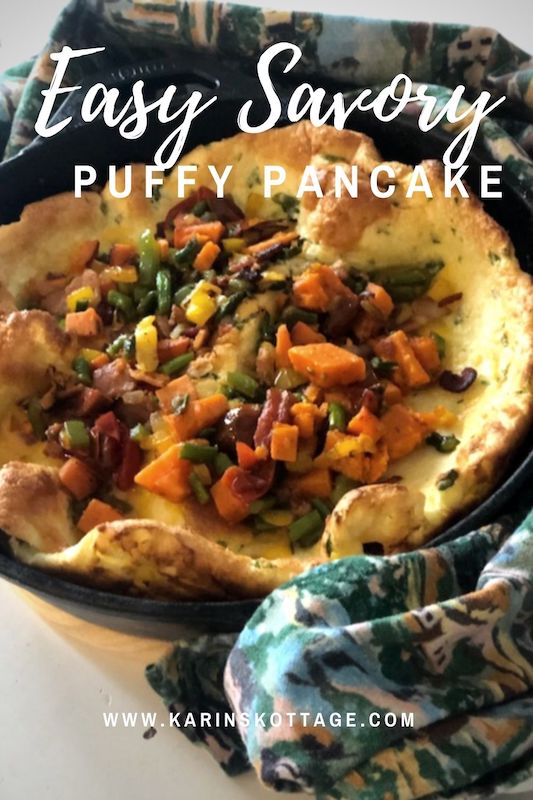 Talk about easy! This is such a great way to use leftover vegetables that may be hiding in your fridge! Make this savory puffy pancake and top with yummy sauteed veggies.