Valentine's day is approaching make some white chocolate dipped pretzel rods
You may be asking yourself what delicious treat can I make for my friends and family that is easy and inexpensive? Here is the best idea!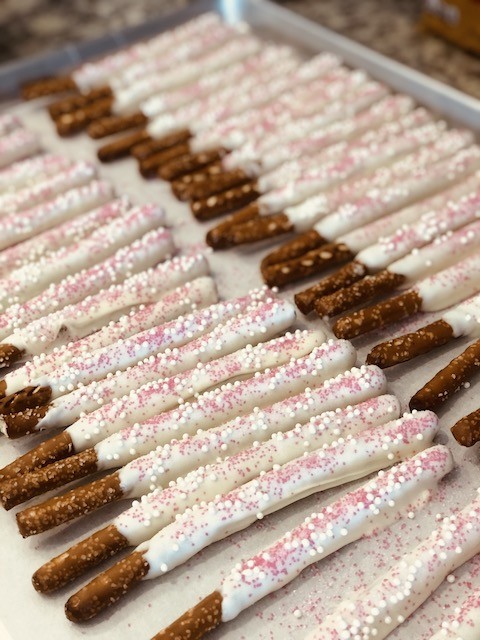 How to make Valentine dipped pretzel rods! Well actually it is my mom teaching you. My mom has been a chocolatier for many years and has made truffles, turtles and all kinds of other chocolates and has sold them in lots of stores like Nordstrom and many fine hotels like Marriott. Mom knows her stuff!

Ingredients Needed
4 Cups French white chocolate coating- (leave me a comment to purchase from my mom)
2 packages of large Pretzel Rods
Mom feels that French white chocolate tastes better than anything you can buy in the grocery store. It seems to melt better too.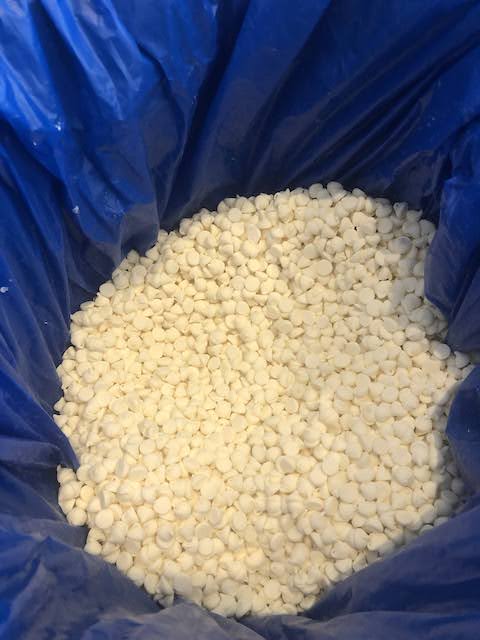 How to melt the French white chocolate
White chocolate can be melted at a higher temperature than milk or dark chocolate. Using a microwave safe bowl like this one. Place 4 Cups of white chocolate coatings in it and microwave at 50% power for 5 minutes. Stir until smooth.
TIP- White Chocolate coatings will burn so it is best to start with 2 minutes at 50% power and stir. Then do it again for another 2 minutes until it is melted and smooth.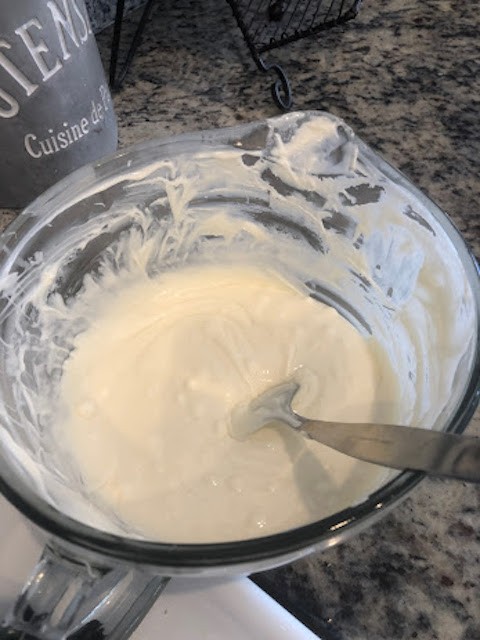 You want the chocolate to just fall off the spoon. Mom calls it thin viscosity and then you know it is ready for dipping the pretzel rods.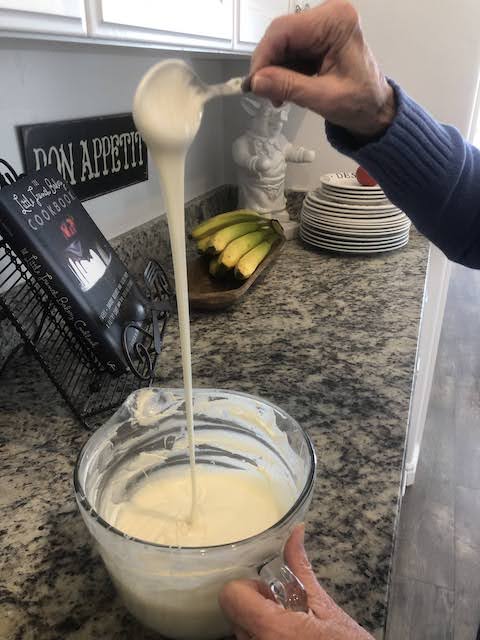 Dipping the pretzel rods in melted French white chocolate
The great thing about this anchor hoskings microwavable measuring bowl is that it is deep. Deep enough to dip large pretzel rods. Simply dip them one at a time and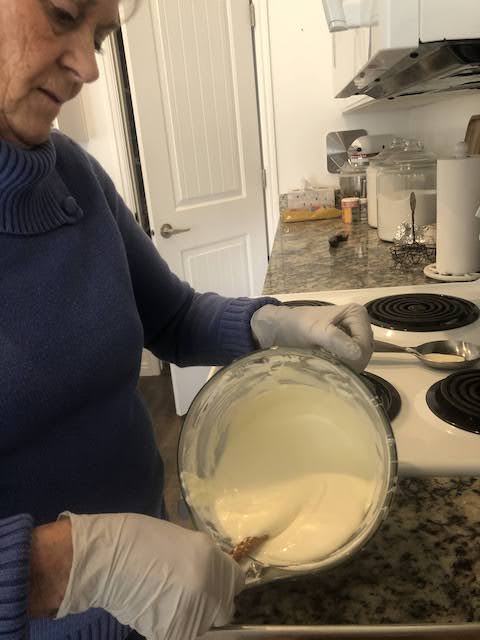 Let the excess white chocolate drip off. Scrape off one edge of the pretzel on the edge of the bowl.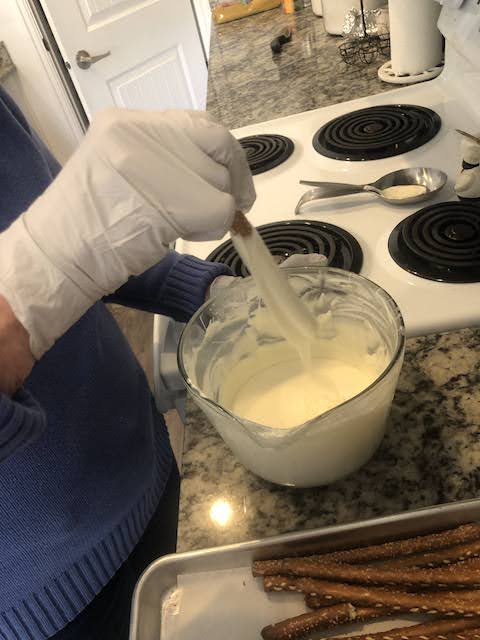 Place white chocolate coated pretzel rods on a cookie sheet lined with parchment paper. Immediately sprinkle with pink sprinkles or colored sugar. For these pretzels we also added white round sprinkles. I have also made some super cute patriotic red white and blue pretzel rods here.
We made 48 Valentine white chocolate covered pretzel rods. We had some pretzels left over so you could make more but you will need a little bit more chocolate coatings to melt. Let the dipped pretzel rods sit at room temperature until hardened about 15 minutes.
Don't they look amazing!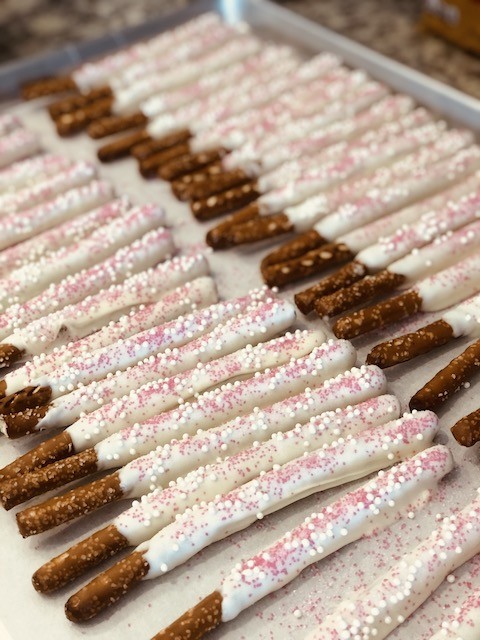 Valentine packaging
I used Valentine themed clear cello bags and placed two in each bag.
Then I tied them with a cute red ribbon. They will keep for a month so you can make them way ahead of time.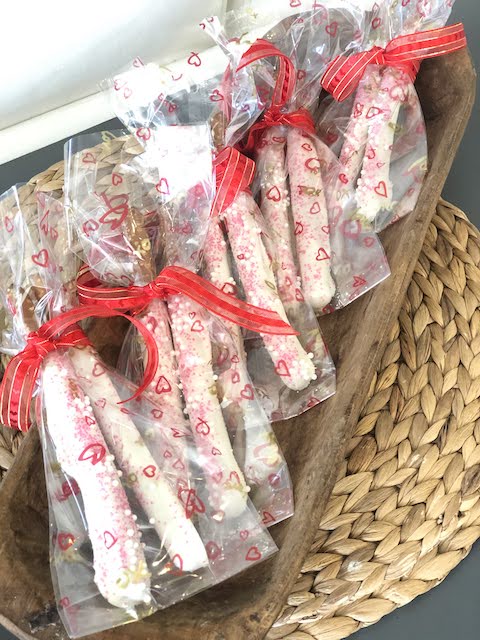 If you liked this How to make Valentine dipped pretzel rods treat you will also love these other Valentine treats and crafts
heart shaped patchwork cookies
Valentine burlap and painters drop cloth wreath
Valentine wood bead and tassel garland
Upcycled glass vases that look like ceramic
Shop this post

Pin for later