You are going to love this easy pink and white dipped and drizzled Valentine pretzel knots tutorial! It is the perfect sweet treat for everyone! These are so fun to make because you can be as creative as you want best of all adults and kids love them.
Wrapped in cute red and white Valentine striped, polka dot or just clear cellophane bags make a really cute gift to give.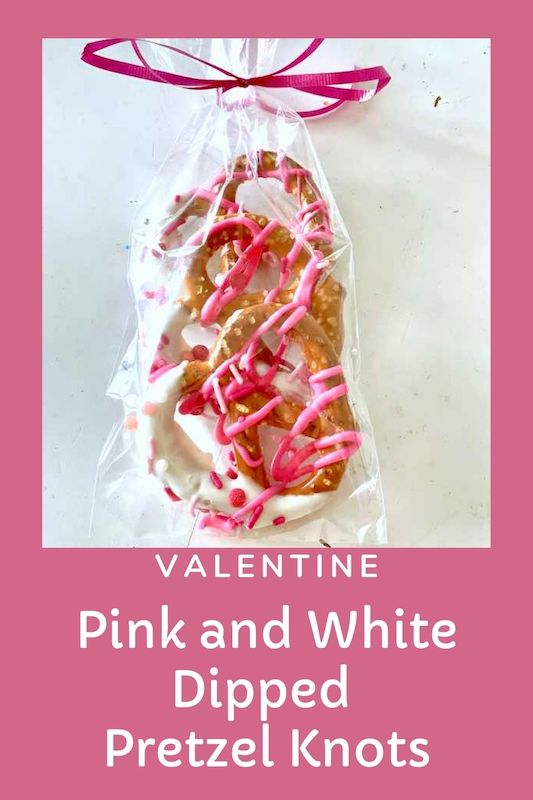 I made a bunch and placed them in clear, striped and polka dotted cellophane bags and piled them high in my 3 tier serve ware.
Don't you love these darling heart paper plates too? You can order them on Amazon here.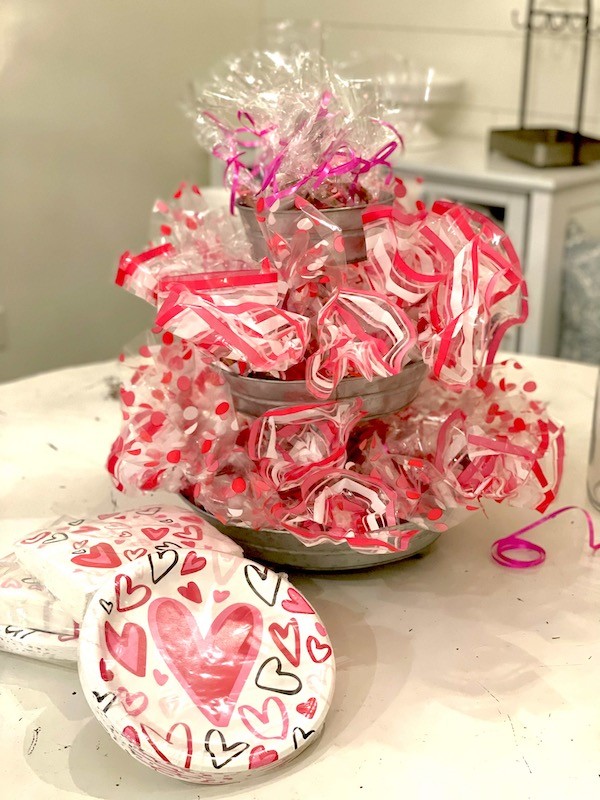 Ingredients for Valentine pretzel knot
Originally I was going to make Valentine pretzel rods like these that I made last year. I used delicious white chocolate and pink and white sprinkles for these Valentine's day chocolate covered pretzels. These make such a fun treat! Dipped pretzels are a mix of sweet and salty and are one of my favorite snacks.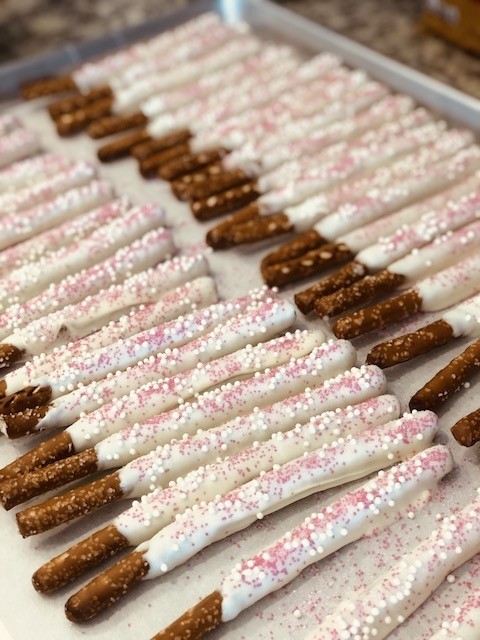 When I went to the grocery store to buy some pretzel rods, NO ONE had any on the shelves! There were lots of pretzel sticks but they are too skinny to work with. I went to 5 grocery stores and finally found some at the dollar store.The only problem was that most were broken 🙁 Sheesh what is the deal with pretzel rods??
Plan B to make Valentine pretzels
So…. while at Walmart I saw these thick pretzel knots and decided to go with plan B.
I actually think I like the way these sweet treats turned out even better than the pretzel rods!
(Ignore the broken pieces in this bag. I had just put all the leftovers in there)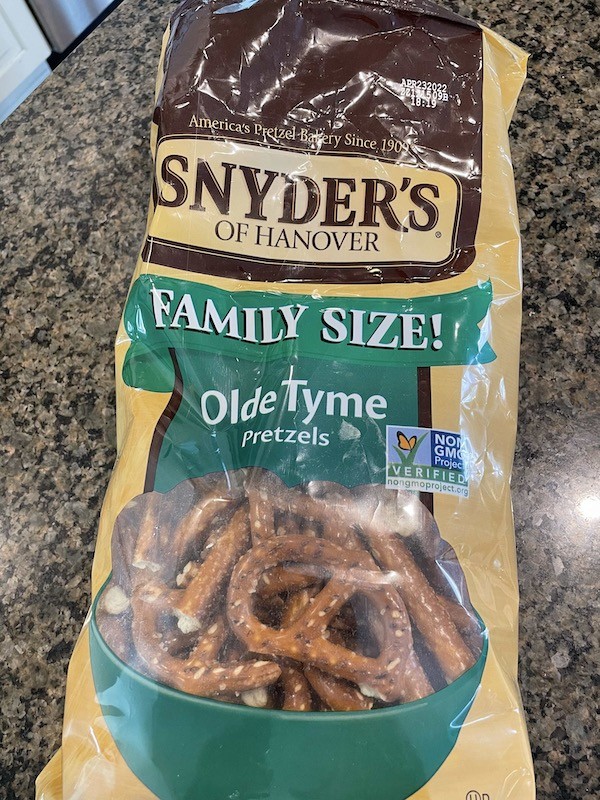 Ingredient list
These affiliate links allow me to make a small commission at no extra cost to you. This helps me keep this blog running 🙂
Snyders of Hanover Olde Thyme pretzels
Wilton candy melts in bright pink or if you prefer you can use red candy melts
White candy melts in bright white or you could use melted white chocolate chips
Small ziploc bags (for melted chocolate)
Parchment paper or wax paper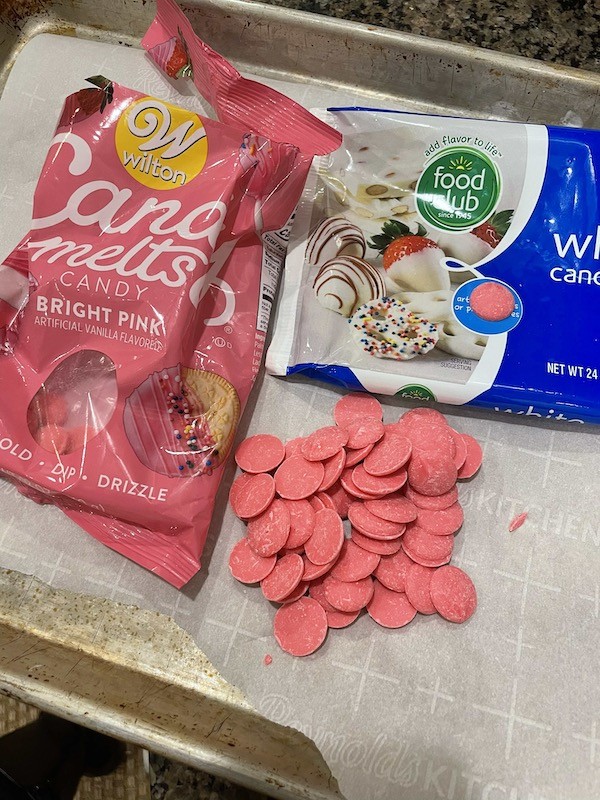 Melting the candy melts
I love how easy it is to make these darling Valentine's day treats. Microwaving the candy melts is fast!
Using half power and microwaving the candy melts in a microwave-safe bowl for a few minutes at a time they begin to melt.
Stirring after each melt time and soon you have beautiful melted chocolate candy.
Dipping pretzels into melted candy melts
I only wanted to dip half the pretzel twists in white candy melts and drizzle the other side with pink candy melts. Another option is to use dark chocolate or milk chocolate in place of the white.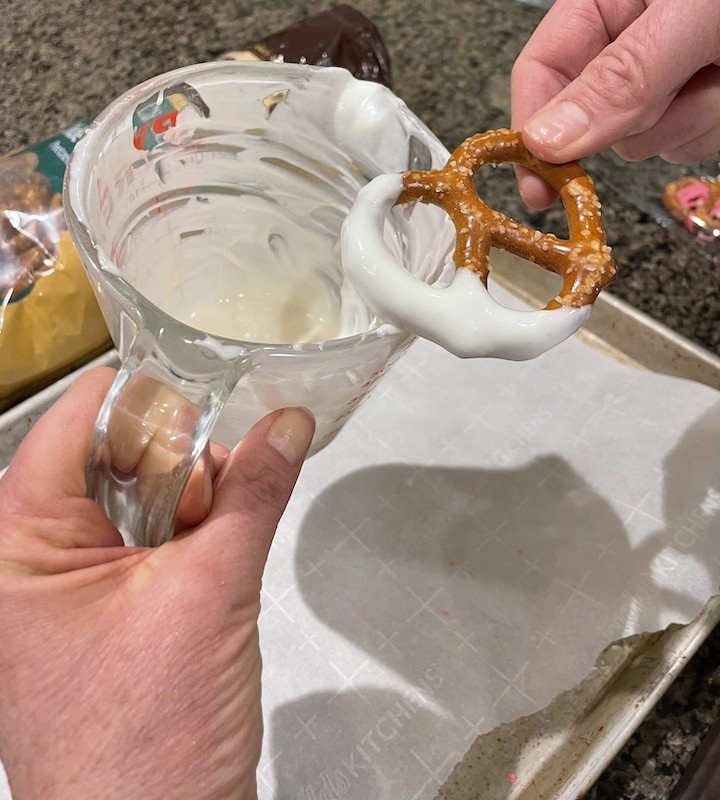 Once I dipped each pretzel in the white candy melts, I let the excess chocolate drip off and then I would place it on a cookie sheet covered with parchment paper to let it set up. They started to set up even at room temperature.
At this point you can sprinkle some sprinkles on the white side if desired.
Once all the pretzels were dipped I would put the whole cookie sheet in fridge to harden.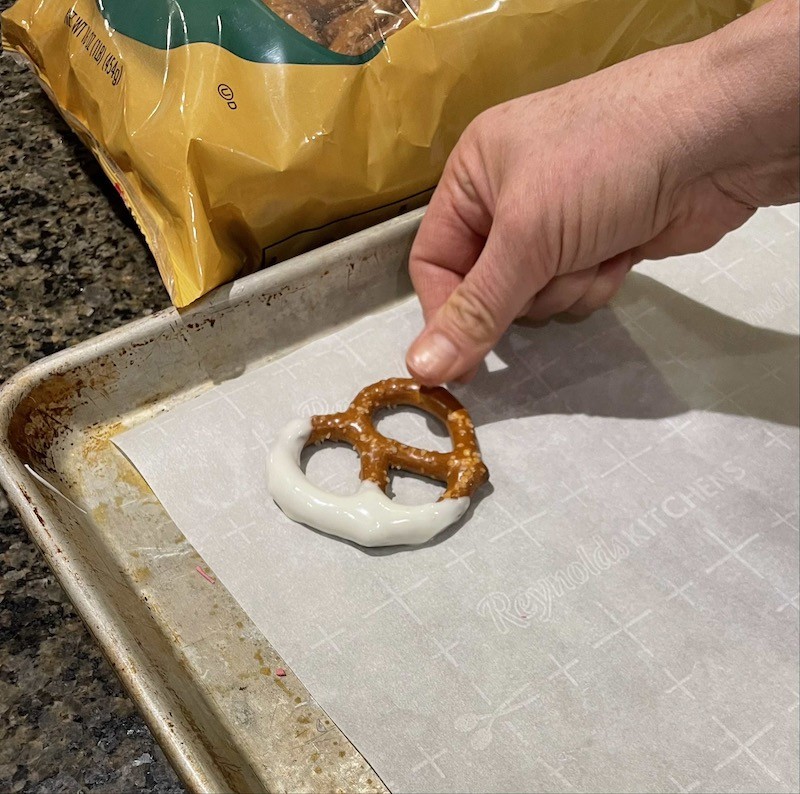 Drizzling the pink melted candy melts
After microwaving the pink melts, I pour the melted candy melts into a small plastic ziploc bag.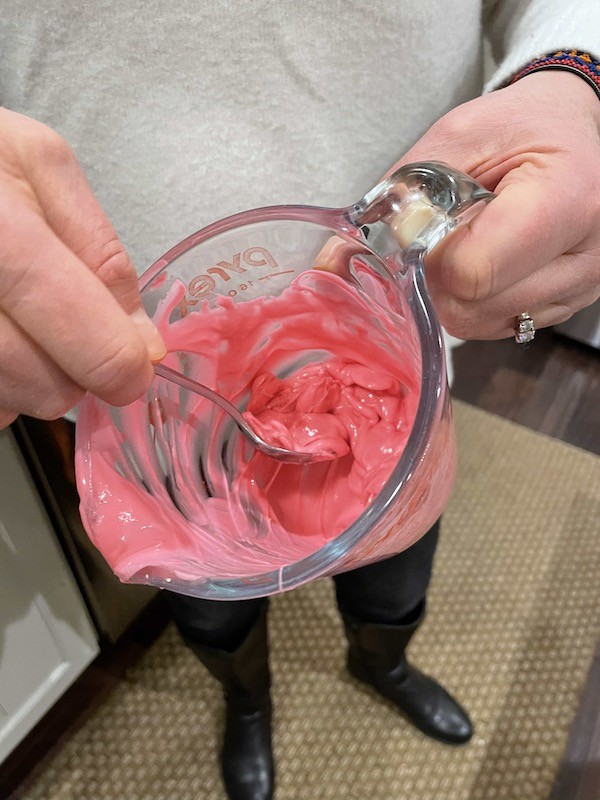 Tip- Open ziplock bag and place inside a tall glass. Make sure you overlap the edges of the bag over the sides of the glass. This will give you a large opening to pour the melted candy into.
Then press out all the air.
When you are ready, snip off a tiny edge of a corner of bag and start drizzling. It does come out very fast and it is a little bit loosey goosey to maneuver at first but then you see how fast it goes and you are done in minutes.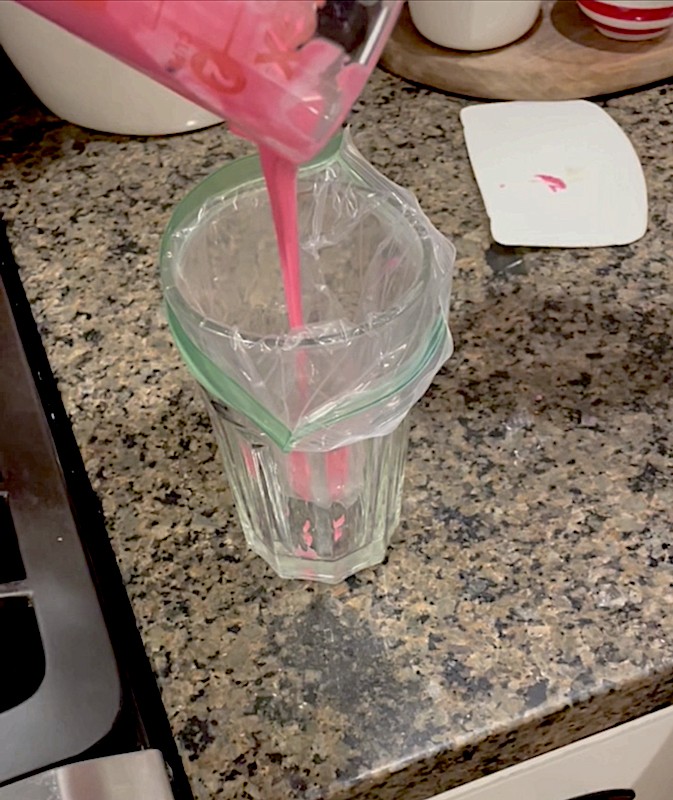 Add more sprinkles to the drizzled side of the pretzel.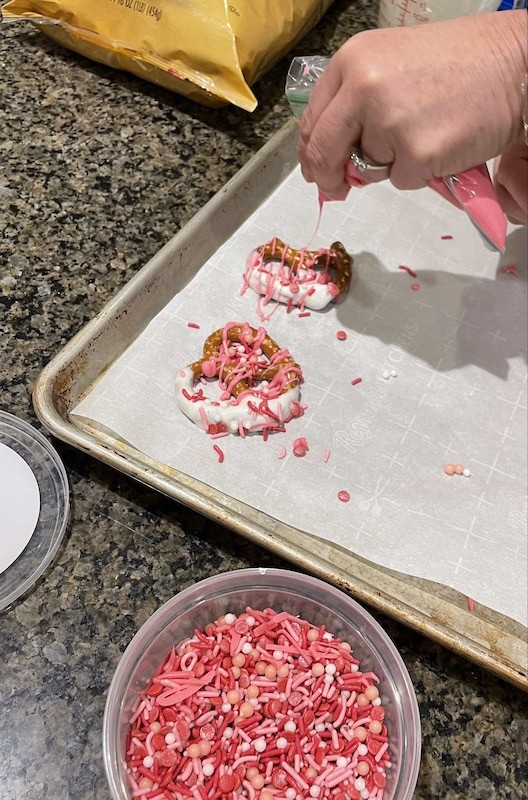 The almost take on the look of Valentine hearts when you are done! Once you are done with the drizzled candy and sprinkles, put them in the fridge to harden up again.
It only takes a few minutes.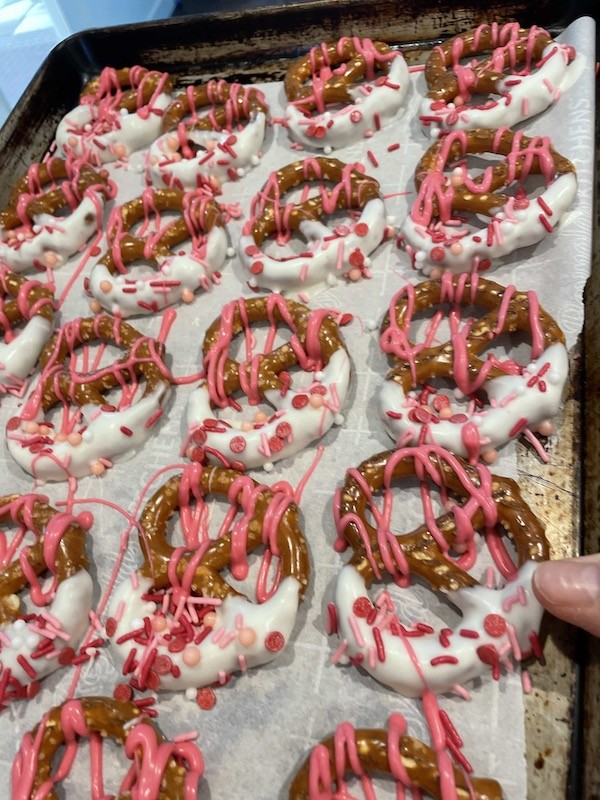 Valentine pretzel knots in cello bags
This is such a cute way to wrap up your little Valentine treats. Use cello bags and tie with a little ribbon. I made all these for the Young Women in my church.
Such the perfect Valentine's snack for adults. You can bring them to work! Everyone will love you! 😉
One per person in a cute cellophane bag and they will think you slaved over them.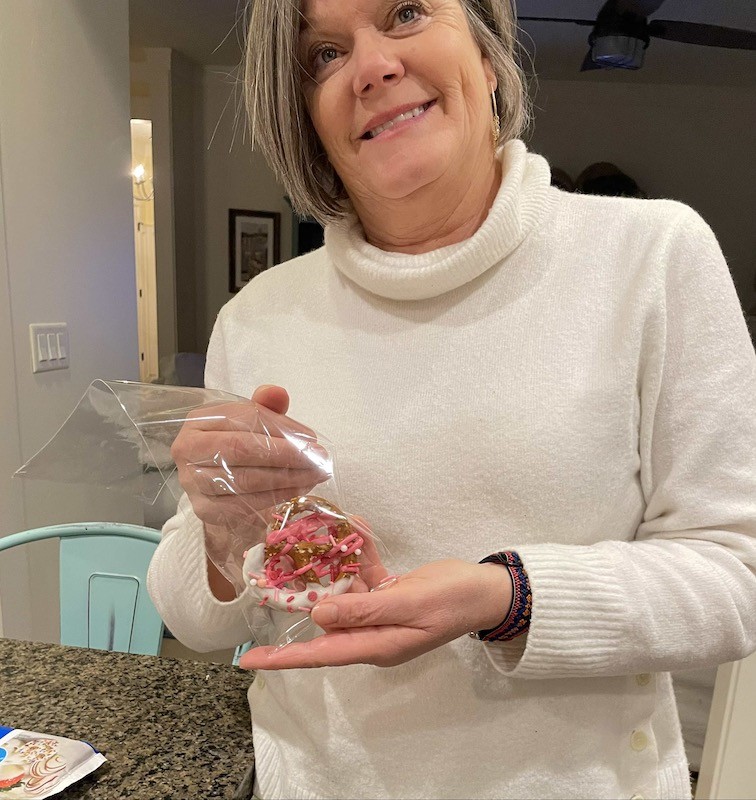 There are so many darling options for cello bags. I got these from Walmart.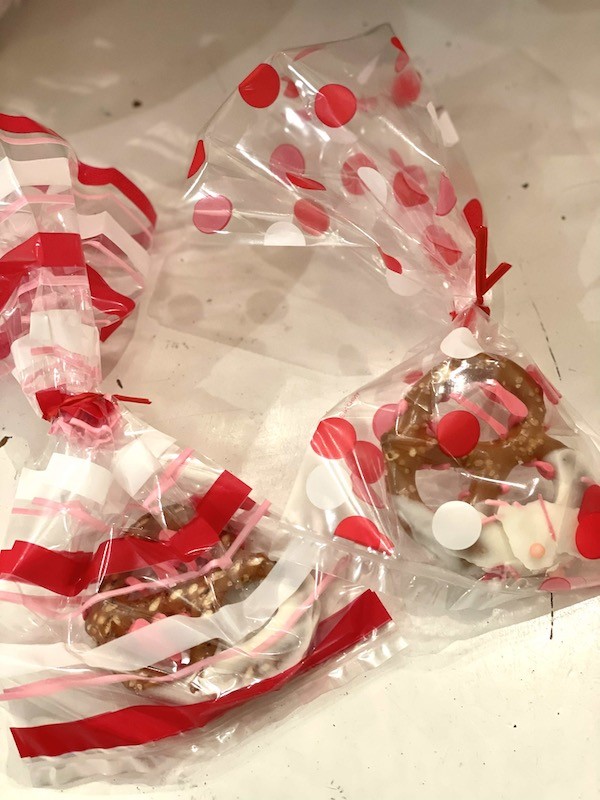 You could put multiples of the Valentine Pretzel knots in a cello bag to give to a family.
It just shows a little love went into these Valentine's day treats and they look adorable!
More Easy Valentine Ideas
White chocolate dipped pretzels
Shop Valentine Goodies

Pin for later