How to make a Pumpkin Topiary-
Last year I made my own pumpkin topiary for my front door entrance. I didn't just want to put two pumpkins out there so I got creative and made a topiary!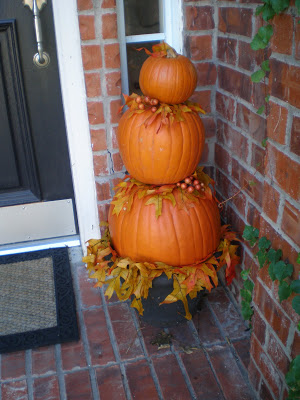 Pumpkins for topiary
To begin, I chose to make this out of real pumpkins but you could make it out of faux pumpkins easily.
Next thing to decide is what to use for a container. I chose to use plastic urns. They were cream colored but I spray painted them black and it has held up for years!
I purchased 3 different sized pumpkins. One large pumpkin to be the bottom. Make sure it will fit size of your container. A medium sized pumpkin for the middle. One small sized pumpkin for the top.
Cut stems off
Simply cut off the stems of the bottom and middle pumpkins to make them flat and easier to stack one on top of each other. The weight of the pumpkins hold it together.
You can add a little hot glue in between the pumpkins just to help keep them from rocking and rolling.
Adding fall leaves to the pumpkin topiary
I used another urn for this one lone pumpkin and placed it on a metal plant stand.
Hot glueing some faux leaves around the pumpkins just adds a fun little touch. You could use a grapevine wreath set around the urn under the pumpkin like I did here.
Better homes and gardens pumpkin topiaries
BETTER HOMES AND GARDENS have these adorable pumpkin topiary ideas below. I love this idea of using a wooden dowel to separate the layers.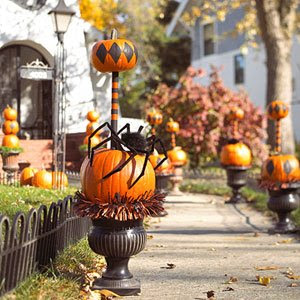 Here are some funny carved pumpkins stacked on top of each other to make a fun topiary.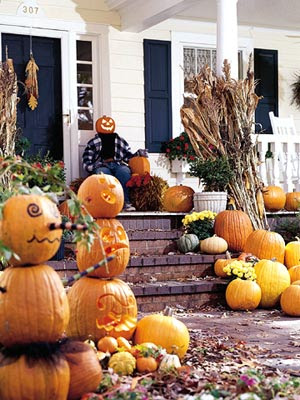 I would imagine you would have to put a pole down through all of these pumpkins to make it sturdy enough not to fall down. I love love this idea!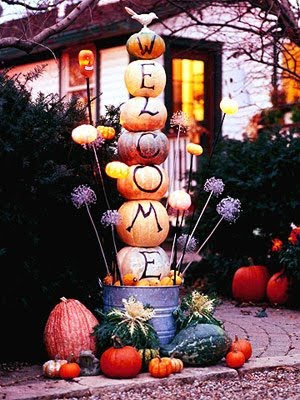 More Fall /Halloween decor and crafts
How to make buffalo checked pumpkin
Fall porch with corn stalks and pumpkin topiaries