I made this FALL WREATH YEARS AGO and decided it needed some plumping up! It had nice bones it just needed a little something extra to make it fabulous. Here is my Fall Wreath Re-do.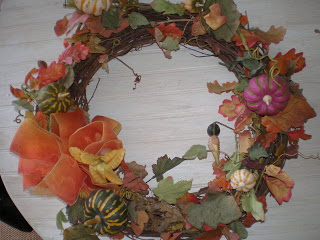 How to Re-Do A Fall Wreath
While I was in St. George I went to a store called Tai Pan (that no longer exists) and they had these beautiful BROWN ACORNS, A YUMMY SOFT GREEN PEAR and other round balls covered in RED AND BROWN DRIED LEAVES and I just knew they would add that extra something to my wreath. These large faux fruits and veggies create a nice focal point.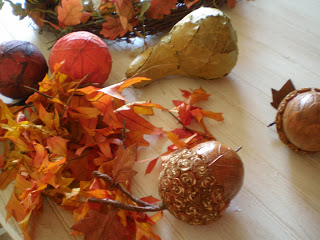 Getting out my HANDY DANDY GLUE GUN I was able to attach them to the wreath. I then added little touches here and there of EXTRA FALL LEAVES (that I already had LAYING AROUND IN MY AUTMUMN BOX IN THE GARAGE) Adding in the extra leaves made the wreath much fuller. Isn't this fall wreath re-do fast and easy? 
VOILA!! a fabulous full fall wreath for just a few extra bucks.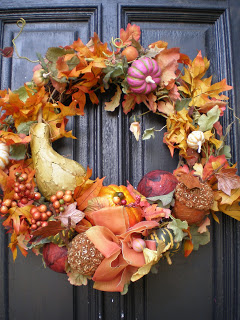 Hanging It on my black front door really allows it to shine! The bright orange and gold colors of the wreath just seem to pop because of such a contrast. What kind of wreaths do you like to use for fall? I created a natural corn husk wreath that you might like to see. It too really pops off of a dark background.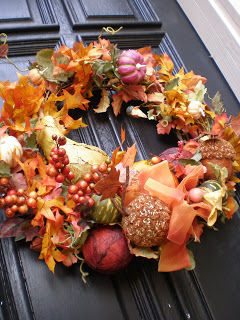 My Husband asked me last night….Is it fall already? I said yes it will be tomorrow..Sept. 1st! He said that is not when fall is..
I said at our house it is. 🙂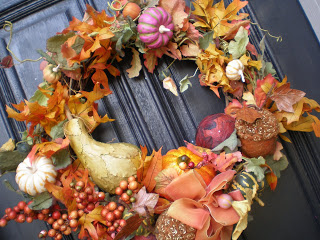 FAll IS MY FAVORITE TIME OF YEAR BEGINNING ON SEPTEMBER 1ST.
ANYONE ELSE STARTING TODAY?
Shop Similar Items