How to decorate a fall mantle? First of all do you spell mantle le or el at the end? In either case it works because I see it both ways all over the internet!
More questions I asked myself-
Should I use typical fall colors of orange and reds?
How about silver or gold pumpkins?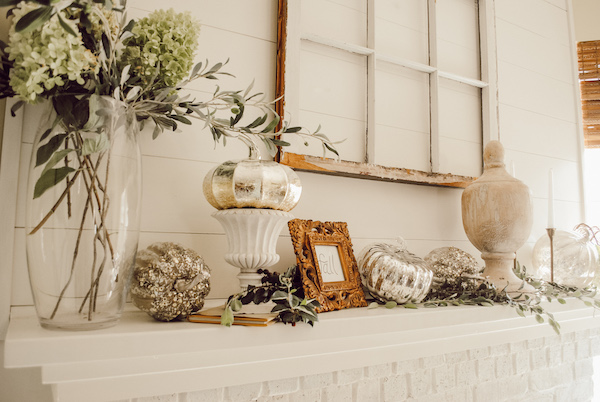 To figure this out, I got out some of my fall decor to see what I could put together on my fireplace mantel and I love what I created!
Choosing a color palette
My family room is decorated blues, greens, white and a little salmon so, bright orange might not be a great choice in here.
Luckily I have collected some pretty silver mercury glass pumpkins and I think they will work nicely with my family room colors.
A neutral colored fall palette!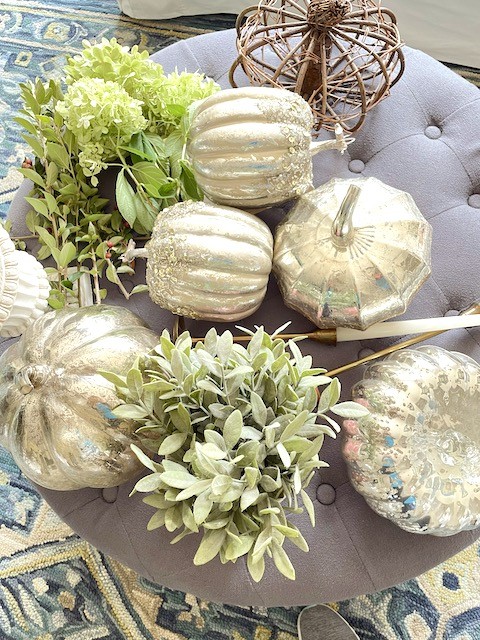 When we lived in Texas, I had a lot of red in my decor and my family room had a huge fireplace and mantel so I decorated the mantel in traditional fall colors.
How I Decorate my fall mantel with silver pumpkins
I start by laying out all my pumpkins on the ottoman in my family room to see what I have to work with.
Five silver pumpkins and a grapevine wreath pumpkin that I had used in this elegant rustic tablescape. Plus some greenery from my garden, a few green hydrangeas and an urn.
The question is how am I going to pull this all together to decorate my fall mantel?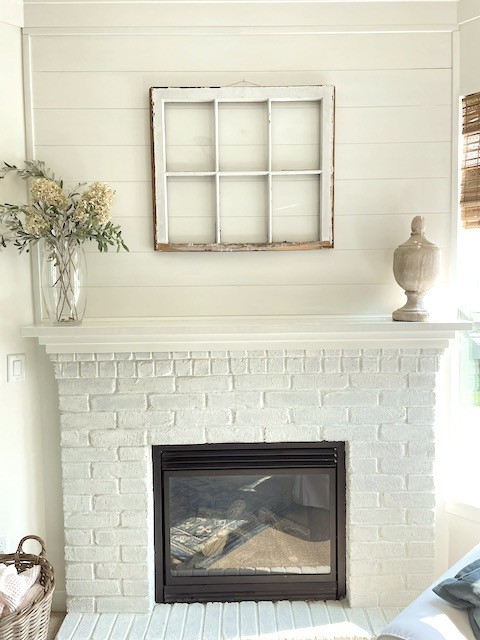 I decided to start with a blank slate.
Well kind of…
Work with what you have to style fireplace mantel
On the mantle normally is a large slender clear vase with olive leaf branches and a large white washed wooden wooden knick knack and a few other things.
I decide to keep the vase and wooden knick knack.
Then I added a small creamy white urn sitting atop a book, a gold ornate frame and two skinny gold candle sticks with candles in them.
Next came the silver pumpkins.
Actually the one sitting on the urn is actually gold in color.
You can't really tell in the photos but it is and it looks nice next to the gold frame.
I always try to have an up and down method to my styling. Tall and short and medium heights if that makes sense.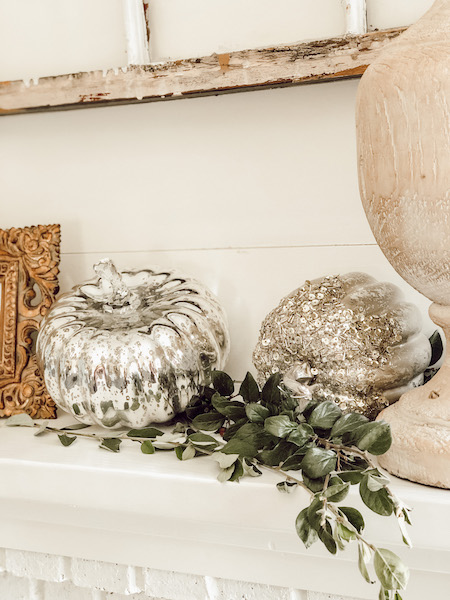 I turned a few of the silver pumpkins on their sides to add interest.
Using this color palette of cream and silver turned out to be actually pretty easy!
It really only took me about 20 minutes to put this together and that is a huge win for me!
I love creating things quickly like when I made this coastal Christmas Wreath in under 30 min!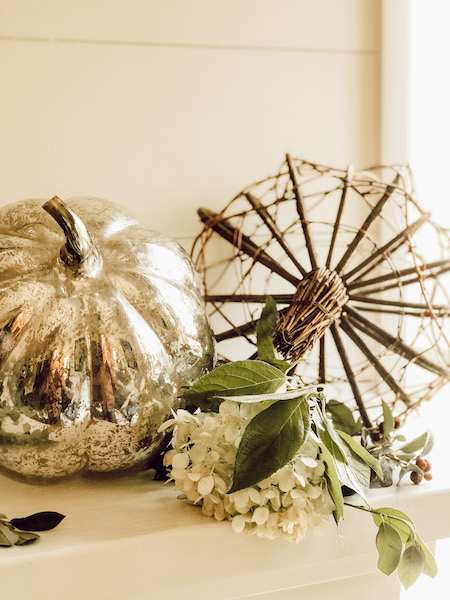 For a spooky Halloween mantel I used this color palette only I added in black instead of silver. You can see it here on this fall/Halloween mantel post.
It is so fun to try out different looks for the holidays isn't it?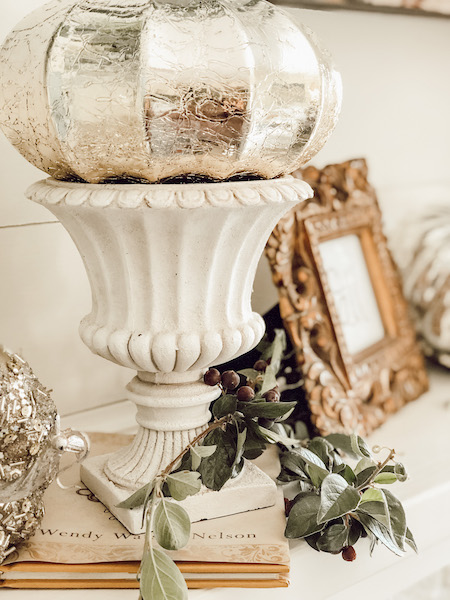 Simply tucking in a pumpkin here and there including one atop of the little urn creates a nice look.
Adding Greenery For a Natural Look
After I placed the pumpkins where I wanted them I headed to the garden.
Snips of greenery from some bushes are perfect for this vignette. This greenery is the same stems that I used in my Coastal Christmas wreath and it worked great!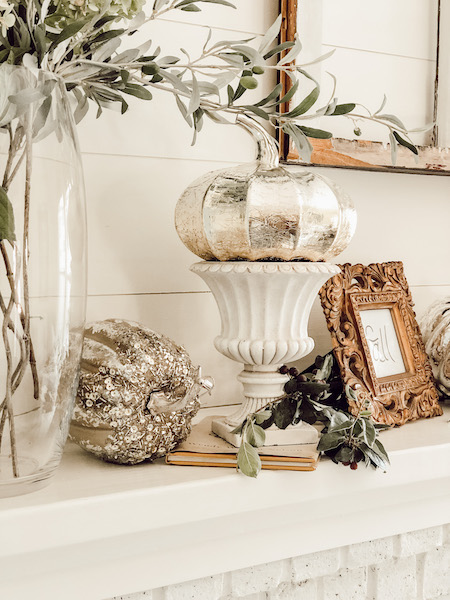 Tucking them in and around the silver pumpkins just brought in a natural look.
I cut some blossoms off of my limelight hydrangea to add to the olive leave stems in the glass vase.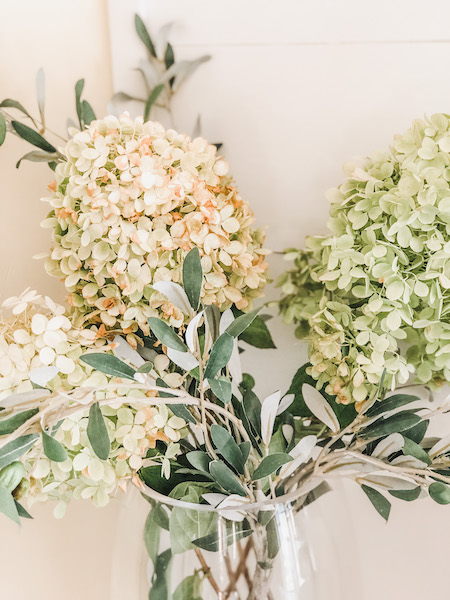 Now all I need to do is decorate the kitchen nook and the formal dining room 🙂
Maybe a little bit in the kitchen too.
How much do you decorate for fall?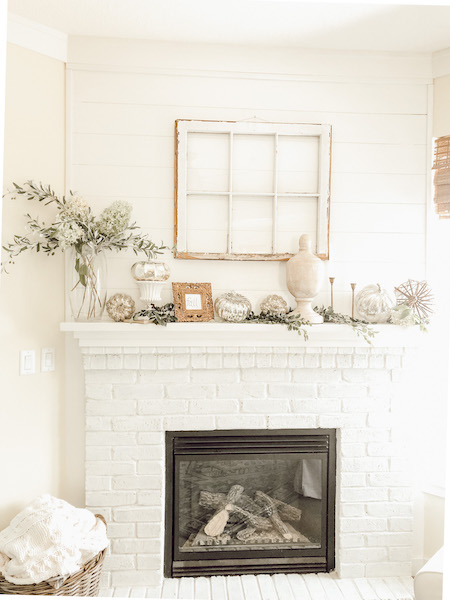 Pin For Later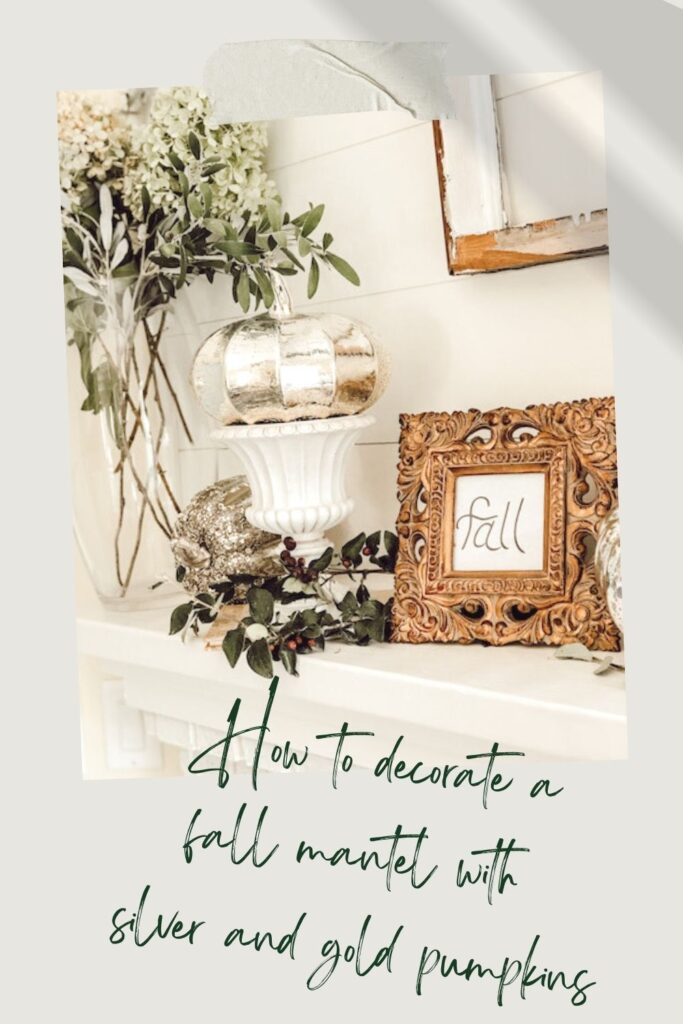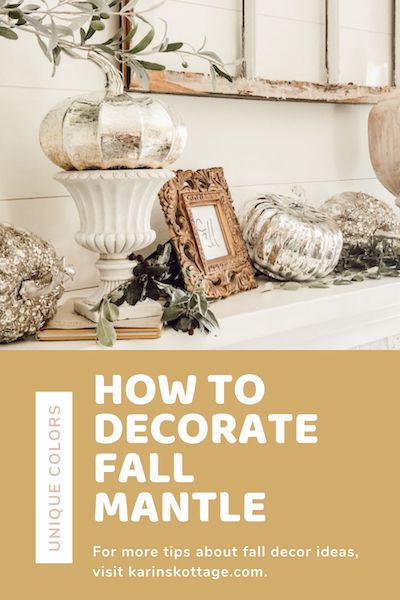 Shop Similar Items