For my outdoor dinner party that you may have seen
here
I served individual Peach blueberry crisps topped with vanilla ice cream. They are super easy to make and taste delicious! In fact I made these day before the party and I just reheated them the next night and they turned out perfect!
Peach Blueberry crisp recipe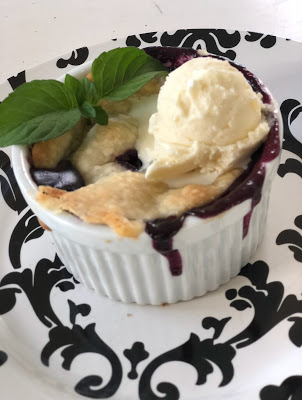 I used peaches from our tree in our backyard that were frozen and some frozen blueberries
approx 3-4 cups
I gathered up 20 ramekins and greased them with a little butter.
Fill each ramekin the peaches and blueberries. You can kind of over fill them because the fruit shrinks when it bakes.
Top each ramekin with the crisp topping made of oatmeal, flour, butter, cinnamon and sugar. Seriously this is one of our favorite desserts! You can even make these in winter by using frozen fruit.
Peach blueberry crisp
2 Cups Peaches
1 Cup Blueberries (Frozen)
1/3 Cup Granulated Sugar
1/2 Teaspoon Ground Cinnamon
TOPPING:
1 1/4 Cup Regular Oats
1 Cup All-purpose Flour
1/2 Cup Brown Sugar
1 Teaspoon Ground Cinnamon
1 1/2 Sticks Unsalted Butter (12 Tablespoons), Diced
directions:
Preheat oven 375 degrees F.
Butter a 9 inch casserole dish well.
In a bowl, toss together the peaches, blueberries, sugar, and cinnamon.
Dump the fruit into your ramekin dishes and fill.
In another bowl, combine the oats, flour, sugar, and cinnamon.
Add the diced butter, and using your fingers rub the butter into the other ingredients well until you have a crumbly mixture.
Sprinkle the topping over the peaches evenly covering them and bake until the top is golden brown and the fruit is bubbly, about 30 minutes.
If the top browns too quickly, cover with aluminum foil.
Serve warm with vanilla ice cream.