This is an easy to make a Vegetable cheese pie recipe with a homemade crust. There are no eggs in this recipe so it is not like a quiche. It does have three different types of cheese and yogurt in it so it is rich and creamy in a flaky crust filled to the brim with vegetables. It kind of reminds me of pot pies only better!
I love this recipe because you can use different vegetables if you don't like zucchini. I call this a yummy comfort food perfect for a fall dinner or brunch.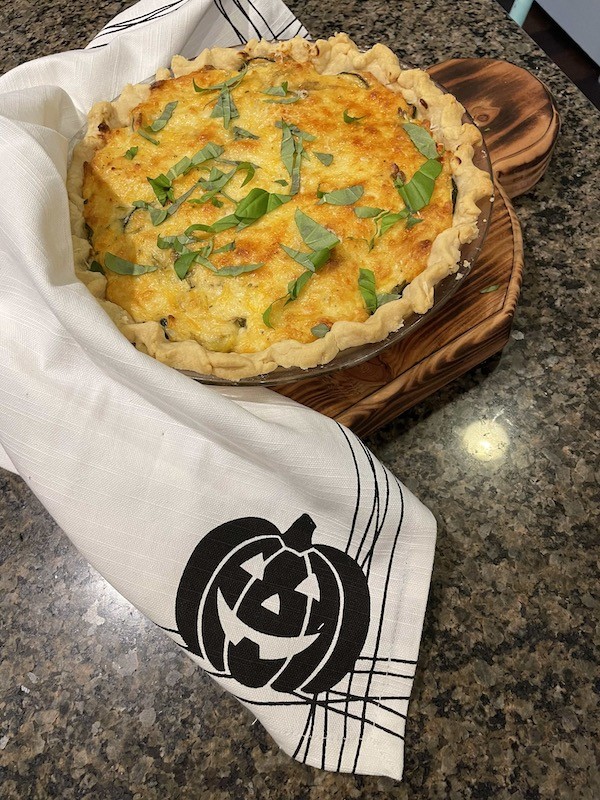 Vegetable cheese pie is something I have always enjoyed.
What could be better?
Easy Vegetable Pie Ingredients
I made this vegetable cheese pie using zucchini, yellow squash, tomatoes and onions for the filling. You could even use, spinach or sweet potatoes too.Topped with cheddar jack and provolone cheese mixed with plain greek yogurt and a little mayo.
Fresh basil and a few other seasonings.
Plus shredded parmesan cheese over the top!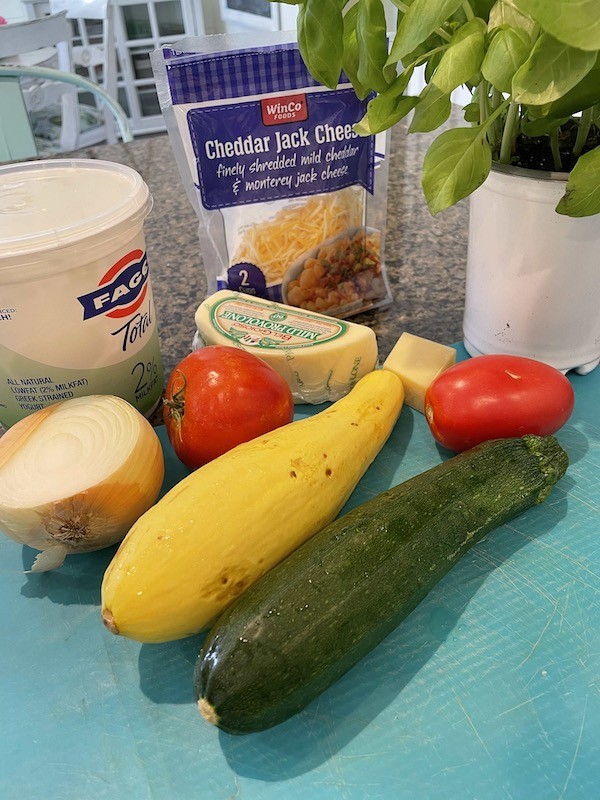 So scrumptious!
Grandma Billie's Pie crust
I started with my grandma Billie's flaky crust recipe! Grandma was known for her pies and I think this crust recipe was the secret!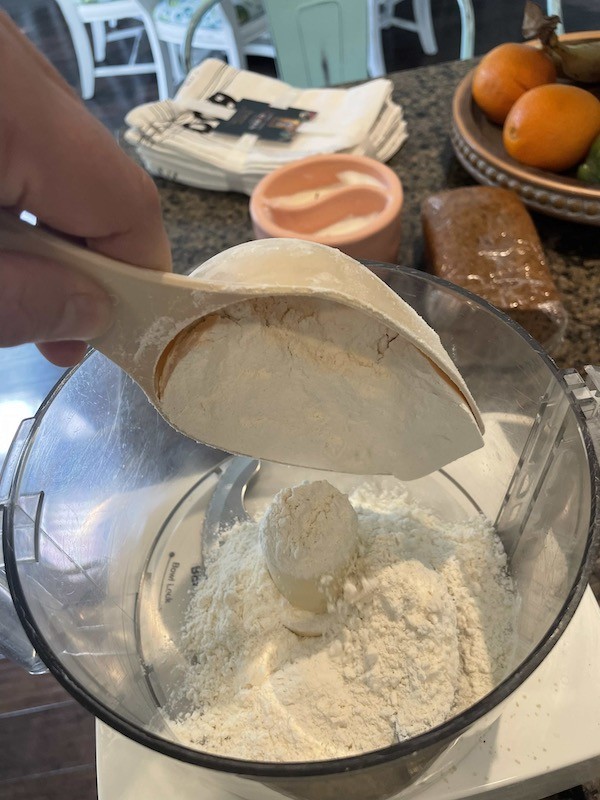 I made my pie crust in my Cuisinart with simple ingredients of flour, some crisco, butter, a pinch of salt and ice water.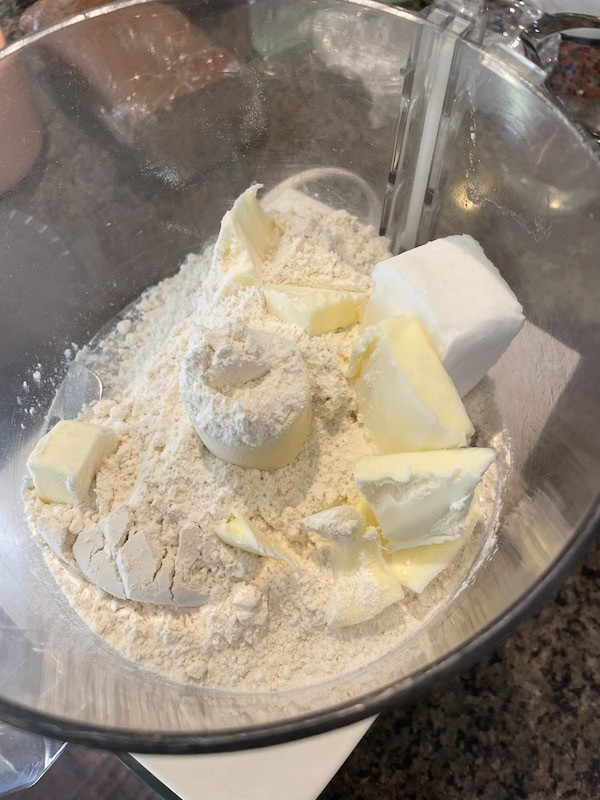 Ice water and cold crisco and butter are key tips. You could make it like she used to by mixing it with two knives in a bowl.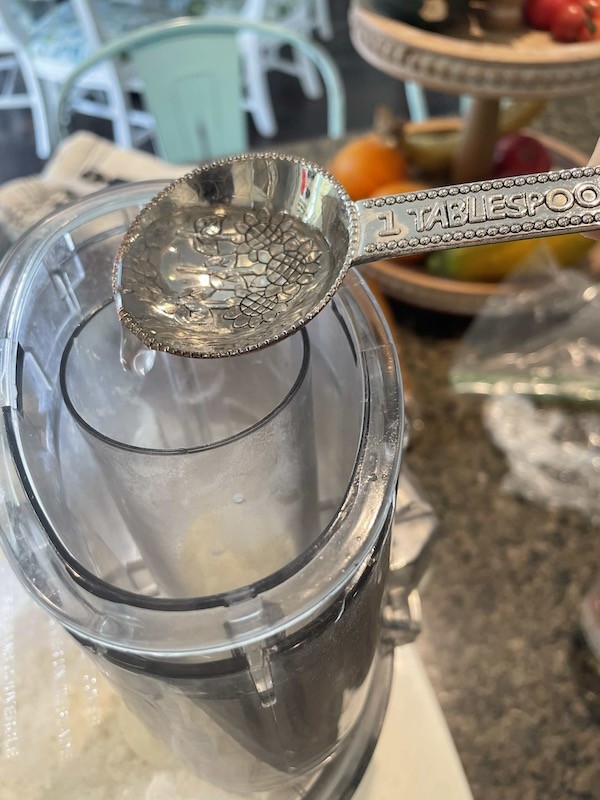 Also do not over mix it or handle it too much with your hands. It can make it tough.
Just mix it until comes together.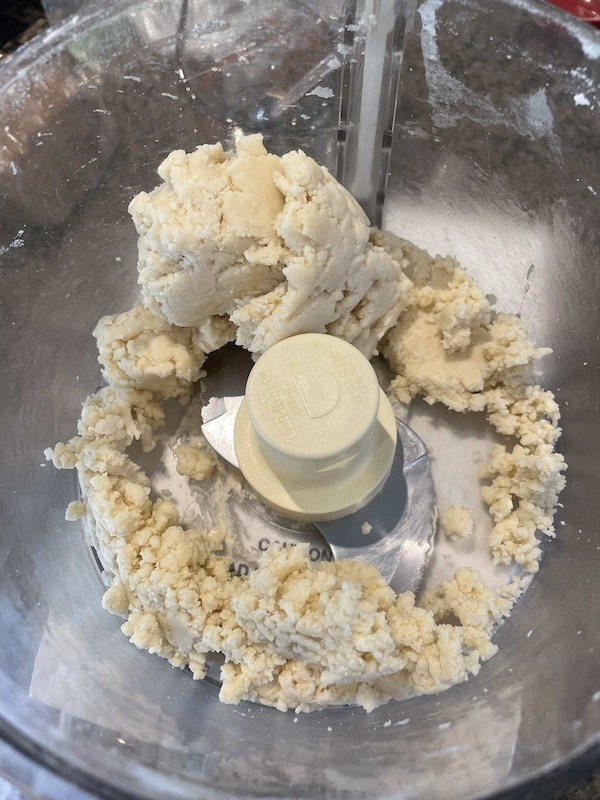 I use my Silicone mat to roll out my pie crusts and cookie dough.
Sprinkle with some flour so the pie dough won't stick.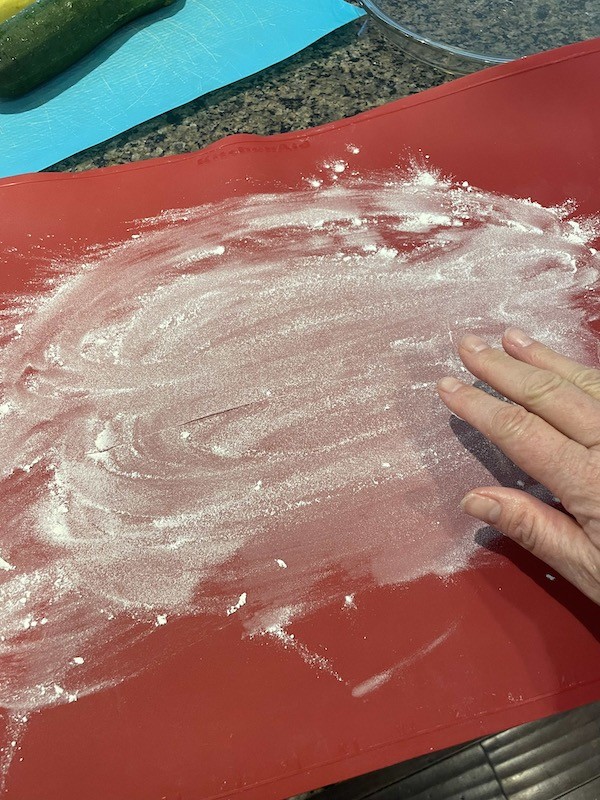 Using a rolling pin, roll it out pretty thin. Not too thin or it will rip and tear.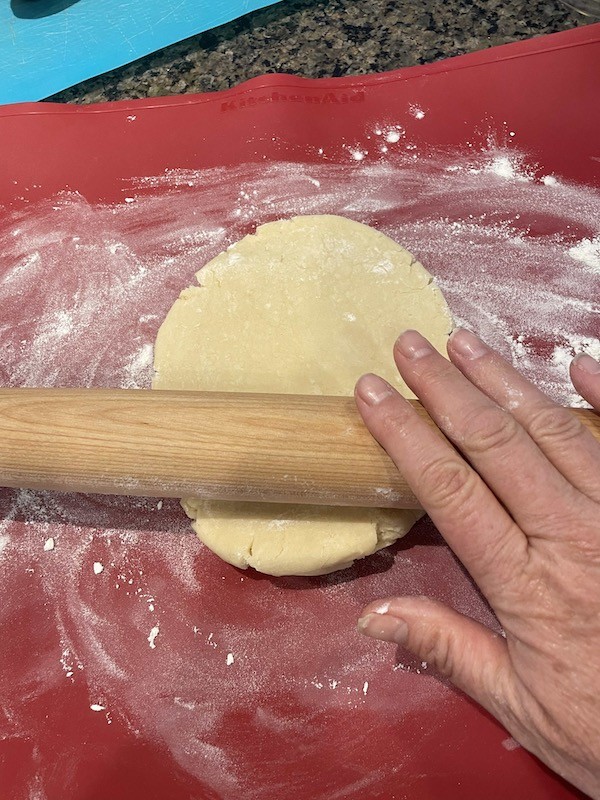 One you roll it out use your pie pan to make sure it's a little larger than the pie pan. You wan to make sure you will have enough dough to go down into the pie pan.
Plus enough to to make a pretty edge to your pie.
I use this pie dough for all my pies sweet or savory.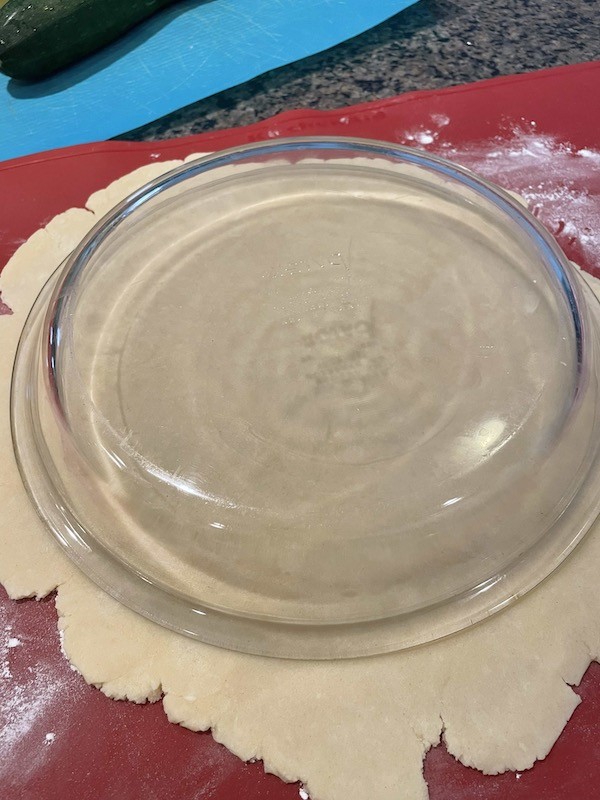 Roll the pie dough on the rolling pin and lay it in the pie pan.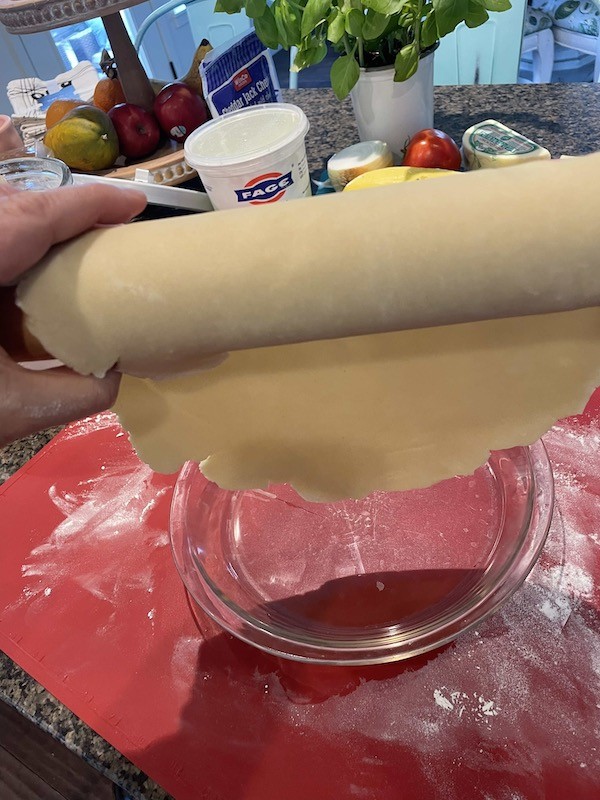 Crimp the edges by laying your thumb and pointer finger on the edge of the pie, and using your pointer finger on your other hand to pull in the dough between the other two fingers.
Pre bake pie crust at 350 for 10 min. Let cool for 20 min.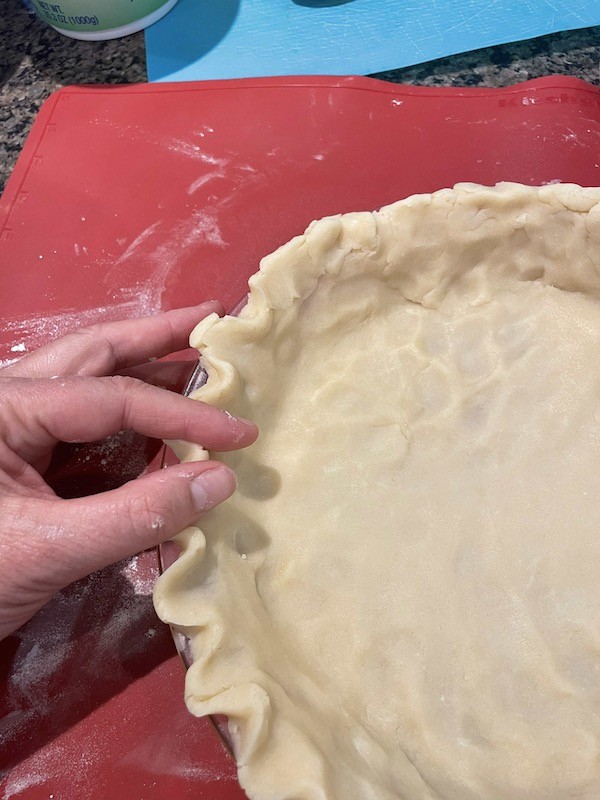 Prepare the vegetable mixture for the cheese pie
Slice tomatoes, sprinkle with salt and let drain in colander for 10 min.
After 10 min blot with paper towel. You don't want soggy tomatoes.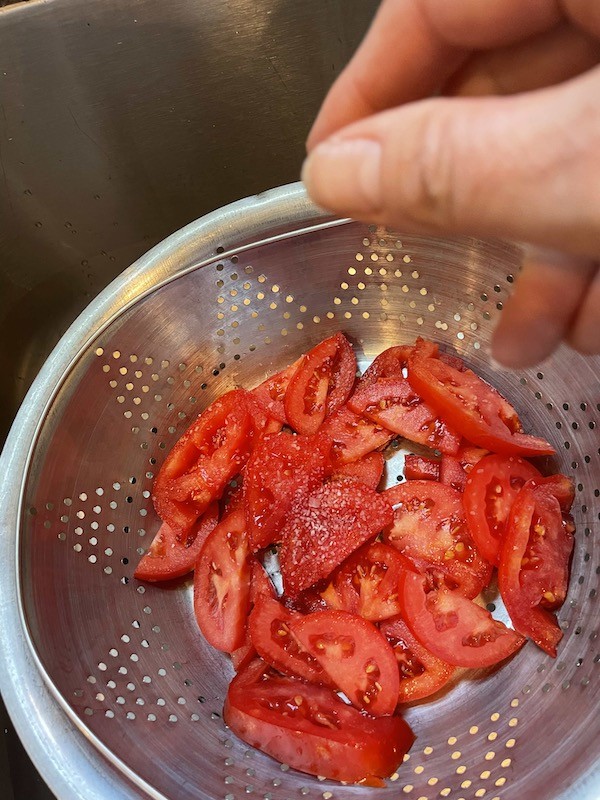 Slice zucchini, yellow squash and onions. This is such a great way to use fresh vegetables from your garden or grocery store.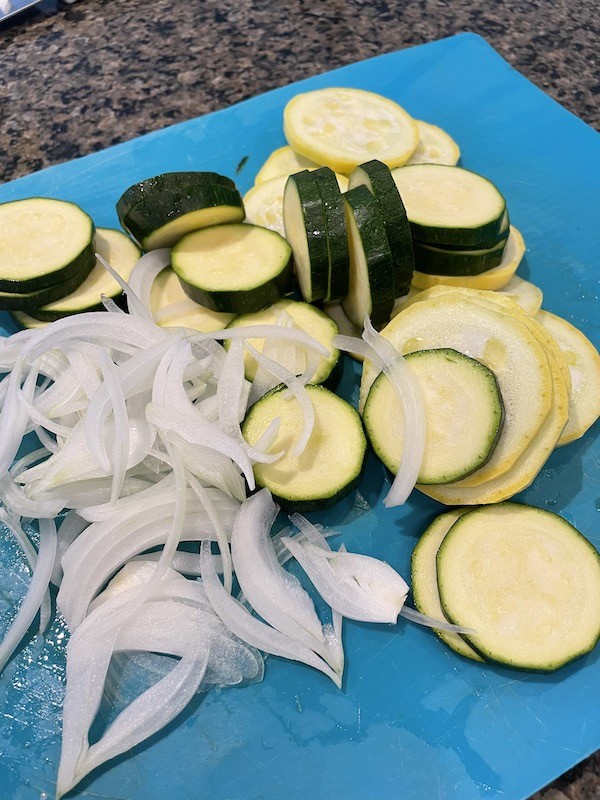 Sauté in a hot frying pan on medium high heat with a little oil until veggies are translucent and turning a golden color. About 5-6 min.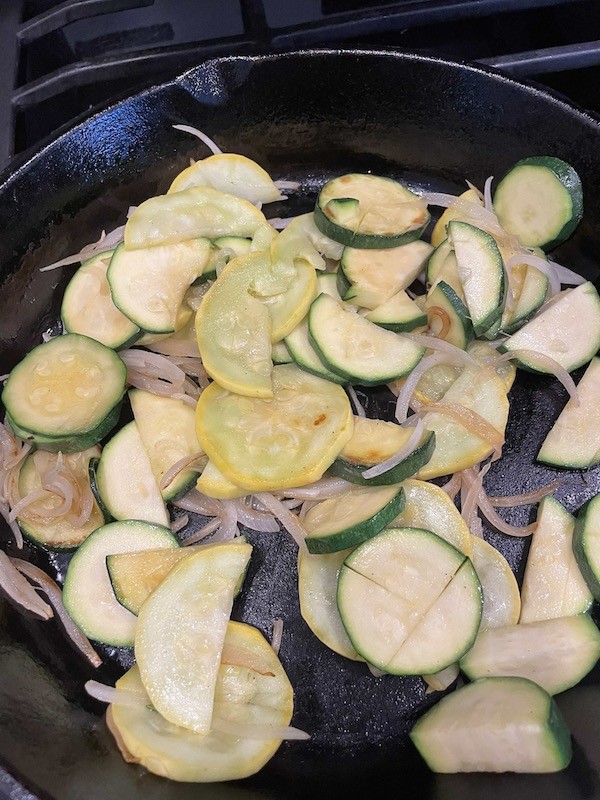 Filling the pie shell
Layer the pie crust with drained tomatoes, then add sautéed vegetables in the pie shell.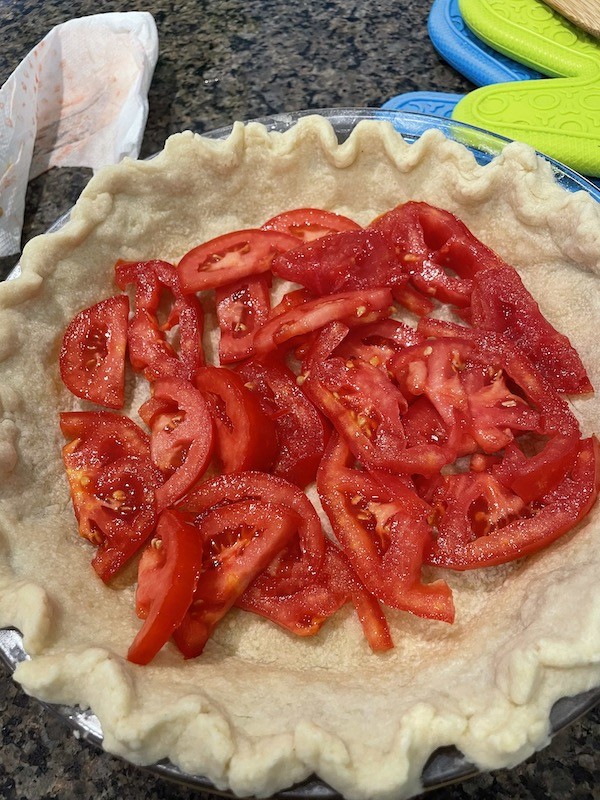 Using scissors cut pieces of basil and sprinkle over the top of the vegetables.
I wish you could smell the sauteed veggies and the fresh basil right now!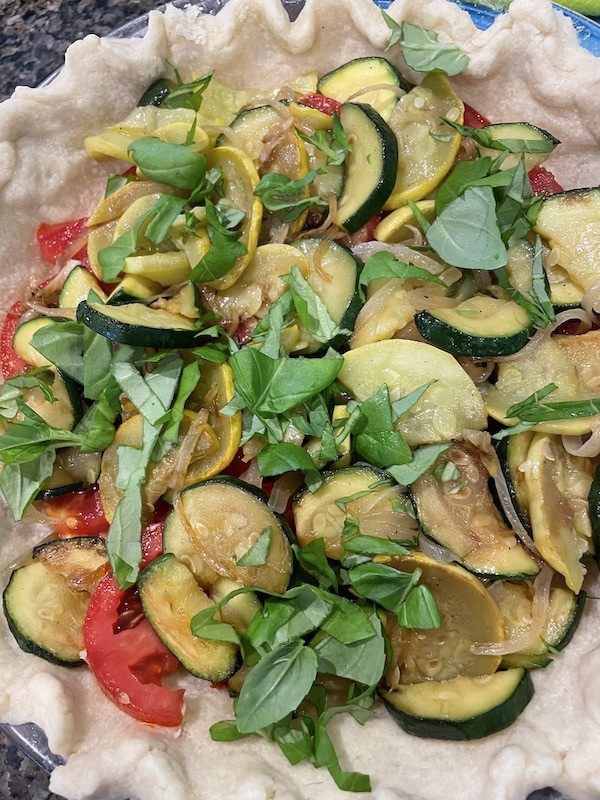 Cheese and yogurt topping
Mix the grated cheeses, yogurt, mayo and seasonings, spread this mixture over the top of the pie. This makes a cheesy sauce inside the pie.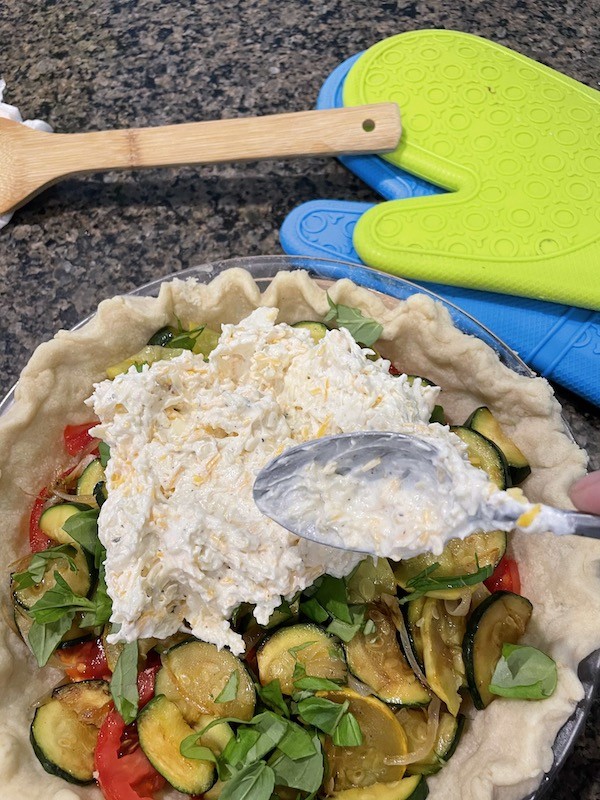 Spread cheese mixture all over the top.
Sprinkle shredded Parmesan over the top and bake in a 350 degree preheated oven for 30 min. or until golden in color.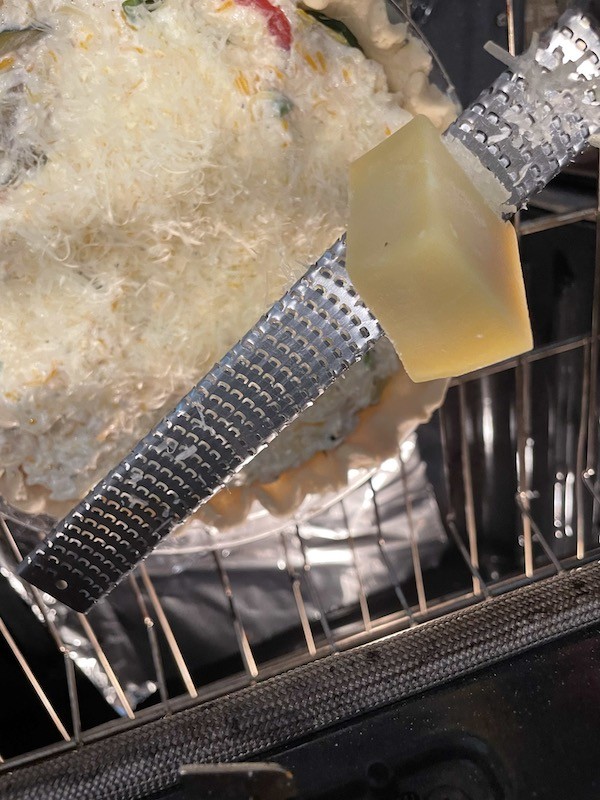 To Serve
Let vegetable cheese pie cool a bit to set. I did not let it cool enough and it fell apart when I cut it.
Once cooled for about 10 min or so cut slices and serve! This pie is great served at room temperature too.
This vegetable pie is perfect served as main course and would be fabulous served with a simple green salad or fruit salad.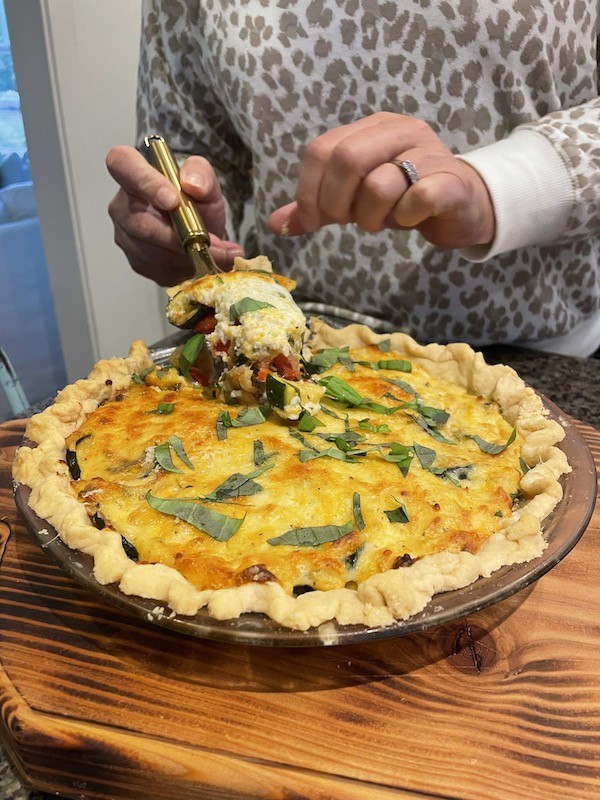 More favorite recipes
Zucchini Lemon Ricotta Gallette
Recipe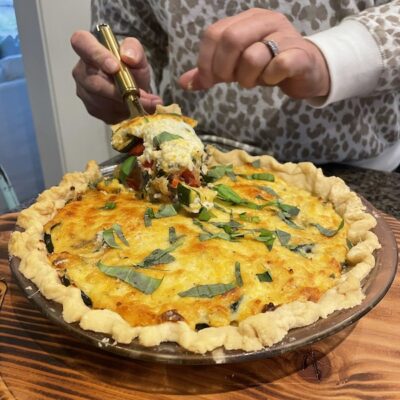 Easy Vegetable cheese pie with homemade crust
Flaky crust filled with sauteed vegetables covered with cheese
Equipment
Rolling Pin

silicone rolling mat

Cuisinart

oven

knife
Ingredients
Flaky Crust
1 1/4

C

flour

1/4

C

crisco

1/4

C

cold butter

2-3

Tbsp

ice water

1

pinch

kosher salt
Vegetable filling
1

medium

zucchini

2

medium

tomatoes

1

small

yellow squash

1/2

large

Onion

5

basil leaves (chopped or cut with scissors)
Cheese Filling
1

cup

cheddar jack cheese

shredded

1

cup

Provolone cheese

shredded

3/4

cup

plain greek yogurt or half mayo

1

tsp

weber beer can chicken seasoning

salt and pepper to taste

2

Tbsp

grated parmesan cheese
Instructions
Mixing the pie dough
Add flour, cold butter, cold crisco, salt to the cuisinart mixing bowl.

Pulse a few times until combined.

Add 2 Tbsp ice water to through the tube and pulse, if needed add 1 one more tablespoon.

Pulse until is just comes together.
Rolling out the dough
Using a flour sprinkled silicone mat and a rolling pin, roll out the pie dough.

Roll until thin and bigger than your pie tin. See photo.
Pre bake the pie crust
Lightly prick the pie crust with fork to avoid puffiness. Bake in 350 degree oven for 10 min.

Let cool 20 min.
Preparing Vegetables
Slice tomatoes, sprinkle with kosher salt. Place in a colander and let drain for 10 min.

Blot with a paper towel to remove moisture.

Slice zucchini, yellow squash and onion. Sautee vegetables in frying pan until translucent and slightly golden in color.

Set aside.
Make cheese topping
Mix cheddar jack and provolone cheeses with yogurt or yogurt and half mayo and seasonings.
Fill pie crust
Layer tomatoes in bottom of crust, Top with sauteed vegetables and chopped basil leaves.

Spread cheese topping over the top.

Sprinkle parmesan cheese over the top.

Bake for 30 min until golden.
Pin For Later