Friends, I want to invite you to come set an outdoor Thanksgiving table with me! When Thanksgiving rolls around you always want to set a pretty table but your tired! Do you feel me? I came up with the most easiest Thanksgiving tablescape that you can do in 10 minutes or even less! My new acronym needs to be KTSK Keep Thanksgiving simple Karin! haha. I am participating in a Thanksgiving blog hop so make sure you check out all the other bloggers at the bottom of the post!
If you like me you like to make all the food as amazing as possible and made from scratch. It begins with homemade pumpkin pies using grandma Billie's pie crust recipe, homemade orange rolls, mashed potatoes, candied yams, fresh green beans with bacon and almond slices, Pink arctic ice salad, fresh cranberry sauce and of course stuffing! I do cheat on the stuffing and use stove top stuffing mix and add onions, raisins, celery and apples.
Ok my mouth is watering now so back to the Thanksgiving tablescape.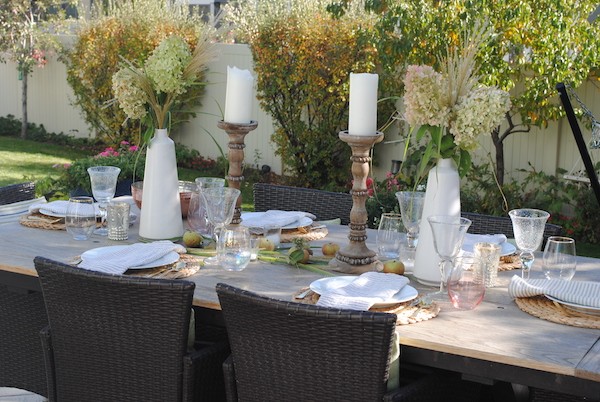 Outdoor Thanksgiving table
I set this up outside in our backyard. I love our yard so much and it feels like a little oasis out there. Our backyard table is actually a metal table with a wooden top that my hubby added.
Remember when he added a wooden planked top to our dining room table to enlarge it here? I LOVE IT!
The wooden table top just adds that warmth I love. So great for Thanksgiving. Then to bring in more natural colors and textures I used my woven placemats.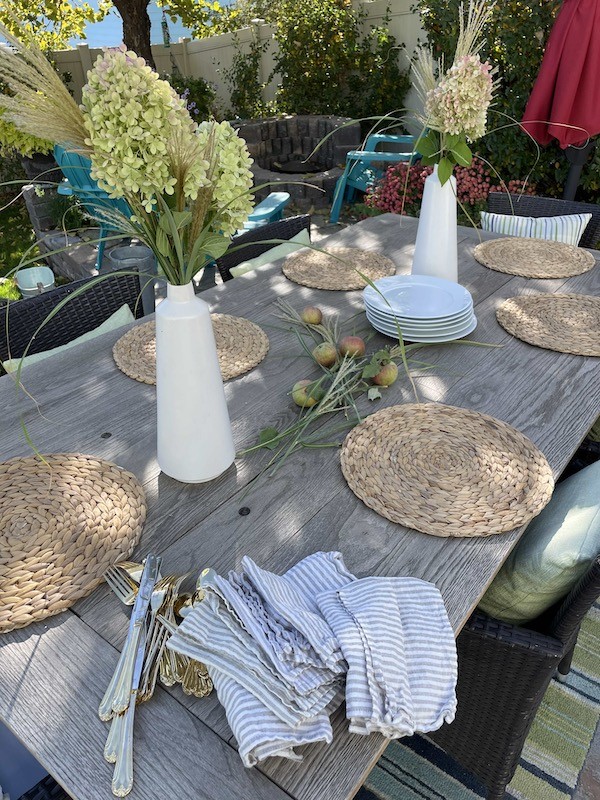 Outdoor Thanksgiving centerpiece
I am trying to keep things more simplistic, I decided to cut things from my yard to go down the center of the table and then I added some fresh red pears.
Bringing in fresh fruit to the table brings in such a beautiful natural feel.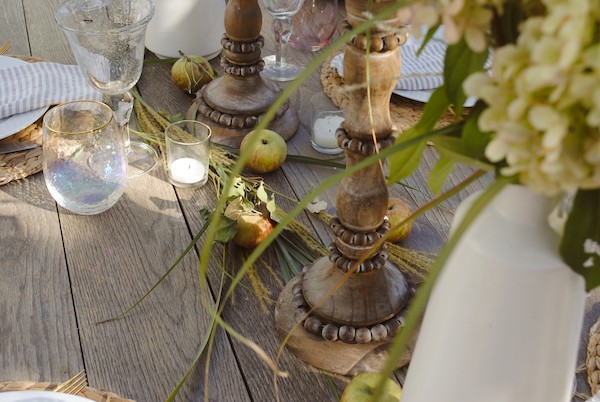 Don't you love the large tall wooden candle sticks with white candles on top? Mixing small votive candles throughout the table brings in a flicker of light when the sun goes down.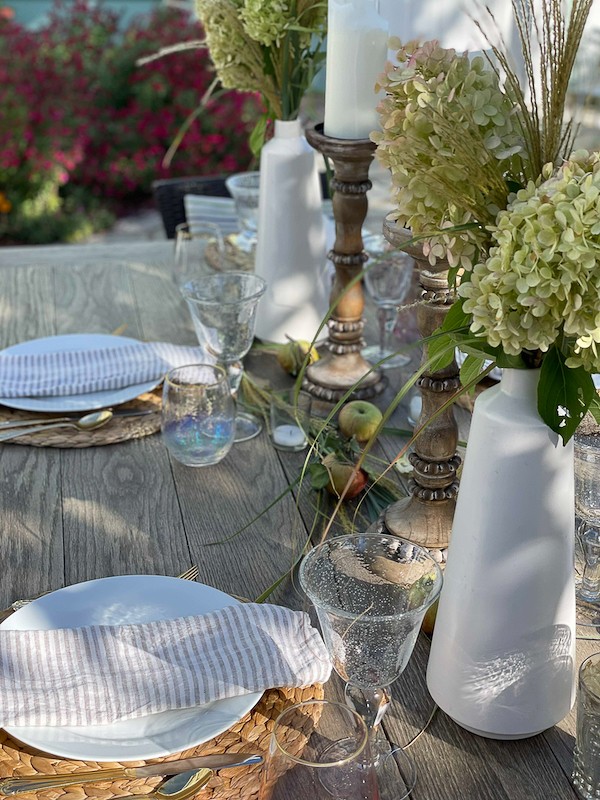 The white vases are a thrift store find by my sister. I added cut hydrangeas from our yard.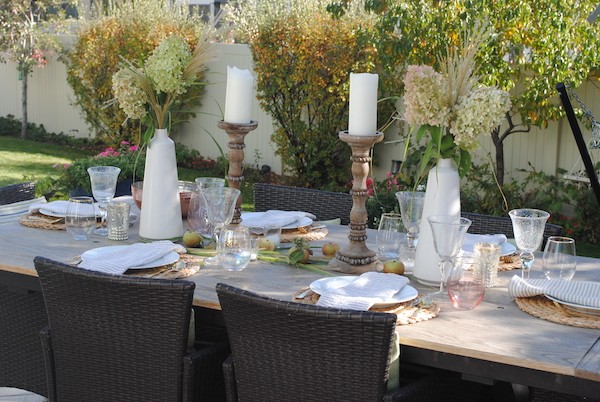 Place settings
The place settings are simple using a natural woven placemat with white dinner plates.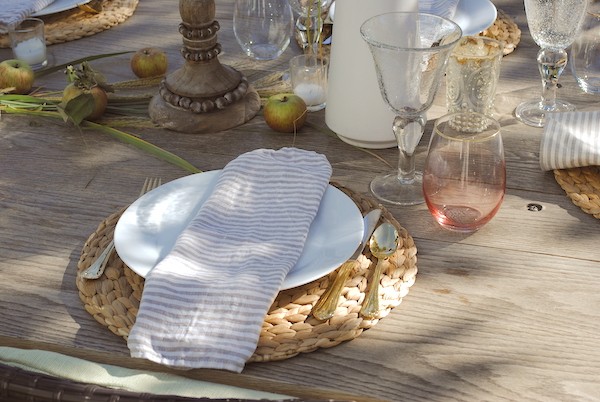 Gold flatware gives a little sparkle.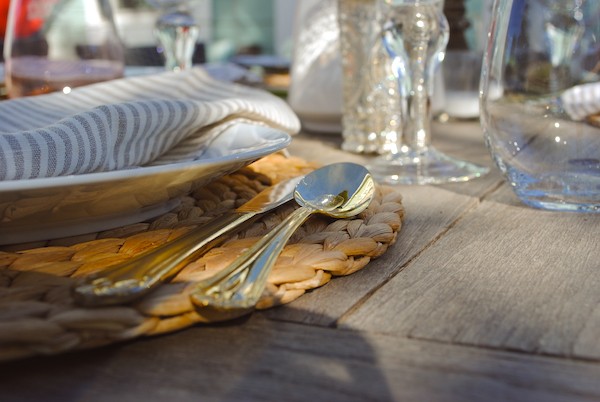 Two different glasses in different heights add more interest. The short glasses with gold rims were a gift from my daughter. The best part is that they were from a thrift store!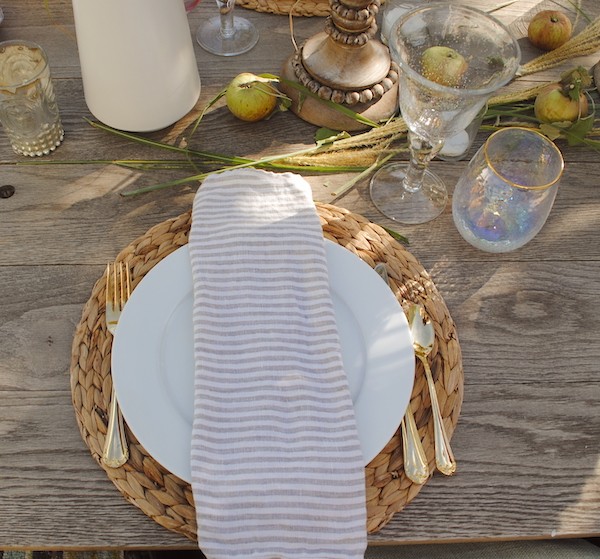 The finished outdoor Thanksgiving table
I just love adding in a fun detail like a hammered copper bowl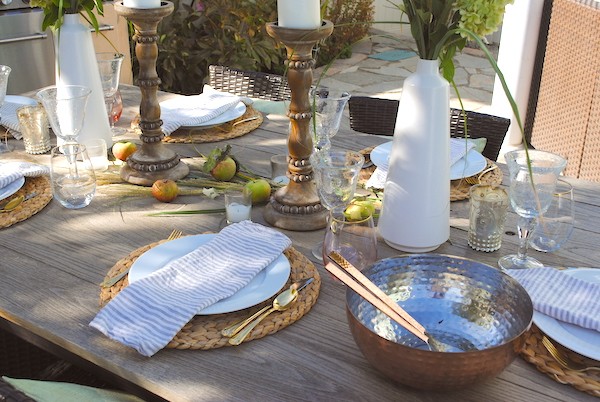 I hope this gives you some fun and easy ways on how to set an outdoor Thanksgiving table.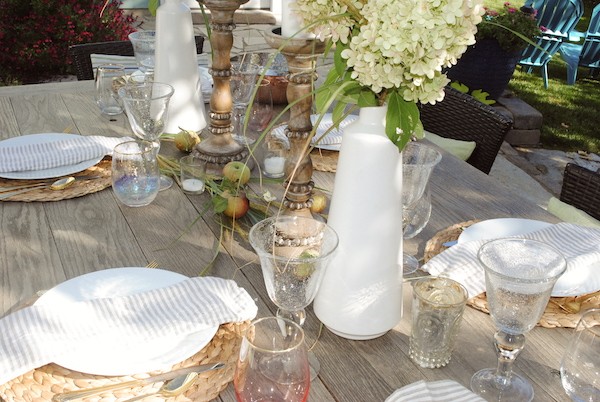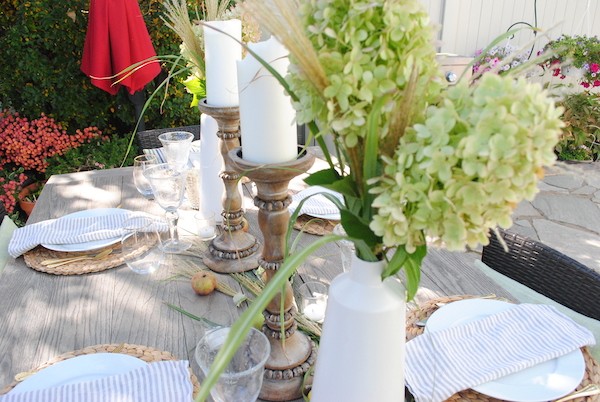 Thanksgiving tablescape blog hop
I am so happy to be participating in a Thanksgiving Tablescape blog hop hosted by Rita over at Panopoly. Make sure to pop over to each blog to see the great ideas.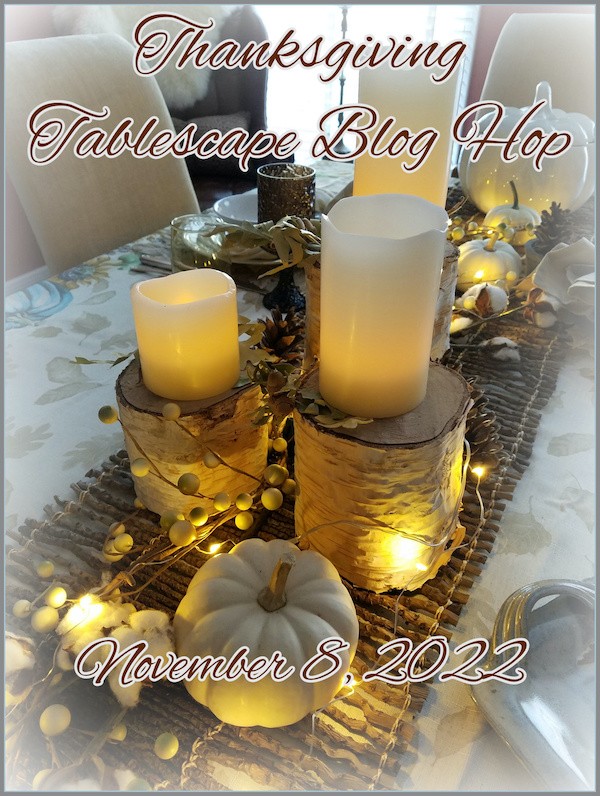 Me and My Captain – Those were the days and I am very grateful
Pandora's Box – Thanksgiving Brings Back Memories
Living With Thanksgiving – Thankful and Blessed
Everyday Living – Thanksgiving Traditions
My Hubbard Home – Pumpkins and Pears Thanksgiving Holiday Table
Thrifting Wonderland – Give Thanks…Thanksgiving Tablescape
Panoply – Homeland Merriment Thanksgiving
Home is Where the Boat Is – Porch Dining with Plaid & Proud Tom Turkey
Corner of Plaid and Paisley – Give Thanks
My Thrift Store Addiction – In Everything Give Thanks – Garden Tea for Two
Life and Linda – A Copper and Blue Pumpkin Table
Karins Kottage – Come set an outdoor Thanksgiving table with me
The Painted Apron – Grateful Gathering
Belle Bleu Interiors – A Time to Give Thanks
Dinner at Eight – Patterns in Blue for Thanksgiving
Red Cottage Chronicles – A Cozy Cottage Thanksgiving Tablescape
The Bookish Dilettante – Thanksgiving Table in the Breakfast Room
The Little Yellow Corner Store – A Northwoods Thanksgiving
More Karins Kottage Thanksgiving Tablesape Ideas
Style a Thanksgiving table with old book pages
Fall tablescape using mason jars
10 Tips on creating a Thanksgiving tablescape
Black and white tablescape for Thanksgiving