Our second day here in Italy we took our new and old friends to Casoli to show them the area and our Palazzo Ricci that is being restored. Visiting Casoli Italy and our palazzo is of course our favorite day here!
As you know if you have been following my Italian travels, we come to Italy 4 to 5 times a year because we have a business here in Casoli. We are renovating an old palace into a private residence club. There will be 14 different residences in our palazzo. Four 1 bedroom flats, six 2 bedroom flats and two bedroom flats plus a beautiful 3 bedroom penthouse and a separate 2 story cottage also with three bedrooms.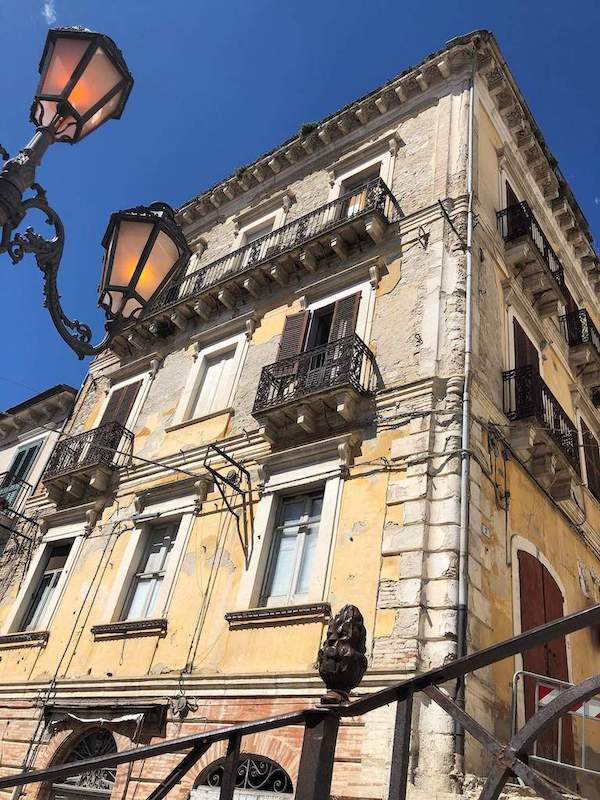 Starting the day in Casoli
We always start the day with a traditional Italian breakfast. Pastries at a little outdoor cafe! .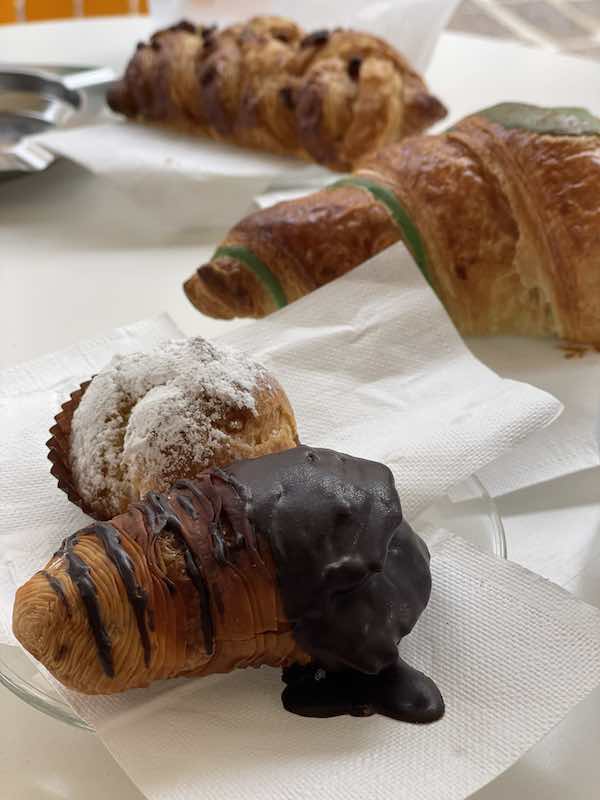 It is always surreal to be sitting at an outdoor Italian cafe enjoying local pastries watching the goings on in the town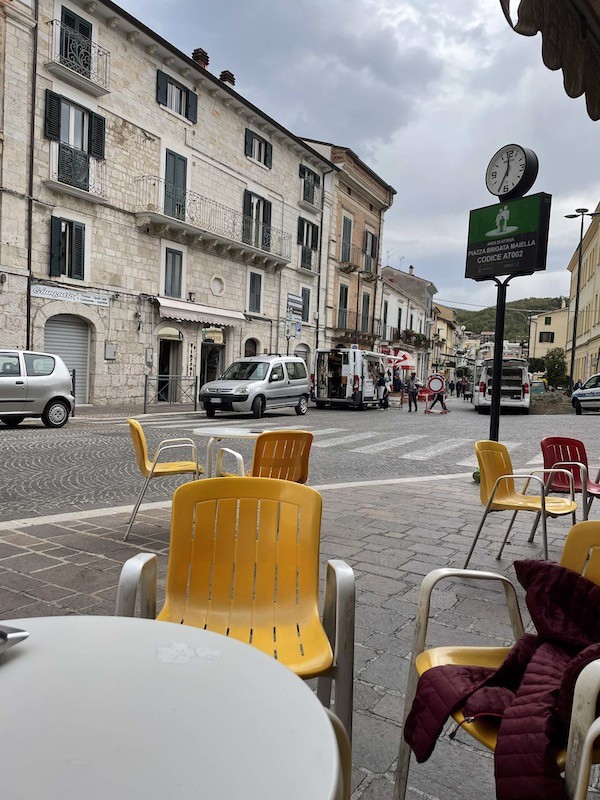 It's feels like we are living in an Italian movie! 
Casoli Outdoor market
After breakfast we walk through the open market right through the middle of town. I love watching the local vendors interact with the local residents as well as with us.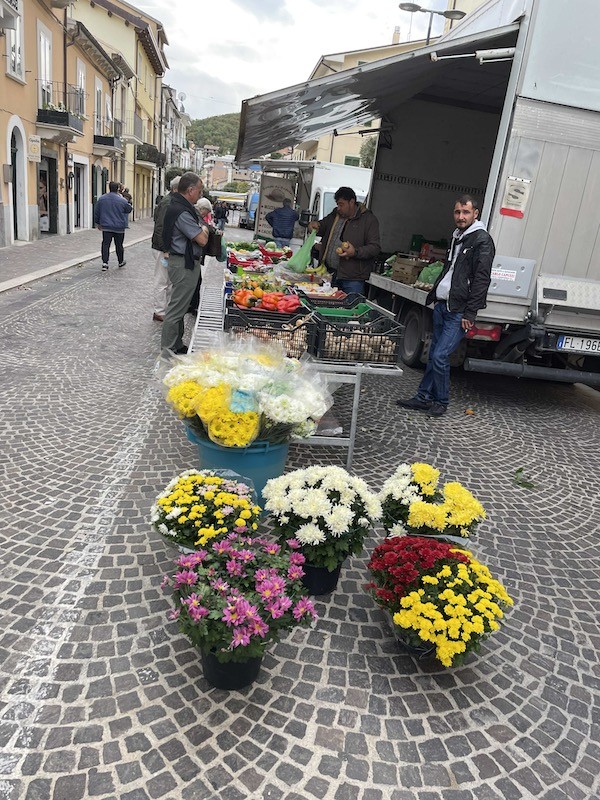 There is always lots of fresh food, clothing, shoes, fabrics, knick knacks, flowers and kitchen supplies to purchase.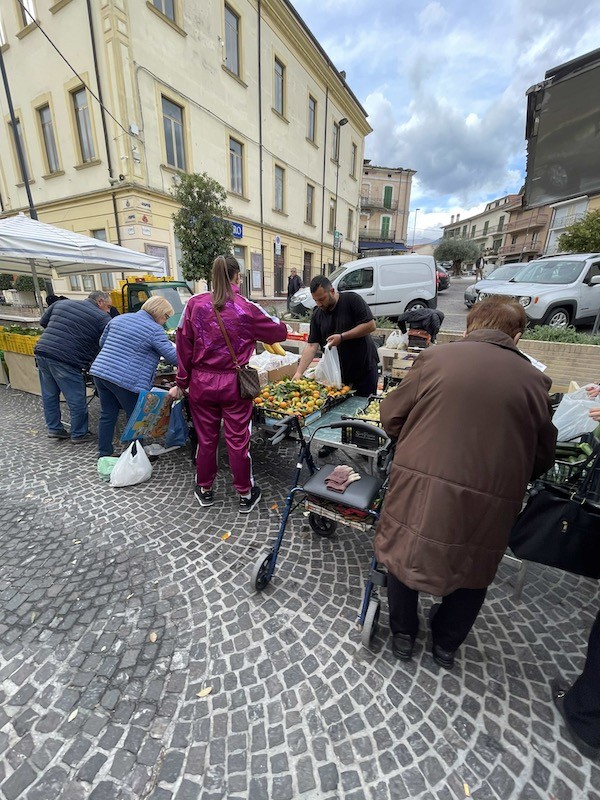 One of the local meats that is sold here in the market is called porchetta… which is roasted pork. It is so flavorful! I love it when they use it to make sandwiches.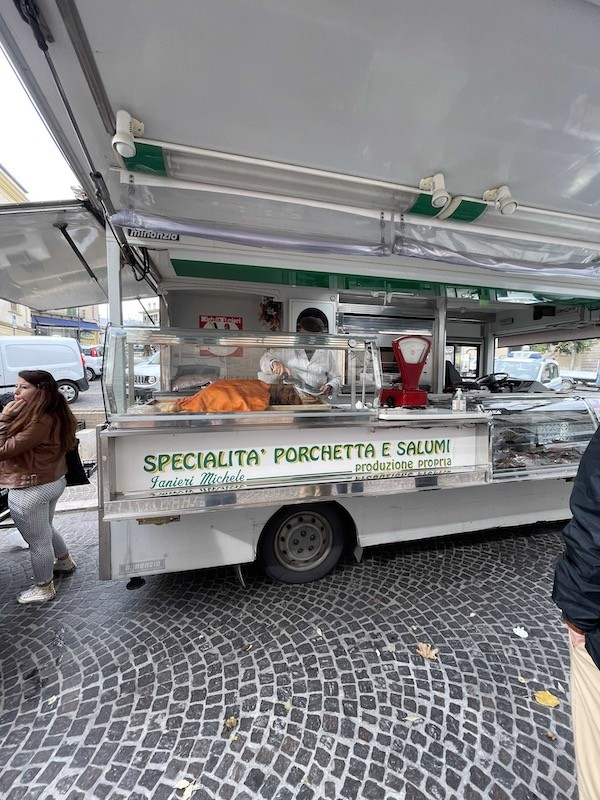 Palazzo Ricci experience center
After a lovely stroll through the market, we bring our guests to the Palazzo Ricci experience center which is really a small showroom.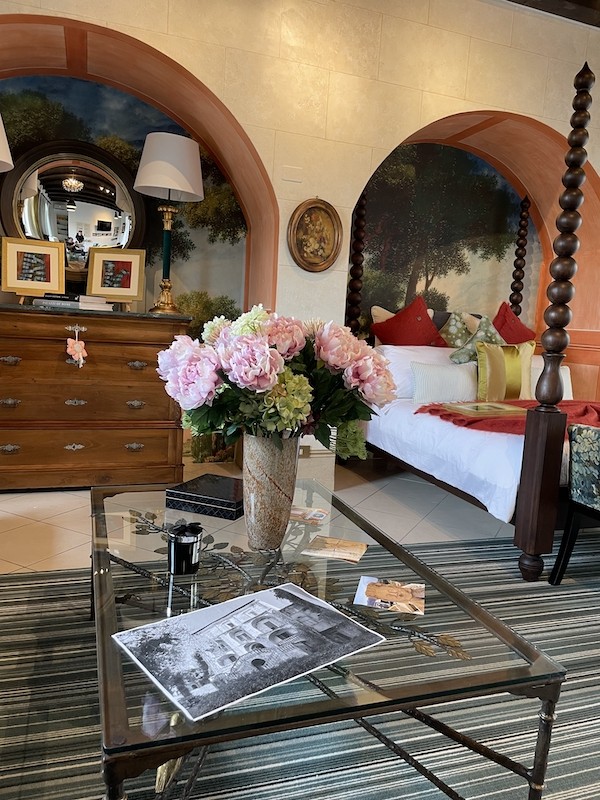 We show everyone a little sample of what our Palazzo Ricci Private residences will look like when they are completed. Valeria Milano our director of sales, does an amazing job explaining the history of our palazzo and what is currently happening with the renovations.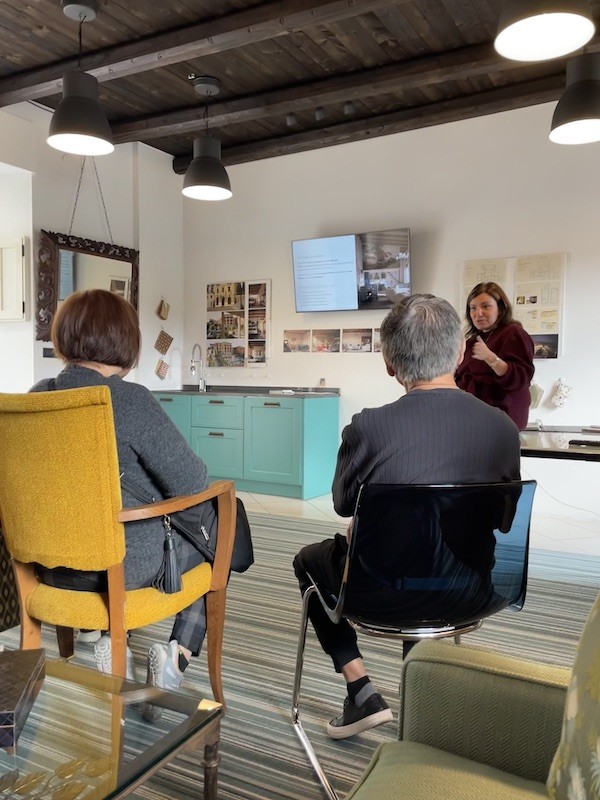 After the short presentation we take everyone on a tour of the palazzo. 
Tour of Palazzo Ricci
We love to see the progress that is taking place on our Palazzo. Each residence will have unique characteristics like a mezzanine bath in a 2 bedroom flat, sky lights looking up to the castle in the penthouse, a 200 year old olive press that will incorporated into an entry. Really unique and different!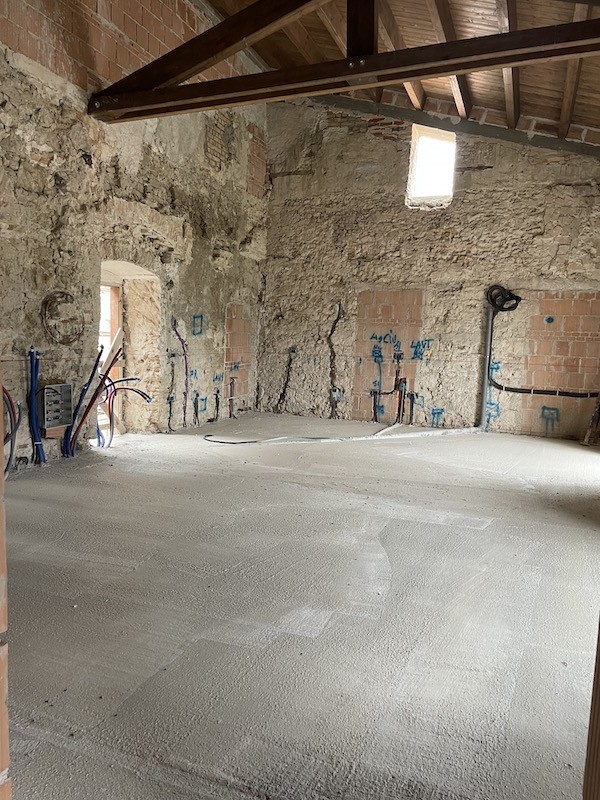 One residence will have a private garden with its own water features. The views out of residence 10 (below) with a full length balcony are absolutely stunning!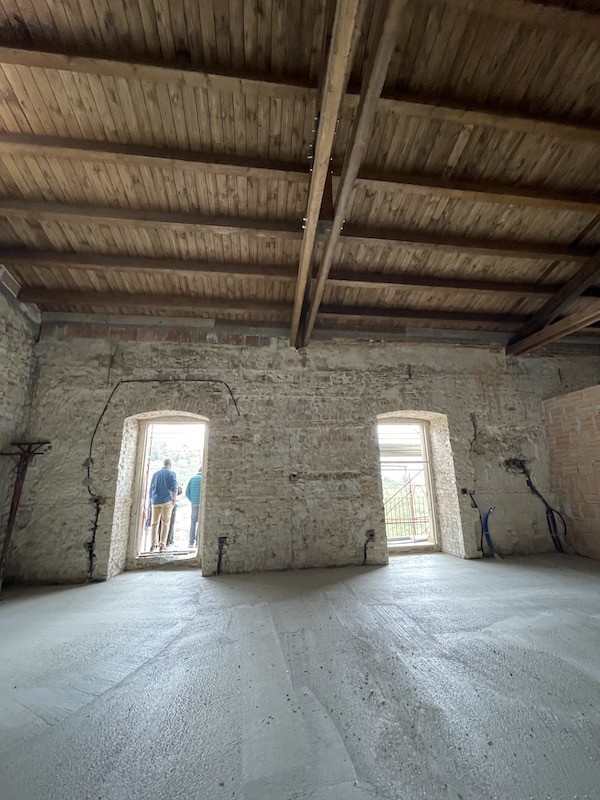 The cottage is a separate building and it looks absolutely amazing right now. It's exciting to really see it with the defined walls, bedrooms and bathrooms taking shape.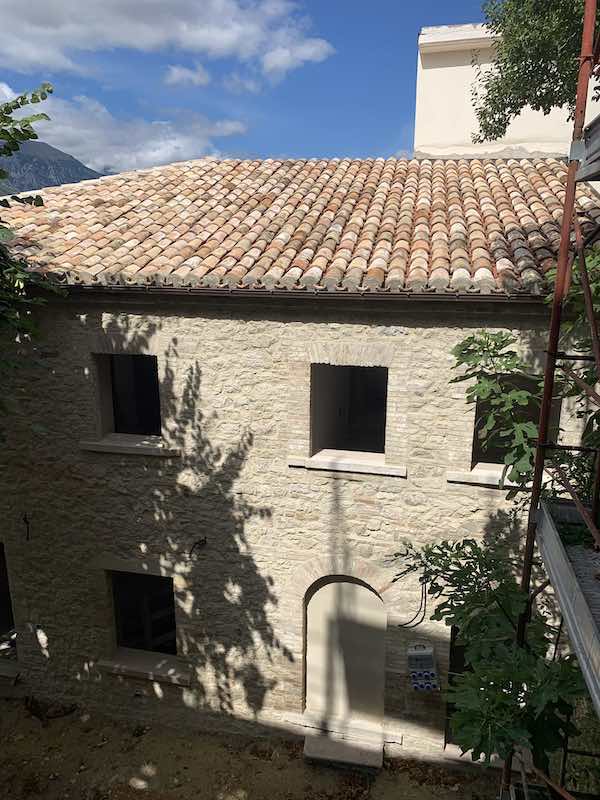 I can't wait until it is all completed with all the furniture, linens, drapery and rugs!
Lunch at Fiori's
After the tour of the palazzo it is always a culinary journey to dine at Fiori's restaurant right next to our Palazzo Ricci. Our talented friend Carmine Fiori is a master artist in the kitchen. He always brings a new twist to basic Italian dishes. His pasta and bread are always artisan made.
This was the appetizer!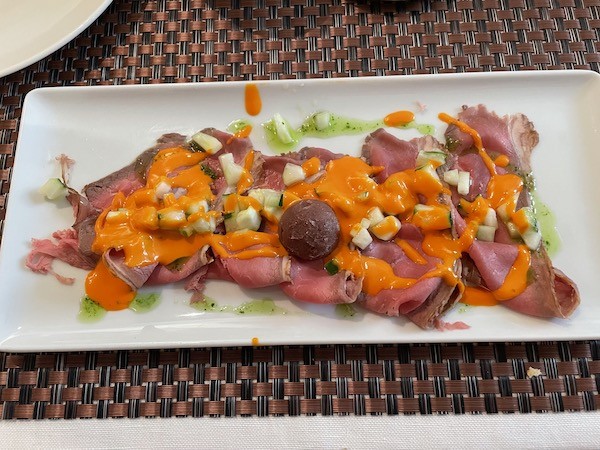 Everything is served so beautifully and you can't wait to taste to see what he has created because you know it is going to be tingle your taste buds!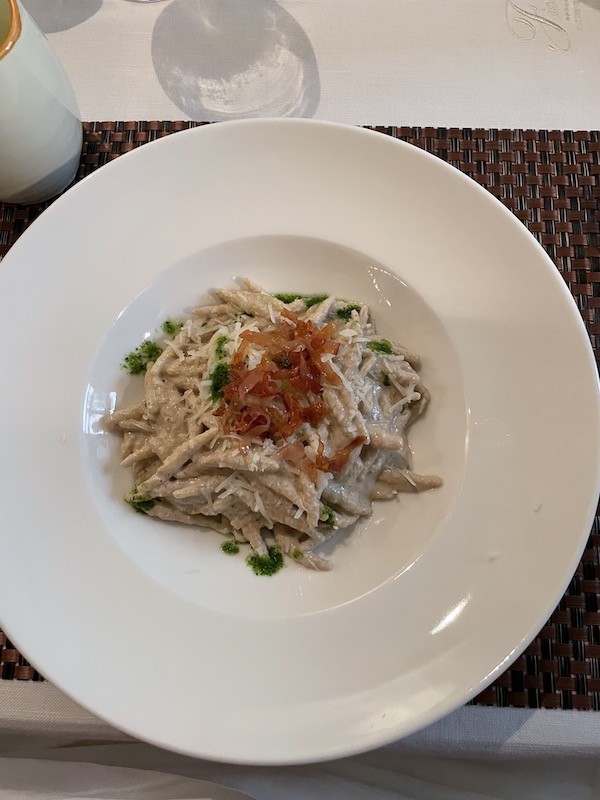 Just look at these spectacular desserts!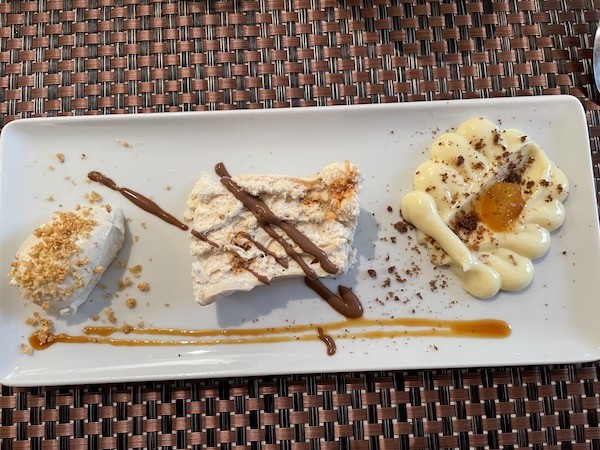 Touring the town of Casoli
After lunch we go on a walking tour of some of the highlights of Casoli with the Vice Mayor Barbara. We go the to castle at the top of Casoli. Right now it is undergoing some renovations but we were able to see parts of the castle.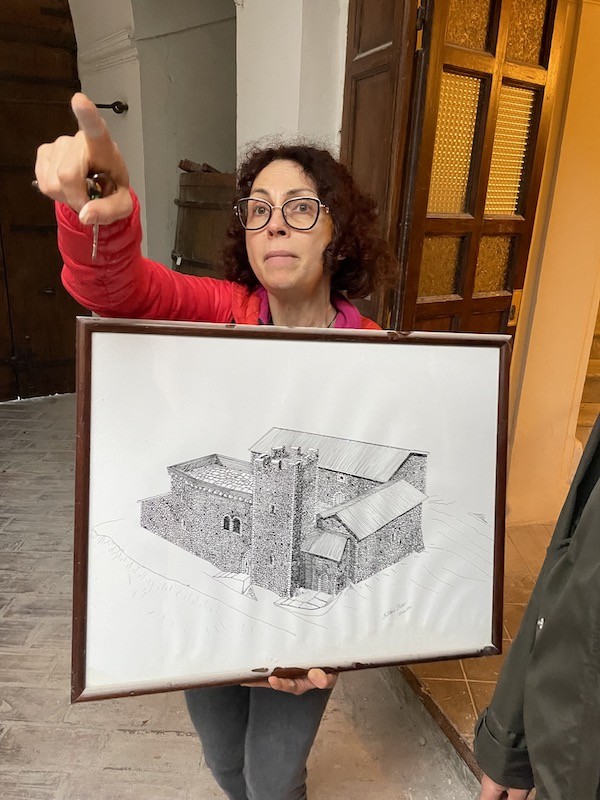 We then take everyone to see the Via Calvario steps …..which means calvary, representing the steps Christ climbed with the cross to calvary hill. They reenact this every year at Easter.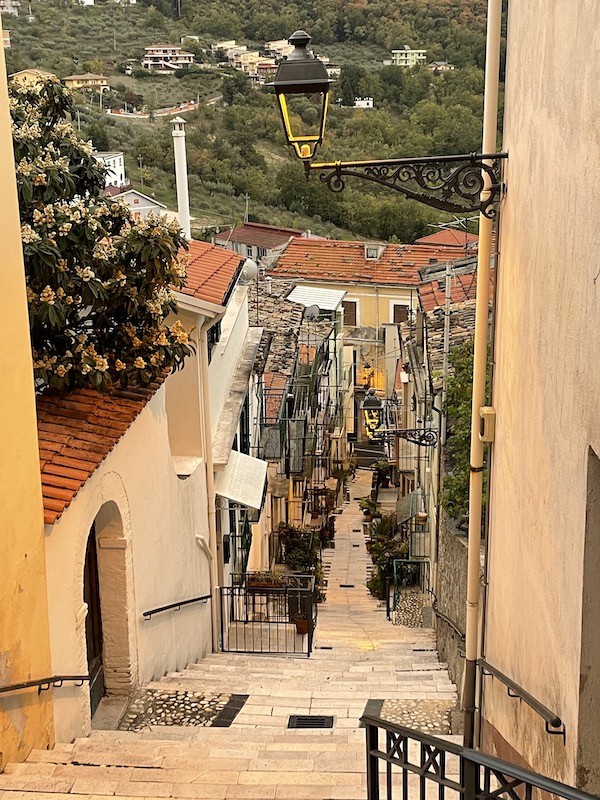 Then a darling lady named Anna shows us her family's olive press from the 1800's that is under her home. Everyone is always so gracious and we love seeing the great pride they have of their town.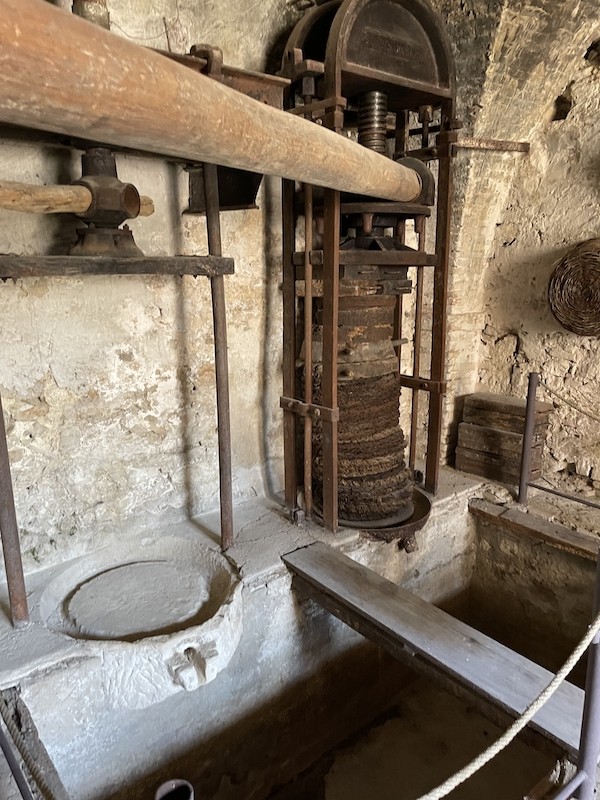 The city of Casoli recently put up these new KIssMe signs for people to take photos of kissing your significant other. Mike and I had our friends take this photo of us.
I always tell my hubby to kiss me the way the Italians do…haha You can see the castle at the top of the photo in the background. The green almost rectangle shaped area below the castle and to the left in the photo is our Palazzo under construction.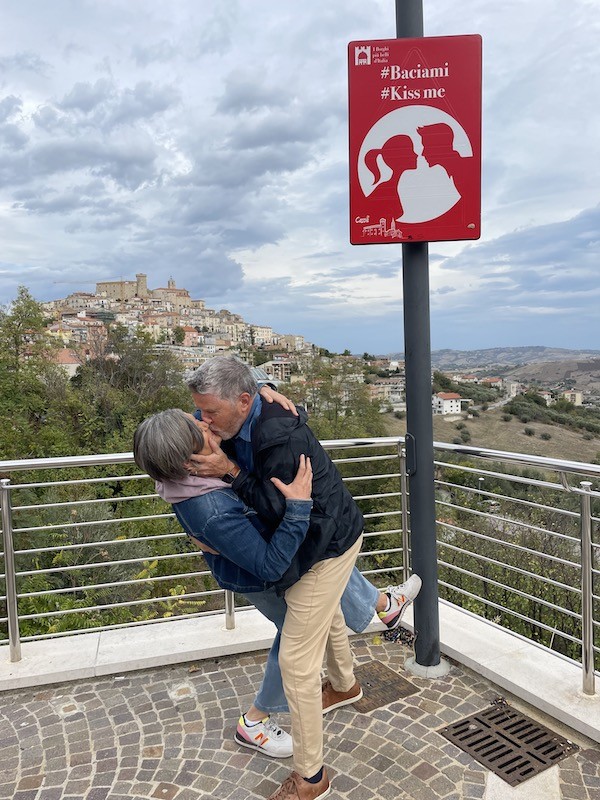 Dinner in Lanciano
For dinner we head to the nearby town of Lanciano. It is another historic medieval town with a wonderful restaurant where we have a light dinner.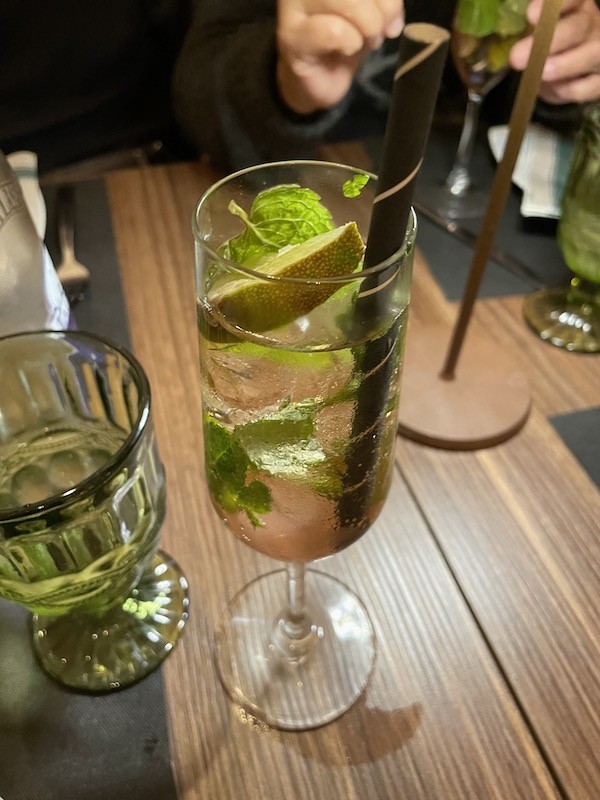 Stefano, Valeria's husband owns the restaurant called Abruzzo Gourmet right on the piazza.
He always has the most amazing non alcoholic drinks for us to try.
His pizza's are some of the best we have had in Italy!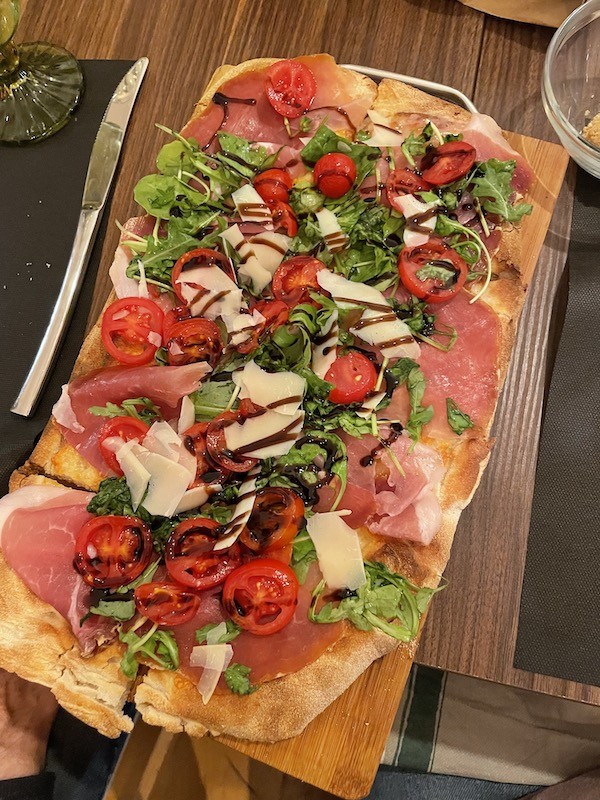 Of course we have to end the night with some gelato!
Pistachio seems to be an all time favorite but I tried a cherry, chocolate almond and it is now my favorite.