We celebrated our daughter Emily's 25th birthday with family and friends on Sunday and I set the table using Black and white with a touch of gold. Even though I have a little bit of Halloween decor on the table and the chalk boards in the back…the rest of the tablescape is perfect for Thanksgiving.
I don't have enough of one type of plate to set the table for 16 I used two different main plates…white and the white ones with black lettering. For the salad plates I also had to use two different black and white patterns…polka dots and toile but I love the combo.
I have some gold goblets but once again not enough..so I mixed in some clear goblets to make it work.
I added soft layers of black and white fabric to add texture…I started with a white tablecloth layered with a black and white pinstripe and a black and white toile type pattern. Another layer was paper! I added a few "placemats" that I made from this fun paper with silverware printed on it.
For the napkin rings I mixed gold beaded ones with sparkly orange large beaded ones
Down the center of the table I placed white mini pumpkins, a couple of peach colored pumpkin, silver candle sticks, a large creamy colored urn (that I never did fill with anything) and some little votive battery operated candles
I wanted to show you a picture of how the table looked without the black and white napkins…it just looks naked without them don't you think?
I used my gold chargers but I flipped some of them upside down so that the black would show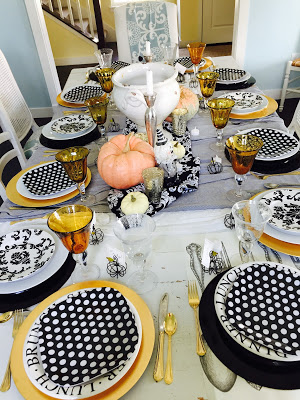 The darling chalkboard prints are from Caravan Shoppe…I purchased the files and printed them off as an engineering print! You need to check them out..there are lots of free printables for Thanksgiving and Christmas and lots of other holidays and celebrations.
We ended up having to add another table to the end of the big table to fit everyone!! Yep we were sitting in the entry way!! It was so fun! Happy Birthday Emily!!
Delicious recipe for Pork with apple butter, yummy multi colored carrots with a unique sauce, and a pumpkin brown recipe coming tomorrow!!