I really had fun putting this tablescape together!
I love bright colors and Orange is one of my favorites!
I found these little beauties at Home Goods the other day $7.99 for a set of 4!!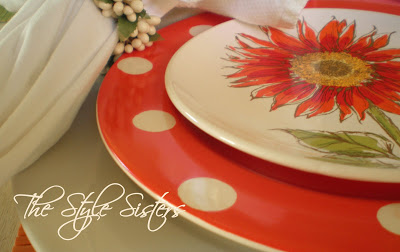 I thought they would go perfectly with a little slice of lime green mixed in as well!
I am using my favorite Thrift store glass cylinder purchase again. Man I love that thing!
For only $7.00 KA-CHING!!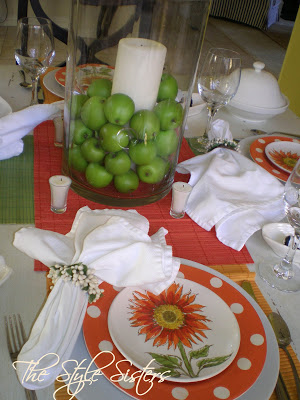 Can't forget to use these perfectly white yummy napkins with my pretty white napkin rings beatifully scrunched on them. You can still buy some for only $1.00 each right here on my blog…Look to the right…see them over there?….They are just waiting to be bought and I will ship them right to your door to be used to set your beautiful table!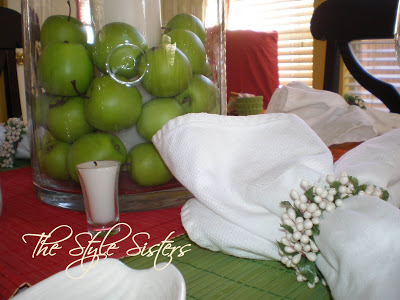 Oh yeah…. how about my little sunflower babies! I found these at Home Goods too…a set of six appetizer plates that come on a small black wrought Iron holder for only $5.99..yes…I know…it is fabulous! he he he
They look so dang cute together or as my sister Tiffany would say….
"This has got the cuteness factor going on!!!"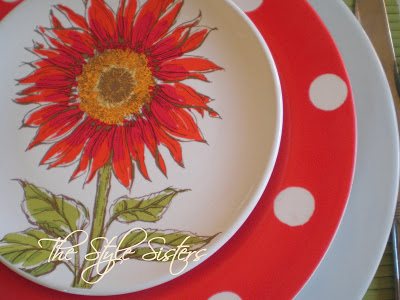 ooooh another shot of my beautiful white napkin rings…aren't they so pretty? I love them because you can use them all throughout the year! Remember this
tablescape
that I did in the fall? I used these white napkin rings and it looked amazing against the fall colors.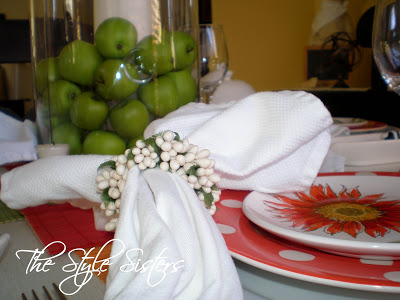 I found a herd of cows while at Home Goods too! These little darlins are actually corn cob holders! I had to have them! They were only $4.99 for a set of 4! Oh my gosh they are the cutest things ever sittin here waiting for their corn!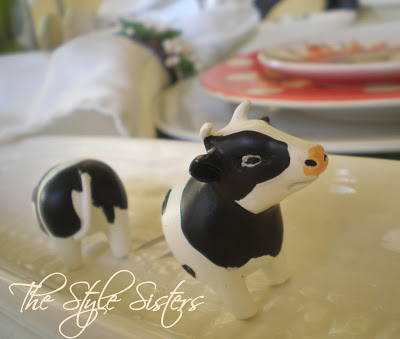 I love how appetizer plates are all the rage now and come in a zillion different patterns.
hmmm I think I need to have an appetizer get together soon!
I love eating all kinds of different savory appetizers don't you?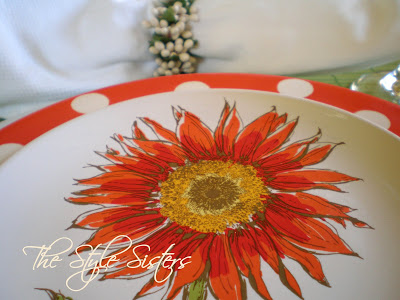 So bright and cheery…Orange and Lime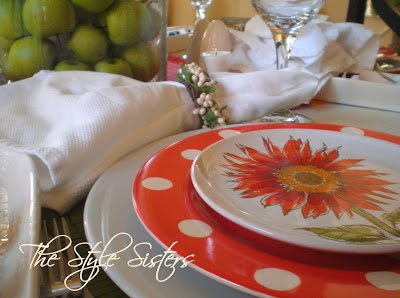 Here is miss polka dot all on her own…just waiting for something yummy
to be placed upon her.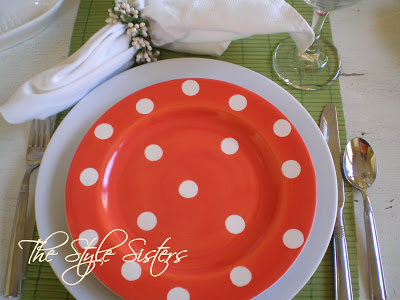 Inside of my Thrift Store "VAAZ" filled with little green decorative apples and a white candle. Eat your heart out Pottery Barn.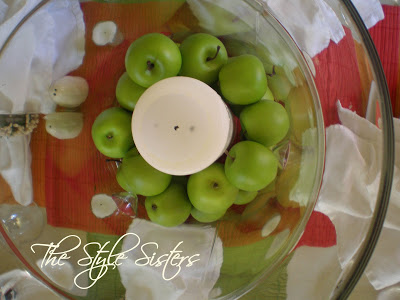 Do you see the bamboo placemats in the back? I didn't have a tablecloth that would work so I used lots of my .50 cent bamboo placemats (Garden Ridge) in Orange, dark Orange and Lime green. I placed them in kind of stripes across the table to add a Bold Pop of color and texture.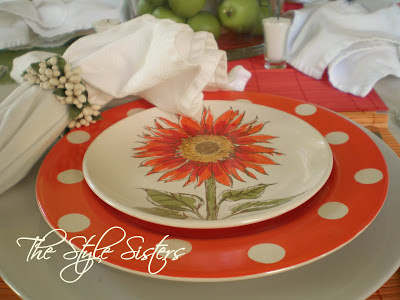 Moooo!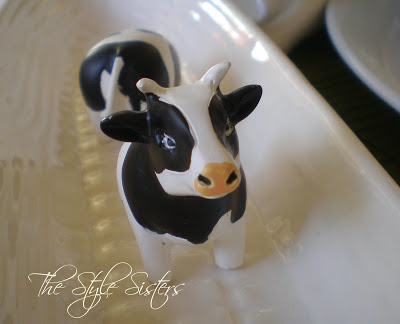 Here is the table in all its bright colorful glory.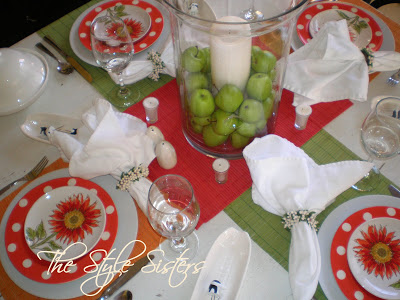 Remember to check out my Napkin Rings up there on the right….they are just waiting for a nice place to come home to. 🙂
Happy Spring Everyone! 🙂
I am participating in