I have put together some easy tips on how to create lake cottage look. My favorite colors are greens, blues, salmon and of course a lot of white.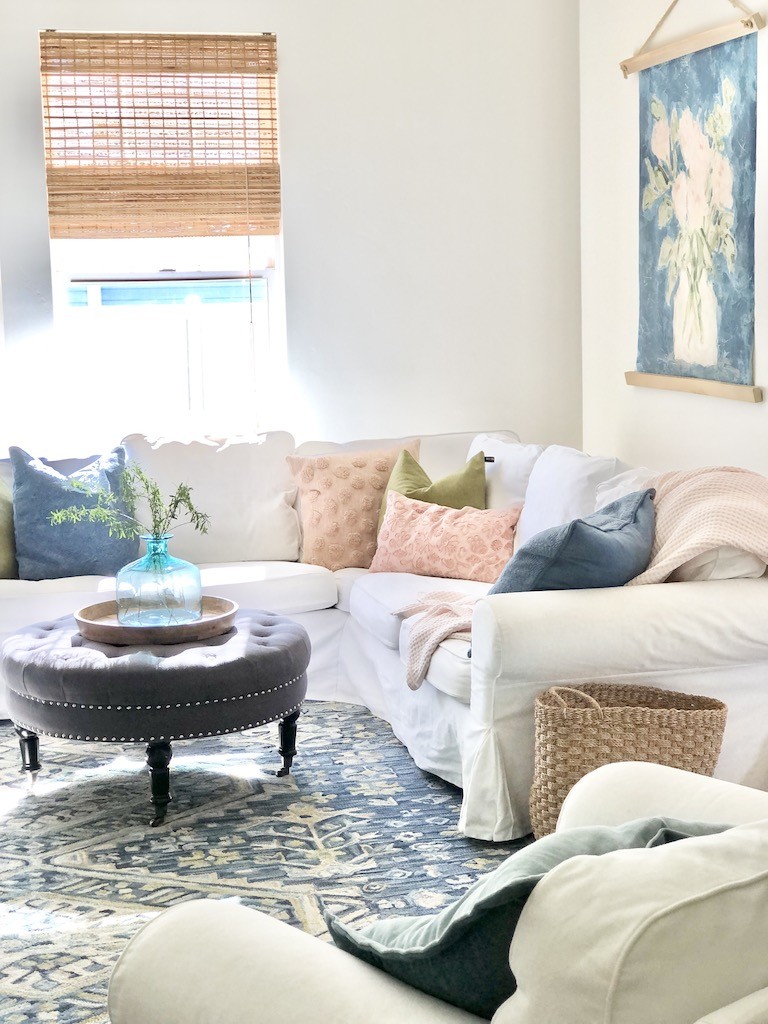 These colors mixed together just make you feel relaxed and calm.
I also like to bring in some texture with baskets, throws and glass because it adds depth to any room.
Start with a cool palette
Starting with white walls and white slipcovered furniture it was easy to bring in lots of color!
I chose blues, greens, turquoise, soft peach or you might call it salmon color for my throw pillows.
I love pillows!
Don't you?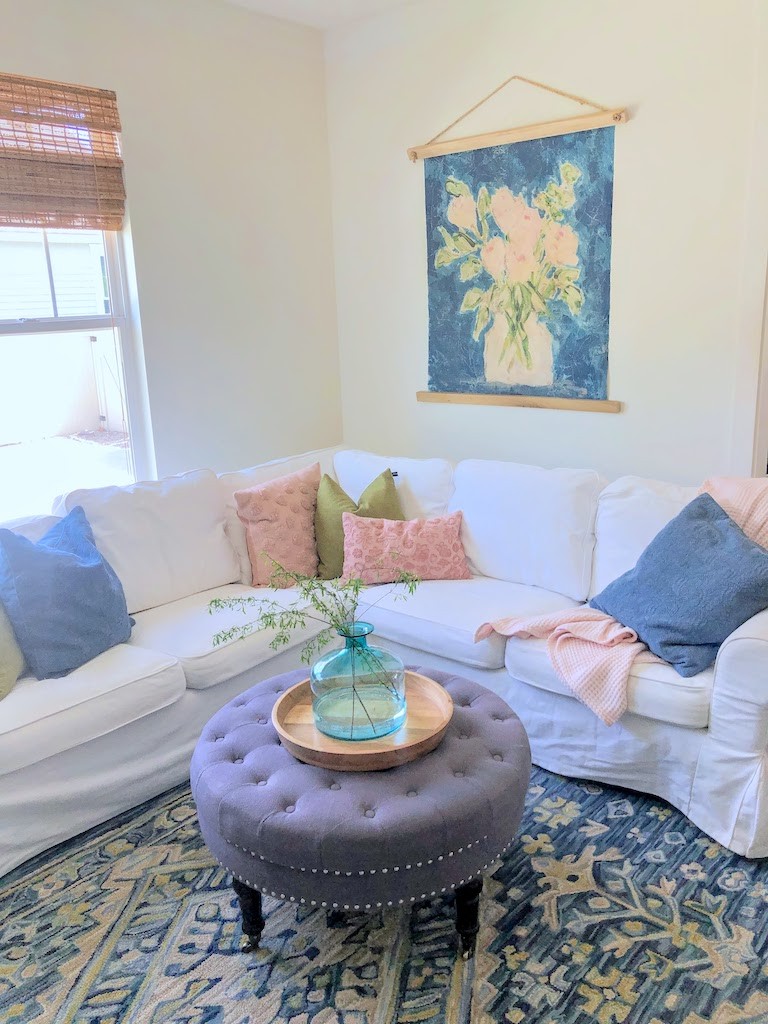 The rug is seriously my favorite thing in the room!
It is quite large 9X12 and it has all the colors of the room in it.
Lake Cottage looking pillows
The salmon colored pillows have lots of texture on them.
One has round little nubby circles on it.
The other pillow has thick embroidered swirls on it.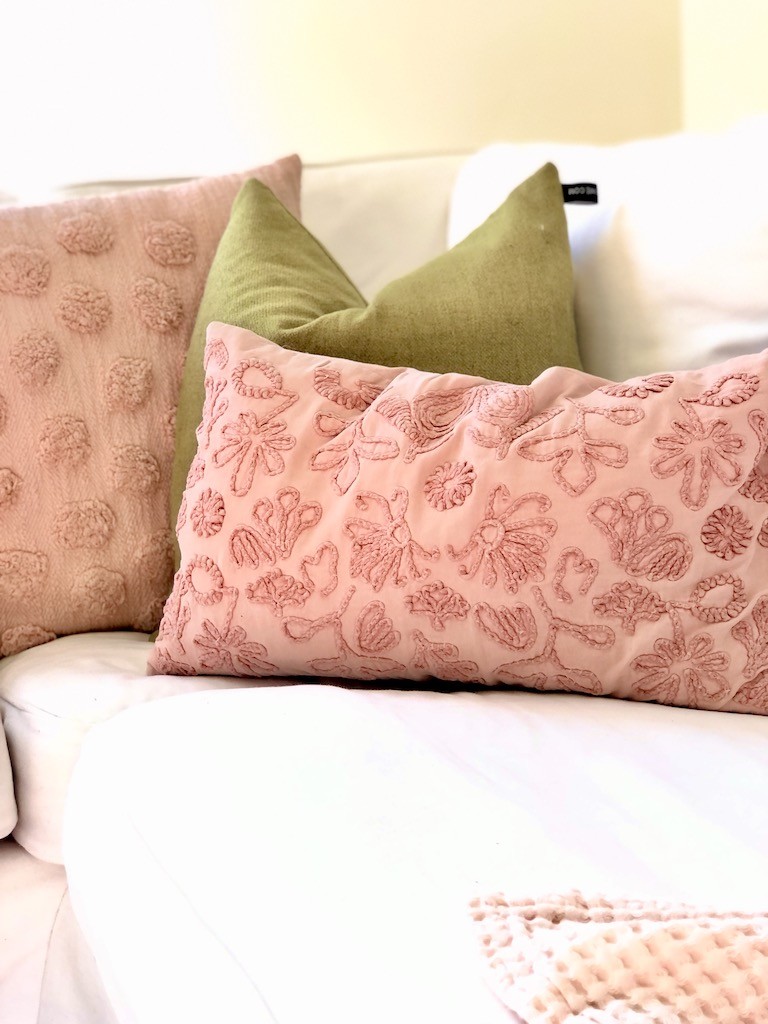 The navy pillows have an all over texture on each one.
The lime green pillows are a thick linen.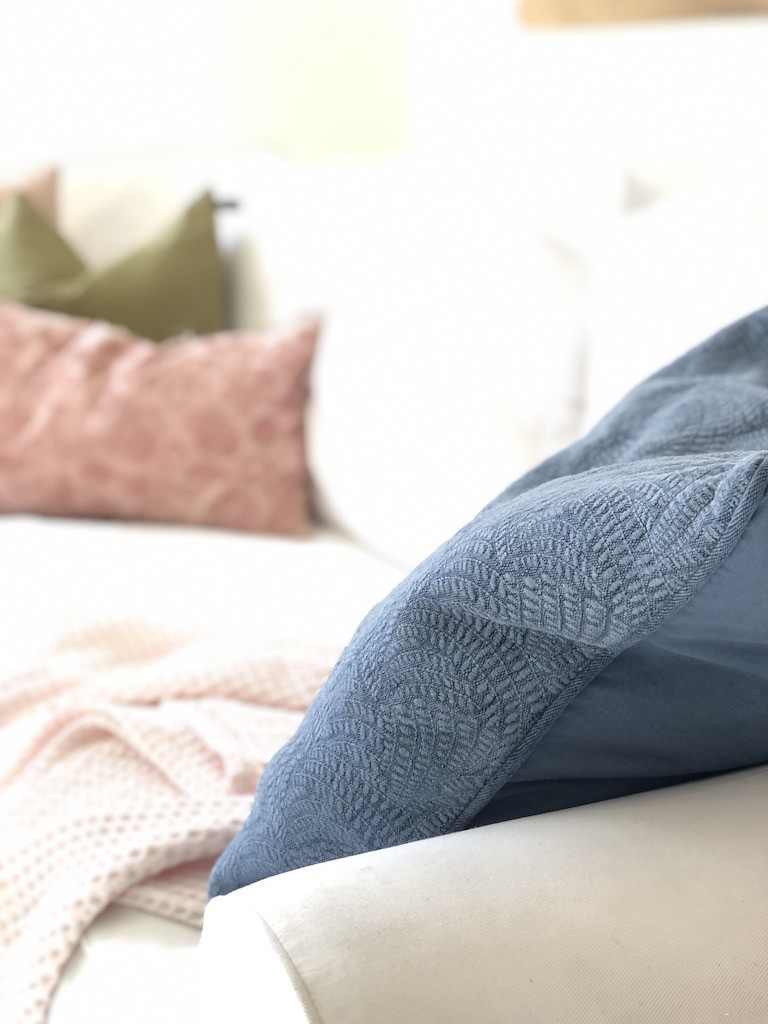 All those textures work so well together on the white sofa!
Textured Peach colored throw
Who doesn't love to snuggle up on the sofa with a soft blanket?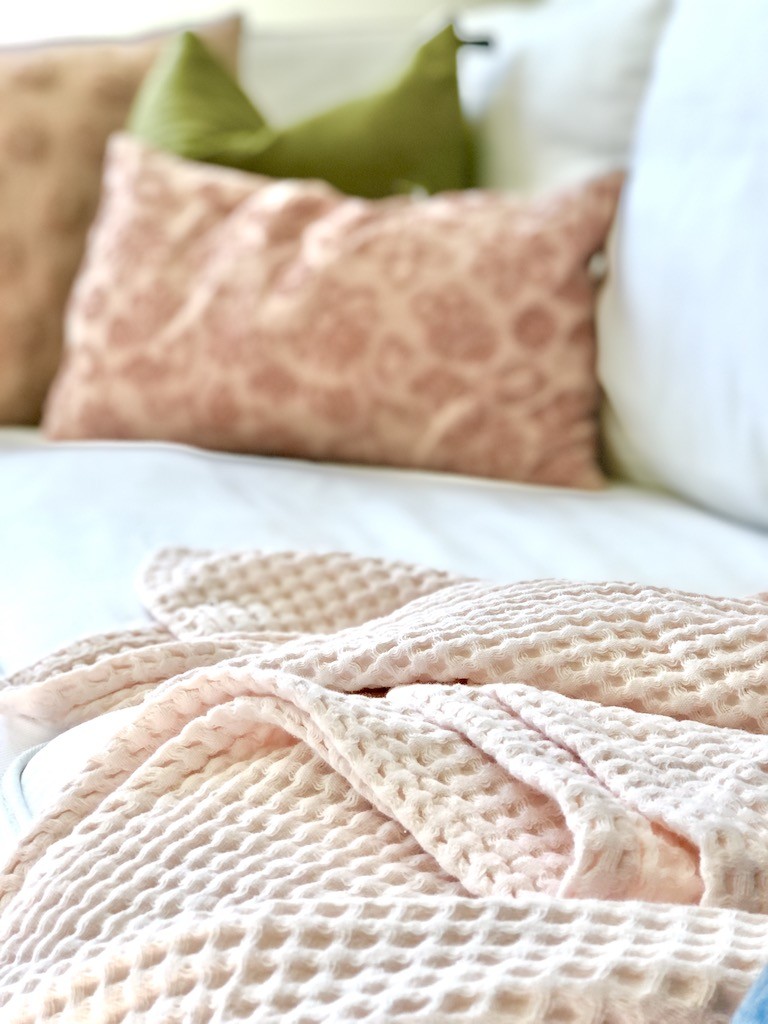 This particular salmon colored blanket has a waffle texture to it and I love it!
We use it all the time.
Furniture
I think a key thing on how to create a lake cottage look is white furniture!
My white sectional sofa is from Ikea and I have had it for 10 years now!
They apparently don't make the Ektorp line any more!
So sad!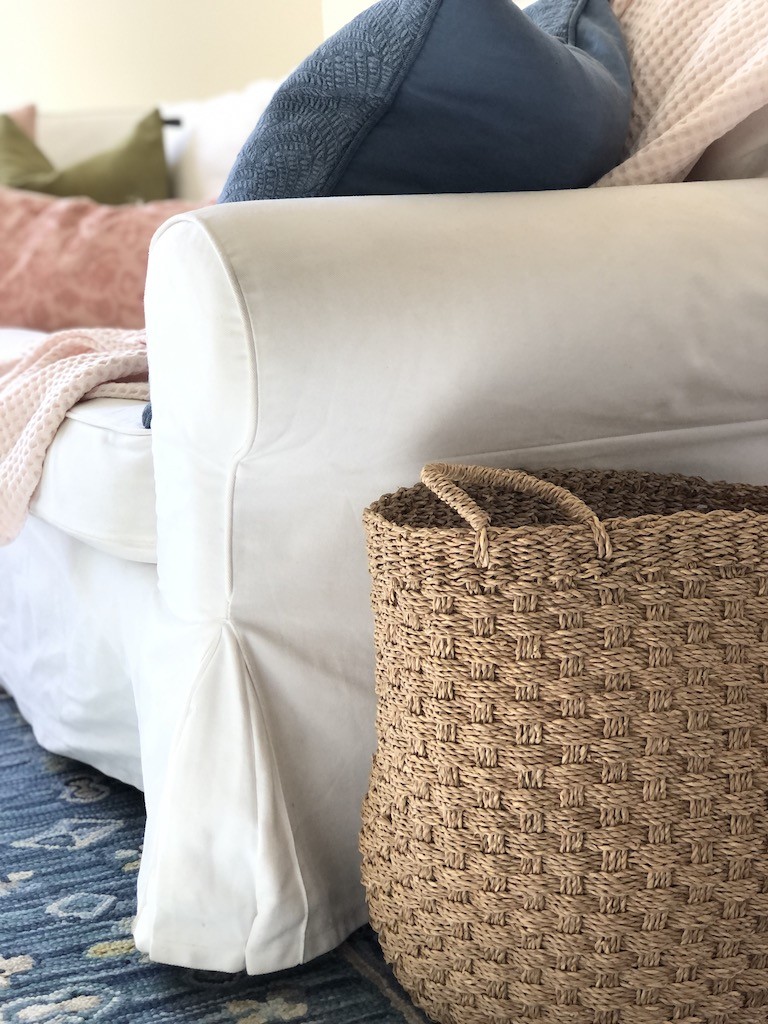 This sofa has been amazing and we have loved having slipcovers that can be washed.
You might remember years ago this same sofa when I had a red slipcover on it here.
Or when I had it in the basement with a denim slipcover on it.
I keep a large textured basket on the side filled with extra blankets in the winter.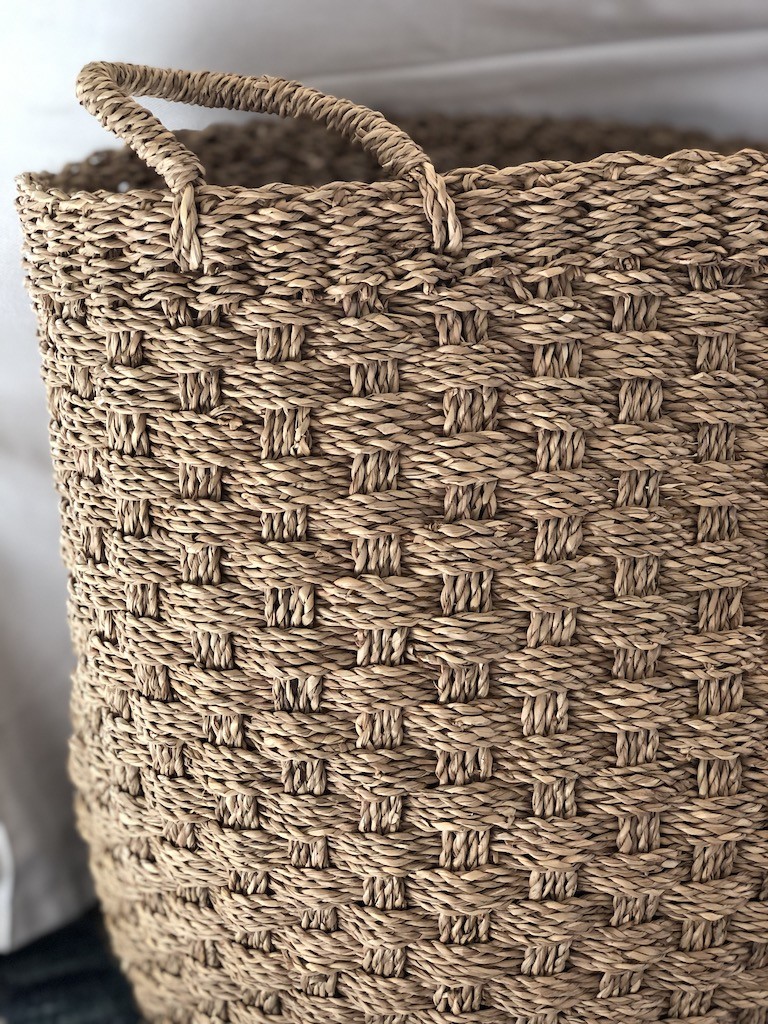 I also have two ektorp club chairs on the other side of this room with white slipcovers on them.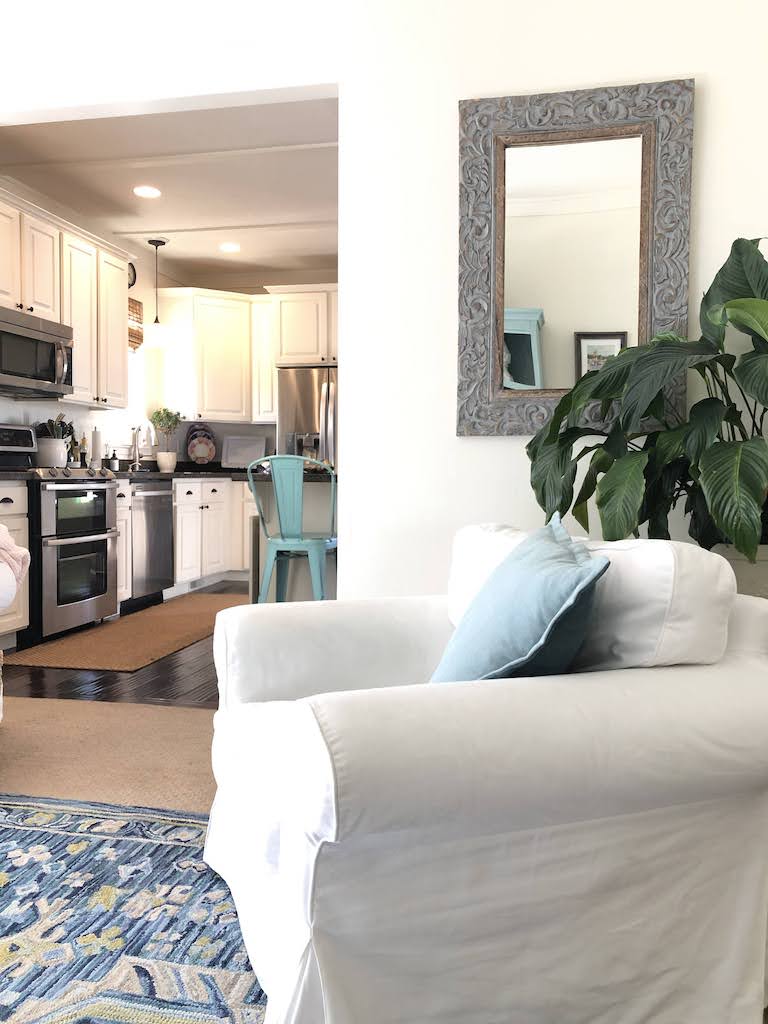 This navy linen ottoman is great for extra seating when we have the whole family here.
Adding blue glass vase on a round wooden tray brings in a little shine and warmth.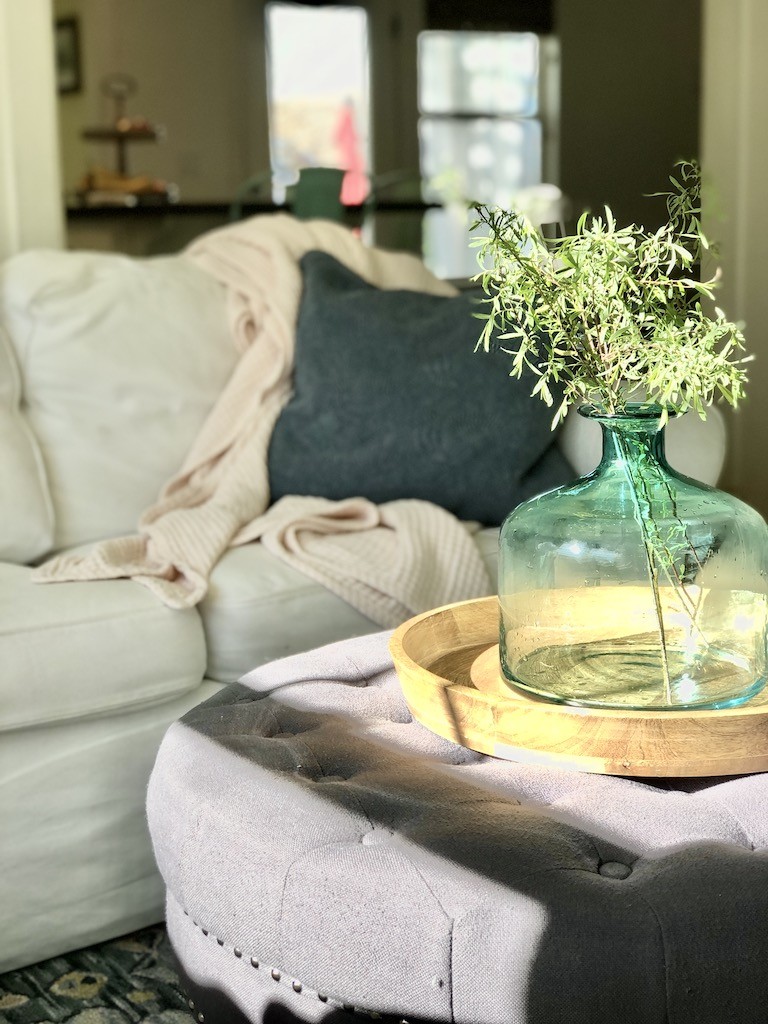 On the other side of the room is my entertainment center that we chalk painted in duck egg blue!
It used to be black!
You can see the entertainment before photos here.
The room looked nice before we painted it white and added salmon colored pillows but I love the white walls now.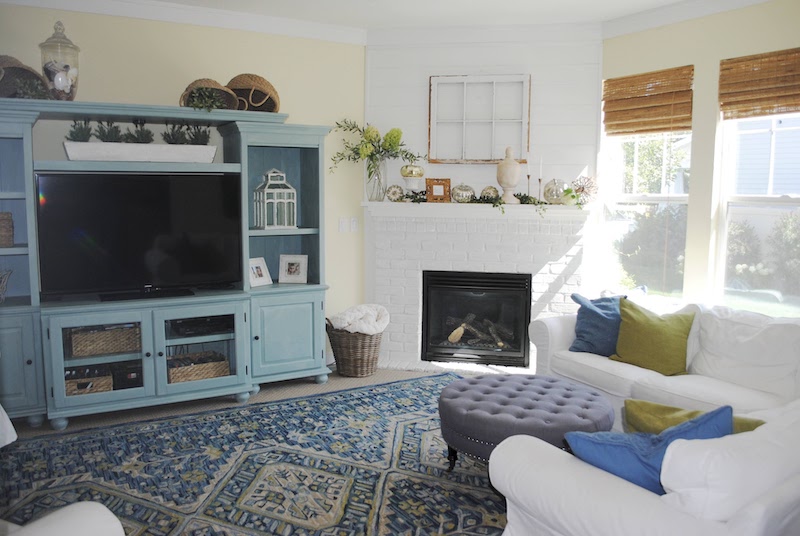 Lake Cottage Look Accessories
I know sea shells don't really say lake cottage look, they are more the beachy look but I love them.
Use what you love!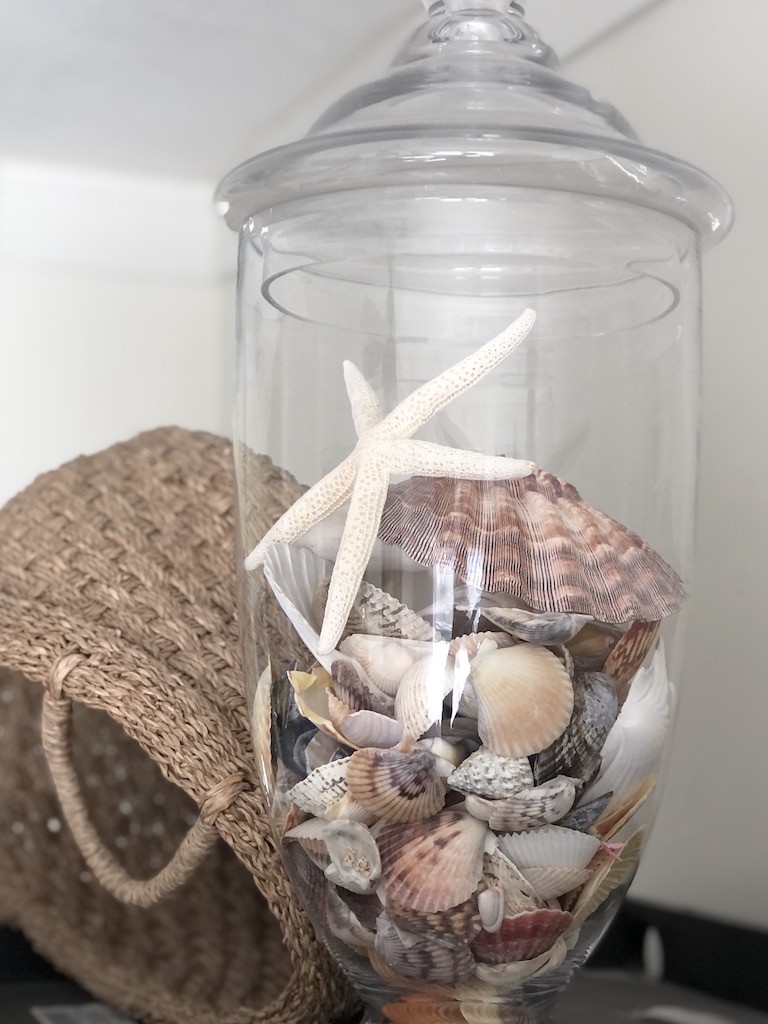 I have placed them in glass apothecary jars, glass house terrariums and wire baskets.
It just reminds me of vacation time.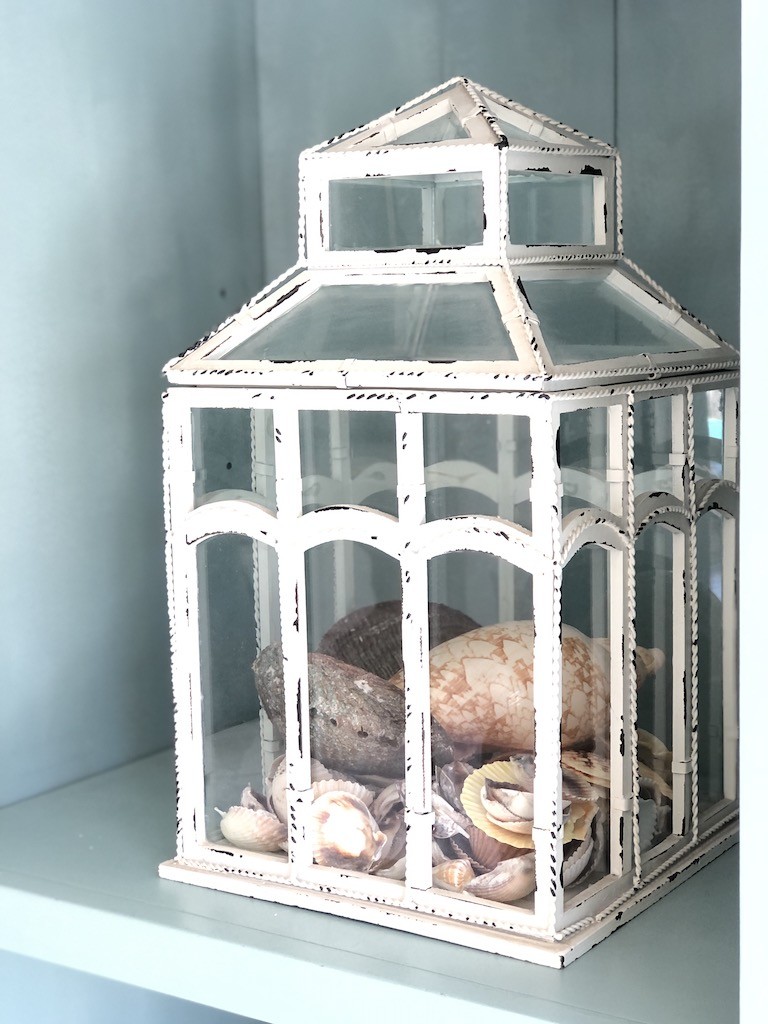 Isn't a lake house supposed to feel like you are on vacation?
I want to feel like I am on vacation everyday! 🙂
I also have some favorite books and magazines on the shelves in my entertainment center as well this wood carved pinecone or is it a pineapple?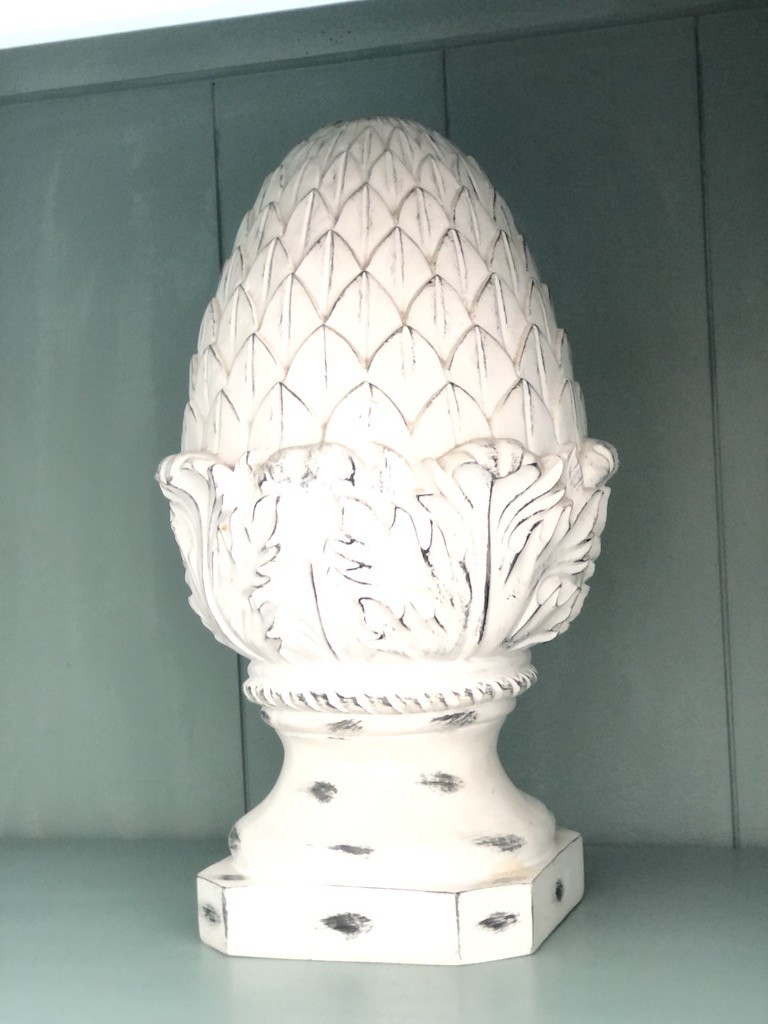 Whatever you want to call it I like it.
It is simple, white and distressed looking.
Lake Cottage Fireplace and white shiplap
This fireplace used to be red brick before we painted it white.
I painted it white and added white shiplap above.
Instead of it being kind of a dark corner it is now light bright and airy.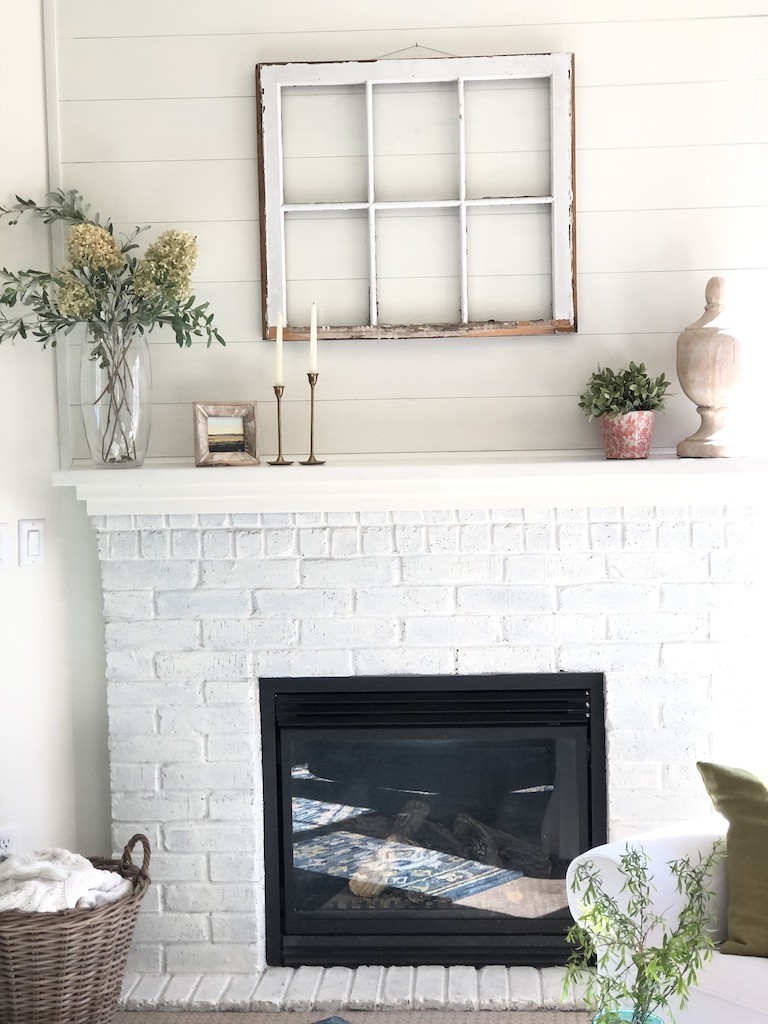 I love to decorate the mantle for fall or for Christmas.
I keep things simple for summer and spring with a vase full of dried hydrangeas, a small framed piece of art, two skinny gold candle sticks and a salmon colored pot with faux greenery and a wooden piece of art.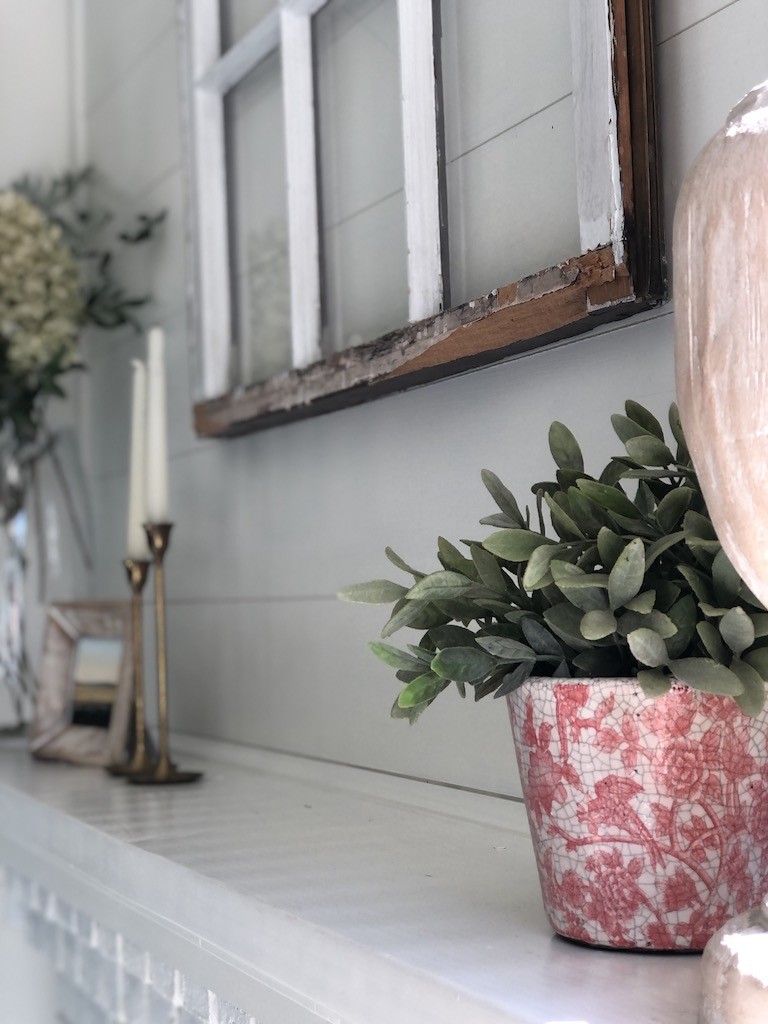 How to create a lake cottage look and feel in any room
I think you can create a lake cottage or beach feel in your house using my tips.
Even this family room that has some decorating issues that can sometimes be a pain to work around.
There is really only one full wall!
A corner fireplace…. which I actually do love.
One side of the room is open to a hallway (where the club chairs are) and the other is a large opening to the kitchen.
This room acts as a pass through to the kitchen, it is the TV viewing area and when our kids and grandkids come over this is the gathering spot and play area for the grand kids too!
It seems to fit all 12 of us and sometimes even more when nieces and nephews come to visit!
It gets heavy use as you can imagine and I wouldn't want it any other way!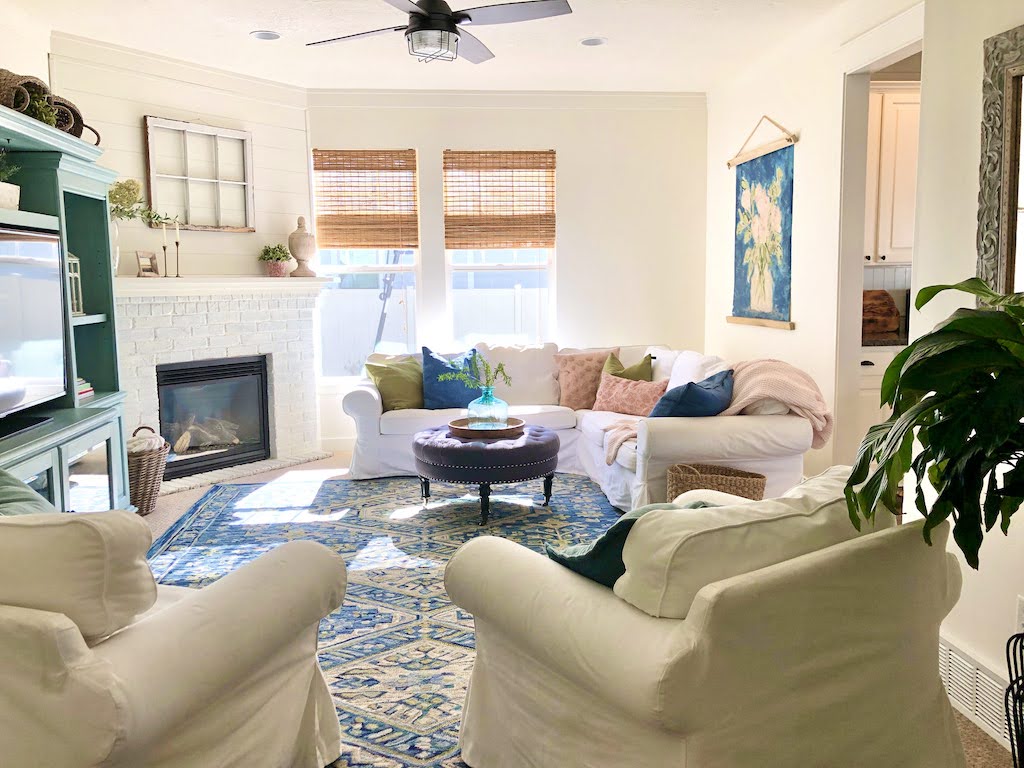 Well there you have it all my tips and ideas on how to create a lake cottage look in your home.
You can see the many different ways I have styled this family room on this post.
Spoiler alert It has been at least 5 different ways!
Pin To Your Family Room Board Ideas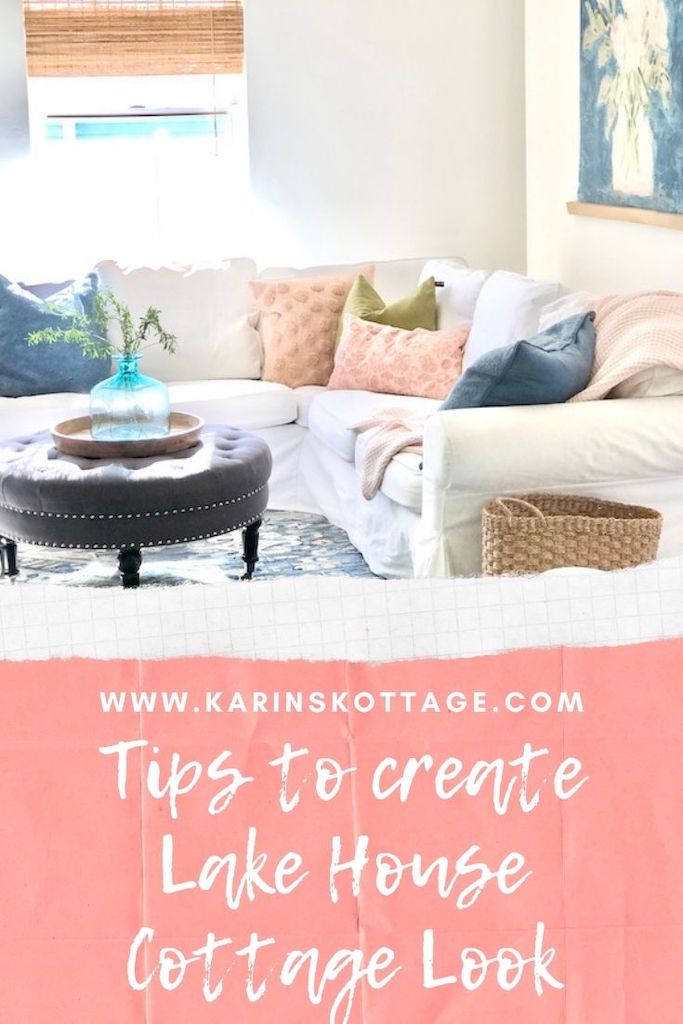 Shop Similar Items in This Post