Beachy centerpiece Wednesday Linky party
Today I am highlighting some of my favorite Beachy Centerpiece Wednesday linky party links from last week.
My home is decorated with a lake cottage/beachy theme so I am partial to these looks!
All of these beautiful colored beachy ideas just popped out to me. Almost all of them had seas shells in their tablscapes or decor. The blanket with the pom poms not necessarily beachy still has that look to me.
I love all the colors, the seas shells and the textures from each one of these ideas.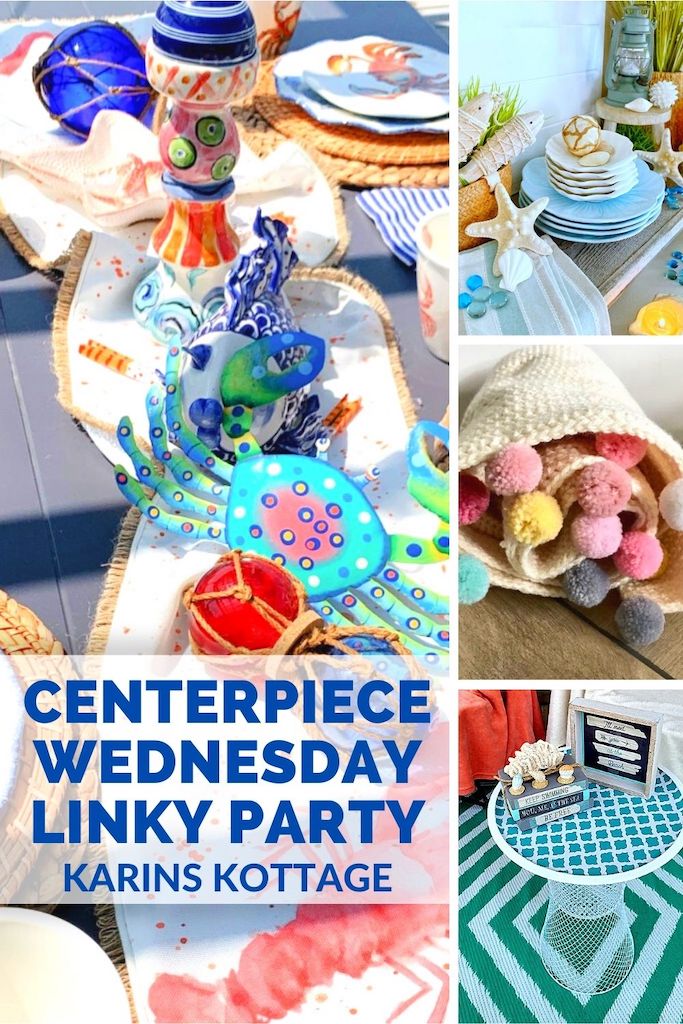 Beachy Centerpiece Wednesday Highlights
This gorgeous crochet baby blanket with pom poms is just to adorable!
Howling Liz shares a free pattern on how to make this.
Maybe I need to try crocheting again. I tried it once with very skinny yarn and got so frustrated, I quit!
If the yarn is thicker, maybe I could make a blanket like this for my new granddaughter.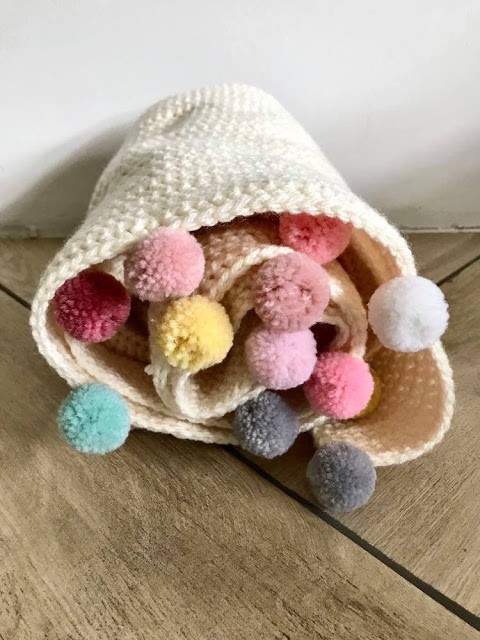 If this doesn't make you want to have a dinner by the beach I don't know what would!
Ohhh I love everything about this crabby themed tablescape by The painted Apron.
The crabby plates, the blue and white striped napkins, the double rattan placemats and of course the lobster table runner!
You need to see the entire tablescape along with her beautiful artwork! So talented!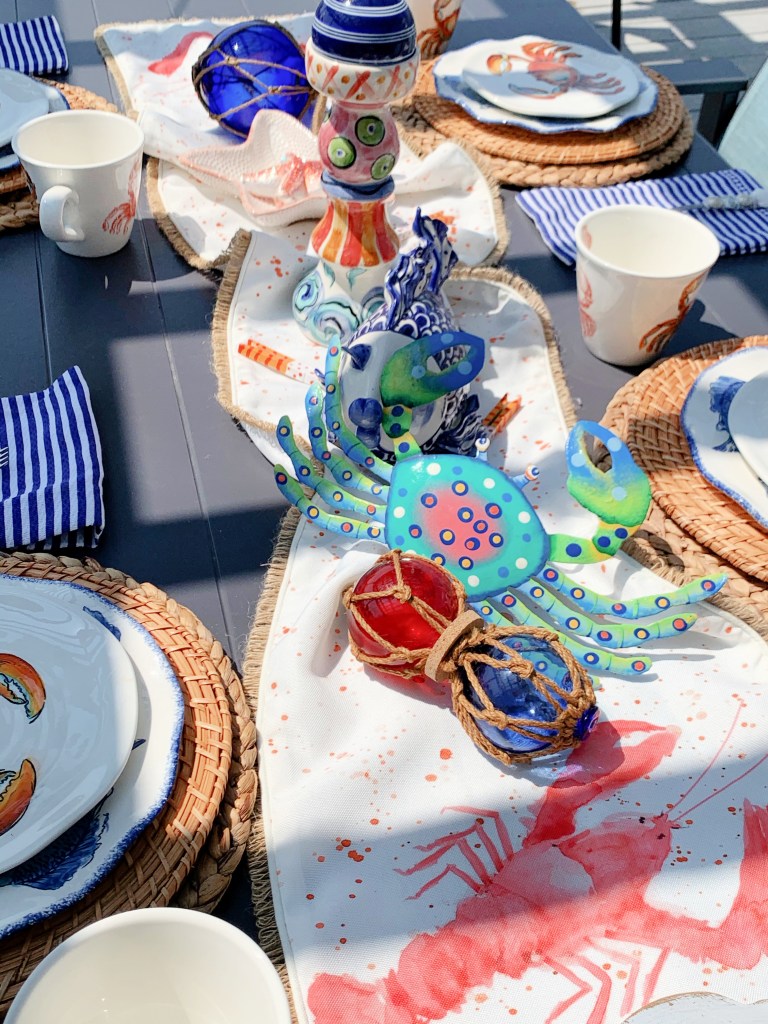 Here is another fabulous lake/beach themed buffet table. Dining Delight did not leave out any details.
I love her little wooden fish wrapped in netting, a turquoise lantern, sea shell salad plates and sprinkles of colored glass.
This is only a little of the entire buffet so hop over and see the rest…it is total eye candy for beach lovers!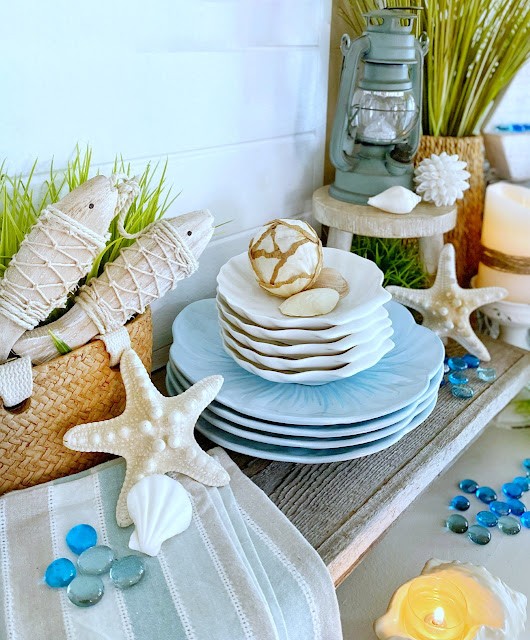 Let's talk about creativity! Life as a Leo wife created this with a pizza pan and trash cans from the dollar tree store!
I know!
Can you even believe it!
I just love creative think outside of the box ideas! So smart!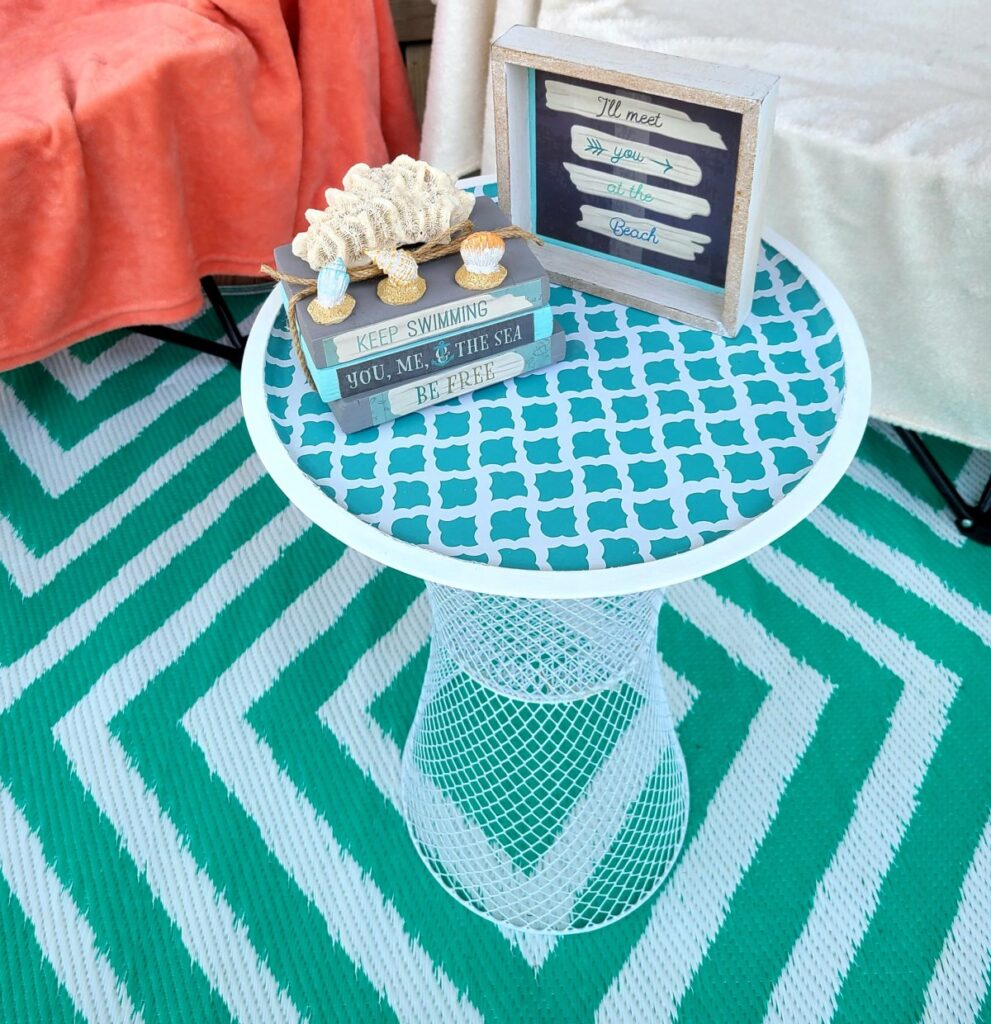 I just have to thank these ladies for sharing their creativity with us!
It really brightens my day each week to see all the fun and creative ideas that are shared.
Karins Kottage Highlights
Speaking of beachy tablescapes this is one of my all time favorites that I did.
I think you will get a kick of how I brought in a King Triton feel with my gold flatware.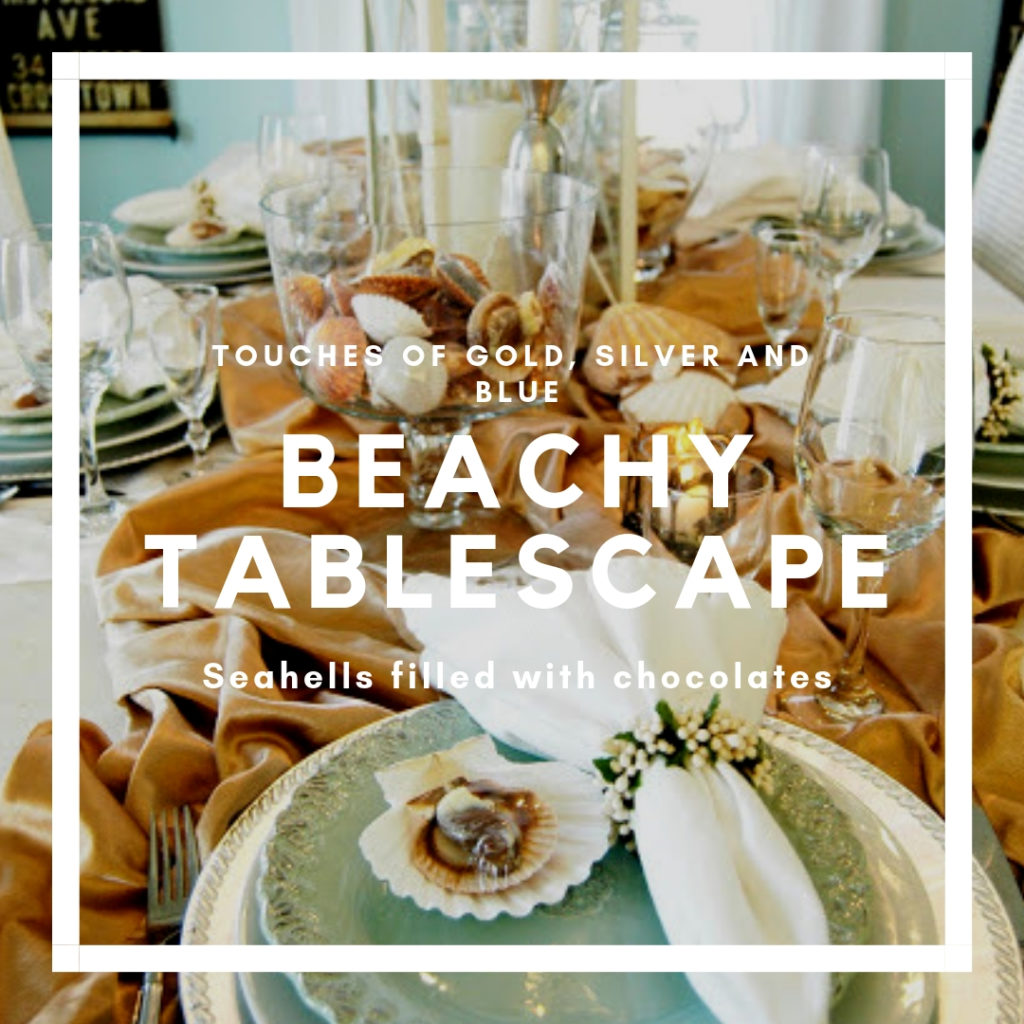 More Beachy Posts
When we redid the basement I brought in a nautical theme with navy blue and white and a touch of red.
Here is my video of how I created a white and gold tablescape.
A really fun Tiki beach surf party
If you like beachy tablescapes you need to check out my friend Leslie's tablescapes that she did on the beach. Only one problem the waves starting coming in! You can read all about what happened here.
Simple small beachy bathroom makeover
In case you missed my tips on how to create a lake cottage look here is the link to that post.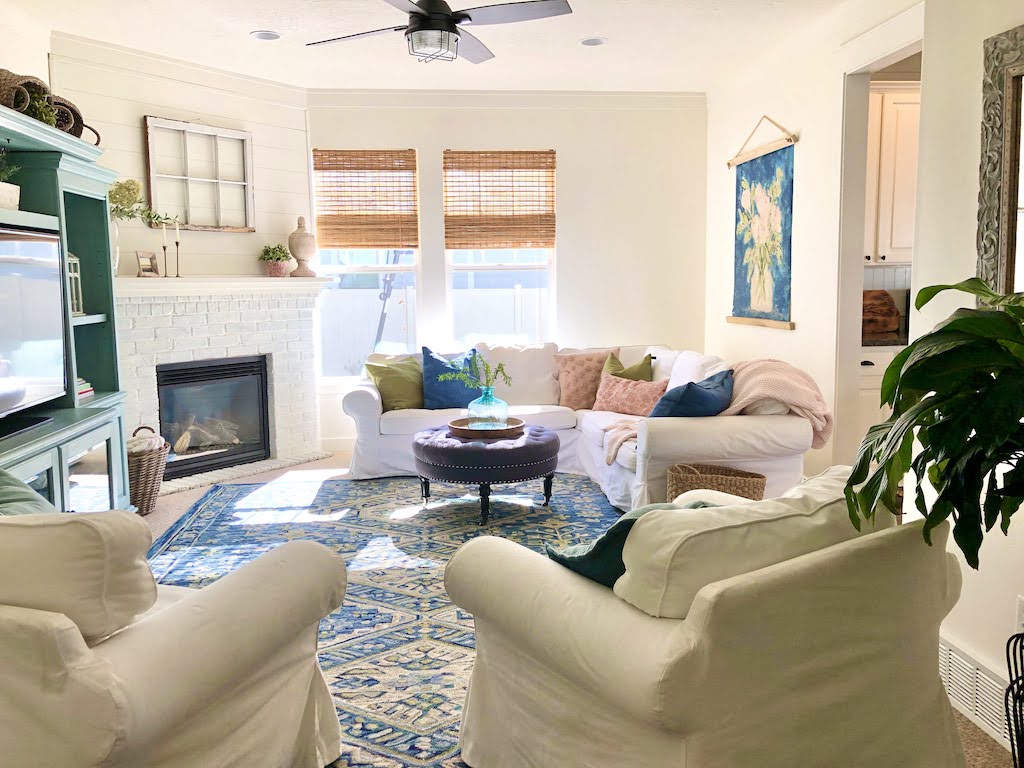 Blessing day
Saturday was blessing day for our newest granddaughter, Georgia Mae "peach"
Her parents nicknamed her with the peach because of her first name being Georgia.
Oh she is such a little beauty!
Her blessing dress was made for my daughter almost 31 years ago by a friend of mine and has now been used by both of her daughters.
I love heirlooms like that 🙂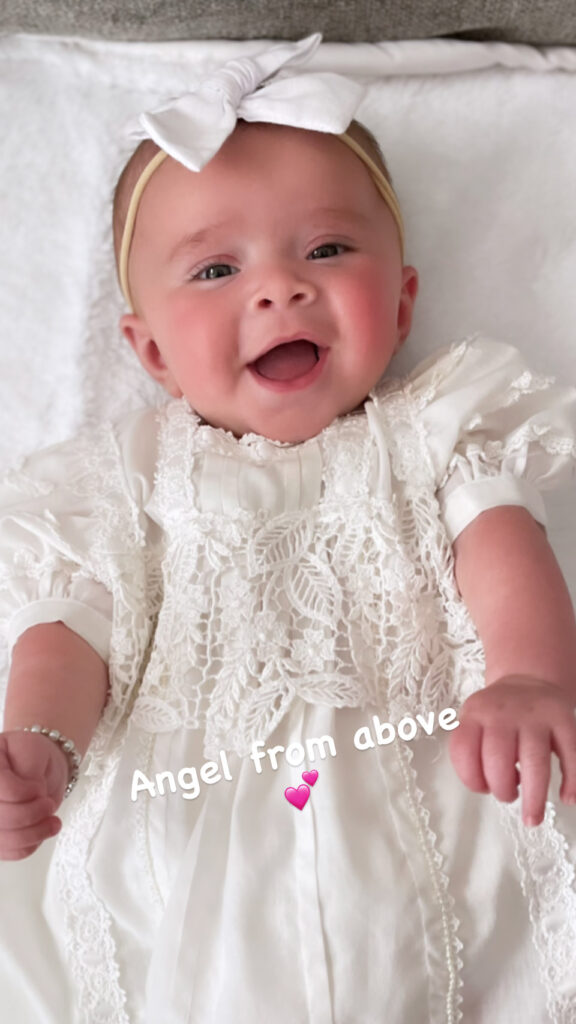 Linky party Rules
Ok enough about me let's get this party started.
*Please link up any old or new family friendly posts.
*Share this party on Pinterest and/or put a link on your blog to Karins Kottage Centerpiece Wednesday Linky Party
*Enjoy all the creativity and visit at least one other blog and pin away!