This week my party is all about crafts, recipes and organization for CPW Linky party! For those of you who are new here CPW stands for Centerpiece Wednesday linky party that I started many years ago. I hope each of you find something that inspires you to be creative in a fun new way.
It is the end of July! Wow how did that happen? I have been spending time with grandkids at the pool lately. There is just something so relaxing about floating in the pool for an hour or so.
Hopefully you are all enjoying your summer and making memories too.
CPW highlights from last week
These creative bloggers have inspired me and I know they will inspire you too. So Let's get to it!
Macrame crafting
First up is this really cool DIY Boho-chic macrame vase cover by My Uncommon slice of Suburbia. This was a .50 thrift store vase that she used and covered it with some macrame cording that she made! Her tutorial is awesome! Go check it out.
Family command center organizing
This is such a cool family command center! Kippi at Home came up with these ideas after realizing she needed to tame her family's necessary papers, calendars (schedules), mail, menus, grocery lists, keys, and shopping bags.
I love her DIY industrial pipe coat hook that she made using wood that she got for free!
Check out her entire post.
S'more recipe
I love me a good s'more! Remember my gourmet s'more party that I helped put together for my niece?
What's not to love about melted chocolate and marshmallows mixed with yummy graham crackers or cookies?
This Smore's charcuterie easy desert board from 3 Boys and dog blog is awesome! I really like the idea of using different cookies like oreos and fudge striped cookies to make a smore!
There are lots of unique ingredients on this charcuterie board to try!
Paper Snippet Roll Crafting
This DIY Paper snippet roll is something I have never seen before! Fresh Vintage by Lisa S shares this really cool tutorial on how to make this using scraps of paper, ribbon, netting, buttons and even charms. Then you can cut off pieces to use in journals or making gift tags.
What a great way to recycle little bits of scrap booking paper and odds and ends.
Creative people just amaze me!
Amazing crafts, recipes and organizing ideas for CPW don't you agree?
Karins Kottage Happenings
I have just been thinking about fall decor ideas and what I want to do this year.
Last year I recycled this 15 year old wreath using hydrangeas and pumpkins, and I still love it.
So I might just use it again.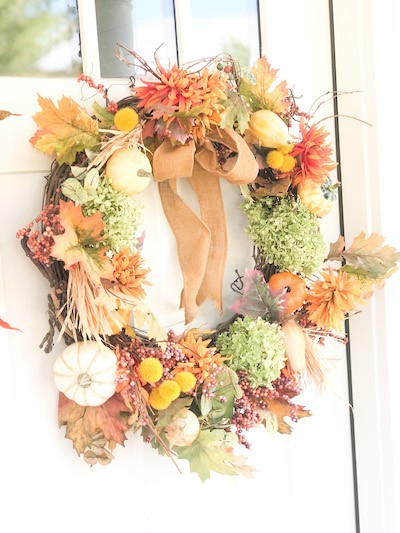 Should I stick with my silver pumpkins and gold frame on my mantle for fall?
Sometimes I think if it's not broke don't fix it! But, I get bored with the same look and want to change it all up.
What do you ladies like to do? Do you buy all new things every season?
The hubs is always saying we do not need more stuff! haha but a girl sometimes just has to shop!
Am I right or am I right? 🙂
SHOP

LINKY PARTY
Enjoy the party! Share you ideas and visit at least one or two others please.
Please share this party on Pinterest.